Original Link: http://www.anandtech.com/show/1917


Our second day at CES proved to be our most fun-filled yet, with tons of interesting technologies and much more to cover that what we're reporting here today. We will have follow-up coverage over the weekend and into next week so keep checking back.
Before continuing let's recap what we've seen thus far at CES:
CES 2006 Pre-Show Coverage: Before the official start of the show, ATI gave us a demonstration of their OCUR device that enables CableCard support in Windows Vista Media Center.
CES 2006 Day 1 Coverage: Our first day at the show gave us time with Dell's new 30" LCD panel as well as a preview of NVIDIA's Quad-SLI.
Intel's Centrino Duo Launch: Also taking place during the first day of CES was Intel's official launch of their new Centrino Duo platform.
With that out of the way, it's time to revisit one of the more interesting items from our Day 1 coverage.
Up Close and Personal with NVIDIA's Quad-SLI
Yesterday we reported on Dell's Inspiron XPS 600 Renegade system that will be shipping with the world's first NVIDIA Quad-SLI setup. Unfortunately the system we showed you pictures of did not actually have the Quad-SLI cards installed, but today at NVIDIA's booth we were able to not only take some pictures of the actual setup but get a better understanding of how it works.
NVIDIA's Quad-SLI works on any nForce4 SLI motherboard with two PCIe x16 slots, in the case of Dell's XPS 600 Renegade the chipset of choice is a nForce4 SLI x16 Intel Edition. There is no technical reason the setup shouldn't work on an AMD nForce4 SLI x16 motherboard.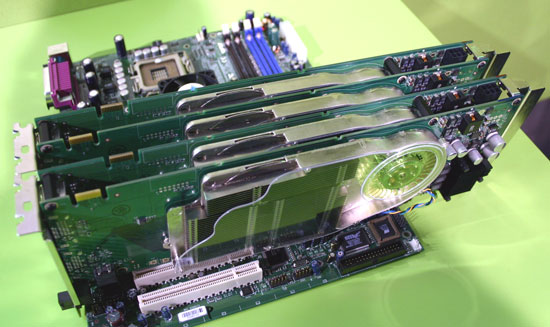 Click to Enlarge
Although the picture above appears to be four independent cards, there are actually only two PCIe x16 cards plugged into the motherboard. Each pair of two PCBs features a master and a daughter GeForce 7800 GTX 512MB. There is a small connector that joins the master and daughter PCBs, but it isn't visible in the picture above.
At the far end of the cards you will see a heatsink; that heatsink covers a chip that splits the PCIe x16 slot into two x8 buses, with 8 lanes going to the master PCB and 8 lanes going to the daughter PCB.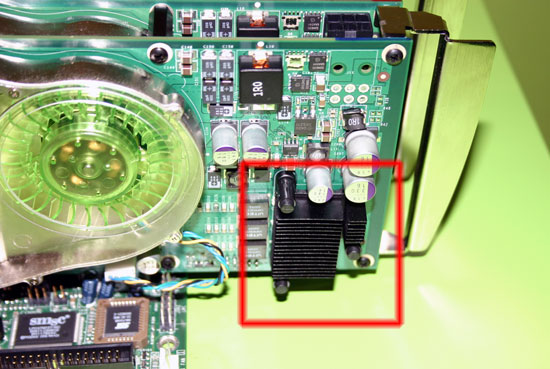 With both cards plugged into the motherboard, all that is left is to run SLI bridges connecting both master PCBs and both daughter PCBs to each other. Remember the hidden connector between the two PCBs on each card? That's what connects the master PCB to the daughter PCB on each card.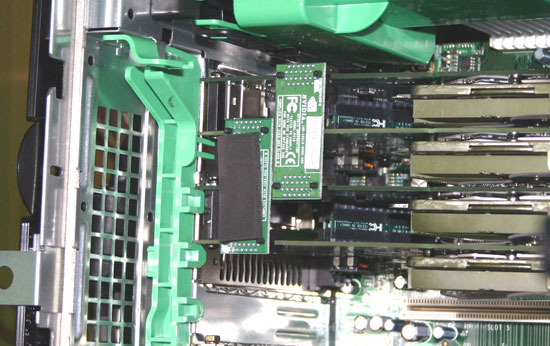 With the bridges installed, the hardware setup of NVIDIA's Quad-SLI is complete. NVIDIA had the Renegade with Quad-SLI hooked up to a Dell 3007WFP running at its native 2560 x 1600 resolution, which is pretty much where the setup is best used.
PureVideo to offer H.264 Decode Acceleration
Ever since ATI first demonstrated that their R520 GPU (Radeon X1000 series) could accelerate H.264 decoding NVIDIA had always claimed that they could do it as well. We had been asking for proof and today NVIDIA delivered on just that.
NVIDIA announced that all GeForce 6 and GeForce 7 GPUs will eventually (when drivers and software are available) support H.264 decode acceleration for all the way up to 1080p videos. Obviously the faster the GPU (mainly the more ALUs and the higher the clock speed), the more that can be offloaded from the CPU onto the GPU.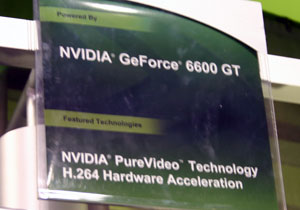 In order to prove the support was functional, NVIDIA setup a Pentium D 830 with a GeForce 6600GT and tried to play back a 1080p H.264 encoded movie. CPU utilization across both cores was basically pegged at 100% while the CPU handled the entire decode.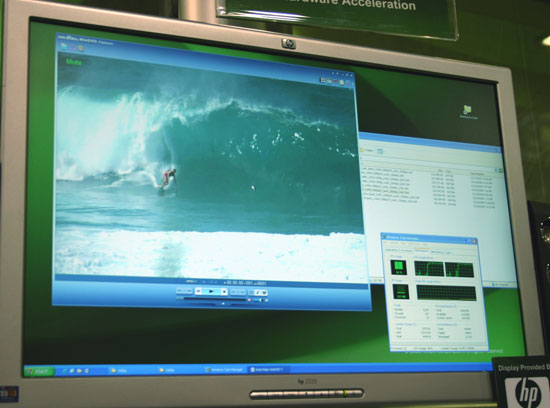 Enabling hardware acceleration offloaded a good hunk of the decoding task onto the Geforce 6600GT, reducing CPU utilization to around 50% or less: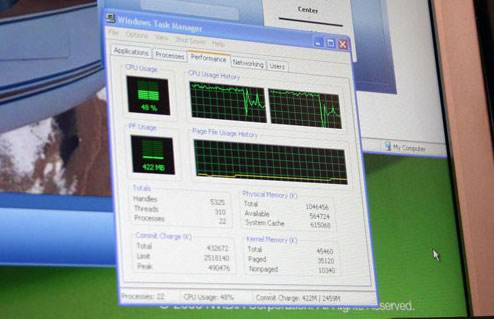 In order to take advantage of the H.264 decode acceleration you will need two things: 1) Compliant InterVideo WinDVD, CyberLink PowerDVD or Nero software, and 2) a NVIDIA driver enabling the support.
NVIDIA promised that both of these items would be available to end users in the next 2 - 3 months. While they are definitely lagging behind ATI in H.264 decode acceleration, at least NVIDIA has finally provided us with a working demo of the technology and they have also committed to us that it will work on all GeForce 6 and 7 GPUs (AGP and PCIe).
Toshiba's HD-DVD Enabled Notebook with H.264 Decode Acceleration
Also at the NVIDIA booth was a Toshiba notebook using NVIDIA's newly announced GeForce Go 7600 GPU.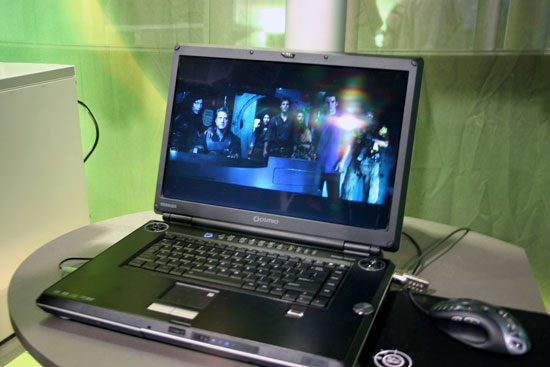 Other than the brand new GPU, the Toshiba notebook also had one other very interesting feature - a built in HD-DVD drive: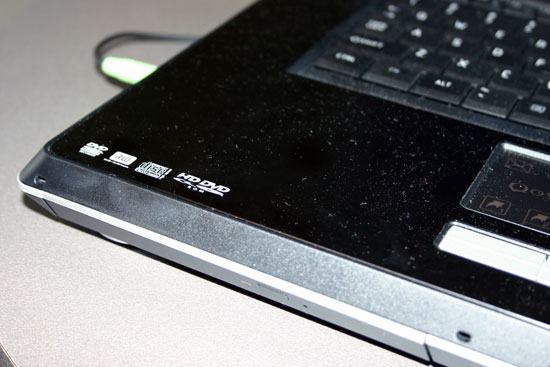 The HD-DVD drive was playing H.264 encoded content on the notebook and was doing so with no dropped frames, thanks to the fact that Toshiba put together their own decoder that took advantage of the H.264 decode acceleration capabilities of the GeForce 7600 Go GPU.
NVIDIA couldn't tell us when this notebook would be shipping, but it was nice to see a situation where the H.264 decode acceleration is clearly important. Both Blu-ray and HD-DVD playback, unless we're dealing with MPEG-2 encoded content, will inevitably stress H.264 decode performance.
Centrino Duo at CES
It is almost always the case that whenever Intel launches a new Centrino platform, the majority of their OEM partners toss the new CPU in their largest machines. Case in point would be Dell with their Inspiron E1705, the only Centrino Duo notebook they had at launch and it is equipped with a 17" display. Tradition disappointingly continues on with the majority of the other Centrino Duo notebooks on display at the show.
Fujitsu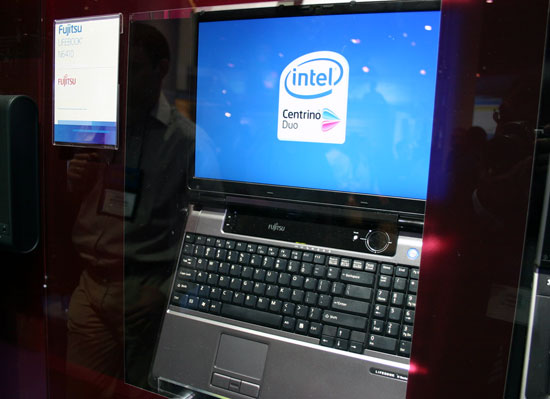 Gateway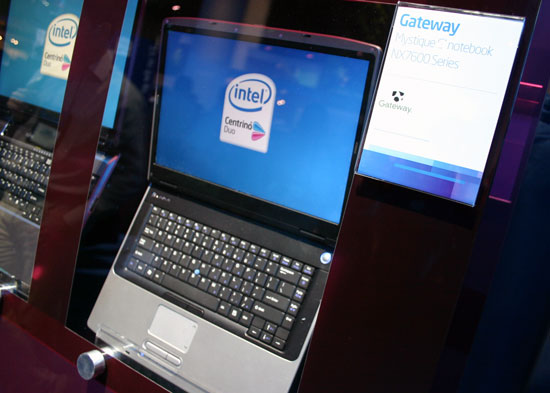 HP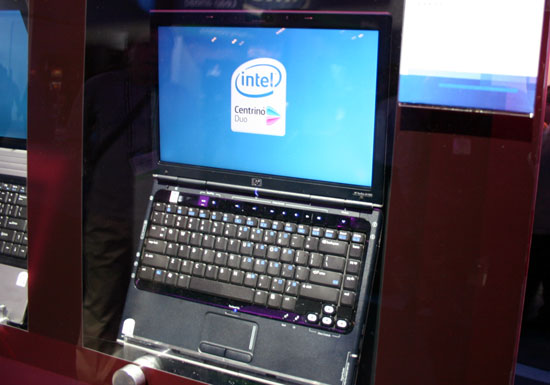 Hypersonic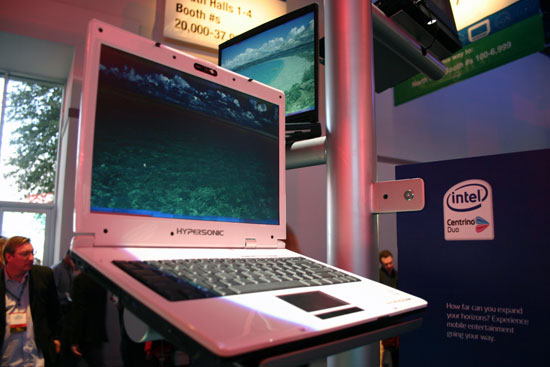 Lenovo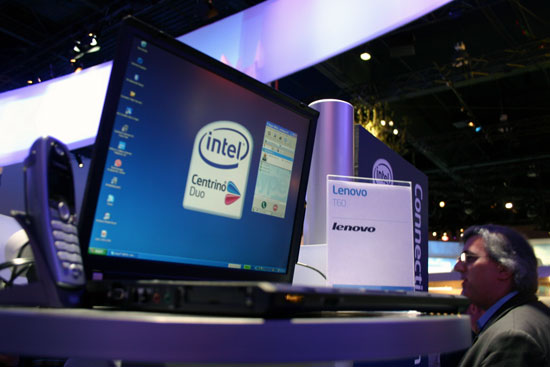 MSI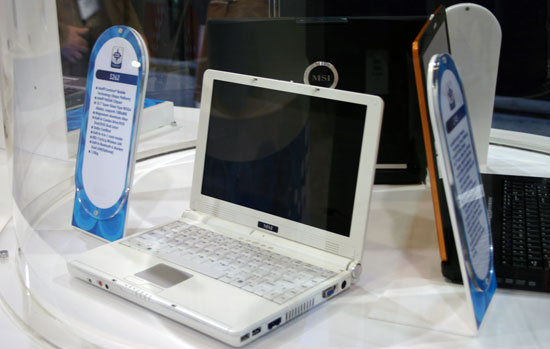 Samsung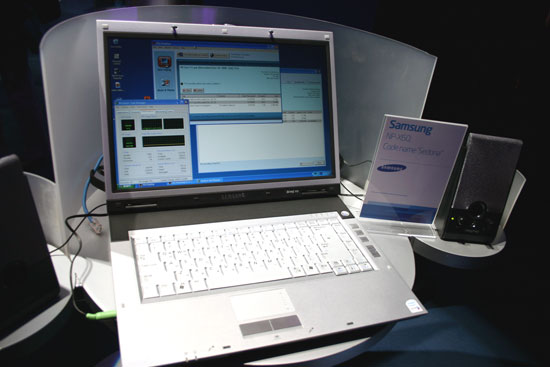 Sony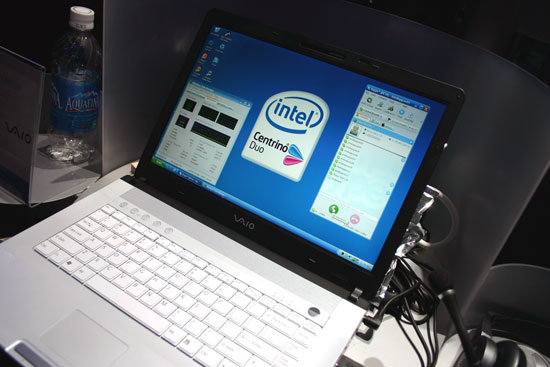 Lenovo's Thinkpad X60s
The most exciting Core Duo notebook at the show didn't even have a Core Duo processor in it, it was the Lenovo Thinkpad X60s.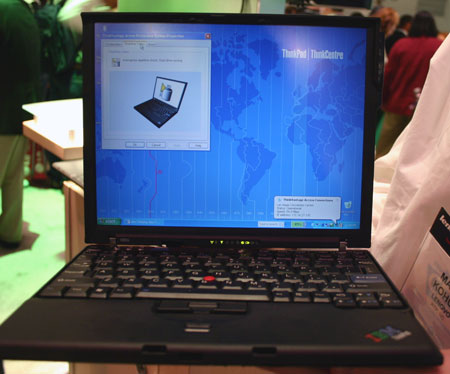 The 's' in the name denotes that it is the smaller 2.7 lbs version of the chassis which is only large enough to cool a single core Intel Core Solo processor. The regular Thinkpad X60 does feature a Core Duo processor but it weighs about 0.5 lbs more. The Core Duo equipped X60 also increases its thickness from 1.11" to 1.39", once again to accomodate proper cooling for the dual core processor.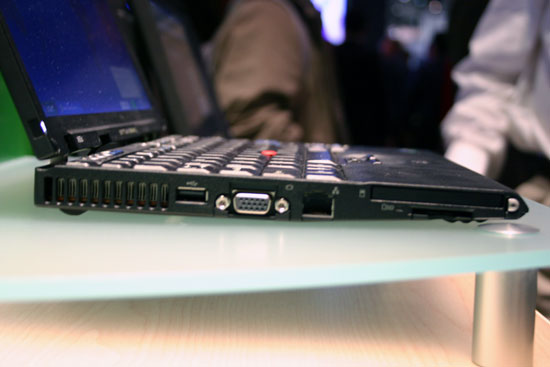 Lenovo representatives claimed that the X60 series should have no problems outlasting the T60 we previewed in terms of battery life. In our T60 preview we found that it lasted a hefty 5 hours in most tests, so we can only imagine what the X60 will be able to pull off - especially if you use an extended battery.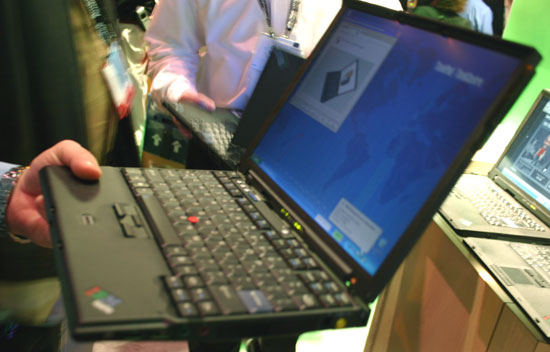 The X60 features three potential battery configurations, the first being the standard 4-cell battery seen below (the shiny finish is only on the pre-production notebook):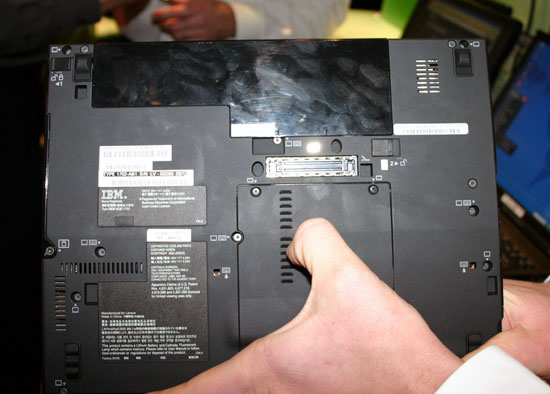 You can also replace the 4-cell battery with an extended life 8-cell battery that will protrude out the rear of the notebook. Or finally you could combine the extended life battery with yet another battery that the X60 would sit on top of to increase battery life to beyond 11 hours.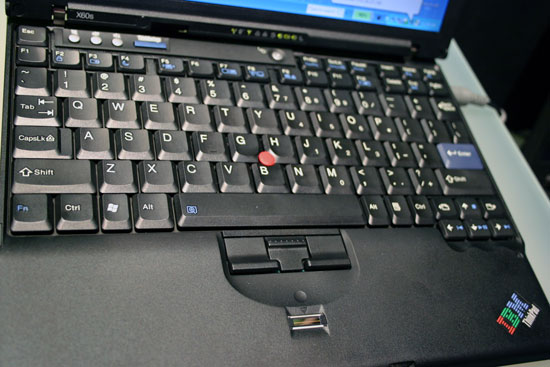 The X60 keyboard is the same excellent keyboard (with Windows key) that we've seen on Thinkpads in the past. Just like the T60, the X60 does come with a fingerprint scanner, however there is only one pointing device on the X series notebook.
Quite possibly the biggest upgrade to the X series with the new models is that all Thinkpad X60 notebooks feature a 2.5" hard drive spinning at up to 7200 RPM (the model we saw had a 5400 RPM drive). Not all of the previous X series notebooks featured 2.5" drives, some used 1.8" drives that did not perform well at all and weren't easy to find replacements for outside of IBM/Lenovo.
Of course the X60s felt just as solid as other Thinkpad notebooks, but the Lenovo representative that we met with reminded us of why even the larger Thinkpads feel extremely sturdy. While not necessary on the X60 because of its small size, larger Thinkpads like the T60 feature an integrated roll-cage to not only improve rigidity but also helps distribute shock in the event that you drop your laptop or run it into something: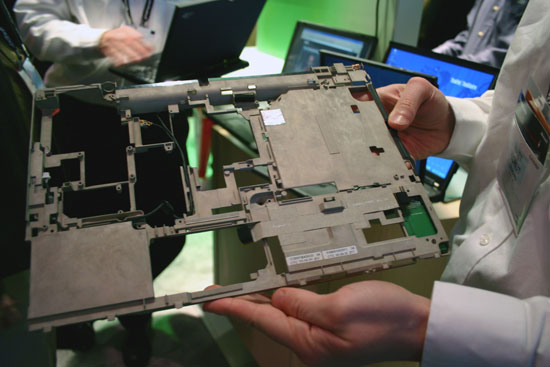 The roll-cage pictured above ends up absorbing a lot of the impact of a drop or bump, causing notebooks that use it to be, according to Lenovo, around four times as sturdy as those without it.
Intel's Viiv at the Show
Given how much Intel has been talking about Viiv and how excited they were about it, you would expect to see an overwhelming number of absolutely breathtaking designs; after all, Viiv is supposed to be much more than just a rebranded MCE desktop. We are supposed to see new form factors, out of the box designs and all in all, things you would want to see in your living room. Unfortunately, what was shown off at the show was far from that. There were some nice looking designs, but the vast majority either looked like PCs with a jog dial on the front or bad attempts at disguising a PC as CE hardware.
Before we get to what was well done, let's look at what wasn't. We'll start off with Acer's Viiv PC, which really looks no different than the first generation MCE PCs that came out two years ago: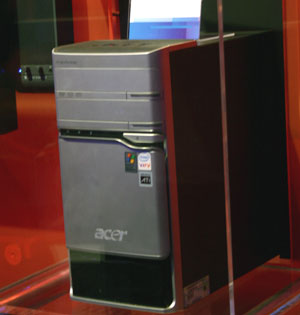 A number of companies took the same approach as Hisense, however the case just doesn't convince the end user that they are looking at a high end, stylish CE device - instead it looks like something a PC case manufacturer would make: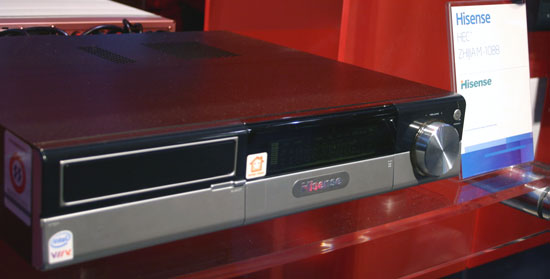 Shuttle's Viiv PC is a bit more stylish looking: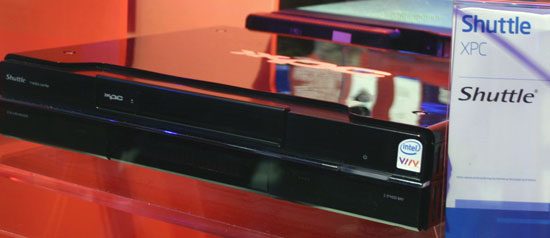 And Fujitsu also did a fairly decent job with their Viiv offering: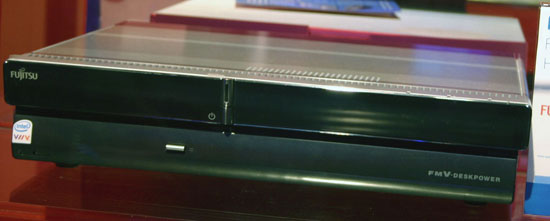 For users who aren't interested in a living room PC and instead want a very capable desktop PC then offerings like the HP pictured below or the Acer from earlier will obviously be a better fit: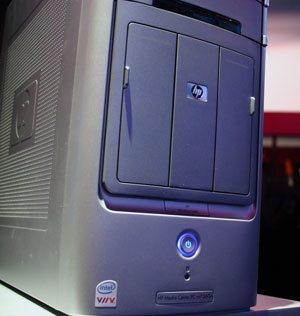 The Four Viiv PCs Worth Mentioning
There were a few manufacturers that were thinking outside of the box, and their Viiv designs were actually quite impressive.
First up, we've got Lenovo and Dell, who both had very similar looking Viiv offerings: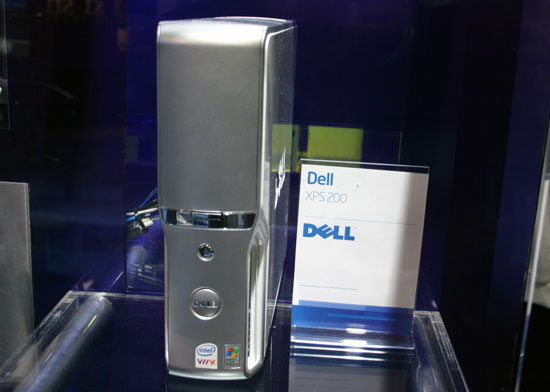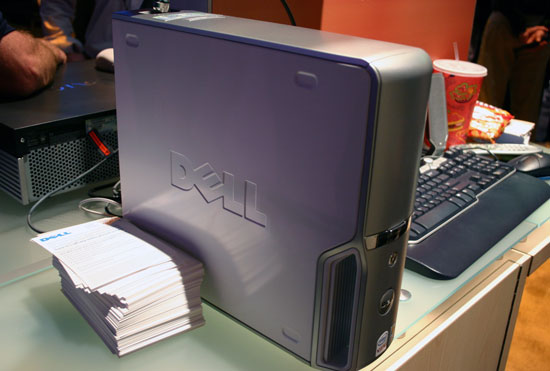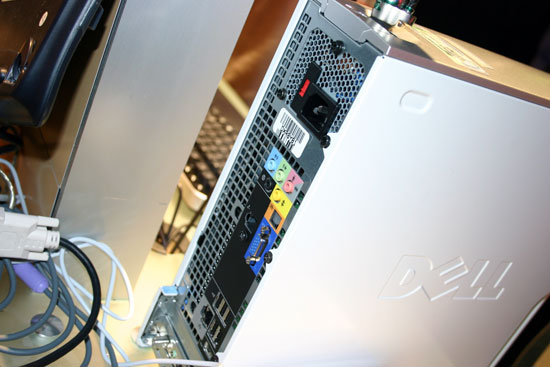 And Lenovo: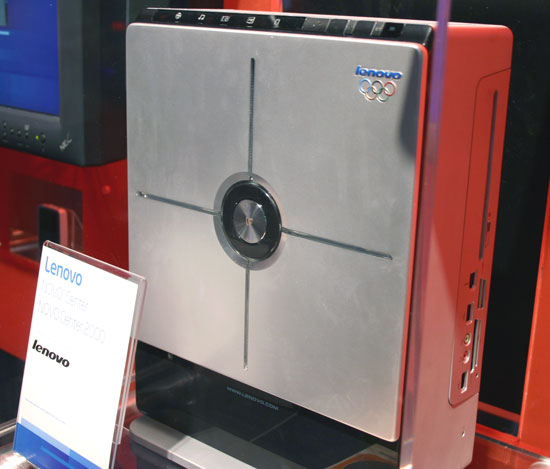 LG also managed to pull off something that looked like a high end DVD player: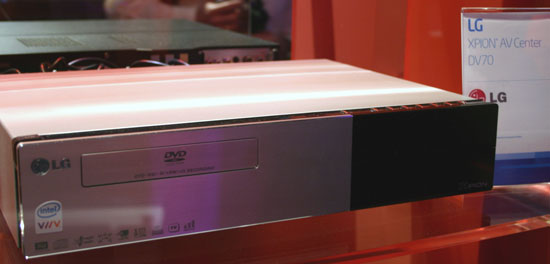 Although Sony's Viiv PC was quite large, it was styled very well: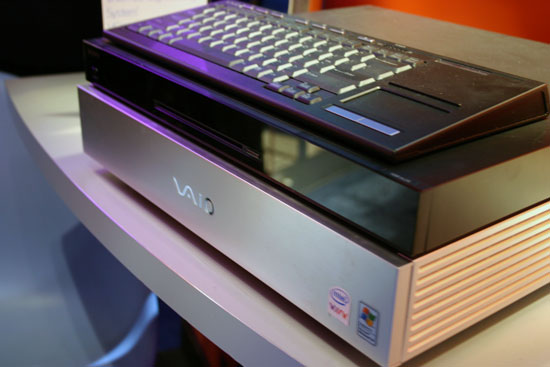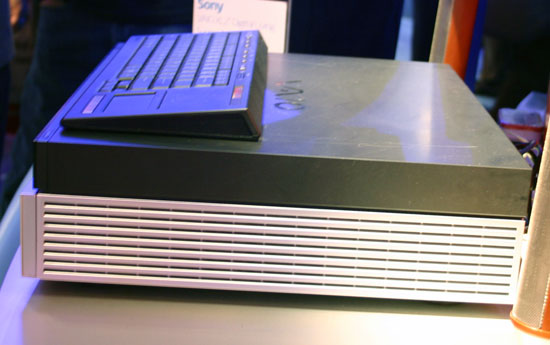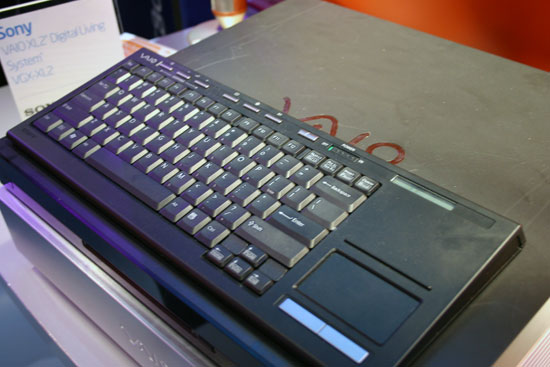 Intel's Viiv Reference Design
The one Viiv design that really caught our eye was unfortunately nothing more than a reference design from Intel. Think Mac mini but thinner and longer, and you've got Intel's Viiv reference design: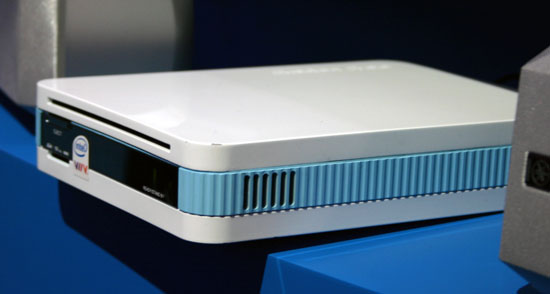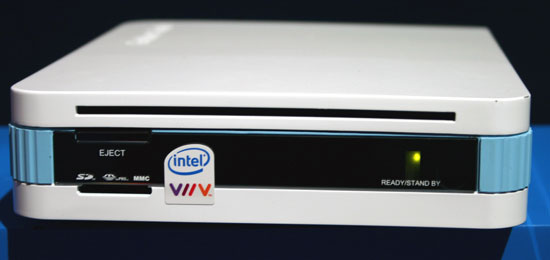 Now all we need is for someone to clean up the design a bit and actually build it.
AMD's got a small Media Center too
While Intel had rows upon rows of Viiv PCs, AMD did have a single stand at the Microsoft booth with their own small form factor Media Center PC.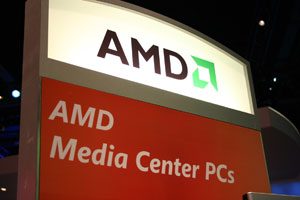 The PC is based on a Turion 64 ML-40 processor and is unfortunately only available in the Asia market.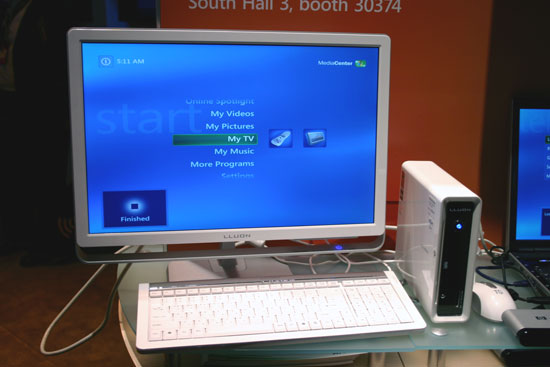 The system is incredibly small and it is a shame that with AMD's significantly lower power consumption that we can only find one example of a OEM machine like this.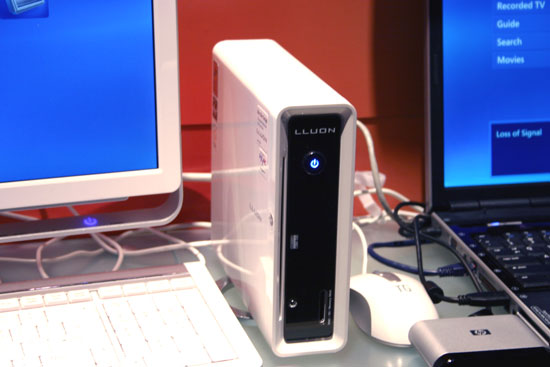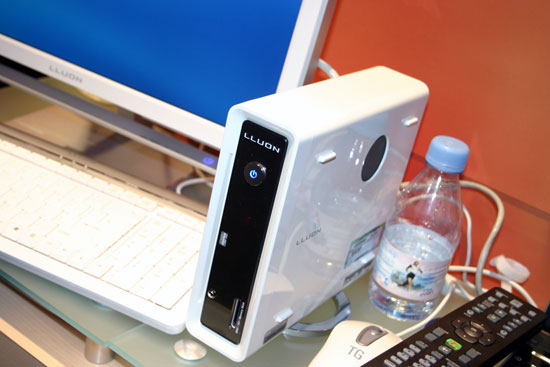 DirecTV and Viiv
On our first day in Vegas we got a preview of ATI's OCUR device; as we mentioned in the article, the OCUR will be used to bring CableCard support to PCs with Windows Vista later this year. While at the show, DirecTV announced a relationship with Intel that could potentially result in a very similar capability for DirecTV owners.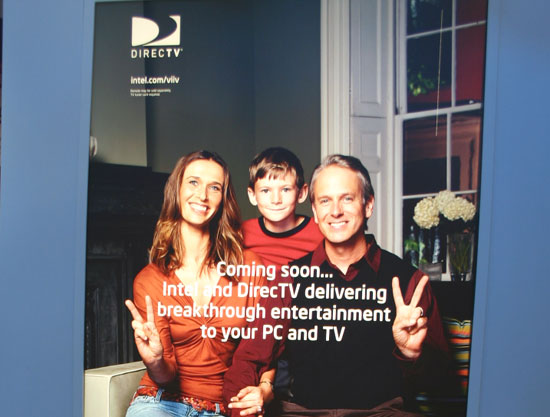 The idea is that sometime in the future, DirecTV users will be able to connect their Viiv PC to their DirecTV receiver and share content between the two. The goal is to be able to not only gain access to movies, pictures and music stored on the Viiv PC but also to use the Viiv PC as a HD-DVR for your DirecTV channels.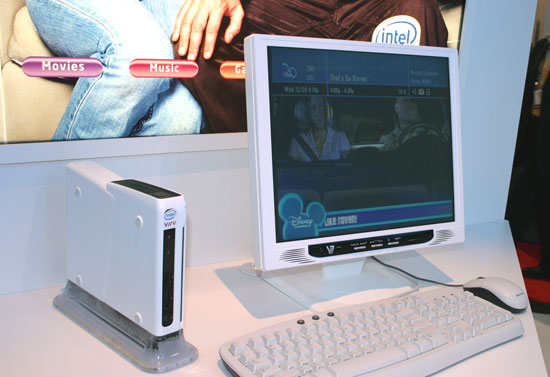 There are absolutely no details on the implementation or expected availability, all we know is that DirecTV and Intel are working on the solution and that we can expect it sometime in the future. Given Microsoft and ATI's commitment to deliver CableCard support to the PC by the end of this year, we'd estimate that DirecTV would want to be able to promise the same HD/premium content support under Vista to their subscribers as soon as possible as well.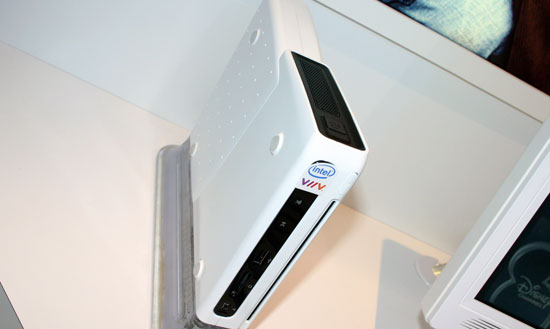 The Viiv PC at the DirecTV booth was yet another Intel reference design, however it was a non-functioning sample.
Blu-ray Everywhere
While both Blu-ray and HD-DVD were prevalent at the show, it seemed that Blu-ray had a bigger presence at least in terms of floor space and advertising at this year's CES. Of course the format wars haven't even really begun so our observation is nothing more than something interesting to think about.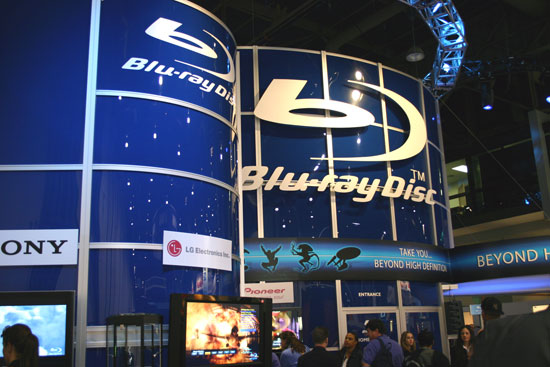 We got a chance to see Blu-ray players and recorders from a number of manufacturers, most of which were telling us to expect availability by the middle of the year:
Hitachi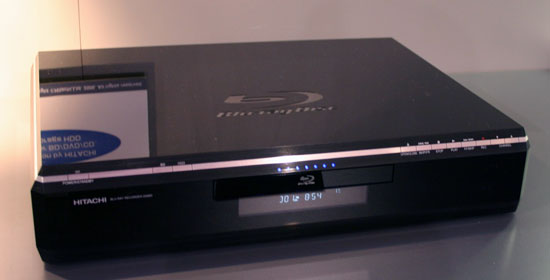 LG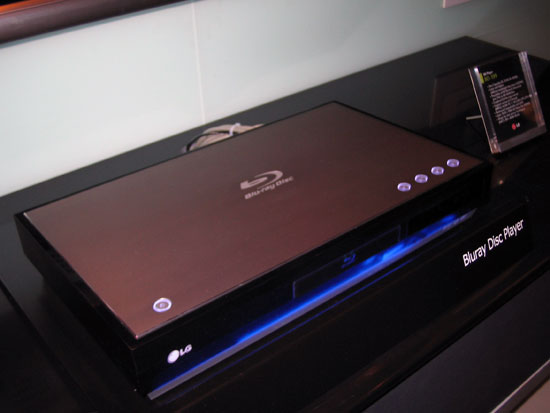 Philips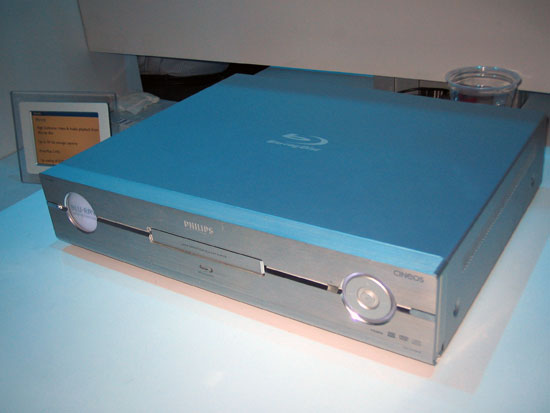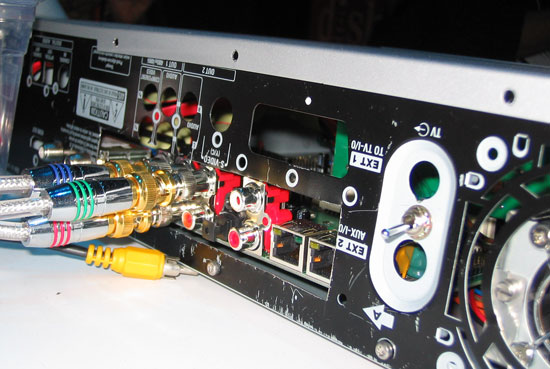 Pioneer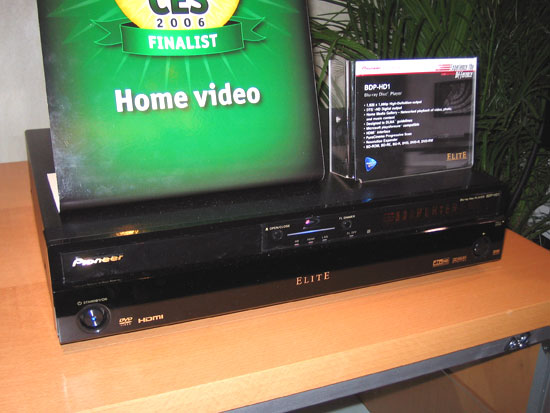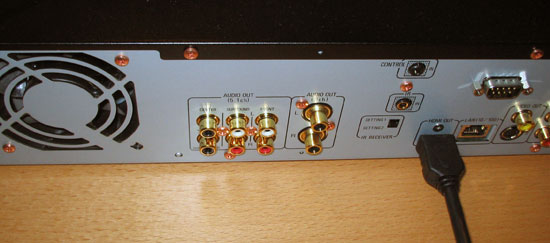 Sony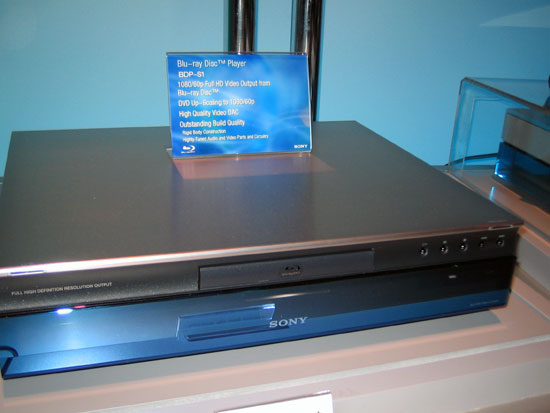 Blu-ray PC Drives
While set-top players were popular at the show, there were also a decent number of 5.25" PC Blu-ray drives: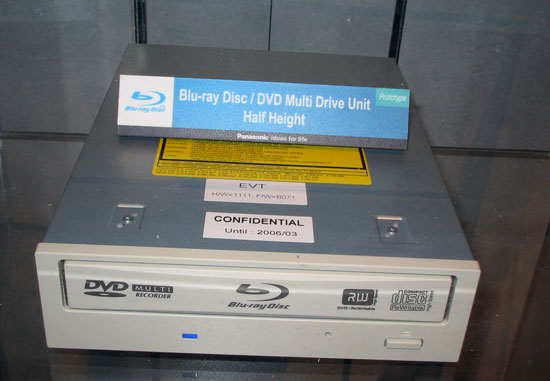 Unfortunately these two PC drives were PATA prototypes, with SATA versions on the way.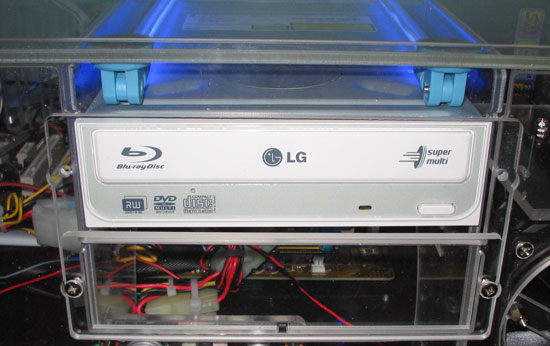 Blu-ray notebook drives were also on display, including a slot loading drive: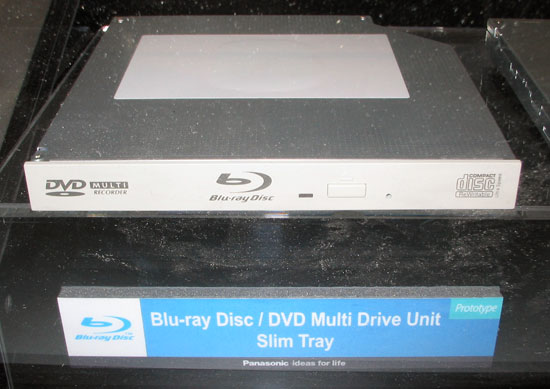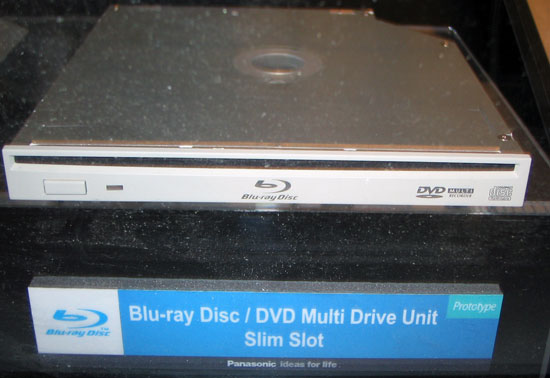 Blu-ray Discs and Titles
Along with the drives, we also got a look at Blu-ray discs and some of the titles that will be available on Blu-ray media: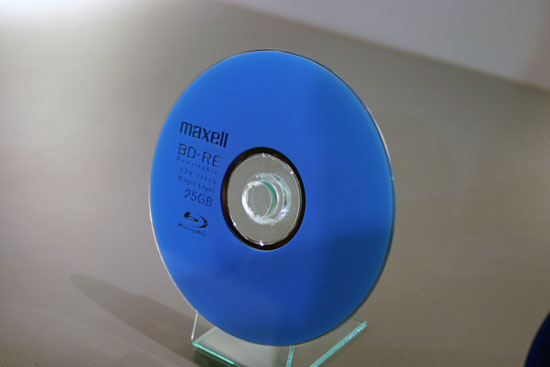 The BD-RE discs are re-writable at up to 72Mb/s on the 2x recorders at the show.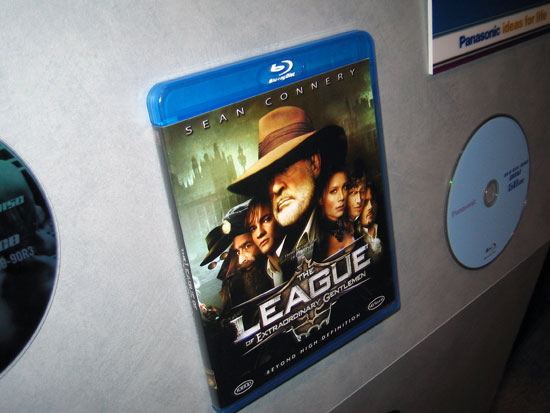 Note that the Blu-ray discs feature a 1080p logo on them: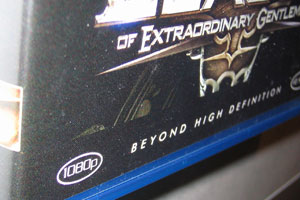 At the Blu-ray booth there were a ton of other titles on display: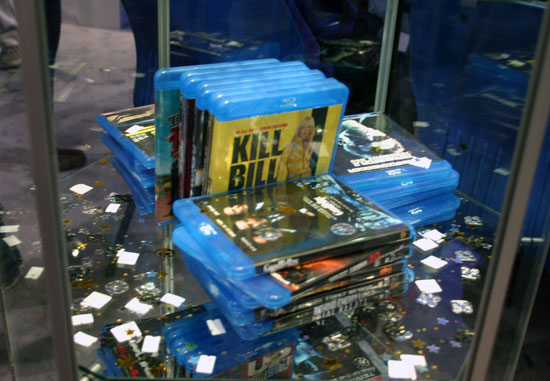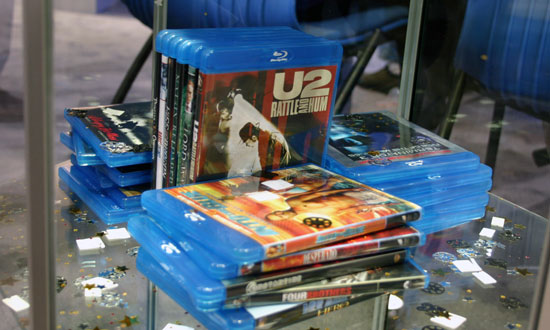 HD-DVD
As we mentioned earlier, there simply wasn't as much HD-DVD as Blu-ray stuff on the floor. But just as you saw in our Blu-ray coverage, we were able to take a look at some of the consumer players that are due out later this year:
RCA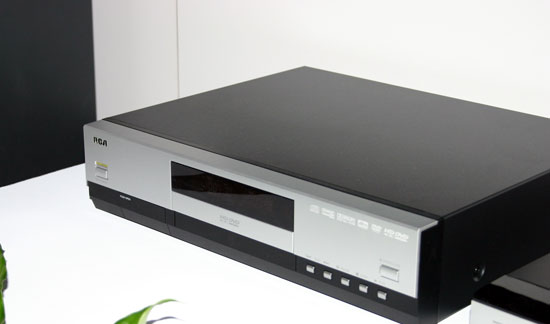 Toshiba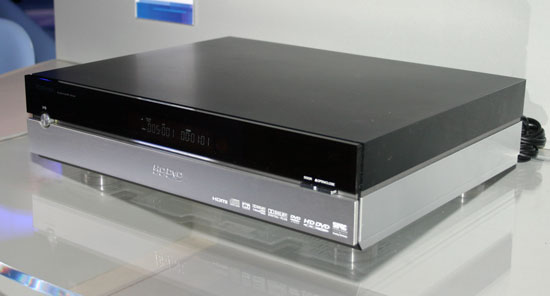 There was a wall of HD-DVD titles present at Toshiba's booth: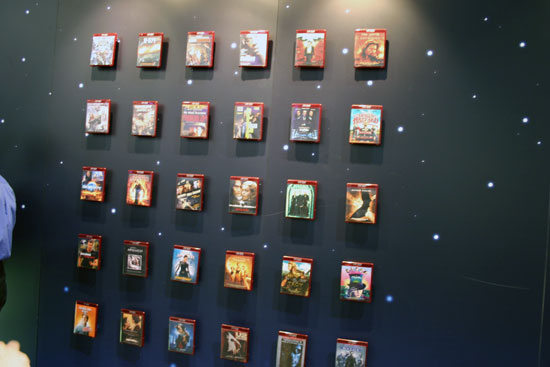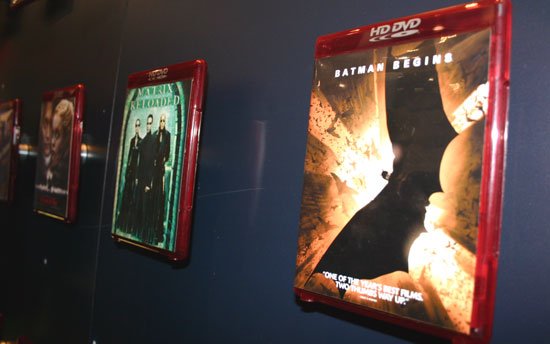 Motorola In-Ear Bluetooth Headset
Motorola showed off a very cool design for their latest Bluetooth headset. Aside from being extremely small, the H5MINIBLUE is unique because the microphone resides in your ear canal. It listens to your voice by sensing the vibrations of your speech through your jaw.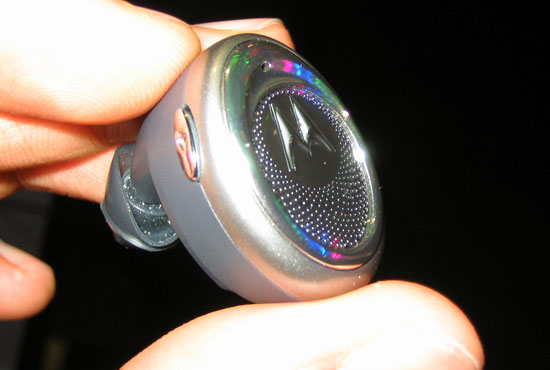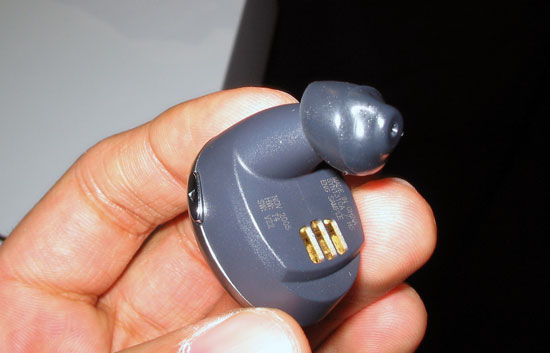 This may seem odd at first; however the benefit of this design is that the listener on the other end of the call will hear almost no background noise from the user's environment. So if you're in a crowded convention center trying to talk on the phone, you don't have to worry about the person you're calling having to hear all the other conversations going on around you as well. At the same time, you don't have to yell to be heard on the other end of the conversation.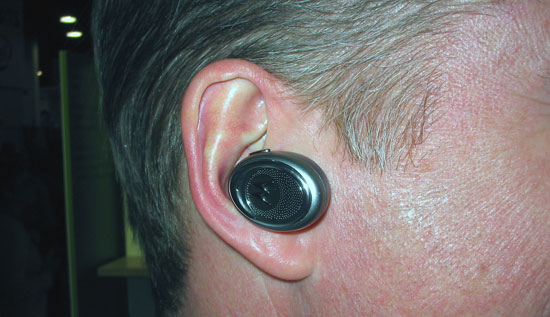 Hitachi's OLED Tech Demo
Hitachi showed off their latest in Organic LED (OLED) display technology.  What's unique about this technology is that each pixel on the screen emits its own light so there is no need for a backlight like in traditional LCD displays.  The display on the show floor was looping video of bright, colorful scenes that Hitachi put together obviously attempting to show off the impressive color reproduction capability of the display.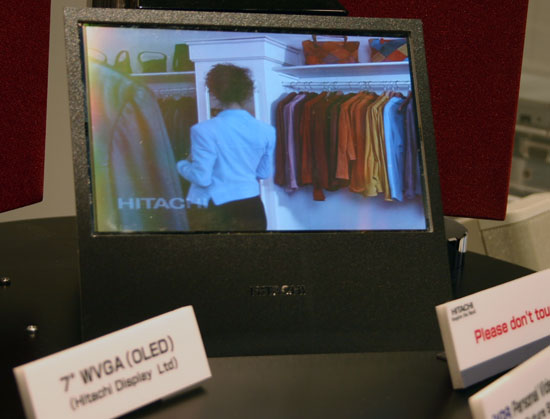 The screen measured 7" diagonal with a WVGA resolution (854x480). The video being looped played smoothly with no indication of ghosting, although it did not include any fast motion scenes so we could not get a good idea of the response time.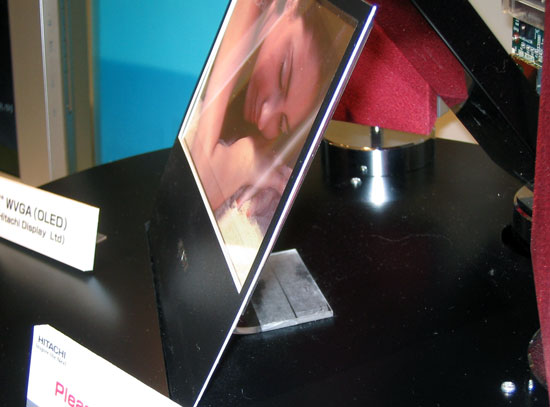 Though the picture quality was good for a tech demo, what really impressed us was the thickness (or thinness, rather) of the screen.  The display was barely over an eighth of an inch thick and completely flat (excluding the stand).  Hitachi says they have no official plans to release any products using this technology yet, although considering how impressive the demo was, it's safe to assume we'll see this display being utilized in the next few years.
Hitachi's LCD Display with LED Backlight Demo
Another display technology Hitachi is showing off at CES is a prototype 17" LCD display panel with an LED backlight. The benefits of using an LED backlight instead of a traditional florescent bulb include being able to display a much wider color gamut for improved color reproduction, reduced thickness of the panel, and a longer lasting display. Hitachi expects LED backlit panels to start shipping in the middle of 2006.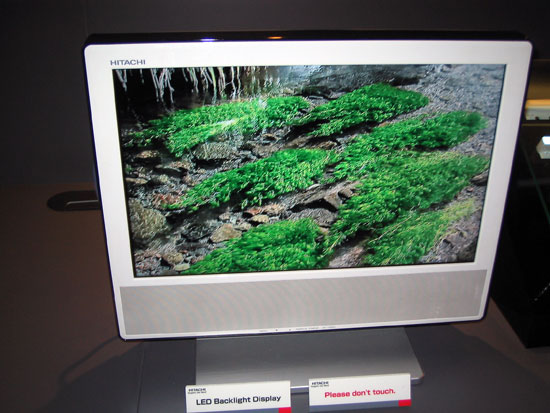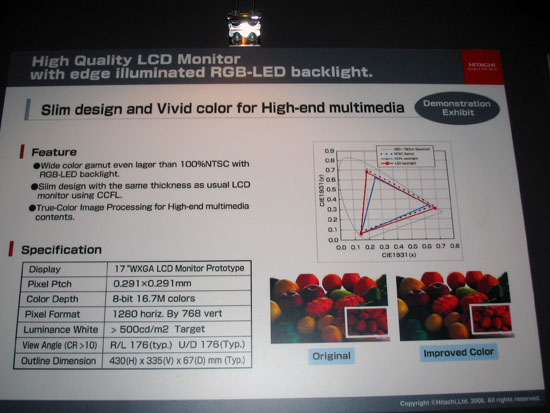 Hitachi 3D LCD Display Demo
Yet another interesting display technology Hitachi demonstrated is their 3D LCD display. Hitachi stacked two identical LCD displays on top of each other and varied the brightness of the objects being displayed on each screen using special software to achieve a 3D effect with no special glasses required. The display was being driven by a Windows PC with dual DVI output and software created by NTT.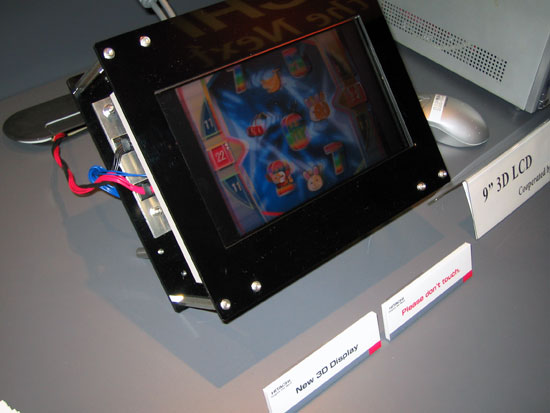 Overall we were impressed with the ability to view a 3D image without the need for any special eyewear. Hitachi says the first application of this display will be in casino gambling machines by mid-2006 and later in car navigation displays. The video loop running on the display showed a concept interface for a car navigation system and it was very impressive. Directional arrows overlaid on city streets were much easier to see in "real" 3D as opposed to the conventional 3D maps in today's navigation systems. A touch screen version is also in the works.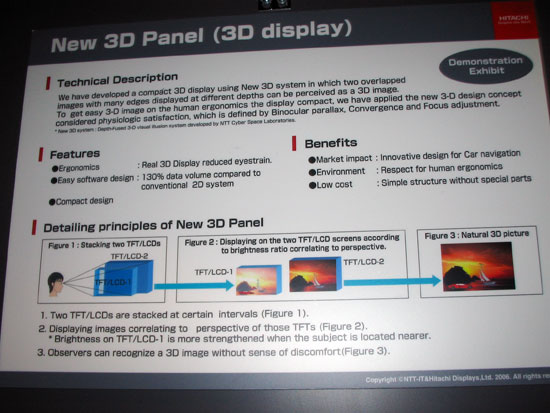 Philips Rollable Display Demo
Philips showed off a technology we've been waiting a long time for: the rollable display.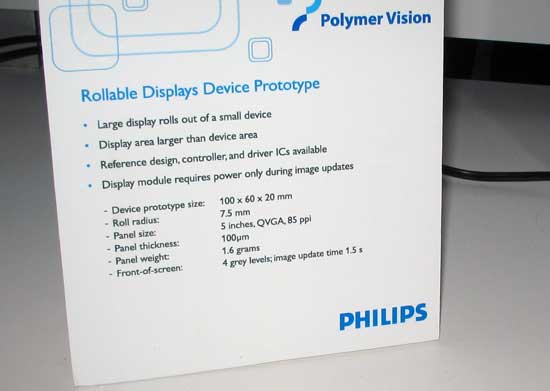 This is essentially a fully functional grayscale display that you can bend (or roll). The demo station showed the display being updated in real time while continuously being rolled and unrolled.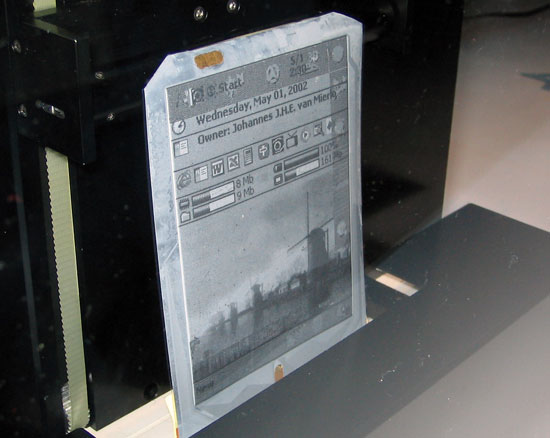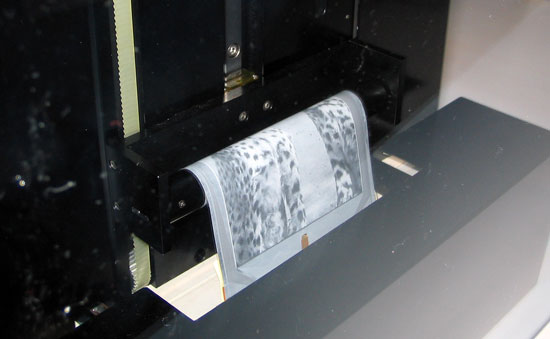 Philips says they have rolled the display over 25,000 times without failure. It also uses very little power because the display only draws power during updates. The display will retain the last image written to it for several months without needing any power. It also retains its image perfectly while being bended or rolled even with no power applied. The display could be a huge boost for reading electronic text away from a desktop computer.