Original Link: http://www.anandtech.com/show/1916


We'll start off our CES coverage with none other than Dell and their handful of new products and announcements.
Dell Takes on Apple with 30" LCD Display
We all knew it was coming, but at this year's CES Dell finally announced and started shipments of their first 30" WQXGA (2560 x 1600) display: the Dell UltraSharp 3007WFP.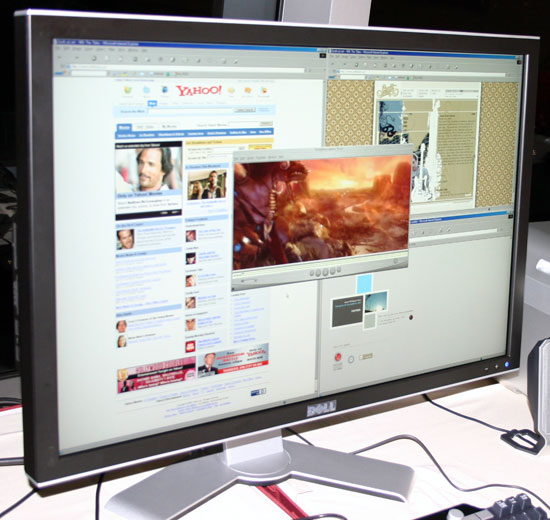 Available immediately from Dell's online store, the 3007WFP uses a newer panel than what is used in the Apple 30" Cinema HD display, and thus Dell promises a higher contrast ratio and lower response time. The brightness of the panel appears to be at least on par with the Apple 30" Cinema HD display but it is possible that the contrast ratio is noticeably higher on the Dell.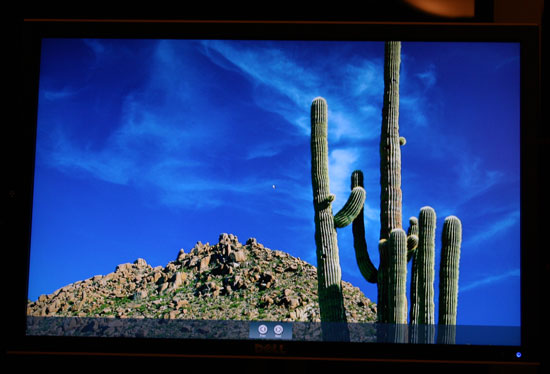 Priced at $2199 (or $1999 if purchased with a Dell computer), the 3007WFP weighs in a full $300 cheaper than the Apple solution. While it lacks the simple and elegant design of the Apple display it does have a few features the Cinema HD display lacks.

The 3007WFP features a height adjustable stand as well as an integrated SM/SD/MS/MMC/CF card reader. In addition to the two card slots there are four USB 2.0 ports on the display, two on the side and two on the back. The other important feature that the 3007WFP comes with is HDCP support, meaning you should be able to view DRM protected HD-DVD content at full resolution in Vista on this display.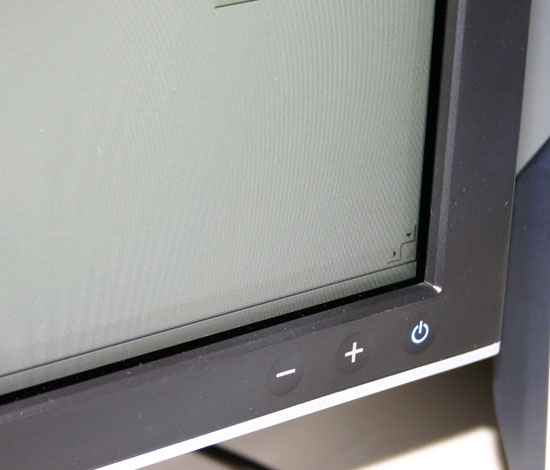 Dell's Quad SLI , 4.26GHz, Dual Core XPS Renegade System
The most surprising announcement of the day from Dell was the limited edition Dimension XPS 600 Renegade system.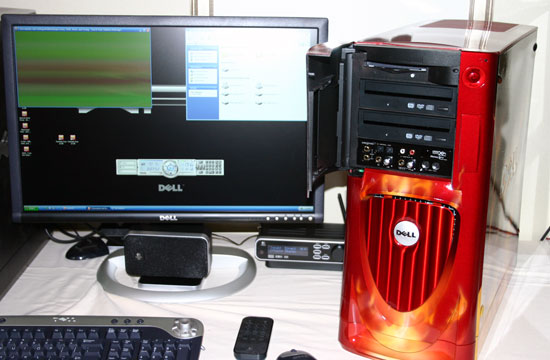 Based on Intel's Pentium Extreme Edition 955 and the nForce4 SLI X16 Intel Edition chipset, this is the first Dell that will undoubtedly outperform just about anything we've seen to date.
For starters, the Pentium Extreme Edition 955 that is used in the Renegade is unlocked and Dell increased the default clock multiplier from 13.0x (3.46GHz) up to 16.0x for a factory overclocked speed of 4.26GHz - warrantied.
To cool the dual core processor running at 4.26GHz, Dell resorted to an absolutely huge copper heatsink which you can see pictured below: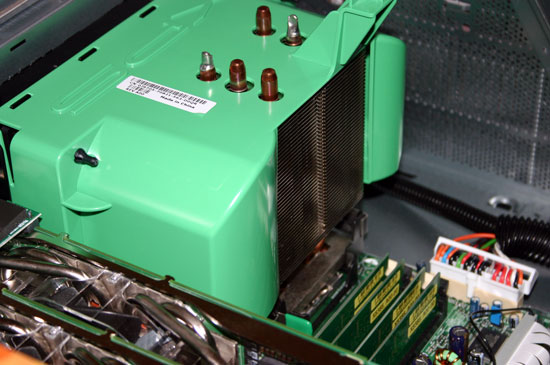 We were surprised to see that no water cooling was employed, but given that we're talking about a 65nm Presler core it's not too surprising. If Dell is able to reach 4.26GHz and warranty it, we'd expect most avid overclockers will be able to do the same with proper cooling.
As if the extremely overclocked CPU wasn't enough to begin with, NVIDIA stepped in and outfitted the system with two dual-GPU GeForce 7800 GTX 512MB cards, for a total of four GPUs running in SLI mode with 2GB of total on-board memory.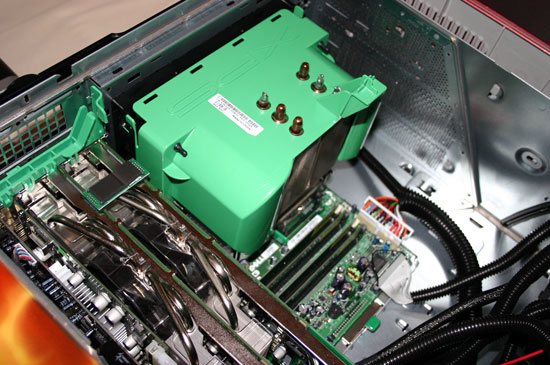 The shipping version will feature Quad-SLI, not pictured above
The system will also ship with two Western Digital 150GB 10,000RPM Raptor drives.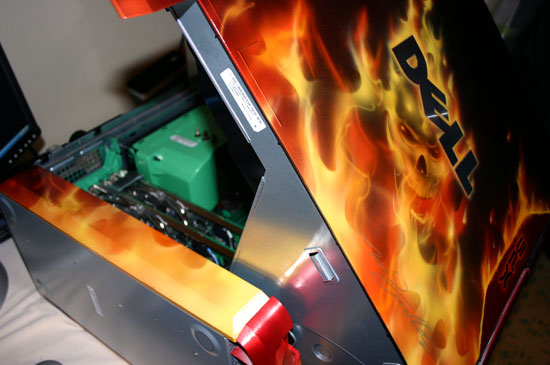 The icing on the cake is that each and every system features a hand painted chassis and Dell will only produce a limited number of them. No word on pricing or quantities on the system, although Dell tells us that it should be available to order sometime this quarter.
Intel Centrino Duo, by Dell
Dell also showed off their Inspiron E1705, their first and currently their only Centrino Duo based notebook. As the name implies, the notebook features a 17" widescreen display and an Intel Core Duo processor (single core versions will also be available). It is currently offered with either a T2500 (2.0GHz) or a T2400 (1.83GHz) Core Duo processor.
Although Dell is supposed to be shipping immediately, their online store doesn't have a preliminary ship date listed when you go to configure a machine.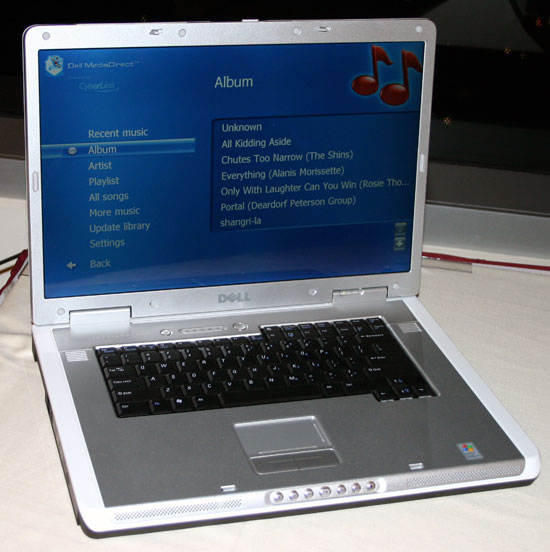 Dell gave us a demo of the Inspiron E1705 with its new Dell MediaDirect 2.0 instant-on feature. Basically within 12 seconds of starting MediaDirect 2.0 you have full access (via a pre-OS environment) to any device connected to the notebook. That includes USB drives, media cards, the DVD drive and even the entire internal hard drive (as well as any external drives). With access to all of these devices you can view pictures, watch movies (any format that is supported by Windows Media Player) and listen to non-DRM protected music.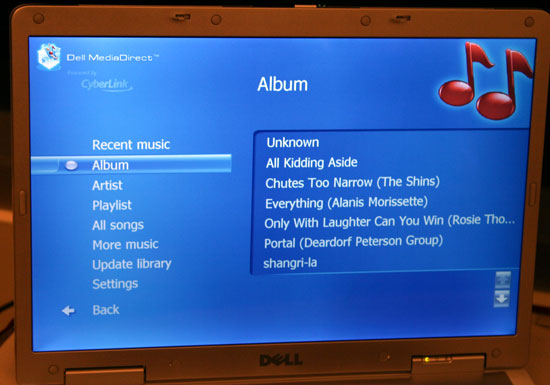 The MediaDirect 2.0 interface is very media center like and designed to minimize the amount of time needed to get your notebook up and running to a state where it can function as a portable media player.
We are expecting to have our review sample of the Inspiron E1705 in the next week or two.
Dell's Mobile Concept PC
The final item of interest that Dell was showing off at the show was their Mobile Concept PC.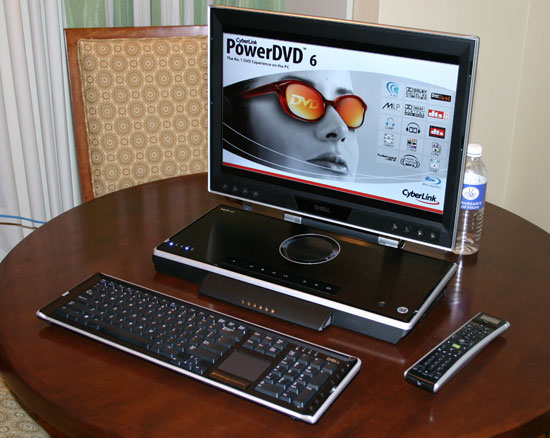 Click to Enlarge
The premise behind the PC is a unique one; it is a Media Center PC, based on a Core Duo platform, with a built in 20.1" LCD monitor, that can be folded up and used as a transportable.
The system has a Bluetooth keyboard (that can charge on the system itself) and mouse as well as a Media Center remote. Internally it's basically a notebook with discrete graphics and support for up to two 2.5" hard drives running in RAID.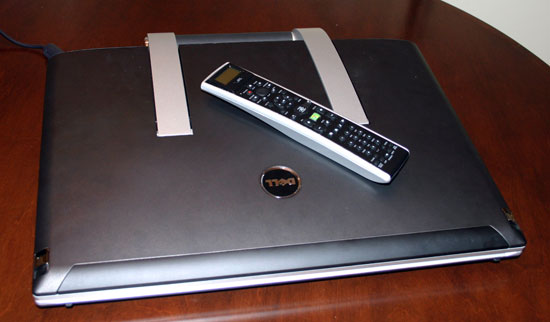 The back of the LCD is covered in a leatherette material and the system has a leather handle you can use to carry it around.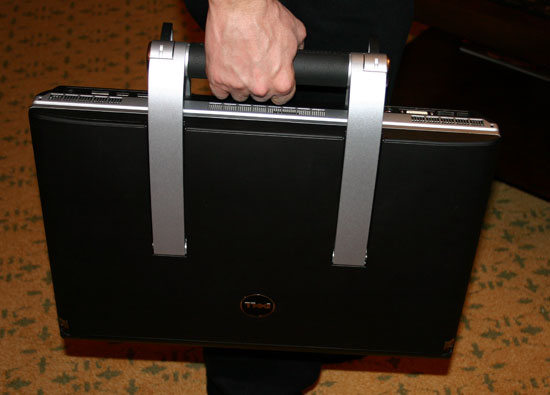 Dell has apparently been working on the system for a couple of years now and are mainly interested in whether or not you all would like to see something like this brought to market. We were quite skeptical of its usefulness when we saw it, but discuss amongst yourselves - would something like this be interesting to you?
If priced competitively enough, we figured it could be decent for college students to use in their dorm rooms since they could easily take it with them whenever they left school for the holidays.
Dell looked at it as a lifestyle sort of PC, almost in a very Apple-esque fashion, however in our opinion for Dell to pull that off the machine would have to look a lot more stylish.
The transportable aspects of the system are interesting, and Dell even promised that unteathered the system would have up to 3 hours of battery life. Dell also mentioned that the final system should be around 17 lbs, which isn't terrible to move from one location to another. Note that it isn't designed to be a notebook, just a portable desktop that you would occaisonally move from one location to the next.
We are still quite skeptical of the design, but once again, Dell wants to hear from you - so give them feedback by leaving your comments.
Seagate's WUSB Demo and eSATA/DVR drive
Wisair and Seagate were demonstrating a proof of concept technology demo using Wireless USB to stream video from an external hard drive to a laptop.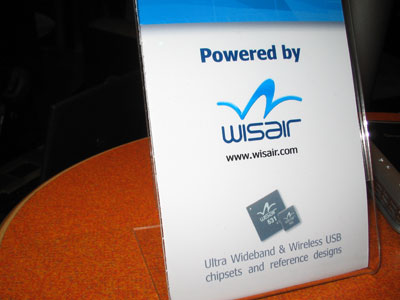 The demo was simple; an external Seagate hard drive and a laptop were both outfitted with Wireless USB antennas.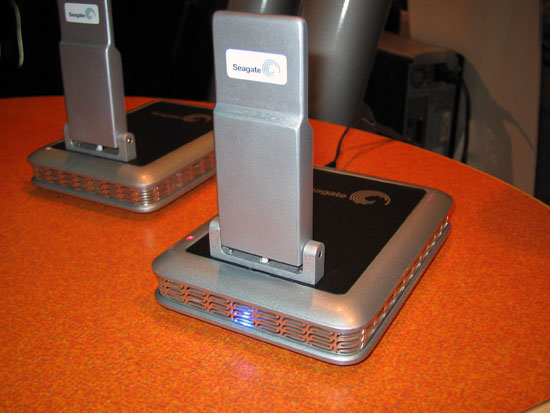 The laptop started playing content from the Seagate drive without a hitch, all wirelessly. However one of the major issues with Wireless USB, especially for storage, is that you still have to plug the device into the wall for power. So Seagate's demo actually employed an external hard drive with a battery that would allow you to stream data from the drive, completely wirelessly.
The demonstration got choppy when on battery power as the operator moved further away from the notebook, but it is an early technology so hiccups can be expected.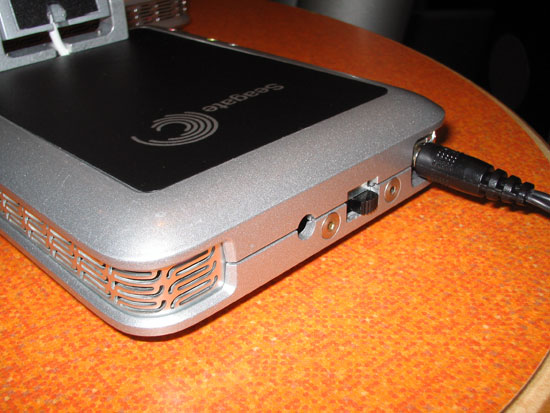 The switch on the back of the unit switched between external and battery power
While transfer rates weren't disclosed, Wireless USB is supposed to be able to achieve transfer rates of up to 480Mbps - the same as wired USB 2.0.
The other interesting device at Seagate's booth was an external SATA drive that was plug and play compatible with Scientific Atlanta DVR boxes. Simply plug the drive in to the eSATA port on your Scientific Atlanta DVR and you instantly increase your storage capacity, allowing you to record more shows without having to open your DVR.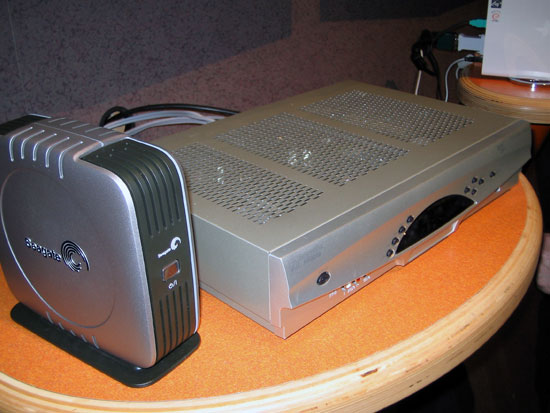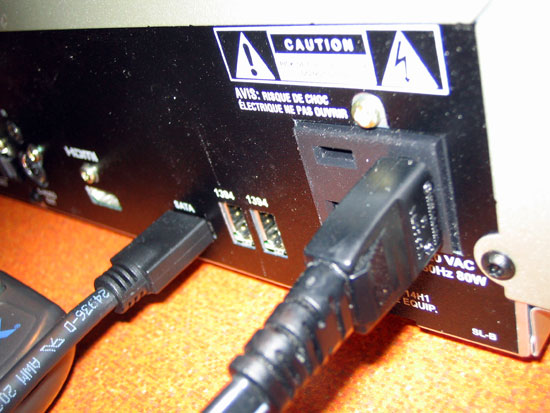 Note that the external drive does not allow you to move content onto your PC or other devices.
The World's First Upgradeable Graphics Card
MSI had an interesting proof of concept design at their booth: a PCIe x16 graphics card that featured two NVIDIA MXM interfaces. With two separate MXM interfaces, you can theoretically put any MXM GPUs on the card - making it an expensive, but upgradeable graphics card.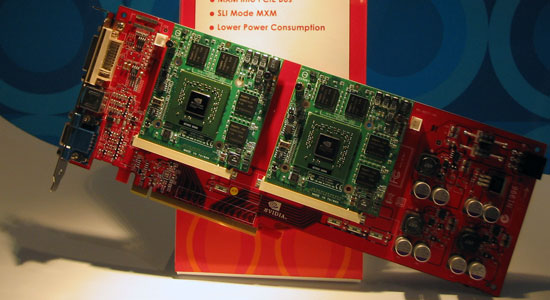 The problem is that since each MXM module has its own memory, there's no real benefit to this sort of approach today. And you wouldn't want to keep the memory on the PCIe card itself and just upgrade the GPU since you'd inevitably end up being way too memory bandwidth limited after one or two GPU upgrades.
Instead, this sort of an upgradeable GPU design may make sense if technologies like NVIDIA's Turbo Cache gain acceptance in the mid-range and high-end graphics markets. Reducing the dependency on high speed local memory for anything more than a cache would eventually allow these sorts of upgradeable designs to be used on desktops (or maybe even pave the way for the socketed GPU).
MSI also had a solar powered laptop on display: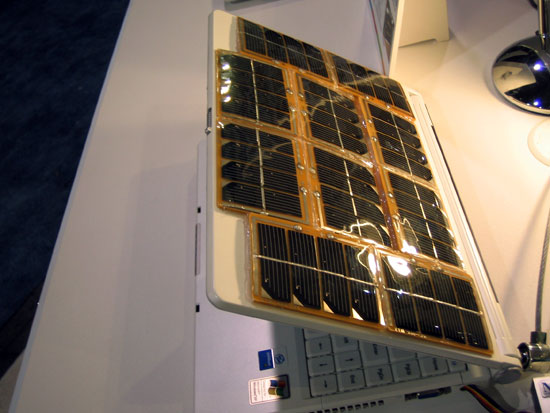 The construction was crude, but a single lamp had no problems powering the notebook just fine.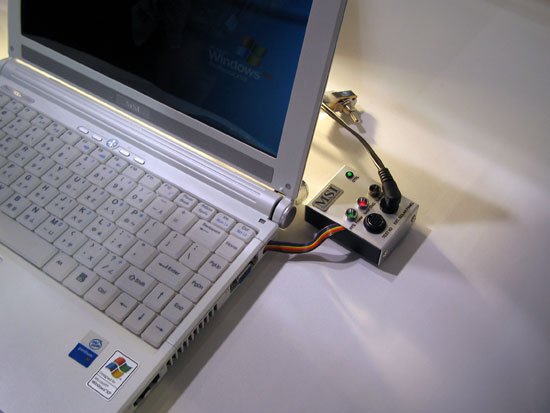 Toshiba's HD-DVD Player at Intel's Booth
We'll leave you today with a picture of Toshiba's HD-DVD player that was sitting in Intel's booth. The player crashed when we took this picture, but other than that there was nothing particularly interesting to see here.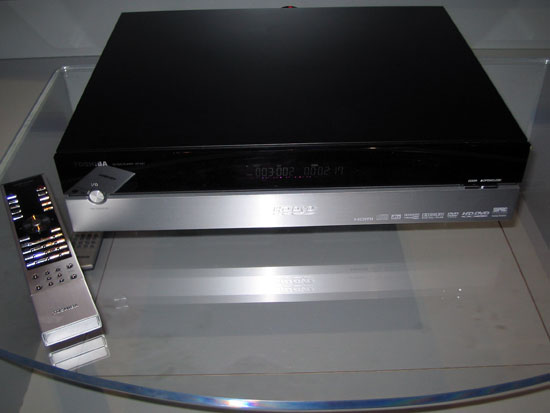 Expect to see much more coverage of HD-DVD and Blu-ray here tomorrow and on our news partner - DailyTech.