Original Link: http://www.anandtech.com/show/1903


Introduction
We recently looked at ATI's X1800 XL version of the All-In-Wonder, which combined powerhouse graphics along with its multimedia capabilities. We were impressed by how much gaming power the card had on top of the video features, but questioned how practical it would be given the price. The X1800 XL A-I-W handled graphics as well as any high-end card can be expected to do, but many of those on the market for an All-in-Wonder ATI card would probably prefer something a little less bulky and pricey (in the graphics dept), but still have the features of the newer A-I-W.
Luckily, ATI has an answer for this in the form of the ATI All-In-Wonder 2006 PCIExpress Edition. The A-I-W 2006 is based on ATI's X1300 line, making it more budget-friendly than it's X1800 XL big brother. Because it's based on a budget part, the A-I-W 2006 looks like a much more practical alternative for an All-In-Wonder solution, if not quite as impressive. Still, the full motion video playback and recording features, as well as the hefty software bundle add to the desirability of this card.
This is our first look at the All-In-Wonder 2006 PCIe Edition, and apart from the obvious graphical performance difference from the X1800 XL All-In-Wonder, these two cards are very similar. The All-In-Wonder series offer various multimedia features such as TV playback and recording, as well as online program downloading and scheduling for recording shows. We'll be looking at these features more closely later in the review.
We will also be looking at the performance of the A-I-W 2006 PCI-e in some gaming tests, to see how this version of the X1300 handles a couple of games at different resolutions. Interestingly, while the A-I-W 2006 architecture is based on the X1300, it's clocked lower than a standard X1300 Pro (which we tested in our X1000 series launch articles), and we will compare the two in the performance test section.
Also, we'll be looking at any differences we might see in the multimedia features of this latest All-In-Wonder part over the earlier versions, and we'll again be testing power consumption as well. The X1800 XL A-I-W costs about $380 right now, and with a suggested retail price of $199, the A-I-W 2006 is significantly more affordable. Given the fact that at the time of release, the X1800 XL A-I-W retailed at about $490, we might see a similar drop in price for the A-I-W 2006 a while after it's out, which is a good thing.
As far as availability goes, we have another "proving ground" situation for this launch, as we won't know for sure if the card will actually be buyable today, the day of the launch, but we are giving ATI the benefit of the doubt. Hopefully ATI will make good their promise and we will see some quantities of the A-I-W 2006 PCIe for sale sometime today. The recent X1800 CrossFire Edition launch was a little light on availability, but there were cards around for those who looked hard enough. We'll keep our eyes open.
We like the capabilities of the All-In-Wonder family of cards, and this one looks to be another member of the same quality. The price is still a big factor in how desirable this card will be to the individual user, especially as we are dealing with a much less powerful card for gaming. Given the fact that prices are very much subject to change, and that different PC owners will have different preferences when looking for a multimedia solution, there is a fair amount of subjectivity in the value of this card. But that said, the A-I-W 2006 has a lot of potential, so lets go ahead and take a look at the card.
The Card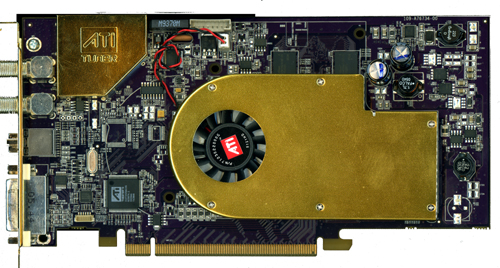 The card looks like a slightly longer version of the standard X1300 Pro, with the signiature A-I-W purple colored board. While the board itself is a bit longer, the HSF is the same shape and size as it is on the X1300, but it's gold colored now and moved to closer to the end of the card. There's also a small gold colored casing for the tuner in the top corner.
Included with the card is the same kind of software and hardware bundle expected with any A-I-W card. The hardware consists of lots of connection equipment for hooking up your cable/tv to the card, but there is something different with the A-I-W 2006. The card does not come with the previously included remote wonder, however ATI will send it to you free of charge (even without having to pay shipping costs) if you send off for it after you've bought your card. This is probably just a way for ATI to save on some costs.
The software bundle is pretty much the same here as it was for the X1800 XL A-I-W. Apart from the standard drivers, you get Adobe Premiere Elements and a lot of familiar utilities for playing/recording video which we'll look at in the next section. Note, Adobe Photoshop Elements is not included as it was with the X1800 version, making the software bundle a bit smaller for the A-I-W 2006.
Why ATI is still using the Theater 200
Many have raised the question as to why ATI would stick with the Theater 200 rather than upgrade to the newer, more feature rich Theater 550. Both the A-I-W 2006 PCIe and the A-I-W X1800 XL make use of ATI's older Theater 200, which doesn't have any hardware support for encoding/decoding and uses older filter technology. The real answer to the question of why ATI isn't jumping to drop the Theater 200 is that they really don't need to.
With the X1000 series, AVIVO enables some advanced video playback features. It is possible for ATI to leverage the GPU and its AVIVO features to enhance the quality of video from TV. This means that ATI really shouldn't look at the advanced filtering features of the Theater 550 as an advantage over the Theater 200 for All-In-Wonder products.
This still leaves the lack of hardware encoding support on the Theater 200 chip. Again, this is not a big issue. How can we say this? Today, ATI's driver includes some highly optimized methods to transcode video. The
AVIVO Video Coverter
works with ATI X1K graphics cards (although it is not GPU accelerated) to bring users the ability to convert video recorded using the A-I-W 2006 PCIe to virtually any other video format (including WMV9, PSP, and iPod video). The performance of this software is quite good, and while it isn't quite as efficient as a hardware solution, the versatility and potential of this software makes up for any shortcomings.
At the same time, ATI is working on building GPU acceleration into their AVIVO Video Converter. While GPU assistance is off in the distance, ATI's inclusion of a video converter at all gives them a simple vehicle for enabling hardware accelerated encoding/transcoding when their code to do so finally matures. When GPU acceleration hits, encoding and transcoding on X1K A-I-W products will be leaps and bounds better than the features supported on the Theater 550.
Top that off with the fact that ATI has just introduced H.264 decode acceleration and has already included WMV decode acceleration, watching compressed video will have a decreased impact on the CPU as well. All in all, the inclusion of the Theater 200 over the Theater 550 isn't something to worry about. If ATI had all their ducks in a row with hardware assisted encoding right now, there could be absolutely no argument that the Theater 550 would have been a better choice. As it stands, the lack of hardware MPEG-2 encode support on the A-I-W parts is it's only shortcoming, but we hope ATI will fix this as soon as possible by introducing GPU assisted encoding in their driver suite.
Now lets take a look at some of the features of this card.
Features
The multimedia aspects of the A-I-W 2006 are what take the center stage over its gaming capabilities. While it is capable of providing decent gameplay in a lot of games, we don't see the kind of over-the-top graphical performance as we did with the X1800 XL A-I-W. We do however see the same excellent multimedia features which reflect the quality ATI has put into their A-I-W products.
Video Playback and Recording is the biggest feature here, and again we find that the card is incredibly easy to install and setup for this. The card has an input for your Cable or Satellite system and once it's plugged in, a simple setup adjustment had us instantly watching live tv on our system.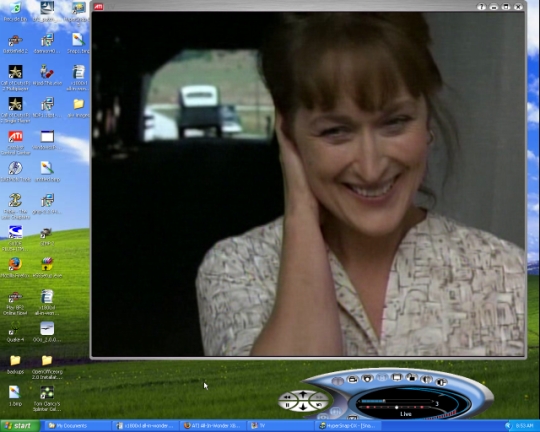 The interface is the same as it was for the X1800 XL A-I-W, with a TV player which works much like a television tuner, allowing you to browse cable channels and do other things like set parental controls. The Gemstar GUIDE Plus+ is back, which is a program that comes with the card and allows you to download show schedules and record upcoming programs for later viewing on your PC. You can also pause and resume live TV at anytime while you are watching, which gives the All-In-Wonder a similar feel to something like TiVo for the PC.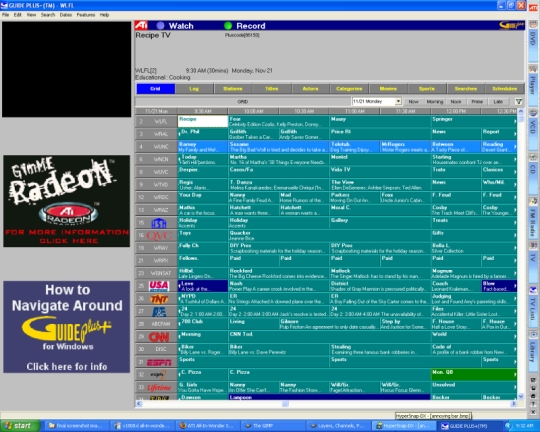 There is also a feature called Thruview, which is essentially a way to watch TV in the background while typing or web browsing on your computer. Thruview is enabled through the media player options, and changes the opacity of the video playback so that it appears to be playing in the background. This "see-through" effect can be enabled full screen or be limited to a box that can be resized. We talked before about how this effect can be slightly annoying, and our sentiments haven't changed. While it is an interesting idea and some people might have use for this feature, we find it to be distracting and too faint to be of any real use.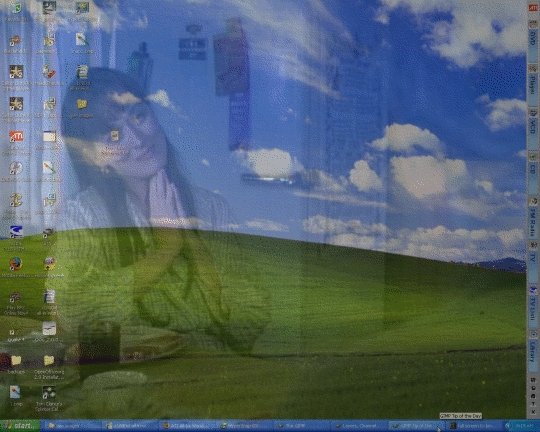 Another small annoying thing that is back with the A-I-W 2006 is the toolbar that installs itself with the media players and starts up with windows along the right edge of your screen. The toolbar isn't really necessary, as all of the programs listed are available in the start menu, and the fact that it's there taking up any space at all rubs us the wrong way. But the toolbar is harmless and simple enough to disable from automatic startup if you don't like it. If you spend a little bit of time looking around at install time, the toolbar can be skipped altogether (which is our recommendation).

Other small features we should mention are the ability to record or take screen shots of anything you are watching at anytime, and view or export the files later on for editing. There is also a DVD and CD player included, as well as an FM Radio tuner if you feel like recording or listening to the radio on your computer.
These are all features that were available with the X1800 XL A-I-W, and ATI seems to be staying with what works for the A-I-W 2006. As we mentioned in the last All-In-Wonder review, of all the features included here, ease of use is at the top of the list. We didn't see any lag or glitches in video playback or recording, and the interfaces are straightforward and helpful for getting the desired settings. We still like the switch from Pinnacle to Adobe for the bundled video editing software, but again, unlike the X1800 XL A-I-W the A-I-W 2006 only comes with Premier Elements and not Photoshop.
Performance Tests
Since the All-In-Wonder 2006 is based on the X1300, we should see the same type of performance we saw back when we tested the X1300 Pro earlier this year. However, because the A-I-W 2006 has a lower engine clock as the stock X1300 (445MHz verses 600MHz), the framerates won't be quite as good. For now we will be testing Battlefield 2 and Doom 3 at 800x600, 1024x768, and 1280x1024 to give us a general idea of gaming performance. Next month we will be looking at performance of this and other versions of the X1300 greater detail.
Here is our test system:
MSI K8N Neo4 Platinum/SLI motherboard
AMD Athlon 64 FX-55 Processor
2x512MB OCZ 2-2-2-6 1T DDR400 RAM
Seagate 7200.7 120 GB Hard Drive
OCZ 600 W PowerStream Power Supply
*Note that we disabled sound for these tests.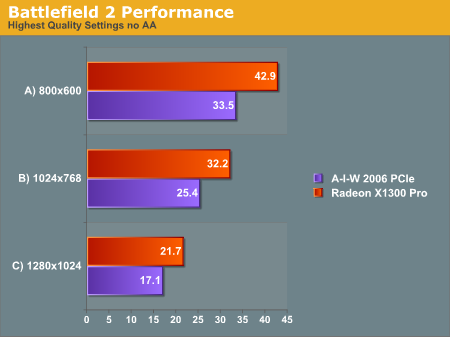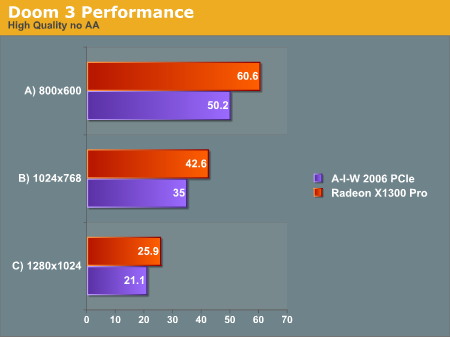 The X1300 is a budget part, so obviously it will have trouble running games like these at higher resolutions. Also, you can see what a difference the higher clock speed makes with the standard X1300 Pro over the A-I-W 2006. We found that Battlefield 2 didn't really get a playble framerate on the A-I-W 2006 at 1280x1024, and you'd probably get some choppiness when trying to play the game at 1024x768. Doom 3 did a little better, and the game should run fine at high quality at 1024x768, but again, choppiness might occur at 1280x1024.
If playing games like Battlefield 2 at high resolutions is a must, then this card is not for you, but those needing the type of features an A-I-W card can provide will be satisfied with what this card has to offer if gameplay is not the main focus. Higher resolutions can be achieved by sacrificing some in-game features, but the fact that this card can handle all the bells and whistles at certain resolutions is a plus.
Power Load
Obviously the power load of this card will be much lower than the last A-I-W we tested because it's a much slower part. We again tested the power draw while the system was idle, as well as running a Splinter Cell benchmark to test the card under stress. We also wanted to see the kind of power draw we'd get while recording video at full screen. While idle, the system load was 148W, while recording full-screen video it was 169W, and while under Splinter Cell stress testing the peak load recorded was 219W. As this shows, the A-I-W 2006 will put a significantly lower strain on your power supply than the X1800 XL All-In-Wonder.
Final Words
Hopefully we will actually be seeing some All-In-Wonder 2006 Edition PCI-e parts on sale today, and not just "out of stock" either. This is a card that would make an excellent gift for any pc user interested in video and multimedia, but as close as it is to Christmas it might be difficult getting a hold of one in time, especially given ATI's history with availability after launch. The fact that certain parts (ie. X1600) took so long after launch to actually become available made us go from slightly annoyed to eventually worried that something horrible had happened at ATI to cause such delays. Thankfully we are seeing some X1600s for sale now though, and hopefully ATI will be true to their word to be better about getting parts out on the day of release now.
The X1300 based A-I-W 2006 is not quite as impressive as the recent X1800 XL version, but that's mostly because it doesn't have the kind of raw power that the X1800 XL has for gaming. It could be argued however that for a card like this, all the extra gaming power isn't really necessary, and the power of an X1300 clocked slightly lower than stock would be much more practical for people in the market for an A-I-W card. Just the fact that it will most likely be much lower-priced is incentive enough for many to choose the A-I-W 2006 over the X1800 XL A-I-W. With a retail price of $199 it's still a little pricey, but as we said before, whether it's worth buying is very subjective based on each person's needs.
Right now you can buy a standard X1300 Pro for about $105, and given the fact that the A-I-W 2006's engine is clocked 155MHz lower than a standard X1300 Pro, the All-In-Wonder features are what you would really be buying this card for. But again, prices are subject to change, and the different multimedia features of the A-I-W 2006 are what will draw different PC users to the card. The A-I-W 2006 is a little less specialized than the X1800 XL A-I-W, as it will be geared mainly towards people who want the video playback/recording features of the card over gaming performance. But in spite of this, even with the lower clock speeds it can still run games like Halflife 2 and Doom 3 at resolutions up to 1280x1024 reasonably well.
This card does what it claims to do very well and it has a lot of good video features. Another great thing it has going for it is its incredible ease of use. The thought of finding and installing computer hardware for recording and playing video on a PC can be daunting to some, but for people not very familiar with this kind of thing, it shouldn't be much trouble at all getting everything setup and running quickly. Setting up the Gemstar GUIDE Plus+ to record and watch shows is fairly easy and straightforward as well, and we commend ATI for making the A-I-W 2006 so easy to use.
As with other All-In-Wonder cards, the A-I-W 2006 won't do the kind of job that a full media center PC would do for a home theater system, but it will let you watch or record video on your PC, among other things, and probably for a pretty decent price. ATI seems to have hit a little closer to the mark with this version of the All-In-Wonder in terms of value, and most of those on the lookout for a multimedia solution this Christmas will find that this is the card for them.