Original Link: http://www.anandtech.com/show/1893


As VIA and SiS seem to be declining in the chipset arena, ULi continues an aggressive push to capture a larger share of the chipset market. This is particularly true in the AMD arena, where ULi has produced the innovative AGP/PCIe M1695/M1567 chipset, and where ULi recently introduced the M1575 South Bridge for the ATI RD480 Crossfire chipset.
ULi also produces a single - chip Socket 754/939 chipset called the M1689, which is used by Gigabyte and other board makers for entry level AMD boards. However, the M1689 looks fairly basic in today's feature wars, which is exactly why ULi is introducing the M1697 single-chip for AMD Socket 939, 754, and 940.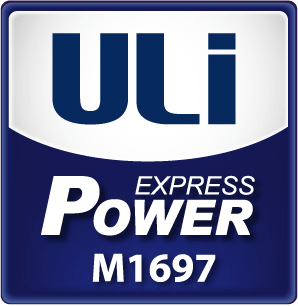 The M1697 is ULi's answer to "What would you do to improve nForce4?" nForce4 is the other single chip AMD chipset, and the ULi M1697 can be considered very similar to NVIDIA nForce4-SLI - with the significant addition of 7.1 High Definition (HD Azalia) audio. The advantage of a single-chip chipset is there is no need to worry about the communication speed of the North Bridge to South Bridge. ULi also communicates with the AMD processor (64 or 64x2) by means of the 16 x 16 HyperTransport bus, which delivers continuous throughput of up to 8GB/sec. This ensures that the processor/ chipset link provides sufficient speed so that it does not become a bottleneck in system performance.
Please keep in mind that this is
not
a board review. We are evaluating a ULi M1697 Reference board, and Reference boards are designed for qualification - not production. The Reference board will give you a very good idea of the features and capabilities of the M1697 chipset, but it is not useful to look too closely at board layout or overclocking controls, unless they are exemplary as in recent ATI Reference designs. In the case of the M1697, the Reference board is clearly designed for qualification, and feature demonstration. It is not a board that will be copied in production.
This is particularly true in the overclocking arena. While the M1697 has basic voltage adjustments and an excellent range of memory adjustments, there are no memory voltage adjustments at all on this board revision. As a result, we decided that it was not reasonable to do any overclocking tests on this Reference board, since we could not use our standard test methods to evaluate OC capabilities. This was an easy decision, since Abit and other manufacturers have assured us that we will be receiving ULi M1697-based motherboards for review in the very near future.
ULi M1697 Chipset
The ULi M1697 chipset can support Socket 754, 939, or 940. 1000 HT (5X) is fully supported.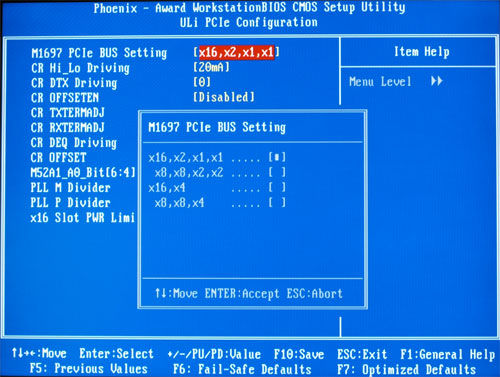 As seen on the ULi two-chip M1695, the M1697 fully supports x16 PCI Express video, which can also be configured as dual x8 PCIe slots. Of course, unlike NVIDIA or ATI, ULi is not a manufacturer of GPUs. Without this video card background, ULi is at the mercy of NVIDIA and ATI to add support for the ULi chipset to their video drivers. NVIDIA has been slow to support any other chipset with their SLI solution, but ATI has shown some willingness to open the Crossfire standard with their recent licensing of the Intel 975x chipset for Crossfire. Ideally, it would be best for users to be able to use their pair of video cards in any board that had the two PCIe video slots, but video card manufacturers have other ideas about what the consumer needs.
In addition to the configurable PCI Express graphics slots, the remaining 4 lanes are also configurable. Several settings can be selected - 2 x1/1 x2, 2 x2 or one x4 PCIe slot(s).
As shown in the block diagram, there are several key features in the new M1697. ULi fully supports 7.1 HD Azalia audio - a significant improvement over NVIDIA's current nForce4 chipset, which does not have the necessary hooks for HD audio support. ATI also supports HD audio in their Athlon 64 chipsets. Like NVIDIA, but not current ATI SB450, ULi also supports AHCI-based 3Gb/sec SATA II with NCQ (Native Command Queuing) on up to 4 native ports. With 4 SATA II ports RAID 0, 1, 0+1, and 5 are supported along with JBOD (Just a Bunch of Disks) spanning. It does not appear that RAID is supported on the IDE bus - a feature that is supported by NVIDIA nForce4.
The rest of the M1697 feature set is what you would expect in a competitive chipset. This includes 8 USB 2.0 ports, two (4 devices) IDE Ultra DMA 66/100/133, and Super I/O supporting Parallel, Serial, PS2, and floppy ports. ULi supports all the current USB transfer standards such as HS (480Mb/s, FS (12Mb/s) and LS (1.5Mb/s). Those who have watched Digital Camera makers play games with USB 2.0 transfer rates will recognize the terms HS or High Speed and FS or Full Speed. What they may not be aware of is the 40-times speed increase of High-Speed USB 2.0 over the inappropriately named Full Speed USB 2.0 standard.
The one disappointment in the feature list is the supported Ethernet. The M1697 has the hooks to support a 10/100 Ethernet PHY, but Gigabit Ethernet will require a discrete Gigabit LAN controller, preferably on the PCIe bus. This one feature tends to pigeon-hole this otherwise excellent chipset as a value solution. That is really unfortunate, since you will see the ULi M1697 is otherwise completely competitive with the best chipsets available for AMD Athlon 64.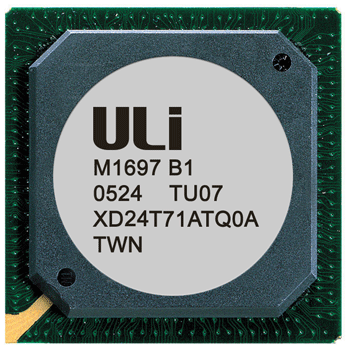 The M1697 single-chip solution certainly stacks up as competitive with current offerings for Athlon 64 and x2 processors. It is very comparable in features to the NVIDIA nForce4 SLI and the ATI Crossfire AMD. Compared to NVIDIA, you gain HD Azalia audio, and compared to the Crossfire AMD, you gain SATA2 and better USB 2.0 performance. The one troubling aspect is that while SLI and Crossfire basic support is present in the M1697, ULi is at the mercy of NVIDIA and ATI as to whether those dual video card modes will be supported in NVIDIA and/or ATI drivers. Until this is resolved, the ULi M1697 will more likely see duty in boards aimed to compete with single video solutions from both NVIDIA and ATI.
Basic Features: ULi M1697 Single Chip
ULi M1697
CPU Interface
Socket 939 Athlon 64
Chipset
ULi M1697 Single-Chip
Bus Speeds
200 to 400MHz in 1MHz Increments
PCIe Speeds
100-125MHz in 1MHz Increments
PCI/AGP
Fixed at 33/66
AMD K8 Cool'n'Quiet
Auto, Disable
Core Voltage
Startup, 0.825V to 1.55V in 0.025V increments
CPU Clock Multiplier
Startup, 4x-25x in 1X increments
HyperTransport Frequency
1000MHz (1GHz)
HyperTransport Multiplier
200, 400, 600, 800, 1000, Auto
DRAM Voltage
Provision for 2.62V, 2.72V (Not implemented)
HyperTransport Voltage
1.20, 1.25, 1.30, 1.35, 1.40V by DIP Switch
Chipset Voltage
1.80 to 2.2V in .05V increments by DIP Switch
PCIe Voltage
1.80 to 2.0V in .05V increments by DIP Switch
M1697 Resume Power
1.70, 1.80, 1.85, 1.90, 2.02V by DIP Switch
Memory Slots
Four 184-pin DDR DIMM Slots
Dual-Channel Configuration
Regular Unbuffered Memory to 4GB Total
Expansion Slots
1 PCIe x16 (or 2 PCIe x8)
1 x1 PCIe
1 x2 PCIe
1 x4 PCIe
3 PCI Slots
1 CNR Slot
1 LPC slot
Onboard SATA/RAID
4 SATA2 3Gb/s Drives by ULi M1597
(RAID 0,1,0+1,5,JBOD)
Onboard IDE/IDE RAID
Two Standard ATA133/100/66 (4 drives)
Onboard USB 2.0/IEEE-1394
8 USB 2.0 ports supported by ULi M1597
No Firewire (Optional)
Onboard LAN
10/100 Ethernet by Realtek PNY
Onboard Audio
HD Azalia 7.1 by Realtek ALC883
BIOS Revision
Award OCAP1130 Evaluation ROM
The ULi Award BIOS provides a typical range of BIOS control options for a Reference Board used to qualify a chipset. The wide 200 to 400 range for CPU clock was a pleasant surprise, but it is somewhat academic with no memory voltage controls present in the BIOS. The memory tweaking adjustments were extensive, but of limited use without some means of controlling memory voltage. Reference Boards demonstrate chipset features and capabilities to manufacturers, and ULi clearly shows that the M1697 is capable of supporting whatever range of BIOS control or Voltage control features that the manufacturer might wish to implement.
The location of the floppy connector at the bottom of the board will be a long reach for floppy users. Many buyers don't care about floppies any more, but if you still use them, the bottom of the board is an inconvenient and hard to reach location.
Overclocking
With an incomplete set of controls for overclocking, it was not possible to test overclocking using our standard OC setups. With production boards due for review very soon, the decision was made to delay OC tests until we reviewed production boards. This will remove the issue of testing with non-standard setups that make comparison of OC performance to previous OC results very difficult.
Memory Stress Testing
Since this is a new chipset, the best setting for tRAS was first determined. With MemTest86, tRAS performance was the same at tRAS settings of 6 to 11, with a bandwidth fall-off at 5 and 12 tRAS settings. This means that any setting from 6 to 11 tRAS will work well with this chipset. We chose to use a tRAS setting of 7 for consistency with other chipsets such as the NVIDIA nForce4 and ATI RD480.
The ULi M1697 Reference easily handles 2-2-2-7-1T timings at stock speed, as do almost any of the current boards for AMD Socket 939 from NVIDIA, SiS, VIA, ATI, and ULi. By default, ULi configured the Command Rate as 1T with a single pair of DIMMs in a dual-channel configuration. Two DIMMs in single channel mode required 2T Command Rate.
Running four double-sided 512MB or 1GB DIMMs is much more demanding than running two DS DIMMs, and ULi behaved as expected. Like every board that we have tested, except the DFI RDX200, we needed to drop the Command Rate to 2T with 4 DS DIMMs. With 4 DIMMs, the M1697 remained stable with the same aggressive 2-2-2-7 timings used for two DS DIMMs.
Stable DDR400 Timings - 4 DIMMs
(4/4 DIMMs populated)
Clock Speed:
200MHz
CAS Latency:
2.0
RAS to CAS Delay:
2T
RAS Precharge:
7T*
Precharge Delay:
2T
Command Rate:
2T
*7T was determined by MemTest86 benchmarks to deliver the widest bandwidth with the ULi M1697 chipset. While the board would operate at tRAS of 5T or lower, all benchmarks were run at 7T.
Test Setup
Performance Test Configuration
Processor(s):
AMD Athlon 64 4000+ (2.4GHz) Socket 939
RAM:
2 x 512MB OCZ PC3200* Platinum Rev. 2
*The current equivalent OCZ memory is OCZ PC4800
Hard Drive(s):
Seagate 120GB 7200 RPM SATA (8MB Buffer)
Video AGP & IDE Bus Master Drivers:
ULi Chipset Driver
ATI 5.11 Platform Drivers
NVIDIA 6.82 Platform
Video Cards:
MSI NVIDIA 7800GTX
Video Drivers:
NVIDIA nForce 81.95 Release
ATI Catalyst 5.11
Operating System(s):
Windows XP Professional SP2
Direct X 9.0c
Motherboards:
ULi M1697 Single-Chip Reference Board
Asus A8N-VM CSM (NVIDIA 6150/430)
Asus A8R-MVP (ATI RD480/ULi1575)
Asus A8N32-SLI Deluxe
DFI LANParty UT RDX200 (ATI RD480)
ATI Crossfire AMD Reference Board
SiS 756 Reference Board
ASRock 939Dual-SATA2 (ULi M1695/1567)
Sapphire A9RX480 (ATI)
Jetway 939GT4-SLI-G (nForce4)
ULi AP9567A (M1695/M1567)
DFI LANParty nF4 SLI-DR (nForce4)
DFI LANParty UT nF4 Ultra-D (nForce4)
MSI K8N Neo4/SLI Platinum (nForce4)
Tests used OCZ PC3200 Platinum Rev. 2, which uses Samsung TCCD chips. Most memory manufacturers now provide several speed bins of Samsung TCCD chips, so the equivalent current OCZ memory would be OCZ PC4800. All memory ran at 2-2-2-7 timing in all benchmarks.
We tested with the NVIDIA 7800GTX to provide the most up-to-date performance results in all gaming benchmarks. Resolution in all benchmarks is 1280x1024x32 unless otherwise noted. 3DMark and Aquamark3 benchmarks use "Standard Score" setup, which is 1024x768 video resolution. Also included for Reference is performance of the ATI X1800XT in all games on the ATI chipset Asus A8R-MVP.
Results for the ULi M1697 Reference Board running the NVIDIA 7800GTX are in red color. Test results for other motherboards running the 7800GTX are in blue. Reference results with the ATI X1800XT are color-coded orange.
General Performance
There is little to distinguish or detract from the ULi M1697 in Winstone benchmarks. For a chipset designed for low price that should be considered high praise>. The ULi Reference is competitive with the best Socket 939 Athlon 64 boards that we have tested. Performance in Winstones falls in the center of tightly clustered performance.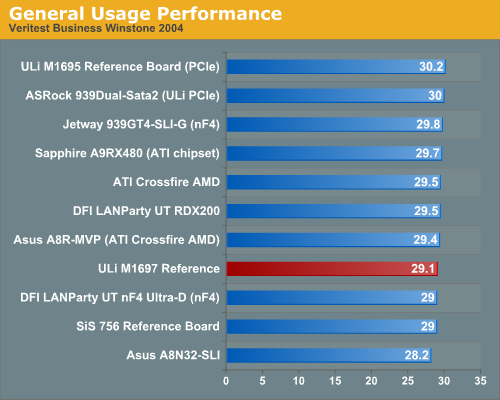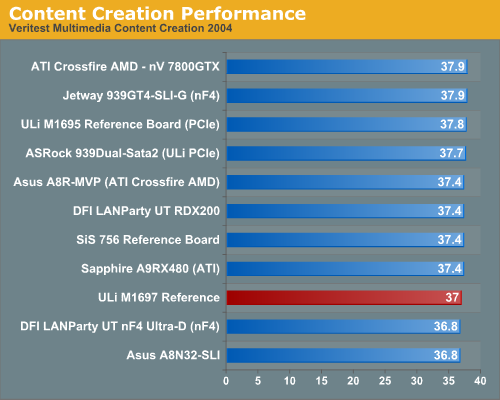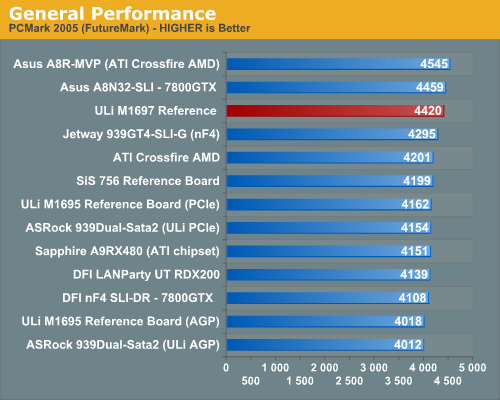 PCMark 2005 shows the ULi M1697 Reference to be one of the better performers in this System Performance Test. Part of this is the improved performance of the 81.95 drivers. The ULi M1697 also performs about the same as the Asus Dual x16 NVIDIA board that we recently tested with the same 81.85 driver family.
Graphics Performance and Encoding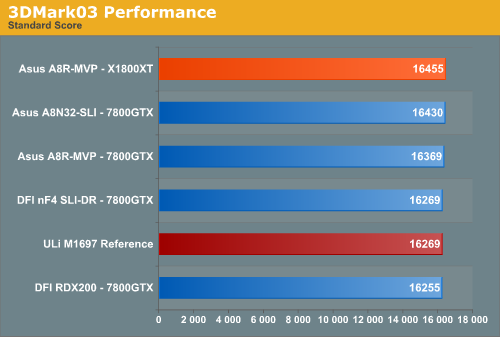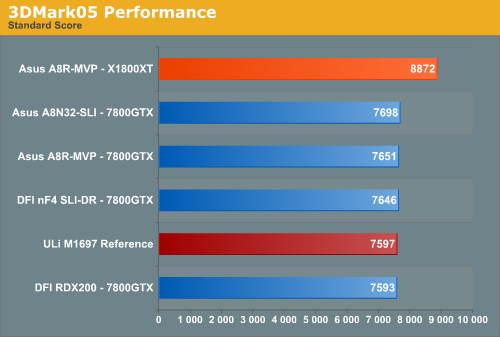 The ULi M1697 was competitive in 3DMark Graphics Benchmarks. Compared to other AMD boards tested with the latest 81.xx drivers, the ULi performed middle of the pack in all 3 benchmarks. Since results were so tightly clustered in all the 3 benchmarks, it means that performance was very similar among all the latest boards that we have tested with the 81.85/81.95 drivers. 3DMark05 and 3DMark03 are synthetic benchmarks, but they are designed to test the gaming elements of DirectX 9, using specially written gaming segments.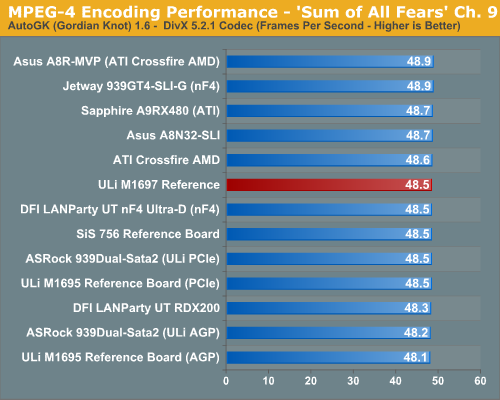 Encoding results should not be affected by the graphics card used during the encoding benchmarks. This is clearly demonstrated by the archive test results for AutoGK using an AMD 4000+ processor with a wide assortment of other components. The performance range of those encoding tests is just 48.1 to 49.9 - a difference form high to low of just 0.8 frames. Clearly, the biggest influence on this encoding benchmark is the CPU used for testing.
Gaming Performance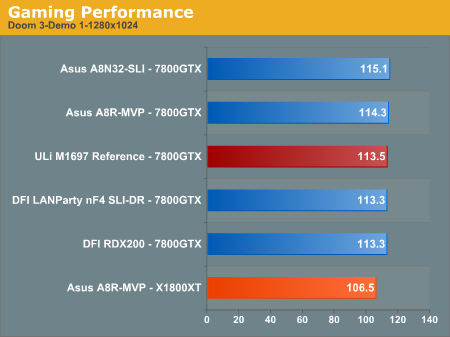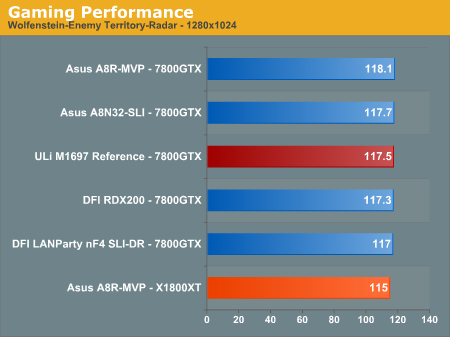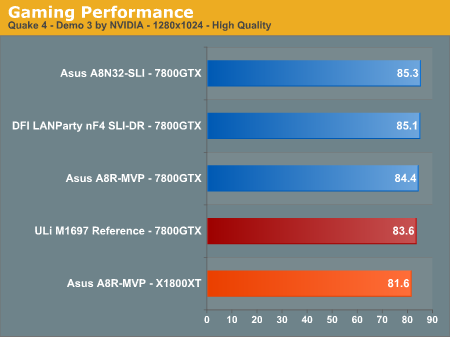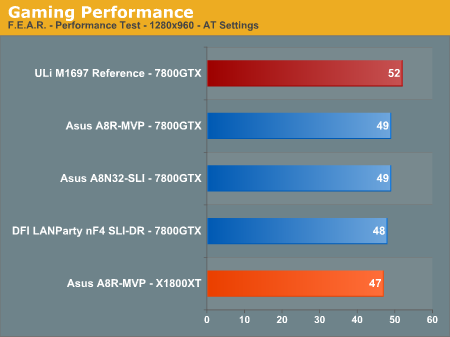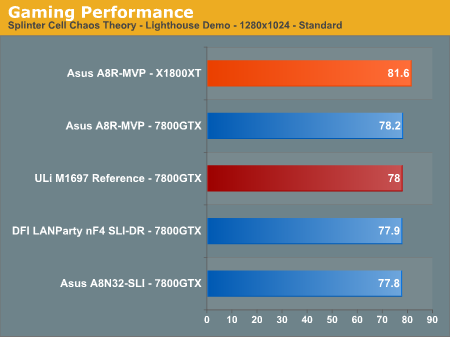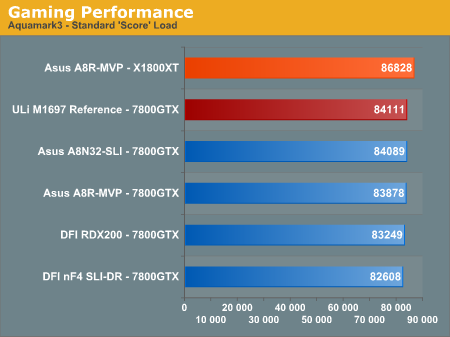 Through all of the gaming benchmarks, the ULi M1697 performed about the same overall, as did other recently tested top Socket 939 boards running the 7800GTX with 81.xx drivers. Most game results were in the middle of a tightly packed cluster. While the M1697 was the bottom of Quake 4, the spread between top and bottom was an insignificant 2% variation in frame rates. This was offset by top performance in F.E.A.R. and Aquamark 3.
USB Performance
USB 2.0 performance has been a problem area for some chipsets, so benchmarks were run to test USB performance of the new ULi M1697. We ran our standard USB throughput test on the ULi M1697 using an external USB hard drive.
Our test method uses a RAM disk as our "server", since memory removes almost all overhead from the serving end. We also turn off disk caching on the USB and Firewire side by setting up the drives for "quick disconnect". Our results are then consistent over many test runs.
We use just 1GB of fast 2-2-2 system memory, set up as a 450MB RAM disk and 550MB of system memory. Our stock file is the SPECviewPerf 8.01 install file, which is 432,533,504 bytes (412.4961MB). After copying this file to our RAM disk, we measure the time for writing from the RAM disk to our external USB 2.0 or Firewire 400 or Firewire 800 drive using a Windows timing program written for AnandTech by our own Jason Clark. The copy times in seconds are then converted into Megabits per second (Mb) to provide a convenient means of comparing throughput. Higher Rates, therefore, mean better performance.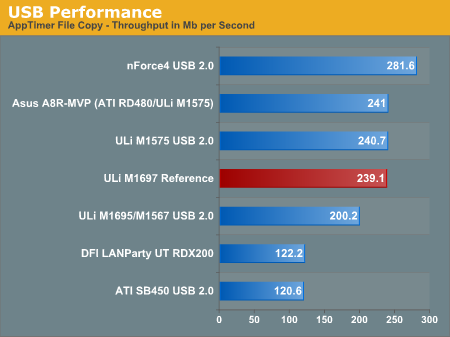 The ULi M1697 matched the performance that we measured in our recent tests of the ULi M1575 Reference board and the Asus A8R-MVP, which uses the ULi M1575 south bridge. While USB performance is a bit slower than NVIDIA, it is definitely competitive with the NVIDIA results, with throughput about double the ATI SB450.
Disk Controller Performance
With the variety of disk drive benchmarks available, we needed a means of comparing the true performance of the wide selection of controllers. The logical choice was Anand's storage benchmark first described in
Q2 2004 Desktop Hard Drive Comparison: WD Raptor vs the World
. To refresh your memory, the iPeak test was designed to measure "pure" hard disk performance. The hard drive was kept as consistent as possible while varying the hard drive controller. The idea is to measure the performance of a hard drive controller with a consistent hard drive.
We played back raw files that recorded I/O operations when running a real world benchmark - the entire Winstone 2004 suite. Intel's iPEAK utility was then used to play back the trace file of all IO operations that took place during a single run of Business Winstone 2004 and MCC Winstone 2004. The drive was formatted before each test run and a composite average of 5 tests on each controller interface was tabulated in order to ensure consistency in the benchmark.
iPeak gives a mean service time in milliseconds; in other words, the average time that each drive took to fulfill each IO operation. In order to make the data more understandable, we report the scores as an average number of IO operations per second so that higher scores translate into better performance. This number is meaningless as far as hard disk performance is concerned, since it is just the number of IO operations completed in a second. However, the scores are useful for comparing "pure" performance of the storage controllers in this case.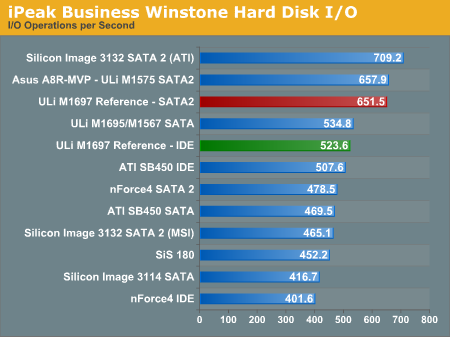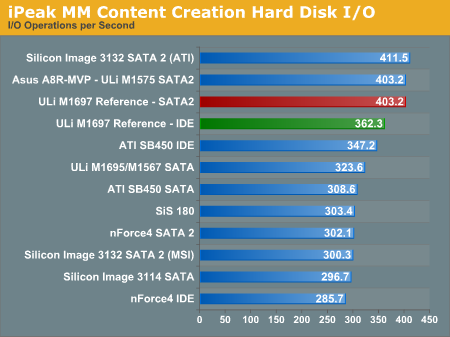 The ULi M1697 is a very good performer in both regular IDE and SATA2 performance. Compared to NVIDIA solutions, we see that IDE in particular performs better on the ULi chipset. We have only recently begun testing SATA2 throughput with an Hitachi SATA2 drive, so earlier results with the NVIDIA Sata2 controller to a SATA drive should not be directly compared to SATA2 to a SATA2 drive on the ULi M1697.
Audio Performance
For audio testing, we used Rightmark 3D Sound CPU utilization test, which is the same benchmark run in our earlier nForce4 SLI and Ultra roundups. This benchmark measures the overhead or CPU utilization required by a codec or hardware audio chip. We tested performance using the latest version 2.1. Since we found that Version 2.1 yields different results from the earlier 1.24, we have only included test results with version 2.1.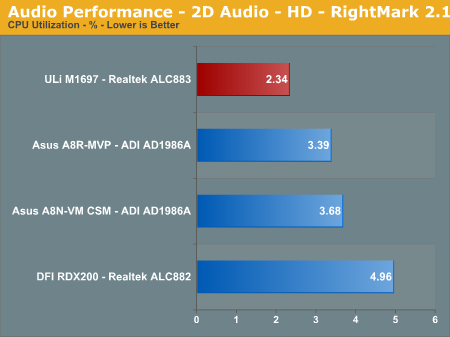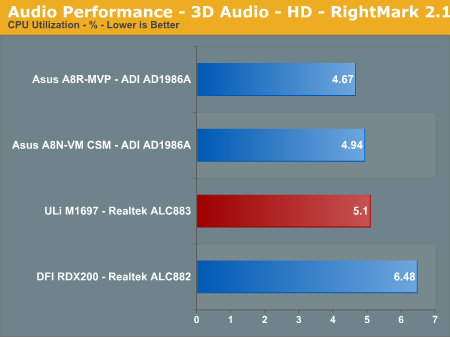 High Definition Audio on the ULi chipset, running the Realtek ALC883 HD Azalia codec, was really excellent in terms of CPU utilization. The performance of all the HD solutions has been much better in quality, with much lower CPU utilization, than is typically seen on the AC'97 solutions used on NVIDIA nForce4 and other Athlon 64 chipsets. ATI and ULi definitely have the lead in this area.
It is important to point out that the latest ULi and ATI chipset motherboards have the necessary hooks to deliver Azalia High Definition audio. Those who have been complaining about the poor AC'97 audio present on most AMD boards should be very pleased to find Azalia HD on the ULi and ATI chipset boards. The nForce4 family does not offer the necessary chipset hooks to support HD Azalia audio.
Ethernet Performance
The one area where the ULi M1697 is disappointing is in their choice of an ethernet controller. Instead of using a Gigabit LAN, ULi only provided chipset support for a 10/100 Ethernet PHY. In practical terms, 10/100 is plenty of speed for most broadband connections, but with Ethernet quickly becoming the new standard, it is mildly disappointing that ULi
still
does not support Gigabit Ethernet on their chipsets. This is undoubtedly a cost-saving measure, but it mars an otherwise excellent AMD chipset.
Manufacturers can still implement Gigabit Ethernet with discrete chips, but it is more difficult to provide that solution on the preferred PCIe bus when there are no hooks for Gigabit PCIe in the chipset. Since most broadband ethernet connections barely tax 10Mb/s, this will really only matter to those who do sustained high-speed transfer of very large files over a true Gigabit network. Still, you should be aware that PCIe Gigabit Ethernet is always a better solution, and competitors are providing that capability in their current chipsets.
Our Take
When we tested the ULi M1695/M1567 chipset a few months ago, NVIDIA nForce4 was the only real competition. Today, both the NVIDIA nForce4 family and the developing ATI Rx480/580 family are competitors in the AMD Athlon 64/x2 market. The natural question today is: How does the ULi M1697 compare to the excellent performance of the NVIDIA nForce4 and the ATI RD480? Since the real competition is the now mainstream NVIDIA nF4 SLI/Ultra and the ATI Rx480 Grouper/Crossfire, we would have to conclude that the ULi 1697 competes very well indeed. The M1697 gives up nothing in performance to the NVIDIA or ATI chipsets.
There should be concerns, however, if your AMD plans include SLI or Crossfire. ULi has all of the right features in their M1697 for SLI and Crossfire to work - that is not the concern. It is just that ULi is not a GPU maker, and they, therefore, are not in a strong position to ever expect support from NVIDIA or ATI for SLI or Crossfire on the ULi chipset. We're sure that both NVIDIA and ATI would be happy to license ULi, but it is doubtful that a value chipset like this ULi could afford the licensing fees and still be attractive to manufacturers trying to build a better mousetrap. The best hope in this arena is if the market were to move to an Open standard where all dual-video solutions work on all dual PCIe slot motherboards. We don't know when or if this will happen, but it is certainly the kind of development that would make SLI/Crossfire a mainstream solution.
This is closer to a reality in the Intel chipset market where Intel and ATI both support Crossfire and NVIDIA goes it alone. But the ULi is an AMD solution, and in that arena, the dual x8 will be useful for running two video cards, but not for running SLI or Crossfire. ULi does have a relationship with ATI so perhaps a technology exchange is a possibility for Crossfire. The best hope, however, is that SLI/Crossfire will become an open cross-platform standard. We can certainly dream.
From a features standpoint, the ULI M1697 compares very well against the current best in the Socket 939 market. It provides both HD Audio and SATA2 - something no other discrete AMD chipset currently provides. The SATA2 and IDE both provide excellent performance, and the USB performance is certainly competitive. Based on the low pricing that we have heard about with this M1697 single-chip solution, the feature set is all the more outstanding. The only failing is that 10/100 Ethernet is the only version supported directly by the chipset. The world has moved to Gigabit Ethernet and ULi will quickly find that this will become an issue unless they address Gigabit LAN support in future chipsets. The limitation of 10/100 direct support for Ethernet also has the unfortunate distinction of labeling the M1697 as a budget chipset. That's really regrettable, since other performance areas are anything but budget.
Until the SLI/Crossfire question is resolved, the real market for M1697 will be the nF4 Ultra and ATI Rx480 Grouper. At the expected very low price, the M1697 should compete very well in this market - providing the HD Azalia audio that is missing from nForce4, and the SATA2/competitive USB missing from ATI with the ATI SB450 south bridge.
Undoubtedly, there will also be ULi M1697 boards with dual x16 PCIe slots. They may be useful for running two video cards feeding different monitors or running specialized x8/x4 cards. However, the lack of real SLI/Crossfire support will limit how competitive ULi can be in this market. If ULi licenses SLI or Crossfire, we could be really positive about their prospects in the mainstream SLI/Crossfire market. Or, if by some miracle, the dual video card market opens up with broad driver support, the ULi M1697 will be much more attractive.
ULi continues to build some of the most interesting chipsets that we have tested in the AMD market. Unfortunately for ULI, not many manufacturers have been willing to produce new boards with the new ULi chipsets. We understand that the M1697 will see the light of day from some Tier One manufacturers. Abit also tells us that they will be producing a ULi M1697 that fully exploits the chipset capabilities. We are anxious to see where manufacturers will position the ULi chipset. If the production boards also perform well as Enthusiast-oriented boards, the ULi M1697 could certainly become a strong player in the bang-for the-buck market. If SLI/Crossfire support appears, the ULi M1697 chipset could be even more.