Original Link: http://www.anandtech.com/show/1880


Intel, oh Intel, how uninteresting your processors have been to us for so long now. Where have the days of the Northwood gone? Prescott brought us a minor bump in clock speed, minor increases in performance, and more importantly - major increases in power bills. But if any company can go down the wrong path for five years and still come out on top, it's Intel. So starting next year, we'll start seeing a new Intel. A more power conscious Intel and to kick it all off will be Intel's first Earth-friendly dual core processor: Yonah.
As the successor to the current Pentium M (Dothan) and the predecessor to next year's Conroe, Merom and Woodcrest cores, Yonah is a very important chip. As a mobile processor Yonah will bring dual core to thin and light notebooks, basically anywhere you'd find a Pentium M, you'll now be able to find two Pentium Ms. The implications for mobile performance are huge, as multitasking on notebooks has rarely been all that great of an experience. At the same time, Yonah is so much more than just a dual core mobile processor - it's a predictor of the performance of Intel's next-generation desktop micro-architecture. Sure, it won't have all of the architectural bells and whistles that we'll see when Conroe debuts at the end of next year, but it'll have many and that makes it a reference point.
The problem with the Pentium M architecture has been that although it's traditionally done well at office tasks and obviously in the power consumption department, it has lagged behind the Pentium 4 and Athlon 64 when it comes to FP intensive applications such as video encoding, and to a lesser degree, 3D gaming. With Yonah, Intel has promised to address those performance issues, and even more so with their next-generation micro-architecture later next year. But we tend to want to see things for ourselves, and Yonah will at least give us an indication of how things have improved since Dothan, and whether or not Intel is on the right track to replacing the Pentium 4.
By now we've hopefully stressed the importance of Yonah, and there's just one more detail to mention - we have one.
The Platform - Yet Another Socket
While the launch of Yonah still won't be until January of next year, we've had a chip for the past month, unfortunately, we haven't had a motherboard to stick it in. We finally got one two days ago, which is why you're seeing this article now, instead of more pictures of our Yonah posing alongside the Xbox 360. The problem is that Intel seems to have changed sockets once more, meaning that Yonah is not backwards compatible with the original Pentium M socket.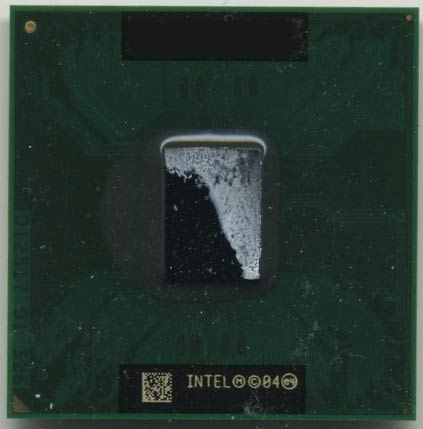 If you'll remember back to the introduction of the Pentium M, Intel introduced a brand new socket for the processor: Socket-479. Back then, the desktop Pentium 4 still used the pin-based Socket-478, so the different pin-out was a bit of a pain to deal with as we all wanted to be able to stick Pentium Ms in our Pentium 4 motherboards.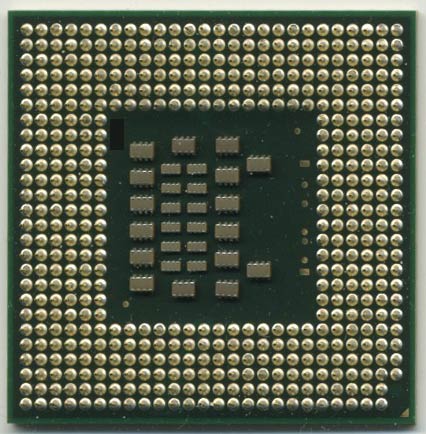 The Yonah socket is still a 479-pin interface, however the pin-out has been changed once more, and of course Yonah won't even physically fit into any current Pentium M motherboards. Instead, you'll need a brand new motherboard with a brand new chipset. So if you invested in any of the handful of desktop Pentium M motherboards that were released over the past year, you're unfortunately out of luck.


Yonah (left) vs. Dothan (right) - Note the different pin-out
What's this about a new chipset? Well, it's not exactly a new chipset, rather it's Intel's mobile 945 chipset - the mobile version of the desktop chipset we've had for quite some time now. The platform we're testing on in particular uses Intel's 945G chipset, with integrated graphics, but of course we aren't too interested in integrated graphics performance so we'll be using the PCIe x16 slot on the board.
While we can't tell you who makes the motherboard we're testing with, the important thing to note is that it is a desktop motherboard made specifically for Yonah. It's got a single PCIe x16 slot, meaning you don't have to rely on integrated graphics, and all of the bells and whistles you'd expect from a desktop motherboard; this could very well be the heart of your next system.
We've been hearing that Pentium M based desktops will become a lot more common next year, and this motherboard is definitely an indication of that.
Same Size, but Twice the Cores
Obviously the biggest improvement Yonah offers over Dothan is the fact that it's dual core. But where things get interesting is that thanks to Yonah's 65nm process, a dual core Yonah die is about the same size as a single core Dothan die - in other words, it costs Intel just as much to make a dual core Yonah, as it did for them to make a single core Dothan.
A major reason the die size didn't really go up much is because although Yonah has two cores, its L2 cache size remains unchanged at 2MB. Unlike the Pentium D, Yonah's 2MB L2 cache is not split into two discrete 1MB caches, it is actually one whole 2MB cache that is shared by both cores. This is a very important distinction, as it means that Yonah is far from just two Dothans stuck together.
There are other architectural enhancements to Yonah that will give it a performance advantage over Dothan. Below is an excerpt from our IDF coverage of Yonah, detailing what we know about the new CPU:
Making Pentium M more "Media Friendly"

All of the major performance improvements to each of Yonah's cores seem to revolve around SIMD FP and FP performance, two of the Pentium M's present day weaknesses in comparison to the Pentium 4.

The first improvement is that now all three of Yonah's decoders can decode SSE instructions, regardless of the type of instruction. Improving the decode width of the processor is a quick way to improve performance.

Next, SSE/SSE2 operations (not sure if all can be, but at least some) can now be fused using the Micro Ops Fusion engine of Yonah. At a high level, the benefit here is increased performance and lower power consumption, we'll get into architectural details of why that is when we eventually sink our teeth into Yonah next year.

Each of the two cores in Yonah have also received support for SSE3 instructions much like the Pentium 4 E [Prescott].

And finally there have been some improvements to Yonah's floating point performance, although Mooly would not say exactly what's been done. Curiously, Mooly referred to the floating point performance improvements as specifically made to improve gaming performance. Intel may have grander plans for Yonah than once thought...

The SSE/FP optimizations are all being grouped into what Intel is calling their Digital Media Boost technology, yes the names seem to get worse and worse as time goes on - but at least the functionality should be good.
We started out this article talking about the Pentium M's shortcomings in digital media applications, and Intel has begun to address them with the architecture of Yonah, but the real question is - how effective have their efforts been?
Yonah vs. Dothan
We didn't have much time to put together this piece, but at the same time we wanted to present the most complete picture of Yonah as possible, so we went back to our last Pentium M on the desktop article and configured our Yonah system identically so we'd have as close to an apples-to-apples comparison as possible. Of course it is impossible to use the same motherboard, due to the socket differences we've already mentioned, but the rest of the systems are configured identically. We apologize in advance for the brevity of the benchmark suite, in due time we will present an even more thorough look at Yonah, but for now we are working with what we've got. Also keep in mind that the platform and processor are both pre-release samples, so performance could change, most likely for the better.
With that said, we've got a question and that is: how does Yonah stack up to Dothan?
Unfortunately, our Yonah only runs at 2.0GHz, and our reference Dothan numbers are from a 2.13GHz CPU - so we don't get the clock for clock comparison we were hoping for, making it even more difficult for Yonah to impress. Thankfully our first benchmark is clock speed independent as we look at how cache latencies have changed from Dothan to Yonah using ScienceMark 2.0:
| | | |
| --- | --- | --- |
| | L1 Cache Latency | L2 Cache Latency |
| Dothan | 3 cycles | 10 cycles |
| Yonah | 3 cycles | 14 cycles |
And changed they have indeed. If you'll remember from our earlier desktop Pentium M investigations, Dothan's very quick 10 cycle L2 cache allowed it to be competitive with AMD's Athlon 64, despite lacking an on-die memory controller. With the move to Yonah however, the L2 cache latency has gone up a whopping 40%. While we're still dealing with a lower access latency than the Pentium 4, this increase will hurt Yonah.
We're guessing that the increase in access latency is due to the new dynamically resizable L2 cache that's used in Yonah. In order to save power as well as maximize the use of the shared L2 cache between cores, Yonah can dynamically adjust the size of its L2 cache, flushing data to main memory when faced with low demand. The associated logic is most likely at least partially to blame for the increase in L2 cache latency.
So Yonah has a slower L2 cache working against it, but two cores and a handful of architectural enhancements working in its favor - let's see how they stack up in the real world.
First up, we've got our business application tests:
| | | | | |
| --- | --- | --- | --- | --- |
| | Business Winstone 2004 | Communication (SYSMark 2004) | Document Creation (SYSMark 2004) | Data Analysis (SYSMark 2004) |
| Dothan (2.13GHz) | 24.3 | 129 | 202 | 118 |
| Yonah (2.0GHz) | 21.6 | 146 | 215 | 138 |
Dothan has a sizeable lead in Business Winstone 2004, which we've always attributed to its low latency L2 cache. Since the benchmark gets no benefits from dual core, and doesn't take advantage of any of the SSE improvements to Yonah, the advantage is clearly in Dothan's court.
The SYSMark tests paint a different picture, with Yonah outpacing the faster clocked Dothan by 6 - 17%. What's interesting to note is that in these tests, the performance advantage isn't exclusively attributable to the advantage of having two cores - Yonah's architectural advancements are at work here as well.
The digital content creation tests are where Yonah's improvements should shine:
| | | | | |
| --- | --- | --- | --- | --- |
| | Multimedia Content Creation Winstone 2004 | 3D Content Creation (SYSMark 2004) | 2D Content Creation (SYSMark 2004) | Web Publication (SYSMark 2004) |
| Dothan (2.13GHz) | 29.8 | 188 | 255 | 169 |
| Yonah (2.0GHz) | 34.7 | 264 | 323 | 236 |
And shine they do; thanks to a combination of the move to dual core as well as the architectural improvements over Dothan, Yonah shows anywhere between a 16 - 40% increase in performance.
| | | |
| --- | --- | --- |
| | DivX | Doom 3 |
| Dothan | 39.7 fps | 95.5 fps |
| Yonah | 57.5 fps | 93.8 fps |
The DivX test shows what we've pretty much seen across the board from dual core scaling in video encoding, so there's no surprise there. Our only gaming benchmark, Doom 3, shows a hazier picture with Dothan on top, and Yonah close behind. We will investigate gaming performance of Yonah much closer later on.
What we can walk away from these benchmarks with is an idea of the level of improvement to expect from Yonah, but now comes the real test - how does it stack up against other desktop processors, especially the Athlon 64 X2.
The Test
Our test configuration is identical to what we used in our Athlon 64 X2 3800+ review, however we can't disclose the motherboard used for the Yonah platform. We can say that it used the Intel 945G chipset and was outfitted with 2 x 512MB DDR2-533 DIMMs; the rest of the configuration remained the same as the AMD and Intel systems.
Once again, keep in mind that the platform and processor are pre-release samples, and performance could change by the time the parts head to retail. This is nothing more than a preview, so treat it as such.
Business Winstone 2004
Business Winstone 2004 tests the following applications in various usage scenarios:
. Microsoft Access 2002
. Microsoft Excel 2002
. Microsoft FrontPage 2002
. Microsoft Outlook 2002
. Microsoft PowerPoint 2002
. Microsoft Project 2002
. Microsoft Word 2002
. Norton AntiVirus Professional Edition 2003
. WinZip 8.1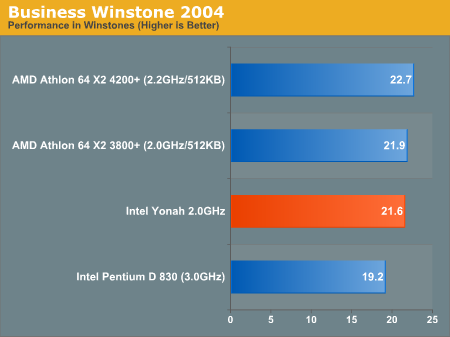 Just as we saw in the Dothan vs. Yonah tests, Yonah loses some of its competitive edge in the Business Winstone benchmark. Although in this case, it's not very far off the Athlon 64 X2 3800+.
Office Productivity SYSMark 2004
SYSMark's Office Productivity suite consists of three tests, the first of which is the Communication test. The Communication test consists of the following:
"The user receives an email in Outlook 2002 that contains a collection of documents in a zip file. The user reviews his email and updates his calendar while VirusScan 7.0 scans the system. The corporate web site is viewed in Internet Explorer 6.0. Finally, Internet Explorer is used to look at samples of the web pages and documents created during the scenario."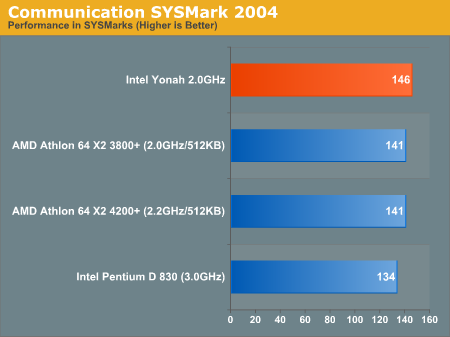 Yonah manages to be quite competitive in the SYSMark tests, slightly outpacing the Athlon 64 X2 4200+ here.
The next test is Document Creation performance, which shows very little difference in drive performance between the contenders:
"The user edits the document using Word 2002. He transcribes an audio file into a document using Dragon NaturallySpeaking 6. Once the document has all the necessary pieces in place, the user changes it into a portable format for easy and secure distribution using Acrobat 5.0.5. The user creates a marketing presentation in PowerPoint 2002 and adds elements to a slide show template."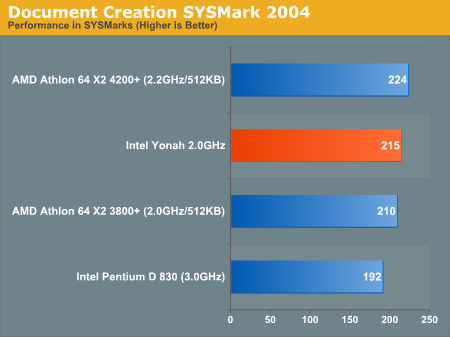 Here we see that at 2.0GHz, Intel's Yonah is right in the middle of AMD's Athlon 64 X2 4200+ and the X2 3800+. Given that the CPU has no on-die memory controller, yet performs comparably to an identically clocked Athlon 64 X2, it's not a bad position to be in for Yonah.
The final test in our Office Productivity suite is Data Analysis, which BAPCo describes as:
"The user opens a database using Access 2002 and runs some queries. A collection of documents are archived using WinZip 8.1. The queries' results are imported into a spreadsheet using Excel 2002 and are used to generate graphical charts."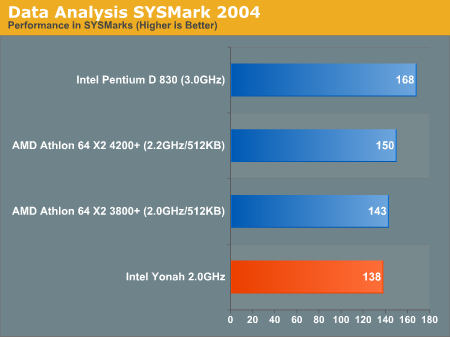 The Data Analysis test is dominated by the Pentium D, but even the Athlon 64 X2 3800+ holds a slight advantage over the 2.0GHz Yonah.
Multitasking Content Creation
MCC Winstone 2004
Multimedia Content Creation Winstone 2004 tests the following applications in various usage scenarios:
. Adobe® Photoshop® 7.0.1
. Adobe® Premiere® 6.50
. Macromedia® Director MX 9.0
. Macromedia® Dreamweaver MX 6.1
. Microsoft® Windows MediaTM Encoder 9 Version 9.00.00.2980
. NewTek's LightWave® 3D 7.5b
. SteinbergTM WaveLabTM 4.0f
All chips were tested with Lightwave set to spawn 4 threads.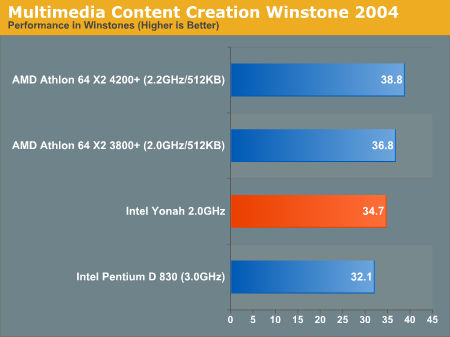 While the 2.0GHz Yonah processor is faster than the Pentium D, the X2 3800+ manages to hold a marginal 6% lead over Intel's newcomer. This is somewhat of a disappointment, given the enhancements Yonah has that are specifically designed to improve performance in situations like this. While Yonah is doing better than Dothan here, it's not good enough to beat AMD.
ICC SYSMark 2004
The first category that we will deal with is 3D Content Creation. The tests that make up this benchmark are described below:
"The user renders a 3D model to a bitmap using 3ds max 5.1, while preparing web pages in Dreamweaver MX. Then the user renders a 3D animation in a vector graphics format."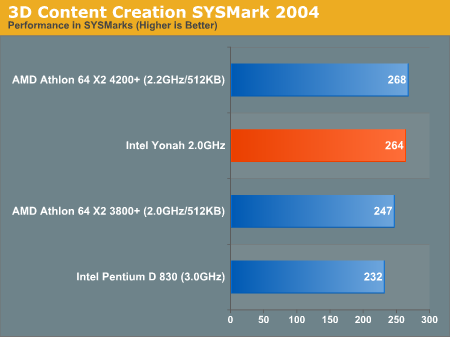 The situation changes dramatically when we look at SYSMark's ICC performance, here the 2.0GHz Yonah is right on the heels of AMD's Athlon 64 X2 4200+, maintaining just under a 7% lead over the identically clocked X2 3800+.
Next, we have 2D Content Creation performance:
"The user uses Premiere 6.5 to create a movie from several raw input movie cuts and sound cuts and starts exporting it. While waiting on this operation, the user imports the rendered image into Photoshop 7.01, modifies it and saves the results. Once the movie is assembled, the user edits it and creates special effects using After Effects 5.5."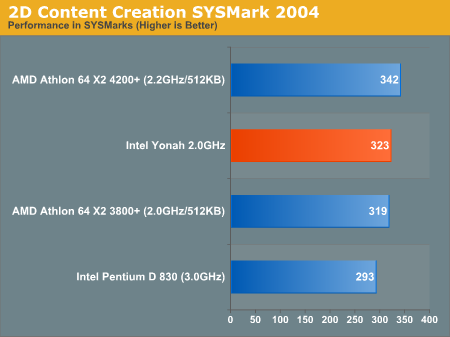 Yonah continues to fall in between the X2 3800+ and the 4200+, this time being much closer to the former.
The Internet Content Creation suite is rounded up with a Web Publishing performance test:
"The user extracts content from an archive using WinZip 8.1. Meanwhile, he uses Flash MX to open the exported 3D vector graphics file. He modifies it by including other pictures and optimizes it for faster animation. The final movie with the special effects is then compressed using Windows Media Encoder 9 series in a format that can be broadcast over broadband Internet. The web site is given the final touches in Dreamweaver MX and the system is scanned by VirusScan 7.0."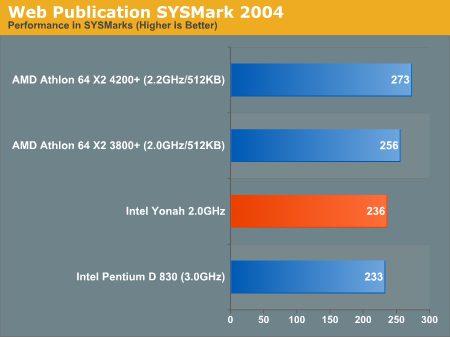 Once more we see that Yonah isn't perfect, being outpaced by the X2 3800+ by around 8%. Of course power consumption matters, but we'll save that comparison for the end of this article :)
Video Encoding
DivX 5.21 with AutoGK
Armed with the DivX 5.21 and AutoGK, we took all of the processors to task at encoding a chapter out of Pirates of the Caribbean. We set AutoGK to give us 75% quality of the original DVD rip and did not encode audio.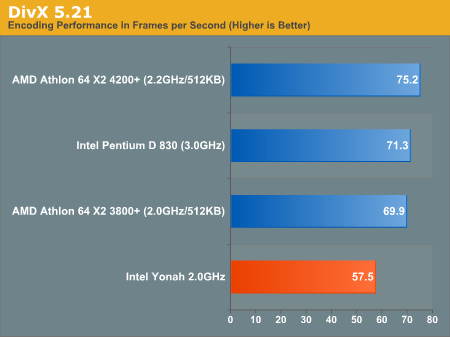 Dothan's DivX performance was dismal at best, and although Yonah's two cores improves things, it's still not enough to be competitive with the Athlon 64 X2.
Windows Media Encoder 9 HD
Our homebrew WME9 test is up next: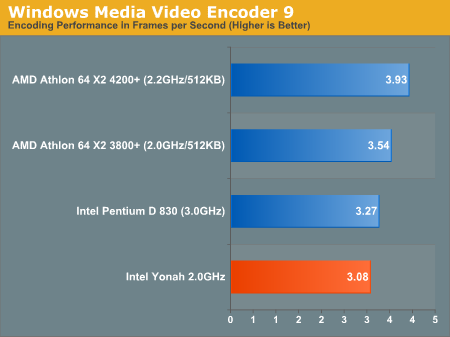 Much like the DivX test, we see that although Yonah has come a long way from Dothan, it is still not competitive with the likes of the Athlon 64 X2. It is a shame, as we were hoping for more out of Intel's FP/SSE enhancements.
Gaming Performance
Doom 3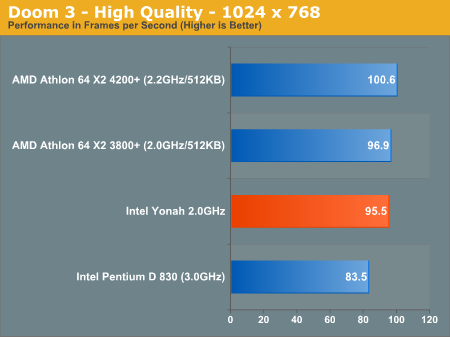 Yonah nips at the heels of the Athlon 64 X2 3800+ in our Doom 3 test...
Battlefield 2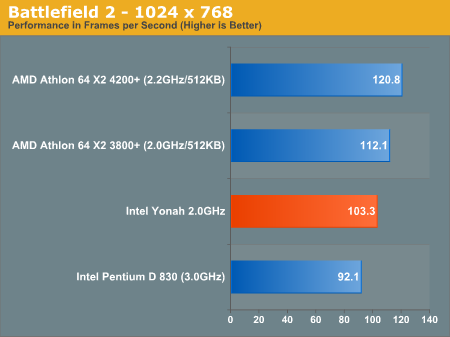 ...but falls behind in our Battlefield 2 test.
Unreal Tournament 2004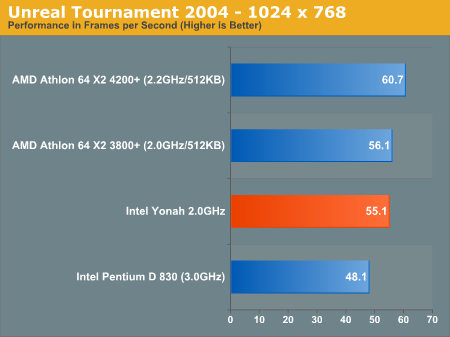 And UT2004 shows the two competitors as fairly close.
3D Rendering
3dsmax 6
For our 3dsmax test we used version 6 of the program and ran the SPECapc rendering tests to truly stress these CPUs.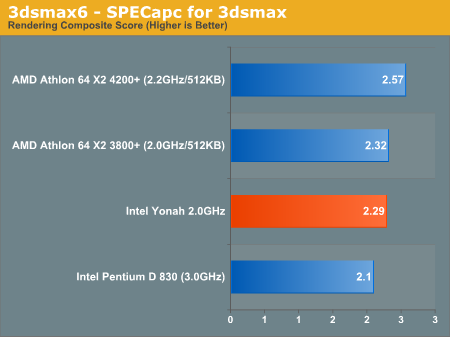 3D rendering performance has been improved tremendously thanks to the move to dual cores as well as the FP performance enhancements in Yonah.
The graphs below are the actual render times used in calculating the composite score shown above: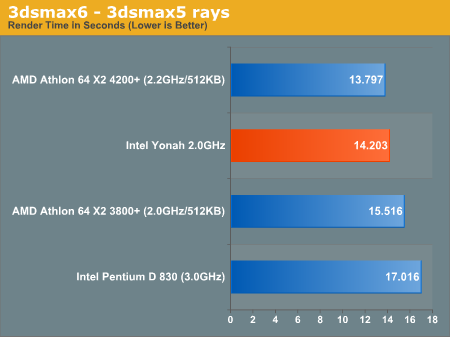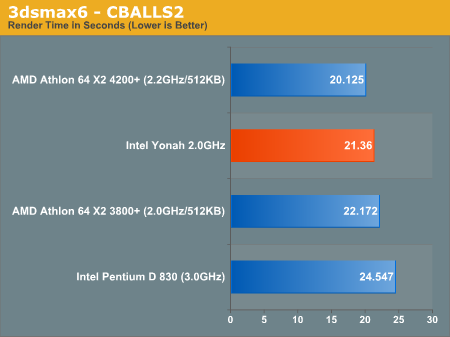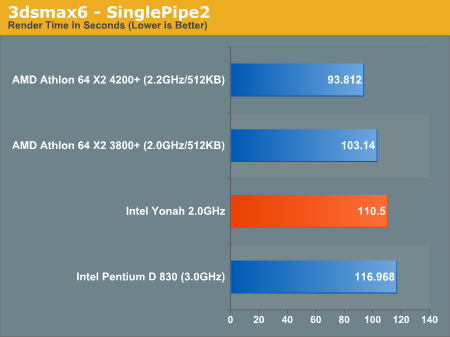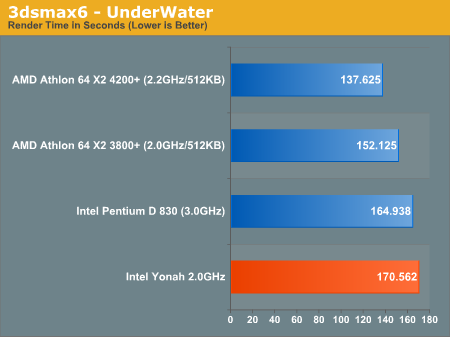 Multitasking Performance
Business Winstone 2004 includes a multitasking test as a part of its suite, which does the following:
"This test uses the same applications as the Business Winstone test, but runs some of them in the background. The test has three segments: in the first, files copy in the background while the script runs Microsoft Outlook and Internet Explorer in the foreground. The script waits for both foreground and background tasks to complete before starting the second segment. In that segment, Excel and Word operations run in the foreground while WinZip archives in the background. The script waits for both foreground and background tasks to complete before starting the third segment. In that segment, Norton AntiVirus runs a virus check in the background while Microsoft Excel, Microsoft Project, Microsoft Access, Microsoft PowerPoint, Microsoft FrontPage, and WinZip operations run in the foreground."
When it comes to multitasking performance, the 2.0GHz Yonah remains quite competitive with the X2 3800+. We were curious as to whether or not the shared L2 cache would mean that single-to-dual core scaling would be improved at all, but to really answer that question we'll need a single core Yonah...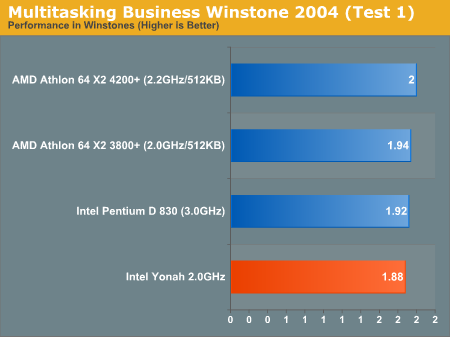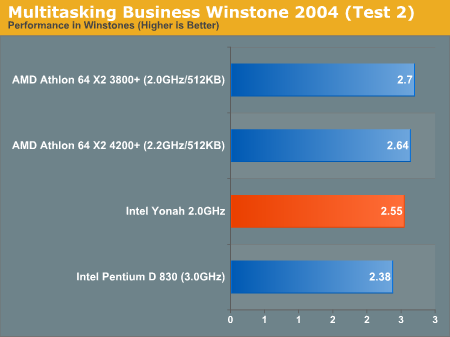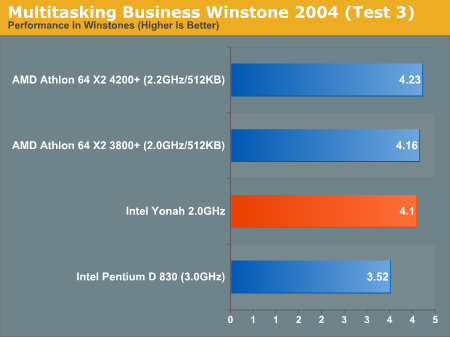 Power Consumption and Final Words
At 2.0GHz, Yonah is basically equal to, if not slightly slower than an Athlon 64 X2 running at the same clock speed in virtually all of the tests we ran. The important distinction here is that Intel is able to achieve that level of performance, without an on-die memory controller. But there is also one more thing to note, Yonah can offer that level of performance with significantly lower power consumption: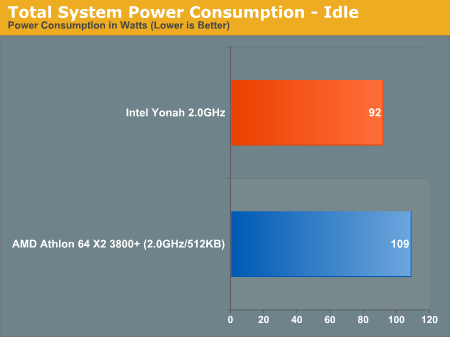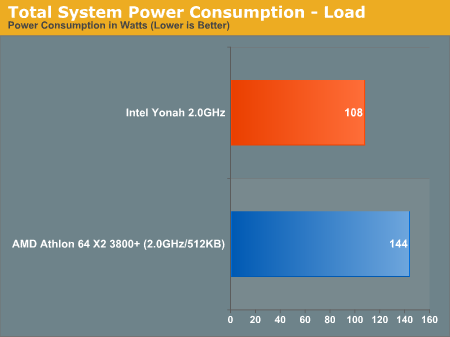 While the Yonah and Athlon 64 X2 systems consumed relatively similar power at idle, Yonah hardly eats up any more power under full load. In fact, a 2.0GHz Yonah under 100% load consumes less power than an Athlon 64 X2 3800+ at idle. Obviously Intel has the advantage of being on a much lower power 65nm process, but it won't be until the second half of next year before we see any Athlon 64 X2s at 65nm, so it is an advantage that Intel will have for quite some time.
Although we didn't consider it as such here today , Yonah will be quite impressive on notebooks. The thought of having such a cool running dual core processor in a notebook is honestly amazing, and the performance difference (especially for multitaskers) over what we have today will be significant. The other thing to keep in mind is that when you go from a single core to a dual core Pentium M notebook, you won't be giving up anything at all. On the desktop side, you normally give up clock speed for dual core support, but Yonah will be running at very similar frequencies to what Dothan is running at today. In other words, you won't be giving up single threaded performance in favor of multi-threaded performance - you'll get the whole package.
As a desktop contender, Yonah is a bit of a mixed bag. While its performance in content creation applications has definitely improved over the single core Dothan, it still falls behind the Athlon 64 X2 in a handful of areas. Intel still needs to improve their video encoding and gaming performance, but it looks like we may have to wait for Conroe and Merom for that.