Original Link: http://www.anandtech.com/show/1871


When the Asus A8R-MVP landed on our doorstep, we were frankly a bit disappointed. Here was the first Asus board built with the ATI Crossfire AMD chipset and the first board to market that uses the ULi M1575 south bridge instead. If you recall from our launch review of the M1575, this ULi south bridge fully supports SATA2 and provides competitive USB performance - removing the few nagging issues with the excellent ATI Crossfire AMD chipset.
So, why were we disappointed? We really hoped that Asus would deliver a super high-end board, much like the
Asus A8N32-SLI deluxe
8-phase that we recently reviewed. That kind of board could clearly show what the Crossfire AMD chipset was really capable of doing. Instead, we had a competent-appearing mainstream board that will likely sell in the $100 to $125 price range. Our first thoughts, naturally, were "ho-hum", a solid but unspectacular Crossfire AMD.
We even talked with Asus about why they didn't lavish their attentions on the A8R-MVP, and we were given perfectly reasonable explanations. With Dual x16 NVIDIA now available, Asus really believed that the ATI Crossfire AMD was better positioned as a mainstream product, and Asus would likely give "top-end treatment" to the upcoming RD580 ATI Dual x16 Crossfire chipset for AMD. We couldn't argue with the Asus logic, but it did not stop our disappointment that maybe this board could have had it all for those looking for an ATI chipset solution for Athlon 64 Socket 939.
If we always went with our assumptions, there would be no reason at all to test motherboards, and thankfully, our first opinions are often proven wrong in the actual testing. As we began benchmarking the A8R-MVP, we realized that our assumptions were completely wrong and this board might prove to be the board many have been waiting for. It turns out that there is absolutely nothing missing from the feature set of the A8R-MVP except the high price, and we think that you will enjoy our journey with this board.
We also had a few shocks in other areas. Our first attempts at overclocking were pretty average, but as we persevered, we had another assumption shoved back in our face.
Now that you know that this average-priced motherboard turned out to be anything but average in performance, join us as we take a closer look at the motherboard that may turn out to be the value-priced rocket everyone is looking for.
Asus A8R-MVP: Board Layout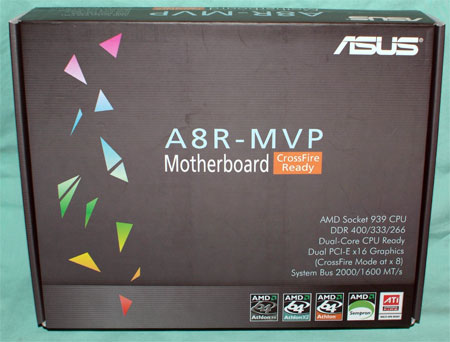 The box for the Asus A8R-MVP is dark grey and strewn with confetti, perhaps to announce the party inside, but it is certainly not a serious package like we see on the top-line Asus boards.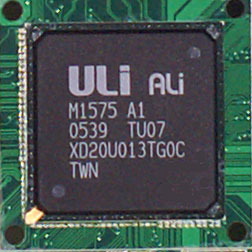 Just as important are the SB450 south bridge limitations that are not here. The Asus A8R-MVP is the first board that we have reviewed that uses the ULi M1575 south bridge instead of the SB450. This means full support for 4 SATA2 devices, and fully competitive USB performance with 8 USB 2.0 ports.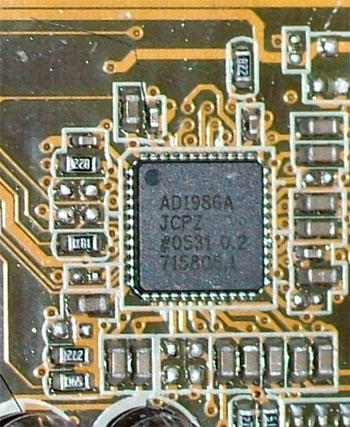 The ULi M1575 also has the necessary hooks to support Azalia HD audio, like the ATI solution. Asus has chosen the Analog Devices Azalia High Definition AD1986A audio chip to drive 6 channels of High Definition Audio. You can find more information on the Analog Devices HD Audio AD1986a at
http://www.analog.com/en/prod/0,2934,AD1986A,00.html
.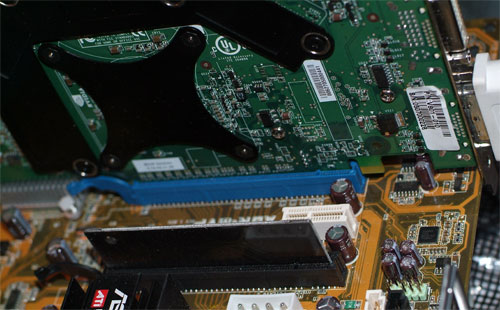 The A8R-MVP uses a simple slot insert that Asus calls MVP for x16 and dual x8 switching. This is the same simple arrangement that we saw on early ATI Reference boards. The card goes into the slot nearest to the CPU for x16 mode and is removed for dual x8 Crossfire. There are no complicated internal switches as we've seen on some other Crossfire boards, which may be one of the reasons for the excellent overclocking that we see on this Asus.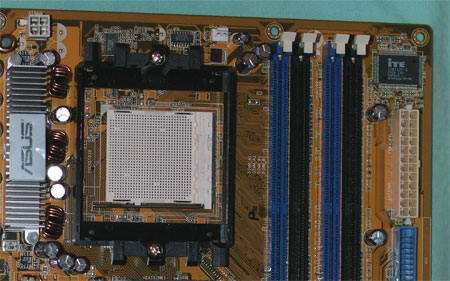 The 4-pin 12V and 24-pin ATX power connectors are at the preferred location on board edges. There is no need to snake cables over the CPU or slots when this location is used. The 4 DIMMs are also color-coded for Dual-Channel: the blue slots are one channel and the black slots are the other. When running 2 DIMMs, this alternate spacing makes it easier to keep the DIMMs cool.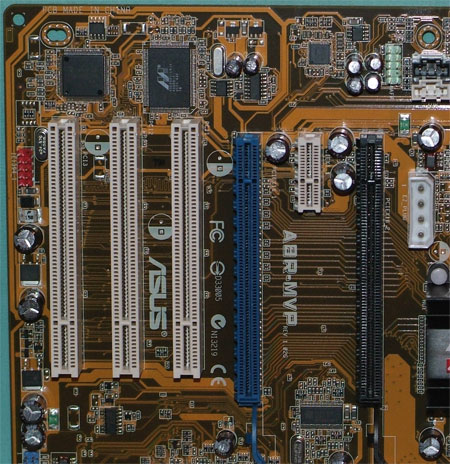 A single video card goes in the blue slot, so even if it's double-width, you still have a usable PCIe x1 and 2 PCI slots. In the worst dual video arrangement of two double-width cards, you still have 2 usable PCI slots. If the cards are single width, you gain a PCIe x1 and another PCI slot.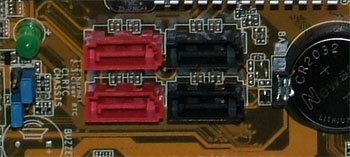 Asus does not include an additional SATA2 controller on the A8R-MVP, but it really isn't needed. The ULi M1575 provides four SATA2 ports that can be combined up to RAID 5 if you choose.

IDE and floppy connectors are ideally located on the right edge of the board - where they belong. However, they are really strewn all the way across the right board edge instead of being concentrated in the upper right quadrant. The lower IDE and floppy connectors are card-edge connectors, which keep cables out of the way of cards. However, you may want to connect these card-edge cables before securing the board in your case - especially in a tight case design. You shouldn't have an issue with IDE, floppy, or SATA connector placement, but look carefully at how cables will be managed in any case that you are considering.

This may be a mainstream board, but Asus still includes IEEE1394 Firewire and HD audio. There are also 6 jack-sensing connectors driven by the HD audio chip and a coaxial SPDIF port.
Basic Features: Asus A8R-MVP
Asus A8R-MVP
CPU Interface
Socket 939 Athlon 64
Chipset
ATI RD480 Northbridge - ULi M1575 Southbridge
Bus Speeds
200 to 400MHz in 1MHz Increments
Memory Speeds
DDR200, 266, 333, 400
(433, 466, 500 with Rev. E AMD)
PCIe Speeds
100 to 150MHz in 1MHz Increments
PCI/AGP
Fixed at 33/66
Core Voltage
Auto, 0.8V to 1.45V in 0.025V increments
PLUS 0.2V with vCore Over-voltage
(Maximum vCore 1.65V)
CPU Clock Multiplier
4X-25.5X in 0.5X increments
DRAM Voltage
Auto, 2.65V to 3.2V in .05V to .1V increments
HyperTransport Frequency
1000MHz (1GHz)
HyperTransport Multiplier
Auto, 1X to 5X
PCI Express Voltage
1.2V, 1.3V, 1.4V, 1.5V
Southbridge Overvoltage
Enabled (+0.1v)
PEG Link Mode
Auto, Disabled, Normal, Fast, Faster
PEG Bugger Length
Auto, Short, Long, Longer, Longest
AI Overclocking
Manual, Auto*, Standard*, Overclock Profile
*Set CPU Frequency and Other Parameters Automatically
Overclock Profile Options
3%, 5%, 10%, 15%, 20%, 30%
Memory Slots
Four 184-pin DDR DIMM Slots
Dual-Channel Configuration
Regular Unbuffered or ECC Memory to 4GB Total
Expansion Slots
2 PCIe x16
1 PCIe x1
3 PCI Slots
1 Asus MVP Switch Card in Secondary (Black) PCIe Slot
Onboard SATA/RAID
4 SATA2 Drives by ULi M1575
(RAID 0, 1, 1+0, 5, JBOD)
Onboard IDE/IDE RAID
Two Standard ATA133/100/66 (4 drives)
Onboard USB 2.0/IEEE-1394
8 USB 2.0 ports supported by ULi M1575
2 1394 Firewire by TI 1394
Onboard LAN
1 Gigabit Ethernet
PCI Ethernet by Marvel Yukon 88E8001
Onboard Audio
Azalia HD Audio by ADI AD1986A Soundmax codec
BIOS Revision
AMI 0037 (11/17/05) Beta
While the BIOS adjustments are not as extensive as the Asus A8N32-SLI Deluxe or the DFI RDX200, most of the adjustments needed for overclocking control are definitely here.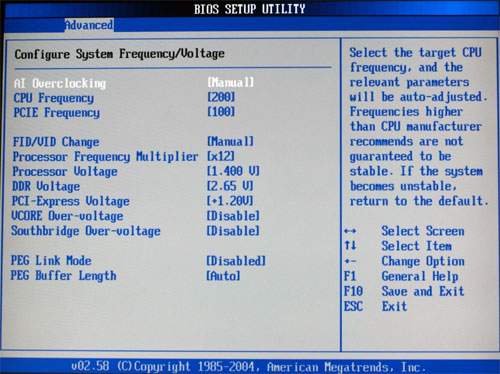 This includes memory voltage to 3.2V – much wider than most boards and the equal of the Asus A8N32-SLI. Memory voltage does not extend to 4.0V as it does on the DFI, but the only memory requiring these high voltages is OCZ VX and Mushkin Redline, both of which have been discontinued.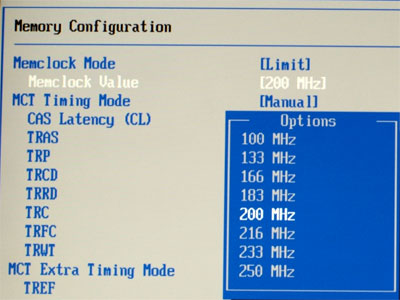 After our initial testing showed the A8R-MVP to be an excellent overclocker, we suggested to Asus that they support the higher memory ratios of the Revision E and above AMD Memory Controller and include additional adjustments for memory. Asus added the ratios and a few more memory controls, which will be available on-line as the board begins shipping this week.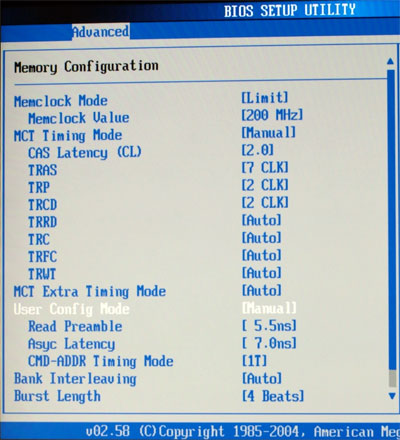 The arrangement of options in AMI BIOS has not always been the most intuitive. You will find memory adjustments under "Advanced", "CPU Configuration", "Memory Configuration", and "Memory Timing Configuration". The logic of this menu nesting is obscure, but once you drill down to memory timing adjustments, you will find a fairly complete range of options. In most cases, you will need to change from "Auto" to "Manual" to bring up the adjustments.
Overclocking
Asus A8R-MVP Overclocking Testbed
Processor:
Athlon 64 4000+
(2.4GHz, 1MB Cache)
CPU Voltage:
1.45V (default 1.40V)
Cooling:
Thermaltake Silent Boost K8 Heatsink/Fan
Power Supply:
OCZ Power Stream 520W
Memory:
OCZ PC3200* Platinum Rev. 2
(Samsung TCCD Memory Chips)
*The current equivalent OCZ memory is OCZ PC4800
Hard Drive:
Seagate 120GB 7200RPM SATA 8MB Cache
Maximum OC:
(Standard Ratio)
246x12 (4x HT, 2.5-3-3-7)
2952MHz (+23%)
Maximum FSB:
(Lower Ratio)
325 x 9 (3x HT, 2T*, 3-4-3-8)
(2925MHz, 2 DIMMs in DC mode)
(+62.5% Bus Overclock)
Screen captures on the first page have already announced that the Asus A8R-MVP has set new overclocking records in our testing. We actually found 330 to be stable in memtest86 and booted into Windows at a little more than 330 with memory set to a DDR400 starting point. However, Windows was not completely stable at 330 and required a slight lowering to 325 (DDR650). The 325 setting was completely stable, ran our benchmarks, and ran for more than 2 days on just air cooling.
Our first efforts at overclocking the A8R-MVP ran into a road block at just over 260. We have found some Asus boards in the past that did not like overclocks to be immediately set to high values, so we started again at 250. By going up just 5 to 10FSB at a time, we were able to reach 325. Since we had no idea that we would reach such a high OC on this mainstream board, we have screen captures at every 5MHz from about 270 to 330. Our advice to overclockers on this board is to move the overclock up slowly.
*UPDATE: After further testing we have concluded that the A8R-MVP handles 1T timings only to about 260-265. Above 260-265 you will need 2T timings to reach 325 or so clock frequency. We ran into a wall at 260 and apparently the BIOS reset. The default is 2T and we didn't catch the Command Rate reset. This board uses very aggressive timings, and the 2T memory bandwidth was so fast we did not realize the board was actually running at 2T. This does not change the fact that 325 at 2T is an outstanding overclock, but it is achieved at 2T timings, and not at 1T as originally reported.
Those who don't understand overclocking or who don't want to bother will find extensive automatic overclocking options in the Asus BIOS. This allows you to set an overclock and have the board adjust the related settings. These work well for modest overclocking, but they will not allow the extreme results achieved manually on the Asus A8R-MVP.
Memory Stress Testing
The Asus A8R-MVP easily handles 2-2-2-7-1T timings at stock speed, as do almost any of the current boards for AMD Socket 939 from NVIDIA, SiS, VIA, ATI, and ULi. However, the default setting for Command Rate in the Asus BIOS is 2T, and you need to manually set Command Rate to 1T for best performance with 2 DIMMs in Dual Channel mode. Asus tells us that this was done to accommodate some memory manufacturers that had asked for a default 2T Command Rate for maximum compatibility with their memory. Once set, we had no issues using 1T command Rate with any memory that we tested.
Running four double-sided 512MB or 1GB DIMMs is much more demanding than running two DS DIMMs, and Asus did not have any extra magic here. Like every board that we have tested except the DFI RDX200, we needed to drop the Command Rate to 2T with 4 DS DIMMs. With 4 DIMMs, the A8R-MVP remained stable with the same aggressive 2-2-2-7 timings used for two DS DIMMs.
Stable DDR400 Timings - 4 DIMMs
(4/4 DIMMs populated)
Clock Speed:
200MHz
CAS Latency:
2.0
RAS to CAS Delay:
2T
RAS Precharge:
7T*
Precharge Delay:
2T
Command Rate:
2T
*7T was determined by MemTest86 benchmarks to deliver the widest bandwidth with the ATI Rx480/482 chipset. While the board would operate at tRAS of 5T or lower, all benchmarks were run at 7T.
Test Setup
 Performance Test Configuration
Processor(s):
AMD Athlon 64 4000+ (2.4GHz) Socket 939
RAM:
2 x 512MB OCZ PC3200* Platinum Rev. 2
*The current equivalent OCZ memory is OCZ PC4800
Hard Drive(s):
Seagate 120GB 7200 RPM SATA (8MB Buffer)
Video Cards:
MSI NVIDIA 7800GTX
MSI RX1800
Video Drivers:
NVIDIA Forceware 81.85 Release
ATI Catalyst 5.11 Release
Operating System(s):
Windows XP Professional SP2
Direct X 9.0c
Motherboards:
Asus A8R-MVP (ATI RD480/ULi1575)
Asus A8N32-SLI Deluxe
DFI LANParty UT RDX200 (ATI RD480)
ATI Crossfire AMD Reference Board
SiS 756 Reference Board
ASRock 939Dual-SATA2 (ULi M1695/1567)
Sapphire A9RX480 (ATI)
Jetway 939GT4-SLI-G (nForce4)
ULi AP9567A (M1695/M1567)
DFI LANParty nF4 SLI-DR (nForce4)
DFI LANParty UT nF4 Ultra-D (nForce4)
MSI K8N Neo4/SLI Platinum (nForce4)
Tests used OCZ PC3200 Platinum Rev. 2, which uses Samsung TCCD chips. All memory ran at 2-2-2-7 timing in all benchmarks.
We tested with the NVIDIA 7800GTX using nVidia 81.85 drivers to provide the most up-to-date performance results. We also ran graphics and games benchmarks with the MSI RX1800 (X1800XT) using Catalyst 5.11 drivers. Resolution in all benchmarks is 1280x1024x32 unless otherwise noted. 3DMark and Aquamark3 benchmarks use "Standard Score" setup, which is 1024x768 video resolution.
Results for the Asus A8R-MVP are in red. Test results for other motherboards are in blue.
General Performance
There is little to distinguish or detract from the Asus A8R-MVP in Winstone benchmarks. The Asus board is competitive with the best Socket 939 Athlon 64 boards that we have tested. We have already established that the ATI chipset competes well with other AMD chipsets. Performance in Winstones falls in the center of tightly clustered performance.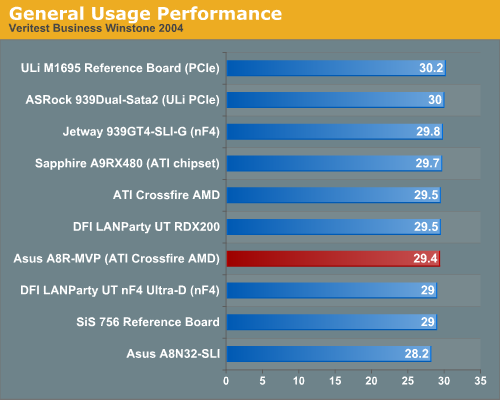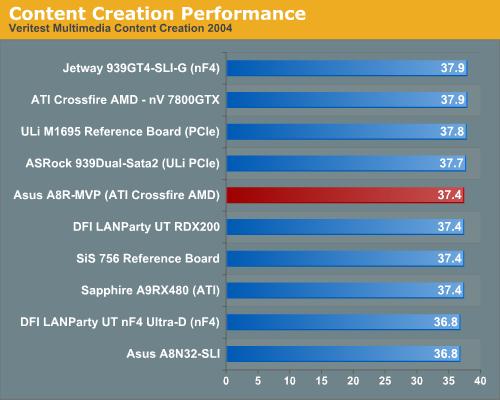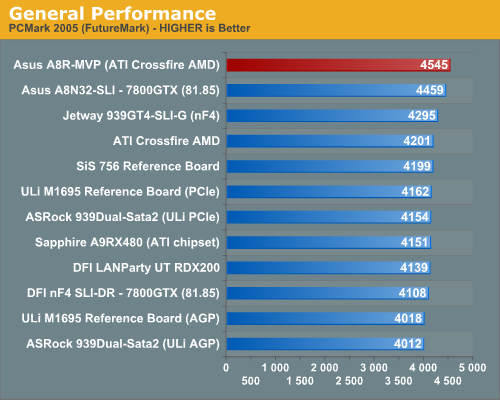 However, PCMark 2005 is another story, as the A8R-MVP outperforms any board that we have recently tested. Part of this is the improved performance of the 81.85 drivers, but the A8R-MVP also outperforms the Dual x16 NVIDIA board, also from Asus, that we recently tested with the same 81.85 drivers. While we are no longer reporting PCMark 2004 performance, we did run the test just to check against out PCM05 results. The pattern was the same, with the A8R-MVP outperforming all other AMD boards that we have tested in PCMark 2004.
Graphics Performance and Encoding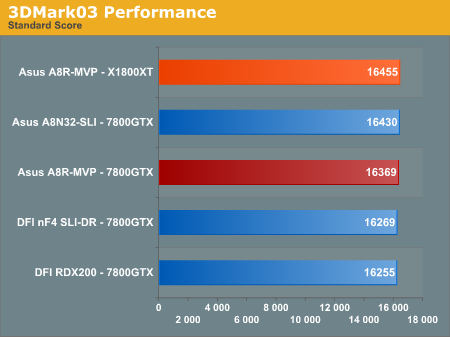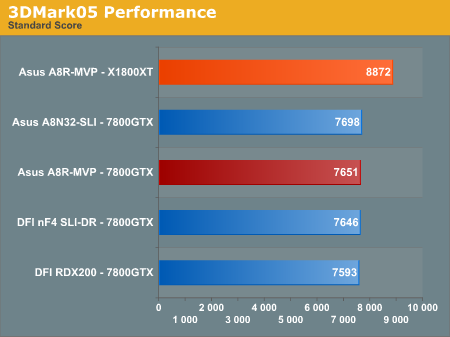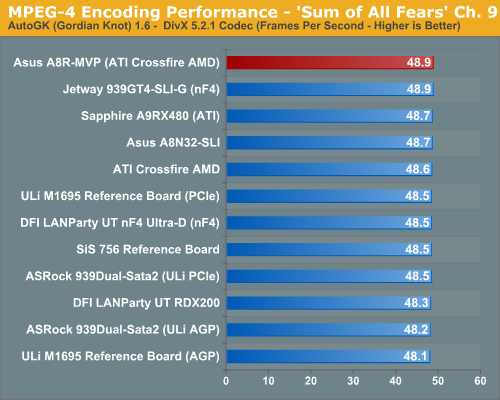 The A8R-MVP performed very well in 3DMark graphics Benchmarks and Encoding. Compared to other AMD boards tested with the latest 81.8x drivers, the A8R-MVP performed at or near the top in all 3 benchmarks. Results for the four boards were close, but the Asus A8R-MVP and Asus A8N32-SLI Deluxe were both #1 in all 3 benchmarks. 3DMark05 and 3DMark03 are synthetic benchmarks, but they are designed to test the gaming elements of DirectX 9, using specially written gaming segments.
It is interesting that the ATI X1800XT wins all synthetic benchmarks using the latest 5.11 Catalyst drivers. The 5.11 drivers do make the X1800XT behave like a different vidoe card.
Encoding results should not be affected by the graphics card used during the encoding benchmarks. This is clearly demonstrated by the archive test results for AutoGK using an AMD 4000+ processor with a wide assortment of other components. The performance range of those encoding tests is just 48.1 to 49.9 - a difference form high to low of just 0.8 frames. Clearly, the biggest influence on this encoding benchmark is the CPU used for testing.
Gaming Performance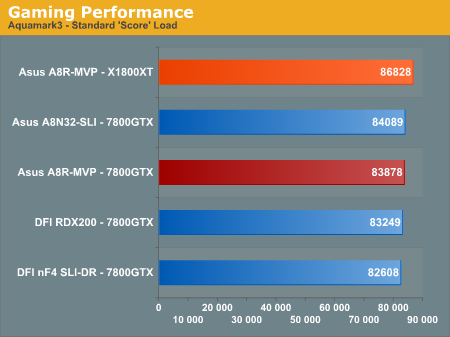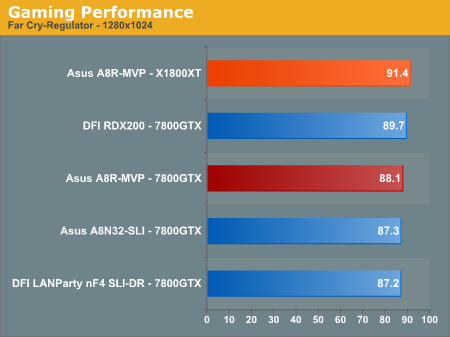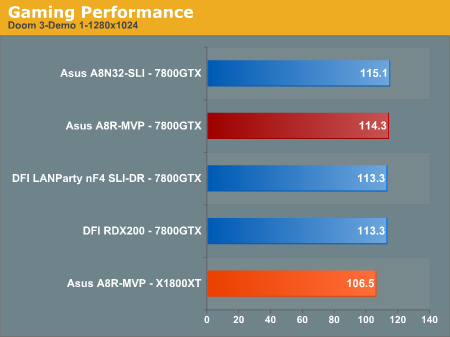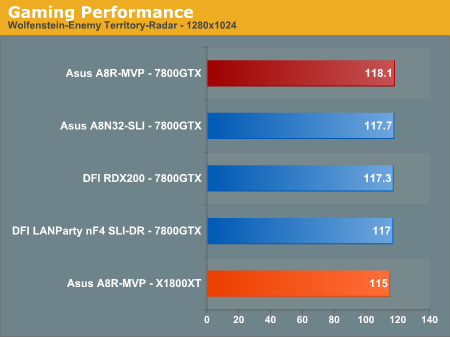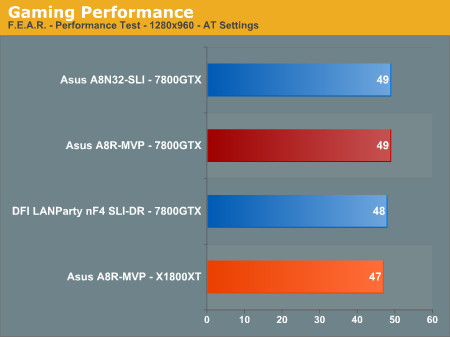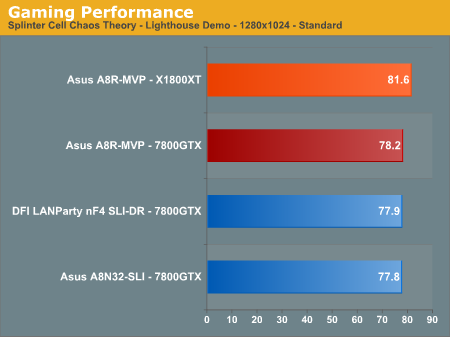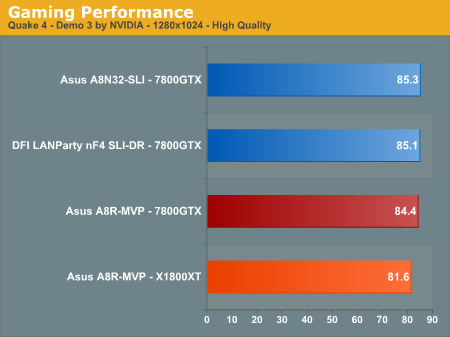 We tested with our standard group of game tests, which includes Aquamark 3, Far Cry, Doom 3, and Wolfenstein-Enemy Territory. Only tests run with the 7800GTX with 81.8x drivers were included. In some cases, we retested with this card and the 81.8x drivers to make sure that our results could be reasonably compared. We did not test with Half-Life 2 since the recent updates to Steam have caused all the benchmarks we have available to stop working. We are looking for a new HL2 benchmark that is compatible with the latest Steam version.
We also ran benchmarks with three new games: Quake 4, Splinter Cell - Chaos Theory, and F.E.A.R. The Asus A8R-MVP was at or near the top in every game test, both our standard suite and the newest game tests. This was frankly a bit surprising, since we just recently found top gaming performance with the Asus A8N32-SLI, based on the new NVIDIA Dual x16 chipset.
Results with the ATI X1800XT on the Asus A8R-MVP were very intersting. THe X1800XT was either tops or matched results in all games not based on Open GL engines. In games base on Open GL, like Quake 4 and Doom 3, the new 5.11 driver has made up most, by not quite all, of the performance advantage perviously held by the nVidia 7800GTX. Keep in mind that these results are our standard tests, with AA and AF turned off if possible. We have found that as soon as AA and AF are turned on the X1800XT is tops even in Open GL compared to the 7800GTX.
Overclocking Comparisons
Maximum overclock data was added to our Performance graphs beginning with the nForce4 SLI roundup earlier this year. The overclocking performance graphs allow a better comparison of the overclocking capabilities of tested boards. For more details on the specific overclocking abilities of a specific board, please refer to the Overclocking and Memory Stress Test section of individual board reviews.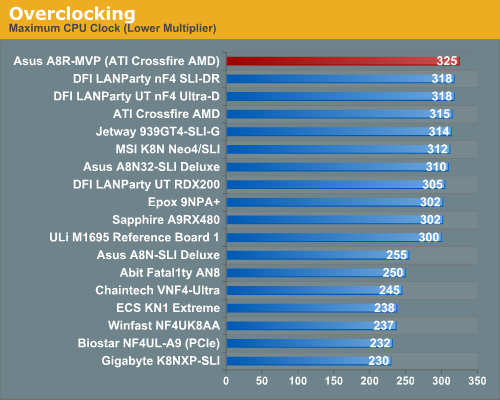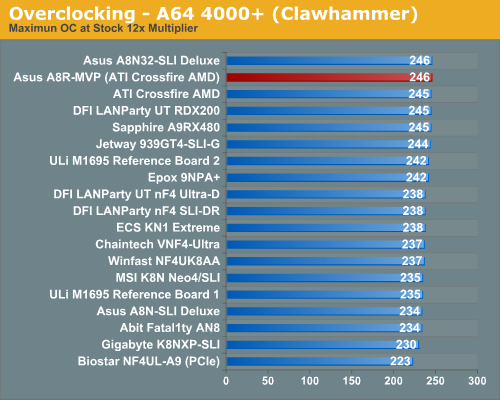 The overclocking performance of the Asus A8R-MVP was spectacular, reaching 325 at the reduced multiplier, and matching the highest stock overclock of 246 that we have tested with this CPU. Both results are at the top of our overclocking results charts. Considering that the competition at the top includes very expensive boards designed specifically for overclocking, the overclocking performance of the A8R-MVP has to be considered remarkable.
No one, least of all this reviewer, expected this kind of overclocking with this mainstream Asus board. Once in a while, you run across a mainstream or value board that surprises you with its capabilities. This board is one of those surprises. Frankly, the Asus A8R-MVP may be the best thing to happen to ATI's new Crossfire chipsets.
ATI has made tremendous progress in board design since we looked at the initial Bullhead board last November. Asus definitely went their own way in the design of the A8R-MVP, but the simplicity of the board more than likely contributes to the great overclocking that we experienced.
It is very important that users change the default 2T Command Rate to 1T for best performance. Asus ships the A8R-MVP with 2T enabled to satisfy some memory manufacturers. The board has no trouble running 1T with quality memory, but you have to set the 1T Command Rate manually. All overclocking was performed with the Command Rate at 1T and the Command Rate was verified in AMD Tweaker.
USB Performance
USB has been a problem area for the ATI SB450 chipset, so we were anxious to test the ULi M1575 South Bridge, which is supposed to fix USB performance issues. We ran our standard USB throughput test on the Asus A8R-MVP using an external USB hard drive.
Our test method uses a RAM disk as our "server", since memory removes almost all overhead from the serving end. We also disable disk caching on the USB and Firewire side by setting up the drives for "quick disconnect". Our results are then consistent over many test runs.
We use just 1GB of fast 2-2-2 system memory, set up as a 450MB RAM disk and 550MB of system memory. Our stock file is the SPECviewPerf 8.01 install file. which is 432,533,504 bytes (412.4961MB). After copying this file to our RAM disk, we measure the time for writing from the RAM disk to our external USB 2.0 or Firewire 400 or Firewire 800 drive using a Windows timing program written for AnandTech by our own Jason Clark. The copy times in seconds are then converted into Megabits per second (Mb) to provide a convenient means of comparing throughput. Higher Rates therefore mean better performance.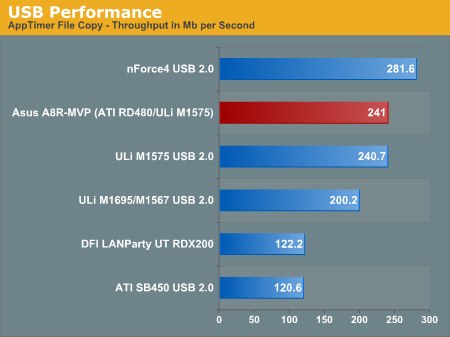 The A8R-MVP matched the performance that we measured in our recent tests of the ULi M1575 Reference board. While USB performance is a bit slower than NVIDIA, it is definitely competitive with the NVIDIA results, with throughput at about double the ATI SB450. This is certainly a big improvement over the ATI SB450 performance, and we well understand why Asus, MSI, Abit, and other ATI RD480 builders will be using ULi M1575 instead.
In addition to competitive USB performance, the M1575 also provides the SATA2 ports that are missing from the ATI SB450. The ULi SATA2 also supports RAID 0, 1, 0+1, 5, and JBOD.
Disk Controller Performance
With the variety of disk drive benchmarks available, we needed a means of comparing the true performance of the wide selection of controllers. The logical choice was Anand's storage benchmark first described in "Q2 2004 Desktop Hard Drive Comparison: WD Raptor vs. the World". To refresh your memory, the iPeak test was designed to measure "pure" hard disk performance, and in this case, we kept the hard drive as consistent as possible while varying the hard drive controller. The idea is to measure the performance of a hard drive controller with a consistent hard drive.
We played back Anand's raw files that recorded I/O operations when running a real world benchmark - the entire Winstone 2004 suite. Intel's iPEAK utility was then used to play back the trace file of all IO operations that took place during a single run of Business Winstone 2004 and MCC Winstone 2004. The drive was formatted before each test run and a composite average of 5 tests on each controller interface was tabulated in order to ensure consistency in the benchmark.
iPeak gives a mean service time in milliseconds; in other words, the average time that each drive took to fulfill each IO operation. In order to make the data more understandable, we report the scores as an average number of IO operations per second so that higher scores translate into better performance. This number is meaningless as far as hard disk performance is concerned as it is just the number of IO operations completed in a second. However, the scores are useful for comparing "pure" performance of the storage controllers in this case.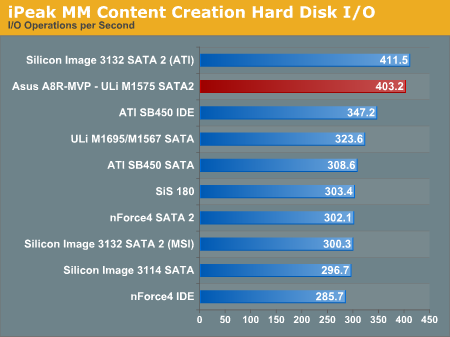 The regular ATI SB450 is a very good performer compared to NVIDIA solutions, even though it is only regular SATA instead of the SATA2 supported by NVIDIA. We found the ULi to be an outstanding performer when we first tested the M1575 and we confirmed the same level of results on the Asus production version of the M1575 south bridge.
Audio Performance
For audio testing, we used Rightmark 3D Sound CPU utilization test, which is the same benchmark run in our earlier nForce4 SLI and Ultra roundups. This benchmark measures the overhead or CPU utilization required by a codec or hardware audio chip. We tested performance using the latest version 2.1. Since we found that Version 2.1 yields different results from the earlier 1.24, we have only included test results with version 2.1.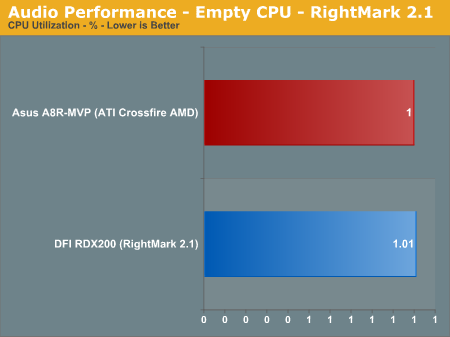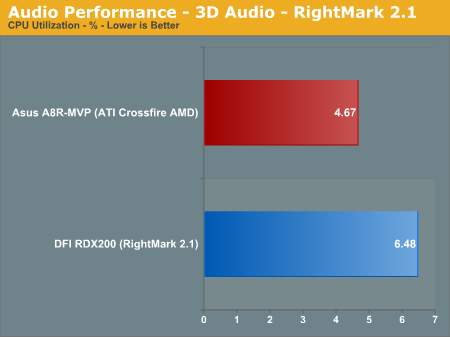 None of the onboard audio solutions were quite as low in CPU utilization as the hardware Creative SoundBlaster Live! chip, which we have tested on both AMD and Intel top-end boards from MSI. However, ATI's High Definition Audio on the ADI Soundmax used in the Asus produced excellent performance in all the utilization tests. Results were in every case almost as good as the hardware solution. Azalia HD is apparently more demanding of CPU power, but CPU utilization remained below 5% even in 3D audio rendering as tested with RightMark 2.1. While we have not reported 3D + EAX comparative results, we did run this test and found CPU utilization of just 6.11% for this demanding audio test.
It is very important to point out that the ATI chipset motherboards have the necessary hooks to deliver Azalia High Definition audio. Those who have been complaining about the poor AC'97 audio present on most AMD boards should be very pleased to find Azalia HD on the ATI chipset boards. The nForce4 family does not offer the necessary chipset hooks to support HD Azalia audio.
Ethernet Performance
The one area where the Asus A8R-MVP is mildly disappointing is in their choice of an Ethernet controller. Instead of using a PCIe LAN that is capable of providing full 1 Gb bandwidth, Asus used a PCI solution that will be limited in maximum speed by the PCI bus. In practical terms, the PCI bus caps out about 700 Mb/s compared to the 950Mb/s capability of a 1 Gigabit PCIe solution. Since most broadband Ethernet connections barely tax 10Mb/s, this really only matters to those who do sustained high-speed transfer of very large files over a true 1Gb network - probably less than 1% of users. Still, you should be aware that PCIe Gigabit Ethernet is always a better solution.
The Windows 2000 Driver Development Kit (DDK) includes a useful LAN testing utility called NTttcp. We used the NTttcp tool to test Ethernet throughput and the CPU utilization of the various Ethernet Controllers used on the AMD motherboards.
We set up one machine as the server; in this case, an Intel box with an Intel CSA Gigabit LAN connection. Intel CSA has a reputation for providing fast throughput and this seemed to be a reasonable choice to serve our Gigabit LAN clients. At the server side, we used the following Command Line as suggested by the VIA whitepaper on LAN testing:
Ntttcps -m 4,0,‹client IP› -a 4 -l 256000 -n 30000
On the client side (the motherboard under test), we used the following Command Line:
Ntttcpr -m 4,0,‹server IP› -a 4 -l 256000 -n 30000
At the conclusion of the test, we captured the throughput and CPU utilization figures from the client screen.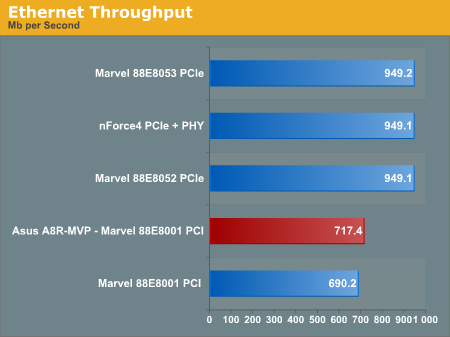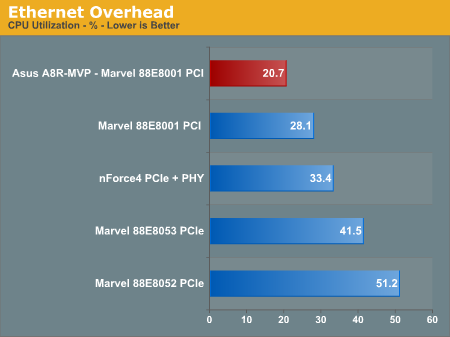 As you can clearly see, PCIe Gigabit LAN is capable of about 35% faster speed than what the PCI Gigabit LAN used on the A8R-MVP. In practical terms, this won't matter to most users, since high-speed internet barely taxes a 10Mb/s connection. The speed difference may be important if you routinely transfer many large files on a full 1 Gigabit network.
Final Words
Users were more disturbed than ATI may have thought with the limitations of the SB450 south bridge. In practical terms, it made no real difference at all in performance, since SATA2 is not really faster than SATA1 with current drives, and most USB transfers don't come even fractionally close to taxing the transfer capabilities of USB 2.0. However, for most users, competitive USB and SATA2 are options that don't need their performance to be explained - they are check list items that should perform exactly as users expect - not items with sub-par performance or missing from the check list.
The Asus A8R-MVP is the first motherboard that we have tested to use the ULi M1575 instead. The M1575 does provide competitive USB 2.0 performance and the SATA2 ports that are missing on the ATI SB450. We will also see the ULi M1575 on the MSI and Abit ATI chipset motherboards, as well as others coming down the pike. The performance of the ULi M1575 proves that Asus and others made a good choice in this south bridge.
The most important thing that the Asus A8R-MVP brings us, however, is not the competitive USB and SATA2 capabilities - they are just icing on the cake. The A8R-MVP is a monster of an overclocker - a mainstream board that proves that you don't have to spend a fortune to get incredible flexibility in pushing your system performance to new levels. This is the kind of board that serious overclockers love - a value-priced board that can be coupled to a value-priced AMD Socket 939 Opteron, for example, to get beyond top-of-the-line performance.
UPDATE: After further testing on shipping retail boards, we have concluded that a 2T Command Rate is needed for Clock frequencies above 260-265. We did not realize that the board we initially tested was actually reset to 2T in our benchmark tests at 325. However, the Asus A8R-MVP at 2T is often as fast as other board at 1T since the memory timings on this board are very agressive. The good news is that 320+ was in reach at 2T using good TCCD memory on all of the shipping retail boards we tested, and the performance at 2T was very competetive with other boards at the same speed at 1T Command Rate.
Asus tells us the Engineer responsible for this board design is a young professional, well-regarded for his creativity and promising design skills. Perhaps this is the first of many such surprises from this young Engineer.
In the end, the Asus A8R-MVP is definitely not what we expected. It is not top-end, expensive, 8-phase, or designed for the top overclock that anyone will ever achieve. It is really much more than any of those expectations. The A8R-MVP is a reasonably-priced, full-featured board that is not really missing any important features. Instead of the limitations of SB450, it has the advantages of ULi M1575. And this value-priced board produced the highest overclocks that we have ever seen with our OCZ Rev.2 Platinum memory and our 4000+ CPU.
As we said, it's a good thing that we actually test motherboards instead of relying on first impressions. The Asus A8R-MVP is exactly what many of you are looking for, and it is probably the best thing that could happen to the ATI AMD chipsets. A reasonably priced board that has all the check marks, is very fast at stock, and can overclock like a banshee is always a good thing.