Original Link: http://www.anandtech.com/show/1867


Introduction
While still having some trouble keeping pace with NVIDIA, ATI has been doing well lately with quality graphics solutions like the X800 GTO. The X1800 series has also shown promise, although there are still issues with the price, which doesn't quite reflect performance with respect to the competition (specifically the 7800) right now. The X1800 XL is showing up between $370 and $400, while we can find the 7800 GT at prices between $320 and $370. That said, as prices hopefully fall, the X1800 XL looks to be a good high-end choice from ATI for the holidays.

Many are familiar with ATI's All-In-Wonder series of graphics cards, which offer not only gaming power, but also various multimedia features such as TV playback and recording on your PC. ATI has released a few different versions of the All-In-Wonder, and for the most part, the multimedia aspects of them are similar. Recently though, we got a chance to look at the newest edition of the A-I-W, the X1800 XL A-I-W, and we are impressed with what we saw.
Obviously, the main difference between the X1800 XL A-I-W and past versions is the level of gaming power, which is highest here with the X1800 XL. The multimedia features have also been upgraded, and we'll look at that in the next section. The main features that the All-In-Wonder variation of this card provides are centered around video I/O, and the capabilities of this card make it quite useful to those who want an easy way to get video on to their PC. Due to the upgraded graphics performance, the X1800 XL A-I-W should look even more desirable to those gamers who want to be able to play the latest games and have some extra video options as well.
We'll be looking at all the different features of this card to give an idea of what it is capable of media-wise. We'll also take a look at how it performs in a few games relative to the competition, as well as what kind of power consumption we see for the card. As always, price plays an important part of the overall value of the part, and because we only know the suggested retail at the time of this writing ($429), there will be a fair amount of subjectivity here. That notwithstanding, there is no denying the X1800 XL A-I-W's potential, so without further delay, lets take a look at it.
The Card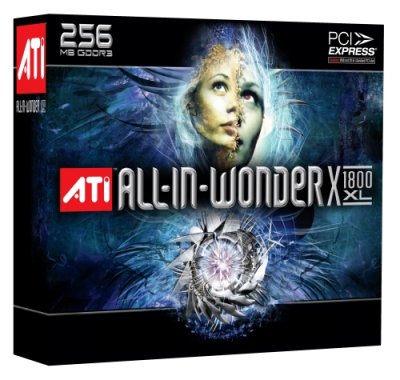 ATI's All-In-Wonder line has been around for a while, and it has consistently provided a quality multimedia solution since its introduction. The X1800 XL version is no different, thus confirming our expectations.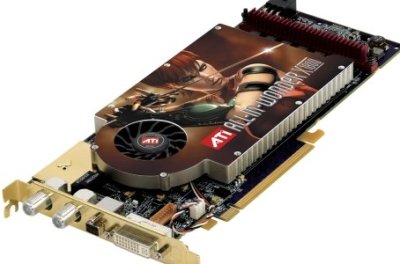 As you can see by the picture, the All-In-Wonder version looks almost identical to its standard X1800 XL counterpart. A somewhat strange thing about the card visually is the purple color of the board, which is only odd because every other ATI board is bright red. Whatever ATI's reason for doing this is, the color is a subtle cue that this card is a bit different.
The color and the heatsink sticker aren't the only differences however. The X1800 XL A-I-W features an FM and Cable TV connection, as well as a digital input/output connection above the dual link DVI-I output. Different Dongles attache to this port in order to enable the desired functionaity such as comonent or composite output or to add a second monitor. The power connection is the same as a standard X1800.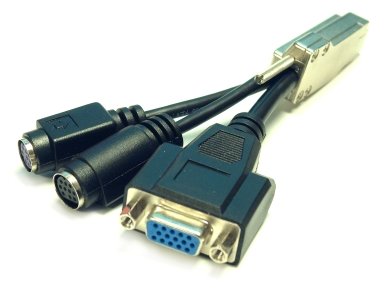 One of the better features of the newest A-I-W is the new improved Remote Wonder. The feel and size of the Remote Wonder Plus is improved over previous versions, and having an RF remote with a programmable buttons and a thumb pad for controlling the mouse is really convenient if using the computer for watching TV is a prime function of your setup. Doing things like flipping channels while waiting for an email or checking who's on your favorite instant messenger service is a breeze. The range of the Remote Wonder is effectively between 25 and 30 feet, which is more than enough for any good sized room. Of course, unless your computer is hooked up to an Apple 30" Cinema display, watching TV at more than 10 to 15 feet is not that comfortable.
The card also comes with a sizable software bundle, and a lot of connectors for hooking up your equipment. Of note here is the fact that ATI has switched from Pinnacle Systems to Adobe software. This small change reflects quite an increase in value, as Adobe is all but the industry standard in photo and video editing. Even though the versions of Photoshop and Premier included are the cut down Elements versions, these software packages do just about everything any home user would want.
The other major difference between the new X1800XL and previous generation A-I-W cards is the FM/CATV tuner. ATI has employed the Microtune 2121 digital tuner on this board. In the past, larger "tin can" style analog tuners have been used which take up quite a lot of board space. This is the same solution used on the X800XT A-I-W cards. Again the Microtune 2121 is paired with the Theatre 200 chip which takes the output from the Microtune 2121 and handles the filtering and conversion of video to a format suitable for display on the PC.
Like we mentioned in the introduction, the MSRP of the X1800XL A-I-W is $429. This would be only about a $30 - $60 premium over most other X1800XL cards, and if we actually see cards come in anywhere around $429 this would make the added functionality and software bundle a terrific value over the stock X1800XL parts. Ideally we would see current X1800XL parts fall to or below 7800 GT prices (low-mid $300s), and even then the X1800XL A-I-W would be a good solution for those who want to watch TV on their PC at $429.
We've heard some murmurs from the community about the delay between the X1800XL and the A-I-W version. While we don't think a month and a half is a huge expanse of time, it is interesting to note that ATI has delayed the launch of the X1800XL A-I-W multiple times over the past month. The reasoning behind these delays was to match the product launch with retail availability. Unfortunately we have not seen any cards anywhere at this time. While we appreciate the attempt by ATI, the failure to deliver on its promise once again is disturbing. How has NVIDIA been able to get availability at launch for over a year on both desktop and mobile platforms while ATI can't get it right for one single product?
Features
As we mentioned before, there are some very nice features on this card beyond quality gaming. Most of these features won't be all that new to those familiar with previous All-In-Wonder releases, and while there may not be much new here, what there is reflects the quality that ATI has put into these products.
Perhaps the most important aspect of the card is its ability to play and record TV directly from your Cable/Satellite hookup. This was fairly easy to set up, and after installing the card and connecting the cable we almost instantly had live TV running on our system.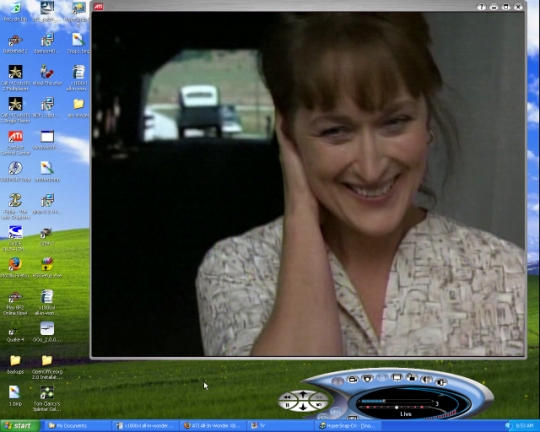 The X1800 XL A-I-W is much like a television in that it allows you to browse cable channels and also set parental controls if you need them. Gemstar GUIDE Plus+ is a program that comes bundled with the card that allows you to download show schedules and record upcoming programs to watch later on. Features like this and the ability to pause and resume live TV at anytime make this package very similar to something like TiVo.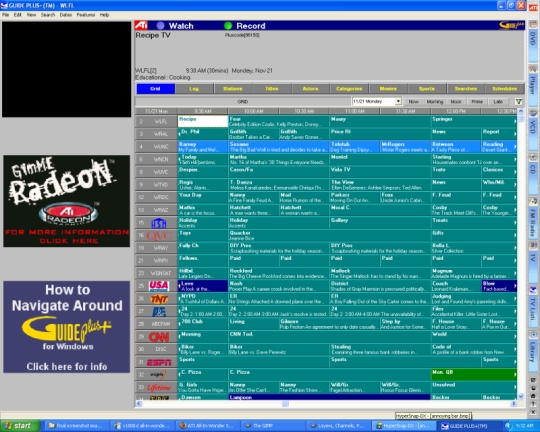 You can record or take screenshots of what you are watching at anytime, and the files will be saved in a media library where you can view or export the files later for editing. Also included is a standard DVD and CD player, as well as an FM Radio tuner in case you want to record or listen to the radio on your computer. These are nice features, but most people already have CD and DVD software on their computer, so they aren't all that necessary. One small annoying thing about the software package is that once installed, a toolbar starts up with windows that launches different media programs. The toolbar isn't really necessary, as all of the programs listed are available in the start menu, and the fact that it's there taking up any space at all kind of rubs us the wrong way; especially given the insidiousness of certain other toolbars that sometimes pop up on your system where you don't want them. The All-In-Wonder toolbar is harmless and simple enough to disable from automatic startup if you don't like it. If you spend a little bit of time looking around at install time, the toolbar can be skipped altogether (which is our recommendation).

Another interesting feature included with the package is something called Thruview, which is basically a way to watch TV in the background while doing something else on your PC. When you enable this, it will make the Video play in the background and change the opacity of the Video allowing you to see through it. This is so that presumably you can do other work while having your favorite show running in the background and not miss anything. The effect of this is much like having someone projecting a video image to a screen behind your desktop with all the lights on. We thought this sounded like an interesting idea, but after testing it out we found it to be a little impractical. For one thing, it's very hard to see whats going on with the video because it's so faint. Secondly having video playing in front of you while trying to get work done can be very distracting, and the combination of live Video and text, etc. can make everything seemed jumbled and confusing. Some people might not mind so much, however.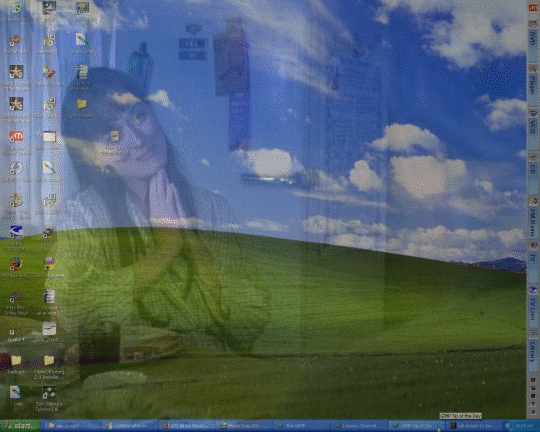 To summarize, there are lots of extras in the All-In-Wonder package, but the one that is the most important is also the easiest to use. Our test system handled live video and recording without feeling laggy or glitchy, and the options were straightforward and helpful in allowing us to use the settings we desired. As far as the video/multimedia aspect of the X1800 XL All-In-Wonder card, it accomplishes what it claims with grace. With the inclusion of Photoshop Elements and Premier Elements, video editing is a snap, and we are glad to see the switch from Pinnacle. Now let's take a quick look at how this card performs on the graphics side.
Test Setup and Performance
We have already looked at how the X1800 XL performs in different games, but we'll take another look at performance in relation to a few other graphics cards we have. The X1800 XL is one of the most powerful ATI cards out now, and as our tests show, it does a good job at running the latest games smoothly. Here is the test hardware we used: (Note that we test out benchmarks with sound disabled)
Test Hardware
CPU:
AMD Athlon 64 FX-57 (2.8GHz)
Motherboard:
ASUS A8N32-SLI Deluxe
Chipset:
NVIDIA nForce4 SLI X16
Chipset Drivers:
nForce4 6.82
Memory:
OCZ PC3500 DDR 2-2-2-7
Video Card:
ATI Radeon X800 XL
ATI Radeon X1800 XT
ATI Radeon X850 XT
NVIDIA GeForce 6800 GS
NVIDIA GeForce 7800 GT
NVIDIA GeForce 7800 GTX
NVIDIA GeForce 7800 GTX 512
Video Drivers:
ATI Catalyst 5.11 (WHQL)
NVIDIA ForceWare 81.89 (Beta)
Desktop Resolution:
1280x960 - 32-bit @ 60Hz
OS:
Windows XP Professional SP2
Power Supply:
OCZ PowerStream 600W PSU
For testing, we chose three games which best reflect the card's overall potential for gaming. Battlefield 2, one of the most popular and graphically demanding first-person-shooters to date still manages to tax the high-end cards significantly. Day of Defeat is an important benchmark for us because the game is based on the Halflife 2 engine, and introduces Valve's recent High Dynamic Range effects which yields much lower framerates than Halflife 2 on all graphics cards. The third game we tested was Quake 4, which gives us an idea of how the card handles the Open Gl Doom 3 engine. We tested each of these games at 1600x1200 with and without 4x AA enabled.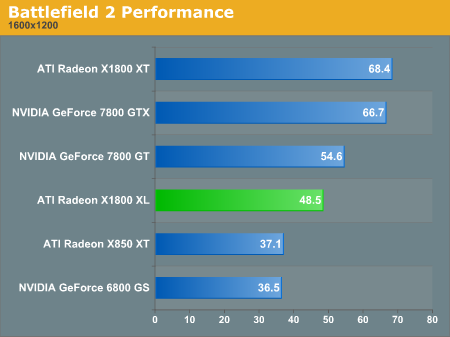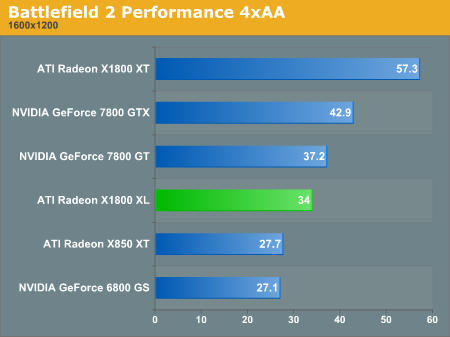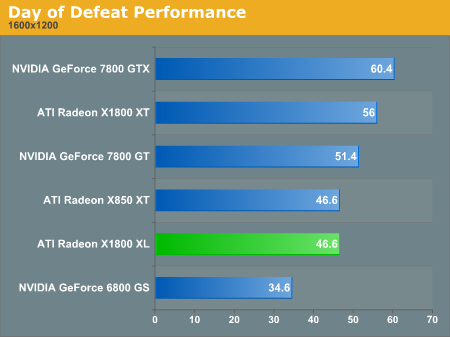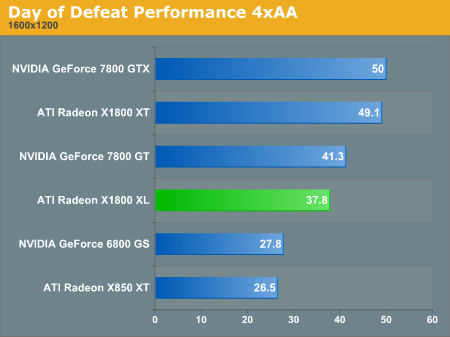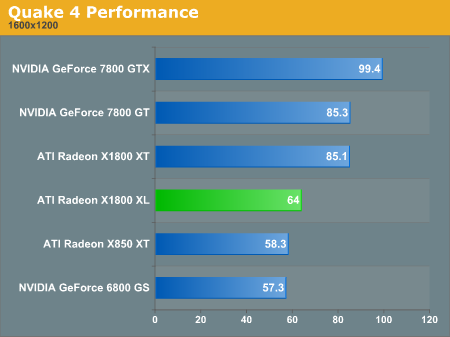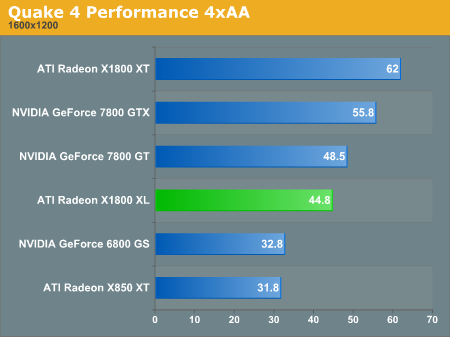 Power Load
We also tested power loads to give us an idea of how much power this card uses at different states. We tested the power draw while the system was idle, as well as running a Splinter Cell benchmark to test the card under stress. We also were curious how much of a power load we saw while recording full screen video through the card. The wattage the system pulled while idle was 157Watts. While recording video at full screen, the power load we recorded was 189Watts. Finally, the power draw of the system while under Splinter Cell stress testing was 256W.
Final Words
The X1800 All-In-Wonder is supposed to hit shelves today, and we suspect that some will have been waiting anxiously to get a hold of one of these cards. What we have here is a very unique graphics card that combines high-end 3D performance with multimedia capabilities. The different features available like TV recording/editing, as well as the Tivo-like interactive programming with Gemstar's GUIDE Plus+ are nice, and little extras like the Thruview feature, which let you watch TV in the background while doing something else on your PC add to the package.
We were particularly pleased with how easy it was to have everything installed and working so well without hardly any confusion about how to use the different features of the card. Setting up this type of graphics hardware might well seem daunting to someone without much knowledge in multimedia hardware, and the fact that this is not the case here is one of the reasons we liked this product as much as we did. The simple plug-and-play aspect of the X1800 XL A-I-W would be reason enough for some to appreciate this card in spite of the price.
The X1800 XL A-I-W is not for everybody though. With about a $430 retail price, it isn't cheap, and regardless of what the market does, it will always be more pricey than a standard X1800 XL. Whether the features of the A-I-W are worth the extra price is very difficult to determine, even after the card has been on shelves for a while. If you are a gamer, and want the best performance possible, but you also must have the ability to watch and record TV on your computer, then this card has everything you need and will have you watching in no time. However, if you are more interested in the TV capabilities of the card and don't care so much about high-end gaming performance, then the one of the older, less powerful multimedia cards might be more suitable.
For a TV focused PC who's primary use will be at the center of a home theatre, a full media center PC would be a better fit than just shoving an A-I-W card in the box. This is the kind of solution for someone who mainly wants to use their computer as a computer with a little TV functionality on the side in a window on a computer monitor or recording shows in the background to archive them or watch them later.
This card is fairly specialized and as we said, whether it will ultimately be worth the price once it's been on the shelves is subjective and therefore depends on the consumer and his or her needs. The X1800 XL All-In-Wonder is almost like having two separate types of cards in one neat package, and the fact that it's specialized will obviously add to the cost. But the features it claims are all there and accessible, and with regard to video and graphics, All-In-Wonder is more or less a fitting name for the product. It's true that this card doesn't break much new ground on the video and graphics side of things, but having this level of graphics power for gaming in an All-In-Wonder card is a first and will add to the desirability factor. There are other solutions for watching and recording TV on your computer, and many will be forced to pass on the X1800 XL A-I-W because of the high price. But for those lucky enough to be able to afford it, they will find it more than acceptable for gaming and multimedia solutions.