Original Link: http://www.anandtech.com/show/1836


"We are such stuff, As dreams are made on and our little life
Is rounded with a sleep..."
This line as spoken by the magician Prospero in William Shakespeare's whimsical play, "The Tempest", reminds us of the uniqueness of the human mind and the fleeting amount of time that we are around to utilize it.
The Asus P5N32-SLI Deluxe that we will review today is also very unique in several ways and like most computer products in the current marketplace, its life span will be fleeting. However, for those of you who have the opportunity to utilize it, you will find what dreams are made on.
I will say this up front; this is one of the better motherboards that I have had the opportunity to use in the last 20 years. In fact, this board deserves additional testing time in order to explore fully and extract all of its performance potential. In keeping with what we believe is the best option for the current Intel processor lineup, the Pentium D series, we did not test a single core processor on this board. However, based upon the results that we extracted from the 840EE and 820D processors, we will be testing a single core processor on this board in the near future.
While it does not have the quad graphics capability of the Gigabyte GA-8N SLI Quad, the stellar layout of the MSI P4N Diamond, or the extensive feature set of the Gigabyte GA-8I955x Royal that was reviewed recently, this board's capability more than exceeds the sum of its parts. Yes, it does have some quirks as most products will, but Asus has engineered a truly remarkable motherboard utilizing the revised NVIDIA nForce4 Intel Edition SLI for the Northbridge and the NVIDIA nForce4 SLI for the Southbridge resulting in the x16 designation.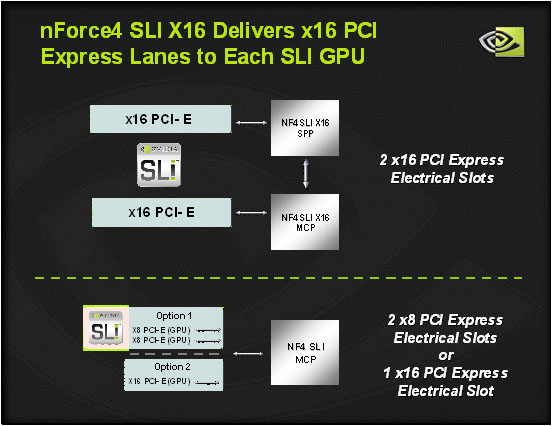 This results in a total of 40 configurable PCI Express lanes compared to 20 PCI Express lanes in the previous nForce4 Intel Edition SLI design. This allows the option to support two full-bandwidth 16-lane PCI Express links for graphics compared to a single 16-lane PCI Express link or split into two full-bandwidth 8-lane PCI Express links previously. While this doubles the bandwidth of the previous chipset configuration, in reality, the actual performance improvements are dependent upon the CPU, GPU, applications, and driver sets used. We witnessed anywhere from a 3% to 25% improvement in certain applications and were, at times, CPU constrained when utilizing a pair of 7800GTX video cards in SLI configuration at 1600x1200 resolutions and above. Significantly better improvements have been reported on the AMD x16 configuration when utilizing an FX57 CPU and 7800GTX SLI setup with the 81.85 driver set.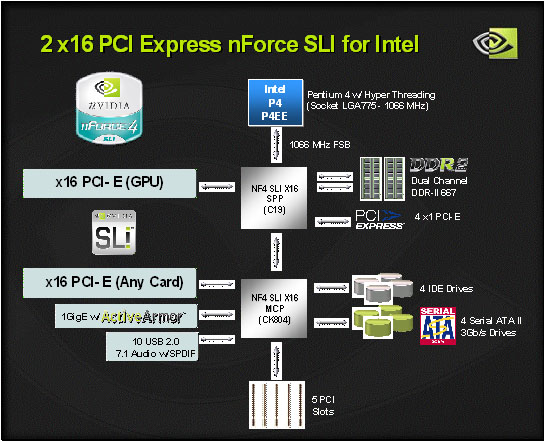 The chart above lists the standard feature set available to manufacturers using the NVIDIA nForce4 SLI x16 Intel Edition. Asus chose to augment this feature set with additional SATA II capabilities from Silicon Image, additional Gigabit Lan port via the Marvell 88E8053 chipset, and Firewire 1394a support via the TI TSB43AB22 chipset.
One of the main design features that Asus engineered into this board is an exclusive 8-phase voltage regulator power design that can significantly lower operating temperatures while reducing input ripple current and output ripple voltages . In fact, the input ripple current is over three times lower than a traditional 4-phase design while output ripple voltages are four times lower. The power consumption compared to the 4-phase design is about 10% less while the 8-phase design has the advantage of quicker transient responses and increased dependability due to lower thermal values.
What all this means is that your system will run cooler and overclock better compared to other solutions. In fact, through informal testing utilizing the BIOS readings, we found our Intel Pentium 840EE was on average running about 5c cooler in the Asus board compared to other solutions in the same test setup and ambient conditions. We will be conducting more thermal tests with scientific instrumentation in the near future. Our average overclocks were around 5% better than the other boards at more aggressive memory timings and with lower voltages required to the chipsets. While this does not sound like much, the ability of this board to run a CPU that previously topped out in the 3.9GHz range at up to 4.2GHz is impressive. The Asus P5N32-SLI Deluxe was an extremely stable board throughout our testing and did not fail a single time throughout two weeks of varying tests and conditions.
Let's see what this board is capable of now.
Basic Features: Asus P5N32-SLI Deluxe
Specification
Asus P5N32-SLI Deluxe
CPU Interface
LGA775-based Pentium 4, Pentium XE, Celeron D, and Pentium D processors.
Chipset
North bridge- NVIDIA nForce 4 SLI Intel Edition (Crush C19)
South bridge- NVIDIA nForce 4 SLI Edition (Athlon CK804)
Pentium D Support (Dual-Core)
Full Support
Front Side Bus
1066 / 800 / 533 MHz
Front Side Bus Speeds
533-1600 MHz (in 1 MHz increments)
Memory Speeds
Auto- 400-1200 MHz (in 1 MHz increments)
System Clock Mode
Optimal, Linked, Expert
PCI Express
100 MHz to 150 MHz in 1 MHz increments
Dynamic Overclocking
AI NOSTM (Non-delay Overclocking System)
AI Overclocking (intelligent CPU frequency tuner)
ASUS PEG Link (Automatically performance tuning for single/dual graphics cards)
ASUS CPU Lock Free
ASUS Ai Booster Utility Precision Tweaker for Windows
Core Voltage
Auto, 1.1V - 1.70V in 0.0125V increments
DRAM Voltage
Auto, 1.85 - 2.4V in 0.05V to 0.10V increments
Other Voltage
North Bridge - Auto, 1.4V, 1.5V, 1.6V
South Bridge - Auto, 1.5V, 1.6V
FSB - Auto, 1.215, 1.315, 1.415
LDT (Hyper Transport) Ratios
200, 400, 600, 800, 1000
Memory Command Rate
Auto, 1T, 2T (current BIOS defaults to 2T)
Memory Slots
Four 240-pin DDR2 Slots
Dual-Channel Unbuffered Memory to 16GB
Expansion Slots
(2) x16 PCIe Slots
(1) x4 PCIe Slot
(2) x1 PCIe Slots
(2) PCI Slots version 2.2
SLI
(2) x16 Fully Supported
Onboard SATA
(4)-Drive SATA 2 by nForce 4
Onboard IDE
(2) ATA 133/100/66/33 ports, (4) drive support by nForce 4
SATA/IDE RAID
NVIDIA® nForce4 SLI supports NVRAID
- 2 x Ultra DMA 133/100/66/33
- 4 x Serial ATA 3 Gb/s
- NVRAID: RAID0, 1, 0+1, 5, and JBOD
Silicon Image® 3132 SATA controller supports
- 1 x Internal Serial ATA 3 Gb/s hard disk
- 1 x External Serial ATA hard disk (SATA On-the-Go)
- RAID 0, 1
Onboard USB 2.0/IEEE-1394
(9) USB 2.0 ports supported by NVIDIA nForce 4
(2) 1394 FireWire ports supported by TI 1394a
Onboard LAN
Dual Gigabit Ethernet
PCIe Gigabit LAN Support
Marvell 88E1111 PHY, Marvell 88E8053
Onboard Audio
Realtek ALC850 8-channel CODEC
Universal Audio Jack
Audio Sensing and Enumeration Technology
Coaxial/Optical S/PDIF out ports on back I/O
Power Connectors
ATX 24-pin, 8-pin EATX 12V, 4-pin 12V EZ plug (required for SLI operation)
Internal I/O Connectors
2 x USB connectors supports additional 6 USB 2.0 ports
2 x IEEE1394a connector
1 x COM connector
1 x GAME/MIDI connector
CPU Fan / 2x Chassis Fan/ Power Fan / 2x chipset fan connectors
Front panel audio connector
Chassis Intrusion connector
CD / AUX audio in
Other Features
Fanless Design
AI NET2 network diagnosis
CrashFree BIOS 2
Q-Fan2
MyLogo2
EZ Flash
BIOS
AMI 0047
The Asus P5N32-SLI Deluxe is a member of the ALife product family and, as such, is a fully-featured flagship board targeted towards the PC gamer. The board ships with an extensive accessory package along with several dynamic overclocking features such as AI NOS
TM
(Non-delay dynamic Overclocking System), AI Overclocking (intelligent CPU frequency tuner with preset profiles), ASUS PEG Link (automatic performance tuning for single/dual graphics cards), ASUS CPU Lock Free (BIOS setting to unlock select multiplier locked CPUs), and the ASUS Ai Booster Utility Precision Tweaker software that allows control over certain system settings within Windows. The board also features the exclusive 8-Phase power design, Copper Heat Pipe technology for cooling the chipsets, Stack Cool 2 design to dissipate heat to the opposite side of the motherboard, and an external SATA II port on the back I/O panel.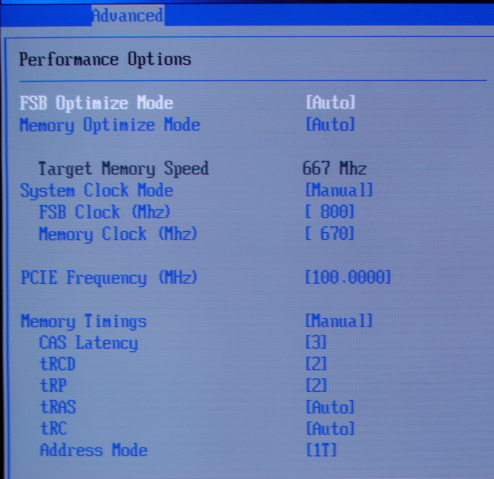 The BIOS options are extensive on the P5N32-SLI Deluxe, with memory voltage to 2.4V, and an extensive range of chipset, bus, and vCore voltage adjustments. Memory ratios are handled like other nForce4 SLI Intel Edition boards in that the number of memory dividers is so numerous that you can simply enter a target memory clock and the BIOS will select the appropriate memory divider to produce a setting as near as possible to the requested value. The board fully supports manual memory timing adjustments or allows for an Auto setting that will set the memory to the SPD settings. This Auto setting will adjust the memory timing settings automatically when the system is overclocked. You have the ability to set the system clock mode to Auto (sync the fsb and memory to their rated standard), Linked (sync the fsb and memory proportionally as you increase the front side bus), or Manual (allows independent adjustment of the fsb and memory).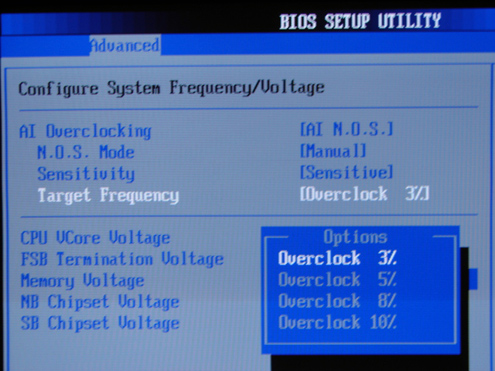 The new revision of the nForce4 SLI x16 Intel Edition Chipset fully supports all dual core Pentium D processors. We confirmed that the board worked properly at
stock and over clocked
settings with an Intel 820 processor and an 840 processor, and there were no problems with the board recognizing the two cores and four logical processors that are created with the Hyperthreading feature on the 840 EE processor.
ASUS P5N32-SLI Deluxe: Features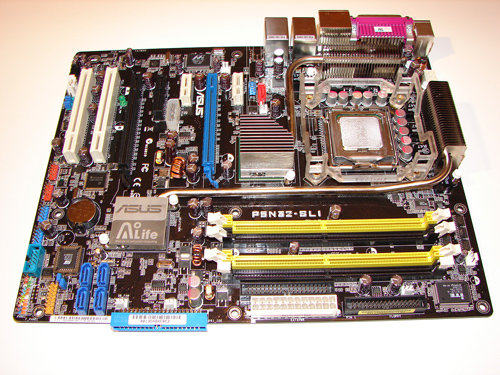 Asus designed a generally well laid out board with all major connections easily reached. The board is lacking most clearance issues and was very easy to install in a mid-size ATX case.
Asus did an excellent job with the color coordination of the various peripheral slots and connectors. The DIMM module slots' color coordination is correct for dual channel setup. The memory modules can be changed with a full size video card in the first PCI Express x16 slot. The power plug placement favors standard ATX case design and the power cable management is very good. Asus places the eight-pin 12V auxiliary power connector at the top of the CPU socket area, but out of the way of any aftermarket cooling solutions.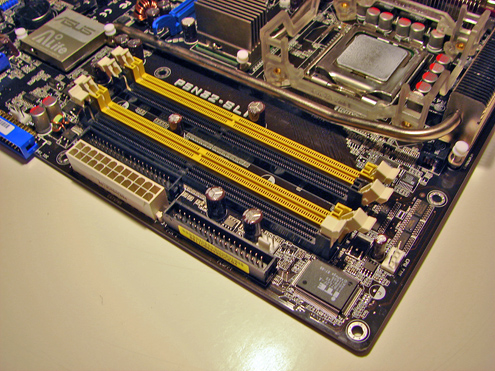 The floppy drive and IDE port connectors are conveniently located on the edge of the board along with the 24-pin ATX power connector.
The nForce4 SATA II ports are located conveniently below the primary IDE connector and feature the new clamp and latch design. Asus did not include the new cable designs in their accessory kit, which greatly enhance the security of the SATA connections. When cables are attached to the top SATA II ports with a 7800GTX installed in the second PCI Express x16 slot, there is a tight fit. I would highly recommend installing the cables before the video card.
The nForce4 USB connectors and TI 1394a Firewire connectors are located below the battery and the adaptor connectors are a tight fit when utilizing the bottom PCI slot. The CMOS reset is a traditional jumper design located next to the BIOS chip and below the SATA II connectors that proved to be inconvenient at times.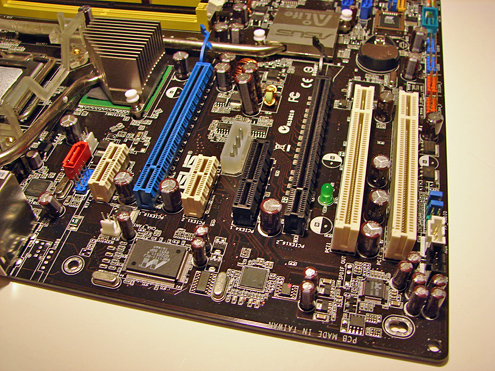 The board comes with (2) physical PCI Express x16 slots, (2) 32bit PCI slots, (1) PCI Express x4 slot, and (2) PCI Express x1 slots. The layout of this design offers a very good balance of slots and allows for numerous add-in peripheral cards.
In between the two x16 PCI Express slots is the PCI Express x4 slot along with one of the PCI Express x1 slots. The 4-pin 12V EZ plug is also located in this area and has the capability of creating cable clutter when utilized with an SLI setup. However, the full two slot spacing in between the x16 PCI Express slots leaves ample room for upgrading the cooling solutions on a pair of SLI cards. This additional room also provides better air-flow management and allowed our 7800GTX SLI configuration to run up to 4c cooler based upon the NVIDIA control panel temperature utility when compared to other motherboards in the same case and ambient conditions.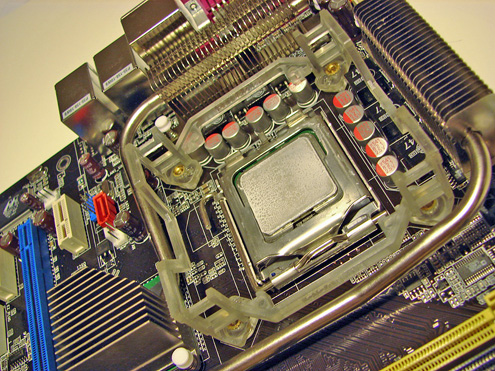 Returning to the CPU socket area, we find the exclusive eight-phase voltage regulator setup along with an excellent amount of room for alternative cooling solutions. We utilized the stock Intel heat sink, but also verified that several aftermarket cooling systems would fit in this area during our tests.
The Northbridge and Southbridge chipsets along with the MOFSETs are passively cooled with an excellent copper heat pipe system that does not interfere with any installed peripherals. In fact, this system kept the chipsets cool enough that additional chipset voltage was not a factor in our overclocking tests.
The only oddity in the area is the red Silicon Image 3132 SATA II connector located right above the first PCI Express x1 slot. The location of this connector is not ideal, but is required due to the second Silicon Image 3132 SATA II connector being located on the back I/O panel.
ASUS P5N32-SLI Deluxe: Overclocking
FSB Overclocking Results
Front Side Bus Overclocking Testbed
Processor:
Pentium 4 Prescott LGA 775
840EE Dual Core 3.2GHz
CPU Voltage:
1.4125V (1.3875V default)
Memory Settings:
3-2-2-8 1T at 715MHz
Memory Voltage:
2.1V
NorthBridge Voltage:
1.40V
SouthBridge Voltage:
1.50V
Cooling:
Intel 840EE Heat Sink
Power Supply:
OCZ Power Stream 520
Maximum CPU OverClock
257fsb x 16 (4119MHz) +29%
Maximum FSB OC:
261fsb x 14 (3657MHz) +15%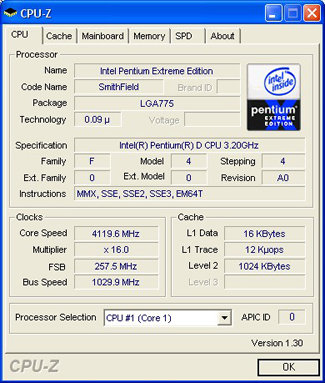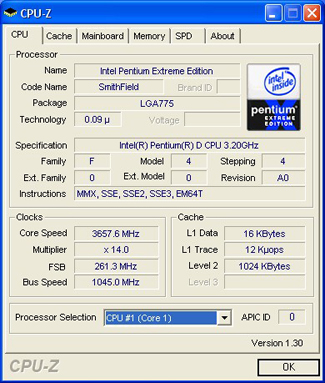 Oddly enough, the ability to increase the front side bus when dropping the multiplier to 14 past the stock fsb results was minimal. This same phenomenon has held true with all of the NVIDIA nForce4 Intel Edition SLI boards that we have tested to date. However, this board is an excellent overclocker, considering that our previous best FSB x 16 was at 245. At this overclock setting, the system was able to complete all of our benchmark test suites and also run Prime95 and SuperPI without issue. This was with the memory set to 715MHz at 3-2-2-8 1T settings. We were able to overclock the FSB to 263 at the 16x multiplier, which resulted in CPU operation of 4208MHz, but were unable to complete the benchmark test suite. However, even at this setting, the board was stable enough to complete all of the gaming benchmarks.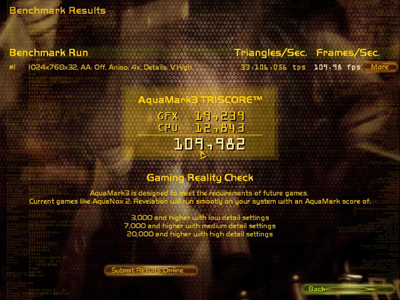 Abit NI8 SLI article for further details.
The above test results were achieved with the board operating at 4119MHz (257fsbx16), memory settings at 715MHz at 3-2-2-8 1T, and an NVIDIA 7800GTX at 515MHz core / 1350MHz memory with 81.85 WHQL drivers set to standard Quality settings.
Memory Stress Testing
Memory stress tests look at the ability of the Asus P5N32-SLI Deluxe to operate at the officially supported memory frequencies of 667MHz DDR2 at the best performing memory timings that the Corsair CM2X512A-5400UL revision 1.3 will support.
Asus P5N32-SLI Deluxe
Stable DDR667 Timings - 2 DIMMs
(2/4 slots populated - 1 Dual-Channel Bank)
Clock Speed:
200MHz (800FSB)
Timing Mode:
667MHz - Default
CAS Latency:
3
RAS to CAS Delay:
2
RAS Precharge:
2
RAS Cycle Time:
8
Voltage:
2.1V
Command Rate:
1
The Asus P5N32-SLI Deluxe was completely stable with 2 DDR2 modules in Dual-Channel at the settings of 3-2-2-8 at 2.1V and was stable at this setting up to a timing mode of 720MHz before changing the Command Rate to 2.
We will now install all four available memory slots, which are usually more strenuous on the memory subsystem than testing 2 DDR2 modules on a motherboard.
Asus P5N32-SLI Deluxe
Stable DDR667 Timings - 4 DIMMs
(4/4 slots populated - 2 Dual-Channel Banks)
Clock Speed:
200MHz (800FSB)
Timing Mode:
667MHz - Default
CAS Latency:
3
RAS to CAS Delay:
2
RAS Precharge:
2
RAS Cycle Time:
8
Voltage:
2.2V
Command Rate:
1
The Asus P5N32-SLI Deluxe was completely stable with 4 DDR2 modules in Dual-Channel at the settings of 3-2-2-8 and only needed the voltage increased to 2.2. This is an excellent accomplishment and truly shows off the engineering aspects of this board.
Test Setup
The revised nForce4 SLI Intel Edition chipset now fully supports the dual core Pentium D processors in both stock and overclocked conditions. There were no issues with this board recognizing the two cores and four logical processors that are created with the Hyperthreading feature on this EE processor during testing. However, dual core really makes a difference in certain multi-tasking scenarios, as was demonstrated in the
dual core performance preview
. If you are interested in how the various chipsets perform in a real world multitasking setup, please take another look at that review.
The board's memory was operated at 3-2-2-8-1T for the benchmarking suites and previous boards have been retested at this configuration and DDR2-667. This will be our standard test setting unless otherwise noted or the board fails to run at this speed. We also found that certain benchmarks scored better without Hyper Threading enabled, but in fairness, we felt that it was best to show consistent scores with this feature enabled as it is the main selling point of this processor model.
Performance Test Configuration
Processor(s):
Intel Pentium EE 840 (3.2GHz, 800FSB, Dual-Core, HT enabled, 2x1MB L2) utilized for all tests
Intel Pentium 820 (2.8GHz) for dual core verification
RAM:
2 x 512MB Corsair CM2X512A-5400UL revision 1.3 Settings- DDR2-667 as noted at (CL3-2-2-8-1T)
Hard Drive(s):
2 x Maxtor MaXLine III 7L300S0 300GB 7200 RPM SATA (16MB Buffer), 1 x Maxtor MaXLine III 7L300R0 300GB 7200 RPM IDE (16MB Buffer)
System Platform Drivers:
NVIDIA nForce4 SLI Intel Edition 6.82
Video Cards:
1 x XFX 7800GTX OC (PCI Express) for all tests
2 x MSI 7800GTX (PCI Express) for SLI Verification
Video Drivers:
NVIDIA nForce 78.01 for all tests; 81.85 for special results tests
Operating System(s):
Windows XP Professional SP2
Motherboards:
Asus P5N32-SLI Deluxe
Gigabyte GA-8I955X Royal
MSI P4N Diamond
Abit NI8 SLI
Gigabyte 8N SLI Quad Royal
General Performance & Encoding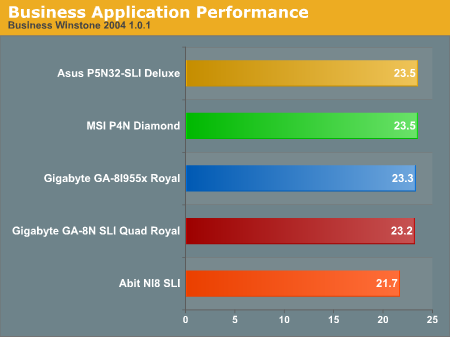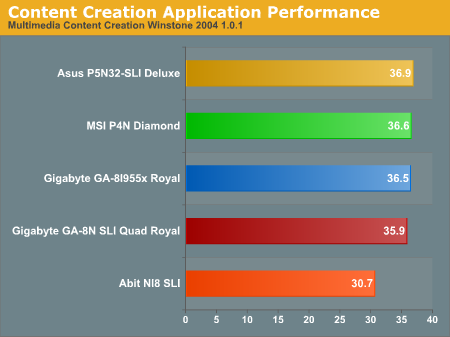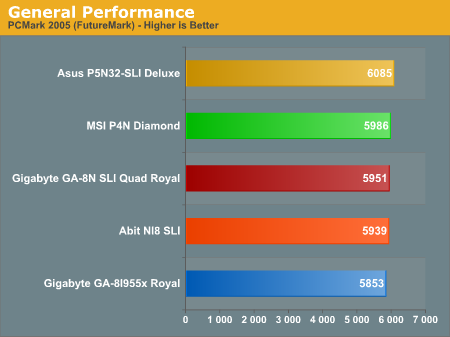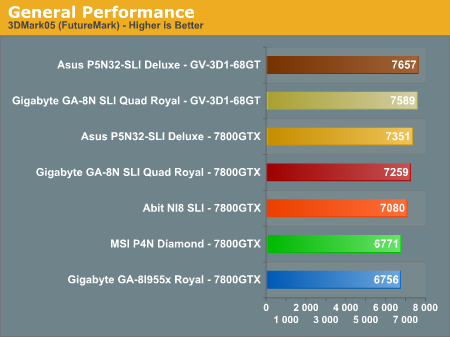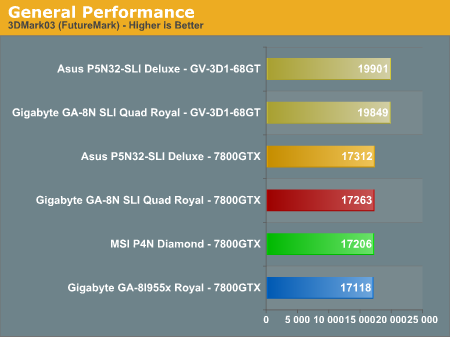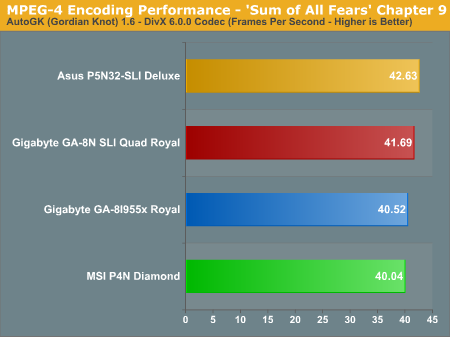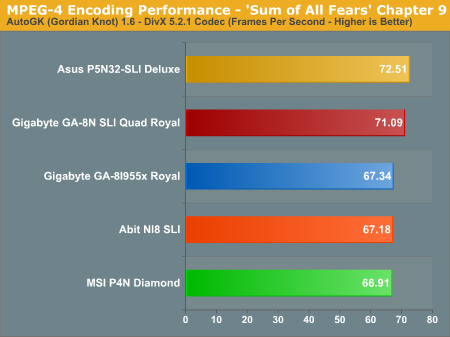 The Asus P5N32-SLI Deluxe performance leads the MSI P4N Diamond and Gigabyte 8N SLI Quad Royal in all benchmarks with Abit NI8 trailing all boards in the business application benchmarks. It is still noteworthy that the revised nForce4 SLI Intel Edition chipset "consistently" scores better than the Intel 955x in office application areas where historically, Intel has been on top.
We included scores of the Gigabyte GV-3D1-68GT in the 3DMark tests to give an indication of how well a single slot SLI capable card performs on both boards.
Workstation Performance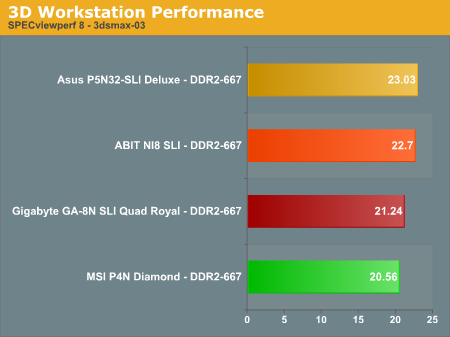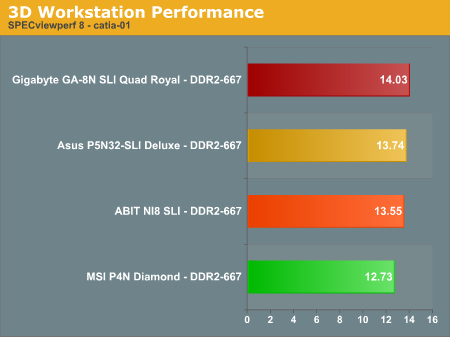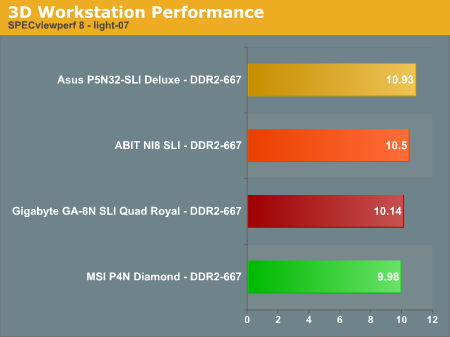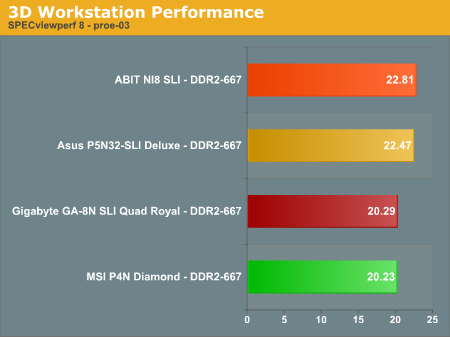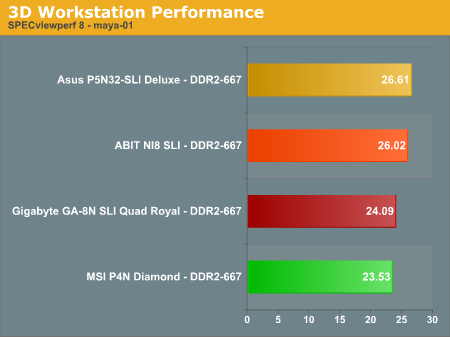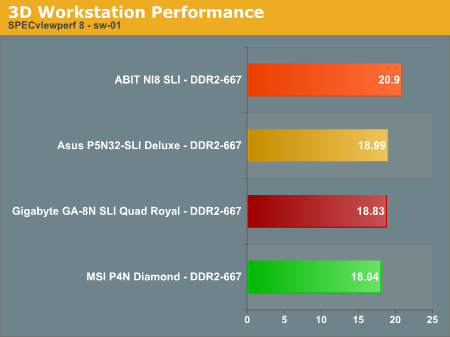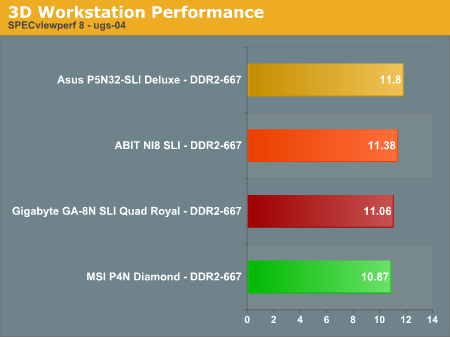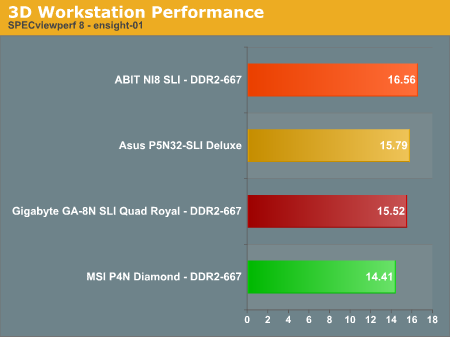 Performance of the Asus P5N32-SLI Deluxe is very consistent and it trades places with the Abit NI8 SLI throughout the benchmark tests. It is obvious that the better memory performance of the Asus and Abit boards allows them to stay comfortably ahead of the other boards.
Memory Performance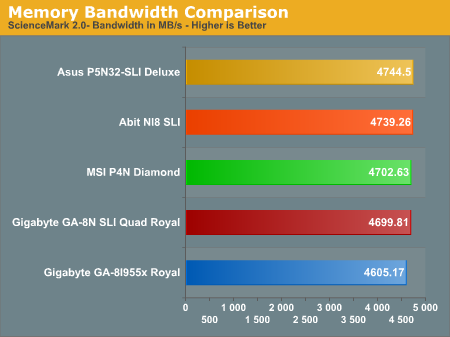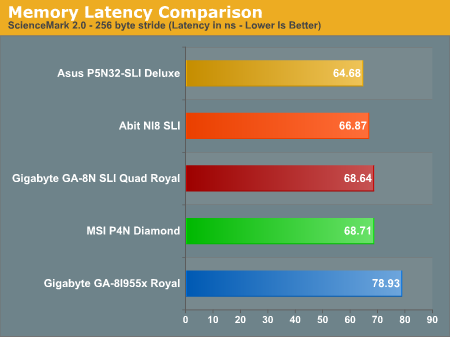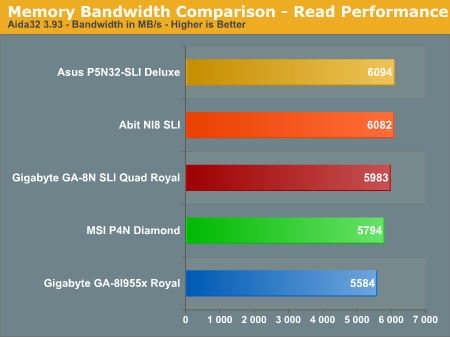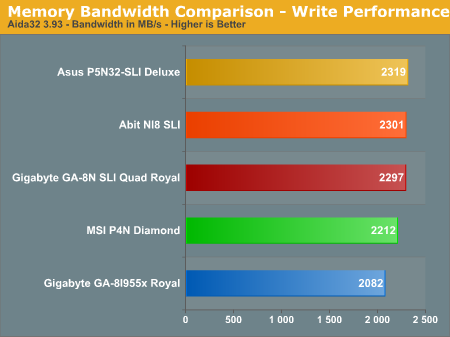 The memory latency test continues to show a 14%+ advantage for the nForce4's memory controller. This is an outstanding result and shows NVIDIA's ability to engineer and produce a competitive component. The performance advantage continues to show in the bandwidth tests with the Asus P5N32-SLI Deluxe score indicating serious optimization within the BIOS .
Gaming Performance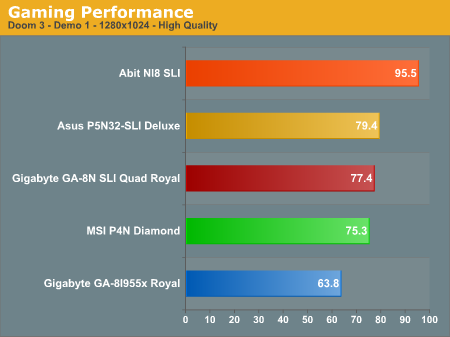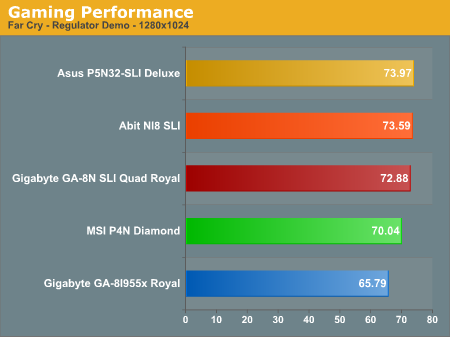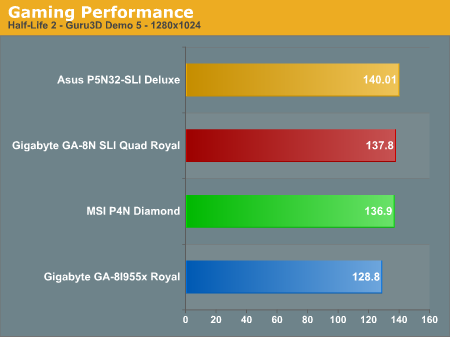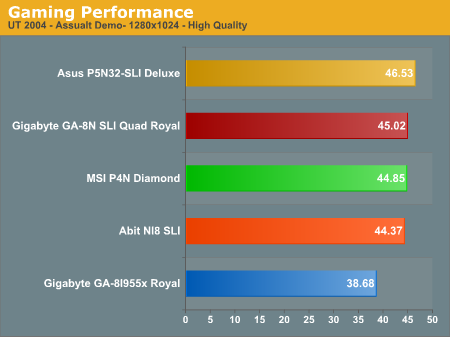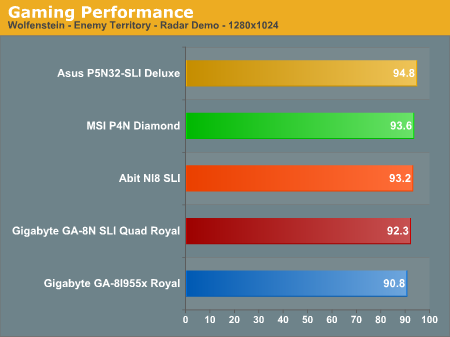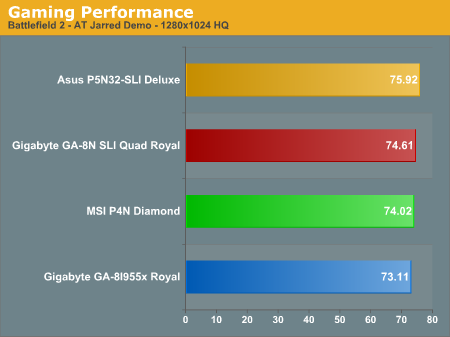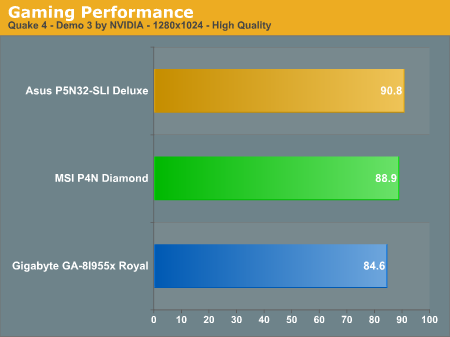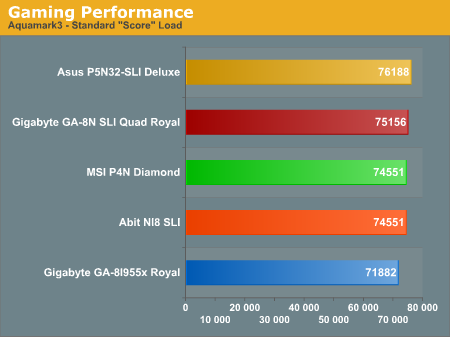 The NVIDIA nForce 4 SLI platforms clearly offer a superior gaming platform when compared directly to the Intel 955x platform. The performance of the Asus P5N32-SLI Deluxe is at the top in the benchmarks except for Doom3. We are still investigating this difference in the test results compared to the Abit NI8-SLI. This board is arguably the best gaming platform available for Intel processors at this time.
We proudly introduce our latest benchmark for Quake 4 that was provided by personnel within the NVIDIA performance labs over the weekend. The demo consists of both outdoor and indoor areas with several players involved in both areas. We have also introduced F.E.A.R. and will be introducing NASCAR SimRacing, Falcon Four- Allied Force, Call of Duty II, City of Villains, Age of Empires III, and Civilization 4 into our benchmark suites over the coming weeks as we replace older benchmarks. Our F.E.A.R. results are based upon settings found in the recent Anandtech GPU performance test located
here
. We have listed the minimum and maximum frame rates attained next to the product label.
SLI Gaming Performance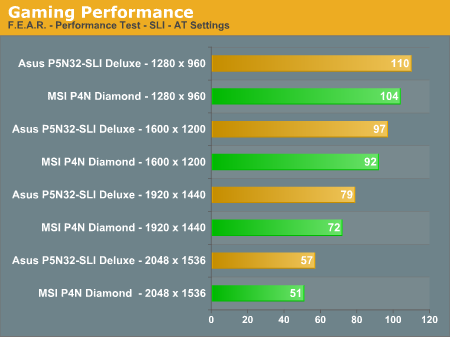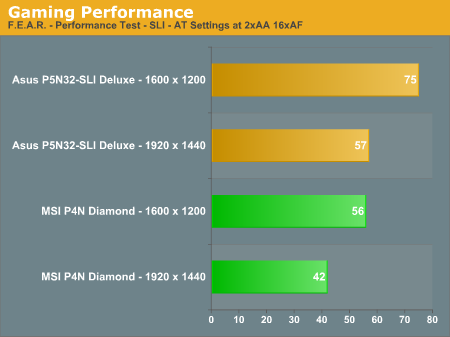 We benchmarked F.E.A.R. with the newly released NVIDIA 81.85 WHQL driver set, based upon recommendations from NVIDIA about further optimizations for SLI-AA and Dual Core processors that would show marked improvements for the x16 product at higher resolutions over the x8 product line. The Asus P5N32-SLI Deluxe indicated an almost 3% gain over the MSI P4N Diamond in the previous 1280x960 benchmark. As the resolutions increased in the standard AT benchmark settings, the ability of the MSI P4N Diamond with its x8 SLI configuration fell behind the Asus P5N32-SLI Deluxe by upwards of 11% in this application. Once we changed the standard benchmark settings to include 2x AA and 16X AF, the benchmarks ended up favoring the Asus P5N32-SLI Deluxe by 25% indicating the 81.85 driver set makes a significant impact at these settings. Based upon these results, we can conclude that the additional 8GB/second of bandwidth afforded by the additional 16 PCI Express lanes and the 81.85 driver optimizations allow a great deal of headroom potential at the higher resolutions with today's hardware.
Overclocking Performance
The overclocking performance graphs have been added to the standard benchmark test suite and should allow for a better comparison on the overclocking capabilities of tested boards. For more details on the specific overclocking abilities of this board please refer to the Overclocking and Memory Stress Test section in the Basic Features section.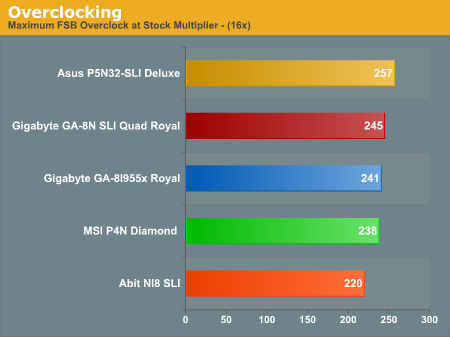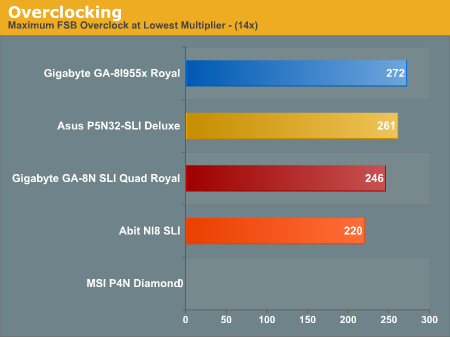 The front side bus overclocking results were very impressive for the Asus P5N32-SLI Deluxe and exceeded those of the Gigabyte 8N SLI Quad. The FSB results of the Abit NI8 are disappointing but its memory performance actually evens the field in most synthetic benchmarks where it was able to maintain a 1T command rate up to a 770 fsb compared to a 2T command rate for the other nForce 4 boards.
Disk Controller Performance
With the variety of disk drive benchmarks available, we needed a means of comparing the true performance of the wide selection of controllers. The logical choice was Anand's storage benchmark first described in
Q2 2004 Desktop Hard Drive Comparison: WD Raptor vs. the World
. To refresh your memory, the iPeak test was designed to measure "pure" hard disk performance, and in this case, we kept the hard drive as consistent as possible while varying the hard drive controller. The idea is to measure the performance of a hard drive controller with a consistent hard drive.
We played back Anand's raw files that recorded I/O operations when running a real world benchmark - the entire Winstone 2004 suite. Intel's iPEAK utility was then used to play back the trace file of all IO operations that took place during a single run of Business Winstone 2004 and MCC Winstone 2004. To try to isolate performance difference to the controllers that we were testing, we used the Maxtor MaXLine III 7L300S0 300GB 7200 RPM SATA drive in all tests . The drive was formatted before each test run and a composite average of 5 tests on each controller interface was tabulated in order to ensure consistency in the benchmark.
iPeak gives a mean service time in milliseconds; in other words, the average time that each drive took to fulfill each IO operation. In order to make the data more understandable, we report the scores as an average number of IO operations per second so that higher scores translate into better performance. This number is meaningless as far as hard disk performance is concerned as it is just the number of IO operations completed in a second. However, the scores are useful for comparing "pure" performance of the storage controllers in this case.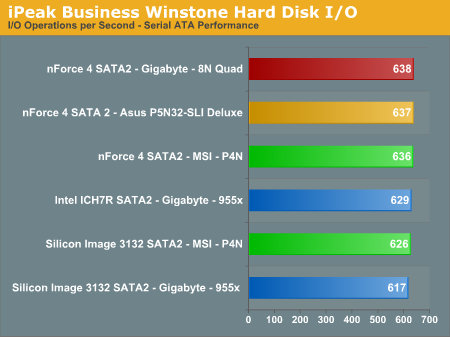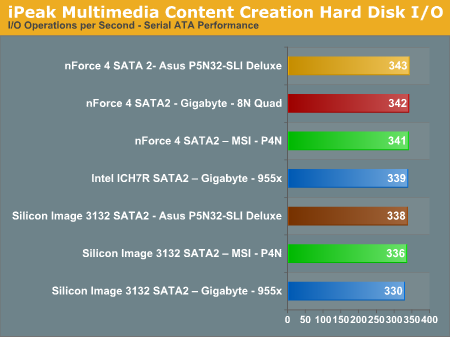 It is interesting that the performance patterns hold steady across both Multimedia Content IO and Business IO, with the on-board NVIDIA nForce4 SATA 2 still providing the fastest IO, followed closely by the Intel ICH7R and Silicon Image 3132 SATA 2 controllers.
Firewire and USB Performance
After looking at many options for Firewire and USB testing, we finally determined that an external USB 2.0, Firewire 400, and Firewire 800 hard disk might be a sensible way to look at USB and Firewire throughput.
Our first efforts at testing with an IDE or SATA drive as the "server" yielded very inconsistent results, since Windows XP sets up cache schemes to improve performance. Finally, we decided to try a RAM disk as our "server", since memory removed almost all overhead from the serving end. We also managed to turn off disk caching on the USB and Firewire side by setting up the drives for "quick disconnect" and our results were then consistent over many test runs.
We used 1GB of fast 3-2-2-8 system memory set up as a 450MB RAM disk and 550MB of system memory. Our standard file is the SPECviewPerf install file, which is 432,533,504 bytes (412.4961MB). After copying this file to our RAM disk, we measured the time for writing from the RAM disk to our external USB 2.0, Firewire 400, or Firewire 800 drive using a Windows timing program written for AnandTech by our own Jason Clark. The copy times in seconds were then converted into Megabits per second (Mb) to provide a convenient means of comparing throughput. Higher rates therefore mean better performance.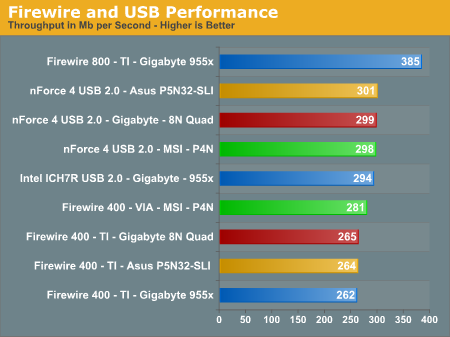 Possibly the most striking finding in our Firewire and USB throughput tests is the performance of an external hard drive connected to Firewire 800. Firewire 800 matters and should be a standard option on this board. Our benchmarks show Firewire 800 is up to 46% faster than a drive connected to the more common Firewire 400, and about 29% faster than USB 2.0.
Our test is just one of many throughput tests, but in this benchmark, it is clear that the VIA Firewire 400 chip is faster than TI's 1394a chip. The NVIDIA nForce4 USB 2.0 controller is slightly faster than Intel's solution. Unlike the other boards in this price range, the Asus P5N32-SLI Deluxe does not offer a Firewire 800 option.
Ethernet Performance
The current motherboard test suite includes LAN performance measurements. All of these boards utilize PCI Express controllers with the only difference being the supplier of the core logic.
The Windows 2000 Driver Development Kit (DDK) includes a useful LAN testing utility called NTttcp. We used the NTttcp tool to test Ethernet throughput and the CPU utilization of the various Ethernet Controllers used on the nForce4 Ultra motherboards.
We set up one machine as the server; in this case, an Intel box with an Intel CSA Gigabit LAN connection. Intel CSA has a reputation for providing fast throughput and this seemed a reasonable choice to serve our Gigabit LAN clients.
At the server side, we used the following Command Line as suggested by the VIA whitepaper on LAN testing:
Ntttcps - m 4 ,0, -a 4 - l 256000 - n 30000
On the client side (the motherboard under test), we used the following Command Line:
Ntttcpr - m 4 ,0, -a 4 - l 256000 - n 30000
At the conclusion of the test, we captured the throughput and CPU utilization figures from the client screen.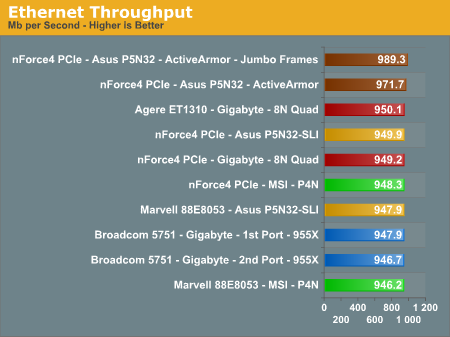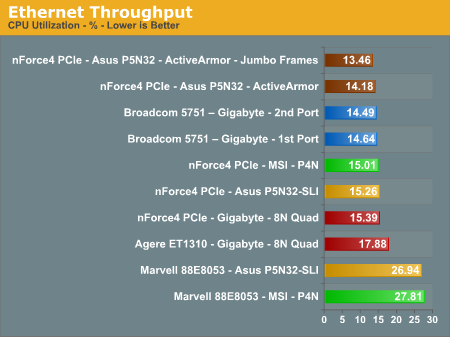 The Agere ET1310 and NVIDIA on-chip PCI Express LAN solutions exhibit slightly higher throughput, but their CPU utilization is slightly more than the Broadcom solution on the Gigabyte 955x board. The Marvell 88E8053 options on the MSI and Asus boards offer excellent throughput, but at the price of having almost double the CPU utilization of the other solutions.
All standard Ethernet tests were performed with standard frames and the NVIDIA Active Armor suite disabled unless otherwise noted. Gigabit Ethernet supports Jumbo frames as well and will provide a further reduction in CPU overhead.
We added a further test scenario in which ActiveArmor was enabled on the Asus P5N32-SLI Deluxe board via the new 6.82 platform driver set. The throughput numbers increased by almost 3% while the CPU utilization dropped by over 7% with the standard settings enabled in the application. We also enabled Jumbo frames with ActiveArmor resulting in an increase in throughput numbers by 5% while the CPU utilization dropped by over 12%. We will be adding this benchmark testing to our standard test suite along with providing more information regarding the NVIDIA firewall solution in the near future. I highly recommend that if you have a NF4 based board, you should utilize ActiveArmor in its current configuration.
Audio Performance
We limited audio testing to the Rightmark 3D Sound version 2.1 CPU utilization test and tested with sound enabled to show the performance effects on several games. The Rightmark 3D Sound benchmark measures the overhead or CPU utilization required by a codec or hardware audio chip.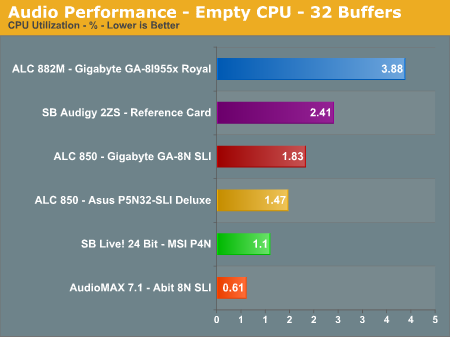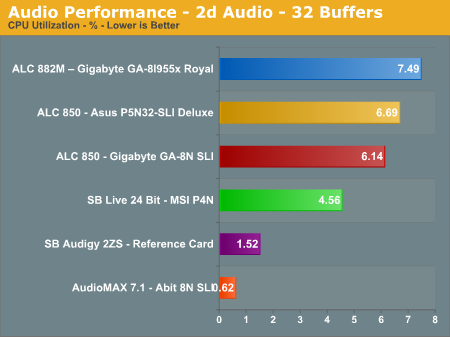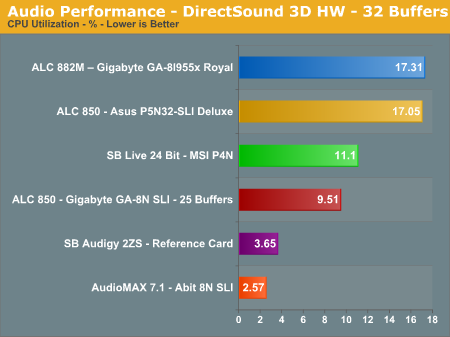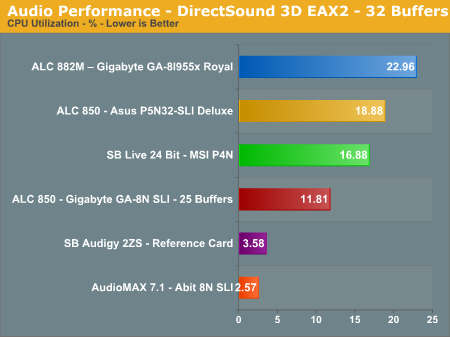 As you can see, none of the onboard audio solutions were quite as low in CPU utilization as the Abit AudioMAX 7.1 solution. The Asus P5N32-SLI Deluxe uses the "almost standard" Realtek ALC850 found in most high end NVIDIA AMD SLI systems. The current NVIDIA driver release limits the 3D sound buffers to a maximum of 48 compared to 25 with the RealTek drivers. It also indicates support for OpenAL with full EAX2 compatibility. However, Quake 4 refused to recognize the OpenAL support and would not allow sound in the game. The current RealTek A3.76 release does not include OpenAL support. We will be updating our test results for the RealTek ALC850 based boards with the newly released A3.78 drivers shortly and providing F.E.A.R. results.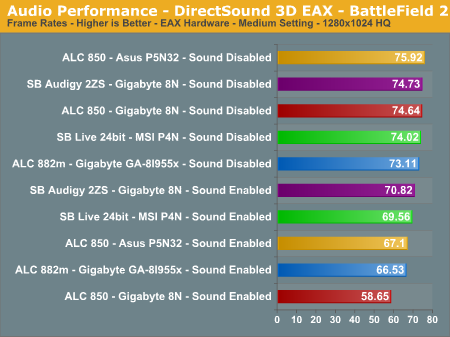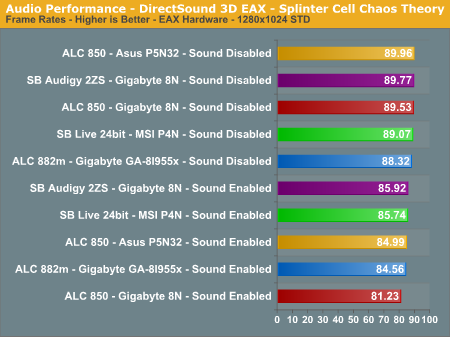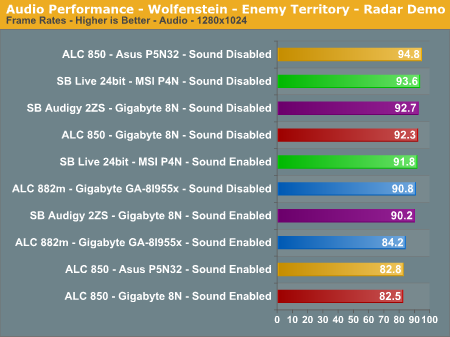 The Battlefield 2 numbers are interesting as the Asus P5N32-SLI Deluxe implementation of the Realtek ALC850 sound solution creates a 12% loss in frame rates. This compares to 27% on the Gigabyte GA-8N SLI Quad in this highly popular on-line game in which sound is as critical as frame rates. Splinter Cell Chaos Theory has an acceptable loss of 6%, but Wolfenstein Enemy Territory loss is close to 13%. Obviously, if you are a serious gamer, then a dedicated sound card is a requirement and fortunately, the board had two PCI slots available.
While the Realtek ALC850 codec offers acceptable CPU usage and sound for most office applications or internet based flash games, it is not competitive in audio quality with the MSI P4N Diamond or Gigabyte GA-8I955x on-board audio solutions.
We have finalized our expanded audio testing suite and will introduce this in the next review roundup.
Final Words
The Asus P5N32-SLI Deluxe is outstanding and deserves serious consideration if you are an Intel enthusiast. It is hard to quantify this statement, but after spending considerable time with this board, it is truly a cut above most other boards in both quality and performance. The board is obviously targeted at the Intel gaming enthusiast, but it should not be dismissed as an everyday solution for people who are able to afford its $210 price tag.
The exclusive 8-phase voltage regulator power design is a must-have feature and is one of the main reasons why this board performs so well at overclocked settings. While I had initial doubts about the fanless heat pipe design based upon previous experiences, the design that Asus installed on this board has guaranteed that I will be looking for this type of cooling system in future boards. Asus also implemented their unique Stack Cool 2 that involves a special design on the printed circuit board that dissipates heat from the board components.
With that said, let's move on to our opinions of this board.
In the video area, if you're an Intel gamer, looking for SLI or not, this is the board for you. It fully supports NVIDIA SLI with two approved NVIDIA based video cards in full x16 operation and with the 81.85 drivers, it will provide you with significant performance enhancements over the x8 products at higher resolutions or when utilizing SLI-AA settings.
In the on-board audio area, this board offers the standard AC97 setup utilizing the familiar Realtek ALC850. While this solution is acceptable for office applications and Internet Poker Games, it does not match the HD Audio on-board solutions of the other nForce 4 SLI Intel Edition boards. While serious gamers and audiophiles will certainly want an add-in solution, it is not acceptable for a board of this caliber to be utilizing this codec considering the available alternatives.
In the storage area, this board offers the standard plethora of options available from the nForce4 SLI Chipset along with class leading performance. However, as with other recent boards, we would like to see the Firewire 800 (TI-1394b) as an option. The inclusion of an external SATA II port is beneficial for external storage solutions and supports up to 16 devices with port-multiplier functions.
In the performance area, this board was constantly at the top in all categories. The board is extremely balanced and will run all tested applications at its full overclock configuration as well as it does at stock settings. We believe the performance of this board to be outstanding and definitely showcases the ability of Asus's engineering efforts in the Intel market space.
Like Prospero, I think that I have found what dreams are made on.
Status Update - 0047 Bios used for Testing
The 0047 bios used for our testing was never publicly released by Asus for this board. Our test findings were based upon this bios and have not been replicated with the 0308 bios as of this writing.