Original Link: http://www.anandtech.com/show/1828


Those who wondered how many more prototypes and market balloons they would have to endure before a retail ATI Crossfire AMD board appeared will be happy to know that this DFI is for real. While this exclusive AnandTech review posts, New Egg has DFI LANParty UT RDX200 boards for sale. Similar to their early scoop in the nForce4 market, DFI is also first to retail with a Crossfire AMD offering.
DFI produced what is arguably the most enthusiast-friendly board on the retail market when they launched the LANParty nForce4 series. They then shocked the conventional wisdom among computer manufacturers when their LANParty nForce4 boards became the best seller in a market crowded with nForce4 products. With firm credentials for leadership in the Enthusiast market, DFI set their sights on producing a similar "Gold Standard" motherboard based on the ATI Crossfire AMD chipset. The question on everyone's mind is, has DFI done it again?
To answer that question, we need to first consider the current market. Crossfire is mostly a dual-video idea that is just a promise until ATI has X1800XT Crossfire in the market. There are some X8xx owners who may buy a Crossfire board to upgrade their existing X8xx ATI video, but X850XT Crossfire is not even an option for new buyers. New buyers have no interest in a new system with Crossfire X850XT when they can choose a single card 7800GTX or X1800XT single card solution that will perform better. NVIDIA still has the advantage here, since today you can buy the ATI X1800XL, but the top-line X1800XT will not even hit the market until November 5
th
. The point of this is that while it is reassuring in the buying decision that ATI has an apparently competitive dual-video product to NVIDIA SLI, no one will buy an ATI Crossfire board
today
just because of Crossfire.
So, what will persuade buyers to go to an ATI chipset instead of the current NVIDIA nForce4? First, stock performance has to be at least as good as nForce4. Second, enthusiast features and performance must at least be as good as NVIDIA, but preferably even better. The AMD market is driven by computer enthusiasts and hobbyists, so if you satisfy them, the market will follow. Third, if performance and features are very close to NVIDIA, then value - bang for the buck - becomes a very important factor.
To DFI's credit, many of the features of their new RDX200 board seem to be geared toward an understanding of what it will take to succeed with their new ATI chipset motherboard. Crossfire dual-video is on the board, but the emphasis is on performance and features. DFI lavished all the adjustments and tweak options of their nForce4 board on the RDX200 and then went even further. Oscar Wu found out how to make 4DS DIMMs run at 1T Command Rate and launched that solution with this board. He also claims that he has a working CAS 1.5 on the ATI motherboard, and the options for CAS 1.0 and 1.5 are available in the BIOS. Memory voltage extends to 4.0V, so any memory is supported, but this is done without special jumpers or a heat-producing work-around.
DFI firmly believes that these new options, combined with a chipset designed for the enthusiast, will be enough to persuade many buyers to move to the RDX200. So the board is
not
a value board. This 6-layer design will set the buyer back over $200. Is DFI on target - does the LANParty UT RDX200 have what it takes to win in the market? We will try to answer that question in our closer look at performance, features, and overclocking abilities of the DFI LANParty UT RDX200.
DFI LANParty UT RDX200: Board Layout
DFI has made sure that you still recognize the LANParty UT box - using the same theme that worked well on their nForce4 series.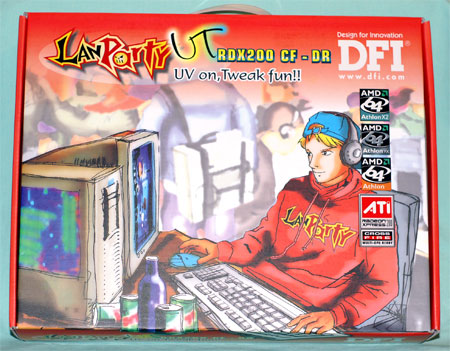 Instead of the blue color used for NVIDIA, the ATI chipset RDX200 is done in ATI reds. UT is used for the full LANParty boards without the full LANParty package. Everything board-related is here with this 6-layer board, but you will not find a FrontX box or nylon carrier. You will, however, find all the matching UV reactive cables that distinguish a LAN P arty motherboard.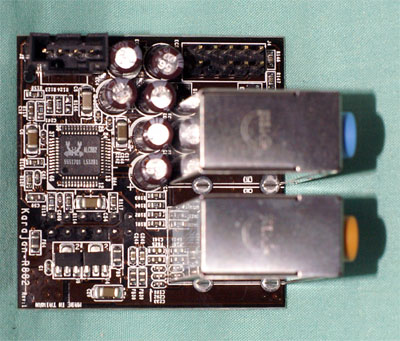 In addition to all the necessary cables with yellow UV sleeves, you will find an updated Karajan audio module. The significant update here is the Azalia High Definition audio chip that is isolated on the module for improved signal-to-noise performance. This is the first retail AMD motherboard to feature Azalia HD, which is a prominent and unique feature of the ATI Rx480/482 chipset.

The Karajan module integrates into the rear IO ports, providing 6 mini jacks for the audio system.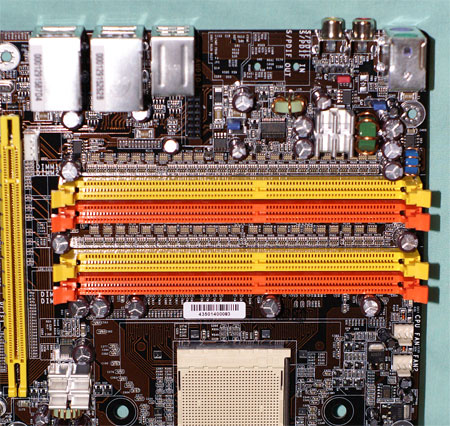 Layout is unusual compared to other recent motherboards, with the 4 DIMM slots located between the CPU and IO ports. While we have not seen this location used on other boards, in practice, it works very well to keep air flowing and components cool.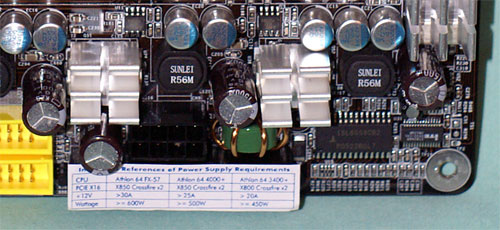 The 24-pin and 8-pin/4-pin power connector are together at the right board edge. You can use either standard 4-pin or the more robust 8-pin connector on the DFI. This location keeps bulky power cords out of the way of other components.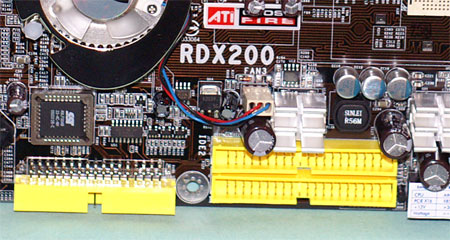 IDE and floppy connectors are ideally located on the right edge of the board - where they belong. We are grateful that DFI did not follow recent practice and place the floppy port at the bottom of the board. The floppy is a side edge connector, so you may need to install the floppy cable before mounting the board in smaller cases.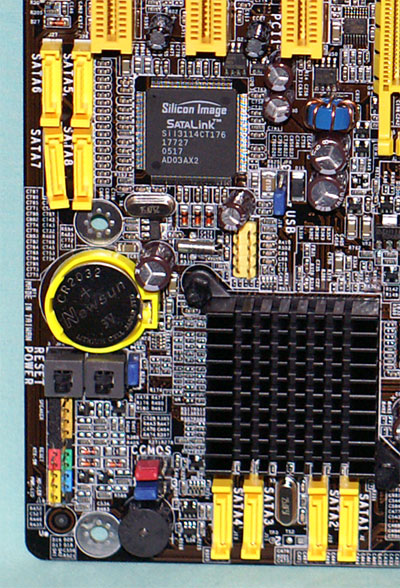 In addition to the 4 SATA connectors provided by the ATI SB450 south bridge, DFI has added 4 more SATA ports powered by a Silicon Image 3114 controller. The puzzle here is that all 8 ports are SATA1. We have to wonder why DFI bothered to add more SATA ports when they all end up being SATA 1 - no SATA2 ports.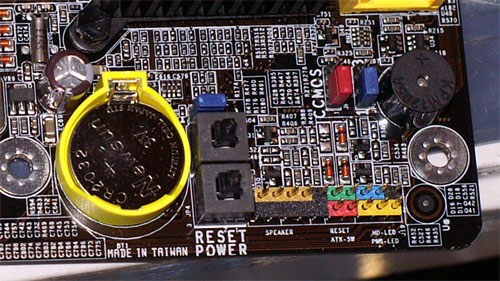 Momentary switches for power and reset have almost become a trademark with DFI LANParty motherboards and the RDX200 is no exception. The battery, switches and "Clear CMOS" jumper are all clustered in the same area at the bottom right corner of the board.
DFI also included Firewire powered by the well-regarded VIA VT6307 chipset. Dual Gigabit LAN is also a feature, but only one LAN port is the faster PCI Express.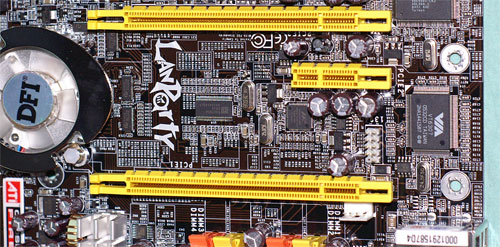 You should also consider what is
not
on the DFI RDX200. There is no paddle card to fumble with in changing from one to two video cards. The switching is automatic, and unlike other auto-switch video solutions, it doesn't appear to hamper the board's overclocking abilities.
Basic Features: DFI LANParty UT RDX200
 DFI LANParty UT RDX200
CPU Interface
Socket 939 Athlon 64
Chipset
ATI RD480 Northbridge - ATI SB450 Southbridge
Bus Speeds
200 to 500MHz in 1MHz Increments
Memory Speeds
DDR200, 240, 266, 280, 300, 333, 360, 400 (433, 466, 500 with Rev. E AMD)
PCIe Speeds
Fixed
PCI/AGP
Fixed at 33/66
Core Voltage
Auto, 0.8V to 1.55V in 0.025V increments
PLUS 0.0V to 0.56V in 0.02V increments
(Maximum vCore 2.11V)
CPU Clock Multiplier
4x-25x in 0.5X increments
DRAM Voltage
Auto, 2.5V to 4.03V in .02V to .05V increments
HyperTransport Frequency
1000MHz (1GHz)
HyperTransport Multiplier
Auto, 1X to 5X
HyperTransport (LDT) Voltage
1.2V , 1/3V , 1.4V, 1.5V
Xpress 200 (NB) Voltage
1.2V, 1/3V, 1.4V, 1.5V
NB Analog 1.2 Voltage
1.2V, 1/3V, 1.4V, 1.5V
SB PCIe 1.8 Voltage
1.8V, 1.9V
Memory Slots
Four 184-pin DDR DIMM Slots
Dual-Channel Configuration
Regular Unbuffered Memory to 4GB Total
SUPPORTS 4 DS DIMMS AT 1T
Expansion Slots
2 PCIe x16
1 PCIe x1
3 PCI Slots
Onboard SATA/RAID
4 SATA Drives by SB450 (RAID 0, 1, JBOD)
PLUS 4 SATA Drives by Sil 3114
Onboard IDE/IDE RAID
Two Standard ATA133/100/66 (4 drives)
Onboard USB 2.0/IEEE-1394
8 USB 2.0 ports supported by SB450
2 1394 Firewire by VIA VT6307
Onboard LAN
2 Gigabit Ethernet
PCIe Ethernet by Marvel 88E8053
PCI Ethernet by Marvel 88E8001
Onboard Audio
Azalia HD Audio by Karajan Module
with Realtek ALC882 Codec
BIOS Revision
Award (7/28/2005)
The DFI nForce4 Ultra and SLI boards quickly developed a reputation for offering the enthusiast every imaginable BIOS option. The DFI RDX200 goes even further.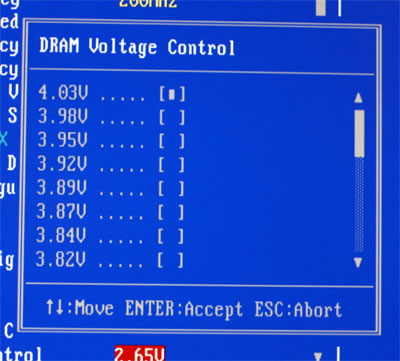 Memory voltage extends to 4.03V without the need to resort to jumpers to add voltage from the 5v line. Memory controls are even more extensive than those that DFI provides on the nForce4. When we reviewed the ATI Crossfire Reference Board, we commented that ATI has worked with some leading enthusiasts in refining the Crossfire AMD. DFI has built on the depth and breath of the huge array of options available on that board.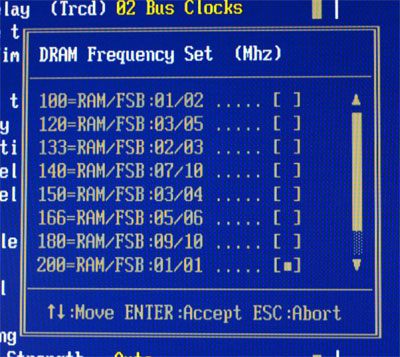 A good example of this is the options available for memory speeds at stock speeds. Not only can you choose 200, 266, 333 and 400, but you can choose and fine tune with in-between speeds like 240, 280, and 300. Beyond the standard 400, you can choose 433, 466, and 500. This allows those who would never think of overclocking their CPU the ability to run their memory at DDR500 for example. For those who do overclock, this increases the ability to fine-tune the CPU and memory for the absolute best performance.
Oskar Wu, the Engineer behind DFI's legendary nForce4 series, is also the designer of this DFI RDX200. With so much already available in ATI's Reference design, Oskar concentrated on adding the "impossible" option of running 4DS DIMMs at 1T Command Rate and a working CAS 1.5 option in BIOS.
Overclocking: DFI LANParty UT RDX200
 DFI LANParty UT RDX200
Overclocking Testbed
Processor(s):
Athlon 64 4000+
(2.4GHz, 1MB Cache)
CPU Voltage:
1.425V (default 1.40V)
Cooling:
Thermaltake Silent Boost K8 Heatsink/Fan
Power Supply:
OCZ Power Stream 520W
Memory:
OCZ PC3200 Platinum Rev. 2
(Samsung TCCD Memory Chips)
Hard Drive:
Seagate 120GB 7200RPM SATA 8MB Cache
Maximum OC:
(Standard Ratio)
245x12 (4x HT, 2.5-3-3-10)
2940MHz (+22.5%)
Maximum FSB:
(Lower Ratio)
305 x 9 (3x HT, 1T)
(2718MHz, 2 DIMMs in DC mode)
(+53% Bus Overclock)
The DFI matched the highest stock speed overclock that we have achieved with this Clawhammer 130nm processor. There is little to complain about with this kind of stock overclocking with this CPU.
Lowering the multiplier to reach the highest CPU clock was a bit more difficult. While it was easy to reach a stable 270 with the default (mostly AUTO) memory timings in BIOS, getting to the eventual 305 proved more of a challenge. The design team tells us that the RDX200 was optimized for Crucial Ballistix 1GB DIMMs and not our standard OCZ TCCD DIMMs. We finally reached a stable 305 setting with the following settings:
Tref (Refresh Period) - 2592
DRAM Drive Strength - 7
DRAM Data Drive Strength - 2
Max Asynch Latency - 9
Read Preamble Time - 6.5
The other settings were left at default for TCCD. HT, main memory timings, and voltages are in the above chart.
When we discussed results with the DFI Design Engineer, we were told that our results were typical of what could be expected on this. The highest clock does not reach to 315 to 318 as a few other boards have because of the compromises made to achieve reliable operation with 4 double-sided DIMMs at 1T. However, most boards should be able to reach a 300 to 310 Clock frequency in overclocking with appropriate ratios.
4 DS DIMMs at 1T: Memory Stress Testing
The DFI easily handles 2-2-2-7-1T timings at stock speed with 2 double-sided dimms, as do almost any of the current boards for AMD Socket 939 from NVIDIA, SiS, VIA, and ULi. However, what is truly unique is that the DFI LANParty UT RDX200 is the first board designed to run
four
double-sided 512MB or 1GB DIMMs at the fastest timings and a 1T Command Rate. In fact, AMD specifications tell us that this is impossible. To his credit, Oskar Wu and DFI found a way to accomplish the impossible.
Stable DDR400 Timings - 4 DIMMs
(4/4 DIMMs populated)
Clock Speed:
200MHz
CAS Latency:
2.0
RAS to CAS Delay:
2T
RAS Precharge:
7T*
Precharge Delay:
2T
Command Rate:
1T
*7T was determined by MemTest86 benchmarks to deliver the widest bandwidth with the ATI Rx480/482 chipset. While the board would operate at tRAS of 5T or lower, all benchmarks were run at 7T.
With the ability to run 4 DS DIMMs at 1T, we had the opportunity to finally show the impact of a drop to a 2T Command Rate on performance.
First, for those skeptical that this is possible, we captured screens from the freeware A64 Tweaker and CPU-Z showing operation of 4 DIMMs at 1T.
All the benchmarks below were run with an FX-57 processor and are not directly comparable to our standard benchmarks which use an AMD 4000+ CPU.
To clearly demonstrate the impact of the normal 2T drop in Command Rate on performance, we ran Aquamark3 benchmarks with 2 DIMMs at 1T, 4 DIMMs at 2T, and the new option of 4 DIMMs at 1T.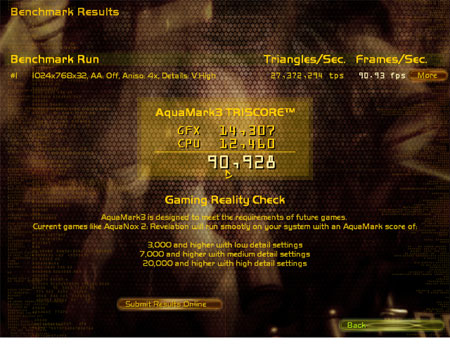 2 DIMMs at 1T is normally the fastest available option.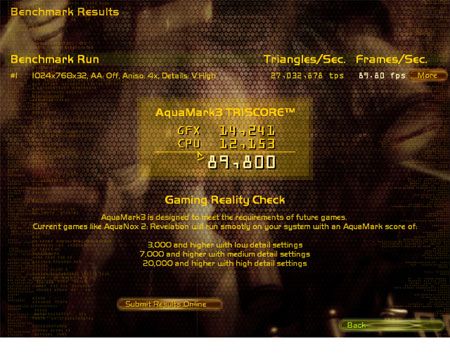 You can see that doubling the memory, but being forced to drop to 2T Command Rate, lowers the A3 scores by over 1,000 points.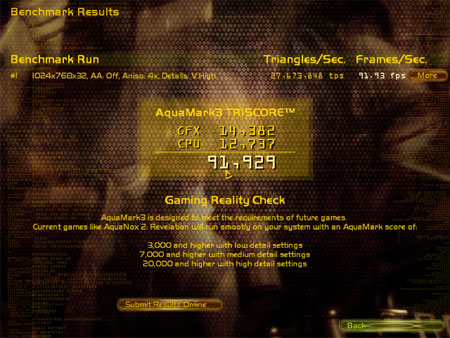 The surprise, however, is the new DFI option of 4DS DIMMs at 1T. Not only is there no performance loss - the scores are 2,000 points higher than 4DSx2T - but 4DS DIMMs at 1T outperforms 2x1T by almost 1,000 points. This makes 4DS DIMMs at 1T in the DFI to be the new performance leader at stock speeds.
For those who are thinking that surely there's a catch, the answer is "yes, there is". 1T operation is only possible to a frequency of about DDR406, which basically limits it to stock speeds. Above that speed, you must run 4 DS DIMMs at 2T as you normally must. However, at or near stock speeds, the 1T option is a brilliant development that delivers better performance.
Test Setup
 Performance Test Configuration
Processor(s):
AMD Athlon 64 4000+ (2.4GHz) Socket 939
RAM:
2 x 512MB OCZ PC3200 Platinum Rev. 2
Hard Drive(s):
Seagate 120GB 7200 RPM SATA (8MB Buffer)
Power Supply:
OCZ PowerStream 520W
Video AGP & IDE Bus Master Drivers:
ATI Catalyst Platform 5.10
Video Cards:
MSI NVIDIA 7800GTX
NVIDIA 6800 Ultra
ATI X850XT Crossfire
Video Drivers:
ATI Catalyst 5.10
NVIDIA nForce 78.01
Operating System(s):
Windows XP Professional SP2
Direct X 9.0c
Motherboards:
DFI LANParty UT RDX200
ATI Crossfire AMD Reference Board
SiS 756 Reference Board
ASRock 939Dual-SATA2 (ULi M1695/1567)
Sapphire A9RX480 (ATI)
Jetway 939GT4-SLI-G (nForce4)
ULi AP9567A (M1695/M1567)
DFI LANParty UT nF4 Ultra-D (nForce4)
MSI K8N Neo4/SLI Platinum (nForce4)
Tests used OCZ PC3200 Platinum Rev. 2, which uses Samsung TCCD chips. All memory ran at 2-2-2-7 timing in all benchmarks.
We tested with our standard NVIDIA 6800 Ultra to allow the best comparisons to benchmark results with other motherboards. To demonstrate performance with various current video options, we also tested with the MSI NVIDIA 7800GTX. Operation of ATI Crossfire was verified with an ATI X850XT Master/X850XT pair and results are reported in several benchmarks for Reference. Resolution in all benchmarks is 1280x1024x32 unless otherwise noted.
Results for the DFI LANParty UT RDX200 with the NVIDIA 6800 Ultra are in red, results with the MSI NVIDIA 7800GTX are color-coded gold, and the Reference comparisons with ATI X850XT Crossfire are in purple. Results for the other boards, all tested with the NVIDIA 6800 Ultra, are in blue.
General Performance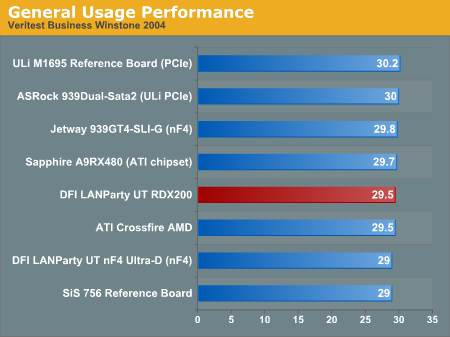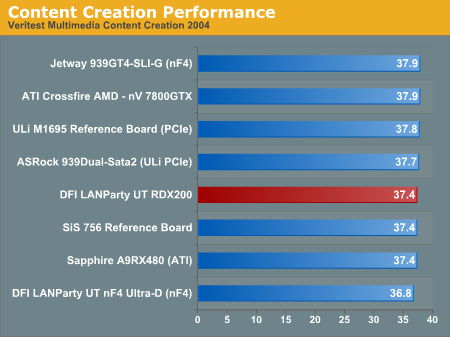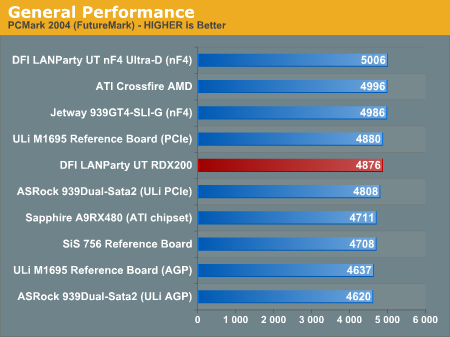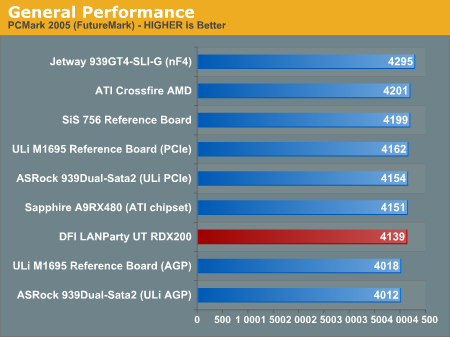 There is little to distinguish or detract from the DFI LANParty UT RDX200 in General Performance benchmarks. The DFI board is competitive with the best Socket 939 Athlon 64 boards that we have tested, as well as the other AMD chipsets. Performance in Winstones and PCMark 2005/2004 falls in the center of tightly clustered performance.
We included some past General Performance benchmarks run with the MSI 7800GTX just to demonstrate again that Winstone Performance is hardly affected by a higher performance graphics card. However, high performance graphics does impact PCMark scores, which are more strongly geared to overall system performance rather than the Business software slant of the Winstone benchmarks.
Graphics Performance and Encoding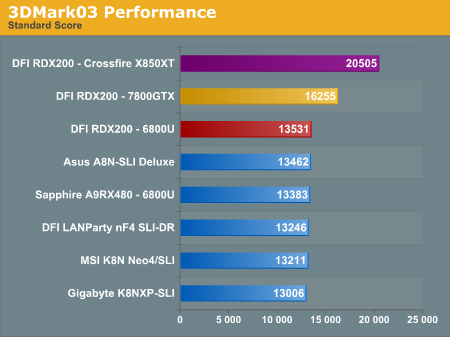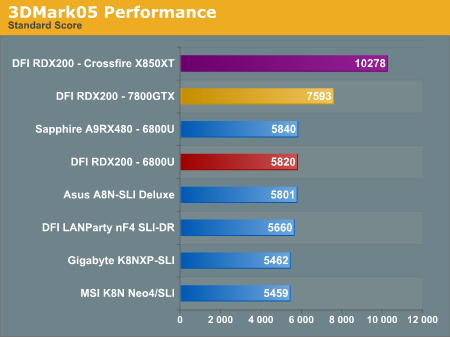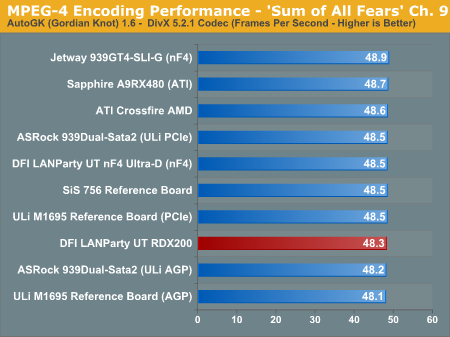 The 3DMark graphics Benchmarks from FutureMark gave a few surprises in testing of the DFI RDX200. We expected the latest and fastest NVIDIA 7800GTX to have a substantial performance lead over the NVIDIA 6800 Ultra, but we did not expect such a strong performance for the ATI Crossfire X850XT. 3DMark05 and 3DMark03 are synthetic benchmarks, but they are designed to test the gaming elements of DirectX 9, using specially written gaming segments.
It has often been pointed out that encoding results should not be affected by the graphics card used during the encoding benchmarks. This is clearly demonstrated by the archive test results for AutoGK using an AMD 4000+ processor with a wide assortment of other components. The performance range of those encoding tests is just 48.1 to 48.9 - a difference form high to low of just 0.8 frames. Clearly, the biggest influence on this encoding benchmark is the CPU used for testing.
Gaming Performance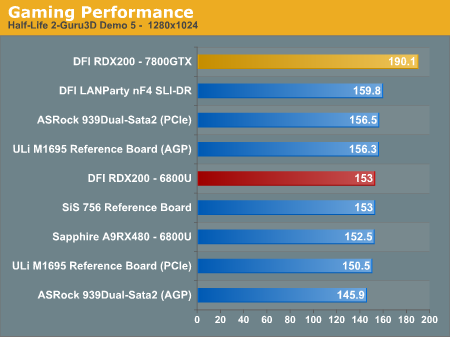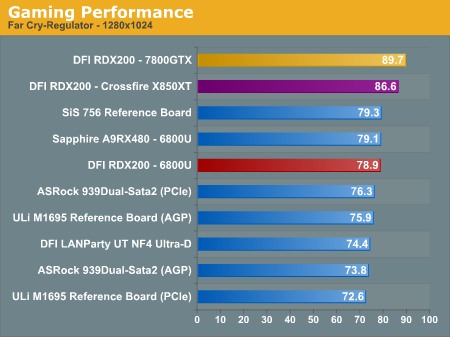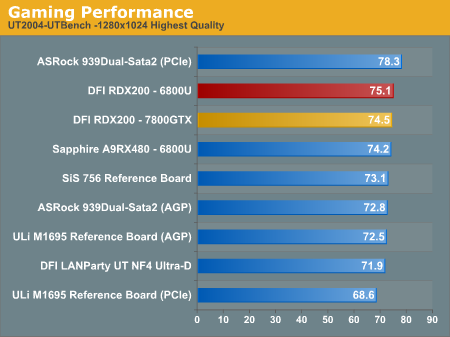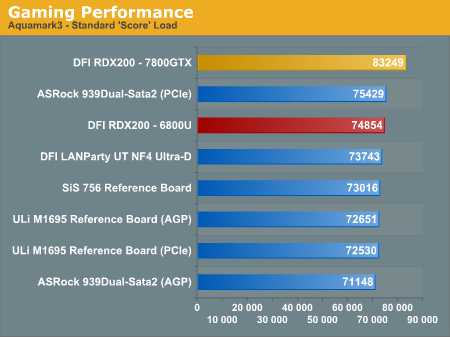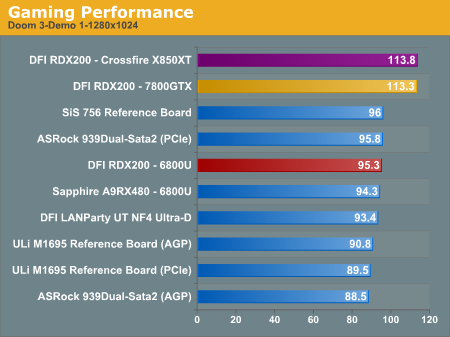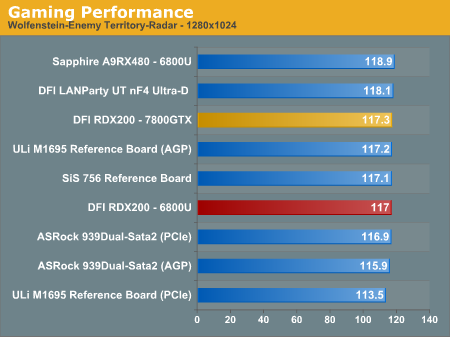 Gaming performance of the DFI at stock speeds ranged in the upper half of test results. This demonstrates competitive gaming performance with NVIDIA nForce4 and the other Socket 939 chipsets. This ATI RD480 chipset board was particularly strong in the most demanding games like Doom3, Aquamark3 and Far Cry.
It is perhaps a bit unfair to test the latest NVIDIA 7800GTX at 1280x1024 without any eye candy turned on. Turning on Anti-Aliasing and Anisotropic Filtering demonstrates more clearly the performance advantages of this card. However, the results are interesting. At this somewhat low resolution, the 7800GTX shows a substantial lead only in a few very demanding titles like Half Life 2 and Doom3.
What this shows is that for most the 7800GTX will not be worth the extra cost if they game on a 19" LCD at 1280x1024. Unless you game at 1600x1200 or higher, or mainly play one of those few titles where the 7800GTX performs better at 1280x1024, the 7800GTX may be a wasted expense that will bring you little additional performance for what the 7800GTX costs.
Overclocking
Maximum overclock data was added to our Performance graphs beginning with the nForce4 SLI roundup several months ago. The overclocking performance graphs allow a better comparison of the overclocking capabilities of tested boards. For more details on the specific overclocking abilities of a specific board, please refer to the Overclocking and Memory Stress Test section of individual board reviews.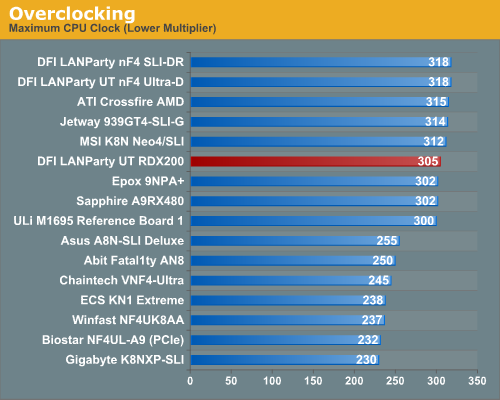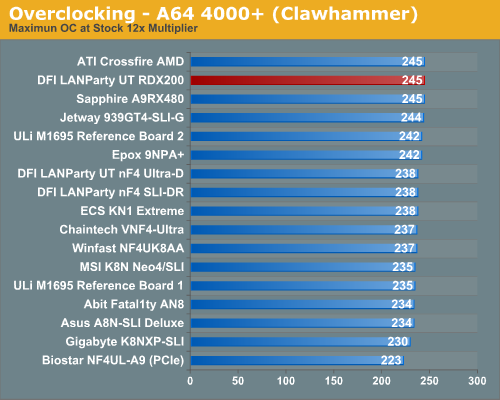 The overclocking performance of the DFI RDX200 was impressive, reaching 305 at the reduced multiplier, and matching the highest stock overclock that we have tested with this CPU.
305 at lower multipliers is not the highest value that we have reached in past testing, but it does place the DFI in the company of the few excellent overclocking Athlon 64 boards that have managed to reach a stable 50% or better frequency overclock (300) at lower ratios. It is also a very acceptable compromise that was required for the 4DS 1T option at DDR400.
As we have commented before, ATI has made tremendous progress in board design, since we looked at the initial Bullhead board last November. DFI definitely incorporated many of the best things about the ATI Crossfire Reference Design while still marking the RDX200 with their own unique stamp.
Performance of Features
When you receive a board Friday afternoon that will go on sale Tuesday morning, there is sometimes just not enough time to complete all the tests that you initially planned. In the interest of bringing you the most significant test results on the DFI RDX200, we concentrated on two areas of interest, specifically USB Performance and CPU utilization of the Karajan audio module.
For additional information on the performance of other Storage, Ethernet, and Firewire, please go to other recent ATI Rx480/482 reviews at "
ATI's Crossfire: Best Overclocker on the Market?
" and "
Sapphire PURE Innovation - ATI's Chipset for the AMD Enthusiast
". The performance of the feature accessory chips present on the DFI RDX200 are tested in those reviews.
USB Performance
USB has been a problem area for the ATI SB450 chipset, so we decided to see if anything had changed. We ran our standard USB throughput test on the DFI using an external USB hard drive.
Our test method uses a RAM disk as our "server", since memory removed almost all overhead from the serving end. We also managed to turn off disk caching on the USB and Firewire side by setting up the drives for "quick disconnect" and our results were then consistent over many test runs.
We use just 1GB of fast 2-2-2 system memory set up as a 450MB RAM disk and 550MB of system memory. Our stock file is the SPECviewPerf install file, which is 432,533,504 bytes (412.4961MB). After copying this file to our RAM disk, we measured the time for writing from the RAM disk to our external USB 2.0 or Firewire 400 or Firewire 800 drive using a Windows timing program written for AnandTech by our own Jason Clark. The copy times in seconds were then converted into Megabits per second (Mb) to provide a convenient means of comparing throughput. Higher Rates, therefore, mean better performance.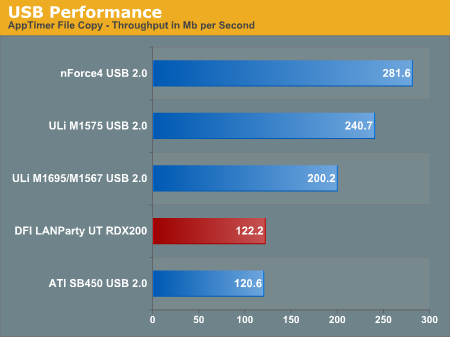 Nothing has really changed with USB performance since we looked at the issue in tests of the Sapphire Grouper and ATI Crossfire Reference boards. Sustained USB performance remains at about half the expected performance level. ATI tells us that this will be fixed with SB600 early next year.
There is an alternative in the
ULi M1575 southbridge, which we recently tested
. The ULi SB provides competitive USB performance and the SATA2 ports, which are missing from the ATI SB450 - and it is available today. We asked DFI why they chose the SB450 instead and they responded that the design work for the RDX200 was far along when the M1575 became an alternative. DFI also pointed out that M1575 and SB450 are
not
pin-compatible, thus making a last minute change in southbridge to be a very costly option. The SB600 should be pin-compatible with SB450, as M1575 is pin-compatible with M1573. When the SB600 is available, DFI will use the SB600 instead. They may also consider an SB change in their upcoming ATI dual x16 motherboard.
Audio Performance
For audio testing, we used Rightmark 3D Sound CPU utilization test, which is the same benchmark run in our earlier nForce4 SLI and Ultra roundups. This benchmark measures the overhead or CPU utilization required by a codec or hardware audio chip. We tested performance both with the earlier version 1.24 that we had used for past testing and the latest version 2.1. As you will see, 2.1 does yield different performance numbers.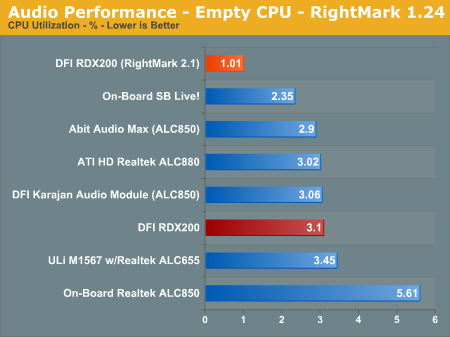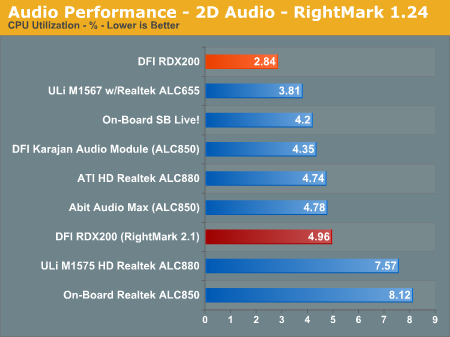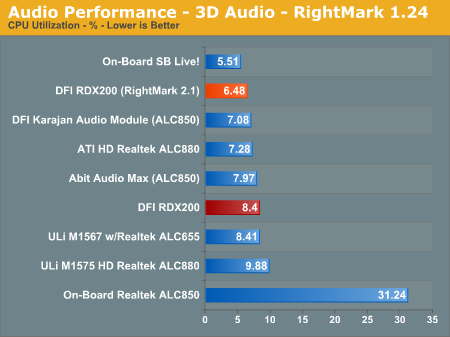 None of the onboard audio solutions were quite as low in CPU utilization as the hardware Creative SoundBlaster Live! chip, which is used on the MSI K8N Neo4 Platinum. However, ATI's High Definition Audio on the DFI Karajan audio module turned in excellent performance in all the utilization tests. Results for Karajan HD Audio module were, in every case, almost as good as the hardware solution. Abit's separate Audio Max board and the nForce4 DFI Karajan Sound Module appear to lower CPU utilization of the ALC850 codec substantially. Azalia HD is apparently even more demanding of CPU power, but CPU utilization remained below 6.5% even in 3D audio rendering as tested with RightMark 2.1. The earlier version 1.24 still shows CPU utilization at 8.4% and below.
It is
very important
to point out that the DFI LANParty UT RDX200 is the first Athlon 64 retail motherboard to deliver Azalia High Definition audio. Those who have been complaining about the poor AC'97 audio present on most AMD boards should be very pleased to find Azalia HD on the ATI chipset boards.
DFI claims that the Karajan module lowers noise using an on-board audio solution. We did some subjective listening tests with the DFI's version of Azalia HD through a Dolby amplifier and a 5.1 speaker setup. We really couldn't hear a huge improvement over our last listening tests of ATI Azalia HD. Perhaps that was because our last experience with Azalia HD on AMD was so good. HD really is in a completely different league from the other audio solutions that we have tested on Athlon 64. Noise was virtually non-existent, and imaging and depth were superb when listening to demanding CDs. The same CD sounded thin, noisy, and artificial through a more common ALC850 fed to the same Dolby amp and 5.1 speakers. This is not to say that the Azalia HD is at the same level as the very best audio cards, but it is a lot closer than you might think.
Final Words
It has taken a very long time for the first retail ATI Crossfire motherboard to arrive. However, ATI could not have done better than to have the first retail board come from DFI, the current leader in motherboards based on the nForce4 chipset. In every performance area important to overclockers and AMD hobbyists, the DFI is at least as good as the legendary DFI nForce4 motherboards. In some areas, the DFI RDX200 is even superior to their nForce4 boards.
DFI took many of the excellent overclocking features of the landmark ATI Crossfire Reference board and added their own unique mark in the final mix. This is the first time that we have seen 4 double-sided DIMMs able to operate at 1T, and it also works using either 1GB or 512mb DIMMs. We don't know how DFI achieved this impossible task, but we can tell you that it works, and the performance boost is very real. The DFI also has a
working
CAS 1.5 option in the RDX200 BIOS, which is also a first on the AMD Athlon 64 platform.
Buyers are still amazed at the incredible array of tweaking adjustments and voltages on the DFI nForce4 motherboards, and we can only say that the ATI chipset version is even better. Voltages still go to 4.0V to support any memory that you can buy in any overclock situation, but this ATI version has even finer granularity and there is no need for a jumper to draw off the 5V line. Memory control options are even better than the nForce4 version, with DRAM drive strength options from 1 to 15 (1 to 8 to support 2 DIMMs and 9 to 15 for 4-DIMM control).
Some of the new performance options required some compromises on the board. For instance, the highest clock that we could achieve was 305 instead of the 318 that we saw on DFI nForce4, but that is an acceptable tradeoff for the incredible 4DSx1T performance option. All-in-all, the DFI LANParty UT RDX200 has the aura of being a more refined overclocker's board than the outstanding DFI nForce4 boards. Part of the reason for this is ATI's own excellent Reference design, which had already refined many of the most desirable features from an enthusiast and overclocking point of view. The overclocking features work, very smoothly, and without surprises, which can only be a good thing if you are an enthusiast.
While we have no complaints in the performance area or in the overclocking options and controls, we do have some complaints in the features area. It is a total mystery why DFI chose to add the Silicon Image 3114 SATA1 controller to a chipset that lacks native SATA2 support. With a SATA2 controller, buyers would only have to forgive less-than stellar USB performance on a board that is absolute tops in every other area. With the 3114 choice, there will be too much to forgive for some users. Certainly, neither SATA2 nor the zippiest USB are critical to most enthusiasts and those buyers will find everything that they want in the DFI RDX200. However, if these features are very important to you, you will have to add controllers or look elsewhere.
Last, there is the choice of southbridge. The SB450 is out of date as it launches, missing both SATA2 and NCQ support, and showing USB 2.0 performance that is not really competitive. Otherwise, it is plenty fast and capable, but you shouldn't have to make excuses with a chipset as otherwise capable as the Rx480. The good news is that SB600 will fix these somewhat minor failings and is a pin-compatible drop-in for SB450. The better news is that the ULi M1575 southbridge fixes those issues today and is an available option for ATI chipset motherboards. The DFI RDX200 would have been close to ideal with the M1575 features and performance.
In looking at the larger picture, ATI has to be extremely pleased that a high quality ATI RD480 motherboard is finally on the market. This DFI RDX200 is a superb board for the overclocker, whether they will use air, water, or phase-change cooling. This board, like the ATI Crossfire Reference board, was designed to be pushed to the limits. This means that the talk and speculation is over, and NVIDIA does have a worthy AMD chipset competitor in ATI. In fact, ATI is showing that it can cater to the AMD enthusiast with options and performance that will set the tone for future AMD chipsets.