Original Link: http://www.anandtech.com/show/1813


AMD has recently dominated the gaming segment, thanks to NVIDIA, their nForce4 SLI chipset, and the power of the A64 FX processor. During that time, the Intel camp has had little to cheer about, with Intel gamers forced to rely solely on single graphics card solutions. They could only watch as AMD users walked on by in fps performance. NVIDIA recently shook up that status quo by introducing NVIDIA SLI to the Intel market.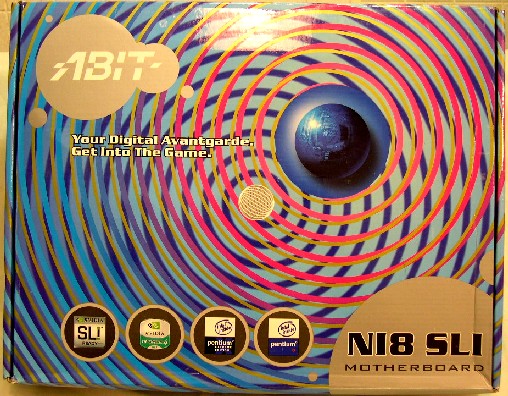 Abit recently introduced the NI8 SLI based on NVIDIA's C19 + MCP-04 nForce4 chipset, and with it, the innovations that come with the Abit Fatality label. The C19 based boards now being introduced to market are feature-packed, making the "everything a gamer could want" Fatality a natural for this market. Intel's dual core processors generated some excitement about Intel for gaming again, and the NVIDIA's C19 stepped up with x2 support. As we have since learned, there are some limitations in regards to dual core support inherent in the Intel nForce4 chipset at this time. At stock settings utilizing an Intel D840EE, the 2 cores and all 4 logical processors were recognized as per specification, but when dropping the multiplier to 14, the chipset only recognizes one CPU core. This issue has been reportedly corrected in the most recent top-line Dual x16 NVIDIA Intel boards. But gamers are not necessarily overclockers, and if the Abit NI8 SLI is fast at stock speeds, it will satisfy many gamers.
Abit fans expect that if anyone can make a worthy Intel gaming board, it will be Abit. Their BIOS' have been tuned, in particular, towards gaming performance. Their current Fatality line of boards is a testament towards that gaming market, which has always held high regard for the Abit brand.
In the last year, much has been written of Abit's financial woes and re-organization, but despite the new challenges, they continue to engineer and introduce new products as the technology evolves. Let's see if the NI8 can help Abit to recapture some of their past glory.
ABIT NI8 SLI: Feature Set
 Abit NI8 SLI
CPU Interface
Supports Socket 775 for Intel® Pentium 4 / Pentium 4 EE / Pentium D / Pentium XE / Celeron D processors
Supports Intel® Hyper-Threading / XD-bit / EM64T Technology
Enhanced Intel SpeedStep Technology
Chipset
NVIDIA C19/ MCP-04
NVIDIA Gigabit Ethernet with NVIDIA Firewall
Supports NV SATA 3G RAID
Bus Speeds
Supports 1066/800MHz FSB
Memory Speeds
400Mhz-1300Mhz in 1 Mhz increments
PCIe Speeds
Asynchronous - Fixed at 100
Adjustable from 100Mhz-148.4 Mhz
PCI
Fixed at 33Mhz
Core Voltage
Auto, 1.3875V to 1.55V in 0.025V increments
DRAM Voltage
Auto, 1.75V to 2.3V in .05V increments
FSB Frequency
100Mhz-325Mhz in 1 Mhz increments
HyperTransport Multiplier
Auto, 1X to 5X
C19 Northbridge Voltage
1.4V, no adjustments
Memory Slots
Four 240-pin DIMM sockets
Supports dual channel DDR2 667 non-ECC un-buffered memory
Supports maximum memory capacity up to 8GB
Expansion Slots
2 PCIe x16
2 PCIe x1
2 PCI Slots
Onboard SATA II/RAID
4 SATA II Drives by NVIDIA MCP-04 (RAID 0, 1, Raid 0+1)
2 SATA II 3Gbps Drives by Silicon Image 3231 (Raid 0/1 NCQ)
Onboard IDE
Two Ultra DMA ATA133/100/66/33 connectors
Onboard USB 2.0
3 USB 2.0 headers
Onboard LAN
NVIDIA Gigabit Ethernet
NVIDIA Secure Networking Engine
Onboard Audio
7.1 Channel AudioMAX card
BIOS Revision
Award (8/24/2005)
The Silicon Image 3132 controlled SATA 5 + 6 ports are in a very precarious position, located just left of the C19 Northbridge. If you plan on using these as part of your setup, you had best plan on buying extra long cables and developing a routing scheme to keep them clear of other components.
The floppy connector is also not in the most useable position, particularly if you have a mid-mounted floppy drive. Again, a longer than supplied cable in most cases would be necessary. IDE and floppy connectors don't belong on the PCB's bottom, and if at all possible, they should be on the right edge of the PCB as was common practice in the past. It just lends to a cleaner installation with less cabling clutter. The trend lately has been to place them on the bottom of the PCB due in part to other component positioning on the mainboard.
Cable routing is the 4-pin Molex next to the floppy connector is also a concer. Unless you have a non-standard case layout with the power supply at the bottom, getting power to the Molex connector will create a bit of a cabling nightmare. The ATX12V connector is also between the CPU socket and NB, but this is a common location and presents less of a problem than some of the other component positions.
The last concern in the notable omission of any Firewire ports on this board, This is a feature you will find on almost every other board in the Abit's Premium class at about a $200 price point. With so many devices being produced that use this specification it is a real puzzle that it was not considered as part of the NI8 SLI specifications.
The placement of all remaining components such as IDE and SATA 1-4, 24pin main power connector etc. are very accessible. Most users will be able to cope with the layout concerns we've mentioned, but they are still less than ideal.
ABIT NI8 SLI: Feature Set (Cont'd)
One of the highlights of this board is the "Silent OTES" cooling solution for the C19 Northbridge. It is an ABIT engineered heatpipe technology. Heat generated by the chipset is noiselessly conducted to the back panel radiator. It does its job very well, but because of the "egg frying heat" generated by the C19 Northbridge, you will definitely want to make sure that you have adequate airflow inside your case. The ABIT uses a non-adjustable 1.4V to its Northbridge, and it is a puzzle that Abit didn't provide the option to go higher. Though the Silent OTES does an admirable job, it is overwhelmed by the considerable heat generated. The OTES concept itself appears to be a good idea, but in this application, an active addition to the party providing some airflow would be welcomed.
ABIT has also included a Post Code debug LED, which can be very useful when trying to diagnose your system out of a problem situation, such as a no boot. An add-in debug card has been part of my test setup for many years and it has been useful in many difficult troubleshooting situations to be able to track and correct a post malfunction.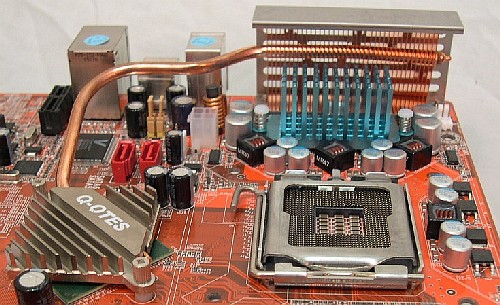 Continuing ABIT's practice concerning its build quality, including the highest quality Nichicon capacitors in the CPU power section lends itself to unrivaled stability in CPU voltage. No notable fluctuations were observed even when the system was being stressed heavily. The Power section is the now familiar 4 Phase design, and they have included a heatsink to assist in cooling the MOSFETS. In this arrangement of MOSFET heatsink and Silent OTES "radiator", air moving from the CPU heatsink/fan assists in providing some airflow across both. This seems to be adequate, but in my experience with this iteration of Silent OTES, it does become overwhelmed by the heat from the C19 northbridge Anyone purchasing this board should add some supplemental active cooling to prevent long term heat-induced problems.

The I/O panel contains the usual cast of characters including 4 USB 2.0 ports and the Gigabit LAN port. This also provides another view of the Silent OTES radiator.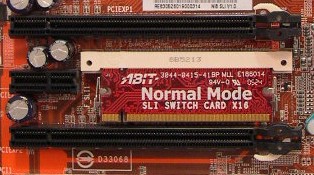 There have been many methods implemented by manufacturers since the introduction of the SLI chipset in facilitating the switch, which changes video modes from normal to SLI. ABIT has chosen to utilize a small card, which is held in by spring clips. You merely release it, flip it over and reinstall it. In the photo above, it is in "normal" single card mode.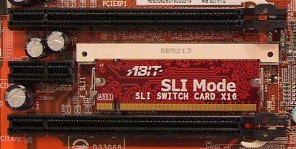 In this photo, the board is switched to dual card "SLI" mode.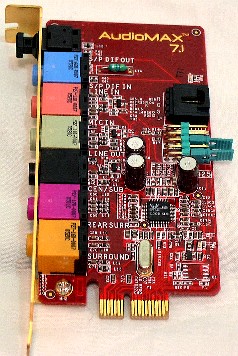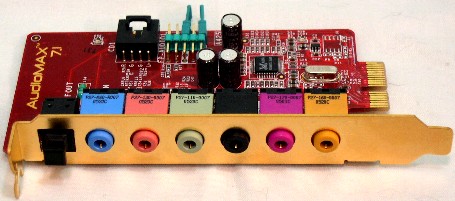 This is ABIT's audio solution for the NI8 SLI, the AudioMAX 7.1. By design, it locates the audio chip and associated electronics on the separate PCB to "reduce the amount of noise created by high frequency generated on the mainboard." This installs in a dedicated audio slot next to the LAN/USB port that looks like a backwards PCIe x1 slot. The card includes an S/PDIF out along with S/PDIF/Line in, and all connections necessary to provide 7.1 sound. It relies on the Realtek ALC850 chip and the AC'97 7.1 channel codec. Note that this is not an HD Azalia audio solution, and this will be a concern for some users. However, we have encountered some HD Audio implementations that sound worse than AC'97, so we believe the quality of the solution is really the most important factor.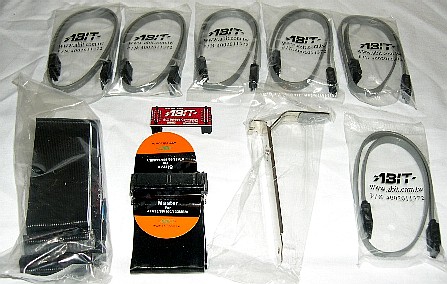 Finally, the hardware package includes 6 SATA cables, floppy and IDE cables along with the SLI bridge connector. ABIT also includes an SLI bracket shown at the bottom right, which is used to support the SLI bridge connector and the 2 SLI graphics cards.
ABIT NI8 SLI: Overclocking
ABIT NI8 SLI Overclocking Testbed
Processor:
Intel P4 D840 EE 3.2 Ghz
CPU Voltage:
1.41V (default 1.385V)
Cooling:
Gigabyte 3D Cooler Ultra GT
Power Supply:
PC Power and Cooling Turbo-Cool 510 SLI
Memory:
2x Corsair CM2X512A - 5400UL v 1.2
Hard Drive:
Western Digital 36GB Raptor 10,000RPM
Maximum OC:
(Standard Ratio)
220x16 (4x HT)
3520MHz (+9.4%)
Maximum FSB:
(Lower Ratio)
220 x 14 (4x HT)
(2 DIMMs in DC mode @ 667Mhz 3-2-2-8 1T)
(+9.4% Bus Overclock)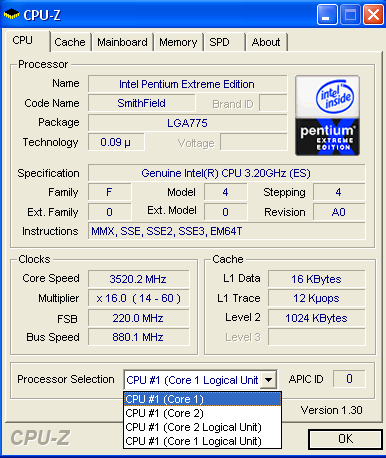 This was a very disappointing showing for the NI8 in the overclocking department. This CPU has proven to run at 3700-3800 MHz on air cooling while utilized on other similar Intel mainboards, so the overclocking roadblock is definitely not the CPU. My background is deep in overclocking experience over the years, including extensive water and phase-change cooling experience. All the stops were pulled out to get this particular setup higher, including raising VCore from 1.41V to its limit, dropping the LDT multiplier to 1 from 4, dropping the memory all the way down to 400 MHz, and lowering the multiplier to its minimum of 14. The system would muster a boot at 225 MHz FSB, but then freeze in Windows. 220 MHz FSB is rock-solid stable and the most that could be attained.
Raising the northbridge voltage has been key on other similar C19 northbridge based boards, but ABIT has left that option out and it most probably was a smart move. As mentioned before, its preset 1.4V combined with the Silent OTES cooling solution gets incredibly hot; more voltage invariably would overwhelm the supplied cooling beyond its capacity. My feeling is even with substantially better CPU cooling such as water or phase change, the limit here is the board itself and not the CPU. Upgrading the NB cooling could potentially help, but without the BIOS option to increase NB voltage we would only get halfway there.
ABIT NI8 SLI: Memory Stress Testing
For this review, we utilized 2 single-sided 512MB modules from Corsair, their CM2X512A-5400UL models, which run at a low latency of 3-2-2-8 1T at 2.1V. They are designed to run at 733 MHz at these same timings. The board ran perfectly stable at these timings through all our testing.
Stable DDR2 667 Timings - One Dual-Channel
(2/4 DIMMs populated)
Clock Speed:
200MHz (800Mhz FSB)
Timing Mode:
3:5 (200:333 - default)
CAS Latency:
3.0
RAS to CAS Delay:
2T
RAS Precharge:
2T
Cycle Time (tRAS)::
8T
Command Rate:
1T
We included an additional pair of single-sided DDR2 512MB modules from OCZ, their PC2 5400 EL Dual Channel Gold Edition. These modules are rated at 4-4-4-8 and a distinct different match from the ultra low latency Corsair pair. With some adjustments, the 2GB of DDR2 settled in at 3-3-3-8 2T command at 1.9V. This combination of unmatched pairs ran totally stable without issue aboard the NI8.
Stable DDR2 667 Timings - 4 DIMMs
(4/4 DIMMs populated)
Clock Speed:
200MHz (800Mhz FSB)
Timing Mode:
3:5 (200:333 - default)
CAS Latency:
3.0
RAS to CAS Delay:
3T
RAS Precharge:
3T
Cycle Time (tRAS)::
8T
Command Rate:
2T
ABIT NI8 SLI: Memory Overclocking
Each generation of boards and chipset technology often comes with even greater opportunities to increase a board's bandwidth and performance through overclocking of the memory. Of course on Intel boards, the optimum scenario is usually one in which the FSB and memory speeds are 1:1 with the tightest timings possible. Increasing memory speed beyond the FSB speed yields not much gain, and more or less, it is left for bragging rights in the ability of a mainboard and/or CPU to push its ram into the stratosphere. In many cases, to achieve ultra high memory speed, you must reduce timings and latency to such an extent that bandwidth begins falling off considerably.
We'll start with our baseline Corsair at the previous DDR2 667 MHz 3-2-2-8 1T timings. All Sandra bandwidth is measured unbuffered.
The next step was to verify the Corsair at its advertised 733 MHz at 3-2-2-8 1T timings, at 2.1V. That was accomplished without issue. The memory was incrementally increased until we reached its top stable plateau while maintaining the advertised 3-2-2-8 1T command timings, 770 MHz @ 2.2V. This is at a FSB bus speed of 220 MHz (880 MHz) and total CPU MHz of 3520.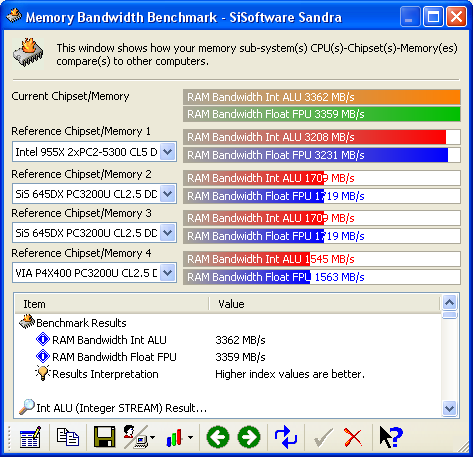 ABIT, C19 and Corsair break the 1000 MHz barrier
The earliest samples of C19 based boards had difficulties moving beyond the 800 MHz memory barrier unlike their Intel 955X based brothers. ABIT has certainly done their homework from that perspective as 1005 MHz was easily attained. The key on this particular sample was to set the memory section of the BIOS to "Auto" and memory voltage to 2.3V. From there, it was a breeze. Again, because of the very relaxed timings, we are seeing another decrease in overall system bandwidth. Clearly, if one desires a highly bandwidth optimized system, the 770 MHz settings are the winner here. Running at 1000 MHz or higher memory speed is purely for bragging rights as the inherently poor latency incurred proves to be a major bandwidth killer, which in turn hurts overall system performance.
ABIT NI8 SLI - Overclocked 3D benchmark performance + SLI verification
As a measure of the effectiveness of the optimized bandwidth dialed in during testing, competitive 3D benchmarks were run apart from the standard AnandTech suite to determine how well ABIT did their homework toward the gaming end. This has been where they've built their reputation and we "put that reputation on the line". All posted scores reflect the overclocked P4 D840 EE running at 3520 MHz (16x220), memory at 770 MHz 3-2-2-8 1T, and a single 7800GTX run at 500 MHz core/1400Mhz memory, for the first tests. For the second round, we ran a pair of NVIDIA 6800Ultra's (448 MHz core/1296 MHz memory) to also verify proper SLI operation. For these tests only, the NVIDIA beta 81.26 drivers were installed.
First up is a run of 3DMark 2001 utilizing the single NVIDIA 7800GTX. 3DMark 2001 is still widely used because it is the most sensitive of the 3DMark tests to changes in CPU speed and memory bandwidth.
3DMark 2003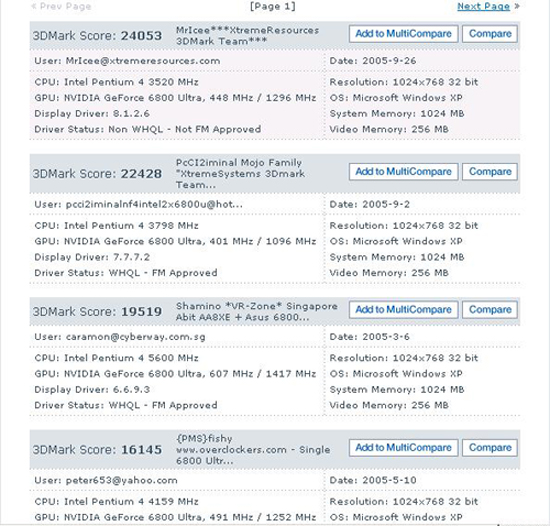 3DMark 2005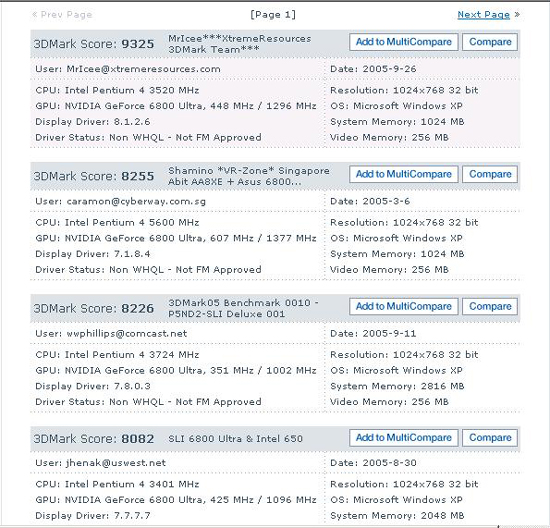 Test Setup
 Performance Test Configuration
Processor(s):
Intel Pentium D 840 EE (3.2GHz, 800FSB, Dual-Core, HT, 2x1MB L2)(HT enabled for all tests)
Intel Pentium 4 560 ES (3.6GHz, 800FSB, 1MB L2,HT)
Intel 3.46EE (3.46GHz, 1066FSB, HT)
RAM:
2 x 512MB Corsair CM2X512A-5400UL
2 x 512MB OCZ PC2 5400 EB
2 x 1GB Patriot Extreme Performance PEP21G5600+XBL
Hard Drive(s):
Western Digital 36GB Raptor 10,000RPM
System Drivers:
NVIDIA 7.13
Video Cards:
2x NVIDIA 6800 Ultra
MSI NVIDIA 7800GTX
Video Drivers:
NVIDIA Forceware beta 81.26 (Overclocking Tests)
NVIDIA Forceware beta 78.05 (Standard Tests)
Operating System(s):
Windows XP Professional SP2
Direct X 9.0c
Motherboards:
ABIT NI8 SLI
Gigabyte GA-8I955X Royal
MSI P4 Diamond
Asus P5WD2 Premium (Intel 955x)
Asus P5ND2-SLI Deluxe (NVIDIA nForce4 Intel)
Asus P5AD2 Premium (Intel 925x)
Intel 925x Reference Board
ALL benchmarks used the Intel Pentium D 840 EE. General Performance, encoding, DX9, and DX8 gaming were tested on all reported platforms with the Pentium D 840EE.
The only exception is in the Workstation test results. For the Workstation tests we only had past results generated with a single core 3.6GHz Pentium 4 560. We compared the 3.2 GHz 840EE on the Abit with past test results of the 3.6GHz 560 to illustrate the strong performance of the slower 3.2GHz dual-core compared to the faster 3.6GHz P4 in standardized Workstation tests.
The 3.46EE was used in some past memory tests to achieve high memory bus speeds, and we refered to those test results only in examing overclocked memory FSB speed records - not comparative performance.
Tests used the Corsair 5400UL aboard the ABIT. Memory ran at 3-2-2-8 1T timing in all benchmarks.
We tested with our standard MSI 7800GTX to allow the best comparisons for benchmark results with other motherboards. Resolution in all benchmarks is 1280x1024x32 unless otherwise noted.
Results for the ABIT NI8 SLI are in colour-coded red in all graphs.
General Performance and Encoding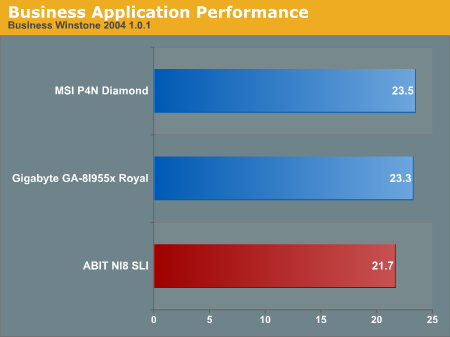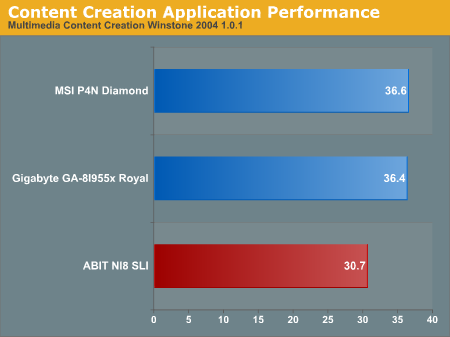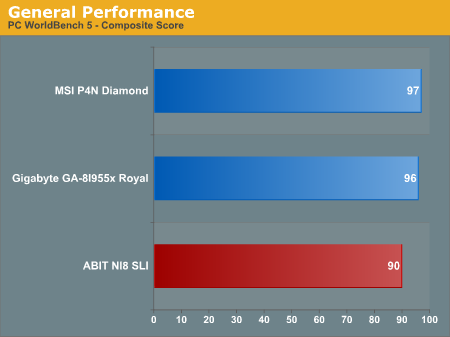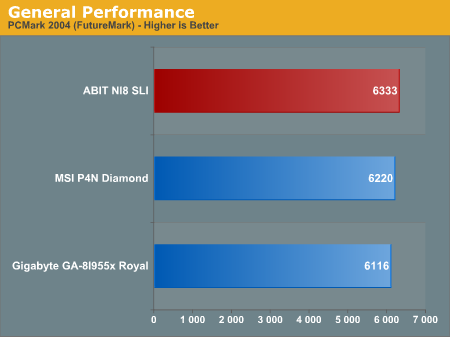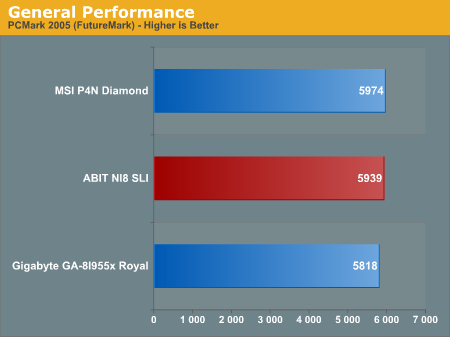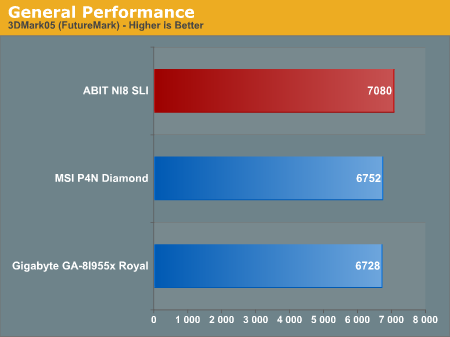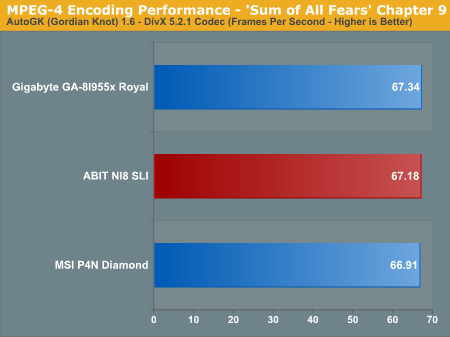 As is often the case with boards based around the same core logic chipset, results in these tests are very similar. The notable concerns here are within Winstones 2004, where there seems to be a performance or test method issue, and in Worldbench 5 where a wider than normal margin exists. We are still looking for answers to the Winstones results, and the numbers will be updated if and when we can find an acceptable explanation for the variations in performance. The Worldbench test notes show that an issue cropped up while running the 3Dsmax OpenGL portion of the test. It was a repeatable anomaly - one where it appeared to run through the test in "slow motion" as compared to its DirectX counterpart test. The final score indeed reflected that issue. After hours of driver changes and reinstalls, the issue still could not be pinpointed. The issue even remained after a full OS reinstall.
In the Futuremark PCMark 2004 and 2005 tests, the ABIT NI8 SLI performed equal to or slightly better than the MSI nForce 4 and Gigabyte 955X based mainboards. In the encoding test, we find all three boards essentially tied, with a 0.6% spread between them.
Memory Performance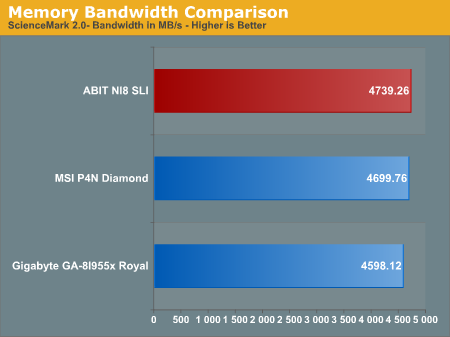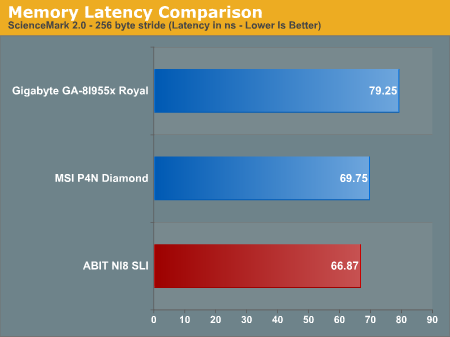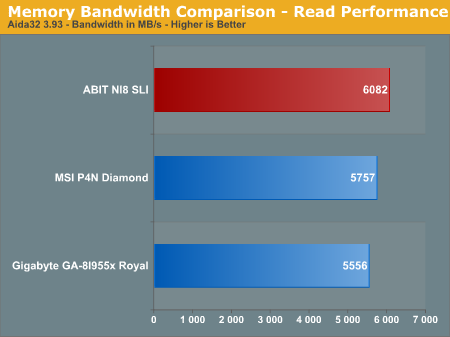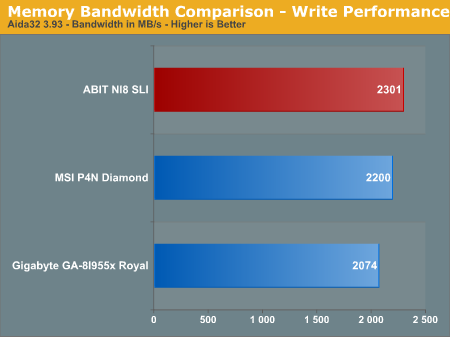 The memory testing illustrates a strong point that has been a staple of ABIT boards in the past -they develop great system bandwidth. Our results certainly were assisted by the low latency Corsair DDR2 running at 3-2-2-8 1T timings, but as will be illustrated later in our gaming performance benchmarks, the NI8 SLI also takes advantage of this superior bandwidth.
DX9 Gaming Performance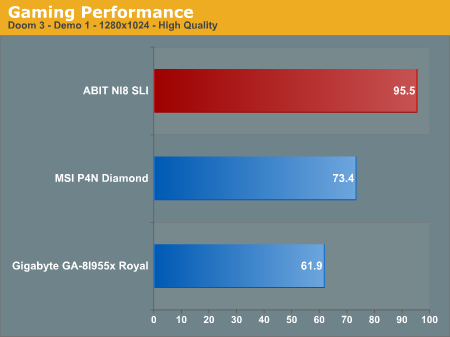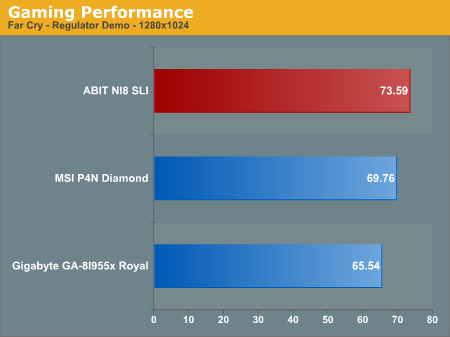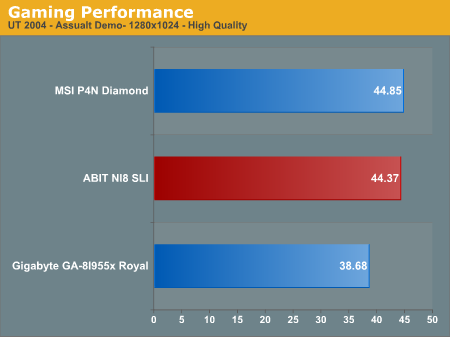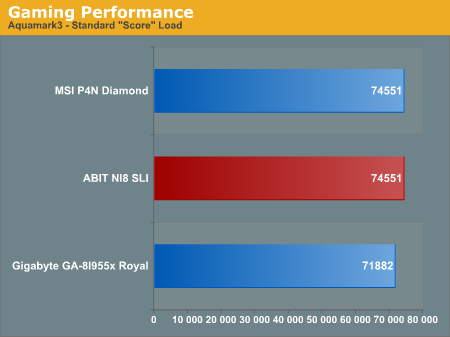 One of the strong points of this board is indeed its gaming performance. When this board and the graphics card were run at stock specification speeds, they equaled or surpassed their competitors in our testing. In Doom 3, the margin was quite wide and we had to rerun the bench several times to verify its authenticity. We believe that the superior system bandwidth coupled with the Forceware beta 78.05 drivers certainly contributed to this overall score. In AquaMark3 the score was exactly that of the MSI based system. As has been the case in recent years, ABIT has tuned this board particularly well towards the gaming segment.
DX8 Gaming Performance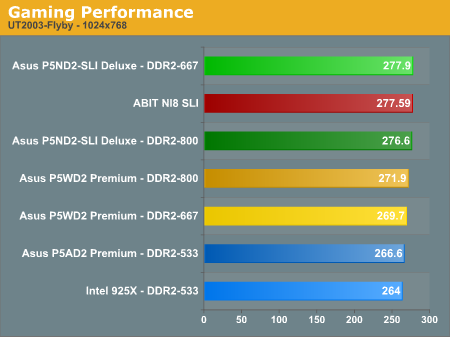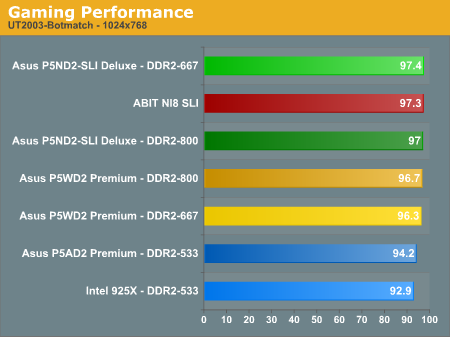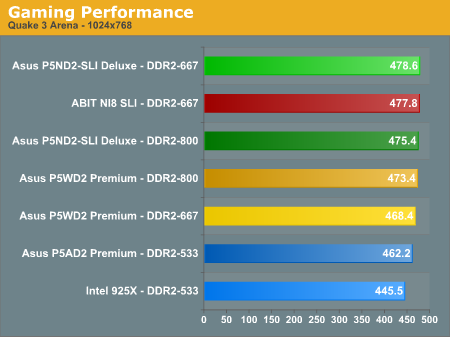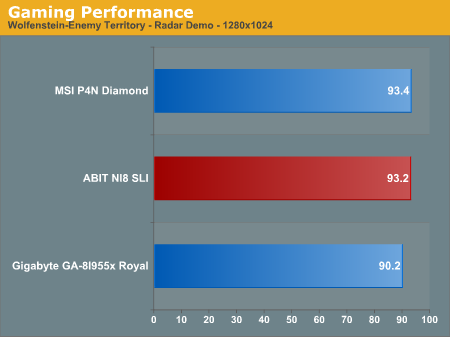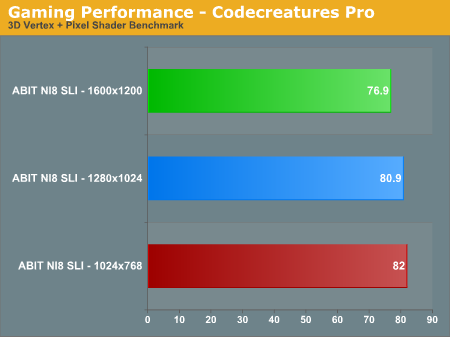 Again, the ABIT demonstrates its excellent gaming roots and runs near the top of the DX8 benches when compared to its peers.
3D Workstation Performance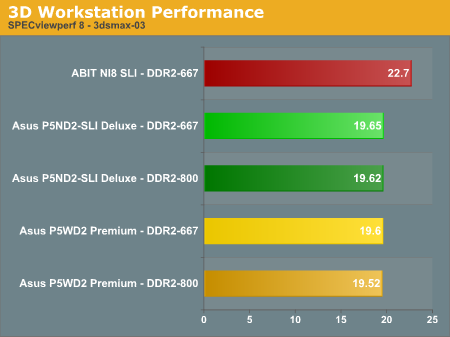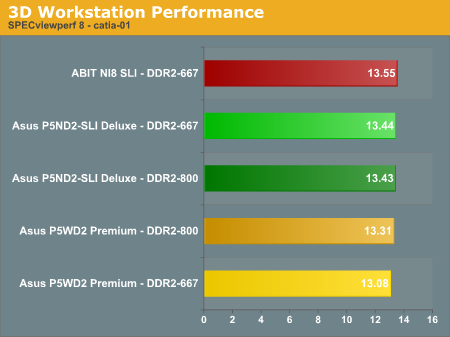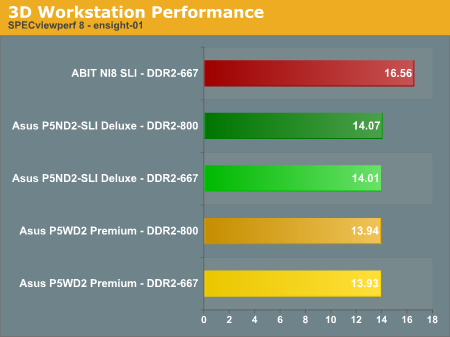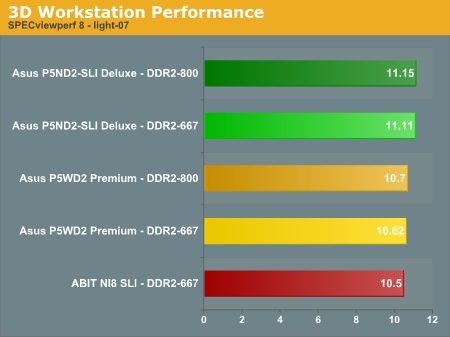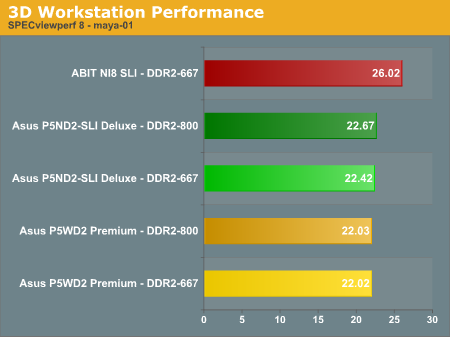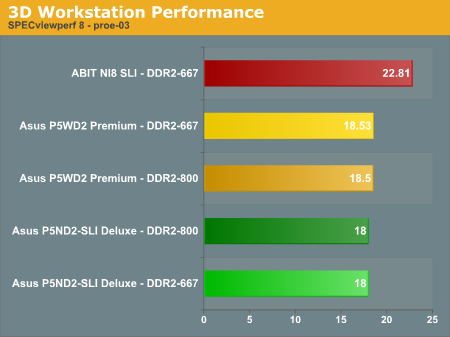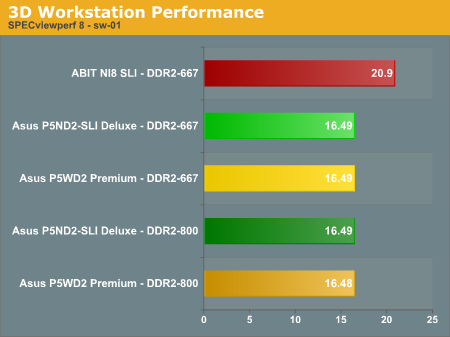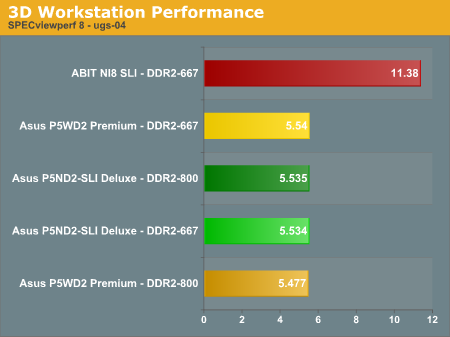 The superior Workstation performance involves two parts: the ABIT NI8 SLI coupled to the 3.2Ghz D840 EE Dual core. The other boards tested in our Worstation suite used a 3.6GHz standard single core solution. This is not an apples-to-apples comparison, like our other test results, but is more to illustrate now strong the slower dual-core performs compared to a faster single-core CPU.
In all tests except light-07 this setup indeed proved dual core has advantages in workstation performance even though workstation code is single channel.
Overclocking performance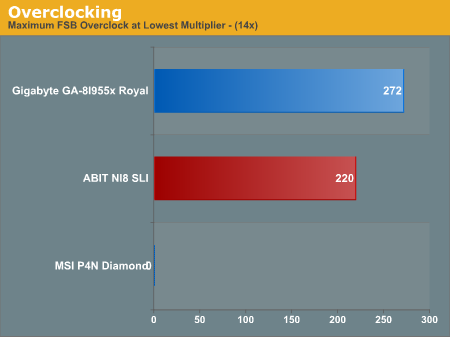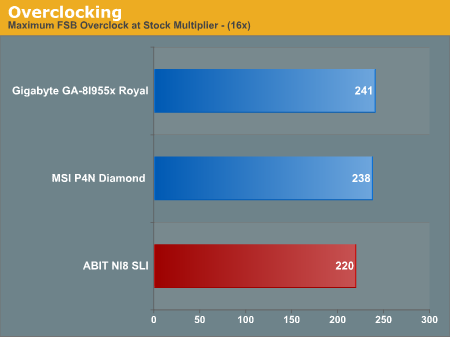 Maximum overclock data was added to Performance graphs beginning with the nForce4 SLI roundup several months ago. The overclocking performance graphs should allow for better comparison of the overclocking capabilities of tested boards. For more details on the specific overclocking abilities of a specific board, please refer to the Overclocking and Memory Stress Test section of individual board reviews. These charts illustrate a comparison to both Intel nForce4 boards as well as 955X based boards. As clearly as can be discerned, the ABIT was the poorest Front Side Bus overclocker of all current C19 and 955x based boards tested here at AnandTech.
Disk Controller Performance
HD Tach
(version 3.0.1.0)
MCP-04 controller
Silicon Image 3132
Random Access Time
9.1ms
8.9ms
Read Speed average
50.3 MB/s
50.2 MB/s
Read Burst Speed
100.2 MB/s
99.5 MB/s
In our testing of both the MCP-04 and Silicon Image 3132 SATAII controllers, the 3132 has the slight edge in Random Access Time whereas the native MCP-04 has a slight advantage in the Read Speed and Read Burst Speed categories. With the WD 36GB 10,000 RPM Raptor controlled by either solution, this board provided very quick load times and system boot-up.
Ethernet Performance
Although we didn't run an official bench test on the Vitesse controlled Gigabit LAN provided onboard, we did measure real world download of a game from an online E-tailer. The results were some of the fastest download speeds of any system ever on my test bench. Hooked to my standard Road Runner 1.5M down connection, download speeds of the 2.5GB game reached and held steady at 754kb/s. Other systems utilizing Gigabit LAN on the bench have downloaded at respectable speeds in the 400-600kb/s range previously.
Audio Performance
For audio testing. we used Rightmark 3D Sound CPU utilization test, which is the same benchmark run in our earlier nForce4 SLI and Ultra roundups. This benchmark measures the overhead or CPU utilization required by a codec or hardware audio chip.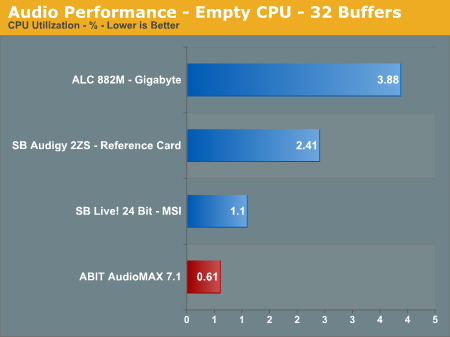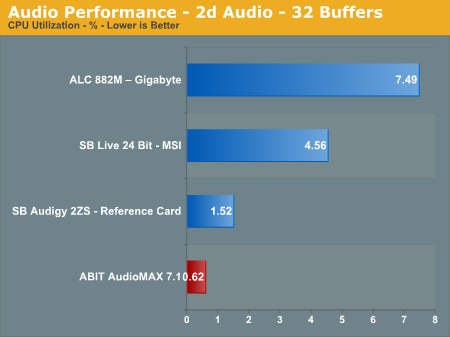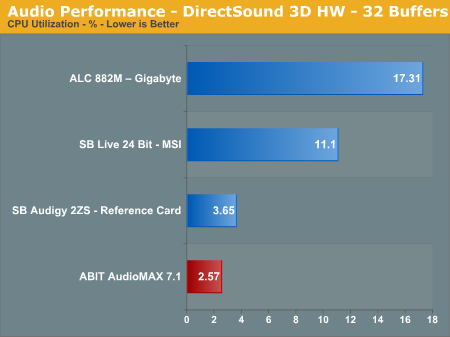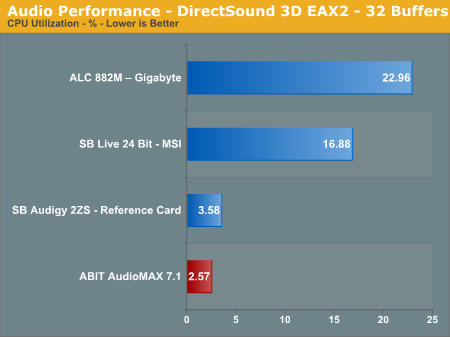 ABIT's AudioMAX 7.1, with Realtek ALC850 chipset aboard, running in a dedicated audio slot delivered astonishingly low CPU utilization in all tests. Being skeptical of the results,the test was repeated, as we tracked CPU utilization separately in Windows, apart from the Right3D sound tests, and verified the RightMark results. It appears that ABIT did their homework in designing this audio solution, as these are the lowest CPU utilization numbers seen in years of testing.
Final Words
From a gaming and workstation performance standpoint, the NI8 SLI is an excellent example of great engineering from the ABIT team. Their efforts in the Fatality line and efforts from the past have culminated in a nice first effort for the Intel enthusiast. Business performance was a mixed bag in our test results, but this was more likely a reflection of slightly different test methods than a reflection of true performance differences. Still, at the very least, Business Performance of the Abit NI8 SLI is still acceptable when coupled with the P4 D840EE.
The big disappointment for this editor was the board's inability to overclock the FSB with stability beyond 220 MHz. Though the board is a clear winner as far as being able to overclock the memory independently, the inability to scale FSB inhibits the NI8 SLI from being able to increase system bandwidth to levels that we know that our test CPU can reach.
The layout of the board leaves something to be desired in regards to the Silicon Image controlled SATA 5+6 ports along with the bottom-mounted floppy connector. From a component standpoint, the inclusion of excellent capacitors and electrical components are exactly what you expect from a premium board that cost nearly $200, and they provided rock stable operation over the course of testing and evaluation. What you may not expect in a $200 board is the missing IEEE1394 ports. There is not a single Firewire port on the board. Abit must have decided gamers don't own or use digital video equipment.
The Silent OTES north bridge cooling solution, while an adequate cooling solution, does get extremely hot and the recommendation to anyone buying this board is to make sure that you have adequate airflow in your case for the long term. Though there were no severe thermal problems over the short term of testing, you are left with the strong suspicion that the generous heat from the C19 northbridge could in time cause stability problems, especially if one is gaming at a LAN party for long periods of time.
Finally, the AudioMAX 7.1 sound solution appears to be a new front runner in low CPU utilization. With its use of a dedicated audio bus and its multiple connection possibilities, it may just be the new OEM bundled audio winner.