Original Link: http://www.anandtech.com/show/1795


NVIDIA announced today the introduction of an Integrated Graphics chipset for the AMD Athlon 64 processor. The GeForce 6100, the new NVIDIA chipset, brings a number of firsts to the market. According to NVIDIA:
The GeForce 6100 series is the first 90nm GPU to hit the market.
The nForce 400 series Southbridges, which are combined with the 6100 Northbridge, are the first NVIDIA chips to support Azalia (HD Audio).
The GeForce 6100 is the first to support high-definition video while still providing customers the ability to offer component-out, composite-out and S-Video-out jacks right on the backplane.
First UMA (memory sharing) solution to support both DirectX 9.0 and Shader Model 3.
Optimized for digital media applications such as Daz Studio and Pinnacle Studio 10, along with mainstream games such as Sims2 and Lego Star Wars.
Boards are all micro-ATX, and many manufacturers plan living room/convergence boxes that look more like video/hifi components than computers.
Chipsets are now available to OEMs for board manufacturing and system building. Motherboards and Systems should be available for sale in early October.
The GeForce 6100 Family
There are two Northbridges, the 6100 and the 6150, and 2 Southbridges, the 430 and 410, that can be mixed and matched to cover a wide range of Integrated Video Solutions.
Specifications:
NVIDIA GeForce 6150
NVIDIA nForce 430
NVIDIA GeForce 6100
NVIDIA nForce 430
NVIDIA GeForce 6100
NVIDIA nForce 410
CPU
Athlon 64 or Sempron
Athlon 64 or Sempron
Athlon 64 or Sempron
PureVideo (High Definition)
Yes
Yes
Yes
DirectX® 9.0 Shader Model 3.0 Support
Yes
Yes
Yes
TV Encoder
Yes
No
No
TMDS/DVI
Yes
No
No
Graphics Clock
475 MHz
425 MHz
425 MHz
PCI-Express
1x16
2x1
1x16
1x1
1x16
1x1
MPEG-2/WMV9 Playback
HD(1080p/1080i)
SD
SD
Video Scaling
High Quality(5x4)
Basic (2x2)
Basic (2x2)
SATA/PATA drives
4/4
4/4
2/4
SATA speed
3Gb/s
3Gb/s
3Gb/s
RAID
0,1,0+1,5
0,1,0+1,5
0,1
NVIDIA MediaShield
Yes
Yes
Yes
NVIDIA ActiveArmorTM Firewall
Yes
Yes
-
Ethernet
10/100/1000
10/100/1000
10/100
USB ports
8
8
8
NVIDIA nTuneTM Utility
Yes
Yes
Yes
While nVidia did not include this specification in their release, there is one large potential negative with GeForce 6100. 6100 uses only 2 pixel pipelines, the same number of pixel pipelines used in ATI's Radeon Express 200. Since the gaming performance of the ATI was barely acceptable, even for the low end, the performance of the 6100 is not likely to be very exciting.
On the positive side, GeForce 6100 does NOT automatically disable on-board graphics when a PCIe Graphics Card is inserted. That means the integrated graphics plus graphics card can drive up to 4 monitors if the motherboard supports both integrated video outputs. This is also a feature on the ATI Radeon Xpress200 chipset.
The most feature-laden combination is the GeForce 6150 with the nForce430, including unique features like TV Encoder, High Definition (1080ip/1080i) playback, and Gigabit LAN.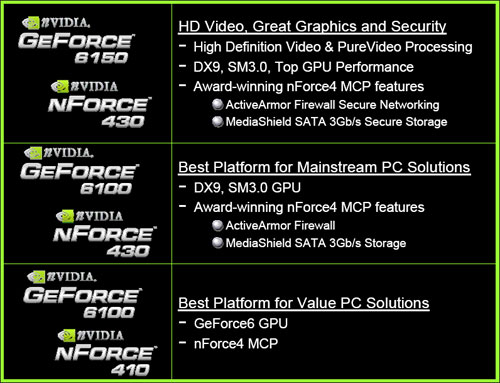 More basic configurations are available for use in applications where the top features are not needed, or price is a big concern. NVIDIA has no plans to provide SLI capabilities on the GeForce 6100 boards. The boards are ATX and aimed more at the mainstream market served by system builders, system integrators, and OEMs.
GeForce 6100 Chipset
nForce 3 and nForce 4 are single chip solutions. With the GeForce 6100 series, NVIDIA returns to a two-chip solution.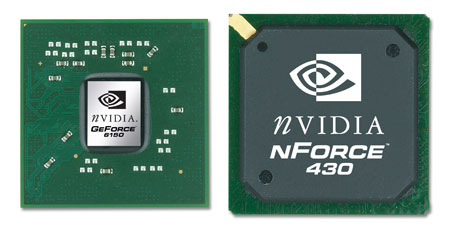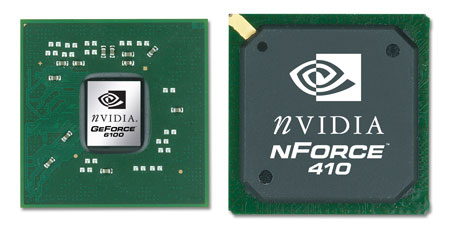 The GeForce6100/6150 provide integrated graphics support and PCI Express. The 430/410 MCP, NVIDIA's name for their Southbridges, provides the rest of the peripheral support including integrated LAN, IDE, SATA, USB and support for both high-definition Azalia and AC'97 audio.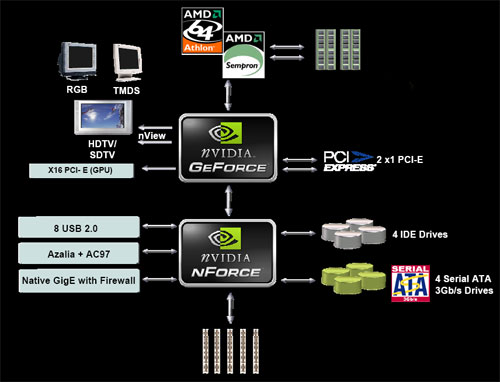 Motherboards and systems are expected in early October from a wide cross-section of manufacturers. Two of the earliest boards are expected from Asus . . .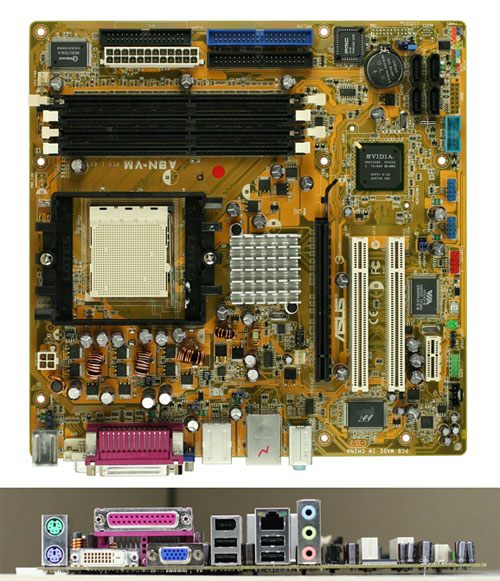 . . . and Gigabyte..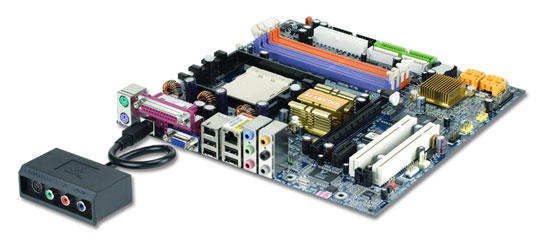 Our Take
NVIDIA C51 has been expected for quite a while. Without a real integrated graphics solution for the AMD market, NVIDIA had allowed that market segment to be controlled by ATI on the higher end and SiS on the lower end. Now that NVIDIA is introducing its own AMD Integrated Graphics solution, you can expect this market segment to heat up even more.
NVIDIA tells us that boards will be available in early October, but we have already seen at least one motherboard available online. Priced at just $80, the
Biostar Tforce-6100
is a value oriented board. If you're interested in the more feature-rich 6150+430 configuration you will have to wait a bit longer. We should see more products hit the retail market in the near future.
Some of the options on NVIDIA's new chipsets are unique and promising, like the support for high definition Azalia audio and HDTV output in 1080i format. These features look very promising for multimedia PCs, a market also targeted by ATI with their Integrated Graphics.
There are also some disappointments in the 6100. No one expects the GeForce 6100 to be the choice of a gamer, but there was hope that nVidia would improve performance by using 4 pixel pipelines in the 6100. Instead, the shipping 6100 is only 2 pixel pipelines, the same as the ATI Radeon Xpress200. NVIDIA passed on the opportunity to bring 6200 level Graphics to integrated video. They have promised that most "mainstream" games will be playable on the 6100 series, but we are skeptical with just 2 pipelines.
We will be talking more about the GeForce 6100 when we get our hands on actual motherboards and systems. At this point, it looks as if the 6100 is stiff competition for ATI. In the end, competition brings value and even more innovation. It looks as if AMD Integrated Graphics will now be a hotly contested market, and that's good news for buyers of mainstream Athlon64 systems.