Original Link: http://www.anandtech.com/show/1791


Introduction
Our last look at a drive from Pioneer, which was the
DVR-109D
, turned us off a little because of the lack of performance that we saw in its predecessor back in our
Fall 2004 DVD roundup
. In the fall, Pioneer's unit came in just behind NEC's ND-3500A with its speed and quality over the rest of the lineup.
This time around, we would like to expect that Pioneer's firmware team has taken past performance into consideration and have made improvements to their release firmware, version 1.08. Now, firmware changes from time to time, some with additional features and others in speed and quality improvements. But there are those firmware releases that introduce new issues, which can cause drives to perform even worse than the previous version.
A few weeks ago, we tested Plextor's new budget drive, the
PX-740A
, which is based on
BenQ's DW1640
. The PX-740A performed just like the DW1640, which is not a bad thing at all. Today, we will compare the DVR-110D from Pioneer to Plextor's PX-740A along with drives from our Summer 2004 DVDR roundup to see how it matches up.
Special thanks to Marken Communications for supplying us with Verbatim brand test media.
Special thanks to Antarra Communications for supplying us with Ridata brand test media.
About the DVR-110D
Here is what Nero's InfoTool utility shows about the DVR-110D: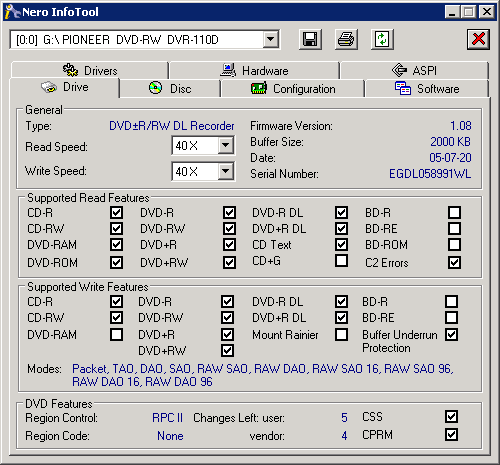 And here's a snapshot of DVD Info Pro's main screen:
Chipset Information
The DVR-110D uses NEC's D63645GM chipset to enable the higher dual layer write speeds. This may be a show of what's to come: NEC branded burners soon. Hopefully, we can see improved quality of read and write processes over the last model that we looked at from both of these manufacturers.
Pioneer DVR-110D Feature List
DVD Write Performance
DVD+R
2.4x, 4x, 6x, 8x, 12x, 16x (CAV)
DVD+RW
2.4x, 3.3x, 4x, 6x, 8x (ZCLV)
DVD+R DL
2.4x, 4x, 6x, 8x (ZCLV)
DVD-R
1x, 2x, 4x, 6x, 8x, 12x, 16x (CAV)
DVD-RW
1x, 2x, 4x, 6x
DVD-R DL
2x, 4x, 6x, 8x (ZCLV)
CD Write Performance
CD-R
4x, 10x, 16x, 24x, 32x, 40x (CAV)
CD-RW
4x, 10x, 16x, 20x, 24x, 32x (ZCLV)
Media Read Performance
DVD (Single, Dual, +/-R, +/- R DL, +/-RW, RAM)
16x, 12x, 12x, 8x, 8x, 2x
CD (ROM, -R, -RW)
40x, 40x, 32x
Supported DVD Modes and Formats
DVD-ROM (single layer and DL), DVD-R, DVD-RW, DVD+R, DVD-R DL (Dual Layer), DVD+R DL (Double Layer), DVD+RW, DVD-RAM (Non-cartridge DVD-RAM Version 2.0/2.1 only)
Supported CD Modes and Formats
CD-ROM(Mode 1), CD-ROM XA Mode 2 (form1, form 2), CD-DA, CD-Extra (CD Plus), Video CD, PhotoCD (single/multi-session), CD-Text, CD-R, CD-RW (High-speed CD-RW, Ultra Speed CD-RW)
Access Time
-
Buffer
2MB
Interface
IDE: ATAPI PIO Mode 4, Multi word DMA Mode 2 16.6 Mbytes/sec. Ultra DMA mode 4 66.6 MBytes/sec.
The Test
Our benchmarks include a few tests to show the performance of each of our test drives. We first use Nero CD-DVD Speed to create a data disc, which tests the write capabilities/performance of the drive. We then run a transfer rate test to benchmark the read capabilities as well as verify the data on the disc.
Finally, we use our Plextor PX-712A drive to read the media for PI/PO errors. According to the ECMA standard:
A row of an ECC Block that has at least 1 byte in error constitutes a PI error. In any 8 consecutive ECC Blocks the total number of PI errors before correction shall not exceed 280.

A row is 182 bytes long where the last 10 bytes contain PI (Parity Inner) information. An ECC block is 208 rows long where the last 16 rows contain the PO (Parity Outer) information. This gives us a maximum possible PI error amount of 208 errors per block and for 8 blocks after each other this sum is of course 8 times higher giving a maximum possible amount of 1664 PI errors.

If a row of an ECC Block contains more than 5 erroneous bytes, the row is said to be "PI-uncorrectable" or PIF (Parity Inner Failures).

In any ECC Block the number of PI-uncorrectable rows should not exceed 4.
Now, some writers may create discs with more than 208 PI errors and they are not necessarily unreadable, but they are not the best quality discs around.
Our test bed:
AMD Athlon 64 3500+ (2.2Ghz )
Giga-byte GA-K8NXP-SLI
NVIDIA 6600GT SLI Edition (single 128MB card)
1GB (512MBx2) Corsair XMS4400
Plextor PX-712A, Firmware v1.07
Microsoft Windows XP SP2
Nero CD-DVD Speed 4.00
PlexTools Professional XL 3.03
We are testing the Pioneer DVR-110D with firmware version 1.08. We cannot guarantee that this will be the latest firmware out at the time that this review is published, so do take that into consideration when making your buying decisions.
Again, we have taken all of your feedback into consideration and have decided to go back to focusing more on the write quality of each media instead of just the write speeds. Our results are displayed on the following pages. The screenshots are again ZIPed into packages corresponding to the type of media.
DVD+R Media
We have a total of 4 types of DVD+R media tested with the DVR-110D.
MCC 004
Our first test was disappointing, and a bit of a tease as well. We have seen Pioneer's performance in the past and it has generally not let us down. The failed write of MCC 004 media, however, makes us wonder what the DVR-110D really has to offer us.
Take a look at the drive's theoretical write performance compared to the others.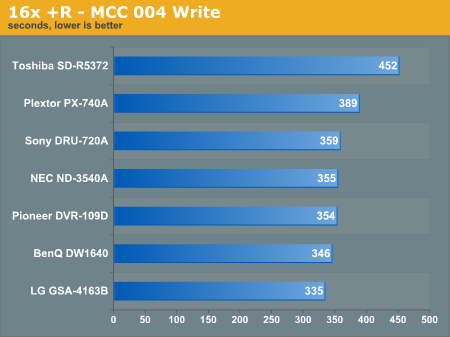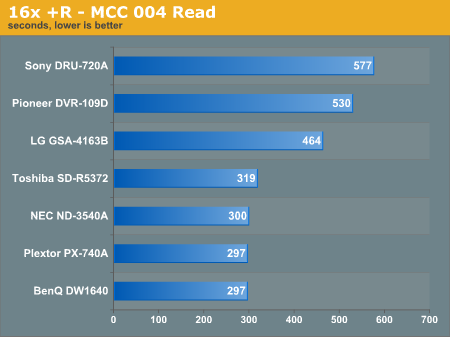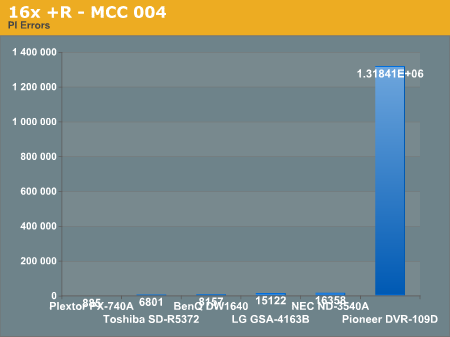 Plextools reports 27,730 PI errors, but all are spread over the course of the disk in the first 3GBs of the media, which is definitely not enough to get in the way of a successful read. Towards the end, though, we see a greater concentration of PI errors, but even this is not much to render the disk unreadable.
Ritek R04
Though the DVR-110D completed the write process on the Ritek 16x media, it only wrote at 4x throughout the entire burn, taking 14:53 minutes to complete using the CLV method and an average speed of 3.96x.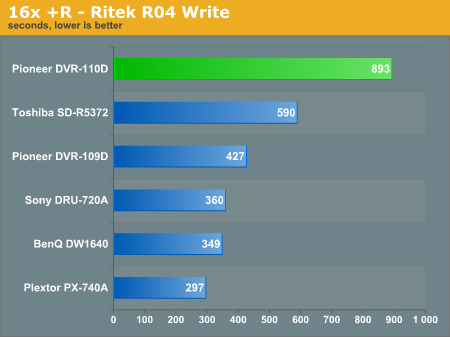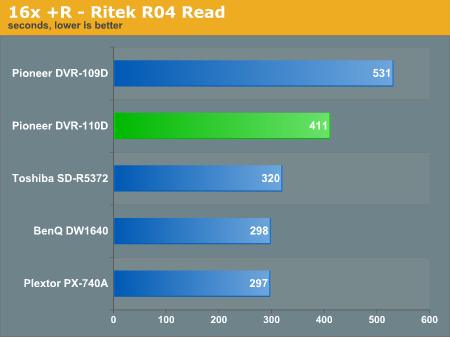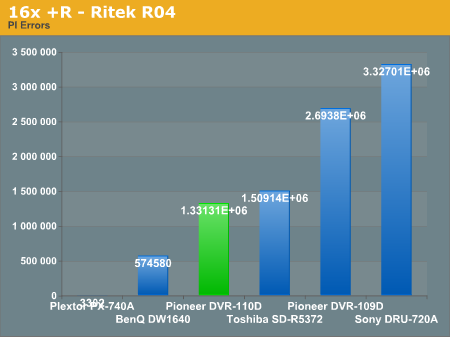 Reading back the R04 media, we see that the write was successful, but the DVR-110D struggled to read the media after the 3.5GB mark. It took the DVR-110D 6:51 minutes to read this media. PlexTools also shows a high number of PI errors, increasing as the read continues and showing a peak number of PI errors around the 3.5GB mark. This gives us some idea of why the read back in the DVR-110D suffered around the 3.5GB area of the media.
VDSPMSAB 001
Our low quality media kept the drive working as it never hit above 2.4x write speeds (average of 2.37x) throughout the write process. We should give the DVR-110D credit for at least completing the burn successfully.
The read back also showed a successful write, though the speed of the drive dropped from about 12.5x to just over 5x, just past the 4.2GB mark.
The screenshots of Nero's CD-DVD Speed and Plextor's Plextools can be downloaded
here
.
DVD-R Media
And now, some DVD-R media…
AN31
The DVR-110D performed better on the AN31 media, writing at the full 4x speeds at which the media was rated. We did not expect the DVR-110D to exceed this speed due to the lower quality of the media. The complete write took a few seconds over 15 minutes at 4x speeds, while reading back the media took 6 minutes and 37 in change.
MCC 03RG20
"Here we go, back to some high quality Verbatim media that took a successful write and helped the drive produce a successful read of the disc, finishing off at 16x write speeds." That's what we said in our look at the PX-740A, but we can't say the same for the DVR-110D. For some reason, this drive has issues with media between the 3.5-4GB range. The write just gave up around 3.8GB and we had to stop it manually. Of course, we tried another disc, but it gave us the same results.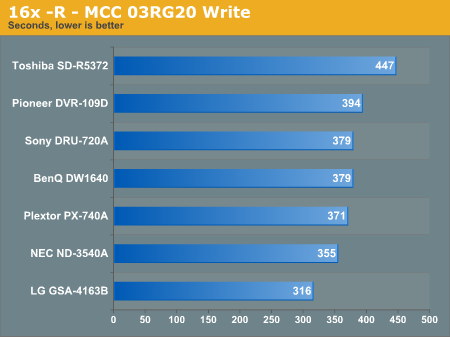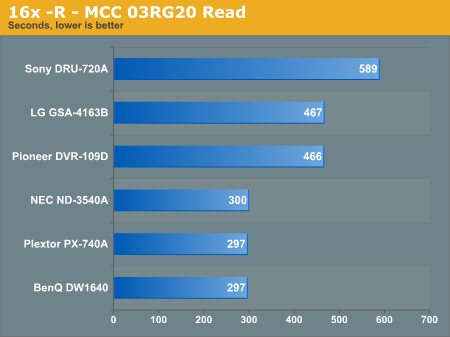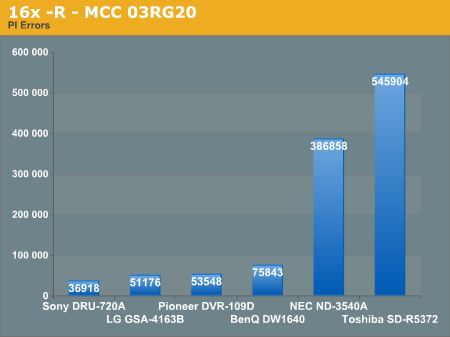 For giggles, we read back this disc on the drive that showed a flawless read up to the point that it had given up the read. During our PlexTools scan, we noticed a huge leap in PI errors towards the "end" of the write. You can see the screenshot by downloading the package at the link below.
TYG03
By reader demand, we are introducing Taiyo Yuden media into our testing, beginning with DVD-R media. Take a look at how the DVR-110D performed in it.
The screenshots of Nero's CD-DVD Speed and Plextor's Plextools can be downloaded
here
.
DVD+/-RW Media
Here are samples of the rewritable DVD media:
Ritek 008 (DVD+RW)
Ritek's 008 media…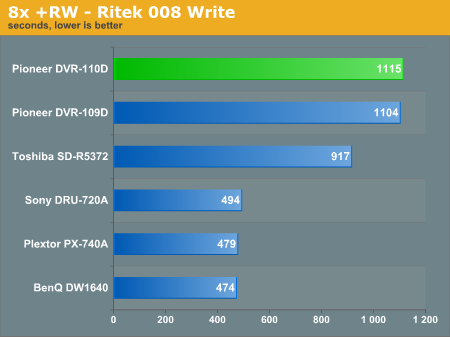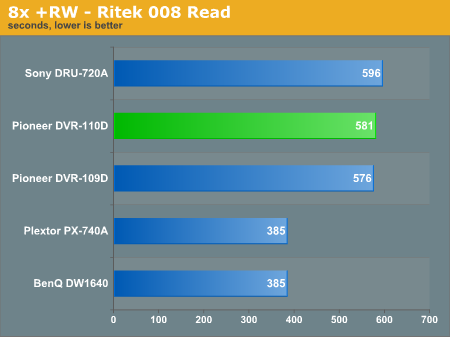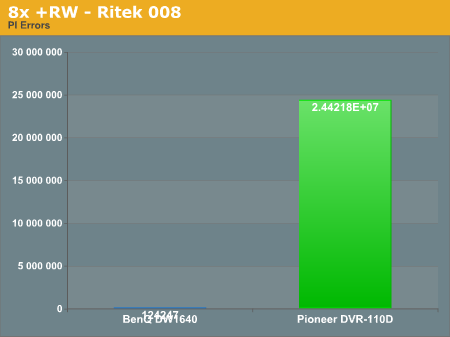 Ritek W06 & MKM 01RW6X0 (DVD-RW)
Write results…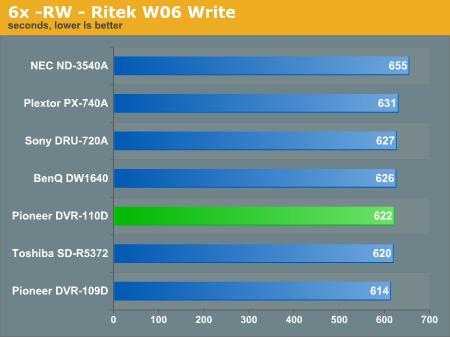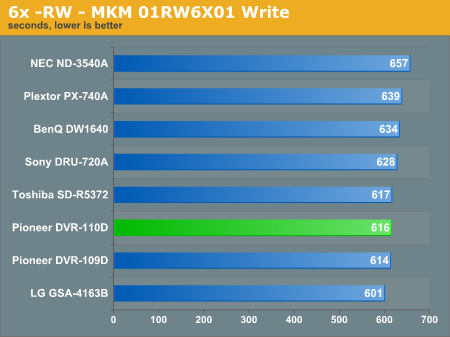 Read and PlexTools scans…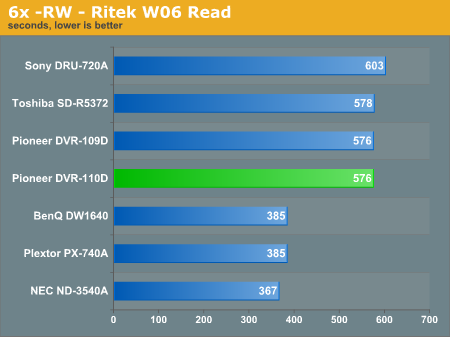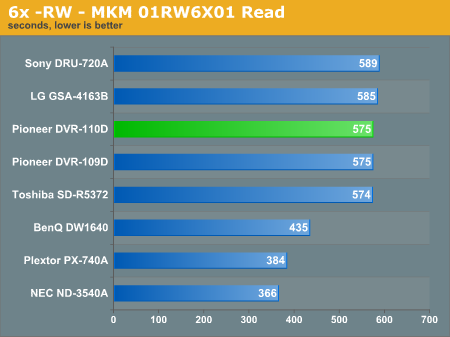 The screenshots of Nero's CD-DVD Speed and Plextor's Plextools can be downloaded
here
.
DVD+/-R Dual Layer Media
MKM 001 (DVD+R DL)
This is where the greatest improvement has been implemented in the DVR-110D. Pioneer's utilization of the new NEC chipset introduces 8x dual layer write capabilities, which shows much promise. The CAV write process began at 6x and kicked up to 8x at around the .6GB mark, then back down to 6x at the 3.2GB mark. This pattern is then repeated over the second layer without any issues.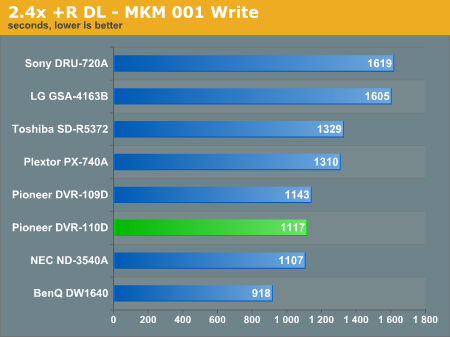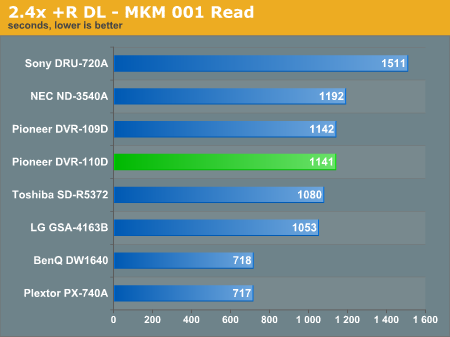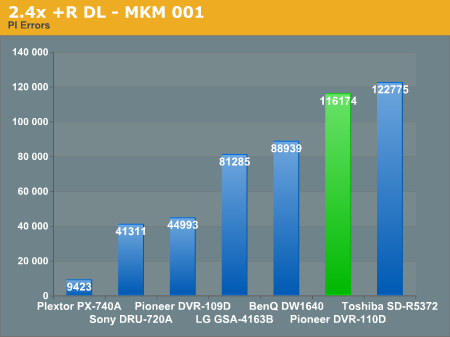 Here, the read back on the DVR-110D shows a perfect write as it can read all parts of the disc back flawlessly. The PlexTools scan shows some randomly scattered peaks in PI errors on the second layer between the 6GB and 7GB marks, but the disc is still completely readable.
MKM 01RD30 (DVD-R DL)
The –R version of Mitsubishi's dual layer media performs identically to the MKM 001. The speed patterns are almost exact copies here with a slight variation in the average write speeds over the course of the media.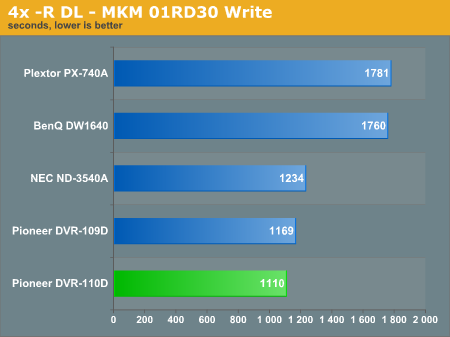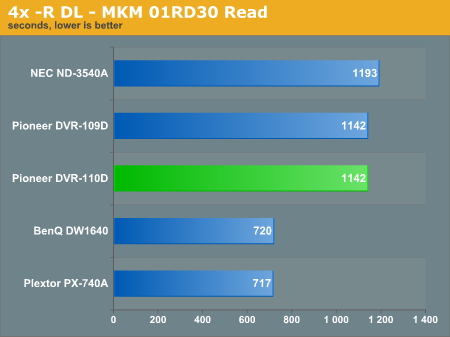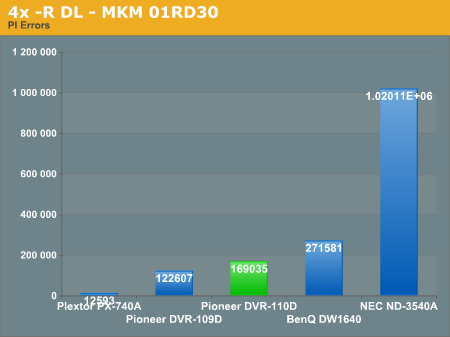 The read back on the DVR-110D shows the same results, but the PlexTools scan reports differently. The majority of PI errors are concentrated on the second layer, still between the 6GB and 7GB marks, but in greater frequency. Still, the disc is completely readable.
The screenshots of Nero's CD-DVD Speed and Plextor's Plextools can be downloaded
here
.
CD-R Media
FujiFilm CDR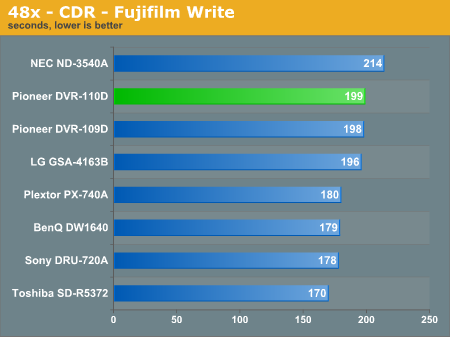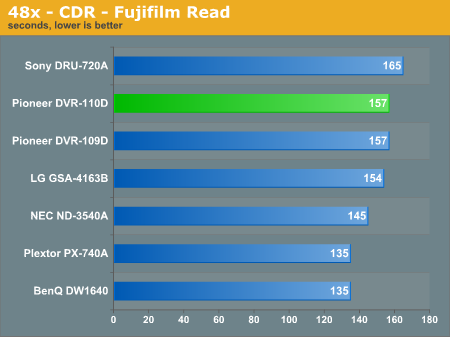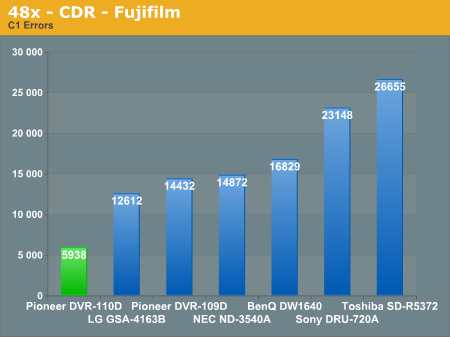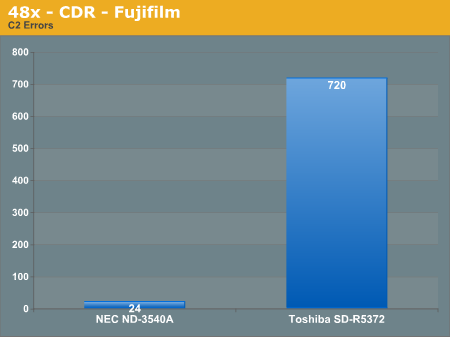 The screenshots of Nero's CD-DVD Speed and Plextor's Plextools can be downloaded
here
.
Final Words
The DVR-110D released with its 1.08 firmware is not the worst drive that we have seen, but it does not live up to our expectations. The failed write on the MCC 03RG20 and TYG03 media broke our hearts, since they are rated high on the list for quality.
However, we cannot expect too much out of a first release firmware. Pioneer's firmware teams do have to feel out the wrinkles, and after giving some time to iron them out, we should see higher performance. The media to which the DVR-110D was able to write successfully was completely readable, with exception to the low quality AN31 and VDSPMSAB 001, and the PlexTools scans proved this when we saw 0 uncorrectable errors and a low frequency of PI errors.
At the time that these results are published, there may be a newer firmware out for the DVR-110D and in no way should this review be the only deciding factor in your purchasing decision of a DVDR drive.
For now, BenQ's DW1640 and Plextor's PX-740A still perform better than any other unit out there in both speed and quality across all types of media. We cannot yet recommend the DVR-110D because of the handful of failed writes to the higher quality media, but time and future firmware updates will tell if Pioneer can still keep up.
Special thanks to Marken Communications for supplying us with Verbatim brand test media.
Special thanks to Antarra Communications for supplying us with Ridata brand test media.