Original Link: http://www.anandtech.com/show/1762


In what we're hoping will be the most exciting IDF in the past 5 years, Intel kicked things off with a proud announcement that growth in the technology industry is back.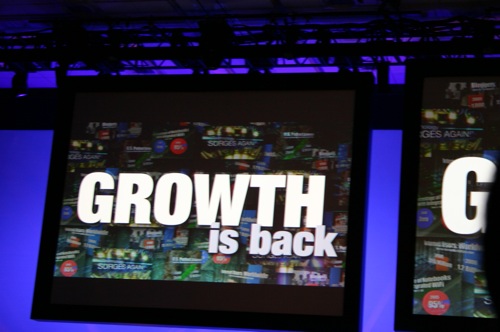 Immediately following the dot-com bust, almost all of Intel's IDF keynotes had slight undertones of despair thanks to the fact that making money just wasn't as easy anymore. However, over the past two years growth in the PC industry has returned to normal and thus Intel is back to their usual, chipper self.
Paul Otellini's keynote started with a few items that have changed in the past few years: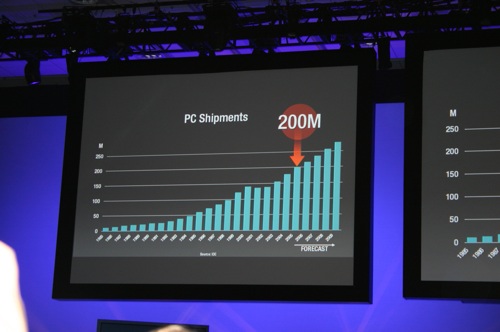 PC shipments have recovered from their slump in 2001 and are on their way to breaking the 200M barrier.
PC notebook shipments have also grown beyond desktop shipments, which Intel attributes to giving users what they want with Centrino: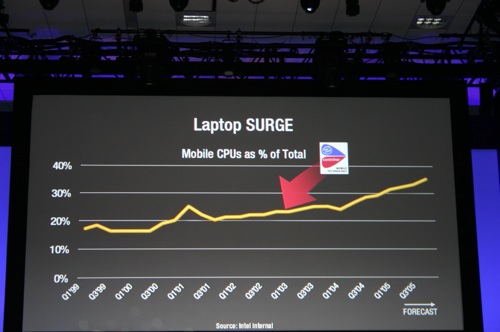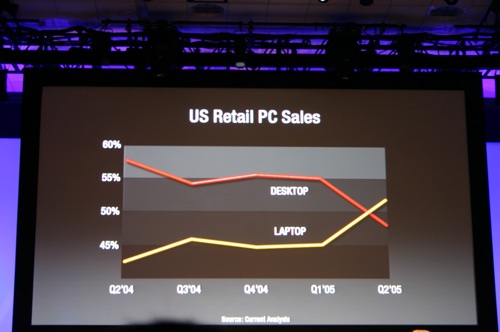 The prevalence of WiFi networks has also increased tremendously. Below we have a picture of WiFi networks in the San Francisco area before centrino:
Each red dot indicates a WiFi network, and now let's have a look at WiFi prevalence in San Francisco: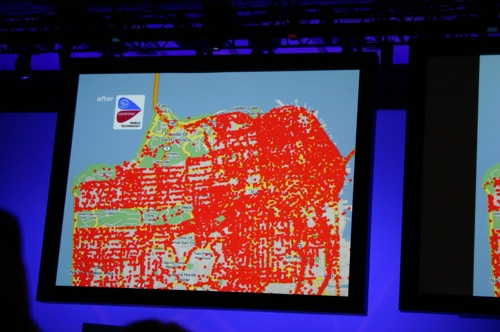 But now let's get to what we're really here for...
Intel's New Micro-Architecture
Of course, the big story of the day is Intel's new focus for microprocessor architectures.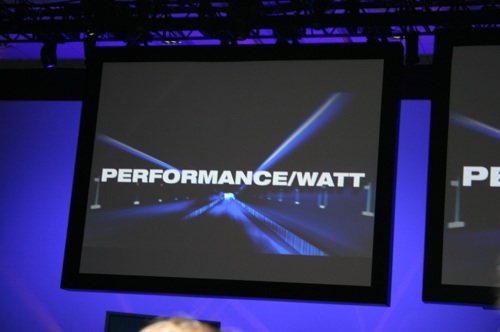 Intel's next microprocessor architecture will finally unify their desktop and mobile architectures, for a new focus on performance per watt as the driving force behind future CPU development.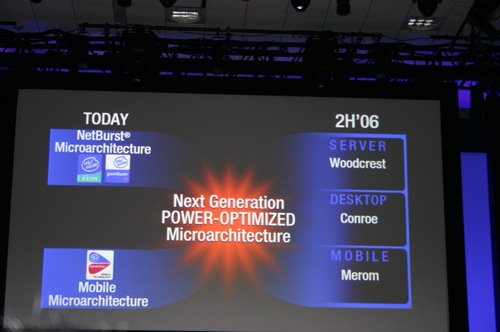 Intel formally announced their first CPUs based on their next-generation microarchitecture: Woodcrest, Conroe and Merom. All of these CPUs will be built on a 65nm process and will be 64-bit enabled.
The new processors will be available in the 2H of 2006 and will significantly improve performance per watt over the current generation processors: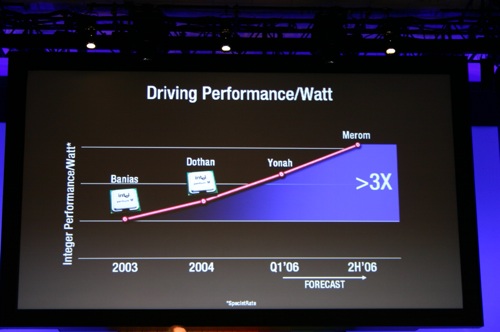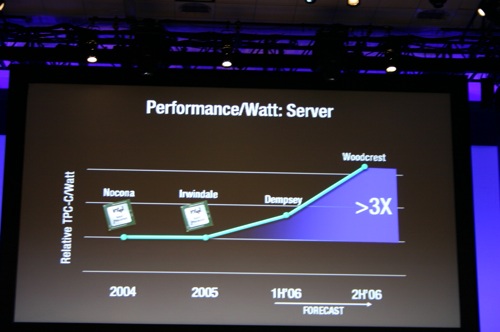 Woodcrest and Merom will both improve performance per watt by a factor of 3 over their predecessors.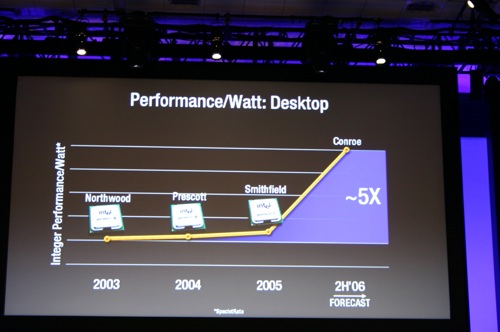 Thanks to the death of NetBurst, Conroe will feature a 5x increase in performance per watt. Here's to the death of the power-hungry Intel processor.
Intel also set power consumption targets for the next-generation of systems based on these new 65nm processors: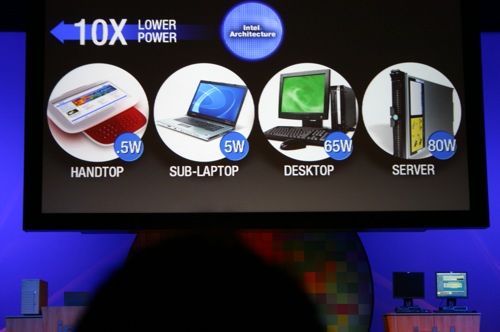 On electrical cost savings alone, PC users will save $1 billion per year for every 100M computers.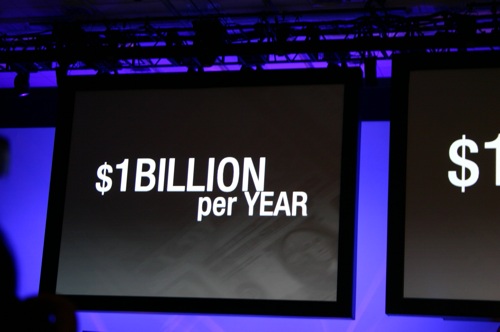 The reduction in power will enable a new class of devices to be created at the 0.5W marker - the Handtop. The Handtop is basically a very small PC, that may end up being what everyone envisioned the Tablet PC as being.
Intel then went on to show off actual running silicon for all of their new CPUs, Conroe, Merom and Woodcrest.
Merom, a dual core mobile CPU, was running 64-bit Windows XP.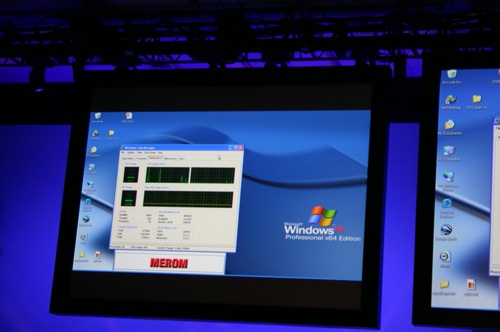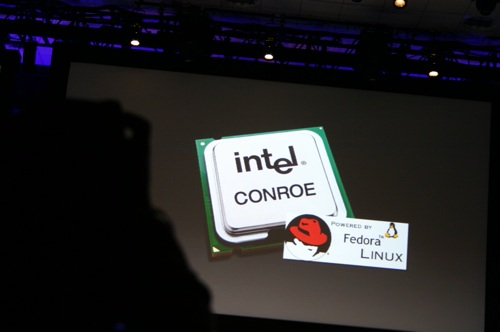 Intel had Conroe running a copy of Fedora Linux. Conroe is also a dual core product: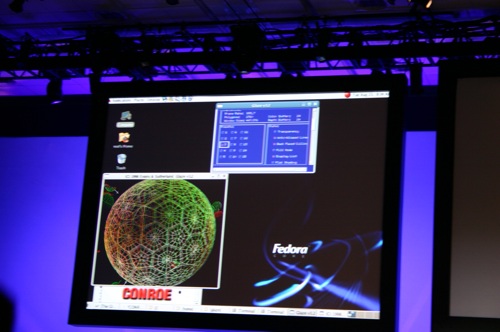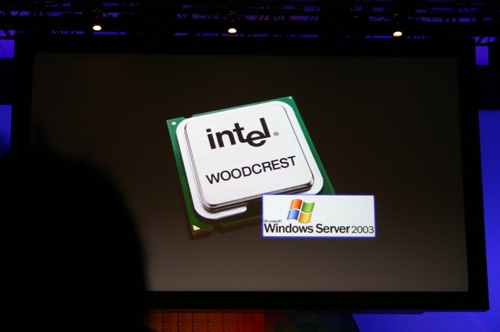 Intel's Woodcrest was running Windows Server 2003 in a DP configuration, with each processor featuring two cores: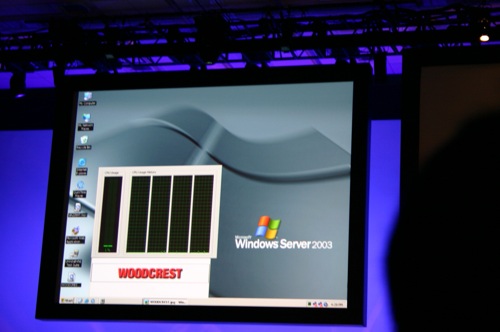 We hope to have more information on Intel's new architecture as the week goes on, so stay tuned.