Original Link: http://www.anandtech.com/show/1754


Introduction
In an ideal world, we would have as much time as we needed in any given day to get all of our tasks done. Our intention was to have finished several SFF roundups by now. Unfortunately, the old cliché about the road to hell being paved with good intentions certainly applies. We've done our best to include all the currently shipping socket 939 SFFs, and that ended up delaying this article several times. We have them all now, until the next batch shows up.
The enthusiast community is currently very pro-Athlon 64, and with good reason. Looking at the feature set and performance, not to mention the frequently lower price, AMD is currently beating Intel in most areas. Some people mistakenly assume that this means that AMD is currently ahead of Intel, but they're really only ahead in one area: performance. Intel still sells more CPUs total - many going to the business sector - and Intel is ahead in the manufacturing and production areas, particularly in terms of total fabrication capacity. For better or for worse, Intel is certainly not out of the picture yet, and the total number of Athlon 64 SFFs is far less than what is available for socket 775. We'll be covering that segment in the future, but if we were personally to go out and buy a SFF right now, it would be an Athlon 64 based system, preferably with socket 939.
That means that this roundup features our preferred platform, so we're looking for the best option of what we have available. When we first started work on this roundup, we only had two shipping products (the Shuttle SN95G5 and the Soltek QBIC 3901-300P). We've now added a couple more Shuttle units, the SN25P and the ST20G5, along with the recently launched Biostar IDEQ 330P. We've already taken
an in-depth look at the SN95P
, and we'll include updated information and performance benchmarks for it in this roundup.
For those who have lost count, that makes this current article a roundup of three Shuttle SFFs, one Biostar, and one Soltek (though there are six or so variants of the Soltek model). Trust us; we're not trying to play favorites with Shuttle. The fact of the matter is that they basically started the whole SFF market back in 2001, and they've continued to focus on it more than anyone else. Shuttle had a prototype SLI setup at the recent Computex, and they probably have a few more AMD designs on the way. Other companies are working on socket 939 systems as well, and we would invite
any
of them to contact us if they would like to have us review their product.
Small Form Factor Reviewing Methodology
The first topic that we want to address is how we conduct our SFF reviews. You may want to refer back to our
478/754 roundup
for more detail, but we've updated our testing methodology a bit. We feel that the SFF market is something of an exclusive market, very similar in some ways to the Apple market. People are willing to pay a bit more for the overall design and aesthetic value of a SFF system. Anyone can put parts into a large ATX case, and many of us do just that. However, some people would prefer a case that is more attractive to look at and less intrusive in the audio spectrum. What we have come up with is a list of items to look at in our SFF reviews, ranked roughly in order of decreasing importance.
Aesthetic value
Noise levels
Features
Construction, durability, and portability
Performance
Expandability
Ease of use (i.e. upgrading)
Many people will feel that our ranking of importance is slightly off, and we want to make it clear that this is not intended as a concrete list. Some of the areas are basically a tie in importance, like the top three. A SFF design that decides to focus on increased performance and expandability is certainly a possibility, and we will take that into account.
It is of course possible to build your own system that is still silent and attractive without resorting to the SFF market. Different power supplies, fans, cases, etc. can help reduce noise levels, but all of that requires a decent amount of effort. By the time that you get a quiet desktop system, the difference in cost between it and a SFF is often relatively small. Appearance is something that is difficult to judge, as what one person likes may be entirely different than what others like. We'll provide our own opinions on the outward appearance of the models, but look at the images and judge for yourselves. What remains is a difference in expandability and size, two items that go hand in hand.
Due to the complexity of reviewing a SFF system, this is going to be a
long
article. It's really separate, condensed reviews of the five systems followed by some benchmarks comparing and contrasting them. So, grab yourself a cup of your favorite beverage and sit back for a long read if you have the time. Otherwise, skip forward to page 13
and get straight to the benchmarks, then go back and read the detailed reviews of the systems that you actually think sound interesting.




Shuttle SN25P
SN25P Flashback
Normally, we proceed in alphabetical order. The reason we're putting the SN25P first is because we've already given it a thorough review and it is the reigning champion of socket 939. We've had more time with it, and some new developments have occurred since the initial making that it is worthwhile to take another look at the SN25P. While it originally earned our Silver Editor's Choice award, the question now is how it stands up to the new contenders.

You'll want to read the earlier review first if you haven't already, as we're not going to do a full review here. We're not including any images either, as nothing has changed other than a few BIOS screens. What we want to discuss are a few updated product launches and how they affect the SN25P. For those of you who want a condensed version, the SN25P is still a very good product and for many people, we continue to recommend it without hesitation. If you've already purchased one and you're running it, there's no real reason to be concerned as performance is very good.


Performance and Overclocking
Since our initial review, some aspects of performance have become slightly better with newer BIOS revisions. Overclocking in particular has improved quite a bit, and we can now confirm that the SN25P runs very well with all socket 939 processors up through the Venice and San Diego cores. In fact, we were able to take a Venice core up to the maximum 300 MHz bus and a 9X multiplier, which comes out as the top overclock for this group of systems. We also had a Venice 3200+ running stably at 2.7 GHz, which is a 35% CPU overclock and better than what we've reached with the same chip on desktop motherboards. Clearly, the cooling solution of the SN25P is up to the task of keeping even the fastest processors within the spec limits.

While we've said that some aspects have improved, we did notice a drop in performance in other areas. If you compare the results published in this article with those of the initial SN25P review, you will find that the scores are not the same. Some benchmarks were a bit faster, and others were a bit lower. In tweaking the BIOS for improved stability and overclocking as well as adding support for X2 processors, Shuttle may have been forced to slow other areas down a bit. Whatever the case, while the latest BIOS appears to be slightly slower, the difference is generally less than a few percent, and the additional features make the BIOS update worthwhile for most users.

Another addition to the BIOS that some people will really like: you can now set the LED brightness level for the front panel from "Off" to "100%" in increments of 12.5%. Those who dislike lights on the front of PC cases - particularly in HTPC configurations - will almost certainly approve of the change. This BIOS setting may have been present before, but it didn't work right. It does now, and the results can be seen in real time - no reboot required. It's the little things that count sometimes.


Processor Support
What about the latest cores, the Toledo and Manchester Athlon 64 X2? That's where we run into some issues. We are currently running all of the units in this roundup through additional tests, focusing on support for the Athlon X2 processors as well as the Venice and San Diego Athlon 64 parts. We'll have full details in the next few weeks, but for now, we can only state that there have been several reports of incompatibilities with the X2 chips and the currently shipping SN25P. They work for the most part, but high traffic loads on the USB2.0 ports appear to "hard" lock the system for many people, and other applications may have problems as well. We've talked with Shuttle about these problems, and they are working to find a solution. Hopefully, by the time we finish our investigations into X2 and 90nm Athlon 64 support, Shuttle will have an updated BIOS that will address the problems.

That's the biggest problem with the SN25P, and depending on your plans for your system, it may or may not be a critical factor in your purchasing decision. Disabling USB2.0 support appears to solve most of the stability issues, so we're hopeful that a BIOS update is all that will be required. Before you run out and buy one of the other 939 SFFs, however, we would suggest caution. All of the units in this roundup were released before the X2 launch, and while all of the manufacturers have released updated BIOS versions to allow them to function with the new processors, we haven't verified stability. We suggest that you check around at some forums before you purchase any of these units with an X2 processor, or else wait for our X2 compatibility update.


Final Thoughts on the SN25P
There are other aspects of the SN25P that we have come to notice during our reviews of the other systems. The SN25P certainly deserves credit for being the first PCIe 939 unit to hit the retail market, but is being first the same as being best? In retrospect, the SN25P actually continues to stand up well. The design is well thought out, the features are right, and performance is also good. The X2 support is the only serious blemish, but there are a few other things that we would like to see addressed.

First, the system has five fans keeping it cool, and most people will add a sixth in the form of their graphics card. Making a silent system with six fans is probably not possible, unless you unplug several of the fans. While we don't fault the SN25P for the inclusion of so many fans - cooling is among the best in the business, and overclocking scores reflect this - we would like to see some modifications for future XPC designs. The use of two 40mm fans at the rear of the case is one thing that we'd like to see changed. We simply haven't had a lot of positive experience with small fans; they have to spin faster to move the same amount of air as larger fans, and that, in turn, creates more noise. Several 40mm fans that we've used - including one in this Shuttle as well as another in the PC-Club Silencer - developed a slight vibration as well, which is extremely annoying and often requires you to replace the fan. It's not an easy change to make to the P chassis, but optimistically, Shuttle can avoid the use of smaller fans in a future "large SFF" chassis. A single 60mm fan would actually have a larger area than two 40mm fans, and hopefully, it would be less likely to have vibration or bearing whine problems.

Going along with the fans is the noise that they make, and rising ambient temperatures during the summer months have certainly had an impact on noise levels from the SN25P. When we reviewed it in early March, it was generally very silent. In July, we noticed that the fans were being kicked into higher RPM states a lot more frequently than before. You'll notice in our noise benchmarks that the SN25P is one of the louder units under stress testing. Despite the higher noise levels, for typical use, the CPU will not get hot enough to cause a dramatic increase in fan noise. Video/audio encoding and running games will often increase the amount of noise for 5 to 30 seconds at a time, but silence for a minute or more usually follows.

Besides fans and noise levels, the layout and design of the SN25P have proved itself to be better and worse than other designs. The tool-less design makes changing parts around relatively simple, and we continue to appreciate that feature. In comparison to the G5 chassis, however, the CPU heat sink and cooling mechanism are not as easy to install. We also wish that there was a better clip mechanism on the PCIe X16 slot, and with the rest of the tool-less features, the expansion slots are notably absent. It's ironic that you can remove the CPU heat sink in the G5 chassis without using any tools, but a screwdriver is basically required to mount the heat sink properly with the P chassis. The last change that we'd like to see in the design of the SN25P is the inclusion of a proper 6-pin PCIe power cable - just in case you don't have one around. We'll discuss this topic in more detail later, and the SN25P isn't alone in this regard. Given the cost of the systems and the high-end feature set, we'd really appreciate getting a good $5 cable thrown in "just in case".

Update: For those that may read this in the future, Shuttle has released an updated BIOS that addresses the X2 support issues. We haven't confirmed anything yet, but a new BIOS is available and it specifically addresses the USB2.0 + X2 problem.


Biostar IDEQ 330P
Overview
Moving on to the newcomers, we have the most recently launched 939 SFF from Biostar. Biostar is a tier two manufacturer that has been around for some time. They've been making motherboards for a long time, and they've also been in the SFF market almost as long as Shuttle. Their IDEQ line has included some innovative and creative approaches, and the new 300 series offers some of the more interesting features that we've seen. We're looking at the 330P for this roundup, and it certainly has a lot to offer.


Aesthetics
The first impression of the 330P is that it's shiny. Really shiny! (It also attracts fingerprints and dust exceptionally well, but that's typical of high-gloss surfaces.) Some people may prefer a matte finish instead, but the glossy paint definitely gives the 330P an air of sleekness. We've seen quite a few SFF cases now, and whatever else you might say of the 330P, it certainly stands out from the crowd.


Click on images to enlarge.

The Biostar case is actually a bit wider than most of the other cases, but there's a reason for that. We also like the less obtrusive front panel lighting; a couple of indicators for HDD and power are all that you see, though the power button does glow orange when the PC is turned off. Something else that we like is that Biostar didn't bother with a door to hide the USB and other front ports. We use such ports frequently, so a door just gets in the way and is one more part that can break off.

One of the few items that give us any cause for concern as far as appearance is the front grille, where air is pulled in to cool the CPU. Dust is bound to collect there over time, and while it may serve as a reminder that it's time to clean out the inside of your PC, ignorance is bliss. It's a minor point, and some people will just like the visual highlight that it provides. Just remember to wipe it off with a damp cloth periodically and you should be fine.


Features
Biostar 330P

Dimensions
(w)215 mm x (h)185 mm x (d)355 mm
CPU Support
AMD Socket 939 up to FX-57/X24800+
Memory Support
PC1600/PC2100/PC2700/PC3200 up to 2GB; 2 DIMM slots

Motherboard
K8NBD-S9 (proprietary)
NVIDIA nForce4 Chipset (not Ultra, not 4X) 1X-5X (200-1000MHz) HyperTransport
8-bit/8-bit to 16-bit/16-bit HT Width
Flash Reader
CF I/II, MD, SM/SMC, SD, MMC, and MS/MSP
Expansion Slots
1 x PCIe X16; 1 x PCI; 1 x mini PCI
Power Supply
300W Power Supply
2 x 4-pin Molex; Molex to 2 x SATA plus 2 x 4-pin Molex splitter
2 x 4-pin Power; 1 x 12-pin Proprietary Power
Internal Connections
2 x SATA; 2 x IDE
Audio
Realtek ALC850 7.1 (non-HD)
LAN
1 x 10/100/1000 Mbps (NVIDIA + VITESSE on PCIe)
Drive Bays
2 x 3.5 Internal (HDD)
1 x 5.25 External (CD/DVD)
Front I/O
2 x USB 2.0
1 x IEEE1394 (6pin)
MIC, Head-phone, S/PDIF IN
Power & Reset buttons
Power on & HDD LED indicators
Rear I/O
4 x USB 2.0
1 x IEEE1394 (6pin)
PS/2 KB, PS/2 Mouse
2 x COM (Serial)
RJ-45 LAN Port (10/100/1000Mbps)
Line-in, S/PDIF OUT Optical
Center/Sub, L/R Front, L/R Surround, L/R Surround B
Overclocking
CPU 200-300; CPU Ratio 4X-Max;
Vcc 0.800-1.700V; DDR Auto, 2.75-2.95V
Extras
Optional 802.11G Mini-PCI
Full Image Set
Biostar 330P Pictures (7.2MB)
Manufacturer Link
Biostar 330P

Features start out with the typical stuff: you get PCI Express graphics, integrated gigabit networking (on the PCIe bus), and support for socket 939 processors. Sound is also onboard, provided by the Realtek ALC850 chip and codec. One thing we always like to verify is that the front audio ports work well. Unfortunately, the 330P didn't meet our expectations, as our headphones had a substantial amount of static on them. The rear ports didn't have any issues, so if you plan on using head phones, you'll want a pair with a longer cord that can easily reach the rear jack.


Click on images to enlarge.

Since it's based on the same nForce4 chipset, the basic features are very similar to the Shuttle SN25P, the biggest competitor to the 330P. The differences are in the details. Where the SN25P has room for up to four hard drives, the 330P "only" has space for two. Two drives are generally enough for most people, so we're not too concerned. The 330P has two HDD cages that install into the top area of the case, and the power is provided for all the devices by a 300W PSU. In our testing, we didn't get above 235W under load, so 300W should be more than enough.


Click on images to enlarge.

Another noteworthy difference is that a floppy drive can't be installed in the 330P; and when we say no floppy, we really mean no floppy - there isn't even a floppy cable connection on the motherboard. (Oddly enough, BIOS entries for FDD support still exist.) Frankly, we consider that to be a good thing. If you can't use a floppy drive, we would hope that support for all the critical functions is available without the floppy. SATA drive support for Windows works without a driver disk, and flashing the BIOS can be done from within Windows. You can also boot off of a flash device or USB stick if necessary. If you're looking to install XP to a RAID array, though, you're in for some problems. Your best bet would be to either slipstream the appropriate drivers onto an XP CD, or else try to use an imaging tool to restore a single hard drive image (with everything already set up) onto a RAID partition. An external USB floppy drive could also work. We didn't do any Linux compatibility testing either, so if that's your cup of tea, we'd suggest asking around the forums.


Click on images to enlarge.

In terms of expansion cards, the 330P receives top marks in the SFF market as it includes several options. First, you get the obligatory PCIe X16 slot. Next to that is a PCI slot, which is currently more useful than a PCIe X1 slot. On the other side of the case is another slot, but we're not quite sure what it is. (See the far right image above.) It's about the size of a PCIe X1 slot, but the wiring is clearly wrong. It's also not an AMR, CNR, or ACR as it's not the correct size for those either. The slot isn't mentioned anywhere in the manual or elsewhere, so it may simply be for internal debugging tools at Biostar. (We're trying to get an answer from Biostar about this slot.) Whatever the purpose of the slot, there isn't much room, so installing anything other than a very small card would be difficult. Besides the expansion slots on the top of the motherboard, Biostar has their "hidden" mini-PCI slot on the bottom of the case. If you're interested in adding WiFi connectivity to a SFF, it's a great option and it's something that we don't see in most other SFFs.


Click on images to enlarge.

The big claim to fame of the new 300 series of Biostar cases is their hinged design. After removing the panels, you can lift up the entire front and top of the case to provide better access to the CPU socket, DIMM slots, etc. It does work, and it's a bit easier to install a lot of the equipment this way, but it isn't the most amazing thing in the world. If you were to access the internals of your system frequently, it would prove useful, but that's not usually how SFF owners use their systems. Would we purchase such a system over one of the other designs? All other things being equal, it's nice to have, but it's about the same as the tool-less features of the SN25P - good, but not something that would really sway our decision on its own. We'd buy the case for its appearance more than for the pop-top design.




Biostar IDEQ 330P (Cont'd)
Construction
Discussing the construction and build quality of SFF cases is rather mundane at times, as almost every case does quite well. Unlike the ATX cases where build quality can vary a huge amount between manufacturers, SFFs are all more expensive and thus, can afford to spend a little more time to make sure that there aren't any major problems. The 330P is no exception.

The exterior of the case is made of aluminum panels and plastic molding and gives us little, if any, cause for concern. While the high-gloss paint does make fingerprints easy to see, it was resistant to scratches during regular use. There are three panels on the 330P, all secured by thumb screws, and they all slide off with relative ease. On the bottom is the small mini-PCI compartment, covered by another panel that's secured by a screw.


Click on images to enlarge.

The internal structure is mostly steel and is free from any noticeably sharp edges. Even with the hinged frame, we still found the case to be relatively sturdy. Access to all of the areas is easy to obtain, which is the benefit of the flip-top case. It is possible to remove the CPU HSF and swap CPUs without moving anything else, so if that's something you're likely to do, the 330P is perhaps the easiest out of any 939 computer that we've seen. It takes about a minute to pull off the sides and top, and another minute to open the hinged case and remove the HSF and CPU. Applying thermal grease and cleaning off your hands is likely to take more time than the actual CPU swap. The only issue that we had with the hinged frame was in closing the case. Getting the front of the case to align properly so that it would close all the way took a little bit of effort, which is why we say that the case was only "relatively" sturdy. As long as you're not careless, we'd trade a bit of structural integrity for the ease of accessing the CPU and RAM - but then, we're more likely to be swapping parts than many people.


Click on images to enlarge.

The construction in other areas is also good. The heat sink is a solid copper design that also includes three heat pipes to help remove heat from the CPU surface quickly. A fan at the front of the case blows air directly over the heat sink, and the air is then directed over the chipset heat sink - also copper - and out the rear of the case. A second fan at the rear of the case helps to remove the remaining air in a sort of "wind tunnel" design. Biostar rates the case as being able to handle everything up to an FX-57, and we didn't encounter any issues with the CPU overheating. Unfortunately, the "wind tunnel" does appear to limit the amount of air circulating in other areas of the case, and we did have a few stability problems that may be related to the RAM and/or GPU getting too hot. We'll say more on that in a moment.

When compared to the SN25P, the 330P definitely comes out ahead in a couple of areas. First, two fans compared to five fans is a definite advantage in the noise arena, though it does come at the cost of slightly higher temperatures, which likely played a part in stability concerns. At idle, the 330P is very quiet - the quietest of this roundup, in fact. The other area where it comes out ahead is in ease of accessing the CPU. That's actually one of the worst parts about the design of the SN25P, as getting to the CPU requires the removal of the HDDs up top as well as the DVD tray, and then you still have to deal with unscrewing the HSF mount.


Click on images to enlarge.

We did have a few complaints with the internal construction, however. One is that the retention clip for the PCIe X16 slot is very difficult to release - every bit as bad as the Shuttle X16 slots, and worse than the best options that we've seen. What's the best option? The sliding latch of the Aopen SFFs, no question. It can be moved into the open state from anywhere along the length of the graphics slot, and it doesn't require small hands or Superman strength to budge! The HDD trays are also a bit of a concern. The enclosures make installing and removing hard drives a bit easier, but in terms of construction, they really don't slide in and out of the case very easily. Since a thumbscrew secures the trays in place, we'd like the friction to be a little less - they're not just going to accidentally fall out in either case.


Click on images to enlarge.

The final issue that we have with the internal construction is the lack of pre-installed cables. It's not that Biostar completely omitted the cables, but they didn't have all of the required cables routed to every area. The optical bay has an IDE cable and power cable readily available, but the IDE cable isn't really tucked away and features two connections, so if you only use a single IDE device (which is the likely scenario), you have the extra cable length and the unused plug just getting in the way, resting on top of the HSF and plastic shroud. Getting the IDE cable to reach both the DVD and a hard drive would be rather difficult if it's even possible, and a second IDE port makes this a moot point. The hard drive bays have SATA cables installed, and they're mostly tucked out of the way.

The real problem is the power cabling. Power for the HDDs comes from a single 4-pin molex connector, to which you attach an included splitter cable that has two SATA and two molex connections. Things are further exacerbated should you require a PCIe power adapter for your graphics card. Our X800Pro card needed such an adapter, and that was just one more cable adding to the mess - and the cable had to come from the opposite side of the case, over the top of the CPU HS, and then to the graphics card. Once all the cables are installed, the internals feel more cluttered than what we like. If you were to max out the system, you'd also end up with two hard drives and the PCIe power adapter all running off a single source molex, which could be the cause of the periodic crashes that we experienced.

The hinged design of the case is something of a Catch-22 here, as pre-routing cables can be tricky. Opening the case can pull on the cables, so they would need to ensure that all the cables have enough slack to allow the top to open. We didn't have issues with lifting the hinged section in the current design, but closing the case again required a bit of time rearranging the cables to our liking. The SATA power cables also seemed to come loose if you open and close the case frequently.

This all probably sounds highly negative, and we want to make it clear that this is not the end of the world for the Biostar case. The design works, and it works well; it just needs some adjustments in a few areas. Biostar has indicated that the design that we are reviewing is something of a prototype, and they are re-evaluating the cabling system and power supply. The main changes that we'd like to see are the inclusion of pre-routed power for the HDD bays, and a PCIe 6-pin power connection (or at least an adapter) would be great for those who need it. (Skip forward to the ST20G5 section and read our Power Problems comments on the PCIe adapter for more information on why including a connection/cable would be appreciated.) Version 1.0 isn't bad, but there is definitely some room for improvement, and we hope that version 1.1 can clear up the few remaining issues.


Setup
With all of the discussion on the construction, you can probably already guess how the setup process works. Removing the side panels followed by the top panel is the first step, and then you release the latches on the bottom-front section of the case and lift up the top of the frame. The frame has a catch that keeps it up while you work, which you can see in the right image below.


Click on images to enlarge.

Once that's done, you can remove the HDD cages and install the drives into those, as well as install the CPU, RAM, and graphics card. At that point, it's time to argue with the cables for a bit to get everything properly supplied with power. We saved the installation of the optical drive for last, after we had lowered the top back down. It could have been done earlier, but either way works. Lining the DVD buttons up with the case button is pretty simple; although, maybe we're just used to the process now: place the DVD into the bay and then position it so that the DVD eject button works properly with the case's eject button, and then secure the drive with screws.

After installing the hardware, you have to lift up the top a bit and then push that locking pin up so that you can lower the lid again. Once you've latched that into place, put the top back on followed by the sides and assembly is complete. Despite our complaints about the cables, it really isn't too difficult to accomplish this task, and the setup time was probably a bit less than the other cases, though still in the 15 to 20 minute range.


Click on images to enlarge.

Setting up the BIOS is the next stage of assembly, and we didn't encounter any problems. We've included a couple of screenshots here, but if you want to see all that the BIOS offers, grab the full image set. We did have to force the RAM timings to 2-2-2-7, as they defaulted to 2.5-3-2-5 when set to auto timings, but other than that change, there wasn't much that we needed to muck with in the BIOS. Absent from the initial BIOS is a setting for command rate, and we have to assume that the 330P defaulted to 2T rather than 1T. A later BIOS from Biostar gave us the 1T option, and we reran the benchmarks. Performance improved by as much as 10% with the 1T command rate and updated BIOS, so you'll definitely want to get the latest BIOS.


Click on images to enlarge.

Overclocking features are all present and accounted for on the 330P, but actual overclocking performance was sporadic. With the Newcastle 3800+, we were able to run all of our tests with a HyperTransport bus speed of up to 285 MHz with a 3X multiplier and 1T timings, but we had to use an 8X CPU multiplier, giving a CPU speed of 2284 MHz. Dropping to a 2T command rate, we managed to get the bus to 299 MHz, bringing us back to 2.4 GHz. We could not, however, get that last 1 MHz to 300x8 - close enough, though. Switching to a Venice 3200+ 2.0 GHz, we managed to run at up to 2.6 GHz with a 289x9 (3X HT) configuration. However, we had to drop the RAM to DDR333 in order to reach this speed - no combination of RAM timings would allow the Venice core to run at anything above 250 MHz at present. The end result is still positive, however, and ranks as the second best overclocking unit in this group.

The bus speed maxes out at 300 MHz with the most recent BIOS, though there are some peculiarities at present. In one BIOS, bus speeds increase in .5 MHz increments from 200 to 210, then 1 MHz increments from 210 to 230, followed by 2 MHz increments for 230 to 250. A later BIOS revision added up to 300 MHz in 4 MHz increments (the above screenshot is of an earlier BIOS). The current BIOS shows 1 MHz increments from 200 to 300, but while everything for 250 and above works properly, the 200 to 250 range actually has the wrong labels and appears to reference the earlier values. When we set the bus to 240 MHz at one point, it actually ended up running at 232 or something. While it's a bit odd, it's still possible to figure out using a combination of the BIOS and CPU-Z, but Biostar will want to address this with another BIOS update.

Installing the OS and drivers was straightforward, as usual. The driver CD includes the chipset, audio, and networking drivers, and after a couple of reboots, we're ready for benchmarking.


Noise, Heat and Performance
In terms of day-to-day use, the 330P is an interesting system. Idle noise levels - particularly with a fanless GPU - are among the lowest of any of the systems that we've tested. In typical use, you would hardly notice the presence of the 330P in the room. Adding our X800Pro card to the system increased noise levels by around 10 dB, which took it from near silent to being merely quiet - it was still quieter than almost all of the other systems in this roundup. Once we began stress testing, though, noise levels increased quite a bit.

We list the maximum of the stress test noise levels, so it appears worse than it really is. Under full CPU load, the fans would speed up and slow down frequently, increasing noise levels by as much as 10 dB. The majority of the time, the system was closer to the other units. We were also surprised by how quickly the fan speed would increase under high CPU loads; 1 second after starting AutoGK, the CPU fan would audibly increase in volume.

This testing was done using the system control utility from Biostar - without the utility, idle noise levels are a bit higher, but the fans never get quite as loud. Unfortunately, the CPU became too hot and caused a system crash when looping 3DMark03 as well as a few other CPU intensive tasks, so the utility at present is required. Ideally, we prefer all the fan speed controls to be contained in the BIOS, and that doesn't seem to be fully functional right now. Having a Windows utility isn't bad, but it shouldn't be required.


Click on images to enlarge.

The System Control utility also has some other issues. You can see two screen shots from Windows' Task Manager that we took while the system was sitting idle at the desktop. Note the CPU usage in time as well as on the performance tab. Running System Control ends up reducing performance in other applications by 7% (if they're CPU limited) because System Control is eating up CPU time. We could clearly see this in Half-Life 2 benchmarks, as there appeared to be a stutter every second or so - most likely when the utility was polling CPU temperature and adjusting fan speed. A linear 7% performance difference wouldn't be all that noticeable, but a 15 to 20% drop once a second becomes annoying in games.

We came up with a hack to help reduce the impact, but we didn't use it during testing. (Our tests reflect the way that most users will run the system.) The trick is to modify the way that System Control loads so that it runs as a low priority process instead of normal priority. This can be done by changing the shortcut to read:


Start /Low /Min SystemControl.exe


When the system is idle, it won't change the fact that your CPU runs at 7% load all the time, but it will make CPU limited applications get more CPU time than the utility. We did a few quick tests and found that performance increased about 5% in 3DMark03/05 CPU tests. We'll check into this more for the follow-up article, and of course an X2 CPU would eliminate this bottleneck unless you were able to get both CPUs to 100% load.

The heat levels were generally in line with what we see in the other systems for some components, but others were warmer. The temperature of the RAM and GPU RAM are both 4 degrees C higher than the next closest system, while the CPU and HDD are slightly cooler than average. The reason for the higher temperatures is most likely due to the wind tunnel design combined with the positioning of the GPU: the HSF for the GPU faces the inside of the case rather than the outside, so it doesn't get as much cool air. Having the GPU HSF face the internal area does appear to help noise levels, as the noise projects into the internals rather than emanating directly through a nearby vent. This can be seen in the lower idle noise levels.

Performance is the one area where the 330P is trailing, and as we mentioned, the System Control utility certainly plays a part. When we first received the 330P, the BIOS lacked a command rate setting and that hurt performance quite a bit. An updated BIOS closed the gap, and the 330P actually comes out ahead in several tests. Most 939 motherboards are relatively close to each other in performance, especially when they use the same chipset; the Biostar 330P is up to 12% slower than the fastest SFF in a few instances, which is a little surprising. (That's still much better than the 22% margin that we experienced with the first BIOS revision.) If temperature and fan speeds can be controlled better from directly in the BIOS, we would expect the 330P to come out on top in many benchmarks and be close enough in the others that we wouldn't have any reservations about recommending it. For now, you'll definitely want to make sure that you get the latest BIOS from Biostar's web site, and you can try the low priority hack listed above to improve performance a bit.


Overall Impressions
The feature set of the 330P is impressive. It should be, considering the price (currently about $370 from Newegg and ZipZoomFly). Then again, the only real competition in the SFF market is the Shuttle SN25P, which runs about $10 more. If you want socket 939 and PCI Express graphics in a SFF case, you currently have three choices, and all of them are pretty expensive. We can't really fault Biostar for charging $370 given the current market rates of competing products, but many will certainly scoff at spending over $300 for such a system. When you consider that a case, PSU, and motherboard can be had for $200 or less for a basic model, it is quite expensive. Then again, good LCDs cost over $300 and many people wouldn't hesitate to buy an attractive LCD instead of a "boring" CRT. If you're interested in SFF cases, go into the purchase knowing that it's a luxury rather than a requirement.

How does the 330P compare to everything else? It's a case of "win some, lose some". Performance is a little lower and noise levels are rather high when the CPU is busy, but the appearance and chassis design are very good. Expansion options are also good, basically equaling or surpassing what the competition offers. Some of the other cases support more total hard drives, but none of them offer three expansion ports (counting the mini-PCI slot). If you think that you want wireless networking and an add-in audio card or TV tuner, this is the only SFF to support that. If you want RAID and a floppy drive, or if you're interested in maximum performance, it doesn't offer that yet.

We like the design, we like the looks, and depending on how you want to use your SFF, the 330P will either work great or possibly not at all. That's really the story of small form factors in general. For now, we feel that the initial version of the 330P needs some work before it can truly reach its full potential. We have an updated BIOS, but we'd still like to see some improvements in stability and performance. Add a few minor tweaks to the internal design and power supply and we'd give it a full recommendation. If/when Biostar updates the product, we'll be happy to return to it and give it a second look. If you're mostly interested in the outward appearance, you can probably look past the issues that we've mentioned. Out of this roundup of SFFs, several of us would pick the 330P as the most visually appealing model, and looks count for a lot in this market segment.




Shuttle XPC SN95G5
Overview
If you haven't already seen several reviews of the SN95G5, we'd be pretty amazed. Released almost a year ago, the SN95G5 was the first socket 939 SFF to market. Sometimes that's a bad thing, but it has actually held up quite well compared to some of the newer releases. We've already looked at Shuttle's SN25P unit, and while it improves on the SN95G5 in a number of areas, there are still reasons to consider the older model.


Aesthetics
We'll start with the outward appearance. Tastes will differ, but we feel that the G5 chassis is still one of the best looking SFF designs that we've seen. It's small, sleek, and the brushed aluminum finish on the covers as well as the front panel has a refined look that is difficult to beat. The G5 chassis is also one of the smallest - if not the smallest - fully functional barebones setups. Sure, you can get a smaller computer like the Mac Mini, but you can't upgrade a Mini to run with a high-end graphics card and processor. The font panel also features very subdued lighting, and chrome accents add a bit of visual flare.


Click on images to enlarge.

As a size comparison, the G5 is 1 cm less in length than most other SFFs - not a big deal, but it's still a difference. The P series Shuttle chassis is 1 cm longer and wider, as well as 3.5 cm taller. There are reasons for the increased size, which you'll see in the features section in a moment. The ST20G5 is a very similar design, with the major difference being the chipset and features. It also comes in silver rather than black by default, which some people will prefer. Overall, though, we think that the G5 design is perfect for a variety of uses, including an office setting.


Features
Shuttle XPC SN95G5v2

Dimensions
(w)200 mm x (h)185 mm x (d)310 mm
CPU Support
AMD Socket 939 up to FX-55
X2/90nm support may require SN95G5v3
Memory Support
PC1600/PC2100/PC2700/PC3200 up to 2GB; 2 DIMM slots
Motherboard
FN95 (proprietary)
NVIDIA nForce3 Ultra Chipset
1X-5X (200-1000MHz) HyperTransport
8-bit/8-bit to 16-bit/16-bit HT Width
Expansion Slots
1 x 4X/8X AGP; 1 x PCI
Power Supply
240W Silent X Power Supply
2 x 4-pin Molex; 1 x 4-pin FDD; 3 x SATA
1 x 4-pin ATX12V; 1 x 20-pin ATX
Internal Connections
2 x SATA; 1 x IDE; 1 x FDD; 1 x LPT
Audio
Realtek ALC655 5.1 channel
LAN
1 x 10/100/1000 Mbps (NVIDIA + PHY)
Drive Bays
1 x 3.5 External (FDD/HDD)
1 x 3.5 Internal (HDD)
1 x 5.25 External (CD/DVD)
Front I/O
2 x USB 2.0
1 x IEEE1394 (4pin)
MIC, Head-phone
Power & Reset buttons
Power on & HDD LED indicators
Rear I/O
2 x USB 2.0
1 x IEEE1394 (6pin)
PS/2 KB, PS/2 Mouse
Serial port
RJ-45 LAN Port (10/100/1000Mbps)
Line-in, S/PDIF In Optical
S/PDIF Out Coax
Center/Sub, L/R Front, L/R Rear
Overclocking
CPU 200-280; CPU Ratio 4X-Max; Northbridge 1.60V-1.70V
Vcc 0.800-1.700V; DDR Auto, 2.70-2.90V
Extras
ICE cooling
Full Image Set
Shuttle SN95G5v2 Pictures (3.4MB)
Manufacturer Link
Shuttle XPC SN95G5

The feature list of the SN95G5 covers all of the requisite areas. Firewire, USB, GbE, and audio ports are all available. S/PDIF optical in and out ports are also included on the rear, along with an S/PDIF coaxial out connection. The remainder is pretty standard for a well-equipped SFF. There are two DIMM slots, an AGP and PCI slot, two SATA and IDE connections, and a floppy connection. The chassis has room for one internal 3.5" HDD, along with external 3.5" and 5.25" drive bays. The 3.5" external bay is unoccupied, so you can choose to either leave it empty or fill it with a floppy, flash card reader, or a second hard drive. That's pretty much it as far as expansion features, which isn't too surprising given the size of the case.

There are a few items worthy of further discussion, however. First is the choice of platform. While PCI Express is getting all of the news coverage these days, AGP is not dead yet. For those who spent several hundred dollars on a (formerly) high-end AGP graphics card, AGP is still perfectly acceptable. Going forward, PCIe cards will come out first, with bridge chips being used to allow backwards compatibility with AGP. (The 6600GT and X800XL are both prime examples of what we imagine will be the future trend in graphics card releases.) If you're building a new PC from scratch, AGP probably isn't the best choice; for those looking to assemble computers out of spare parts with a few new purchases, AGP still has a lot of untapped performance. The PCI slot is at present even more useful, as we have yet to see any PCIe X1 expansion cards. That will change in the future, but for now, it is possible to get sound cards, TV tuners, or a variety of other cards that will run in a PCI slot, where an X1 PCIe slot would sit empty.

now shipping) dual-core Athlon 64 X2 processors. We have heard that a BIOS update enabling X2 support is available for the SN95G5, but we've also heard that Winchester and Venice cores require the SN95G5v3 (we're testing the SN95G5v2). If you can only get X2 and 90nm chip support with the v3 model, there are going to be some disappointed people. Shuttle in North America appears to be willing to swap SN95G5v2 for v3 in North America, but you'll have to talk to them on your own. (If you have tried this, please email me the results - did they swap without difficulty? How much did it cost? I'll include any details that I can get in the follow-up article.)


Click on images to enlarge.

There are a few minor concerns with the SN95G5, as usual. One is the rear audio ports: they're all green and the icons/text are difficult to read for those with less than stellar eyesight. Almost every motherboard/SFF that we've seen in recent years has color-coded the audio ports, and we're a little baffled that Shuttle didn't do this on their G5 models. The good news is that in contrast to several other units, we didn't encounter any issues with the onboard audio on the SN95G5. The rear ports were as clean as any that we've tested, and we didn't notice any noise on the front headphone port either. There may have been a very small amount of noise on the front port, but if so, it wasn't enough to be distracting. We do wish that the integrated audio were of the HD variety, but as we'll discover with the ST20G5, HD audio doesn't necessarily mean that it's good HD audio.

Another possible cause for concern is the lack of a flash memory reader. (The new P series includes a flash reader, and the older G4 chassis came with one as well.) The Soltek and G5 SFFs are the only models without a reader in this roundup. We're not too worried about this omission, however, as those who really want such support can purchase a reader from Shuttle or elsewhere. Still, given the price of the Shuttle compared to competitors' offerings (around $280 these days), some people may not be as ambivalent as we are.

In fact, a lack of expansion possibilities is the biggest drawback that can be levied against the SN95G5. One HDD, one optical drive, and one 3.5" external bay makes it one of the most limited SFF designs around. The 240W power supply is also rather small, although it handled our SFF configuration without incident. We're saying this not as a problem with the G5, but as something to be aware of should you purchase such a case - many other SFFs have this same set of expansion options. A design decision was made, and expansion was limited in favor of being smaller. The only way to further reduce the size would be to use 1.8"/2.5" laptop HDDs and a half-height optical drive. We might see such a design in the future, but laptop drives are quite a bit slower, so it's not a change that could be made without consequences. Those who are more concerned with expansion possibilities can turn towards the SN25P, as it is pretty much on the other end of the expansion spectrum for SFFs.




Shuttle XPC SN95G5 (cont'd)
Construction
The construction of the Shuttle cases has always been very good, and the SN95G5 is no exception. The case is composed of a steel and aluminum frame. The cover is aluminum with a brushed finish, as are the covers on the front of the case. The front panel is constructed of plastic for the most part, but the aluminum covers help to make it more attractive. As a whole, the case is very light while maintaining a feeling of durability. It wouldn't stand up to a lot of abuse, but then, few computer users really plan to beat on their equipment.


Click on images to enlarge.

The internal construction is again of high quality. There are no sharp edges that we noticed; although, if you were really determined, you can still find a few ways to scrape your fingers on various pieces of the motherboard. A folded IDE cable comes pre-installed in Shuttle's "integrated cable management system" and helps to keep things tidy. For the HDD, SATA and/or IDE cables need to be installed, but the HDD sits right above the ports and the cables don't require much in the way of routing.


Click on images to enlarge.

Shuttle uses their ICE (Integrated Cooling Engine) design for the CPU as well as the case. A 92mm fan blows over the fins on the end of the heatpipe. It works very well in our tests, with low noise levels and the ability to run the CPU even at overclocked speeds without much trouble.

The only complaints that we have are pretty minor. The cover of the case can stick a bit when you remove or install it, though we'd say the same of almost every SFF that we've tested. We also had more issues with the screws Shuttle uses. The thumbscrews are fine, but the screws for the HDD, DVD, expansion slots, and drive tray all seem to be very fragile, as we mentioned in our review of the SB61G2. Even when being careful, it is possible to strip a screw after a couple of uses. Whatever material that Shuttle is using, it just doesn't hold up well when you install and remove hardware frequently. Luckily, plenty of extra screws are included.


Setup
The SN95G5 is very easy to work with. We actually feel that the ICE heatpipe solution of the G5 is more convenient than the new design in the P chassis, although cooling requirements for a loaded system are different. With the drive tray removed, accessing the CPU socket is straightforward, and getting everything back together presents few difficulties. Installing CPUs in the P chassis is more difficult, and the expansion cards still required a screwdriver, so they're not any easier to work with. Really, the only benefit of the P chassis other than expansion is that the HDD and DVD are installed with clip-on rails instead of screws.

After removing the drive cage and heatpipe, you install the RAM and CPU. The hard drive (or hard drives, if you install one in the external 3.5" bay) should be installed while the drive cage is removed. When installing the DVD, we found it easier to install the drive cage and then position the DVD so that the front buttons match up before fastening the screws. We should also mention that you will want to use a newer model optical drive, as they tend to be about an inch shorter in length. We did manage to fit an older 16X CD-RW into the case, so it is possible, but we definitely don't recommend it.

All told, it requires about 15 to 20 minutes to assemble the SN95G5, although taking longer just to be safe is never a bad idea. We would also like to mention that Shuttle is one of the best when it comes to installation instructions. All of the images are clearly taken with the exact system model that you're assembling. If you have even a moderate amount of skill with a toolset, following the Quick Installation Guide should present few, if any, problems. On the other hand, installing and configuring the software is a bit more complex.


Click on images to enlarge.

The BIOS configuration is similar to most motherboards, and we won't spend too much time on it. Depending on your RAM, you may or may not have to set the timings manually in order to get optimal performance. Even some high quality 2-2-2-5 RAM will default to 2.5-2-2-5 timings, and for socket 939 systems, our own memory guru Wesley has determined that a tRAS value of 7 or 8 is often fractionally faster. We ran our OCZ RAM at 2-2-2-7 timings in all of our tests with a 1T command rate where available. The SN95G5 has a "Normal" and "Performance" option for command rate, with "Performance" corresponding to a 1T rate. We had no difficulties using this setting. Overclocking options are also present in the BIOS, with a CPU bus speed of up to 280 MHz along with an assortment of voltage adjustments for the CPU, chipset, RAM, and AGP slot. Those interested in the remaining BIOS screens can find them in our SN95G5 image archive.

After setting up the BIOS and installing Windows XP, it's time to install the motherboard drivers. The Shuttle CD provides all of the necessary files accessible through an easy-to-use interface, though Aopen's EZinstall is still the best that we've encountered (read about it in our 478 roundup). Shuttle requires you to launch separate install utilities for the motherboard drivers and network drivers, with an option to install DirectX 9.0c as well. It's pretty simple, but a single-click installation like EZinstall is still better. We also had some issues with NVIDIA's IDE driver and our CD-RW drive, which could be avoided by not installing the software IDE driver. This isn't something that we've experienced much, and the problem was somehow related to the older drive that we were using at the time. The DVD-ROM drive that we used later didn't have any trouble with the IDE driver.


Noise, Heat and Performance
In our performance benchmarks, the SN95G5 still manages to hold its own against newer models like the SN25P. There are a few benchmarks (like HL2) where the PCI Express graphics interface seems to be slightly faster, but in most instances, the performance is close enough to call it a draw. The differences could also be caused by modified BIOS or RAM settings in the PowerColor X800Pro PCIe vs. the Sapphire X800Pro AGP - we don't have low level details for either card, so we can't say for sure.

The temperature and noise benchmarks are often more important considerations for SFF users, and there are a few differences worth mentioning. Comparing the SN95G5 with the SN25P, the noise levels of the G5 are generally lower than the newcomer. The lower noise output of the G5 isn't too surprising, given the presence of five fans (plus the GPU fan) in the P chassis. Particularly under stress testing, the G5 was noticeably quieter than the SN25P - retesting the SN25P showed substantially higher stress test numbers than when we tested in the winter/spring.

Temperatures also favored the G5 in most areas, with one notable exception: the hard drive temperature. We don't foresee any problems running the G5 with a 7200 RPM drive, and even a 10,000 RPM Raptor should be okay. We would definitely recommend that you not use two hotter drives in the G5 chassis, however, as their proximity to each other and the lower air circulation is almost certain to cause a premature hard drive failure. Two Seagate 7200.x would be our choice if you want to max out the storage options. (We should note that we don't know if the 240W power supply could actually handle the load of two high-end drives in the first place.)

Overclocking performance of the SN95G5 was very good. We managed to reach a bus speed of 275 MHz with a 9X multiplier and 280 MHz with an 8X multiplier. Going for the maximum CPU speed - which generally yields the best performance on Athlon 64 systems - we scored similarly to the other systems, with 12x120 and 11x229 both reaching a speed of 2520 MHz (plus or minus). The only problem with overclocking is if you want a Venice core - those can usually hit 2.6+ GHz. The 280 MHz bus will be a limiting factor with the 3000+ in all likelihood, and of course, you would need the SN95G5v3 in the first place according to current reports. If you can get a v3 as well as a 3200+ Venice, the maximum 10x280 setting should be more than sufficient.


Overall Impressions
Despite being one of the oldest 939 SFFs - slightly older than the Soltek 3901-300P - the SN95G5 still manages to impress. It's attractive and it's certainly a small form factor design. Expansion options are more limited than in some of the other cases, but as long as you're willing to live with the limitations, it shouldn't be a problem. The new ST20G5 is a reasonable alternative, but there are still areas where we prefer the nForce 3 Ultra chipset to the ATI Xpress 200. The ATI chipset does include integrated graphics of a decent quality, but many will still use a discrete graphics card, making it a minor point. If you purchased an SN95G5 right when it was released, there's little reason to upgrade at this moment. It remains one of the most attractive designs for a SFF that we've seen to date.




Shuttle XPC ST20G5
Overview
We've already covered the G5 chassis with our talk of the SN95G5, so there isn't a whole lot to say about the ST20G5. The basic idea is to take the same chassis and swap out the nForce 3 Ultra chipset and motherboard for a board that uses the ATI Xpress 200 chipset with a ULi 1573 South Bridge. Most areas remain the same, so we'll focus on the differences.

Something that we would like to mention is that Shuttle now offers complete SFF systems through their online store as well as a variety of retail outlets. We've seen them at Best Buy, for example, although the local branch only carried an older Athlon XP model. Originally, the Shuttle XPCs were sold as a bare-bones system: case, motherboard, and power supply. Starting in 2004, Shuttle began offering complete systems. While you sacrifice some customization options, it does provide a ready-to-use alternative with a Shuttle warranty. Many of the upgrades end up costing quite a bit, but we see that for most companies that offer pre-configured systems. Those who do not want to build their own system can find more details at the Shuttle web site.


Aesthetics
Click on images to enlarge.

In terms of appearance, the ST20G5 is the exact same as the SN95G5 with one exception. Instead of a black anodized aluminum finish, the case is silver brushed aluminum. We don't have particularly strong feelings one way or the other, as they are both attractive. If you prefer silver over black, the ST20G5 meets that need. In an ideal world, users would be able to get whatever color case they wanted with any of the various models, but the reality is that getting a non-standard color will usually cost extra.


Features
Shuttle XPC ST20G5

Dimensions
(w)200 mm x (h)185 mm x (d)310 mm
CPU Support
AMD Socket 939 up to FX-57
X2 support currently Beta
Memory Support
PC1600/PC2100/PC2700/PC3200 up to 2GB; 2 DIMM slots
Motherboard
FT20 (proprietary)
ATI Radeon Xpress 200 (Northbridge)
ULi 1573 (Southbridge)
1X-5X (200-1000MHz) HyperTransport
8-bit/8-bit to 16-bit/16-bit HT Width
Expansion Slots
1 x PCIe X16; 1 x PCI
Power Supply
240W Silent X Power Supply
2 x 4-pin Molex; 1 x 4-pin FDD; 3 x SATA
1 x 4-pin ATX12V; 1 x 20-pin ATX
Internal Connections
2 x SATA; 1 x IDE; 1 x FDD; 1 x LPT
Audio
Realtek ALC880 7.1 channel HD
LAN
1 x 10/100/1000 Mbps (Broadcom PCIe)
Drive Bays
1 x 3.5 External (FDD/HDD)
1 x 3.5 Internal (HDD)
1 x 5.25 External (CD/DVD)
Front I/O
2 x USB 2.0
1 x IEEE1394 (4pin)
MIC, Head-phone
Power & Reset buttons
Power on & HDD LED indicators
Rear I/O
1 x DVI, 1 x VGA
2 x USB 2.0
1 x IEEE1394 (6pin)
PS/2 KB, PS/2 Mouse
Serial port
RJ-45 LAN Port (10/100/1000Mbps)
S/PDIF In/Out Optical ports
Line-in, Center/Sub, L/R Front, L/R Side, L/R Rear
Overclocking
CPU 200-255; CPU Ratio 4X-Max; Northbridge 1.60V-1.70V
Vcc 0.800-1.700V; DDR Auto, 2.70-2.90V

Overclocking in practice is very limited
Extras
ICE cooling
Full Image Set
Shuttle ST20G5 Pictures (6.0MB)
Manufacturer Link
Shuttle XPC ST20G5

The feature list of the ST20G5 is similar to the SN95G5, with the obvious exception of the integrated graphics and PCI Express. Firewire, USB, GbE, audio, and S/PDIF are all present and accounted for. Internally, the layout is different and some of the features come from a different source (i.e. the network chip), but the basics remain the same. There are two DIMM slots, a PCIe X16 and PCI slot, two SATA and IDE connections, and a floppy connection. As usual, the G5 case includes two 3.5" drive bays, one internal and one external, along with a single external 5.25" bay up top.


Click on images to enlarge.

Let's talk a bit more about the differences, though. Where the nForce 3 Ultra powers the SN95G5 and provides a single chip solution, the ST20G5 uses a more traditional North Bridge/South Bridge arrangement. The ATI Xpress 200 is the NB and provides the PCI Express interface as well as a HyperTransport connection to the processor. For the SB, a ULi M1573 is used and it includes audio, USB, network, IDE/SATA, and PCI support. A PCI Express interface is used to connect to the NB, which helps to save on costs, since the NB already includes PCIe support. While the ULi chip includes a network controller, it is limited to 10/100 Mbit functionality and Shuttle has instead chosen to include a Broadcom GbE model. The Broadcom chip runs on the PCI Express bus (with an X1 interface), making it potentially faster than PCI GbE. We'll see how it compares later. The other major difference is that the ST20G5 uses PCI Express graphics like the SN25P, and here, we feel that the ST20G5 is the best configuration from Shuttle as it includes a PCIe X16 slot along with a standard PCI slot. In the future, X1 PCIe devices may become common, but right now, such slots go unused.

The integrated graphics are rather impressive, compared to competing solutions. Not only are they fully DirectX 9 compliant (with Shader Model 2.0 support), but they include a first for any integrated graphics that we've used: DVI output! Why does this matter? If you're interested in a SFF case for its looks, an LCD is a logical companion device. LCDs really aren't meant to be run with an analog VGA connection, as it results in poorer image quality. With the ATI Radeon Xpress 200 IGP, you get both the VGA connection as well as a DVI connection. DVI is also useful for connecting many HDTV displays to a computer. In our use, the TV was properly detected as a 1080i device. Unfortunately, it would only run at 1080i using the DVI connection. This is an ATI driver issue, as NVIDIA manages to support other resolutions (like 720p) through the DVI connection without any problem. We have heard from ATI that this will be addressed in an upcoming Catalyst release (5.7 may have already fixed this - we will check when we test the X2 chip).

Another interesting feature of the IGP is that it can be used concurrently with an add-in graphics card - although this only works with ATI models, as far as we're aware. ATI dubs this feature "Surround View" and it gives users the option of driving up to four separate display devices at the same time - two via the IGP and two via a supported add-in card. We're not sure how many people would actually purchase a SFF case with that intent, but the option is there should you need it. In the end, the Xpress 200 is the current leader in IGP solutions and offers much improved flexibility. Kudos goes to ATI for increasing IGP performance, and props to Shuttle for taking full advantage of the chipset.

The audio provided on the ST20G5 looks good on paper, and we're happy to see an HD solution (provided by the ULi chipset and a Realtek AL880 codec). This allows for 7.1 audio support, and though we think that 5.1 audio is more than sufficient, the additional audio ports do allow you to run 5.1 along with a microphone/line-in device. As with the SN95G5, all of the audio-out plugs are framed in the same green color, which can be a bit confusing. Green is usually used for the front speakers, with black/blue and orange/pink connections being typical for the center/sub and surround speakers. The colors are not exactly standardized, but the SN25P uses blue and orange for these connections. Shuttle should at least try to maintain a consistent color coding scheme with their designs, but it's not a big deal unless you plan to move your PC around frequently.

Unfortunately, while all of these audio specs should add up to a good experience, the end result was less than stellar. The front audio jack had very noticeable static, making it all but unusable. We also noticed some slight noise on a couple of the rear jacks, although it was border-line inaudible in our headphones and we couldn't hear it when using some Logitech X530 speakers. If crystal clear audio is a requirement for you, you may want to put the PCI slot to use with an add-in sound card. The other alternative is to use the S/PDIF out connection, which (like DVI) eliminates signal deterioration that often occurs with analog signals.

There are a few other concerns with the ST20G5 design. One of the first problems that we encountered was with our PowerColor X800Pro graphics card. It requires a separate 6-pin PCIe power adapter, and Shuttle neglected to include such a cable in the packaging. (So did PowerColor.) We had two spare 4-pin molex plugs available and were able to use an adapter, but this is an oversight on Shuttle's part. We're also uncertain as to whether or not the included PSU would be able to run with some of the higher end graphics cards, but as most of those are two-slot solutions, they will not fit inside the case either way. The power draw for the system at present was measured at 235W peak - basically, the rated maximum of the 240W PSU. We usually like a little breathing room, but we must say that we didn't experience any difficulties with the configuration at stock settings. 7800GTX support is going to be questionable, and that's something that we'll look into over the next couple of weeks. We would like to see the ST20G5 with an updated power supply that addresses the above concerns: a built-in PCIe power connection, and more power for running higher end cards. We have heard that they are planning to do just that for future SFFs, though whether a new PSU will ever make it into the ST20G5 is impossible to say right now.



The comments about the lack of a flash reader and the limited expansion options that we discussed with the SN95G5 still apply here. If you really need a case with more expansion options, you'll have to look to one of the other SFFs in this roundup, or else stick with the standard ATX/uATX designs. That's a typical compromise that has to be made when choosing a SFF case, and many are happy to make the switch for the reduced noise levels and more attractive designs.




Shuttle XPC ST20G5 (cont'd)
Construction
If you read what we had to say about the construction of the SN95G5, the same applies to the ST20G5. We did leave out a few items, however, as that gives us a bit of material that we can use here. Naturally, what we say here applies to both socket 939 G5 models.


Click on images to enlarge.

One of the impressive aspects of the G5 design is the ICE (Integrated Cooling Engine) heatpipe. We won't go into the details of how it all works, but the principle of a heatpipe is to use a liquid within the pipes. As the liquid heats up, it begins to boil and moves through the pipe to the radiator. There, it gets cooled down and condenses back into a liquid. That's a basic overview of what should happen, at any rate. There are a variety of ways to design a heatpipe, and all we can say for sure is that the heatpipe in the G5 appears to cope with the CPU heat output with no difficulties. A smooth copper base rests atop the CPU, with aluminum pipes leading up to an aluminum radiator. The radiator is cooled by a relatively large 92mm fan, which also serves as a case fan. While it may not be sufficient for extreme overclocking, it is a quiet design that performs well with our stock SFF testing configuration.


Click on images to enlarge.

One minor difference with the ST20G5 is the presence of several heat sinks on various chips. The Xpress 200 only functions as the North Bridge of the motherboard, with a ULi 1573 South Bridge providing additional features. The ATI chipset has active cooling while two other chips use passive cooling. One of these is almost certainly the ULi 1573, although we're not sure about the other. Small, passive heat sinks aren't a bad thing, as they do help dissipate heat from components and they don't add to the noise levels. The small fan on the North Bridge did add to the perceived noise, however. It doesn't really show up on the noise benchmarks, but the noise from the ST20G5 seemed higher in pitch, which humans often perceive as being louder even though it may be at the same dB level.


Setup
The hardware setup for the ST20G5 is unchanged from other G5 models. It requires roughly 15 to 20 minutes to assemble the system. Again, the documentation provided by Shuttle makes the process easy enough for just about anyone to follow. Once the hardware is installed, things become slightly different, based on the model and platform.


Click on images to enlarge.

The BIOS of the ST20G5 is similar to other Shuttle designs, although the use of the ATI chipset does change things a bit. For instance, there are a few items related to the integrated graphics. In the desktop market, there are only a few Xpress 200 motherboards currently available, one being a micro-ATX model from MSI. While it is a good motherboard, one area that is absent is overclocking support. Some have speculated that the reason why MSI didn't include overclocking options was due to the ATI chipset, but Shuttle includes a standard array of overclocking and tweaking settings. We'll discuss how it does in overclocking later.


Click on images to enlarge.

With the hardware and BIOS configured, it's time to install Windows XP. We were disappointed to discover that the SATA controller on the ULi 1573 is not supported by Windows XP. We received the standard "no hard drives found" error message. Rebooting and using F6 along with the provided floppy disk does fix the problem, but that means that a floppy drive is necessary in order to install Windows. We prefer chipsets like the nForce 4 and i915/925 that can support XP installations without a floppy drive. Unfortunately, that's one of the common problems when using North and South Bridges from different manufacturers.

Once XP is installed, it's time to install drivers once again. As usual, a CD provides the necessary files. For the ST20G5, there are five items to install: the ATI graphics driver, ULi 1573 drivers, both an HD audio bus driver as well as the audio driver itself (you have to install the chipset drivers and reboot before you can do this), and finally, the network driver. Here is where something like Aopen's EZInstall interface would really be welcomed, as each of the driver setup programs wants to reboot the PC after it finishes installing, and at least two reboots are required. We shouldn't really count the graphics driver, as it's something that you normally need to install separately anyway, and there is sure to be an updated version of the driver from ATI by the time you purchase an ST20G5.


Power Problems
As a final comment on the setup process, we mentioned before that our PowerColor X800Pro card required a 6-pin PCIe connection. Even with an adapter that converts two 4-pin molex connections into a 6-pin PCIe connection, things didn't work properly. The system wouldn't even boot when we plugged in the adapter initially. Leaving the PCIe connector off of the PowerColor card didn't work either, as the monitor would simply display an error message stating that the power adapter was required.

We thought that the problem might have been somehow related to insufficient power, but we eventually did get things to work by doing some research online. It turns out that the PCIe 6-pin connection should have three +12V pins on one side and three ground pins on the other side; the $5 cable that we bought at a local store had one of the +12V wires connected to ground, causing the system to refuse to boot. Our advice is to wait for an updated power supply from Shuttle, purchase a PCIe graphics card that doesn't require a separate power adapter, or make sure that you have a proper adapter cable. (This same problem could have easily occurred on the SN25P or 330P testing, so just make sure that you have a PCIe power cable for your graphics card if you need it.)


Noise, Heat and Performance
Noise and heat levels were very similar to that of the SN95G5. That's not too surprising, as the only major difference is the chipset and a PCIe X800Pro instead of an AGP version. Performance differences are also relatively minor - a case of "win some, lose some", but rarely by more than a small margin. We definitely don't see any major performance issues with the ATI/ULi chipset combination, which is welcome news.

The 3D performance of the IGP still pales in comparison to even a mid-range card like the $90 6600 or X600 Pro. It's basically on par with an X300SE. For non-gamers, this isn't a problem, but even casual gamers will end up disappointed when attempting to play the latest 3D games, as you'll see in our benchmarks. We would reserve the use of the IGP for non-3D applications or games that are more than two years old.


Overall Impressions
As with the SN95G5, we like the overall design of the ST20G5. However, there are still areas where we prefer the nForce 3 Ultra chipset to the ATI Xpress 200. Overclocking is the biggest benefit of the nForce 3/4 chipsets, as the ATI/ULi chipset combination was far more limited. The SATA controller in the nForce chipsets is also preferred because we don't like dealing with floppy disks just to get SATA support working in Windows. Neither issue is a show stopper for most people, but they are shortcomings. The ATI chipset does include integrated graphics of a decent quality, and for users who don't demand a lot from their graphics, it's a nice addition.

Would we recommend the ST20G5 right now? Mostly - it's attractive, quiet, and performance is right up there with competing models. The ST20G5 isn't a perfect design, but there is sure to be a market for a SFF with integrated graphics and a DVI connector. The price is a little higher right now than what we would like (at around $350) - you could buy the SN95G5 and a reasonable quality discrete graphics card for less money - but we expect that there's a bit of added inflation right now because the product is newer. It should probably settle into the $325 price range, which is more common for a modern SFF design.

The biggest problem that we encountered with the ST20G5 was the power supply and/or support for PCIe graphics cards that require a 6-pin power adapter. At present, the power supply is the same 240W model used in many other Shuttle cases. The problem is that most of those older designs are AGP models, and PCIe changes a few things. Adding a powerful graphics card - one that requires a 6-pin PCIe power connection - was more troublesome than what we would have liked. Shuttle has told us that they'll be shipping a modified PSU in the future with an integrated 6-pin PCIe power connection, so interested buyers should look for that. If you can't wait for an updated PSU, make sure you that get a PCIe power adapter that's wired properly.

This means that people hoping to grab a Venice or Winchester 3000+ and overclock to 3800+ speeds will want to look elsewhere. We've also heard about problems with the RAID controller, and this isn't something that we tested. We're not big fans of RAID, especially in a small case like the G5. If you're interested in a SFF with RAID support, we'd suggest going with the SN25P instead.




Soltek QBIC 3901A-300P
Overview
Soltek has been making computer products for nearly a decade now, and while they started like most companies with motherboards, they have since branched out into the graphics card and small form factor markets. The Soltek QBIC EQ3901-300P has been out for almost as long as the SN95G5. It is currently available in several variations, the only difference being the external appearance. We're looking at the brushed aluminum model (the EQ3901A). The EQ3901M has a mirrored front panel while the Mania series goes for more eye-catching colors like yellow and red.


Aesthetics
Click on images to enlarge.

The exterior of the QBIC is pretty typical of a SFF design. We personally prefer the brushed aluminum finish, but others might like the "bling" of the Mania models. This one is relatively subdued in appearance and would fit in with a more conservative décor. The front panel is composed of plastic, but Soltek has chosen to cover most of it with thin aluminum sheets to match the rest of the case. There isn't a whole lot in the way of front panel lighting, as the only sources are the power button and the HDD activity LEDs. The buttons provide chrome accents, and a Soltek badge takes up advertising space on the top 5.25" door.

Overall, we like the looks. In fact, we've seen the models with a mirrored finish as well as the Mania series, and the unadorned aluminum is our favorite of the Soltek offerings. Some people may prefer the more conspicuous designs, of course, and if you like what we have to say about the remainder of the EQ3901A, get whichever one you like most.


Features
Soltek EQ3901A-300P

Dimension
(w)215 mm x (h)200 mm x (d)340 mm
CPU Support
AMD Socket 939 up to FX-57/X2 4800+
Memory Support
PC1600/PC2100/PC2700/PC3200 up to 2GB; 2 DIMM slots
Motherboard
SL-B9D-FGR (proprietary)
VIA K8T800 Pro
1X-5X (200-1000MHz) HyperTransport
8-bit/8-bit to 16-bit/16-bit HT Width
Expansion Slots
1 x AGP 8X; 1 x PCI
Power Supply
300W APFC Power Supply
5 x 4-pin Molex; 2 x 4-pin FDD; 1 x SATA
1 x 4-pin ATX12V; 1 x 20-pin ATX
Internal Connections
2 x SATA; 2 x IDE; 1 x FDD; 1 x LPT
Audio
Realtek ALC850 7.1 channel
LAN
1 x 10/100/1000 Mbps
Drive Bays
1 x 3.5 External
1 x 3.5 Internal (HDD)
2 x 5.25 External (CD/DVD)
Front I/O
2 x USB 2.0
1 x IEEE1394 (6pin)
MIC, Head-phone, S/PDIF Optical Out
Power & Reset buttons
Power on & HDD LED indicators
Rear I/O
4 x USB 2.0
1 x IEEE1394 (6pin)
PS/2 KB, PS/2 Mouse
2 x COM (Serial) ports
RJ-45 LAN Port (10/100/1000Mbps)
Line-in, Center/Sub, L/R Front,
L/R Side, L/R Rear
Overclocking
CPU 200-250; CPU Ratio 4X-Max;
Vcc 0.800-1.700V; DDR Auto, 2.65-2.95V; AGP 1.5-1.8V
Extras
IcyQ cooling
Full Image Set
Soltek EQ3901A-300P Pictures (3.8MB)
Manufacturer Link
Soltek EQ3901-300Pro

Like all of the other units in this roundup, the standard features are all present. Firewire, USB, GbE, and audio are included, as well as IDE and SATA support. Somewhat unique is that this is the only 939 SFF to use a VIA chipset, the K8T800 Pro with the VT8237 South Bridge. Due to the integrated memory controller in the Athlon 64, we don't expect to see any major variations in performance, but we do feel that the NVIDIA chipsets are still the more robust options. Overclocking and memory support simply tend to be a bit better with the nForce chipsets. That caveat aside, the Soltek is still a reasonable option. Let's take a closer look at the specifics.


Click on images to enlarge.

We've mentioned the pros and cons of AGP vs. PCIe graphics in numerous articles, and our basic feeling is that AGP systems remain attractive for upgraders, but we wouldn't recommend spending a lot of money on a new system without moving to PCIe. Looking at the price of the Soltek 3901 (around $250 if you can find it), though, you could actually get a moderate graphics card and the case for less than many other SFF setups. The long term prospects for AGP aren't very good - new cards may lag a few months behind their PCIe counterparts, and the cost (due to the use of bridge chips) may be slightly higher; worse is that NVIDIA has so far made no move to provide a 7800 card with AGP support.

The real questions then are how long you plan to keep your system and how far you want to upgrade it. With the new Athlon 64 X2 chips now available, a socket 939 system has the potential to last several years. AGP may be more of a hindrance over such a lengthy period of time, but it's difficult to estimate the rate of transition from AGP, given the huge installed base of systems. It's hard to imagine NVIDIA and ATI totally abandoning AGP users and forcing them to upgrade motherboards, but NVIDIA at least isn't going out of their way to support AGP with the G70 - yet. Marketing loves to talk about the bandwidth advantage that PCIe has over AGP, but so far, it's mostly a theoretical advantage.



Closing up with the audio solution, Soltek has chosen a Realtek 8 channel setup, including ample connections for running 7.1 along with a microphone/line-in connection. S/PDIF optical out is also available, although the port is located on the front of the PC, which isn't our preferred location. The lack of S/PDIF IN may be a problem for some people, and if so, you will either want a different SFF, or you can purchase a card like the Turtle Beach Catalina 8. As for the quality of the audio, the front headphone port was once again guilty of having noticeable static. The rear ports were fine, and the static on the front port wasn't as bad as that on the ST20G5, but users interested in using headphones will be disappointed. The audio was also standard AC'97 audio rather than HD audio, although as we saw with the ST20G5, having HD audio doesn't necessarily mean it will sound better.






Soltek QBIC 3901A-300P (cont'd)
Construction
From the outside, the build quality of the Soltek case is pretty good. The top and sides of the case are secured by three thumb screws, and once they are removed, you can pull off the aluminum cover. The front of the case is plastic with metal plates covering the doors in order to make everything blend together. The plastic hinges do feel rather cheap, and they definitely wouldn't stand up to a lot of abuse, but SFFs are only slightly more portable than ATX cases, so they should suffice. As with the Shuttle cases, removing the cover required some force, and it doesn't slide smoothly into place. The three-panel design of the Biostar is definitely an advantage in this area.


Click on images to enlarge.

Moving to the internals, we find the standard steel and plastic frame. Cables are pre-routed to help with assembly and air flow, and there were no sharp edges that we noticed. The included power supply is a 300W model and comes with ample connections, certainly meeting the requirements of the added space. Unfortunately, it isn't positioned very well, which we'll cover in the setup section.


Click on images to enlarge.

The heat sink and fan are somewhat less impressive than most of the other offerings. The HSF has a copper core, but the fins are made of aluminum. A 60mm fan provides cooling, but it isn't particularly quiet. The location of the CPU socket is also obscured by the power supply, and installing the HSF on the CPU is far more difficult than in any other SFF that we've yet encountered. Finally, the latching mechanism to secure the HSF is difficult to install, and it doesn't inspire confidence. It took many tries to get all the hooks lined up properly, and even then, closing the latch didn't seem very secure.


Setup
Assembling the 3901-300P starts off the same as all of the other cases: you remove the thumb screws followed by the cover. With the cover off, you can then take out the two screws securing the drive cage and pull that out, which gives you access to the HSF. Removing the HSF is a little tricky, as we mentioned before that the PSU blocks access, but that was the easy part.


Click on images to enlarge.

With the drive cage and HSF out of the way, installing the RAM and CPU is pretty simple. If you need to install an additional IDE cable for the hard drive or a SATA cable, now is the time to do so. You can also install the hard drive(s) into the drive cage at this point. The tricky part is getting the HSF back in place on the CPU. It takes some effort to even get it into place, and once you have it over the CPU, getting it properly secured can require several minutes or more. We probably spent at least ten minutes fooling around with the HSF trying to make sure that it was installed properly - this was by far the most frustrating time that we had with any HSF installation, surpassing that of the "bent" heat pipes on the e-bot.




Click on images to enlarge.

Eventually, you can get everything properly installed, and then it's time to add the optical drive. Like other cases, it is usually easier to install the drive cage and then position the optical drive so that the front buttons line up. The screws can be installed from the sides of the case without any difficulty once the drive is positioned. We used our "oversized" CD-RW initially, and it was a tight fit - almost too tight, as getting the power cable installed was very difficult. We definitely recommend getting a new optical drive rather than using a hand-me-down, and you can see how much more room using our shorter LiteOn DVD gives.

Due to the time spent on the CPU/HSF issues, it required a bit more than 30 minutes to assemble the QBIC. The Installation Guide wasn't particularly helpful in this matter, and the internal layout was definitely problematic. In later testing, we removed the PSU and found that assembly time was cut down to a more reasonable 20 minutes or so. Soltek could definitely spend some more time reworking the design of the 3901. The good news is that once everything is assembled, you don't have to worry about it: 10 or 15 minutes on assembly followed by months of use without opening the case makes the assembly process a minor point. However, frequent upgraders will dislike the design. If there's a critical flaw with the 3901, it's the board and case layout - the socket location under the PSU is just really inconvenient for setting up the system, and novice system builders would be better off with any of the other units in the roundup.


Click on images to enlarge.

With the hardware installed, we move on to the BIOS screens. Most of the usual features are present, and the integrated SATA support of the chipset allowed us to use XP without any driver disk - note how the HDD shows up as IDE channel 2 master. The DRAM screen in the BIOS has most of the settings required for overclocking, but the tRP (RAS/Row Precharge) is not present in our screen shot. The latest BIOS changes the DRAM timings screen drastically, though Command Rate is still missing. We're not sure whether it was running with a 1T or 2T command rate, but we'd assume 2T. With the timings set to Auto (or default), our OCZ RAM with TCCD chips defaulted to 2.5-3-2-8, so we had to adjust those to 2-2-2-7 for optimal performance.

Installation of Windows XP SP2 - our standard for SFF systems - proceeded without any difficulty. After the initial setup was complete, we installed the VIA chipset drivers, audio drivers, LAN drivers, and the ATI graphics drivers. We rebooted once after installing the chipset drivers, as experience has taught us that this is usually a good idea. Then we installed the other drivers and rebooted one last time before commencing the benchmarking.


Noise, Heat and Performance
With the integrated memory controller, it's not too surprising that most of the benchmark results are similar. Comparing the Soltek with the closest competitor, the SN95G5, it often comes out on top, but rarely by more than a few percent. Temperatures for the case were pretty much in line with other units, and stability was very good overall. Overclocking changes the performance story quite a bit, however, so let's talk about that.

For overclocking, the added RAM timing adjustments seem useful, but we still couldn't get a 1:1 overclock out of the system. We had to set the RAM to DDR333 when we used the maximum bus speed of 250 MHz or we would get crashes (or a straight out failure to POST). The CMOS clear jumper is on the rear left of the motherboard, next to the AGP slot, incidentally. We were glad to find that nothing obstructed access to the jumper, as we had to use it several times. In the end, we could get up to a 233 MHz bus with a 1:1 overclock, but we had to drop to DDR333 to get any further.

We ended up with 10X CPU and a 250 MHz CPU bus, giving a clock speed of 2.5 GHz with RAM running at DDR416 (CPU/12 ratio). While being forced to use a lower memory ratio isn't ideal, Athlon 64 chips aren't affected as much as other platforms and the maximum 250 MHz CPU bus was definitely a limiting factor. We managed to reach a slightly higher CPU overclock with the 12X multiplier, where we reached up to 2544 - the highest overclock that we've achieved with this particular 3800+ Newcastle on air cooling. Despite the difficulty of installing the HSF, it at least appears to cool well.

The one real problem with the Soltek, unfortunately, is the amount of noise that it makes. Most of the noise seems to come from the "IcyQ" cooling contraption, which is the vertical fan on the side of the case enclosed in a plastic shroud. We're not sure if the cooler is absolutely necessary, and it definitely adds to the noise levels. The shroud seems to act as something of a resonance chamber, only making matters worse. The interesting thing is that the Soltek was louder at idle than any of the other systems, but in stress testing, it didn't get much louder. The SN25P and 330P both had noise spikes that were louder than the 3901. We'd say that lower noise at idle with periodic spikes while the system is under load is preferable, but others might favor a constant level of white noise.


Overall Impressions
While it's larger than some of the other designs, the Soltek case still looks good and performs well. The biggest problem is noise, and even that isn't terrible. We're only looking at a few decibel difference between it and most of the other systems, though the high idle noise levels can make it seem like a bigger gap. The case as a whole is decent but not great, placing roughly fourth out of the tested systems. There is a major redeeming quality, though: price. This is the cheapest of any of the SFFs in this roundup, and it's over $100 less than some of the competitors. You also get a carrying bag. If you're willing to tinker a bit, you can modify the IcyQ cooling and create a less noisy case. Finding the 3901 in stock anywhere has become somewhat difficult, unfortunately - only the Mania series is still easy to find, and that may be because people don't appreciate the way they look.




Size Comparisons
One thing that isn't really clear from our pictures so far is the relative sizes of the cases. Being that this is the Small Form Factor market, a lot of people are going to be concerned with how large each unit is. To give you an idea of the sizes, we have included several comparison shots with the units. The larger units do have the advantage of additional room for hard drives, of course, so there really is no "one size fits all" choice.


Click on images to enlarge.
Click on images to enlarge.

The G5 chassis is clearly the smallest of any of the units, with both the SN95G5 and ST20G5 being identical in size. The 330P is slightly larger, with a relatively significant increase in size from the 330P to the EQ3901. Coming in as the largest of all the 939 SFFs is the SN25P. Not surprisingly, it also packs in the most features and expansion options (other than the lack of a PCI slot).


System Dimensions in mm (Width x Height x Depth)
Biostar 330P
215 x 185 x 355
Shuttle SN25P
210 x 220 x 330
Shuttle SN95G5
200 x 185 x 310
Shuttle ST20G5
200 x 185 x 310
Soltek 3901-300P
215 x 200 x 340

You can see the dimensions of the cases all at a glance in the above table. Note that these are our own measurements, and while they agree for the most part with the manufacturers' dimensions, a few numbers were off by as much as a centimeter. We included the length of any thumbscrews or any other protrusions on the rear of the case, and we did the same for the farthest point on the front of the case as well. We've also made a chart of the volumes of the cases by multiplying length * width * height.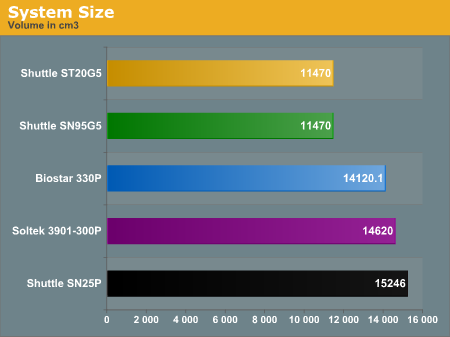 Since we're dealing in three dimensions, a volume that's twice as large doesn't actually feel like the case is twice as big, but this should give a decent idea of the relative sizes represented by a single number. Note that as expected, the SN25P is the largest, followed by the EQ3901 and the 330P. The 330P is actually quite a bit shorter than the other two, but it is also the longest unit in this roundup by almost two centimeters. For some people, that may be important, but relative to even a micro ATX case, these are all small. The Aspire Q-PACK, for example, measures 285 x 225 x 350 with a volume of 20520 cm3. Then again, the Q-PACK can be used with any micro-ATX motherboard.

One last comment on the size is that it can be a bit tricky installing larger graphics cards into these small cases. The G5 chassis in particular requires a bit of finesse, and even the hinged design of the 330P doesn't make it simple to install our X800 Pro. The cards did fit in all of the units, and we're happy to report that they all ran without issue. The SN25P and the 3901-300P both have the most clearance around the GPU slot and were the easiest in which to install the graphics card. Of note is that out of these five units, only the SN25P can accommodate a dual slot GPU like the X850 XT PE or 6800 Ultra. So, if you have one of those or plan to purchase one, your SFF selection is very limited. It's a minor point, however, as the current champ of GPUs - the 7800GTX - is once again a single slot solution.




Benchmark Setup
Before we get to the benchmark scores, let us emphasize that the total performance level of the systems as configured is not the deciding factor in our Small Form Factor reviews. We aren't using the fastest CPUs or GPUs available, as we're really just verifying that none of the units have any major performance issues.

We're going to try running all of the 939 systems with an Athlon X2 processor soon, but time and size considerations for the article dictated that we run it as a separate piece. (How many of you are actually reading every word of this 22,000 word novella?) We're certainly curious to see how the systems deal with the dual core processors, especially the older AGP models. At present, all of the units have BIOS versions that enable X2 support, though whether they all work without issue is something that we need to investigate.

Our test configuration is as follows:


Performance Test Configuration
Processor(s):
AMD Athlon 64 3800+ (2.4GHz 512KB cache) Socket 939

Note: 130nm Newcastle version
RAM:
2 x 512MB OCZ PC3200 Platinum Rev. 2 (TCCD)
Hard Drive:
Seagate 80GB 7200 RPM SATA (8MB Buffer)
Video Card(s):
PowerColor X800 Pro PCIe VIVO
Operating System:
Windows XP Professional SP2
SFF Systems:
Shuttle XPC SN25P
Biostar 330P
Shuttle SN95G5v2
Shuttle ST20G5
Soltek EQ3901-300P (3901A)

All systems used DIMMS with Samsung TCCD chips running 2-2-2-7 timings. We also used a 1T command rate on the Athlon 64 systems where possible, as that has been shown to have a significant (3% or more) impact on performance. Only the 3901-300P lacked such a setting.

A PowerColor X800Pro PCIe graphics card was used as a system stress component to verify the ability of the various units to support a reasonably high-end GPU; for AGP systems, we used a Sapphire X800Pro. While the X800Pro is past its prime, performance is pretty comparable to the X800XL in the majority of benchmarks, and we started running tests on some of these systems months ago. We also needed to choose a graphics card that was available in both AGP and PCIe formats, as we have both options represented here. There are minor differences in performance between the two interfaces, but we're still going to be CPU limited on several of the tests that we run.

The noise tests used either integrated graphics or a fanless GPU - a GeForce MX440 AGP card or a 6600 PCIe, depending on the platform. Performance testing without the X800 Pro was not performed on all systems, but a quick test with a couple of units showed that the performance in standard business applications was close enough to the performance with the X800 Pro that we did not rerun all tests. Only IGP options were fully tested where applicable: we didn't bother trying to run Doom 3 or Half-Life 2 on the MX440 or 6600, though we did get scores from the ST20G5.




Business Benchmarks
For a look at overall business/office performance, we ran Winstones 2004 Business and Content Creation tests. The variance for each test is about 3%, so anything less than that is considered equal performance; even a difference of up to 10% will hardly be noticeable in regular use (unless you're sitting in front of your computer waiting for an audio/video clip to finish encoding).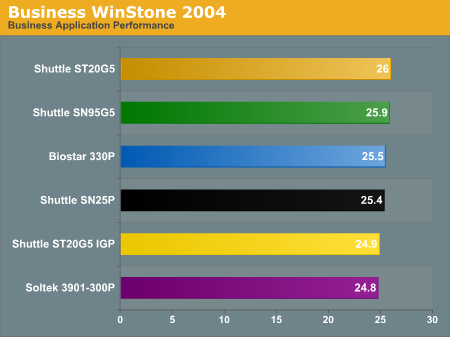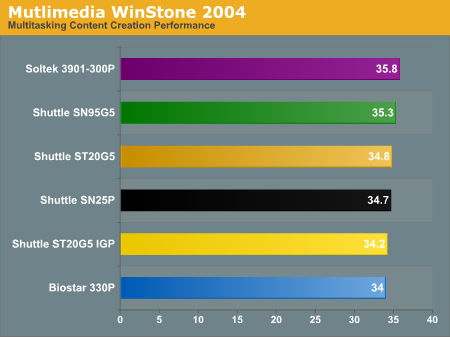 The results for the ST20G5 with discrete graphics are only about 3% faster than when running off the IGP. Variance with the IGP is quite a bit higher, however - up to 10%, though why that is happening, we're not quite sure. Really, the IGP should have been sufficient to complete all of these tests, as none of them are really GPU dependent. It could be that the IGP is simply using a bit of memory bandwidth at times and causing more variance and slightly slower overall performance. It's interesting that the Business test is actually affected more by the IGP than the Content Creation test, indicating that the CC tests don't stress GPU performance much at all.

In terms of performance spread, all of the systems are pretty close to equal. The difference between the systems is at most 5%. In reality, any of these systems is more than fast enough for office work, as the majority of time spent on the computer is going to be user input rather than waiting for the CPU. For content creation work - especially video editing - you will likely want the faster units. For whatever reason, both of the older AGP models took top marks in the CC benchmark.




Encoding and Network Benchmarks
AutoGK
Our encoding benchmarks will use AutoGK with two different video files. We'll encode with both the DivX and Xvid codecs. Our movie encoding benchmark uses a chapter from The Sum of All Fears, and we encode it to 75% quality with no audio and the video size set to "Auto". In this test, Auto results in a 720x384 video clip. This is the most simplistic of video encoding tasks, as the 75% quality only requires a single pass. All tests were done with version 1.60 of AutoGK - the latest official release at the time that benchmarking was started. Version 1.96 is now available, but a quick test didn't show more than a 2% difference in performance.

Our second encoding benchmark uses an MPEG-2 file that we created using the high quality TV input option from the Aopen EA-865-II. We took the 28MB file (for a 30-second clip) and set the target size to 5 MB. The encoding takes three passes: a compression analysis pass followed by two encoding passes. We report the total time required from the instant that we press the Start button to the conclusion of the second encoding pass. Video size is set to a fixed width of 640 pixels (i.e. no loss in video size) and audio was set to auto (which results in MP3 encoding). (If you prefer to compare frames per second, the video is 900 frames long, so divide by the time reported in our graphs.) Audio processing with multiple video passes slows the FPS down dramatically in comparison to the single pass test, of course.

You can check out the samples of the DivX and Xvid encoded video files if you're interested. When compared with the 28MB MPEG-2 source file, the benefits of re-encoding are readily apparent.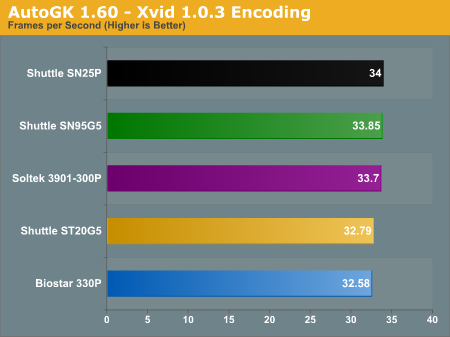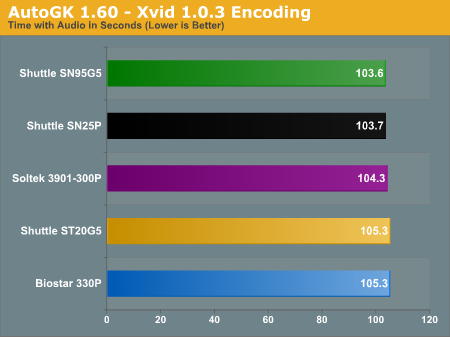 Most of the systems are very close in performance. The 330P presents an interesting picture, with the fastest score in the single pass DivX test and the slowest score (for 939) in the multi-pass DivX test. We're not sure why the results vary so much, since both tests use DivX and we had the System Control utility running.


Networking
In order to test network performance, we used the NTTCP utility from the Windows 2000 Driver Development Kit. This is less prone to variance than the simple file copy that we used in the 478/754 roundup, though the results become more of a theoretical maximum than a representation of normal use. In most networking situations, you'll be limited by the performance of your hard drive - at least, if you're planning on using these SFFs. High Performance Computing can make good use of faster networks, but that's a different topic. We executed the following command at a Command Prompt on each system:

ntttcpr.exe -m 4,0,[Server IP Address] -a 4 -l 256000 -n 30000
ntttcps.exe -m 4,0,[Client IP Address] -a 4 -l 256000 -n 30000

We ran each of the systems as both a client and a server, connected through a gigabit switch. Our companion PC for this test is an Athlon 64 3200+ system in an MSI K8N Neo Platinum motherboard. The reason for that choice is because it's my personal PC, so it's not as likely to be in a disassembled state as the other systems around the labs. This makes the results a bit more "real world" than a crossover cable, but we're not too concerned - we just want a baseline estimate of networking performance. Since all of the networking chips are gigabit Ethernet, we should in theory see results close together. Reality disagrees with that assumption, though.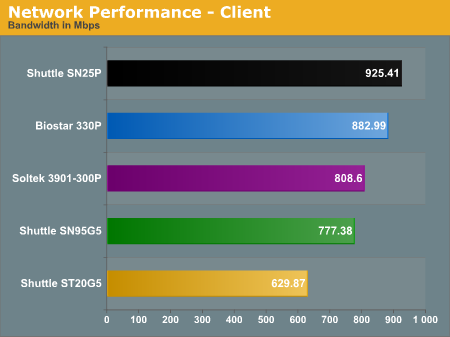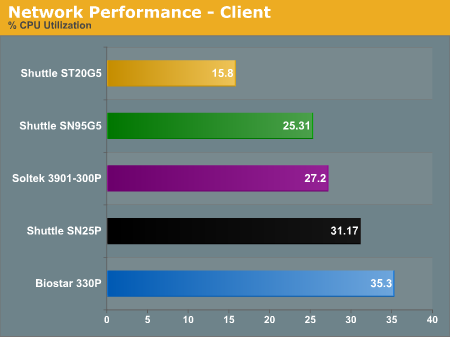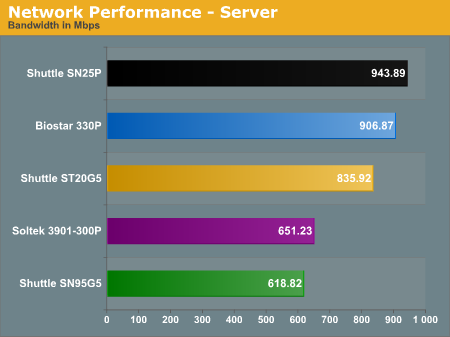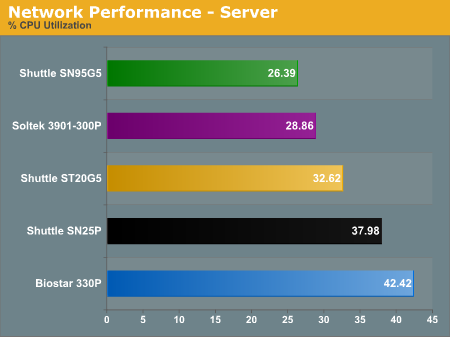 The variation in theoretical networking performance is pretty large, with the fastest client tested being the SN25P at 925.41 Mbps and 31.17% CPU load. The slowest client is the ST20G5, coming in at 629.87 Mbps and 15.8% CPU load. The spread among the networking controllers when functioning as a client is 47%. Notice how the CPU usage is directly reflected in performance, however: faster networking on these solutions all results in more CPU time. High end networking solutions would offload a significant amount of the CPU load onto the controller, but that is almost exclusively the domain of servers.

The interesting thing is that client performance seems to have very little relation to server performance, at least with the NTTCP utility. The fastest server is also the SN25P, actually surpassing its client score with 943.89 Mbps and 37.98% CPU load. The second fastest is the 330P, with a similar performance advantage over its client scores. What's interesting is the ST20G5, coming in at 835.92 Mbps with 32.6% CPU load - this despite being the slowest client. Note that the CPU load of the ST20G5 was almost twice as high when functioning as a server instead of a client. The difference in server performance is slightly higher than the spread in client performance: 53%.

Clearly, all gigabit Ethernet controllers are not created equal. Unfortunately, if networking performance is critical for your system use, we really don't have much to offer in the way of advice beyond stating that the SN25P and 330P seem to be the best implementations - likely helped by placing the NIC on the PCIe bus. There isn't a clear pattern among the remaining systems, as the ST20G5 also uses a PCIe network chip. The drivers are obviously important in realizing the maximum performance of the network solution. In everyday network use, though, the performance difference is not generally noticed: streaming movies, copying files, etc. all use far less than even the 630 Mbps of performance that the ST20G5 provided.

We did try to run some duplex tasks - i.e. having the system function as both client and server at the same time while another system was server and client. That should have pushed us over the 1 Gbps rate for total network traffic, and it could have made the non-PCI networking options stand out, as the PCI bus is limited to 133 MBps. Our attempts at getting a repeatable test failed, however, as CPU usage and network traffic varied wildly. The (cheap) network switch that we used may have played a role, and CPU multitasking likely had a part as well, but we didn't feel that it was worth pursuing the matter further.






Gaming Benchmarks
We have chosen two of the big gaming titles for our gaming benchmarks. All tests were done at 1024x768 both with and without 4xAA. 8xAF was enabled in both cases, as it did not impact performance much. We used the standard Demo1 for Doom 3 and the City_17_12 and Canals_08 levels within Half-life 2. (We're running the revision 7 version of the timedemo engine, in case you were wondering.) The levels chosen for HL2 tend to stress the CPU and system rather than just the GPU, so we felt that they were the most useful in terms of benchmarks.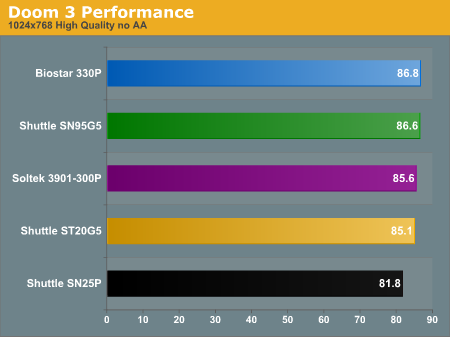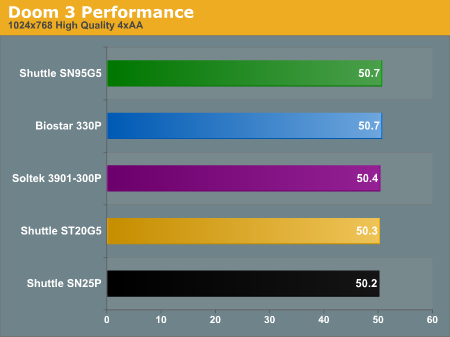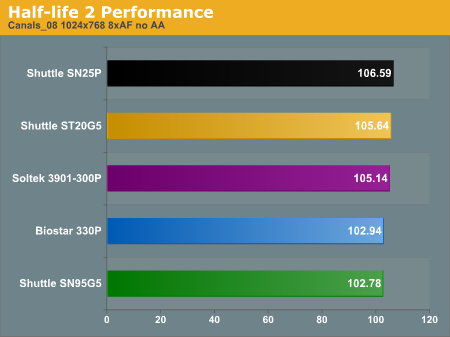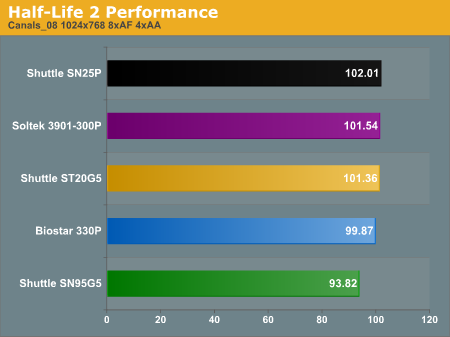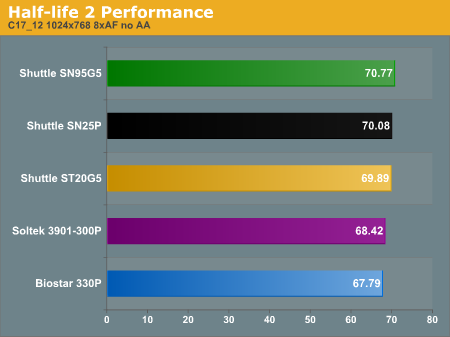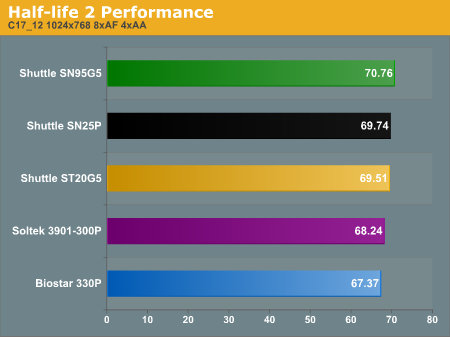 Starting with Doom 3, all of the systems are close enough together to basically call it a tie... with the exception of the SN25P. Something has changed performance quite a bit since our initial review of the SN25P, as the results with the latest BIOS are about 5% slower in most tests. That's almost a full CPU bin downgrade, though the scores are mostly in line with the other systems now. If the older scores can be reached without compromising stability, we'd like to see an updated BIOS that brings back former performance levels while also offering the new features of the latest BIOS. Consider the 4xAA Doom 3 test something of a reality check: if you don't have a fast enough graphics card and you want all the eye candy, the difference in performance between most systems is very small.

Half-Life 2 is less GPU limited than Doom 3, so the performance varies more among the contenders. The 330P was tied for fastest at running Doom 3, but it ranks near the bottom of the 939 units in HL2. Shuttle's SN25P is the reverse, going from the slowest in Doom 3 to one of the fastest in HL2. Meanwhile, the SN95G5 really has problems with the Canals level with 4xAA for whatever reason, but performs well on the City 17 level.

Picking an overall gaming winner is difficult, given the variations among the units, but the margin between slowest and fastest is only 6% (throwing out the anomalous 4xAA Canals score from the SN95G5). If the System Control utility has as much of an impact as we suspect, the 330P could actually move into undisputed first place without the utility running, so hopefully, Biostar can address that desire.




Synthetic Gaming and ST20G5 IGP
While many will question the actual relevance of 3DMark03 scores in comparison to actual gaming performance, we do find the product to be very useful as a stress test of systems. If you can loop 3DMark03 for 24 hours without a crash on a system, we're generally willing to call the system 100% stable. We also use the program in looping mode as our stress test for checking system temperatures and noise levels. Since we had already run all of the systems with 3DMark03, we have included the results for reference.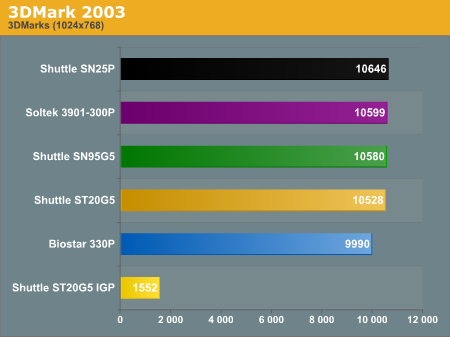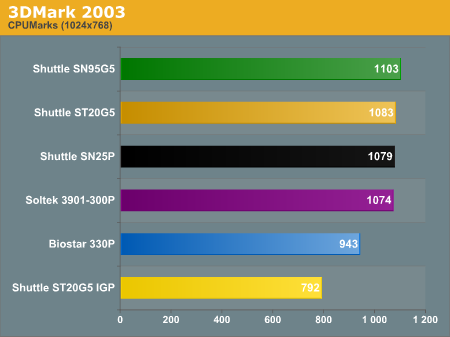 The 3D portion of the score is biased heavily towards the graphics card, so it's not surprising to find that nearly all of the systems perform within 1% of each other - not counting the IGP of the Shuttle unit or the 330P. The CPU results are less dependent on the graphics card, but we still only get a 3% spread between the most of the systems - again, not counting the IGP score for the ST20G5 or the 330P. The Xpress 200 graphics of the ST20G5 are able to complete the benchmark, but just barely. As you'll see in our chart below, performance simply isn't adequate for some games.

3DMark03 was one of the applications that caused some stability problems for the 330P. Without having the System Control utility running, it simply would not complete at all. Even with the utility, the scores are quite a bit behind other units - 7% slower than the fastest in the 3D score, and a whopping 17% slower in the CPU test. Since this is more of a theoretical benchmark than a real game, we won't give it as much weight, but the fact remains that the CPU time used by the System Control utility as well as lower performance in general is a definite mark against the 330P.


ST20G5 IGP Results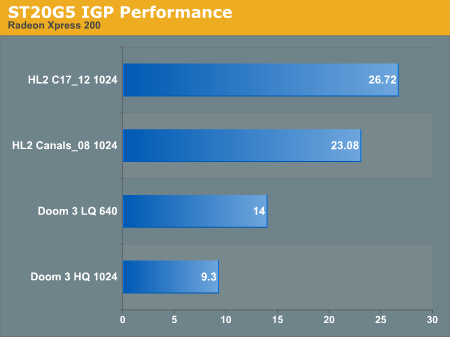 We grouped all of the scores for the ST20G5 into one chart. Doom 3, even on the low detail setting, is completely unplayable. Disabling the shadows and bump mapping raised the scores to acceptable levels at 640x480, but the game simply isn't meant to be played that way in our opinion, so we're not reporting the results. The Xpress 200 graphics are slightly slower than an X300SE card, due to the use of system memory, and an X300SE is nothing special. Doom 3 clearly requires more memory bandwidth for its shadow calculations than what the RAM can provide. Half-Life 2 is a different story. It requires more pixel processing and CPU power and less bandwidth, enabling reasonably playable performance even at 1024x768. The City 17 level actually runs faster on the IGP than the Canals level, as the C17 level puts more strain on the CPU than the GPU. Low to mid 20 FPS scores aren't great, but you can live with them in a pinch.




Noise Benchmarks
We used an SPL meter with a sensitivity of down to 30 dB in A-weighted mode to measure noise levels. While it may not be the most realistic placement for the meter, measurements were taken at a distance of 12 inches from the rear of the case. This was necessary to get meaningful differences from the systems in idle mode, though we admit it's not entirely accurate - especially with the fans frequently located at the rear of the case. We also measured from the front-right area of the computer at a range of 48 inches, roughly where we would expect most people to sit in relation to their case. A few of the units were quiet enough that the sensitivity of our SPL device came into play at the larger distance, and while none dropped below 30 dB, accuracy becomes suspect the closer we get to 30 dB. Noise tests were also taken with and without an X800Pro installed; integrated graphics were used if available, or a fanless MX440 or 6600 card was used for the other systems.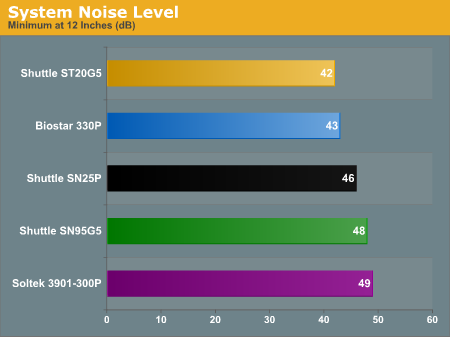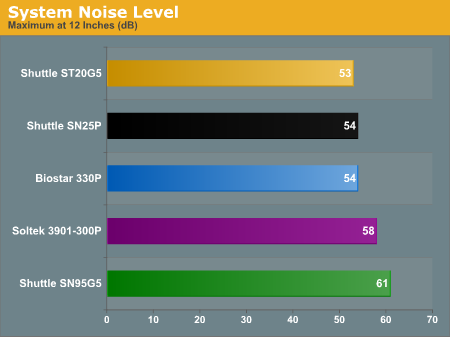 The maximum noise level measured is a true "worst case" scenario, and the only time that we measured this level of noise was usually during the POST sequence when the CPU and GPU fans spin at maximum RPM. The minimum noise level is the noise level measured while the system sits idle at the Windows desktop. This is the level of noise that you'll most often hear when doing simple business tasks, surfing the internet, or writing email.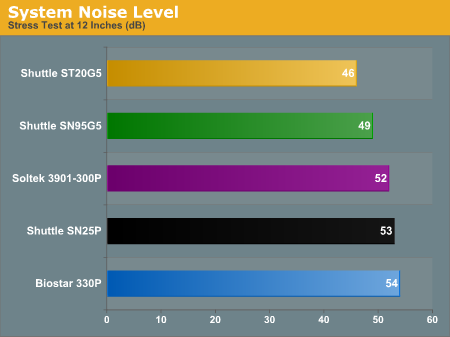 The stress test measurements were taken while looping 3DMark03 after it had been running for over an hour. At that point, the systems are typically at their maximum temperature levels and the variable speed fans will often become louder and quieter; we record the maximum noise level reached under the stress test, though it's important to remember that often this maximum will only be reached for a few seconds before fan RPMs decrease again.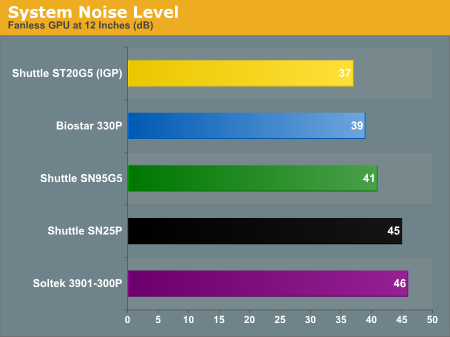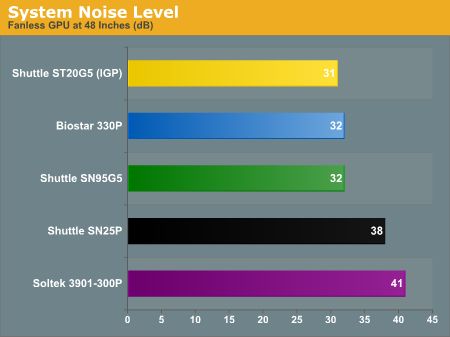 For tests without the X800 Pro, we omitted the stress test and simply report the noise level after the computer has been running for 30 minutes. Room temperature was not consistent, though it was 70 to 75 degrees F so it shouldn't impact the results too much. As you can see, the SN25P and 3901-300P are both much louder than the other units when a fanless GPU isn't present.

The items to which we'd pay the most attention are the idle (minimum) noise levels and the stress test noise levels. If you plan on using a quiet GPU, look at those results as well. All of these systems are very quiet in typical use - even the Soltek is quieter than most desktop ATX cases that have two or more 80mm fans installed. The stress tests make the 330P and SN25P look worse than what they really are, as the peak noise level that we measured at one specific point in the stress test isn't a continual irritant. Most of the time, they run at around 48 to 50 dB and it would only spike up to 53/54 dB periodically (once every couple of minutes). Overall, the G5 units prove the maturity of the design, as they come out as the quietest systems in the stress test and fanless GPU tests.




Temperature Benchmarks
Our temperature benchmarks were taken during the stress test portion of the noise tests and should represent the highest temperatures that you should see from the systems. A laser temperature gauge was used to record the surface temperature of the CPU heat sink, RAM, HDD, north bridge heat sink, and GPU RAM. Remember to look at both the noise and the temperature levels reported, as most of the units are well below the critical temperature for the devices. Lower noise levels will often bring higher temperatures and vice versa. Obviously, the use of different components would also affect the noise and temperature levels. (As these are surface temperatures, the materials used in the heat sinks can affect the readings.)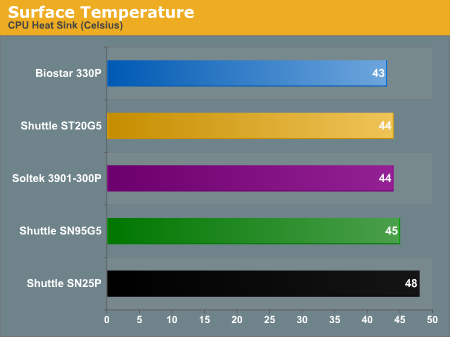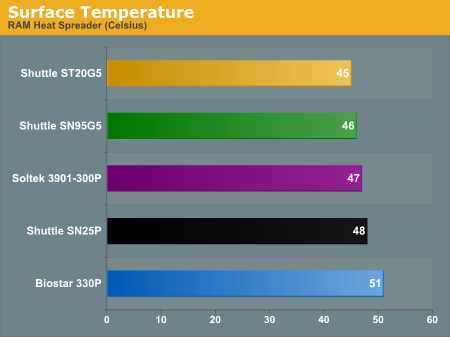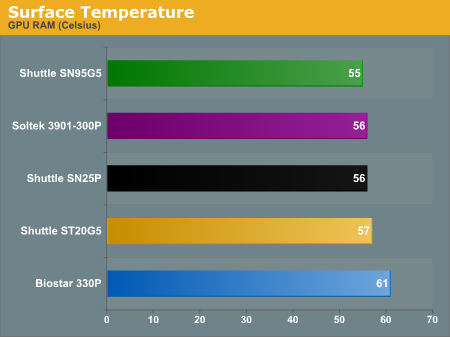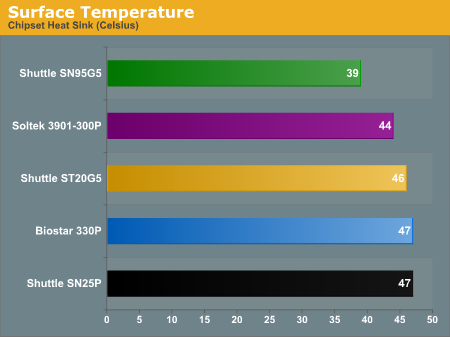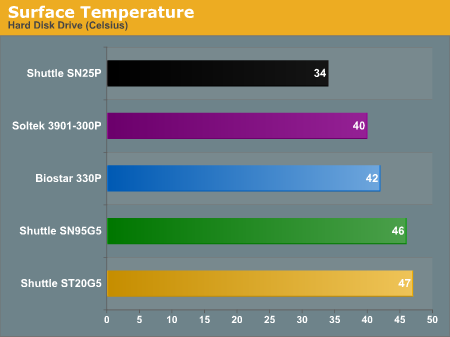 Due to the method of measurement, we wouldn't place too much value on the measurements for the CPU and chipset. Different heat sinks will have a higher surface temperature, and the most important thing is that the system runs stably. We didn't experience any stability problems with our testing that we could blame on the cooling systems, so the CPU and chipset values are largely academic. The areas to which we would pay more attention are the GPU, RAM, and HDD temperatures.

High-end GPUs can generate quite a bit of heat, and especially some of the 6800 and X800 cards are prone to crashing if they get too hot. If you're the type of person who likes to overclock your graphics card, we would recommend that you do so cautiously and reduce the overclocks if you encounter any system instability. We'll have more to say about this on the next page, though. The GPU temperature on the 330P is something that concerns us, and since the only crashes we experienced with it involved 3D applications, the 4 C temperature increase could play a role. Removing the side panels on the 330P did eliminate the crashes, indicating that a lack of airflow to the GPU might be the major issue.

Hard drives are a different story, as they typically work until they fail, and HDD failure often seems to be tied to higher temperatures. We didn't have any issues during testing, but very few hard drives would fail in less than a year, even in overly hot conditions. All things being equal, we would expect the G5 chassis to cause a few more HDD failures than most of the other contenders. Before purchasing a hard drive, then, we would recommend that you check out our latest HDD roundup. You might want to get one of the cooler running drives depending on the SFF that you plan to purchase.




Overclocking
We did our best to run all of the systems through some overclocking attempts. In order to conclude that an overclock was successful, we ran our gaming benchmarks, AutoGK, and 3DMark03. 3DMark03 was set to loop continuously and in most instances, we would leave the system running for over 12 hours. Overclocking is always something of a hit and miss proposition, so just because we reached a specific overclock (or didn't as the case may be) doesn't give us any statistical significance. What we offer here, then, is our impression of the overclocking abilities of the various systems.

Socket 939 systems are very interesting as overclocking platforms. This is largely due to the relatively low entry price - the 3000+ Venice cores are going for under $150 now - as well as the large amount of headroom available. It is not uncommon to get as much as a 40% increase in clock speed out of the 3000+, but it does require a base Hypertransport speed of 280 MHz or more. In order to run at such high bus speeds, the BIOS and motherboard must be designed well. All of the systems in this roundup include at least basic overclocking support, and while we started with a 2.4 GHz 3800+ processor, the downward unlocked multipliers allow us to verify the maximum attainable bus speed. That's our primary focus for overclocking, and it determines whether we feel enthusiasts looking to get high-end performance for low-end prices will find a system to be suitable or not.

While we are including a "maximum CPU overclock" result, take the numbers with a grain of salt, as we didn't thoroughly investigate every possible combination of settings that might lead to a slightly better overclock. If a unit can reach a high CPU bus speed setting, you'll have plenty of options for reaching a good overclock.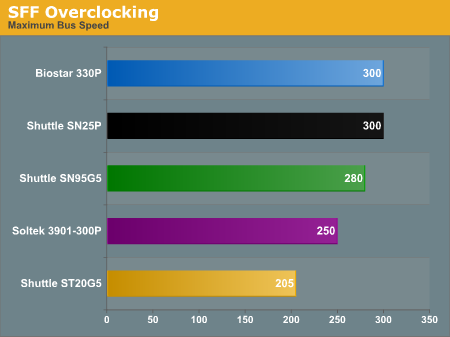 The SN25P and 330P both managed to reach the highest bus speeds offered in their BIOS: 300 MHz. However, we had to drop the RAM to DDR333 for both systems. The 330P also reached 299 MHz, but only with 3-4-4-8 2T memory timings. The lower memory ratio with 2.5-3-3-7 1T actually provided very similar results. For 1T overclocked speeds, 260 to 280 MHz was the best that we could get out of either of these units, and switching to a Venice core actually affected the 1:1 overclocking abilities. (We'll cover that in more detail in our follow-up article.)

The ST20G5 is on the other end of the spectrum, with virtually non-existent overclocking support. Whether this was caused by the chipset, the BIOS, or something else is anyone's guess, but for now, we would simply say to forget about any overclocking attempts if you buy the ST20G5. We'll see if we can get any better results with an updated BIOS or different processor in Part 2, but while we could POST and boot Windows at up to 225 MHz CPU bus speeds, certain benchmarks would always crash the system. Without overclocking, however, we experienced no stability issues with the ST20G5 at all.

It's interesting to note that the old Shuttle SN95G5 is one of the top overclockers, and we were able to use 1T timings at all bus speeds. We were able to run the SN95G5 at a 275 MHz bus with a 9X multiplier to reach 2475 MHz, and we were also able to reach its maximum 280 MHz bus with an 8X multiplier. While 280*9 is 2.52 GHz and we've been able to run this particular 3800+ at up to 2.54 GHz in other systems, that particular combination was not stable for the SN95G5.

The Soltek comes in second to last for overclocking, reaching its maximum 250 MHz bus, but only when setting the RAM to DDR333. On the other hand, using the 12X CPU multiplier, we were actually able to get the highest CPU speed of any of these systems from the Soltek. We only wish that the Soltek had support for higher CPU bus speeds than 250 MHz.

Note: The use of a HyperTransport bus combined with an integrated memory controller can make talk of overclocking on Athlon 64 systems a bit confusing. In practice, a 250 MHz CPU bus with a 4X HyperTransport multiplier would have the same HyperTransport bus speed as a 200 MHz CPU bus with a 5X HT multiplier. The difference is that the CPU bus speed also influences the RAM speed. Another interesting option is the use of different DRAM ratios, which are really estimates of a CPU ratio. Our 3800+ running at stock speeds has a 200 MHz CPU bus with a 12X CPU multiplier and a 5X HT multiplier, and we can run 2-2-2-7-1T RAM timings on these systems. For all practical purposes, running the 3800+ with a 240 MHz bus and a 10X CPU multiplier with a 4X HT multiplier results in the same CPU clock speed of 2.4GHz and also keeps the RAM at DDR400. However, as the ST20G5 shows, just because they're the same speed in practice doesn't mean that all motherboards and chipsets will actually function properly at higher CPU bus speeds.




Conclusion
First, let's get this out of the way: even the cheapest of these units is relatively expensive. The Soltek runs at least $250 and the Shuttle SN95G5 runs about $280. You can buy a reasonable ATX case, power supply, and 939 motherboard for about $200, and less if you're willing to cut costs on the case and PSU. As we have said before, SFF targets a different mindset than the typical computing enthusiast. Many of you probably understand this well already, but when you consider the cost of furnishing the typical home or apartment and the considerations given to making the place look attractive, spending an extra $100 or even $300 on a stylish case is going to be a pittance. You also get S/PDIF Out and Firewire on every one of the units reviewed here, which means (comparing it to the ATX world) that you would need one of the nicer $110+ motherboards at the very least. Also worth mentioning is that the loudest of these systems is still quieter than your typical ATX setup unless you've spent some effort on creating a quiet system. Yes, they're expensive. No, it doesn't mean that they're a bad purchase; it's simply a matter of differing priorities.

We've already awarded the SN25P our Silver Editor's Choice award back when we first looked at it. That award was actually given with the knowledge of how several of these other systems performed, and it still stands (more or less). If you're looking for an all-around good performer, the SN25P packs features, performance, and overclocking support into an attractive design. The 24-bit VIA Envy sound also comes out of this roundup as the clear winner; it may not be "HD Azalia," but it's close enough, since it sounds better than a couple of the HD solutions that we've encountered. (Using digital out would of course eliminate the static on all of these systems.) Despite the complaints and concerns that we've listed earlier, the SN25P remains a very good SFF platform. Assuming Shuttle can get the X2 support fixed soon, the SN25P remains our pick of the 939 units. If you want to purchase an X2 processor right now, we'd downgrade the SN25P to an "Honorable Mention" until that is addressed, but the overclocking support, design, and features keep the SN25P at the head of the pack.

If you're looking for something a little smaller, the SN95G5 is still a great case. Had we reviewed the SN95G5 at launch, it would have almost certainly received an Editor's Choice award. Due to its age and somewhat outdated graphics port, we'll simply give it an Honorable Mention in this roundup. The follow-up ST20G5 seems like a logical successor to the G5 legacy at first glance, but a number of concerns prevent it from being the true successor. Overclocking support is the big problem, and while you may never overclock, the ability to run stably at overclocked speeds is often an indication of overall quality.

The rest of the systems in this roundup are all very good in different ways. Depending on what you want to do with your computer, the ST20G5 is a hit-or-miss proposition. You can purchase the nearly-identical SN95G5 and a higher performing Radeon 9600 Pro for about the same price as the ST20G5. If you don't need graphics performance at all, you could even get a cheap $40 AGP card with the SN95G5. The ST20G5 does offer multi-monitor support for up to four displays with an ATI card, and you get the newer and better PCI Express interface, but we're still not sold on the concept. The ST20G5 includes decent quality integrated graphics, but the high price and complete lack of (useable) overclocking capabilities are a definite penalty. Some might prefer the silver exterior of the ST20G5, and if so, it's not a bad system by any means. If you want an SFF that can run three or four displays, the ST20G5 is also worth consideration.

In direct comparison with the other models, the Soltek 3901P doesn't do all that well. It isn't ever at the back of the pack, but it also fails to excel in most areas. The saving grace is its low price. If you're willing to deal with the higher noise levels - or perhaps, mod the case to eliminate the major sources of noise - and if you can actually find the 3901 model that you want in stock, then some will still be happy with what it offers. Performance and expansion options are good, and it's the only case that can have two 5.25" drives installed. Some people would probably prefer to save $20 rather than get the backpack, but it can be useful.

Finally, we have the Biostar 330P, which is one of the cooler cases in regards to looks and expansion options, but falls short in noise levels and has some rough edges. Future BIOS updates ought to be able to help some items, and we'd really like to see the BIOS take over fan control so that we can get rid of the System Control software. That should help smooth out performance, but the noise levels and periodic instabilities may not get any better without a slight redesign of the interior. It generally works well and some will want it simply for the outward appearance. For now, though, we'd give the SN25P the edge over the 330P. Our wish list for Biostar is to make sure that the 330P can handle everything up through the 7800GTX and FX-57/X2 4800+, as well as clean up the cabling by changing power supplies. That would put it on the same level as the SN25P, but it's not there yet.

A pertinent question to ask yourself is whether you want AGP or PCIe graphics. If you already own an AGP card and you're looking at changing over to a SFF, but keeping your current graphics card, the SN95G5 is still a great design. If you're planning on building a new system from scratch, we'd definitely recommend going with a PCI Express setup. The ST20G5, SN25P and 330P are all viable PCIe 939 systems, and while we give the current round to the Shuttle SN25P, the other two are still worthy contenders. We're still waiting for a "perfect" 939 SFF case, however.

What would make a perfect 939 SFF? Actually, it's always a matter of balancing compromises, and the SN25P comes very close to being a perfect larger SFF. Something that we would really like to see with some of the larger units like the 330P, SN25P and 3901-300P would be the inclusion of a couple more RAM slots, but they have stuck with the traditional two DIMM slots typical of SFFs. Stability, low noise, ease of use, appearance, and features are all important aspects, and the SN25P comes very close in most of those areas. If it had four DIMM slots and the X2 support is corrected, we'd probably give it a Gold Editor's Choice. On the other hand, we also think that there will be some customers who prefer a smaller case like the G5, but they want an NVIDIA chipset and overclocking functionality along with PCIe graphics. A smaller design using the nForce4 Ultra chipset would probably win the hearts of the SN95G5 owners looking for an upgrade, as the ST20G5 isn't going to please everyone.


Going Forward
Next up for our Small Form Factor reviews: the socket 775 platform. Some newer designs using the 945/955 chipsets from Intel are coming out, and if you're going to go with a 775 platform at this point in time, we definitely recommend those over the older models. Still, there are a few creative designs that we have in our labs, so if you're more interested in an exotic-looking SFF rather than something performance-oriented, we'll be covering the segment in the near future. This will be our last full SFF roundup for a while, as it's more prudent to simply start reviewing other SFFs as quickly as possible rather than trying to write a single monolithic article. We'll be publishing socket 775 SFF reviews as well as some other SFF articles in a timelier manner going forward.

As we've noted, this is really part one of the 939 SFF reviews. We will be running some additional tests on these units in the near future, including testing with dual core processors and 90nm Venice chips. Note that our current batch of SFF tests likely wouldn't have even uncovered the USB2.0 problem with the SN25P, so we'll be adding a new test looking into Firewire and USB2.0 capabilities in future reviews (including the X2 support update that we have planned). We will also try to get a 7800GTX card to test the ability of the units to support the fastest single slot PCIe card available - our guess is that at least one of the PCIe capable units is going to have problems.

If you have any additional tests that you'd like performed, please let us know. As you may have noticed, there is also a ton of information to cover in this roundup, and while we tried to be thorough, we're sure to have forgotten a few items that may interest you. If you have any questions, please feel free to post a comment or send an email and we'll be happy to respond. Also, if there are any specific SFF systems that you'd like reviewed, let me know. I can prioritize the order of reviews if there's a demand for information on a specific unit, and I do have a decent selection waiting for review.