Original Link: http://www.anandtech.com/show/1697


Tomorrow is the official start of this year's Computex, but as always we were able to get a sneak peak at the show before the floor actually opened. 
With the show a day away from starting, we've already seen the first AMD BTX motherboard, a number of NVIDIA G70 graphics cards, an Intel motherboard that can be switched to an Socket-939 board by just purchasing a single card and the first hints of ATI's new multi-GPU chipset.
All of that and more in today's pre-show coverage.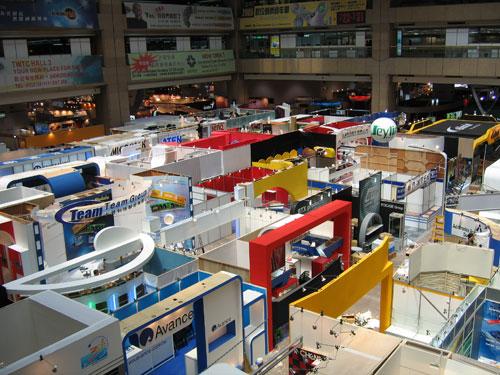 BTX Athlon 64 Motherboard
Intel's BTX standard continues to be fairly unsupported by the motherboard manufacturers we've met with.  The motherboard and case manufacturers that we've met with have told us that by the end of this year BTX shipments will account for under 10% of their overall production.  By the end of 2006, that figure is expected to rise to anywhere between 15 - 30%.  If you're worried about the transition to BTX, you probably won't be forced to migrate until 2007 - 2008. 
One concern we have all voiced is the lack of AMD motherboard designs for the BTX specification.  Originally we worried that routing would be an issue thanks to the Athlon 64's on-die memory controller, but MSI put our fears to rest by bringing us the first Socket-939 BTX motherboard we've ever seen: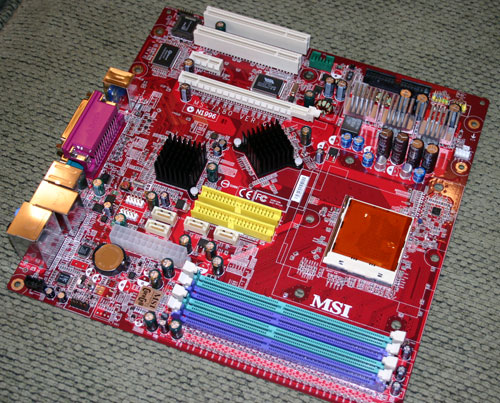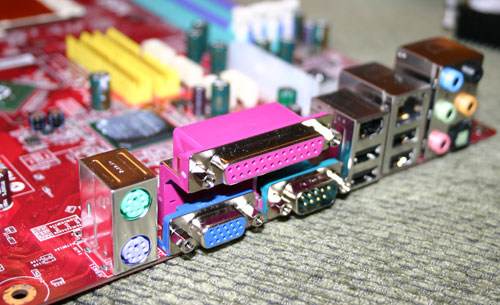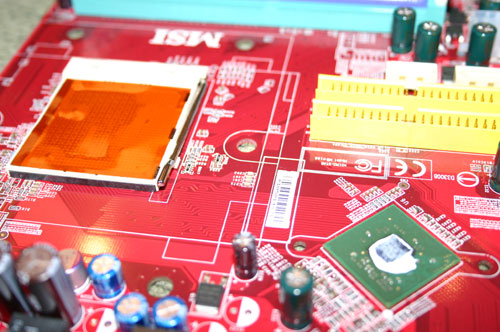 This particular board is based on NVIDIA's C51G integrated graphics chipset and adheres to the microBTX standard.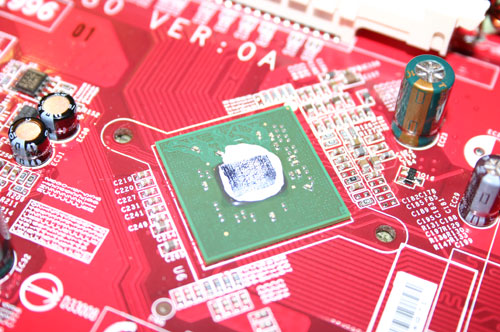 NVIDIA's C51G chipset - nForce4 + Integrated Graphics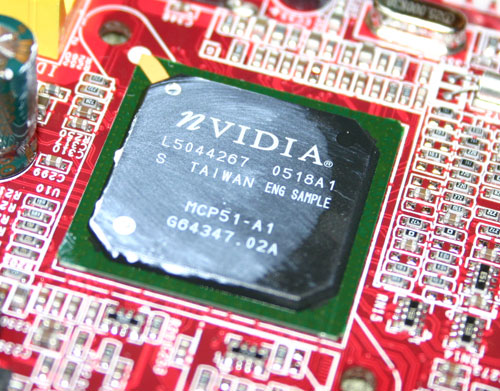 NVIDIA's C51G South Bridge, identical to what is on the nForce4 SLI Intel Edition
The board is due out for release by the end of this year, but it will be an OEM-only solution.  MSI is demonstrating a total of two BTX motherboards at the show this year, which is a big increase from last year but in-line with the slow adoption rate we've seen for BTX.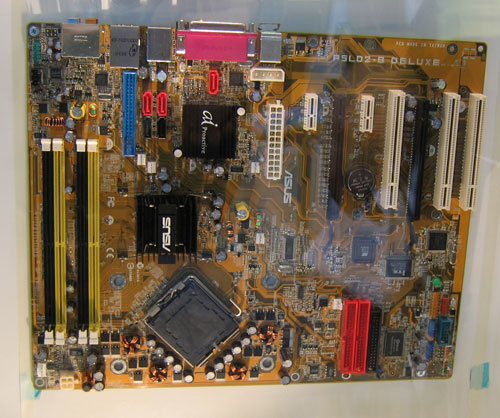 ASUS also had a few BTX motherboards at the show
The move to BTX is an expensive one for case manufacturers; the high costs of re-tooling and producing cases based on a new form factor have kept case manufacturers from embracing the new standard, especially given that ATX seems to be fulfilling users' needs just fine.  The case manufacturers won't put much time and money behind BTX without widespread BTX motherboard availability, and motherboard manufacturers won't build BTX boards without widespread case availability.  Like many new technologies in the PC industry, BTX presents both manufacturers with the classic chicken and egg scenario.
NVIDIA's G70 at the Show
NVIDIA plans on sticking it to ATI with G70 and offering widespread availability of their new GPU very soon. Manufacturers at the show have already indicated that the first shipments of G70 boards will be in their hands by the second week of June.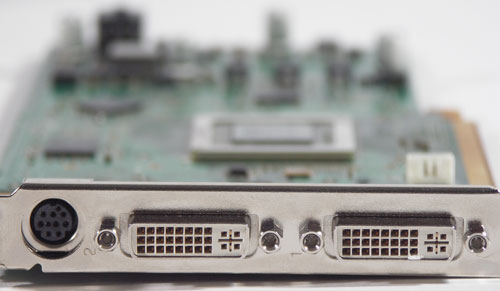 Boards are on display at the show, behind closed doors of course. Of course, in Taiwan nothing is ever secret - and thus we've had the ability to play around with a number of G70 cards at the show. We can't say much about the G70 as we are bound by NDA, but all of the cards at the show are single-slot solutions which is refreshing.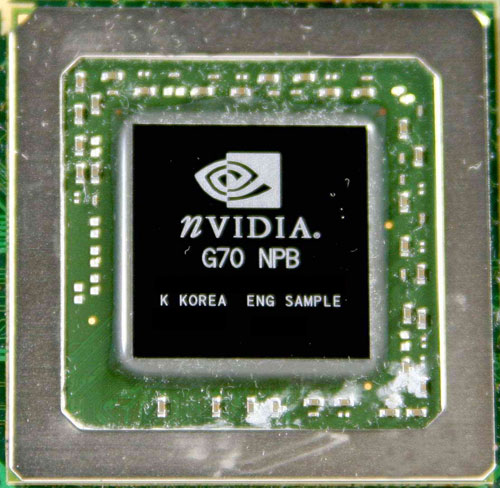 Only a handful of NVIDIA's closest partners have been given G70 designs to show off at Computex, the rest are told to wait until further notice.
We also heard about a new ATI card, but not the R520 we've all been waiting for, rather a replacement for the X300 - the Radeon X550. Like the X300, the X550 is a 4-pipe GPU but now running at 400MHz. The GPU is also paired with a 128-bit 200MHz DDR memory bus, but little is known beyond those specs.
So far the R520 is no where to be found at the show; it's looking like the rumors of a late release of R520 may be true. ATI's focus at Computex 2005 seems to be their multi-GPU chipset that is due to be launched at the official opening of the show.
Affordable SLI Motherboards?
NVIDIA is very curious about ATI's upcoming multi-GPU solution, as it will mark the end of NVIDIA's exclusivity on multi-GPU platforms. In order to help expand the SLI market, NVIDIA appears to be ready to drop the price of their nForce4 SLI chipset. While currently priced at around $80, the chipset will drop in price to close to $40 later this year. The goal is to enable SLI motherboards to be priced at $100 or less. We have even heard some very aggressive motherboard manufacturers are looking to offer sub-$80 nForce4 SLI motherboards by the end of this year. At $80, it would be senseless not to buy a SLI motherboard; which is exactly what NVIDIA wants.
Epox has already demonstrated a concept board to be released later this year; the board is a Socket-754 motherboard but uses NVIDIA's nForce4 SLI chipset.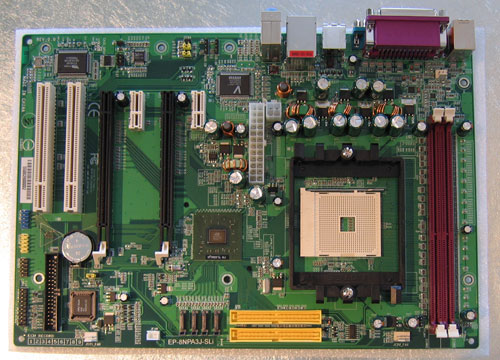 The idea is that the money you save by going with a Socket-754 CPU goes towards buying a better pair of graphics cards, which will give you better overall gaming performance in the end.
The board is only made possible by NVIDIA cutting the price of their nForce4 SLI chipset. Note that NVIDIA isn't cutting the prices of their nForce4 SLI Intel Edition chipsets nearly as much, only the AMD version.
The biggest reason for NVIDIA dropping the price of their SLI chipsets? ATI.
ATI's new multi-GPU chipset will be priced on par with NVIDIA's nForce4 Ultra chipset, not the nForce4 SLI. Need any more explanation?
Single-Card Dual GPU
Both Gigabyte and ASUS have been demonstrating their single-card, dual GPU solutions for quite some time now. Both cards are at the show itself, first let's look at ASUS' card: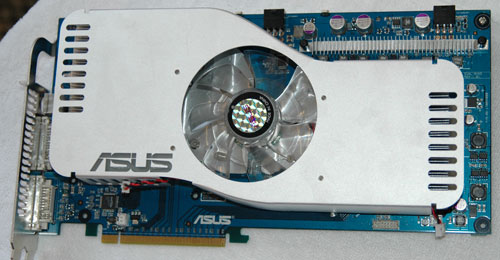 The ASUS card is much larger than normal PCI Express graphics cards, and thus will only fit in larger cases. The board is made of two GeForce 6800 Ultras and will work in any nForce4 SLI motherboard. Note the lack of any SLI connector on the card, so don't expect to be able to SLI two of these together. The ASUS card also requires two 6-pin PCI Express power connectors.
Next up is Gigabyte's solution: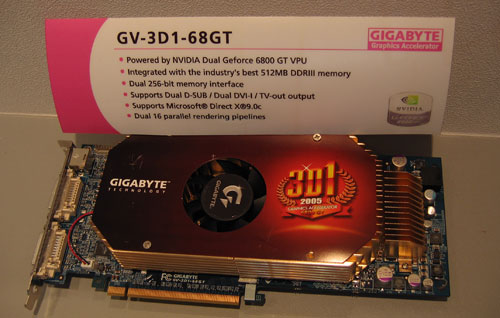 Gigabyte's card is a normal height graphics card unlike the ASUS solution, but still full length. The Gigabyte card features a pair of GeForce 6800GTs instead of 6800 Ultras, but the benefit is in that it is a much more reasonably sized card and it only requires a single 6-pin PCI Express power connector. Just as the ASUS solution, Gigabyte's card requires a nForce4 SLI motherboard and can't be paired with any other cards.
Gigabyte Brings Solid State Storage to the Mainstream
In an effort to differentiate themselves from other motherboard manufacturers, Gigabyte has introduced a number of interesting add-ons for their motherboards, the most interesting of which is their $50 RAMDISK PCI card.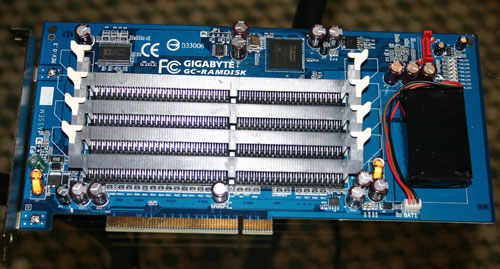 The card is a regular 32-bit PCI card that features four standard DIMM slots on board. The card also features a custom Gigabyte FPGA that is programmed to act as a SATA to DDR translator, which convinces the SATA controller you connect the card to that the memory you have on that card is no different than a regular SATA HDD. As long as you have memory on the card, the card will be available at POST as an actual SATA drive, with no additional drivers necessary.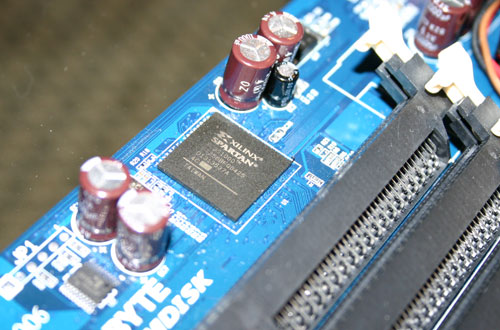 The Custom Gigabyte FPGA
The card is powered via the PCI slot, but RAM is volatile and thus if no power is provided to the card then all of the data is lost. In order to make this solution more realistic for real-world usage, Gigabyte outfitted the card with a rechargeable battery pack that can keep the memory powered and data intact for up to 16 hours with no power. After that 16 hours is up, your data is lost, but as soon as you apply power to the card again the battery pack will begin to recharge.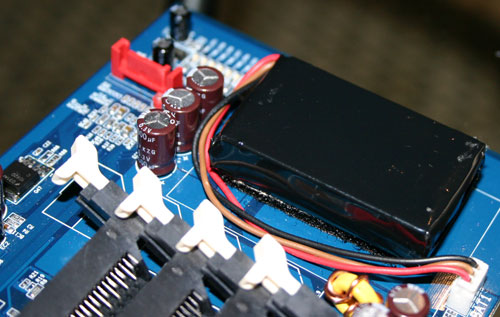 The Battery Pack and SATA connector. You connect a SATA cable from this port to the SATA controller on your motherboard and the RAMDISK will be treated as a hard drive.
Given that the card offers no real backup other than the battery it's not really suitable for extremely sensitive data, but it works well if your system is on all the time. Obviously the biggest benefit of using DDR memory as storage is that all accesses occur in nanoseconds, not milliseconds and is thus much faster at random accesses than regular hard drives. Transfer rates are also improved, but you're limited by the bandwidth of the SATA interface so DDR200 memory is the fastest that is supported.
It is an interesting step for Gigabyte, and we'd like to see how the technology evolves over time.
Switch from Intel to AMD on the same motherboard?
ECS' PF88 Extreme H is another interesting board we happened to encounter at the show. By default, it is a SiS based Pentium 4 motherboard with two PCI Express x16 slots.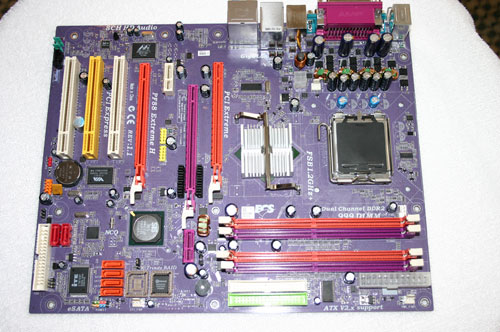 But note the pink connector in between the two PCI Express x16 slots: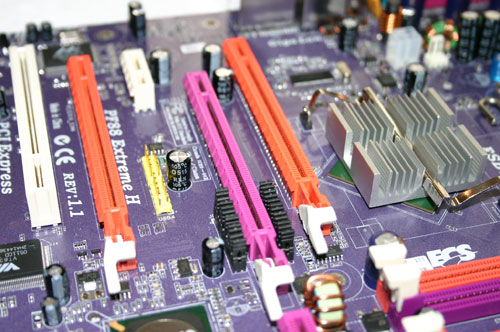 If you remove the jumpers along that connector, the connection between the South and North Bridges is severed and redirected to pink slot. You can then install an ECS branded upgrade card in the pink slot to convert this Pentium 4 motherboard into:
A Pentium M motherboard: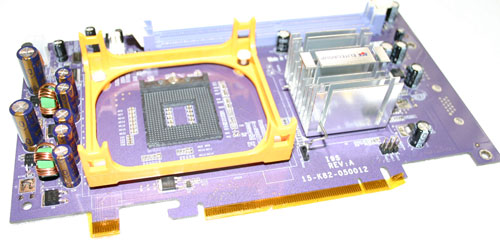 A Socket-754 Athlon 64/Turion 64 motherboard: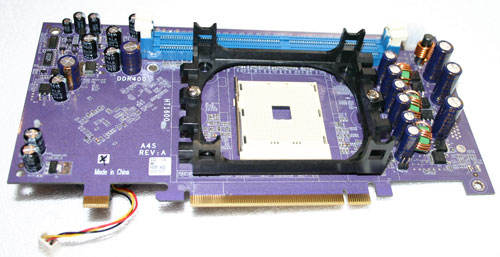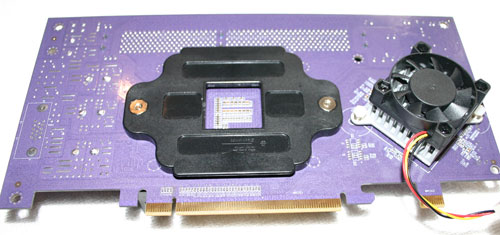 or a Socket-939 motherboard: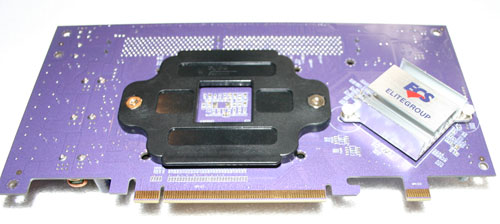 The upgrade card features new memory slots, a new socket and a new North Bridge. How's that for flexibility?
There are some limitations to the technology; first and foremost, you are stuck with SiS chipsets. Secondly, the clock generator is on the actual motherboard itself, and thus the FSB frequencies supported by the board are limited to what the on-board clock gen can support. In this case, the clock generator can support 800/1066MHz FSBs for Intel platforms, and up to 1GHz Hyper Transport for AMD platforms.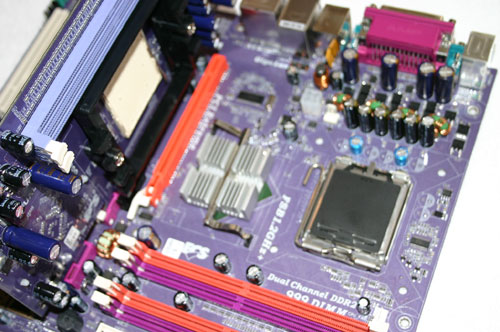 With the card installed, the on-board CPU socket and North Bridge are no longer used.
Also, whenever you purchase an upgrade card it will come with a new BIOS chip that you will have to install on the motherboard. There is an unpopulated BIOS socket on the motherboard for this very purpose.
ECS estimates that the upgrade cards will retail for around $50.
ATI multi-GPU sightings
The major chipset launch of Computex 2005 will be ATI's new multi-GPU offering, but the official launch doesn't happen until the show actually starts. But of course, motherboard manufacturers are already showing off boards based on the new chipset.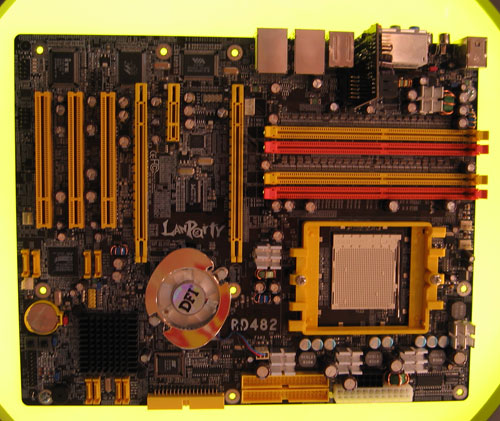 When the show officially opens, we'll have a full in-depth article on ATI's new chipset. Stay tuned for more from this year's Computex, things are just getting started.