Original Link: http://www.anandtech.com/show/1678


With every introduction of new chipsets and processors, one of the first products to reach reviewers is boards from Asus. This is really no surprise, since Asus is the largest independent motherboard maker in the world, and Asus has resources for development that many motherboard makers can only dream of.
We have noticed a trend over many years that Asus is particularly adept at designing boards for Intel processors. This makes perfect sense when you realize the very close working relationship that Asus engineers have with Intel engineers. It is the reason why you saw Asus pioneering PAT on the 865 Northwood chipset - just one of many innovations that Asus has brought to motherboards for Intel processors.
With the Intel preview of Dual-Core processors, Asus managed to deliver a board based on the new nForce4 chipset for Intel supporting dual-core processors - something that NVIDIA was not able to deliver by that time frame. We were very impressed with the performance of the Asus P5ND2-SLI Deluxe, so we were excited to take a look at the Asus board based on the Intel 955x chipset, the Asus P5WD2 Premium. Asus has implemented many unique options on this board - not the least of which are FSB options to 1066, and the promise of "semi-SLI" performance for the future.
This review is
not
another Intel dual-core processor platform comparison. This was covered in
Dual Core Intel Platform Shootout - NVIDIA nForce4 vs. Intel 955X
. If you are interested in how the nForce4 Intel compares to an Intel 955x in multi-tasking, you should take a closer look at the
platform shootout
. This review takes a closer look at the unique features, performance, and overclocking capabilities of the Asus P5WD2 Premium, which is based on the Intel 955x chipset. We also compare features, performance, and overclocking to the Asus P5ND2-SLI Deluxe, which is the Asus NF4 Intel solution.
Basic Features: Asus P5WD2 Premium
As discussed in the Dual Core Platform Shootout, NVIDIA does not plan, at this time, to produce a non-SLI version of the nForce4 chipset for Intel. This makes the nF4 Intel boards expensive and specialized in providing support for two video cards working together. The 955X is similarly the enthusiast or high-end version of Intel's new chipset line, with the 945 being the lower cost version of the new Intel chipsets that will be aimed at the computer mainstream. In the chipset hierarchy, you would expect the nF4-SLI based boards to be the most expensive, followed by 955X, and finally the 945. You will also likely see chipsets from SIS, VIA, and ATI that will generally compete with the Intel 945. ATI and SIS in particular are targeted at the integrated video or "G" versions of the 945. Depending on final decisions, you may also see either ATI or VIA (or both) decide to take NVIDIA's approach with an "SLI-like" dual video card setup on the Intel high-end.
This puts in perspective the target market of both these motherboards, which is the computer enthusiast. Asus will likely have other 955x boards with some reduction in features, but their top-of-the-line are the P5WD2 Premium with the Intel 955x and the P5ND2-SLI Deluxe with nForce4-SLI Intel. In the past, Asus has had several models of their top boards with essentially the same performance - the less expensive boards just have fewer features.
The point is that other Asus 955x boards may have fewer features and a lower price, but you can expect performance to be very similar to what we have measured with the P5WD2 Premium.
 Specification
 Asus P5WD2 Premium
 Asus P5ND2-SLI Deluxe
CPU Interface
Socket T (Socket 775)
for Intel Pentium D & Prescott
Socket T (Socket 775)
for Intel Pentium D & Prescott
Chipset
Intel 955x/ICH7R
NVIDIA nForce4-SLI Intel Edition/NVIDIA MCP-04
Pentium D Support
(Dual-Core)
Full Support
Full Support
TM2 (Thermal Monitor 2) Support
Full Support
Not Currently Supported
(but may be in future)
BUS Speeds
100-450MHz (in 1MHz increments)
790-1600 MHz (in 1MHz increments)
CPU Ratios
Unlock Supported, Adjustable down depending on CPU
Unlock Supported, Adjustable down depending on CPU
Memory Speeds
At 200(800) - 400,533,600,667,800
221 - 332,442,553,589,663,737,884
266(1066)
400-1200 (Asynchronous)
PCI/AGP Speeds
Asynchronous (Fixed)
Asynchronous (Fixed)
PCI Express
90 MHz to 150 MHz in 1MHz increments
100 MHz to 150 MHz in 1MHz increments
FSB Turbo
Auto, Standard, Turbo
PLUS HyperPath 3 On/Off
On, Off
Core Voltage
Auto, 1.2875V-1.70V in 0.0125V increments
Auto, 0.8375V-1.60V in 0.0125V increments PLUS +100mV option
DRAM Voltage
Auto, 1.80V to 2.3V in 0.05V increments
Auto, 1.85V to 2.3V in 0.05V increments
Chipset Voltage
MCH - Auto, 1.5V, 1.55V, 1.6V, 1.65V
ICH - Auto, 1.05V, 1.2V
Auto, +1.5V
Termination Voltage
FSB - Auto, 1.2V, 1.3V, 1.4V, 1.5V
CPU - Auto, 1.30V, 1.35V, 1.40V
SB/SATA Voltage
NA
Auto, +1.6V
LDT (Hyper Transport) Ratios
NA
1x, 2x, 3x, 3.5x, 4x, 5x
Memory Command Rate
NA
Auto, 1T, 2T
Memory Slots
Four 240-pin DDR2 Slots
Dual-Channel Unbuffered Memory to 8GB
Four 184-pin DDR Dual-Channel Slots
Unbuffered ECC or non-ECC Memory to 8GB (64-bit OS) or 4GB (32-bit OS)
Expansion Slots
2 x16 PCIe Slots (configured as 1 x16 and 1 2x/4x)
1 x1 PCIe
3 PCI Slots
2 x16 PCIe Slots (configured as 1 x16 or 2 x8)
2 x1 PCIe
3 PCI Slots
SLI
Semi-SLI - x16 video plus x4/x2 video
(Function is Driver Limited)
NVIDIA (x8 + x8) SLI
Onboard SATA
4-Drive SATA 2 RAID by ICH7R
PLUS 2-Drive SATA 2 by Sil3132
4-Drive SATA 2 RAID by nF4 PLUS
2-Drive SATA 2 RAID by Sil3132R
Onboard IDE
One Standard NVIDIA ATA 100/66/33 (2 drives)
PLUS 2-Drive 133/100/66 IDE by ITE
Two Standard NVIDIA ATA133/100/66 (4 drives)
SATA/IDE RAID
4-Drive SATA 2 RAID by ICH7R
RAID 0, 1, 5, 10 Intel Matrix
4-Drive SATA 2 RAID by nF4 PLUS
4-Drive IDE RAID(8 total)
Can be combined in RAID 0, 1, 0+1, 5, and JBOD (8 drives total)
2 SATA 2 Drives by Sil3132R as RAID 0, 1
Onboard USB 2.0/IEEE-1394
8 USB 2.0 ports supported ICH7R
2 1394A FireWire ports by TI 1394a
10 USB 2.0 ports supported nF4
2 1394A FireWire ports by VIA VT6307
Onboard LAN
Dual Gigabit Ethernet
Intel PCIe Gigabit LAN
PCI Gigabit by Marvel 88E8001
Dual Gigabit Ethernet
NVIDIA PCIe LAN by Marvel PHY
Intel PCI Gigabit LAN
Onboard Audio
Azalia HD 8-channel audio, Realtek ALC882D featuring Dolby Digital Live!,
Coaxial & Optical SPDIF Out ports
Realtek ALC850 8-Channel codec with 6 UAJ audio jacks, Coaxial & Optical SPDIF Out
Power Connectors
ATX 24-pin, 1 or 2 x4-pin 12V
ATX 24-pin, 1 x4-pin 12V
Other Features
Includes TV Tuner & Remote Control, Asus EZ Plug, Stack Cool 2, AI Overclocking
Asus EZ Plug, Q-Fan2, Stack Cool 2, AI Overclocking
BIOS
AMI 0207 (4/30/2005)
Phoenix Award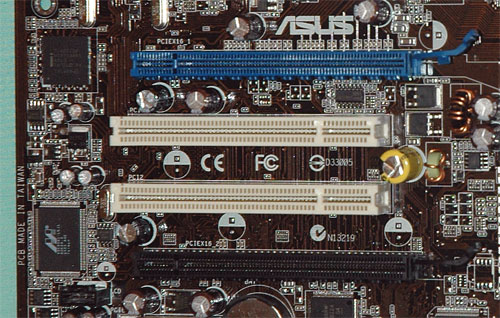 The Asus P5WD2 does have two x16 PCI Express slots and an SLI bridge in the box, but the board can't really be configured as two x8 slots as we see in NVIDIA SLI boards. The main slot remains 16X in both single and dual video modes. The 2nd x16 slot can be configured as Auto, 2X, or 4X in a "semi-SLI" mode that disables the remaining x1 PCIe slots if x4 is selected. The 2 video slots are of limited use for combining video card capabilities as they are now configured. To work at all with current NVIDIA video cards, you have to use the very early (and almost impossible to find) 66.75 drivers. We verified that two video cards are recognized as SLI by the 66.75 drivers, but we could not get any current SLI-enabled games to work properly with the pair of video cards. Asus tells us that future BIOS upgrades will improve this performance. Asus also hinted that other dual video card configurations may also support the dual slots. Could this mean that ATI dual video will work on this Asus with a BIOS update when ATI releases their dual video solution?
Until we see further developments in dual video-card solutions, the two x16 slots work best in supporting two video cards driving up to four monitors. For those who want to drive a 2nd high-end card, the 2nd x16 slot can be configured in a faster x4 video mode, which will not limit the performance of most current video cards.
Actual cooling on the board follows the Asus preference for passive "no-fail" cooling, with no active fans on any of the chips. During overclocking, the chipset does create a lot of heat and we would advise that if you plan to seriously overclock the P4, you are going to need to add a fan at least to the Northbridge heatsink.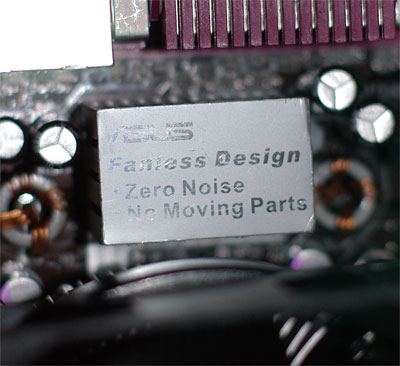 Asus has also chosen to cool the mosfets that feed the CPU vcore with a heatsink. This is a trend that many manufacturers of performance-oriented boards are adopting as heat on high load increases instability. We saw the same feature used on the widely publicized Grouper ATI board from Sapphire a while back, which even featured custom aftermarket water blocks. The same could be applied to the P5WD2 if you chose to use water-cooling.
Voltage options are refreshingly wide on the P5WD2, with memory voltage to 2.3V, a full range of chipset, bus, and termination voltage adjustments, and an exceptionally wide range of vCore voltage adjustments. Memory ratios are also the widest that you will likely see on any 955X board, which allows the option to run the memory much faster than the CPU. The actual memory tweaks, however, are somewhat limited; it would be nice to see some of the tweaks that we have grown to love on the NF4 chipset available on Intel chipsets also.
Asus is still supporting PATA RAID, although it must now have a limited shelf life. Also available is a SATA port positioned for adding a rear-mounted SATA back plate port for those who just like to run an external or portable SATA drive. This feature means that you won't have to open up the case to add a SATA drive.
The only annoying flaw was that the CMOS jumper is poorly positioned. When using 2 video cards, you will need to remove the lower video card to get to the CMOS jumper - or remove the battery to clear CMOS. The layout is otherwise very good, with little to complain about. Some clever manufacturer should consider adding a "CMOS-clear" push button on their motherboard; it would be really handy for enthusiasts who push their boards to the performance limit.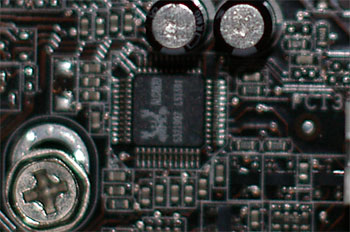 The P5WD2 Premium fully supports Azalia 8-channel High-Definition audio with the Realtek 822D codec. This includes support for Dolby Digital Live!, multi-streaming, jack-sensing, jack-reassignment, and both Coaxial and Optical SPDIF outputs.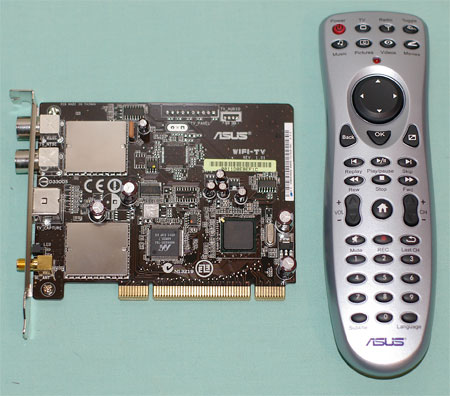 Our evaluation board included a really interesting PCI combo TV Tuner/WiFi card for the P5WD2. The package even included a remote for controlling your new multimedia capabilities. At this point it is unclear whether Asus will include the WiFi/Tuner and Remote in retail packages. If this is important to you then ask what is in the box before you order.
Asus P5WD2 Premium: Overclocking
FSB Overclocking Results
Front Side Bus Overclocking Testbed
Processor:
Pentium 4 Prescott LGA 775
560 ES (2.8GHz-3.6GHz)
CPU Voltage:
1.425V (1.3875V default)
Cooling:
Thermaltake Jungle 502
Power Supply:
OCZ Power Stream 600
Maximum CPU OverClock:
227x18 (4086MHz) +14%
Maximum FSB OC:
291FSB x 14 (4074MHz) +46%
Asus has fully implemented Speedstep in their recent BIOS updates for Intel Socket 775 motherboards, so the OC results are a lot more than academic. Speedstep means that the stock multiplier and a 14X multiplier will be available on all Prescott CPUs, opening new options for overclocking regular Intel Prescott chips.
With a stock multiplier, the P5WD2 reached an overclock of 227x18 or 4086MHz. This matches the highest frequency ever reached with this 3.6GHz Prescott, which was with an Asus 915 chipset board. The 46% FSB overclock achieved at the 14X multiplier is the highest OC that we have seen with a SATA drive on a Socket T board. The previous Socket T record on this CPU was 279FSB.
While we were able to reach these OC levels above 4GHz with the Thermaltake HSF, the long-term stability with air cooling at these speeds is very suspect. After running a few tests, the system began throttling - alternating between stock speed and reduced speed due to overheating. There is no doubt that the CPU can do these speeds, but you will have to provide better cooling if you plan to run much above 3.8GHz. Others have demonstrated even higher Prescott overclocks and stable operation with water cooling and phase-change cooling.
Memory Stress Testing
Optimum tRAS
In past reviews of AMD motherboards, memory bandwidth tests established that a tRAS of 6 was optimal for the nForce4 chipset, a tRAS of 10 was best for the nForce3 chipset and a tRAS setting of 11 or 12 was generally best for nForce2. Tests with Intel chipsets in the past have generally shown the lowest tRAS setting to provide the best bandwidth with Intel chipsets.
Since this was the first memory stress test of a production 955X board, tRAS timings were first tested with memtest86, a free diagnostic program with its own boot OS that will boot from either a floppy disk or optical disk. Bandwidth was measured from tRas 4 to tRAS 15 at the specified DDR2-667 to determine the best tRAS setting. Since Intel recommends 5-5-5-15 timings with DDR2-667, we wanted to establish recommended timings with lower latency memory from Corsair and OCZ.
 Memtest86 Bandwidth
Asus P5DW2 at DDR2-667
4 tRAS
3443
5 tRAS
3443
6 tRAS
3443
7 tRAS
3443
8 tRAS
3443
9 tRAS
3443
10 tRAS
3443
11 tRAS
3443
12 tRAS
3360
13 tRAS
3360
14 tRAS
3360
15 tRAS
2184
The best bandwidth was achieved with this combination of 955x and Pentium 560 in the 4 to 11 range. Since, historically, Intel chipsets have performed best at the lowest tRAS setting, we used a tRAS of 4 for memory tests. Any value from 4 to 11 should provide similar bandwidth.
Since memory was also tested at DDR2-800, we ran a similar set of tRAS timings at DDR2-800. At that speed, tRAS bandwidth was the same from tRAS 4 to tRAS13, so we tested with tRAS 4 for all DDR2-800 tests.
Memory Stress Tests
Memory stress tests look at the ability of the Asus P5WD2 Premium to operate at the officially supported memory frequency (667MHz DDR2), at the best performing memory timings that Corsair/OCZ PC2-5400 will support. Memory stress testing was conducted by running DDR2 at 667MHz (stock 3:5 ratio) with 2 DIMM slots operating in Dual-Channel mode.
Stable DDR667 Timings - 2 DIMMs
(2/4 DIMMs - 1 Dual-Channel Bank)
Clock Speed:
200MHz (800FSB)
Timing Mode:
3:5 (200:333 - Default)
CAS Latency:
4.0
Bank Interleave:
Auto
RAS to CAS Delay:
2
RAS Precharge:
2
Cycle Time (tRAS):
4
Command Rate:
NA
The Asus P5WD2 Premium was completely stable with 2 DDR2 modules in Dual-Channel at the settings of 4-2-2-4 at 1.9V.
Filling all four available memory slots is more strenuous on the memory subsystem than testing 2 DDR2 modules on a motherboard.
Stable DDR667 Timings - 4 DIMMs
(4/4 DIMMs - 2 Dual-Channel Banks)
Clock Speed:
200MHz (800FSB)
Timing Mode:
3:5 (200:333 - Default)
CAS Latency:
4.0
Bank Interleave:
Auto
RAS to CAS Delay:
3
RAS Precharge:
2
Precharge Delay:
4
Command Rate:
NA
4 DDR2 DIMMs were just as stable as 2 DIMMs on the new Asus 955x. We needed slightly slower 4-3-2-4 timings at DDR2-667 when using 4 DDR2 DIMMs at 1.9V. But at 2.0V, the 4 DDR2 dimms ran with complete stability at the same 4-2-2-4 timings that worked with 2 DIMMs. This is a remarkable improvement over the performance that we saw with 4 DDR2 DIMMs on the 925X. Considering the compromises that the AMD Athlon 64 has required with 4 DIMMs, Intel and Asus have done an outstanding job in equipping the 955X with the ability to run 4 DIMMs without much of a compromise.
Since both Corsair and OCZ had submitted new DDR2-667 DIMMs tweaked for best performance and low-latency in the latest DDR2 platforms, these were the only 2 pairs of DIMMs that we had for 4-DIMM testing on this new 955x board. We used a pair of Corsair and a pair of OCZ and these unmatched pairs performed fine at the same timings that worked with 2 DIMMs. Both Corsair and OCZ are based on Micron DDR2 chips, but the SPDs, bandwidth, and timings did differ in our tests of each pair, indicating that they are similar, but not identical in performance.
Corsair and Asus Reach DDR2-1066
It was clear in our early testing of the Asus P5WD2 Premium that Asus was interested in showing the standout memory performance of their new 955X motherboard. Toward this end, Asus, Corsair and OCZ all worked on low-latency DDR2 memory solutions that would perform well in the P5DW2.
OCZ and Corsair both supplied low-latency DDR2-667 512MB DIMM pairs for benchmarking with the Asus P5WD2 Premium.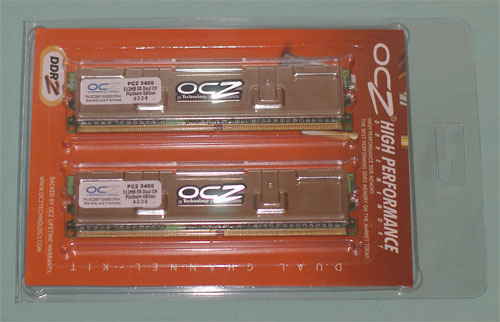 OCZ supplied PC2-5400 512MB EB rated at 4-2-2-8 at DDR2-667.
It was established quickly that both memories could do DDR2-667 at 4-2-2-4 timings on the P5WD2, so we pushed both to DDR2-800. Both ran with complete stability at DDR2-800, at the still aggressive 4-3-2-4 timings. Since neither memory pair had any problem with DDR2-667 or DDR2-800, all benchmarks were run at both memory speeds. DDR2-667 is the rated speed of 955x memory, and DDR2-800 is the next logical speed rating.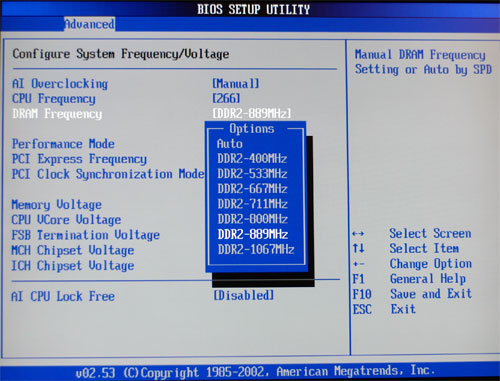 The next memory milestone is DDR2-1066, which is an exact 2:1 ratio with the 3.46EE introduced with the 925XE motherboard (Intel CPU is quad-pumped and memory is Double Data Rate). Intel's Pentium D chips are currently based on 800FSB, but the 955X does support 1066FSB. With this in mind, we mounted an Intel 3.46 Extreme Edition with a 1066 FSB.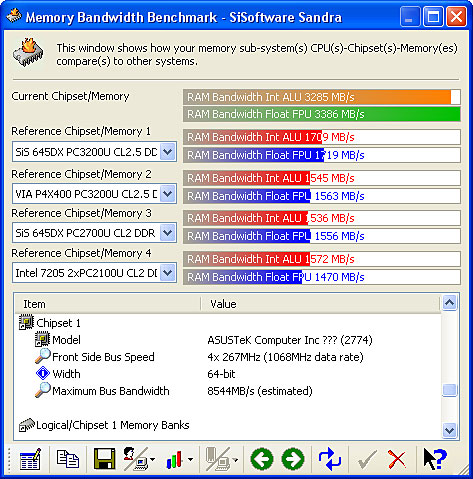 These compromises are reflected in the unbuffered bandwidth of about 3300 to 3400 MB/s. 1066 was the absolute maximum that we could reach and we would not call that speed 100% stable. However, none of these qualifications take away the remarkable DDR2-1066 milestone that Corsair and Asus have achieved.
The OCZ PC2-5400 took a different approach at the top of the performance curve.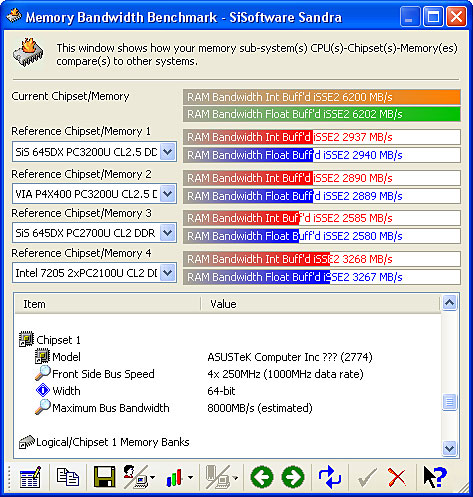 This yielded slightly slower Sandra standard scores at about 6200 MB/sec.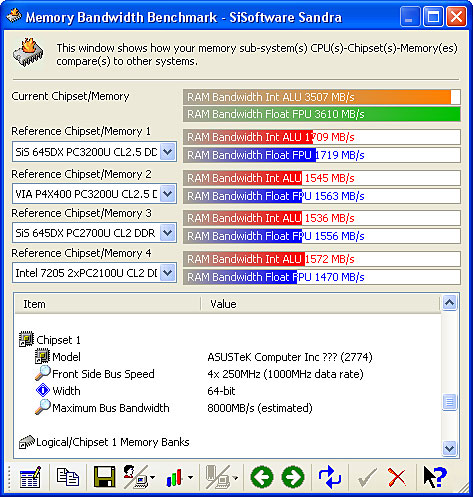 However, the unbuffered Sandra scores were higher than Corsair at 3500 to 3600 MB/sec.
We'll leave it to the memory manufacturers to argue which is better, since performance of the Corsair and OCZ is essentially the same on the new Asus P5DW2 Premium. However, no matter how you view the results, Corsair has earned the title of fastest memory speed in this round at DDR2-1066. There is also the advantage of being able to run the 3.46EE processor at the full rated speed of 1066 FSB with the memory running at 1066.
nForce4 Intel Considerations
The Asus P5ND2-SLI also had no difficulty in reaching DDR2-800 memory performance. However, one of the marketing points made by NVIDIA is the 1T Command Rate that can be used with the nF4 Intel Edition at DDR2-667. The P5ND2-SLI does indeed handle a 1T Command Rate at DDR2-667, but by DDR2-800, a 2T Command Rate was required for stable operation. On the nF4 Intel platform, the performance impact of a 2T Command Rate appears to be rather small, as the nF4 Intel performance remains very competetive with the 955x as far as it goes. However, at just over DDR2-900, the nF4 Intel appears to hit a wall - with the same memories that do DDR2-1000 to DDR2-1066 on the 955x. As a result, we have no screen captures or results to post for the Asus P5ND2-SLI above DDR2-800.
Test Setup
The new 955x fully supports dual core Pentium D processors as you would expect. So does the Asus version of the nForce4 Intel chipset. We confirmed that both boards worked as they should with an Intel 840 processor, and there were no problems with either board recognizing the two cores and four logical processors that are created with the Hyperthreading feature on this EE processor. However, dual core really makes a difference in multi-tasking, as was demonstrated in the
dual core platform shootout
. If you are interested in how the two chipsets perform in a multitasking set up, please take another look at that review.
For this review, we were more interested in how the Asus boards compared in benchmarks of the games and applications that we have tested in other motherboard reviews. We also found memory operated at both DDR2-667 and DDR2-800 on both motherboards, so the standard single core hyperthreaded Pentium 4 that we have used in other Socket 775 reviews provided the headroom and multipliers needed for these benchmarks. The ES Pentium 4 560 runs at 3.6GHz and has the lower multipliers necessary to better test overclocking on both Asus Socket 775 motherboards.
 Performance Test Configuration
Processor(s):
Intel Pentium 4 560 ES (3.6GHz, 800FSB, 1MB L2, HT)
Intel 3.46EE (3.46GHz, 1066FSB, HT)-DDR2-1066 Testing
Intel Pentium EE 840 (3.2GHz, 800FSB, Dual-Core, HT, 2x1MB L2)-Dual-Core Verification
RAM:
2 x 512MB Corsair CM2X512A-5400UL
2 x 512MB OCZ PC2 5400 EB
Hard Drive(s):
Seagate 120GB 7200 RPM SATA (8MB Buffer)
Video AGP & IDE Bus Master Drivers:
Intel 7.0.0.1019 (4/18/2005)
NVIDIA nForce Platform Driver 6.53
Video Cards:
NVIDIA 6800 Ultra (PCI Express)
Video Drivers:
NVIDIA nForce 71.89
NVIDIA nForce 66.75 (Semi-SLI Verification)
Operating System(s):
Windows XP Professional SP1
Motherboards:
Asus P5WD2 Premium (Intel 955x)
Asus P5ND2-SLI Deluxe (NVIDIA nForce4 Intel)
Asus P5AD2 Premium (Intel 925x)
Intel 925x Reference Board
Tests with the new Asus boards used either of two memories based on Micron DDR2 memory chips. OCZ PC2-5400 EB and Corsair CM2X512A-5400UL are both low latency memories designed to run at DDR2-667 or higher speeds. DDR2-667 tests were run at 4-2-2-4 timings and DDR2-800 benchmarks were run with 4-3-2-4 timings.
The PCI Express 6800 Ultra was used for all video testing. Two 6800 Ultra video cards were used to verify SLI and semi-SLI performance. Resolution in all benchmarks is 1024x768x32 unless noted otherwise.
Results are color-coded for DDR2-667 and DDR2-800 for the Asus 955x and nForce4 Intel motherboards. The P5DW2 is gold for 667 and dark gold for 800, while the P5ND2-SLI is light green for 667 and dark green for DDR2-800.
General Performance & Encoding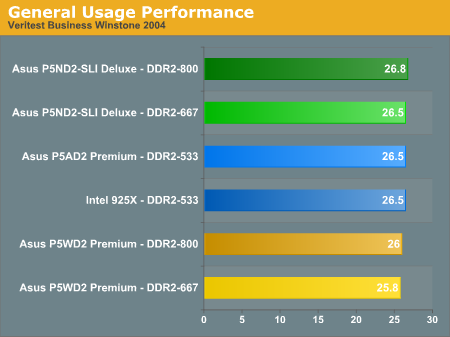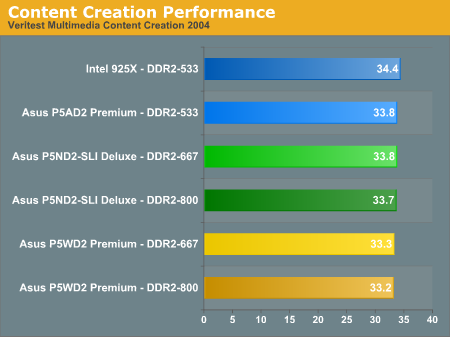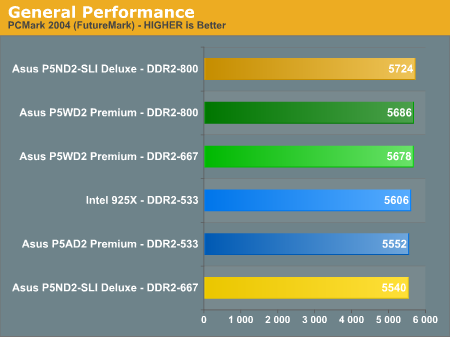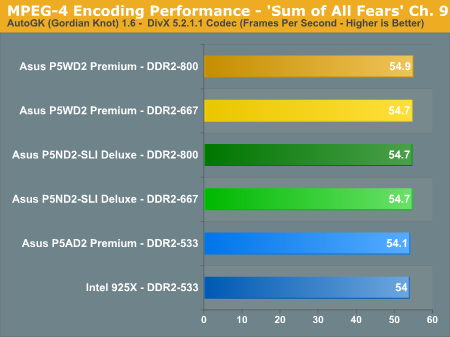 The range from top to bottom in Business Winstone and Multimedia Content Creation was just one point among 925X boards and 955x and NVIDIA nF4-SLI Intel chipsets. This included a range of chipsets running at a constant 3.6GHz with low latency memory at DDR2-533, DDR2-667, and DDR2-800. We can only conclude from this tight clustering of General Performance benchmarks that memory speed makes very little difference in the performance of standard desktop office applications and content creation on these Intel chipsets. We have seen in past reviews that CPU speed impacts these General Performance benchmarks, but Microsoft Office seems to perform the same at 3.6GHz, regardless of the memory speed.
PCMark2004 also shows a very small improvement as we move from fast 533 to fast 667 to fast DDR2-800 memory. Auto GK encoding scores also show a tight clustering of performance. If these are the applications that you run on your computer, the added DDR2 memory speed of the 955X/nF4-SLI Intel will not provide much boost to your performance.
DirectX 9 Gaming Performance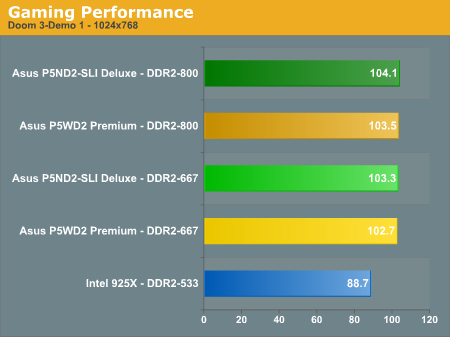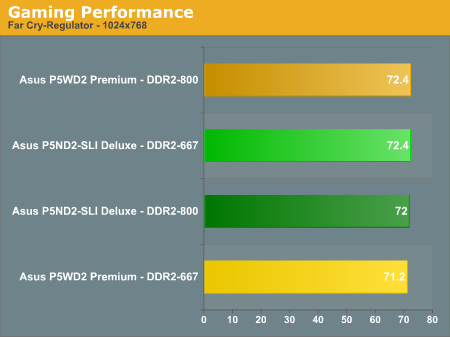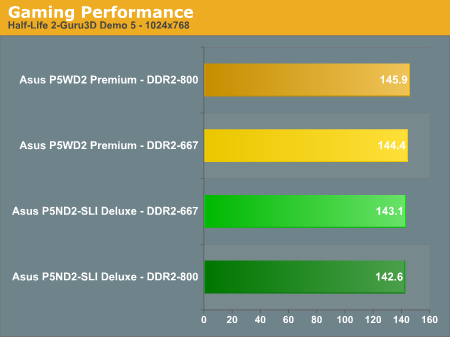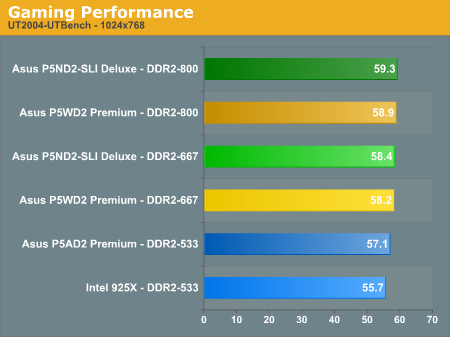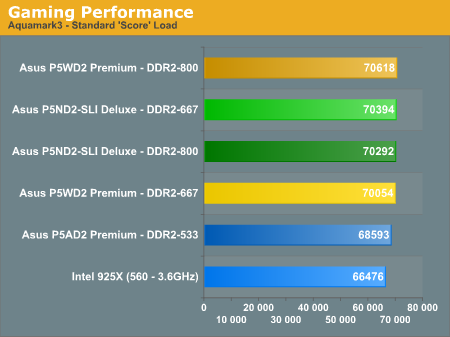 DirectX 9 games do seem to benefit more from the increased memory speeds available on the Asus P5DW2 Premium and P5ND2-SLI Premium. All of the DirectX 9 games are faster at DDR2-667 and DDR2-800. A typical pattern is seen in UT2004 where the performance increase from 925X/533 to DDR2-800 is 5% to 6%. This is the pattern seen in all the gaming benchmarks, with the 925x boards at DDR2-533 at the bottom of the graphs and 955x/nF4 Intel at DDR2-667/DDR2-800 providing the best performance. The 955x and nForce4-SLI Intel are neck-and-neck in gaming performance at the higher speeds with no clear advantage to either chipset at these speeds.
DirectX 8 & OpenGL Gaming Performance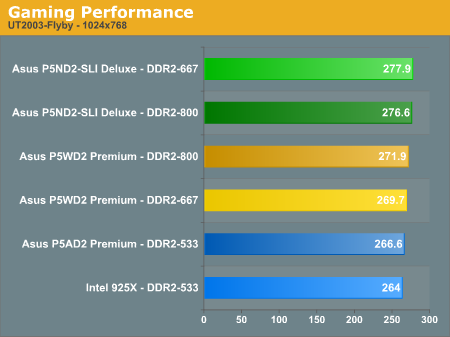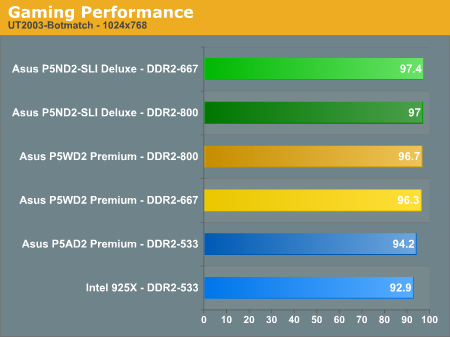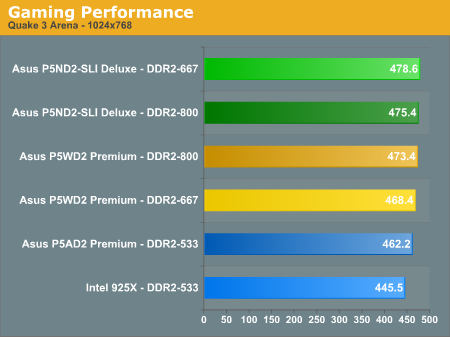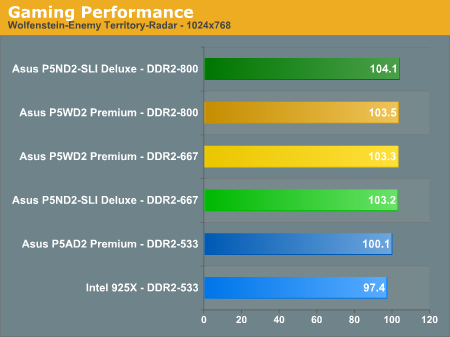 The same pattern of better game performance at higher memory speeds continues across the DX8 and OpenGL benchmarks. Return to Castle Wolfenstein-Enemy Territory is a good example here with the higher memory speeds on 955X/nF4 Intel providing a 6% to 7% boost in frames per second. We see a similar increase in other DX8/Open GL benchmarks.
3D Workstation Performance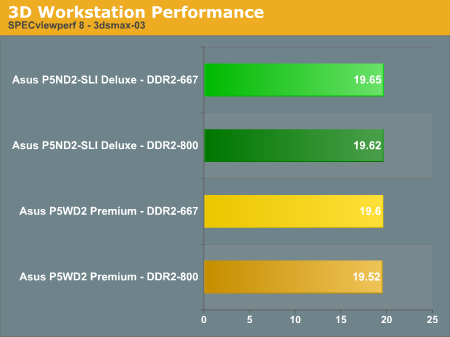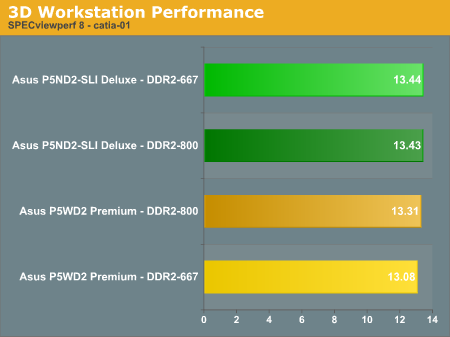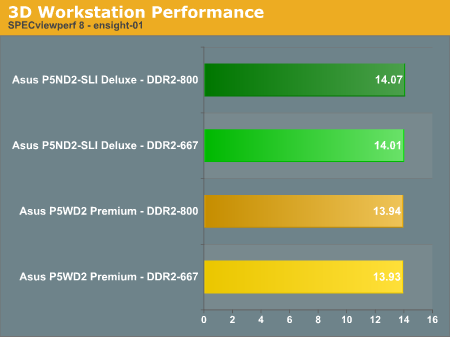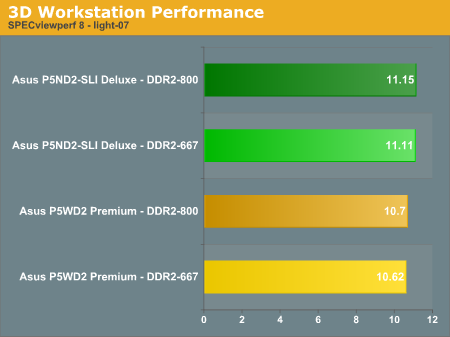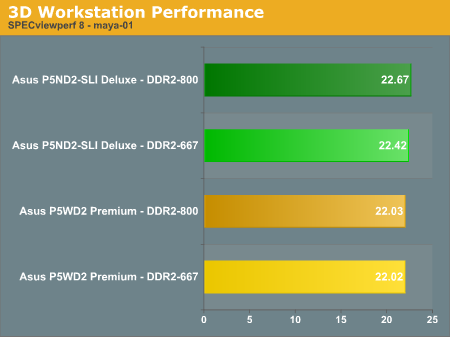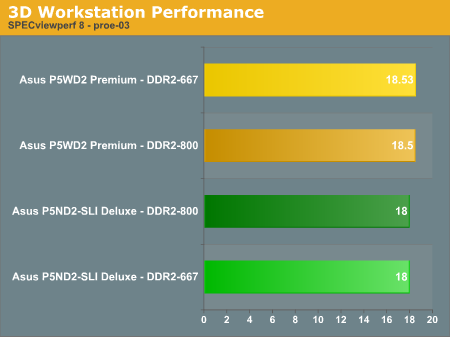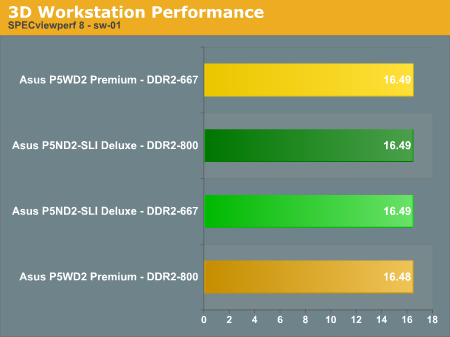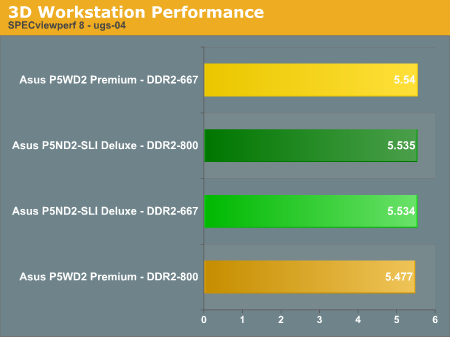 Performance of the P5WD2, based on Intel 955X, and P5ND2-SLI, based on nForce4-SLI Intel Edition, is very close across the board in Workstation benchmarks. This is true at both DDR2-667 and DDR2-800. In fact, there really isn't a measurable performance difference in 667 and 800 performance in SpecviewPerf 8.
The only surprise in 3D Workstation tests is the slight, but consistent advantage to the nForce4-SLI Intel Edition chipset in all of the tests except Proe-03.
Final Words
Sitting at the top of the Asus motherboard product line, the P5WD2 Premium and the P5ND2-SLI Deluxe must be considered the "crème-de-la-crème" of the extensive Asus product line. Either board will satisfy the computer enthusiast looking for the best home for their new Intel processor. Both boards fully support Pentium D dual-core processors; in fact, both boards handle any currently available Socket 775 processor from Intel. Both boards handle DDR2-667 and DDR2-800 at the fastest timings that we have tested at these memory speeds. The performance of both boards at these 2 memory speeds is also so close that it is hard to pick a performance champion between the two boards.
From these important shared capabilities, however, the two chipsets and boards do provide different solutions for the high-end shopper. If you're a gamer looking for SLI, then the P5ND2-SLI Deluxe uses the only current chipset that will meet your needs. It fully supports NVIDIA SLI with two NVIDIA video cards. For the future, however, the 955X-based P5WD2 provides two video slots with dual video card capabilities for 4 monitors, a limited "semi-SLI" mode, and the potential for support of other "SLI-type" video displays in the future.
For those looking for top-notch on-board audio, the 955X-based P5WD2 is the clear winner with full support for High Definition Azalia audio. The nF4-SLI Intel by comparison relies on a much more limited AC '97 codec.
In the storage area, both boards offer outstanding capabilities with SATA II, flexible RAID options and NCQ support. Here, the excellent Intel Matrix RAID is countered by the NVIDIA "any-drive" RAID. In tests of the NCQ performance of both drives in the
dual-core shootout
, the NVIDIA chipset performed a bit better than the Intel 955x. So, that tilts the storage scales a bit toward the P5ND2-SLI Deluxe if storage is your primary concern.
Memory performance at the top is also a concern for many users, and in that arena, the Intel 955x-based Asus P5WD2 Premium is the clear winner. The P5WD2 is the first production board that we have tested to offer a DDR1066 ratio, which will work at standard stock speeds. As we saw in this review, the P5WD2 also managed to reach 1066 memory speed at stock CPU speed on a 1066FSB CPU with Corsair DDR2-667 low latency memory (CM2X512A-5400UL). This is the first time that any memory has ever performed at DDR2-1066 in our motherboard or memory testing. OCZ also reached similar bandwidth levels at DDR2-1000 at tighter memory timings, but the 1066 crown belongs to Corsair and Asus for now .
The important point is that DDR2-1066 is reachable on the Asus P5WD2 at stock speeds
if the memory is capable of running at DDR2-1066
. The available ratios on the Asus P5WD2 ensure that whatever memory capabilities you have can be reached on this board. The Corsair is the first 1066 performance that we have tested, but it is not likely the last. In the future, we will likely see memory with even greater stability and better timings at 1066 and we are confident that the Asus P5WD2 Premium will be able to handle that memory at 1066 speed.
This is not to take anything away from the fact that both Asus boards performed very well at both DDR2-667 and DDR2-800. For most, that will be plenty fast, but if you want the fastest memory performance on an Intel that is currently available, the Asus P5WD2 will deliver. Frankly, if your computing is the Office Suite and Content Creation, DDR2-667 or DDR2-800 will be plenty for you, and you'll see little if any difference between current DDR2-533 and DDR2-800/667. However, if you're a gamer, the 955x or nForce4-SLI Intel will give you a 5% to 8% performance boost over the 925X at DDR2-800. And if you want even greater memory performance, the P5WD2 can take you all the way to DDR2-1066. For some gamers, this will be reason enough to buy an Asus P5WD2. For enthusiasts looking for bragging rights, the fastest memory speed that we have tested will be a compelling reason to choose the Asus P5WD2 Premium.