Original Link: http://www.anandtech.com/show/1641


When ATI first showed their new AMD Athlon 64 chipset, we were mightily impressed with the overclocking capabilities of their new Bullhead board. As you saw in our
Bullhead launch review
, the new ATI chipset came out of the gate with some serious performance and overclocking capabilities. ATI Engineering has continued to work on Bullhead, finally attracting a few serious players to produce motherboards based on Bullhead. To get the word out to the enthusiast community, ATI decided to be a very visible sponsor of an Overclocking competition at Texas Gaming Festival 2005 in Dallas, Texas.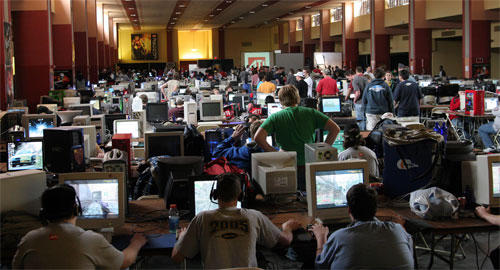 So, how do you get the attention of 500 dedicated LAN gamers and the Press?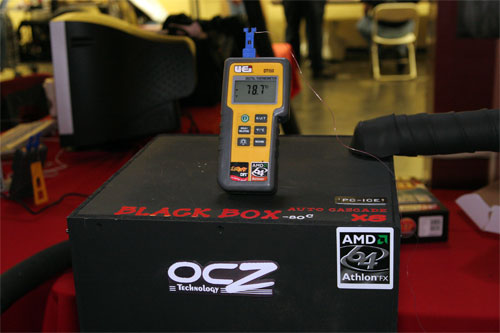 You bring in the most extreme overclockers in the world - the ones that top the orbs at Futuremark on a regular basis. The equipment that they brought along was a show all on its own.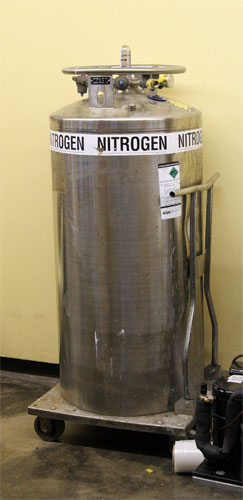 You make sure that these extreme overclockers have all the liquid nitrogen that they need to keep their equipment cranking out the benchmark records.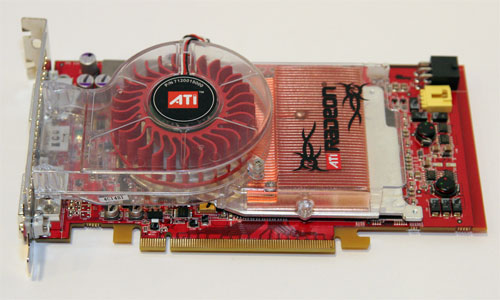 For the press, you do a "technology launch" of a new 512MB version of your top video card.
Fugger, Macci and OPPainter Go for the Orb
One of the most interesting competitions in the world is the ongoing battle for top of the orb at FutureMark. FutureMark publishes the 3DMark gaming benchmarks, and the competition for top score in 3DMark2005, 3DMark2003, or 3DMark2001 is always fierce.
Anyone who has ever looked at the Orb, or top scores, at www.futuremark.com will recognize immediately the names Macci, Fugger, and OPPainter.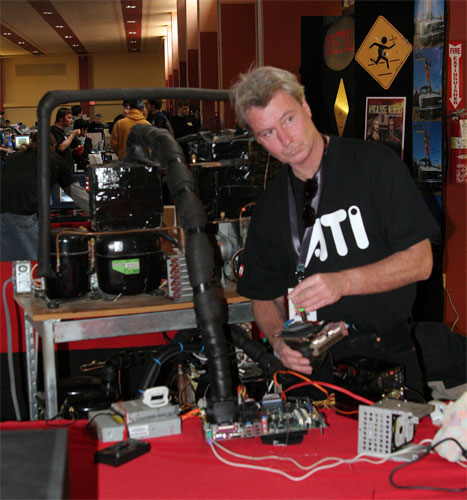 Eric "OPPainter" Kronies is positioned at the top of the orbs currently for single video cards at FutureMark. OPPainter brought his overclocking equipment from California and had "PC Ice" on hand to keep it all up and running.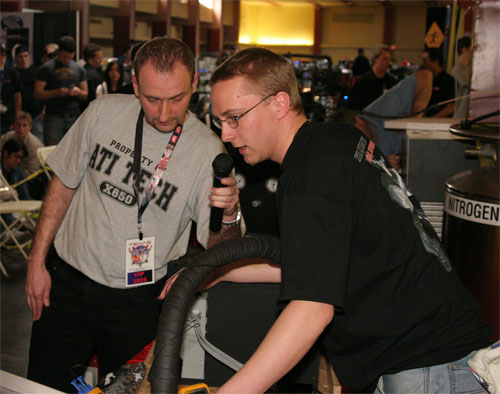 Sami "Macci" Makinen traveled from Finland to have a go at the overclocking record. Macci has been a fixture of the extreme overclocking world for a few years, and he enjoys telling the story that he began supercooling by running his rigs outside his window in the bitter cold of a Finland winter.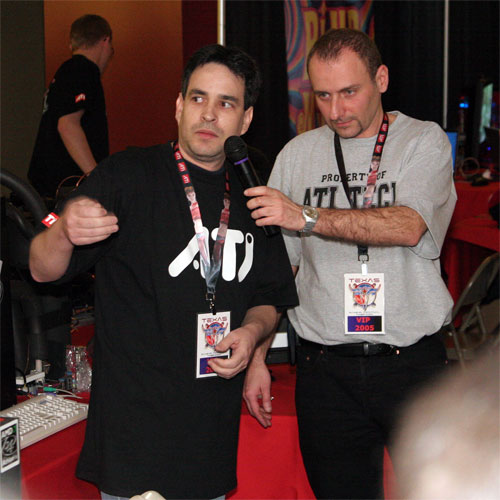 Another name prominently seen at the top of the orb is Charles "Fugger" Wirth, who usually owns the Intel performance records. Charles had Reggie, better known as "chilly1" along to help him try for new records with some liquid nitrogen cooling.
Overclocking Rigs
The equipment required to reach this performance pinnacle is the kind of stuff that most of us will never use. However, there are enthusiasts out there who live for the next breakthrough in Cascade cooling, and seeing how these extreme overclockers reach these incredible overclocks is a lesson in itself.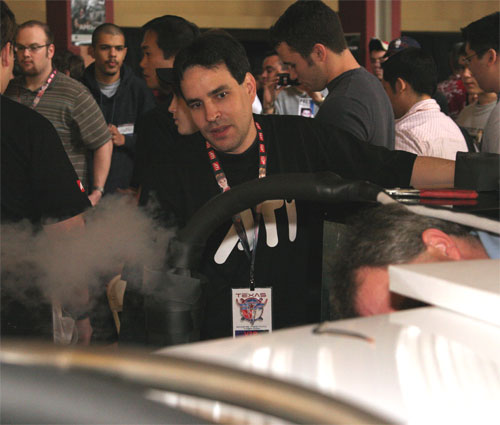 You can see the vapors as Fugger and Chilly1 try to reach the theoretical cooling limit of 193C using liquid nitrogen evaporation.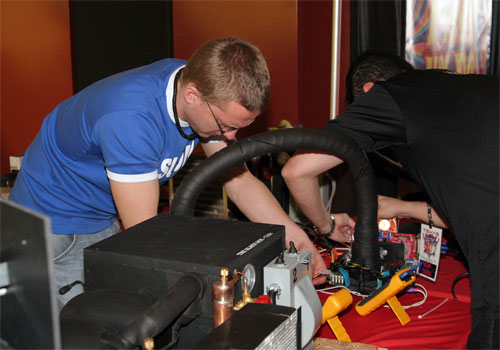 Macci is specially preparing an ATI X850 for supercooling and a run at the orb.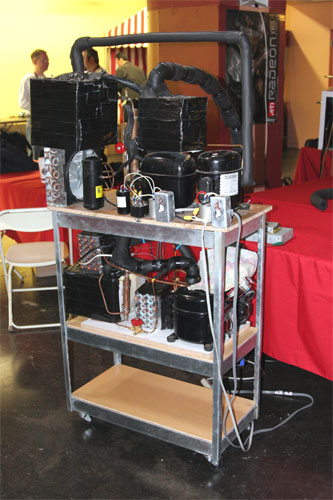 OPPainter had his rig on a c art so that he could reposition it as needed. This is quite a setup to replace the heat sink/fan on most users' CPU and graphics card.
So, how extreme is extreme with these three overclocking legends? Try ATI X850 GPU clock rates of 800MHz to 850MHz, X850 memory at 680MHz to 700MHz, and the FX55 running very near at 4GHz (from a default of 2.6GHz). Fugger's goal was 4GHz during the weekend. He didn't reach it, but he came very close.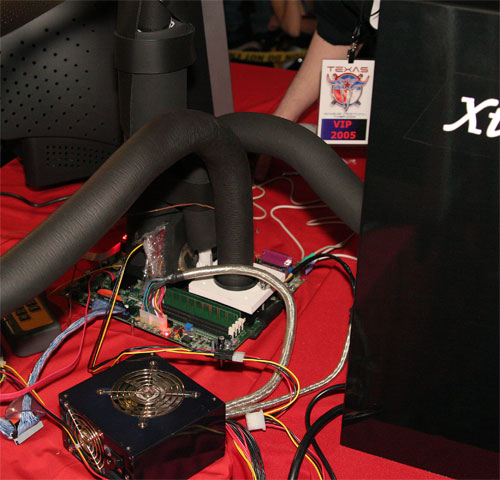 Macci and OPPainter told us that most of the top orb scores were now using OCZ VX memory at voltages from 3.5 volts to 3.7 volts. VX was everywhere in the tests rigs, and we also saw a few sticks of G. Skill and OCZ TCCD memory.
ATI Shows the X850 XT 512MB
ATI made it clear that this was only a technology demonstration, but the launch of the 512MB X850 XT is very near.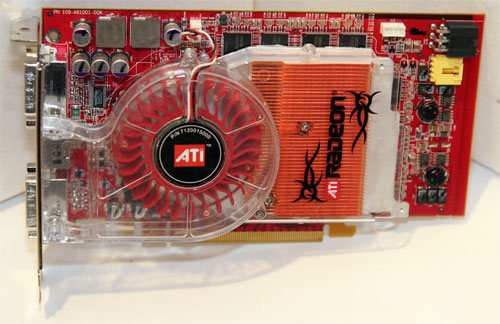 ATI was showing demo cards, and there was even a working X850 XT 512MB rig on display at All American Computers.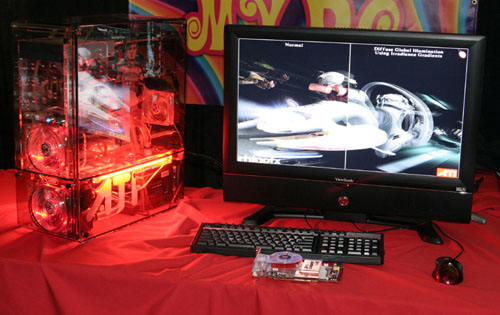 Kyle Felstein, the Owner of AAC, had a specially prepared ATI 512MB PC that was one of the prizes at the competition.
Double the memory sounds fine, but ATI was also showing some pretty amazing performance numbers with the 512MB X850. The numbers were impressive enough – a claimed 10% performance boost in some benchmarks. We can't wait to get our hands on a shipping card.
Other Sponsors
The focus was definitely ATI, but other sponsors were prominently on display.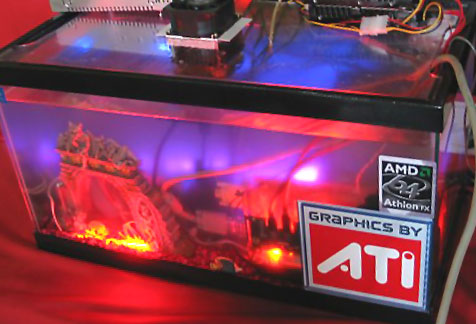 Not to be outdone by the Cascades and Liquid Nitrogen, AMD was showing their own mineral oil "fishtank" cooling, with the CPU immersed in cooled, non-conductive mineral oil.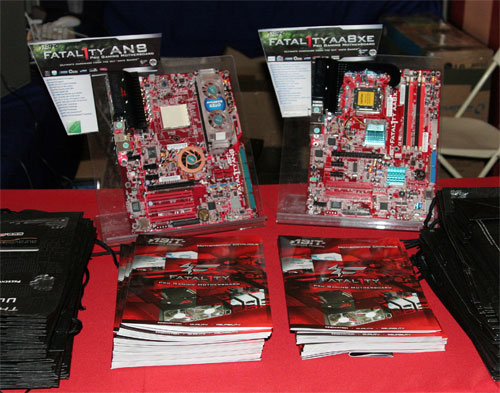 Abit was showing their latest Fatal1ty motherboards and video cards.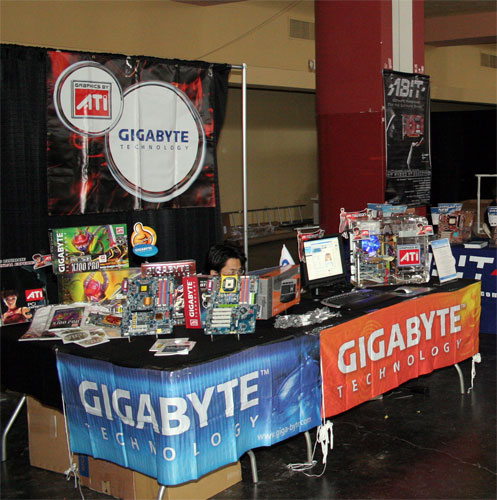 Gigabyte was showing their latest video cards and motherboards.
OCZ was showing their PowerStream power Supplies and their memory line – in p articular VX memory, which was featured in most of the Extreme Overclocking rigs.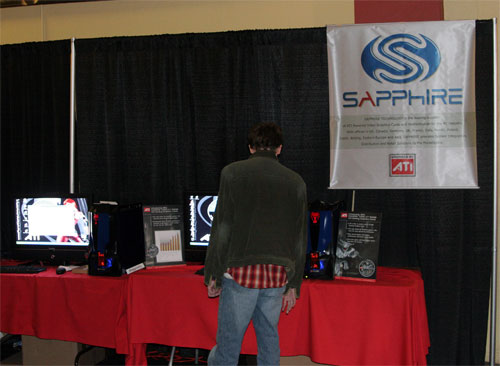 Sapphire was prominently at TXGF as a manufacturer and distributor of ATI video cards, and as the manufacturer of the first AMD Radeon Xpress 200 motherboard, distributed under the Sapphire TUL brand. You will have a hard time finding TUL motherboards in the US, but we are told that they will be widely available in Asia and Europe.
Scenes from TXGF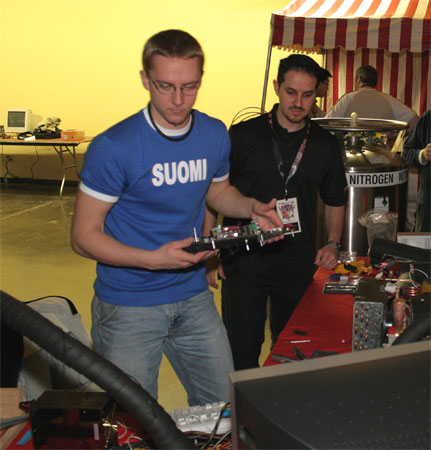 John Bruno, ATI Engineering, is seen here in the black shirt helping Macci with his rig. John was working hard to keep everyone's Bullhead boards and ATI video cards working under these extreme conditions. He did manage to take a few minutes to turn in one of the highest overclocks that we saw at the show.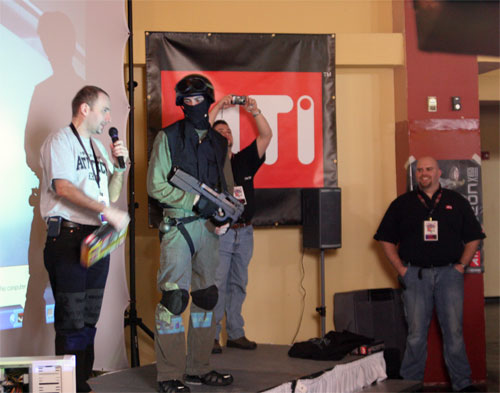 ATI seemed to be everywhere, from hosting giveaways to emceeing for the OC competition.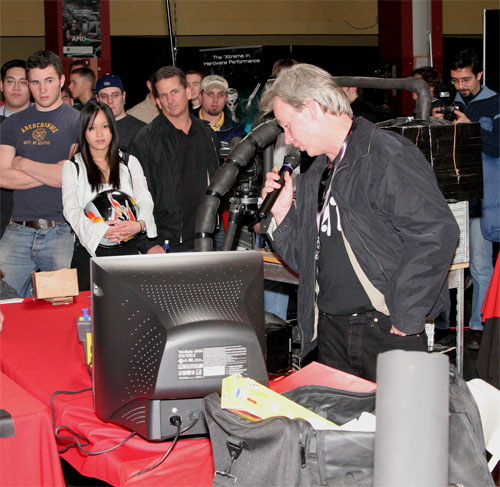 OPPainter spent a good deal of time on camera explaining extreme overclocking. Here, he is talking about his current records at FutureMark to an audience who are astounded by the performance numbers that they are hearing and seeing for themselves at the overclocking competition.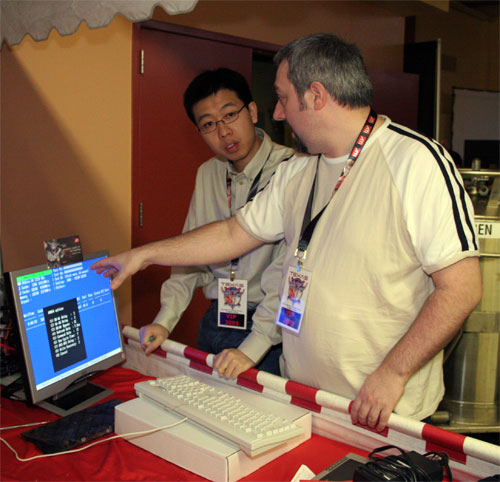 Tony Leach of OCZ was in from England to help with the competition. He was usually around furiously rewriting BIOS code for some special needs - and there were plenty of those with this group.
Final Words
You can share your overclock results with friends and in Forums, but for the most part, overclocking is a solitary pursuit. ATI's plan to bring all these world-renowned overclockers together for an Overclocking Competition was a great idea. It was also a great way to showcase to the world that ATI is serious about the AMD chipset market.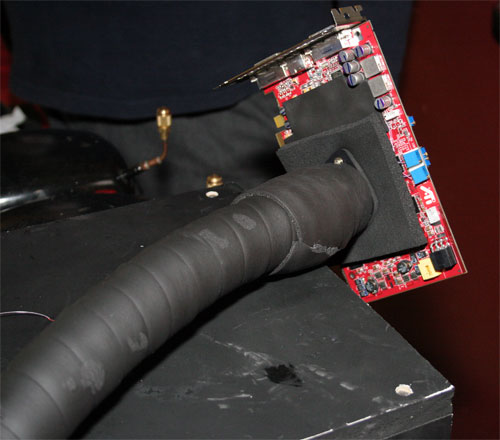 Fugger, Macci, and OPPainter didn't break any new records in Dallas, but we suspect that a few may fall when they return to Las Vegas, Finland, and California.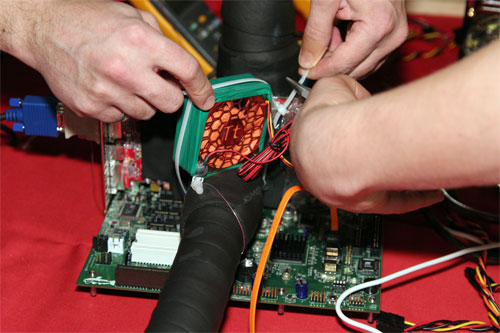 The Overclocking Competition featured possibilities, and the extremes that serious end-users will go to just to own a world record. These overclockers were like a group of rocket car builders out to break the land-speed record. Anything goes and the methods are almost as much mystical as they are science.
But just watching these extreme overclockers work gave all of us attending a lot of insight into ways to push our own systems a little further. Most of our readers are more like stock car drivers, but that doesn't mean that we can't learn something from those who push the envelope to the very edge.