Original Link: http://www.anandtech.com/show/1582


He didn't announce Xbox2.
He didn't talk about Longhorn.
And he didn't laugh much at Conan's jokes.
But Bill Gates' keynote, which was given some comic relief by the interviewing host Conan O'Brien, did focus on Microsoft's Media Center efforts both inside and outside of the PC. Thankfully the keynote wasn't just Gates talking, it was setup much like Conan's late night talkshow, with Conan interviewing Gates and interjecting humor whenever necessary.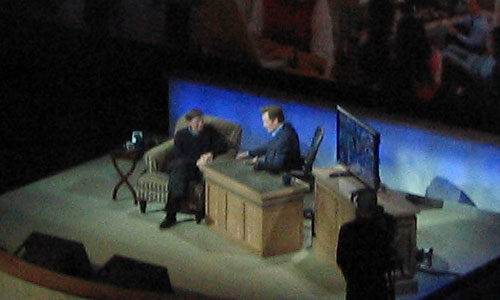 Bill Gates and Conan O'Brien kept us entertained
The keynote itself wasn't put together too well. Aside from O'Brien himself, none of the presenters were, well, good presenters. Hardly any of the demonstrations worked when they were supposed to (or at all) and as usual there was the requisite blue screen during one of the demonstrations, except this time it was on a beta game running on an Xbox dev kit.
Despite its shortcomings, there were some highlights to the keynote which we'll be bringing you here today before the start of this year's Consumer Electronics Show. We have to first start by apologizing about the quality of the pictures, the keynote was packed as you can imagine and we were stuck in the far upper balcony without the best lighting conditions for pictures. So hopefully our eloquent discriptions of what transpired will suffice along with a few grainy images :)
The first big announcement set the tone for what was to come, it was an announcement of new Online Spotlight features for Media Center 2005 users. There's a new Discovery Channel Online Spotlight that will allow you to preview content, get extra content and further interact with Discovery Channel programming if you have a MCE 2005 box. The reason we say that this set the tone was because basically the entire keynote was about Media Center or consumer electronics implementations of Media Center applications.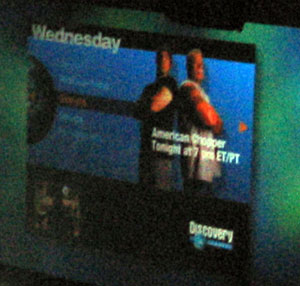 Gates was also proud to announce that Philips, Logitech and Niveus Media would all be producing universal Media Center remotes in the near future - again continuing with the Media Center theme of the keynote.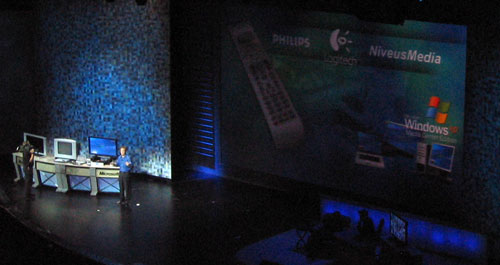 Later this quarter, Microsoft will be introducing MSN Remote Record for MCE PCs. Unfortunately, just like most of the demos during Gates' keynote, the Remote Record demonstration didn't work but from what we gathered, you should be able to login remotely using a passport account to tell your MCE PC at home to record shows. Gates also mentioned that you'd be able to achieve the same via your cell phone, however more specifics weren't disclosed.
Integrated Media Center Extenders in Consumer Electronics
Gates' keynote also gave us the impression that Microsoft was now ready to start offering hooks into consumer electronics devices that would take advantage of Media Center Edition PCs. For example, TVs and set-top boxes with integrated Media Center Extenders that could wirelessly stream content from your MCE PC are the direction Microsoft wants to take. So instead of forcing users to purchase a MCE PC and then an Extender for every TV they want to stream content to, encourage the CE manufacturers to integrate the Extender functionality (basically a 802.xx receiver) into their devices so the enabling is already done.
One such example was a set-top DVR/DVD burner from LG. The DVR/DVD burner interface looked very much like Microsoft's MCE interface, as it well should since Microsoft developed it. The DVD burner used a customized version of the MCE interface for its menus and could also connect to any Windows XP based PC to stream music, pictures and movies from for display on the TV it's attached to. Think of it like a DVD burner and Media Center Extender in one.
Microsoft also announced that Pioneer and Digitrex would be producing HDTVs that could interface with Windows XP and Media Center Edition PCs in the future. Again, much like HDTVs with built in Media Center Extenders that will stream content from your XP or MCE PC all while featuring a familiar MCE-style interface that you can sort of see below: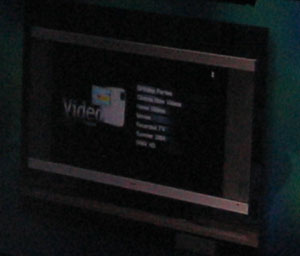 Microsoft's strategy definitely seems to be enabling the PC-centric homes that we've been hearing about for years, with the PC being a powerful XP or MCE box and it driving numerous CE devices effectively acting as Media Center Extenders. If Microsoft can make it cheap enough for CE manufacturers to include the Media Center Extender functionality in their devices then we may just see this idea of a Media Center PC truly take off.
We should give credit where its due however, last year Microsoft shipped 1.1M MCE enabled PCs, which is far from an insignificant amount.
IPTV
Quite possibly the most eye catching demonstration during the Gates' keynote was SBC Communication's IPTV demonstration. IPTV, as the name implies, involves broadcasting television over the internet, most likely high speed fiber or some equivalent.
The first thing you noticed about the demonstration was that it was flawless, most likely running off of a high speed LAN, but everything just worked and it worked well. If you had seen the demonstration you would've thought that IPTV was here today and working right in front of your eyes. Each channel change was instantaneous, the content looked wonderful and the system worked without a hitch - granted that was probably a major point of the controlled demo environment, but regardless it was done very well.
SBC promised four simultaneous streams of video over their IPTV solution, most likely enabled through high-bandwidth fiber to the home broadband. The four streams would allow for four separate TVs to be watching differenet channels at the same time or for more creative uses such as watching one show while getting a mini preview of another show in the guide as you flip through the guide channels.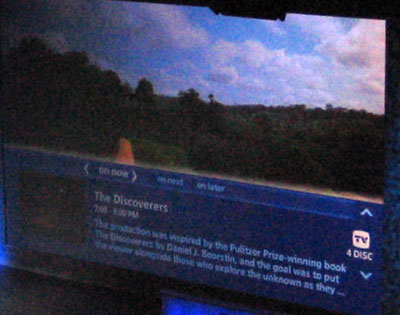 IPTV with a MCE look and feel, note the mini preview of The Discoverers in the lower left
SBC also demonstrated a MLB broadcast that utilized the four concurrent video streams to offer multiple baseball game broadcasts at the same time or multiple angles of the same baseball game that the user could choose from. Again, what was most impressive here was that everything just worked and it worked well.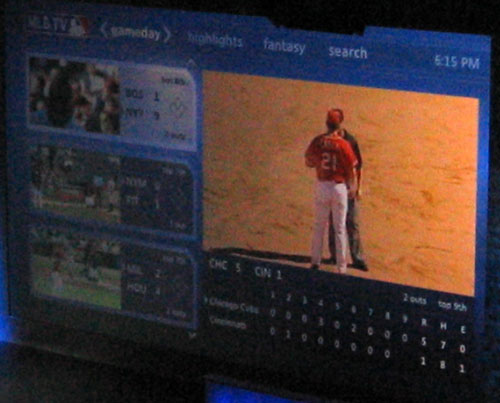 Four simultaneous baseball games going on at the same time, and you thought you couldn't get enough baseball
The demonstration also highlighted instantaneous channel changing, which is a huge improvement over the ~2 second lag we currently have with digital set top boxes.
With IPTV any TV will be able to act as a fully functional DVR, and of course the reason IPTV was being demonstrated here is because SBC employed a Microsoft designed UI for their IPTV interface - and you guessed it, it looked a lot like Media Center Edition (which is actually a very good thing).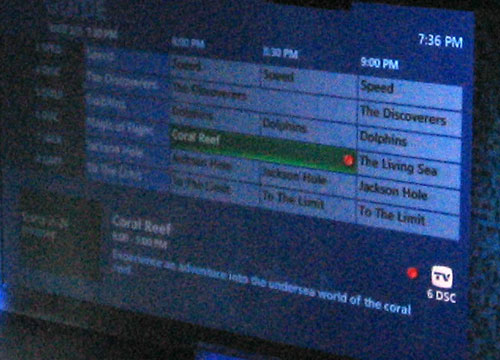 IPTV's recording functionality - look familiar?
IPTV got us excited and of course there was the requisite cell phone demonstration that showed the remote access capabilities of IPTV. Of course IPTV is mostly a bandwidth problem and we weren't given any idea of when to expect SBC's rollout, although details were promised for later.
Microsoft Teams up with TiVo
One last tidbit of information from the keynote was that Microsoft announced support for TiVo series 2 boxes. Tivo Series 2 owners will finally get the ability to transfer their recorded shows to any Windows XP/MCE PC or Portable Media Center device. The partnership is quite unexpected as Microsoft's Media Center Edition is a direct competitor to TiVo, but it makes a lot of sense. The parntership increases the value of Microsoft's offerings (enabling functionality that wasn't there before) while leveraging the hard earned success of TiVo.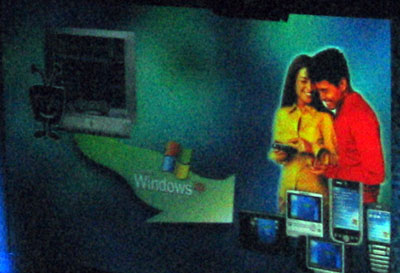 Microsoft's TiVo announcement pretty much summed up the take-away from the keynote, a lot of interesting things are happening, but they are all quite strategic. In all of Microsoft's various announcements they weren't trying to force MCE PCs down anyone's throat, they were simply leveraging the strengths of other CE devices and tying their functionality in some way, shape or form to the PC - a Windows XP based PC of course.
It seems that Microsoft's vision of the future doesn't have a Media Center PC driving every TV in the home, rather it has every TV and other CE device in the home offering additional functionality or support to that Media Center PC. Quite interesting...
As usual we'll be here all week covering the show so stay tuned for up to date coverage from the 2005 Consumer Electronics Show here in Las Vegas.