Original Link: http://www.anandtech.com/show/1574


In our first DDR2 roundup,
DDR2 Roundup: Reaching for 667 and Beyond
, we quickly dispelled conventional wisdom about DDR2 performance and timings just a few weeks after the launch of DDR2. While all of the eight DDR2 memories that we tested were rated at the expected 4-4-4 timings, we found that almost all of them actually performed very well at DDR2-533 at 3-3-3 timings. Even more significant, every memory in the roundup also performed well at DDR2-667, the next expected speed bump, at 4-4-4 timings. All the DDR2 also reached DDR2-686, which was the test limit of the best Intel 925X that we had available at that time. That first roundup certainly proved that the misgivings about ramping DDR2 were unfounded.
What was not different in our performance tests in that roundup was that DDR2, at 533 and 3-3-3, still performed about the same as fast DDR400 memory. As we first saw in the
925X/915 launch review
using the Intel D925XCV, DDR2 had to reach higher frequencies at lower latencies if it was going to give old faithful DDR a run for the money.
While sales of the platforms using DDR2 - the 925X/915 motherboards - have been lackluster in the 6 months since launch, the developments around the new Intel technology have been coming fast. Most significant of these was
the launch of the 925XE chipset
, which increased the FSB from 800 to 1066, and also brought DDR2 back to a 1:1 performance ratio, since the 266 multiplier of 1066 is a direct DDR2 conversion to DDR2-533. The widely expected move to DDR2-667 just didn't happen, as we now have a new 1:1 DDR2-533 and a new "next" speed bump of the 3:4 ratio of DDR2-711.
The 1066 FSB was a very limited introduction with just one $1000+ CPU at the new 1066 speed - the 3.46EE Socket 775 CPU based on the Xenon .13 technology. However, more 1066 are on the way, although we do not expect a wholesale switch by Intel until some time nest year. Despite the limited first launch, 1066 is where we are going in Intel and Socket 775, and manufacturers quickly embraced the new 925XE chipset on Enthusiast-oriented boards like the
Abit Fatality AA8
, the
Asus P5AD2-E
, and the Gigabyte 8AENXP-D. The 925XE is clearly, and quickly, the new board of choice among Intel enthusiasts, and not just for the 3.46EE chip. The new 925XE boards offer very flexible options to extract the most from any Socket 775 chip - 800 FSB or 1066 FSB.
So, what do we feed the new 925XE beasts? Several manufacturers like Corsair, Crucial, and OCZ introduced DDR2-667 memory. Most 667 were just hand-picked 533 that performed a bit better, since every DDR2-533 that we tested already reached 667 with ease. Most offered official 3-3-3 timings at 533 and decent timings at 667, but the reach at the top was only a bit further than the best of the regular DDR2-533. No one, it appeared, was doing much more with DDR2 memory. That is, until today.
Today, we are benchmarking the first of a truly new breed of DDR2 memory. It is rated modestly at DDR2-533, but at the very unmodest timings of 3-2-2-8. This is the first DDR2 actually to claim memory latencies more in line with what we see in DDR memory. Add to this that OCZ has heard the cries for fast 1GB DIMMs because these are 1GB DIMMs rated at 3-2-2-8. What's more, we are seeing early reports that this OCZ PC2-4200EB (Extended Bandwidth) is reaching unheard of performance levels on 925XE motherboards. That's a lot to live up to, and we couldn't wait to see what this new memory could really do in our memory testbed.
tRAS and DDR2
OCZ rates the new PC2-4200EB at 3-2-2-8, with 8 a faster tRAS setting than we found in the DDR2 memory roundup. In the roundup we found a tRas setting of 10 was optimum for DDR2 running at 4-4-4 timings. To determine if the OCZ DDR2 ran best at a faster tRAS timing, we first ran
Memtest86
, a commonly used memory tool that measures memory bandwidth from a custom bootable OS.
Memtest86 showed three distinct tiers of memory bandwidth performance. The range from tRas 2 to tRas 9 showed absolutely no difference in performance. 10 to 12 showed a slight performance drop and 13 to 15, a larger performance drop. Based on Memtest86 performance, a tRAS of 8 seemed reasonable.
 OCZ PC2-4200EB - 3-2-2-tRAS
 tRAS
 Memtest86 Bandwidth
2
3229
3
3229
4
3229
5
3229
6
3229
7
3229
8
3229
9
3229
10
3135
11
3135
12
3135
13
3050
14
3050
15
3050
We have seen reports on the web of claimed fantastic performance using tRAS 2 to 5 settings with this OCZ memory on the Asus P5AD2-E. This is the same board used in our new DDR2 memory test bed. So as a further check, performance tests were run varying tRAS from 2 to 15 using Everest (formerly Aida32). With Everest read/write/composite, performance was measured with 3-2-2- timings and a variable tRAS. Performance patterns in Everest were exactly the same as in Memtest86, with extremely small variations from 2 to 9 tRAS. An example is the tRAS 2 composite of 5663 compared to the tRAS 8 composite of 5686.
Our conclusion is tRAS from 2 to 9 makes no performance difference with the OCZ PC2-4200EB, so we ran all performance tests at 8. If you see enthusiasts claiming improved DDR2 performance with tRAS 2 to 5, ask for proof - as we can find no real performance difference in the 2 to 9 range with all other settings being the same.
Performance Comparisons
AnandTech has published extensive performance comparisons of DDR and DDR2 memory over the past year. If you would like to compare performance results from this review to the DDR2 roundup or to DDR performance, you can refer to our extensive library of memory reviews on Anandtech. Recent Memory Performance reviews include:
Pentium 4 3.46 Extreme Edition and 925XE: 1066MHz FSB Support is Here
PQI & G. Skill: New Choices in 2-2-2 Memory
Athlon 64 Memory: Rewriting the Rules
OCZ 3700 Gold Rev. 3: DDR500 Value for Athlon 64 & Intel 478
Geil PC3200 Ultra X: High Speed & Record Bandwidth
=F-A-S-T= DDR Memory: 2-2-2 Roars on the Scene
Buffalo FireStix: Red Hot Name for a New High-End Memory
Intel 925X/915: Chipset Performance & DDR2
New DDR Highs: Shikatronics, OCZ, and the Fastest Memory Yet
The Return of 2-2-2: Corsair 3200XL & Samsung PC4000
OCZ 3700EB: Making Hay with Athlon 64
OCZ 3500EB: The Importance of Balanced Memory Timings
Mushkin PC3200 2-2-2 Special: Last of a Legend
PMI DDR533: A New Name in High-Performance Memory
Samsung PC3700: DDR466 Memory for the Masses
Kingmax Hardcore Memory: Tiny BGA Reaches For Top Speed
New Memory Highs: Corsair and OCZ Introduce DDR550
OCZ PC3700 Gold Rev. 2: The Universal Soldier
OCZ 4200EL: Tops in Memory Performance
Mushkin PC4000 High Performance: DDR500 PLUS
Corsair TwinX1024-4000 PRO: Improving DDR500 Performance
Mushkin & Adata: 2 for the Fast-Timings Lane
Searching for the Memory Holy Grail - Part 2
800FSB Performance Test Configuration
Performance of the OCZ DDR2 was first compared to tested DDR2 memory at DDR2 533 (PC2-4200) and DDR2 667 (PC2-5300), two standard values tested in the DDR2 roundup. Test conditions for this first phase of testing were kept as close as possible to those used in our
DDR2 Roundup
. Since our roundup tests were limited by the capabilities of the motherboard and CPU to DDR686, we made no attempt to test at the DDR686 setting, which was an artificial constraint that all tested memory had reached.
800FSB 925XE Performance Test Configuration
Processor(s):
Intel Pentium 4 LGA 775 2.8GHz (800MHz FSB)
RAM:
2X1GB OCZ PC2-4200EB (DS)
2X512MB Corsair XMS2 5300 PRO (DS)
2X512MB Crucial PC2-4300U (DS)
2X512MB Geil PC2-4300 (SS)
2X256MB Kingmax DDR2-533 (SS)
2X512MB Kingston PC2-4300 (SS)
2X512MB Micron PC2-4300U (DS)
2X512MB Mushkin DDR2 533 (SS)
2X512MB OCZ Premier PC2 4300 (SS)
Hard Drives
Maxtor MaXLine III Serial ATA 250GB 7200RPM drive
16MB Cache, NCQ
PCI/PCIe Speed PCI fixed at 33, PCIe and SATA not fixed
Bus Master Drivers:
Intel Chipset Driver 6.0.0.1014
Video Card(s):
nVidia 6800 GT PCI Express, 256MB, 1024x768x32
Video Drivers:
nVidia 61.77
Heat Sink Fan:
Thermaltake Jungle 512 (CL-P0037)
Power Supply:
OCZ 520 PowerStream 520 Watt
Operating System(s):
Windows XP Professional SP1
Motherboards:
Asus P5AD2-E (925XE) with 103b07 Beta BIOS
DDR2 533 Performance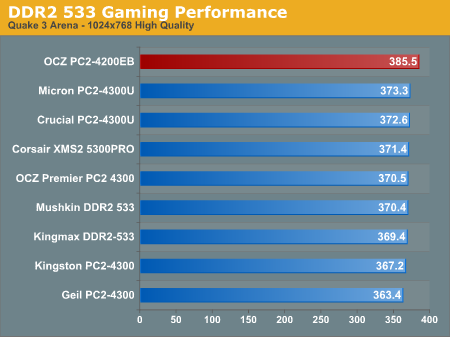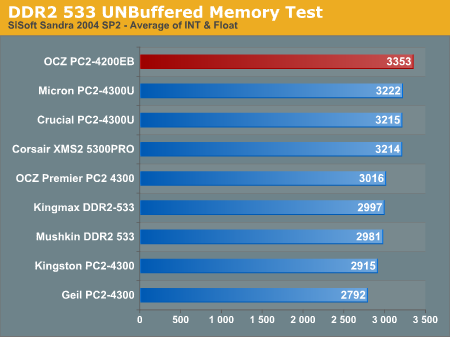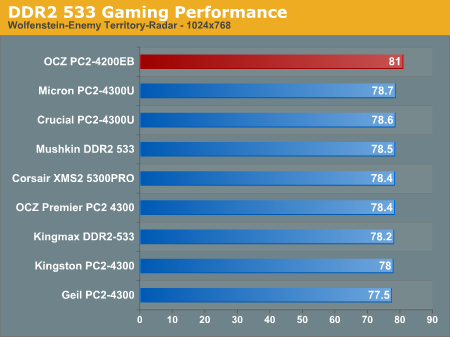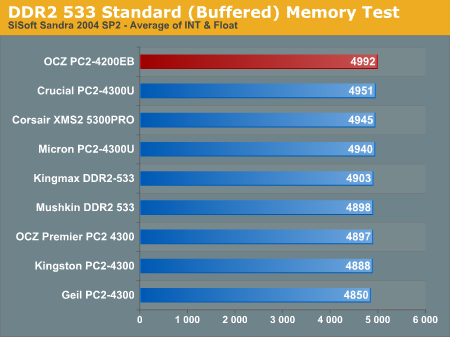 At 800FSB, it is clear that the faster 3-2-2-8 timings of OCZ PC2-4200EB DO make a difference. In every benchmark at 800FSB, 14x200, and the 3:4 ratio of DDR533, the OCZ tops the performance charts.
DDR2 667 Performance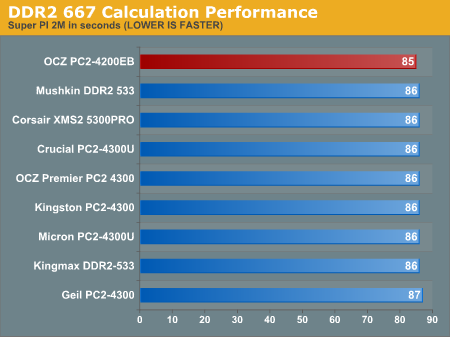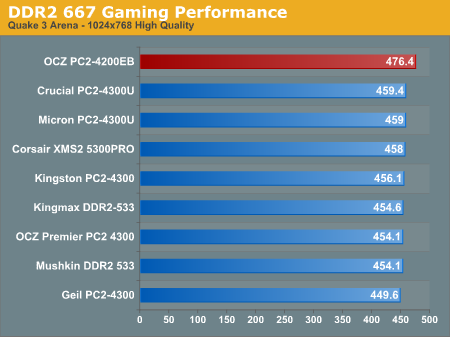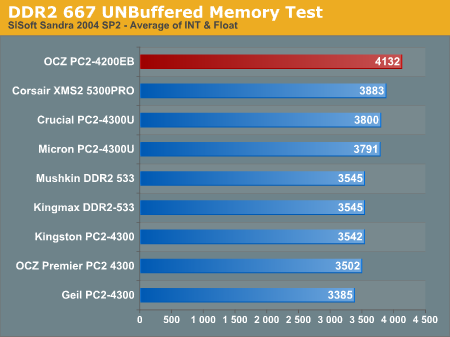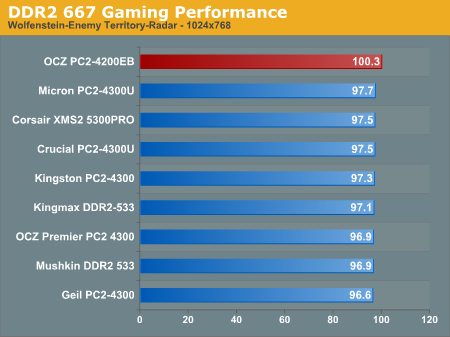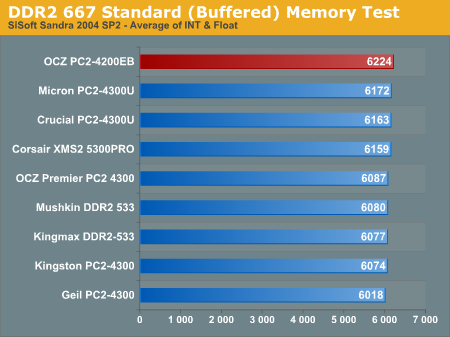 The same pattern continues at DDR2-667, where 4-2-2-8 timings could be used with OCZ PC2-4200EB instead of the 4-4-4 timings required by most other memories. At 14x250, the new OCZ EB topped every performance chart.
Updated Components for New DDR2 Test Bed
Our first efforts to test DDR2 memory were limited by the 925X motherboard and 3.6E Prescott used for testing. That combination limited the maximum overclock to about DDR2-686 due to the 14X lowest multiplier available and the 925X overclocking capabilities. We took a close look at the new components available on the market and made several changes to our DDR2 memory test bed to allow more accurate testing of the full capabilities of DDR2 memory.
Processor
While the 3.46EE CPU is very expensive, it has several attributes that make it a much better choice for our memory test bed than the 3.6ES used in the past. First, it is the only current 1066 FSB CPU. We have been able to run the 3.6ES at 1066 as well, but the 14X multiplier combined with the overclocking limits of the 3.6 keeps FSB to 285 maximum. With the 3.46EE, both 13X and 12X multipliers are available. We found in testing that this 3.46EE is capable of reaching 324FSB at 12X multiplier on the Asus P5AD2-E motherboard. This provides a test bed range of 200 to 324, or 800FSB to 1300FSB, for memory testing.
Motherboard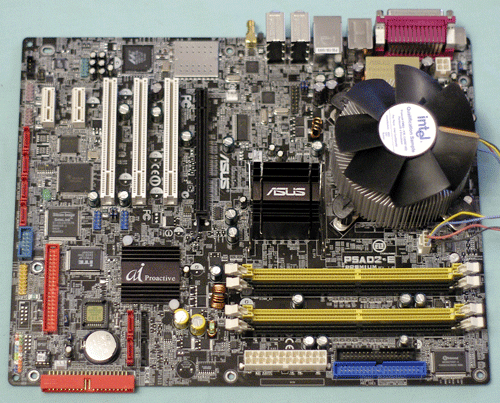 The 925XE version of the P5AD2 series adds some capabilities to the DDR2 memory test bed. In addition to a 533 1:1 memory clock at 1066FSB, Asus also provides a 3:4 ratio of DDR2-711, at stock speed. Combined with the 324 clock of the 3.46EE at 12X multiplier, the P5AD2-e is capable of a maximum memory overclock of DDR2-864. This is a great improvement over the DDR686 limitation of the previous 925X motherboard used for DDR2 memory testing.
Power Supply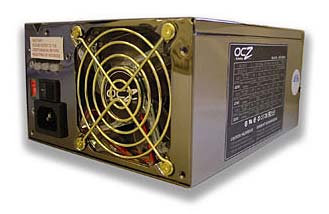 We continue with the remarkable OCZ PowerStream 520 power supply. The PowerStream 520 has individually powered rails like the Antec TruePower units. The rails are also individually adjustable with LED readouts for special tweaking needs. Powerstream features high wattage, beefed up connectors for video and hard drive, SATA connectors, and both the 24-pin ATX connector required for 925X/915.server and a 20-pin adapter for a standard 875/865/Athlon system. This may be overkill for an average end user, but these are excellent features for a memory test bed where overclocking, power hungry processors, and power-hungry video are the norm.
Heat Sink Fan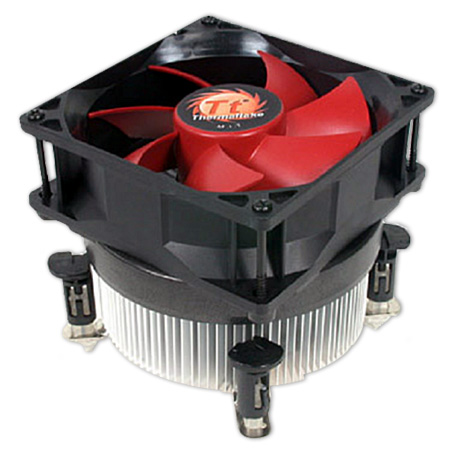 The Thermaltake Jungle512 (CL-P0037) is a third-party LGA 775 Heat Sink that does a decent job of cooling with the demands of the LGA 775 at overclocked speeds.
With the updates to the DDR2 memory test bed, we were confident that we could actually measure the performance of this OCZ PC2-4200EB as well as future fast DDR2 memory without the limitations of a CPU or motherboard wall. The range from DDR2-400 to DDR-864 should provide the latitude to truly test the capabilities of the best DDR2 memory.
1066FSB Performance Test Settings
Using the updated DDR2 memory test bed, we ran our standard suite of memory performance benchmarks, which includes Quake 3, Return to Castle Wolfenstein-Enemy Territory, Super Pi and both SiSoft Sandra Standard Buffered and Unbuffered benchmarks.
The following settings were tested with OCZ PC2-4200EB:
2.4GHz-800FSB-DDR2-533 - the highest stock speed supported on 925X/915 motherboards at a stock frequency used in all past DDR memory testing at AnandTech.
2.4GHz-800FSB-DDR2-600 - a new ratio available on the Asus. Only the memory speed was varied - the CPU remained at 2.4GHz.
2.84GHz-948FSB-DDR2-711 - starting from the #2 settings of 2.4GHz and DDR600, the FSB was raised until we reached the next 1066 stock memory ratio of DDR2-711.
3.2GHz-1066FSB-DDR2-533 - a stock 1066FSB with 1:1 memory ratio.
3.2GHz-1066FSB-DDR2-711 - a 3:4 memory ratio on the Asus P5AD2-E. The CPU speed remains the same as #4, with just a change in memory speed.
Highest Memory Speed - 3.7GHz-1232FSB-DDR2-821 - the highest memory speed that we could achieve with air cooling and conservative voltage increases.
Since this is the first run of these settings on the new memory test bed, results are only reported in a table. Future DDR2 memory tests will be reported in comparison charts using the new memory test bed.
1066FSB Performance: OCZ PC2-4200EB
OCZ is a well-known supplier of Enthusiast DDR memory. However, OCZ has not until now delivered the kind of "killer" product in DDR2 that is their trademark in DDR memory. OCZ tells us that this product, their PC2-4200EB, is the product that stands above the crowd.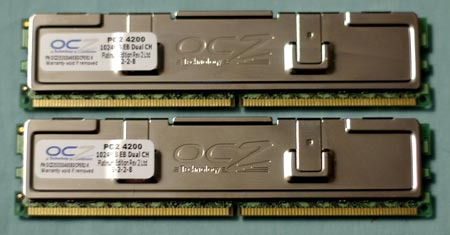 Test DIMMs were a matched pair of double-sided 1024MB DDR2 DIMMs with platinum-colored heatspreaders. We would be surprised, but not astounded, by 512MB DDR2 DIMMs rated at 3-2-2-8, when the rest of the competition is at 3-3-3 or slower timings. However, these are 1GB DIMMs rated at 3-2-2-8, which is an incredible achievement. All performance tests were run with 2X1GB DIMMs.
OCZ also markets these same PC2-4200EB modules in a 1GB kit with 2x512MB single-sided DIMMs. Other testers have claimed that the single-sided 512MB DIMMs are even faster than the DS 1GB versions, but we did not find that in our tests. While we did test both SS and DS DIMMs, we did not find the single-sided to perform much differently than the double-sided modules. This makes the 1GB OCZ DDR2 DIMMs the first 1GB memory that we have tested - DDR or DDR2 - where the 1GB performance is as good as, or better than, any available 512MB module.
OCZ did not share the maker of the memory chips on the PC2-4200EB. They said that they were made for them by a major chip-maker, but the information was proprietary. The memory chips are BGA, so we weren't comfortable trying to remove the heatspreaders to check. We recently destroyed some BGA memory when we removed a heatspreader and these DDR2 chips were just too good to risk destroying them in order to report the memory chip maker. They behave like Micron chips in some benchmarking, but we cannot be certain of their origin. We will report more when we find out the memory chip maker.
Test Results: OCZ PC2-4200EB
The full suite of benchmark tests were run at all six benchmark speeds. This includes Quake3, Super PI, Sandra 2004 SP2 Memory Tests, and Return to Castle Wolfenstein-Enemy Territory. We also ran UT2003, Aquamark 3, and Comanche 4 at every memory speed to verify stability of the reported memory timings. All benchmarks and additional tests had to complete without incident for the memory settings to be considered stable.
OCZ PC2-4200EB (DDR2 533) - 2x1024Mb Double-Bank
Speed
Memory Timings
& Voltage
Quake3
fps
Sandra UNBuffered
Sandra Standard
Buffered
RCW-ET
Radar
Super PI 2M places
(time in sec)
533DDR2
200x12 - 2.4GHz
800FSB
3-2-2-8
1.80V
402.4
INT 2738
FLT 2812
INT 4754
FLT 4749
78.7
126
600DDR2
200x12 - 2.4GHz
800FSB
3-2-2-8
1.85V
404.4
INT 2922
FLT 3007
INT 4917
FLT 4915
79.2
124
711DDR2
237x12 - 2.84G
948FSB
4-2-2-8
2.05V
480.0
INT 3412
FLT 3529
INT 5742
FLT 5743
93.6
106
533DDR2
266x12 - 3.2GHz
1066FSB
3-2-2-8
1.80V
522.5
INT 3015
FLT 3092
INT 5759
FLT 5755
102.3
98
711DDR2
266x12 - 3.2GHz
1066FSB
4-2-2-8
2.05V
529.6
INT 3473
FLT 3604
INT 6129
FLT 6122
103.9
96
821DDR2
308x12 - 3.7GHz
1232FSB
4-2-3-8
2.1V
608.4
INT 4013
FLT 4057
INT 7055
FLT 7048
119.8
84
What can you say about a memory that is rated at DDR2-533 and reaches a stable overclock of DDR2-821? That's an overclock of 54% - an unbelievable performance. To put this in perspective, we have been overwhelmed at the ability of some DDR400 rated Samsung TTCD to reach DDR580. That is an overclock of 180FSB and 45%. Perhaps that puts in perspective how remarkable this overclock of 288FSB and 54% really is!
Conclusion
There is absolutely no doubt that OCZ PC2-4200EB is the new performance leader in DDR2 memory. It is incredibly fast at 3-2-2-8 at the rated speed of DDR2-533 when the best of the competition is 3-3-3 and some is rated 4-4-4. It is good to see faster memory timings finally appear in DDR2. If you have any doubts that faster DDR2 timings really make a difference, just check out pages 5 and 6 where OCZ PC2-4200EB wins every benchmark compared to the top memory from our DDR2 roundup.
If that were all there is to PC2-4200EB, it would be enough to be impressed, but there is much, much more. This same modestly-rated DDR2-533 memory reached an incredible DDR2-821 in benchmark tests on our new DDR2 memory testbed. This is the highest speed that we have ever reached with DDR2, and even more remarkable is that it is achieved at the still fast timings of 4-2-3-8 at 2.1V memory voltage. Many competitors fall far short of this record, giving up with 5-5-5-10 timings.
The fastest 3-2-2-8 timings were good to about DDR2-633 speed, where we merely had to drop to 4-2-2-8 timings to go further. 4-2-2-8 carried us, with increasing voltage to about DDR2-730, where we needed to drop to the still fast 4-2-3-8, which reached all the way to our highest overclock of DDR2-821. Frankly, we might have gone even further by slowing timings even more, but we were already closer to our new test bed limit of DDR-864 than we ever believed we would be at this early juncture.
So, OCZ PC2-4200EB is fast at stock, and reaches the highest DDR2 speed that we have ever tested, at the fastest timings that we have even found with DDR2 at every benchmarked speed. Did we also mention that our test memory was 1GB DIMMs? While it is also available as single-sided 512MB DIMMs, there is little, if any, performance penalty with the double-sided 1GB DIMMs. Those looking for higher capacity DIMMs that won't require dismal timings have reason to rejoice.
It is rare that we get so excited about a product, but that excitement is deserved with OCZ PC2-4200EB. In every way that you look at it, this memory is the yardstick against which all future DDR2 memory will be measured. Yes, it is expensive, but it is also that good. We don't know all the parts that OCZ used in creating this incredible memory, but they need to buy up all the chips and corner PCB production before others find out their sourcing. OCZ PC2-4200 is the first memory to get us excited about an Intel board in a long time. Combined with one of the great new 925XE motherboards, this combo is capable of some very serious overclocking and the best performance that you will find in an Intel system.