Original Link: http://www.anandtech.com/show/1564


Widescreen displays are really changing the face of a "typical notebook" for the general consumer, and to a lesser extent, the professional. If you look back to a typical "configure it yourself" notebook a few years ago, they were likely to be roughly 5 to 6 pounds with a 14.1" XGA or 15.0" SXGA+ display. The selection of widescreen notebooks back then made up a small fraction of the market, which system vendors like Dell, HP/Compaq, and IBM all correctly pointed to the cause: high widescreen display panel prices.
LCD monitors have come along far enough in the past few years for all of us to notice some substantial price drops, thanks to the further development of LCD technology. In the case of notebooks, we are seeing a price drop all across the board through the system vendor passing on the cost to the consumer. When it comes to widescreen display panels, this means that system vendors are finding it easier to include it in a notebook design without having to sacrifice a bottom line low price.
One reason why we loved the HP Pavilion DV1000 notebook was its sleek profile, suitable for meetings, classrooms, and traveling. However, it was also designed with an "on the road" theater comfort, which marked it as a rarity - something that really could go multipurpose - but it obviously lacks in the gaming department, as we know it, given its choice of an IGP solution. In its form and overall design, it was as if someone took a 15.4" desktop replacement and shrunk it to the size of a mainstream notebook.
This is why we were pleasantly surprised to see someone else take this concept to the ultraportable. Obviously, Dell allows for "configure to order" notebooks, but we were handed an Inspiron 700M with:
1.8GHz Dothan Pentium-M 745
Intel 855GME chipset (non-changable shared VRAM BIOS setting)
2 x 256MB ProMOS PC2700 CL2.5
8x DVD±RW/CD-RW (Sony DW-D56A)
60GB Hitachi 5400RPM Hard Drive
12.1" WXGA display (native 1280 x 800)
Dell's 1350 WLAN 802.11b/g WiFi card
Broadcom 10/100 Ethernet
8 cell extended battery (14.8V, 4.4AH, 65WH)
Construction: Build, Appearance, Size
The 700M has been on the market for a couple of months, but we wanted to take the time to really dig our heels into the experience of this notebook, as it really is a caliber apart from what we have previously seen in ultraportable notebooks. This is really the first notebook from that category designed around the multimedia "mantra."
The notebook lid is simply unsecured via a sliding clip that retracts two security hooks. Opening the notebook reveals a 12.1" WXGA (native 1280 x 800) display. Obviously, the biggest difference between this and other ultraportables is that it uses a widescreen display. Since Dell is centering this on an ultraportable/multimedia notebook theme, this choice only makes sense.
Front (left to right):
4-pin mini IEEE1394 port
headphone port
microphone port
Left (left to right):
Lock port
Exhaust vent
VGA out port
2 x USB 2.0 ports
Secure Digital slot
Back (left to right):
The optical drive is on the right side of the system. The break apart from the Dell norm is shown here where a new Multibay form factor is used. This means that, unlike similar Inspiron notebooks where Multibay devices can be swapped back and forth, the 700M requires Multibay devices specifically designed for it.
Right (left to right):
S-video out port
Power in port
Ethernet jack
Modem jack
Sony 8x DVD±RW/CD-RW DW-D56A
The vent on the bottom seems to be an intake vent for the system.
| | |
| --- | --- |
| Click to enlarge. | Click to enlarge. |
Measuring at 8.5" x 11.7" x 1.5" thick, the 700M is the smallest multimedia notebook that we have seen to date, making it very unique. While it is only slightly longer than Asus' SN5200N in width, the shorter display cuts down the length dimensions noticeably. Marking its weight at slightly over 4 pounds (~4.1 lbs. give and take, depending on what is loaded in the notebook), it positions itself on the heavier end of the ultraportable spectrum, but in our opinion, it isn't so heavy that you can't take it on your trips. In fact, next to the HP Pavilion DV1000, this is the most mobile multimedia notebook that we have seen to do date.
Overall, the feel of the notebook is very sturdy as it sustained a few bumps, rigors, and accidental drops on a couple of our road trips, locally and cross-country. The white portion of the casing is a hard acrylic material, or at least feels like it. The black portion seems to be made of hard plastic or composite material. Both of these materials have basically no "give" in terms of being malleable. The grey plastic that covers the top center part of the notebook is a bit more malleable, though only so much as what we have seen on previous Dell Inspiron notebooks.
Construction - Usability in the Field
Fan
The system's CPU fan is on only when it needs to be, as it is initiated at particular thermal points. So as usage goes up, the fan will in turn be activated or the fan speed is increased. At the maximum speed, the noise is distinguishable, but not so much that it would annoy you or the person next to you on a flight. We would compare the volume at the max similar to the sound of a second hand in one of those old-fashion wall hanging clocks.
More often than not, the fan just cools the CPU just enough so that it is tolerable and then cuts out, which is what you want to see in a multimedia notebook, to eliminate any disturbance while watching movies. Since the CPU fan is on the left side of the system, it is more audible on that side. Actually, if the optical drive is being accessed, the fan's noise will be drowned out or matched if it is at max.
I would say that more than 90% of the time, even with the CPU at over 70% utilization, the fan is off, basically dead quiet.
Heat
This is one of the coolest notebooks in terms of heat, or lack thereof, even more so than the HP DV1000 or the Asus S5200N. It is cool to the touch, basically everywhere. When we were running MobileMark 2002, even past the two-hour mark, the notebook doesn't feel as other reviewed ultraportable notebooks do. Granted, this is a much heftier ultraportable.
The only spot that felt warm was the upper right hand corner on the bottom of the notebook, which is where the CPU is located. However, it is just about as warm as touching your toaster after it has cooled down for a few minutes. The nice thing is that the keyboard doesn't feel warm from the hard drive or CPU, which is sometimes an annoyance. Interestingly enough, the hard drive doesn't feel warm, even after hours of use.
Keyboard
One of the big shortcomings for the 700M is the keyboard. Unfortunately, it isn't a full-sized keyboard like the IBM X31, nor does it use the standard-sized keys. Personally, I use an Asus S52000N, which doesn't feature a full-sized keyboard, but the alpha character keys are the standard size or just slightly below. So basically, the Dell keyboard is that much harder to use with smaller keys, as people with average to large hands will see.
The layout for the arrow and function keys are in the correct places, but the page up, page down, end, and home keys are not in their typical places. Instead, the left arrow key plus function key equates to the page up key, and the right arrow key and the function key results in paging down. The home and end keys are placed just to the right of the F12 key. In comparison to other ultraportables, the 700M is shorter in width, which accounts for the need in shrinking basically all of the keyboard buttons. Other than the size, there is a good amount of tactile response similar to other mainstream ultraportable notebooks (e.g. Latitude X300, Asus S5200N), but it feels like there is a shallower "click" to pressing any keyboard button compared to the regular-sized notebooks.
TouchPad & Buttons
The touchpad has a texture and feel very similar to the silver malleable-plastic casing of the notebook, so it already lacks the same kind of traction that we are used to seeing from other Dell notebooks. And this brings us to the problem of the wear and tear. The best notebooks that we have used are those with more hard plastic, like that of the IBM ThinkPad series, Dell Latitude, and HP/Compaq Presario notebooks. After some time with the 700M, the texture of the touchpad seems to smooth out completely, due to repeated use. We should note that wear and tear is normal after sometime for even heavy notebook users, but the hardier notebooks that we have used haven't had their touchpad severely smoothed out until after a year, at minimum.
We have similar concerns about the touchpad buttons, since they are also made of a similar malleable-plastic like material. Though, this wouldn't feel slightly awkward if there was a more fluid "click". As it stands, the buttons are kind of like those on a cheap mouse where a light tap doesn't "click" the button, but it does press it slightly.
The glide aspect feels less than what we have seen on Dell's Latitude line, and actually, we feel more comfortable with the glide aspect and texture of other consumer notebooks, particularly other Inspiron and/or those from HP/Compaq.
Construction - Usability in the Field
Display
Interestingly enough, Dell chose the same type of high-gloss display that we saw on the HP Pavilion DV1000. HP uses the term "high-definition" for their display (Dell uses "crystal clear"), but this isn't really high-definition in the same way that we think of the difference between HDTV and TVs. For the typical computer user, computer displays are, by default, "higher definition" than the NTSC standard to begin with. So this is more of a marketing additive than anything else.
The only practical difference that we found in high-gloss displays compared to their non-glossed counterparts was a wider viewing angle. They are just as bright as the higher end non-glossed displays. Because of the high-gloss effect, it retains a larger percentage of its brightness as its viewing angle increases.
However, there is a reasonable degree of glare because of the glossiness of the display. It isn't overtly large or minimal, but in a reasonably well lit room, you should be able to see a faint reflection of yourself. The brighter the light source, the larger the glare effect. Iin a real world test, just sitting in a well lighted meeting room, classroom, computer room, bedroom, etc. doesn't make the glare effect a big enough problem to make you concerned about not being able to work. This display makes it a perfect fit for a multimedia notebook, when you may be watching movies or videos along with a friend in a dark room., though not so much if you plan on doing more business or school-related stuff.
LEDS
| | |
| --- | --- |
| Click to enlarge. | Click to enlarge. |
There are two LED strips: one is located below the LCD panel and the other is on the back of the display lid. The first LED strip (left to right) include those for: WiFi (green when active), power on status (green when active), battery status (green when charging and blinking green when low), hard drive activity (blinking green when active), number lock (green when active), caps lock (green when active), and scroll lock (green when active). The three LEDs on the back of the display lid are WiFi, power on status, and charging status.
Speakers & Microphone
The speakers are located to the left and right of the LED strip beneath the LCD monitor. This is actually an ideal placement over the front of the notebook because it directs sound in a more direct path without dubbing. Considering how small and thin the speakers are, they can get loud enough to hear it slightly in the next room. However, these aren't that awesome to be considered in the same context of a multimedia notebook, which is where HP's DV1000 tops Dell's ultraportable multimedia design, but they do a fair job (i.e. max volume doesn't sound great with the Windows startup sound bit). Granted, this notebook is just cramped full of stuff, so I am glad to see at least a stereo setup over something like Asus' S5200N mono-speaker.
We should note that unfortunately, there is no integrated microphone for this notebook.
Charger
This is the same charger used for the rest of Dell's notebook lineup.
Darkroom & The Rest
Since this is a multimedia notebook, it is really supposed to be used in dark environments, such as during that really long plane flight to London. OK - we may be exaggerating, but you get the point. The 700M actually feels good to work with in the dark, but you must give yourself some time to get use to the smaller buttons on the keyboard. Once you get a feel for the notebook, you basically know want to do while in the dark.
The only thing that would really make this better would be to have LEDs in keyboard buttons that work as shortcut keys for multimedia programs, e.g. Control + P = pause/play in most programs. Essentially, we would like to see something similar to what HP has done with the DV1000, but with the ability to turn the lights off when necessary to preserve battery life.
Personally, I haven't settled on whether or not a program like QuickPlay (read our
HP DV1000 review
) is a good idea. As we mentioned before, the main benefit of a system-off feature is supposed to be one or more of three things:
load faster
less software
use less hardware
The problem is that in real practice, there hasn't been a really mature software solution to do all three while yielding true blue battery benefits - at least, not yet. QuickPlay was a set in the right direction, but we need to see some more software development before any of us get worked up on something that might be really something of a cross between those small DVD players and a PC with great battery life all around.
It would be great if one of the notebook vendors took a cue from what MSI did with their early MegaPC's - using a Bluebird chip to process MP3 audio, which made it possible to bypass the CPU totally.
As far as the LEDs go, they are bright enough to be seen in a dark room, and are standard for what we see in Dell notebooks, in general. They aren't as intense as the ones on the HP NC6000, but they do the job nicely. We definitely like the fact that Dell is continuing to use the icon LEDs instead, which let you know what is active/inactive.
Construction - Upgrading and Maintenance
The access panels on the bottom of the system can be removed to access (clockwise): memory, connectivity devices (WiFi card in miniPCI slot and modem), and the system's hard drive.
Accessing the second SODIMM slot is only possible by way of removing the keyboard. Like other Dell notebooks, the plastic bezel has a small divot on the left side that can lift it out and access the screws securing the keyboard. Under the keyboard, there is a metal plate that needs to be lifted out via two screws to access the second SODIMM slot. In our configuration, each SODIMM slot is populated by a 256MB module.
General Performance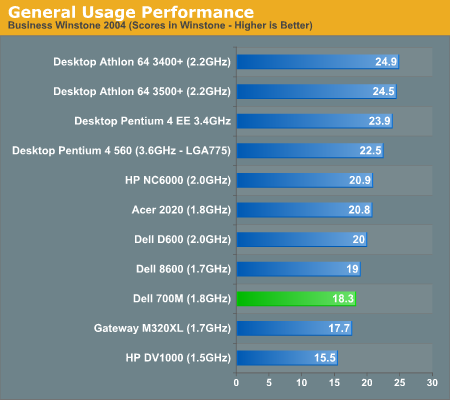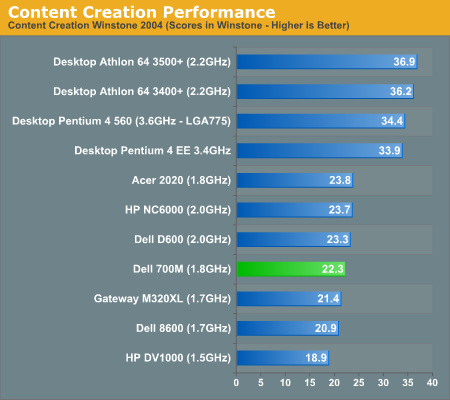 Battery Info & Performance
There are two battery pack options:
4 cell standard battery (14.8V, 2.2AH, 32WH)
8 cell extended battery (14.8V, 4.4AH, 65WH)

Click to enlarge.

Click to enlarge.
Left: 700M with standard battery
Right: Extended and standard batteries side by side
It costs $53 dollars more to upgrade from a standard battery to the extended, or $116 to just add on the 8 cell extended battery. Our recommendation is just to add the extended battery if you can. The extra battery life will go a long way, especially for an ultraportable, since you are likely trying to avoid using a power outlet as much as possible. We should note that unlike other notebook designs, the extended battery doesn't limit the range of how far back the display can bend.
If your battery power is low, the battery stats icon will blink green even if the system is turned off, and there will be a BIOS warning along with an override prompt once you turn on your system (displayed after BIOS initializes). If the battery power is actually at 0%, there will be no blinking low power indicator.
We have redone the way we benchmark notebooks for battery tests. In the past, we have always run under "Always On" for the battery scheme under the power settings in Windows XP. This puts the CPU to max performance, but the side-effect is that power is going to be drawn from the battery rather liberally.

The main reason we did this in the past was two-fold:

you would know what you should at least get with your notebook; and
using the recommended Bapco setting of "Portable/Laptop", which has automatic CPU speed management, often times wasn't up to par with what normal users in the past needed for something as simple as visualizations in WMP.

Because performance has increased to such a degree that even automatic power management isn't a hindrance, our benchmark method was long overdue for an overhaul. These scores are reflective of what you should expect in the typical day-to-day use.

Our past benchmarks can be referenced, but with those laptops, keep in mind that it is the minimum score that you should expec, and automatic power management increases the scores from roughly 10% to 35%.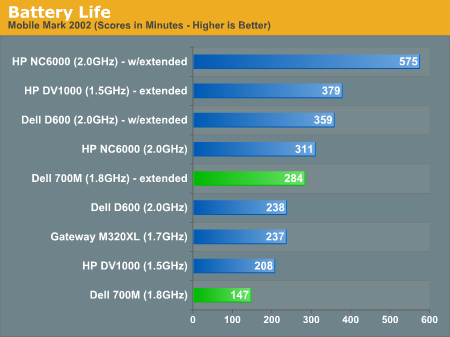 Startup Performance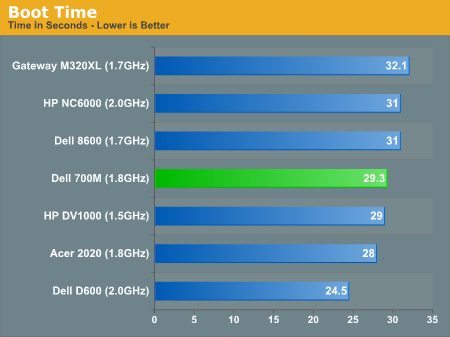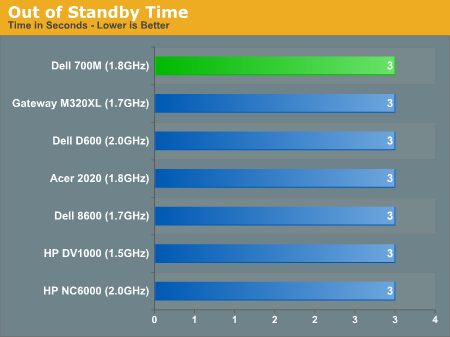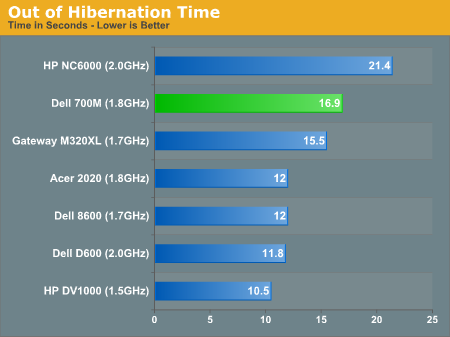 Final Words
Having seen and used the HP Pavilion DV1000, the Dell Inspiron 700M isn't as eye-catching or revolutionary at first. The HP Pavilion DV1000 was something of a new breed in the multimedia notebook field because just about all previous multimedia notebooks were something like the Dell Inspiron 8600: 15.4" widescreen, bulky, wide, etc. Basically, none of them were in the mobile sense. The DV1000 was something in a similar profile of a typical notebook like some of the mainstream IBM's ThinkPad, Dell's Inspiron, and HP/Compaq's Presario with a slightly wider display, which made it a good, all-purpose and multimedia notebook.
The 700M is a bit different because an ultraportable notebook is suppose to emphasis characteristics like: lightweight, small, compact, etc. However, the 700M weighs in at a little over 4 pounds, which is a little under some of the thin and light notebooks. It is also a bit thicker than other ultraportable notebooks from Dell, IBM, and HP/Compaq. Overall, this feels more like a miniature version of Inspiron 8600 rather than an X300 with a wide screen, from which is where some of our complaints come. Add on the problem we have the keyboard, this notebook takes a bit of time to get use to, if you are just coming off a desktop or 15.4", 15.0", and 14.1" notebook.
Despite all of these concerns, it is the smallest and lightest weight multimedia notebook, and if you are measuring it as a multimedia notebook with the occasional use for business/school/etc., it has a great design. Movies are all that much easier to take with you on flights and the 700M fits comfortably in the seat tray. The keyboard and touchpad are less of a concern for heavy multimedia users, since they will be spending their time on the screen as opposed to punching away at that report due Tuesday.
What truly makes the 700M more appealing to us are the configuration options, lower price, and its ability to become a true lightweight powerhouse notebook. Most ultraportable notebooks tier off at Pentium-M 1.4GHz (Dothan), but the 700M raises the ante to a max with Intel's Pentium-M 2.0GHz - remarkable considering its size. The battery life has a good range, as a standard and extended battery rivals that of other notebooks. The only difference is that you will actually need to swap batteries during use to extend battery life, as there is no multi-bay battery option.
Our sample came with 1.8GHz, the mid-CPU option, which is what we recommend for those looking for budget-conscience, powerful, and compact multimedia notebook. This really can be made to be a powerful compact road warrior, ready to tackle some of the duties that heavier and much larger 15.0" notebooks can. At a mid-price, at least $200-$300 less than most of the starting prices for other comparable ultraportables, this is an
awesome
great buy with those on a budget, want a bit more power than what typical ultraportables offer, and those with more of a movie bug in them, or this is something to consider as a Christmas gift to occupy that frequent flyer on business trips.