Original Link: http://www.anandtech.com/show/1521


Epox has had some legendary AMD designs. Their 8RDA family for the Socket A nForce2 has always contained leading-edge designs famous for their performance and overclocking capabilities. The Epox 8KDA3+ was our Gold Editors Choice in
Socket 754 Roundup: Comparing Generation 2
. In the 939 arena, however, Epox has been strangely absent in the months since Socket 939 was introduced on June 1. Epox has said that there was a 939 board coming, but it has taken a very long time for the 9NDA3+ to make it to market. The natural question is whether the new Epox 939 was worth the wait.
The 9NDA3+ comes in a premium package. It is difficult to see in the image, but the box is a white iridescent weave background that shimmers in the light. The board that we are reviewing is the top-of-the-line 9NDA3+, but Epox normally introduces lower-priced, lower-featured versions in the same family. Even though it is the top Epox 939 board, the 9NDA3+ is still a good value in 939. A check at several on-line vendors showed a current price of around $130, which is competitive with other top 939 boards that represent good value. There are less full-featured 939 boards now selling in the $105 to $110 on-line price range, and the value edition of the 9NDA3+ should fall in that range or even lower.
Many will want to know if nVidia implemented the full nForce3-250 family chipset features on the 9NDA3+, and the answer is "yes". You will find the on-chip Gigabit LAN supported by a PHY LAN chip, the on-chip nVidia firewall, and the nVidia "any-drive" RAID. It is good to see a manufacturer supporting the full nVidia feature set instead of opting for cheaper non-integrated solutions.
Basic Features: Epox 9NDA3+
 Epox 9NDA3+ Motherboard Specifications
CPU Interface
Socket 939 Athlon 64
Chipset
nVidia nForce3 Ultra
Bus Speeds
200MHz to 400MHz (in 1MHz increments)
PCI/AGP Speeds
66MHz to 100MHz (in 1MHz increments)
Core Voltage
+.05V, +.10V, +.15V, +.20V
DRAM Voltage
2.5V to 2.8V in 0.1V increments
AGP Voltage
1.5V-1.8V in 0.1V increments
Chipset Voltage
1.6V-1.75V in 0.05V increments
Hyper Transport Ratios
1X to 5X in 1X increments
CPU Ratios
Auto, 8X to 25X in 1X increments
DRAM Speeds
Auto, 100, 133, 166, 200
Memory Slots
Four 184-pin DDR Dual-Channel Slots
Unbuffered Non-ECC Memory to 4GB Total
Expansion Slots
1 AGP 8X Slot
5 PCI Slots
Onboard SATA
4-Drive SATA by nF3-250Gb
Onboard IDE
Two Standard nVidia ATA133/100/66
(4 drives)
SATA/IDE RAID
4-Drive SATA Plus 4-Drive IDE can be combined in nVidia RAID 0, 1, 0+1, JBOD
Onboard USB 2.0/IEEE-1394
8 USB 2.0 ports supported by nF3-250Gb
2 1394A FireWire ports by VIA VT6307
Onboard LAN
1 Gigabit Ethernet on-chip
by nF3-250GB and Vitesse VSA8201 PHY
Onboard Audio
Realtek ALC850 8-Channel with UAJ
SPDIF coaxial in and out
BIOS
Award 10/07/2004
The single chip nVidia nForce3 Ultra is used for the 9NDA3+. For more information on this chipset, you can refer to our launch articles for the chipset:
nForce3-250 - Part 1: Taking Athlon 64 to the Next Level
nForce3-250 - Part 2: Taking Athlon 64 to the Next Level
The nF3 Ultra is targeted at Socket 939, with the nF3-250Gb and basic nF3-250 aimed more at Socket 754. This distinction will likely blur due to the recent introduction of the nForce4 chipset, but there is no real performance difference in the nF3-250 and nF4 chipset families. The major difference is that nForce3-250 chipsets are for AGP video and nForce4 is for PCI Express video.
The current Epox catalog shows the 9NDA3+ that we are testing, and an upcoming 9NPA+ that is based on the nForce 4 chipset.
Our 9NDA3+ test board was a full retail package and included:
A "Power Pack" that includes a user's manual, quick installation guide, installation screwdriver, 8 mini heatsinks for Mosfets and VGA DIMMs, Epox logo badge, and a driver CD
Two round red IDE cables
One flat floppy cable
Two Serial ATA data cables
Two Serial ATA power cable
One USB bracket with 2 ports
One Firewire bracket with 2 standard ports
One Accessory Bracket with Serial Port 2 and a Game port
One "nVRAID Driver" diskette
One I/O shield
Epox uses a large heatsink on the single chip nF3 Ultra with active fan cooling. The active cooling solution did a decent job of keeping the nF3 Ultra chip cool during both normal operation and overclocking.
Many of the manufacturers of nF3-250 family chipsets have chosen the Realtek ALC850 7.1 audio chip. The ALC850 is also the choice of Epox, which includes both Optical and Coaxial SPDIF connectors on the rear IO panel. This 8-channel audio codec is fully AC '97 2.3 compliant and features 16-bit 8-channel audio and auto-jack sensing with support for a full range of analog and digital IO. A wide range of sound standards are supported including:
EAXTM 1.0 & 2.0 compatible
Direct Sound 3DTM compatible
A3DTM compatible
I3DL2 compatible
HRTF 3D positional audio
SensauraTM 3D Enhancement
The ALC850 Codec provides four pairs of stereo outputs, with 5-Bit volume controls and multiple stereo and mono inputs, along with flexible mixing, and gain and mute functions. Two 50mW/20ohm headset audio amplifiers are integrated at Front-Out and Surround-Out, and both amplifiers are selectable for Front-Out, Line-In and Mic-In as a Universal Audio Jack.
You can find more information on the recently released ALC850 at
Realtek
.
Epox provides a full selection of rear I/O ports. These include 6 audio mini jacks plus both coaxial and optical SPDIF out connectors to support the Realtek ALC850 on the back IO panel. IO also includes PS2 mouse and keyboard, parallel, 1 serial, 1 standard Firewire (IEEE1394), 4 USB, and a Gigabit Ethernet.
nVidia "Any Drive" RAID is supported on the 9NDA3+. Any of the standard 4 IDE drives or an additional 4 SATA drives can be combined in a Raid 0 (striping), Raid 1 (Mirroring), or Raid 0+1 array.
On-chip Gigabit LAN is built-in with the nForce3 Ultra and runs completely independent of the PCI bus. Epox uses the Vitesse PHY (Physical Layer) chip to provide the interface for direct communication of the LAN to the chipset.
Four DIMM slots support up to 4GB of up to DDR400 memory in a Dual-Channel memory configuration. It is worth mentioning that Dual-Channel 1 is DIMMs 1 and 2, and Dual-Channel 2 is DIMMs 3 and 4.
Board Layout: Epox 9NDA3+
Epox has never really used any stand-out colors on their boards in the past. The 9NDA3+ is another in the long line of ugly green Epox motherboards. You know that they are Epox from the motherboard color, but it is not a color that is particularly attractive in an open-case design. In fact, the green motherboard with red round cables looks a little bit like Christmas.
The basic layout of the Epox is generally excellent, with some standout elements and a few glaring layout faults.
The ATX 20-pin and the 4-pin 12V connector are the worst part of the Epox design. Both are located on the top upper left of the motherboard between the CPU socket and the IO ports. This location requires snaking the bulky 20-pin ATX connector over the CPU in many case designs, and it just isn't the best location for good airflow in most cases. A better location, particularly for the 20-pin ATX connector, would have been the upper right edge of the board.
The CPU socket is in the top center of the board. AGP and PCI slots are below the socket and memory is to the right of the CPU. There is plenty of room around the Socket 939, so just about any Heatsink/Fan should work fine.
The locations of the SATA connectors are a huge improvement over the locations on the nF3-250 Reference Board. Two SATA have been located between the AGP slot and the PCI slot 1. This is a much better location than above the AGP slot that we saw on the nVidia Reference board. Two additional SATA connectors are near the lower right edge of the board. The IDE connectors are in the preferred right-edge location, but they are located on lower right instead of upper right. This will be fine in most case designs, buit it could be an issue in a full tower case supporting upper bay hard drives Overall, the arrangement of SATA and IDE connectors will work well in most case designs.
The floppy connector is in a terrible location at the bottom right edge of the motherboard. In a full tower case you, will have to find a super long floppy cable to reach this location. Since many users no longer even use a floppy drive, this may not matter, but if a floppy drive is still part of your build, this location will be a challenge in some cases.
The Epox arrangement for the AGP and 5 PCI slots is the best that we have seen. Most users don't use the slot next to the VGA card for better cooling, so Epox made the AGP two slots wide. It means that the 5 PCI slots are completely usable with most video cards. Even double slot cards like nVidia's 6800 Ultra will be right at home in the 9NDA3+. There is also enough room between the chipset and AGP card to reach the AGP slot release on this board. However, the common "push to releas"" lever that works fine with most cards can be a real pain with very large top end cards like the nVidia 6800 Ultra.
The option headers are lined up at the bottom of the board in out-of-the-way locations. The only exception is the audio connectors, which are in a much more reasonable spot between the AGP and first PCI slot. So, if you need to use an audio cable with your optical drives, the mid-board location will work for most audio cables. Like the disappearing floppy, audio cables are rarely required any more, but if you need them, this location works very well.
BIOS: Epox 9NDA3+
Epox uses the familiar Award BIOS, so navigation will be familiar for most users.
Most of the options of interest to overclockers are contained in the Power BIOS Menu. This includes CPU speed, AGP speed, HT ratios, CPU ratios, and CPU/DIMM/AGP/Chipset voltage.
The only real enthusiast settings not found in Power BIOS are the DRAM timings, which are in a submenu under the Advanced Chipset Features.
The CPU can be adjusted over a speed range from 200MHz to 400MHz in 1MHz increments. This is a much better than normal range of CPU speeds
AGP can be fixed at any frequency from 66 to 100, but most users will probably leave it at 66 or 67.
The Epox offers HyperTransport adjustments to 5X (1000 HT).
Memory Voltage can be adjusted to 2.8V, which is adequate, but nothing that will excite overclockers. A range of 3.0V to 3.2V would have been much more useful for those who push the performance of their system.
The other part of high FSB clocking is CPU ratios or multipliers. The 9NDA3+ provides a wide range of 8 to 25X, but adjustments are in whole multipliers only. Keep in mind that while all Athlon 64 chips can be downclocked with lower ratios, only the FX chips are completely unlocked and can be set to higher than stock ratios. We confirmed that the ratios do work as they should on the Epox board.
vCore is surprisingly limited and coarse compared to past Epox designs. There are only 4 settings for vCore in +.05, +.10, +.15, and +.20. This is the most useful adjustment range for air overclocking, but finer controls would have been appreciated. The range will be considered too limited for users of water or phase-change cooling.
AGP voltage adjustment covers a broad range to 1.8V. This adjustment usually makes very little difference in overclocking.
Chipset voltage adjustments from 1.6V to 1.75V in useful .05V increments are provided in the Epox. This is very useful when trying to reach extreme overclocks on the nF3 Ultra chipset.
Many of the most used adjustments are in Power BIOS, so the Advanced Chipset menu is mainly DRAM Timings, HT Ratios, AGP aperture size, and shadowing control.
The nForce3 Ultra supports many integrated features. Most of these are controlled in the Integrated Peripherals menu. This includes an IDE Function Setup submenu where setup and adjustments are made to the nVidia RAID for SATA and IDE drives.
Tech Support and RMA: Epox 9NDA3+
Our support evaluation procedure tries to determine the responsiveness of manufacturers to Technical Support problems. Our procedure:
The way our Tech Support evaluation works is first, we anonymously email the manufacturer's tech support address(es), obviously not using our AnandTech mail server to avoid any sort of preferential treatment. Our emails (we can and will send more than one just to make sure we're not getting the staff on an "off" day) all contain fixable problems that we've had with our motherboard. We allow the manufacturer up to 72 hours to respond, and then we will report whether or not they responded within the time allotted, and if they were successful in fixing our problems. In case we don't receive a response before the review is published, any future responses will be added to the review, including the total time it took for the manufacturer to respond to our requests.

The idea here is to encourage manufacturers to improve their technical support as well as provide new criteria upon which to base your motherboard purchasing decisions. As motherboards become more similar everyday, we have to help separate the boys from the men in as many ways as possible. As usual, we're interested in your feedback on this and other parts of our reviews, so please do email us with your comments.
Epox Support can be found by visiting their U.S. website at
http://www.epox.com/USA/support.asp
. Users need to register to access some sections of the Support options, but the registration process is very simple and straightforward. In addition to the options for contacting support and creating trouble tickets, the user can access a knowledge base by model and download the latest BIOS and drivers.
The RMA process is also described at the US website and the RMA application can be filed on-line. Unlike some other manufacturers, Epox has a very flexible RMA process that will handle RMAs directly from the US office if the customer prefers, without a lot of front-end hassle to return a product for repair or replacement. The procedure is very straightforward.
There are also dedicated Epox websites for Europe, Germany, China, and a global site in both English and Mandarin. In addition, partner sites are available in the UK, Russia and Turkey.
For US customers, Technical Support can be obtained in the Support submenu. As far as email tech support response time was concerned, Epox did fine in our first attempt to measure Tech Support turnaround time. We received a reply to our question in 15 hours. While the time was fast and the answer was friendly, we did not find the answer particularly helpful in resolving our theoretical problem. The answer was one potential answer to the issue, but it appeared more a canned database response than a careful look at what we had asked. Perhaps we were looking for too much in this first test, but overall, the reply time was quite good.
We will be more confident in Epox support when we have had more opportunities to test the quality of Epox support. In fairness, we were also asking questions about a motherboard that has just reached the US market. In fact, the board is not even listed as a product on the US website, though it does appear on the Global Epox site.
FSB Overclocking: Epox 9NDA3+
Epox has a reputation of delivering fast motherboards with excellent overclocking capabilities. This time around, the overclocking options for the 9NDA3+ are adequate, but no one would really call them outstanding.
Front Side Bus Overclocking Testbed
Default Voltage
Processor:
Athlon 64 FX53
2.4GHz
CPU Voltage:
1.5V (default)
Cooling:
Thermaltake Silent Boost K8 Heatsink/Fan
Power Supply:
OCZ Power Stream 520W
Memory:
OCZ PC3200 EL Platinum Rev. 2 OR
Geil PC3200 Ultra X
Maximum OC:
(Standard Ratio)
204x13
221x12
2652MHz (+10.5%)
Maximum FSB:
(Lower Ratio)
291 x 9 at (2619MHz)
(1:1 Memory, 2 DIMMs in DC mode)
Despite our complaints that the overclocking options could be better, the Epox motherboard still managed to match the highest overclocks that we have seen with this particular FX53 processor. The 9NDA3+ also matched the MSI K8N Neo2 in the maximum CPU speed, reaching 291x9 (2619MHz), which is essentially the same as the 290 reached with the MSI in the
Socket 939 roundup
.
Front Side Bus Stress Test Results:
As part of our overclocking tests, a full range of stress tests and benchmarks were run to ensure that the Epox 9NDA3+ was stable at each overclocked FSB speed. This included Prime95 torture tests, and the addition of other tasks - data compression, various DX8 and DX9 games, and apps like Word and Excel - while Prime95 was running in the background. Finally, we ran our benchmark suite, which includes Veritest Winstone 2004 suite, Unreal Tournament 2003, SPECviewperf 7.1, and Aquamark 3. 221MHz was the highest overclock that we were able to achieve with the Epox while running these tests at default ratio and default voltage. This matches the best stock overclock with this FX53 processor.
Memory Stress Testing: Epox 9NDA3+
The memory stress test is very basic. It simply tests the ability of the Epox 9NDA3+ to operate at its officially supported memory frequency (400MHz DDR) at the lowest memory timings OCZ PC3200 Platinum Rev. 2 modules will support. All DIMMs used for stress testing were 512MB double-sided (or double-bank) memory. Memory was only tested in Dual-Channel mode using either one dual-channel (2 DIMMs) or 2 dual-channels (4 DIMMs).
Stable DDR400 Timings - One Dual-Channel
(2/4 DIMMs populated)
Clock Speed:
200MHz
CAS Latency:
2.0
RAS to CAS Delay:
2T
RAS Precharge:
10T*
Precharge Delay:
2T
Command Rate:
1T
*Several memory tests have shown that memory performs fastest on the nVidia nForce chipsets at a TRas (RAS Precharge) settings in the 9 to 13 range. We ran our own Memory Bandwidth tests with memtest86 with TRas settings from 5 to 15 at a wide range of different memory speeds. The best bandwidth was consistently at 9 to 11 at every speed, with TRas 10 always in the best range at every speed. The performance improvement at TRas 10 was only 2 to 4% over TRas 5 and 6 depending on the speed, but the performance advantage was consistent across all tests. All benchmarks were run at a TRas setting of 10.
Using two DIMMs in Dual-Channel 128-bit mode, the memory performed in all benchmarks at the fastest 2-2-2-10 timings at 2.6V.
Stable DDR400 Timings - 2 DIMMs
(2/4 DIMMs populated)
Clock Speed:
166MHz
CAS Latency:
2.0
RAS to CAS Delay:
2T
RAS Precharge:
10T*
Precharge Delay:
2T
Command Rate:
2T
*Several memory tests have shown that memory performs fastest on the nVidia nForce chipsets at a TRas (RAS Precharge) settings in the 9 to 13 range. We ran our own Memory Bandwidth tests with memtest86 with TRas settings from 5 to 15 at a wide range of different memory speeds. The best bandwidth was consistently at 9 to 11 at every speed, with TRas 10 always in the best range at every speed. The performance improvement at TRas 10 was only 2 to 4% over TRas 5 and 6 depending on the speed, but the performance advantage was consistent across all tests. All benchmarks were run at a TRas setting of 10.
Tests with all four DIMM slots populated on the Epox board were something of a disappointment, however. Most 939 boards that we have tested require 2T Command Rate with 4 DIMMs in two dual channels. Not surprisingly, 2T was also required with 4 dimms on the 9NDA3+. However, this Epox is the only 939 board we have tested that absolutely forces DDR333 when four DIMMs are installed. Some other boards that we have tested also try to force DDR333 with 4 DIMMs, but this can normally be corrected to DDR400 by selecting that speed in BIOS. However, the Epox sets DDR333 with 4 DIMMs even if you specify DDR400. With no way to even try DDR400 with 4 DIMMs, we are left with the forced DDR333 setting with 4 dimms in our memory tests.
Epox can possibly correct this strange 4-DIMM memory behavior with a BIOS update. For now, if you absolutely need a 939 board that supports 4 DIMMs at DDR400, you will need to look at other 939 motherboards, since the Epox is the only 939 board that we have tested which cannot run at DDR400 with 4 DIMMs. Of course, we did not need to slow memory timings at all with 4 DIMMs, though we would hardly expect that with memory running at DDR333 instead of DDR400.
Performance Test Configuration: Epox 9NDA3+
If you are interested in more information comparing the Athlon 64, Athlon 64 FX, LGA 775 Prescott, P4, and P4EE, please see our in-depth comparisons in the recent reviews:
AMD Athlon 64 4000+ & FX-55: A Thorough Investigation
nForce4: PCI Express and SLI for Athlon 64
.09 Athlon 64: Value, Speed and Overclocking
AMD Sempron: A Fresh Take on Budget Computing
Intel's 925X & LGA-775: Are Prescott 3.6 and PCI Express Graphics any Faster?
Intel 925X/915: Chipset Performance & DDR2
Intel Celeron D: New, Improved & Exceeds Expectations
Socket 939 Chipsets: Motherboard Performance & PCI/AGP Locks
AMD Athlon 64 3800+ and FX-53: The First 939 CPUs
The Athlon 64 FX-53: AMD's Next Enthusiast Part
Intel's Pentium 4 E: Prescott Arrives with Luggage
Athlon64 3400+: Part 2
AMD's Athlon 64 3400+: Death of the FX-51
Athlon64 3000+: 64-bit at Half the Price
 Performance Test Configuration
Processor(s):
AMD Athlon 64 FX53 (2.4GHz) Socket 939
RAM:
2 x 512MB OCZ PC3200 Platinum Rev. 2
2 x 512MB Mushkin PC3500 Level II
2 x 512MB OCZ PC3500 Platinum Ltd
Hard Drive(s):
Seagate 120GB 7200RPM IDE (8MB Buffer)
Video AGP & IDE Bus Master Drivers:
nVidia nForce 6.11 Beta (nForce4)
nVidia nForce Platform Driver 4.24 (nForce3 Ultra)
VIA 4in1 Hyperion 4.51 (12-02-2003)
Video Card(s):
nVidia 6800 Ultra (PCI Express)
nVidia 6800 Ultra (AGP 8X)
Video Drivers:
nVidia nForce 61.81 Beta (nForce4)
nVidia nForce 61.77 (nForce3 Ultra)
Operation System(s):
Windows XP Professional SP1
Motherboards:
Epox 9NDA3+ (nForce3 Ultra)
nVidia nForce4 Ultra Reference Board
Abit AV8 PRO (VIA K8T800 PRO)
ECS KV2 Extreme (VIA K8T800 PRO)
Gigabyte K8NSNXP-939 (nVidia nForce3 Ultra)
MSI K8N Neo2 (nVidia nForce3 Ultra)
MSI K8T Neo2 (VIA K8T800 PRO)
Tests used OCZ PC3200 Platinum Rev. 2, which uses Samsung TCCD chips. Earlier 939 benchmarks used Mushkin PC3500 Level II or OCZ PC3500 Platinum Ltd, which were both based on Winbond BH5 memory chips. BH5 memory has been discontinued and is no longer available. All memory ran at 2-2-2-10 timings in all benchmarks.
Since the nVidia 6800 Ultra AGP was used for testing in the 939 chipset launch, we used same 6800 Ultra AGP for these tests. A PCI Express 6800 Ultra was used for all testing with the nForce4. Resolution in all benchmarks is 1024x768x32 unless otherwise noted.
The highest overclocked FSB of the Epox was 291x9. You can see a general comparison of the overclocked performance of a Socket 939 processor at 290x9 to an FX53 at stock speeds on pages 6 and 7 in
.09 Athlon 64: Value, Speed and Overclocking
. This is to allow a general comparison of the maximum overclock on the Epox to stock FX53 performance.
General Performance and Encoding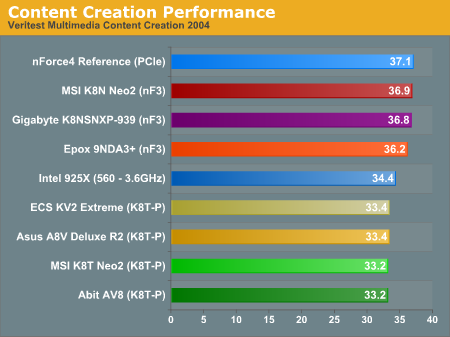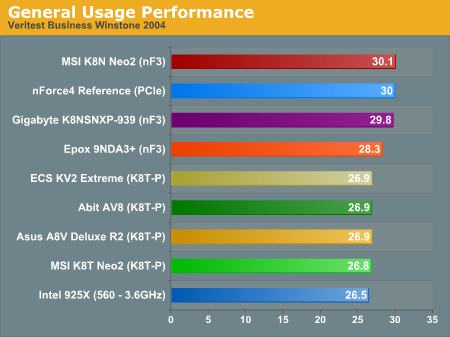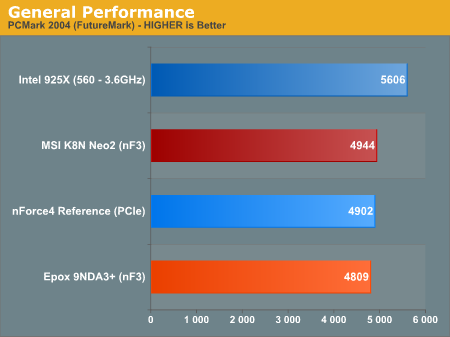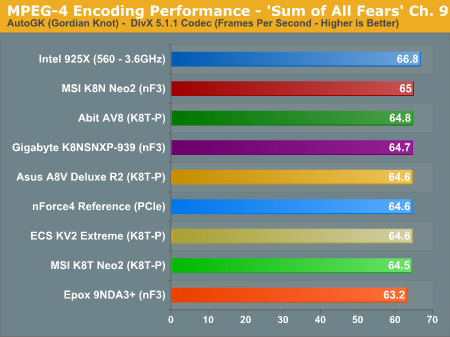 The Epox 9NDA3+ results are reported in orange through all the benchmarks. In General Performance and Encoding, the Epox was certainly competitive with other Socket 939 boards, but the performance was generally at the low end compared to other nForce3 Ultra boards. We suspect that this will improve as the BIOS matures, since we had other issues with the current BIOS in the review. Given the outstanding DirectX 9 gaming performance of the Epox, we can see no reason other than the BIOS that might be holding back performance in Winstones, PCMark04 and Encoding.
DX9 Gaming Performance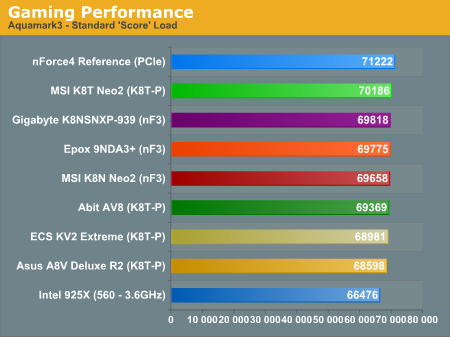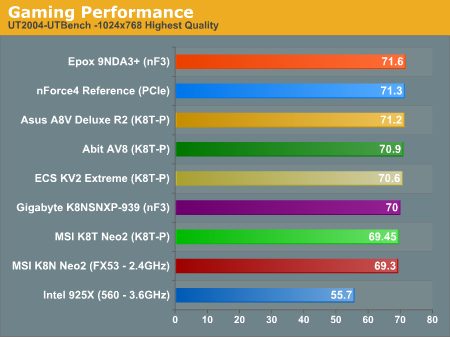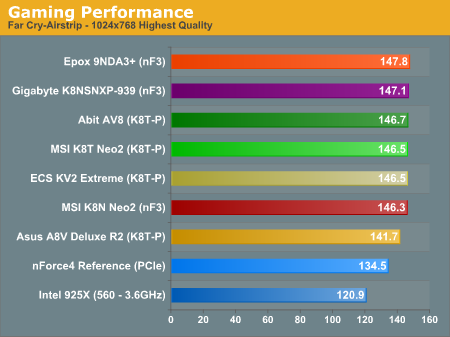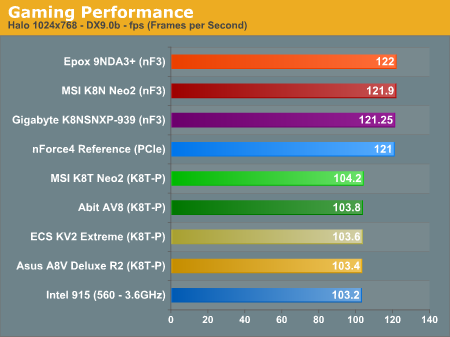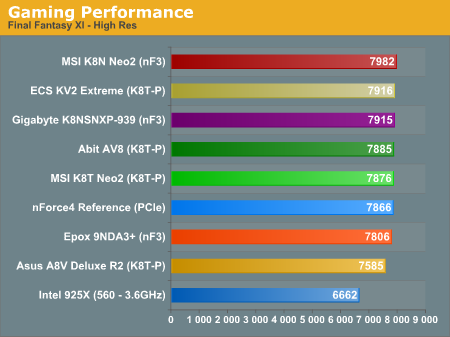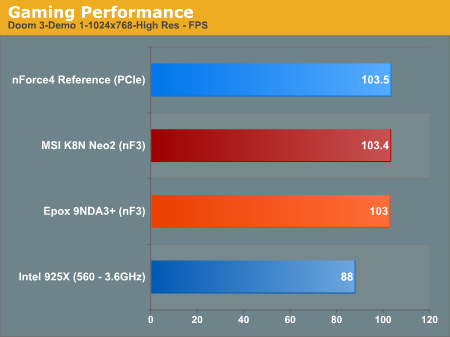 You can almost see what the BIOS tweakers were thinking when they were writing the 9NDA3+ BIOS. Across the board, the Epox performs at or near the top in all the most recent DX9 games. The lone exception here is Final Fantasy XI where performance was average among nForce3 Ultra boards.
DX8 and OpenGL Gaming Performance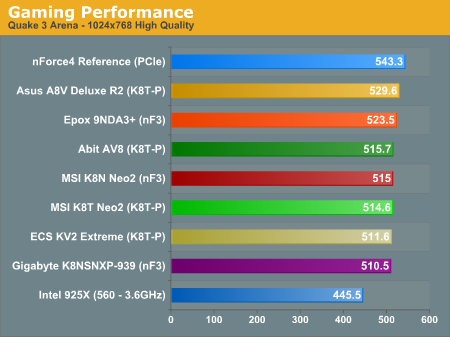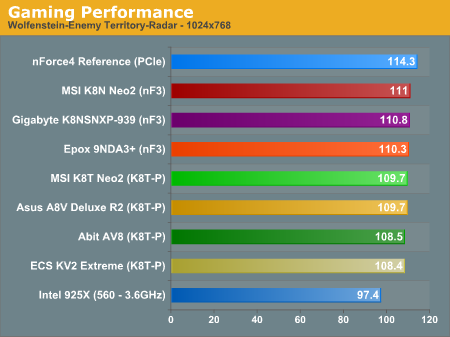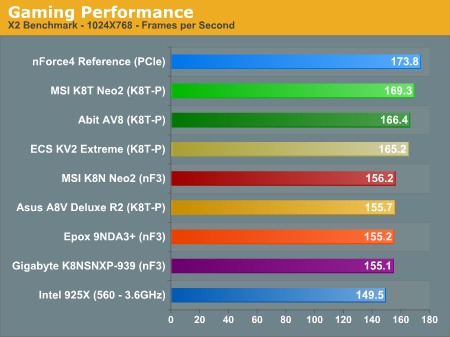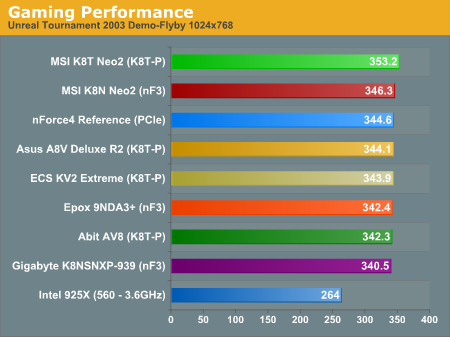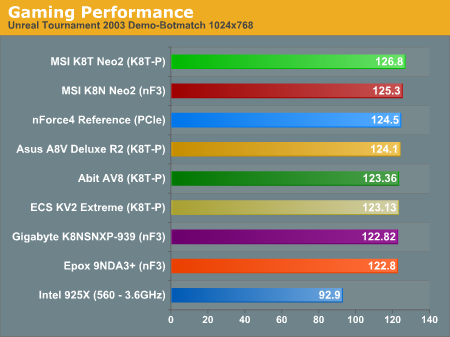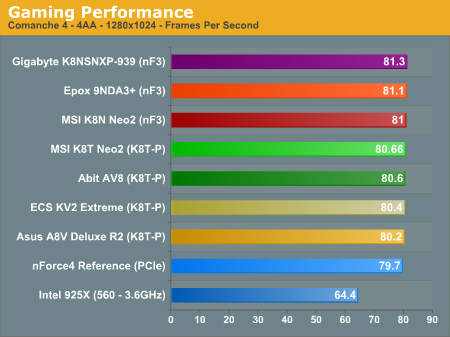 Performance in DX8 and Open GL was competitive with the best Socket 939 boards that we have tested, but it did not stand out as clearly as we saw in DX9 games. The Epox is a very competitive choice among 939 boards in gaming.
Workstation Performance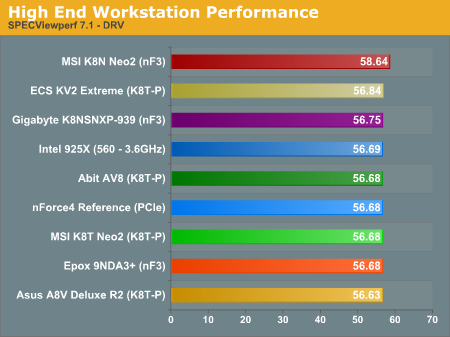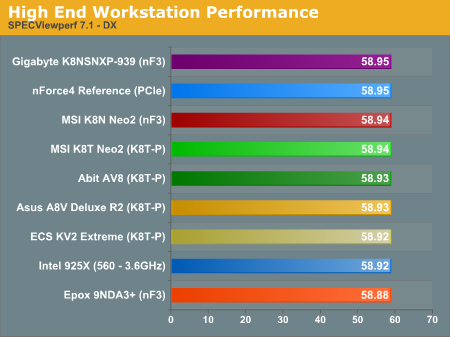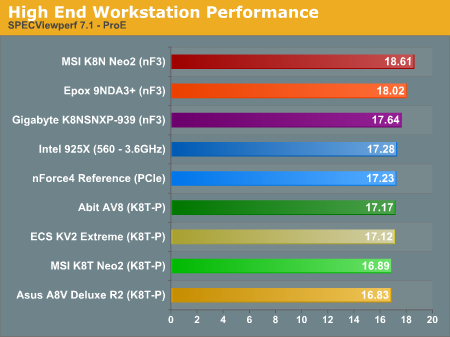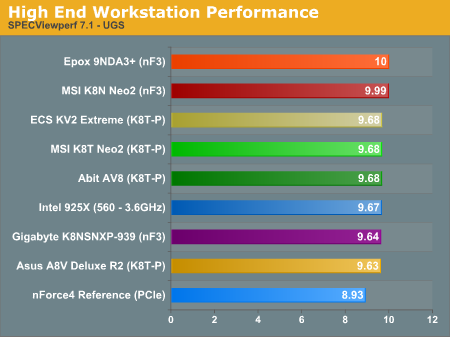 The 9NDA3+ is competitive with other 939 board in the High End Workstation benchmarks. The pattern that we see with boards at the top in some tests and at the bottom in others is very common in these results. It is mostly due to the very tight spread of results and not due to inherent superiority of one board over another. The only results generating larger differences among the boards are those across chipsets - VIA compared to nVidia in a few of the benchmarks.
Final Words
The Athlon 64 Socket 939 was introduced on June 1, so it has taken the Epox 9NDA3+ about 4 months to make it to the market. Epox can be forgiven on many fronts because the only choices for Socket 939 until the last few weeks started at $400 for the cost of the processor alone. However, with recent AMD price cuts and the introduction of 90nm Socket 939 3000+, 3200+ and 3500+ processors, the Socket 939 has become the "hot" platform. Put another way, Epox has timed the introduction perfectly. Just at the time when more people are shopping for a 939 motherboard, the Epox 9NDA3+ is available to buy. It is a good thing that new 939 motherboard choices are finally appearing.
How does the Epox compare to other 939 boards?
In performance, the Epox is competitive with the best 939 boards that we have tested, but it doesn't break any new ground in performance. You will find it just as capable as any other nForce3 Ultra or nForce4 motherboard, but it doesn't rise above the others. Perhaps with the memory controller on the Athlon 64 chip, that is the best we could expect anyway.
In the overclocking area, the Epox 9NDA3+ does stand out though. The Epox matches the fastest 939 that we have tested in the maximum overclock we could achieve and in the highest clock speed that we could reach. Matching the MSI K8N Neo2 in overclocking is no small feat, but the 9NDA3+ proved up to the task in every overclocking test.
The last area is memory performance and here, the results are clearly disappointing. The Epox is a fine board with 2 DIMMs, but when we tested with 4 DIMMs, the 9NDA3+ sets the memory speed at DDR333 no matter what we set in the BIOS. This is the first Socket 939 board we have tested that has been so restrictive in performance with 4 DIMMs. This limitation is so severe that we cannot really recommend the Epox if you plan to use 4 DIMMs now or in the future. Choose another Socket 939 board for four DIMMs. We suspect that Epox can fix this limitation in a BIOS update, but until we see this problem corrected, performance with 4 DIMMs will be a disappointment.
It should also be mentioned that when we first received the Epox 9NDA3+, we could only run memory at 1T in slots 3 and 4. Any attempt to run at a 1T or Auto Command Rate setting failed boot. Epox supplied us an updated BIOD that did fix this problem, but the new BIOS did not fix our other concern. About 50% of the time, the Epox board with either BIOS would fail on reboot and freeze at the first BIOS screen. We were always able to continue a boot by hitting reset or turning the computer off first, but these failed reboots were time consuming and very annoying for a production board. Epox needs to fix this issue with a BIOS update or they will get many complaints from end users.
To sum it up, the Epox is a mixed bag right now. It is full of potential with outstanding overclocking capabilities. The 9NDA3+ performance is competitive with any 939 board that we have tested - as long as you run just 2 DIMMs. However, the immature BIOS makes performance with 4 DIMMs a problem. We also find the freezes on reboot very annoying. Consider the Epox 9NDA+ to be a Socket 939 board with lots of potential and a few warts. We are confident that Epox can fix the problems with BIOS updates, but for now, the warts prevent our waxing enthusiastic over the 9NDA3+.
The Epox is a decent 939 choice now if you will only run 2 DIMMs and you can deal with the annoying reboot problems. Once the BIOS has matured, the Epox will likely move to be among the better 939 boards that you can buy, but it just isn't there yet.