Original Link: http://www.anandtech.com/show/1516


Index
In round 2 of the chipset wars, nVidia performed a massive transformation of the nForce3 chipset, moving from the pedestrian nForce3-150 to the leading-edge nForce3-250 family in April. As good as nForce3-250 is, however, users knew that more was on the way from VIA, SiS, and nVidia themselves. The CK8 chipset was first displayed at Computex in June. With the successful launch of the nForce3-250 family, it was clear that nVidia had every intention of upping the ante in the Athlon 64 market with both PCI Express and Dual Video cards on the single-chip CK8.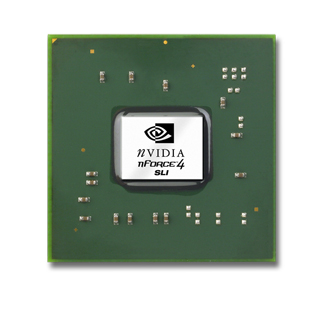 In the four months since we first saw CK8, a lot has happened in the computer industry. Intel launched their new Socket 775 processor and 925X/915 chipset and received a less than enthusiastic reception from enthusiasts. The yawns from the computer community have translated into very poor retail sales for the new Intel platform. Promised performance updates to the new Intel architecture, which were supposed to drive sales of the new 775 platform, have been scaled back, with rumors that mainstream 1066 parts now are not expected until the middle of 2005.
AMD has continued their performance push, with the introduction of the dual-channel 939 on June 1, and today, AMD extends their CPU line at the top with the FX55 and 4000+ processors. Meanwhile, Intel's top 3.6Ghz CPU is finally appearing in the retail channel more than 3 months after introduction. While Intel pioneered the move to 90nm, the transition to 90nm has been anything but smooth for Intel, with concerns about heat and the difficulty of moving the 90nm process to the top performance end of the Intel line. AMD has just introduced their first 90nm Athlon 64, which generally appears to avoid the problems that Intel encountered. However, we will not really know whether or not the shrink is a complete success for AMD until we see the top Athlon 64 processors in 90nm.
All of these developments have quickly changed the landscape of the computer market. In the retail market, AMD has moved from a small percentage of the total retail market to even with Intel in the last couple of months. Computer users who scoffed at the idea of buying an Athlon 64 computer a few months ago are now shopping for Athlon 64 computers. Also VIA, which had problems with the PCI/AGP lock in the initial launch of the K8T800 PRO, has fixed these issues with shipping chipsets. VIA also demonstrated a working K8T890 chipset a few weeks ago that features PCI Express and the promise of Dual Video cards in a future K8T890 Pro chipset. Thus far, there are no retail boards based on the K8T890 that have appeared in the market, but VIA promises that they will be here "soon".
All of these developments have changed the landscape for nVidia. In other words, the stakes for CK8 have changed since June. A winner with CK8 would change nVidia from an AMD chipset maker to one of the major players in the chipset market. nVidia seems keenly aware of what is involved and they have pulled out a whole slew of features to win you over if you're looking for an Athlon 64 motherboard.
The nForce4 Family
The nVidia Reference Board was shipped with the nForce4 Ultra chipset. The features of the nForce4 chipset family should be very familiar to nForce3-250 users, since it builds upon the feature set of the nForce3-250 family that was introduced in April. All of the new nForce4 chipsets support 20-lane PCI Express, native Gigabit Ethernet (on-chip), full nVidia RAID features, 10 USB 2.0 ports, nVidia Firewall 2.0, and the new nTune Performance utility. From there, however, the 3 members in the new nForce4 family differ a bit in features depending on the target market for the chipset.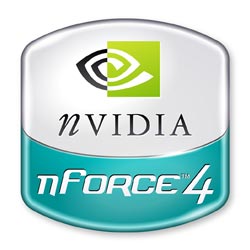 nForce4
- the basic value chipset for 939 and754. This is the chipset that you will likely find in Socket 754 and low-end Socket 939 boards selling for less than $100. The nF4 is targeted at value boards, but it still includes on-chip gigabit Ethernet capabilities, support for 10 USB, full nVidia "any drive" Raid capabilities, support for nVidia Firewall 2.0, and support for the nTune Performance Utility. Four SATA drives are supported at current 1.5GB/s speeds plus four PATA (IDE) devices. The big disadvantage of the vanilla nF4 chipset is that it only supports 800 Hyper Transport. In addition, the HT bus is locked on the basic nF4 to prevent overclocking of the Hyper Transport. This means that the basic nForce4 is not a good choice for the enthusiast, who is better served by the Ultra and SLI chipsets.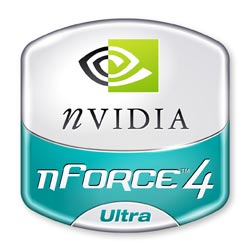 nForce4 Ultra
- the mainstream nF4 designed for boards that will sell in the $100 to $150 price range. In addition to nF4 features, you will find full support for an unlocked 1000 Hyper Transport, support for 3Gb/s SATA drives, and nVidia's secure networking engine, which is called ActiveArmor.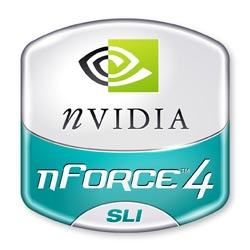 nForce4 SLI
- the high-end version of the nF4 is designed for boards that will sell at $150 or more. The nF4 SLI is the only version to support programmable PCI Express lanes, which allows the use of either a single or dual Video Card. A single GPU is supported by an x16 PCIe slot, which can be reprogrammed to two x8 PCIe slots to support two video cards in SLI mode. All features are, otherwise, the same as nForce4 Ultra.
SLI Performance
For months, nVidia has been sneaking peeks at their upcoming Dual Video card capabilities, based on a technology known as SLI, or Scalable Link Interface. Not since the PCI Voodoo 2 from 3dfx in 1996 have we seen such a solution from a major graphics vendor. Of course, history saw the original 3dfx die in the market place. The single-slot AGP was introduced, 3dfx lost the video wars, and nVidia purchased what was left of 3dfx.
We have been told that 3dfx engineers had quite a bit to do with the design of the new GeForce 6 series, and that is finally starting to make sense when we see that SLI capabilities are built into the 6 series video cards. Dual AGP would require a custom design, but PCI Express, like PCI in the past, finally provides the kind of platform that nVidia needed to launch a new SLI solution.
While nVidia was not ready to ship nForce4 SLI reference boards for review, they were demonstrating a major manufacturer's nF4 SLI board with a pair of nVidia 6800 Ultra video cards at 1600x1200 resolution at 4x AA. We also got to play with the SLI system with an Athlon 64 4000+ CPU, confirming benchmarks that were supplied by nVidia.
Single GPU vs. SLI - nForce4 SLI
6600GT
6800GT
6800 Ultra
Single
SLI
% Increase
Single
SLI
% Increase
Single
SLI
% Increase
Doom3
17.3
32
85%
37.9
65.2
72%
42.4
71.7
69%
Halo
37.23
58.58
57%
50.01
72.76
45%
57.21
79.01
38%
3DMark05
3186
5698
85%
4588
8271
80%
5211
9297
78%
Increases in video performance from 38% to 85% are certainly impressive, and there are gamers and performance enthusiasts who will be flocking to the new nForce4 SLI boards as soon as they start shipping in the next few weeks. Perhaps the most impressive gain here is the performance leap with a pair of SLI 6600GT video cards. Two of these less than $200 cards are actually faster in most benchmarks compared to a single $400 6800GT. This provides an interesting upgrade path for many users. Of course, a pair of 6800GT or 6800 Ultra cards take performance to levels that we have never seen before.
Shipping boards will allow a single video card of any brand at x16 PCIe or 2 nVidia video cards in two x8 PCIe slots in SLI mode. The SLI boards can be switched easily from x16 to SLI mode by switching a programming card on the board.
nVidia says that the first nForce4 SLI boards will be available in the next few weeks from Asus and MSI. Other manufacturers will also be supplying SLI motherboards later this year.
ActiveArmor: nVidia Secure Networking Engine
nVidia's on-chip Gigabit Ethernet is a popular feature of the nForce3-250 chipset. This was combined with the hardware based nVidia Firewall on all but the basic 250 chipset. On-chip Gigabit Ethernet and the hardware firewall are still a significant part of the nForce4 chipset, and all of the nForce4 chipsets feature both. However, nVidia has expanded the Network Security features in the Ultra and SLI chipsets to provide further protection against network attacks.
The new network security features are called ActiveArmor, which are implemented as a dedicated hardware engine for the nVidia hardware Firewall.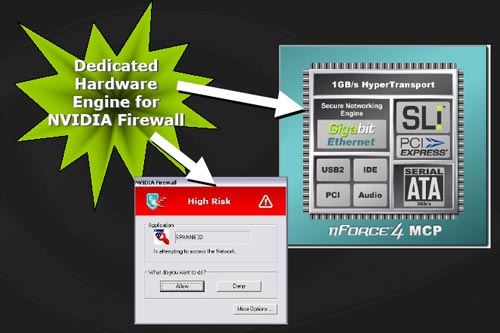 nVidia's ActiveArmor enhances nVidia Firewall performance in several ways to protect from network attacks:
Dedicated hardware engine enhances networking security while reducing CPU overhead
Specialized features defend against hacker attacks
User-friendly interface offers advanced management features
Supports new Microsoft TCP Chimney Architecture for fast and secure networking
A hardware solution was chosen instead of a software solution to minimize CPU utilization. Software firewalls and software firewall management can consume up to 75% of CPU overhead.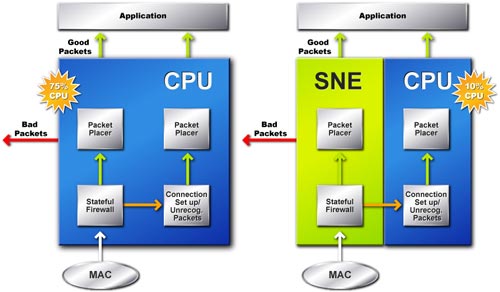 This compares to about 10% CPU overhead with the nVidia ActiveArmor hardware solution, which handles most of the network security management in the nForce4 chipset.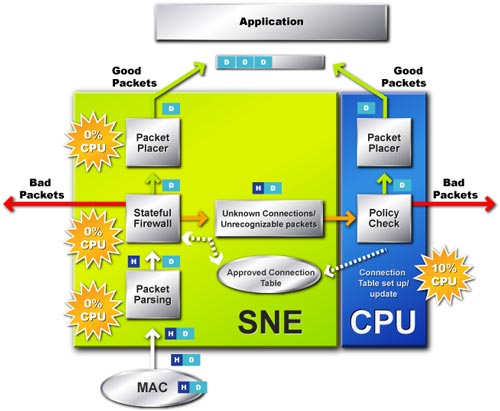 3Gb/s SATA
nVidia pioneered "any drive" integrated RAID capabilities with the nForce3-250 chipset. This included support for 4 SATA drives and 4 PATA drives that could be combined in RAID 0, 1, and 0+1 configurations. For nForce4, nVidia has taken SATA support even further by providing two independent SATA controllers on the nForce 4 Ultra and nForce4 SLI chipsets.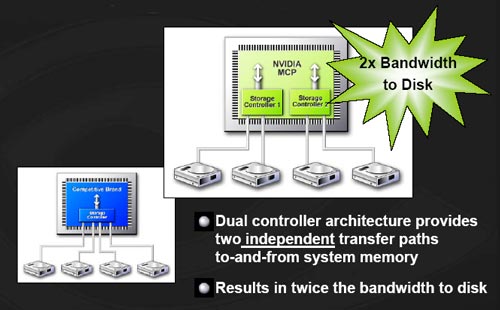 The Dual SATA controllers on the nF4 also support the upcoming 3Gb/sec SATA drives, which are now sampling. The new 3Gb/s SATA drives should start appearing in the market around the end of the year, which will provide nForce4 users with an upgrade path to improved hard drive performance. The nForce4 also supports drives with NCQ (Native Command Queuing).
Cross-Controller RAID
The unique cross-controller RAID is continued in the nForce4 chipset. This means that both Serial ATA (SATA) and parallel ATA disk devices can be combined within a single RAID array. Users don't need to worry about whether hard drives are SATA or IDE - the nVidia RAID controller treats both IDE and SATA drives the same and allows them to be combined in any way in the RAID controller. A single setup procedure applies to all drives, which makes it possible to use all the storage devices available. Users can also expand the number of drives easily without worrying about whether the drive is IDE or SATA.
Spare Disk Allocation
Corporate RAID users are accustomed to RAID arrays with "hot spares" and on-the-fly rebuilds, but those RAID 5 features have been an expensive addition to a home PC. If a disk fails, RAID 1 allows continuous operation by taking advantage of the mirrored data copy in the array. The nVidia RAID solution goes a step further and lets a user rebuild a new mirrored copy for the data while the system is up and running, without disrupting user and application access to the data set. Rebuilding on the fly eliminates down time and maximizes protection for critical storage resources.
The nVidia RAID controller allows the user to add hot spare features to a home PC that is running any type of mirroring on the nVidia RAID controllers. Users can designate spare drives that can be configured as hot standbys, protecting arrays in the event of a disk failure. A
shared spare
can protect multiple arrays of drives, or a
dedicated spare
can serve as a hot standby for a particular drive array. The spare disk feature, which offers protection that goes beyond mirroring data, has been traditionally limited to high-end RAID systems, but this feature is built into the nForce4 RAID controllers. This isn't RAID 5 on a home PC, but the flexibility and data protection capabilities are truly impressive.
Disk Alert
One of the clever options available with the nForce4 is a feature called Disk Alert. With the large number of drives supported on the nForce4, it is not always an easy task to determine which drive has failed in the event of a pulled cable or other drive problem.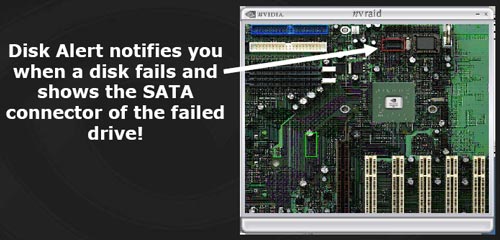 Disk Alert pops up a picture of the motherboard and shows exactly which drive connection has failed. This is a really slick idea, but we are still dependent on motherboard manufacturers to supply an accurate picture or diagram to embed in the alert feature.
Morphing From One RAID Array to Another
Morphing is the ability to convert from one RAID mode to another RAID mode. This allows the user to upgrade their current disk or array for better performance, higher security, and increased capacity. More importantly, this is accomplished without having to go through multiple steps. The morphing feature gives the user an upgradeable option to manage storage easily.
In a traditional RAID environment, when a user wants to change the current state of a disk or a current array to a new RAID configuration, reconfiguring the new array involves a number of steps. The user must back up the data, delete the array, re-boot the PC, and then reconfigure the new array. NVIDIA RAID allows the end user to change the current state of the disk or array to another with a one-step process called "Morphing".
In general, to morph a RAID, the new array capacity must be equal to or greater than the previous array. For example, it is possible to morph from a RAID 1 array to a RAID 0 array as long as the RAID 0 array is the same size as (or larger than) the RAID 1 array. There are some limitations to RAID morphing, however. You can't morph to or from a JBOD (Spanning) array, from RAID 1 to RAID 1, or from RAID 0+1 to RAID 1.
nTune: Performance Configuration Utility
While nVidia has provided configuration utilities with past nForce chipsets, their implementation was dependent on the manufacturer building the necessary hooks into the BIOS for the nForce board. In the new nForce4, nVidia has made a much stronger commitment to the Performance Configuration utility, which nVidia calls nTune. All 3 versions of the nF4 chipset, even the basic nForce4 value version, support nTune.
nTune provides performance configuration features - with as little or as much automation as you want.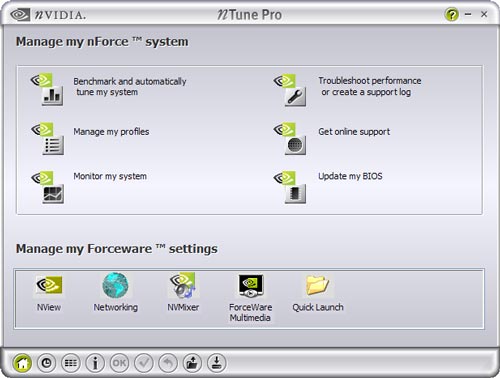 The main menu has options for benchmarking, performance tuning, updating BIOS, monitoring the system, and managing profiles, which are configuration utilities that can be loaded when the system boots.
The Performance menu allows automatic tuning of the memory, disk performance, and graphics performance.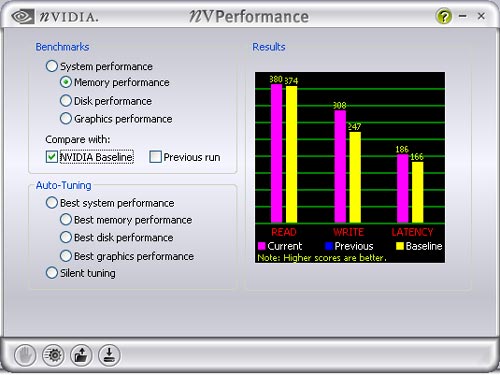 You can also benchmark these three areas and compare performance at various settings.
For those who prefer to dial their own settings, a click on the clock icon at the bottom of the main screen brings up the settings screen.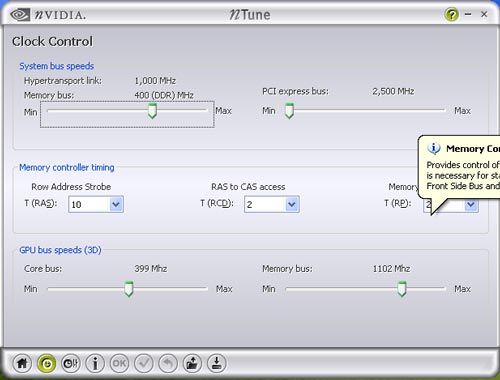 Here, you can check and/or adjust a variety of settings like the memory speed, PCI Express speed, memory timings, and GPU settings for core bus and memory bus. With the ability to save and load profiles at boot, these adjustments provide much more flexibility than the coolbits Registry tweak used by many enthusiasts.
nForce4 Reference Board: Basic Features
 nForce 4 Reference Board Specifications
CPU Interface
Socket 939 Athlon 64
Chipset
nForce4 Ultra single-chip
Bus Speeds
200MHz to 250MHz
PCI Express Speeds
Synchronous or Asynchronous PCIe FIX at 100MHz to 145MHz (in 1MHz increments)
Core Voltage
None available on Reference Board
CPU Clock Multiplier
4x-25.5x
CPU Auto Tuning
Off to 15%
HyperTransport Frequency
1000MHz (1GHz)
HyperTransport Multiplier
1x-5x
DRAM Voltage
None available on Reference Board
Memory Async Latency
10ns-4ns
AGP Voltage
None available on Reference Board
HyperTransport Voltage
None available on Reference Board
Memory Slots
Four 184-pin DDR DIMM Slots
Dual-Channel Configuration
Regular Unbuffered Memory to 4GB Total
Expansion Slots
1 x16 PCIe Slot
4 PCI Slots
2 x1 PCIe Slots
Onboard Serial ATA RAID
nForce4 (4 Drives, 0, 1, 0+1, JBOD)
2 SATA Controllers to 3Gb/s
Onboard IDE/IDE RAID
Two Standard ATA133/100/66 (4 drives)
Drives may be configured as IDE RAID
Onboard USB 2.0/IEEE-1394
10 USB 2.0 ports supported by nForce4
No Firewire - Must use additional chip
Onboard LAN
1Gigabit Ethernet on-chip by nForce4
Onboard Audio
AC '97 2.3 8-Channel Realtek ALC850
supported by nForce4
BIOS Revision
Reference Board NF-CK804 10/05/2004
Reference Boards are normally quite different from the production boards that will later appear with the Reference Board chipset. While certain component arrangements may be retained from a Reference Board, the board is designed for testing and qualification, and generally not for production. They are also normally designed to be tested on the bench, out of any case.
The introduction of the nForce3-250 chipset family moved nVidia to a leading position for Athlon 64 chipsets. nForce4 builds upon the nForce3-250 update with the addition of PCI Express. The rearrangement includes an x16 PCI Express graphics slot, 2 x1 PCIe, two SATA controllers capable of 3Gb/s speeds, and 10 USB ports.
nVidia has not had SoundStorm on any nForce3 chipset, so for the past year+ SoundStorm has been "missing" on any nVidia chipset for Athlon 64. We raised this issue for nForce3-150, then for nForce3-250 in
nForce3-250 - Part 2
. This has not changed with nF4. The nForce4 Reference board uses the AC'97 2.3 compliant 8-channel Realtek ALC850 codec. More information on the ALC850 can be found at
Realtek ALC850 Product information
.
Fully decked out, nForce4 provides features currently available nowhere else, like on-chip 1GB Ethernet, on-chip firewall, 4-drive SATA RAID, and
both
SATA and IDE RAID that can be combined. The nForce4 SLI adds the option to combine two nVidia video cards in two x8 PCIe slots for a huge increase in video performance.
Performance Test Configuration
If you are interested in more information comparing the Athlon64, Athlon64 FX, Prescott, P4, and P4EE, please see our in-depth comparisons in the recent launch reviews:
.09 Athlon 64: Value, Speed and Overclocking
AMD Sempron: A Fresh Take on Budget Computing
Intel's 925X & LGA-775: Are Prescott 3.6 and PCI Express Graphics any Faster?
Intel 925X/915: Chipset Performance & DDR2
Socket 939 Chipsets: Motherboard Performance & PCI/AGP Locks
AMD Athlon 64 3800+ and FX-53: The First 939 CPUs
The Athlon 64 FX-53: AMD's Next Enthusiast Part
Intel's Pentium 4 E: Prescott Arrives with Luggage
 Performance Test Configuration
Processor(s):
AMD Athlon 64 FX55 (2.6GHz) Socket 939
AMD Athlon 64 FX53 (2.4GHz) Socket 939
RAM:
2 x 512MB OCZ PC3200 Platinum Rev. 2 OR
2 x 512MB Corsair 3200XL XMS3208v1.1
Hard Drive(s):
Maxtor 250GB 7200RPM SATA (16MB Buffer)
Video AGP & IDE Bus Master Drivers:
nVidia nForce 6.11 Beta (nForce4)
nVidia nForce Platform Driver 4.24 (nForce3 Ultra)
Video Card(s):
nVidia 6800 Ultra (PCI Express)
nVidia 6800 Ultra (AGP 8X)
Video Drivers:
nVidia nForce 61.81 Beta (nForce4)
nVidia nForce 61.77 (nForce3 Ultra)
Operating System(s):
Windows XP Professional SP1
Motherboards:
nVidia nForce4 Ultra Reference Board
MSI K8N Neo2 (nVidia nForce3-250Gb)
ALL PERFORMANCE COMPARISONS WERE MADE WITH THE FX53 (2.4GHz). Test results with the FX55 were included for comparison and are clearly identified as FX55.
Tests used either OCZ PC3200 Platinum Rev. 2 or Corsair 3200XL XMS3208v1.1 memory modules. Both memories use Samsung TCCD chips and perform virtually the same in our benchmarks at stock speed. Since the nVidia 6800 Ultra AGP was used for testing in the 939 chipset launch, we used the PCI Express 6800 Ultra for all testing with the nForce4. Resolution in all benchmarks is 1024x768x32 unless otherwise noted.
General Performance and Encoding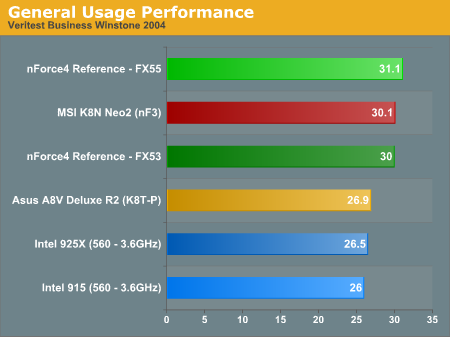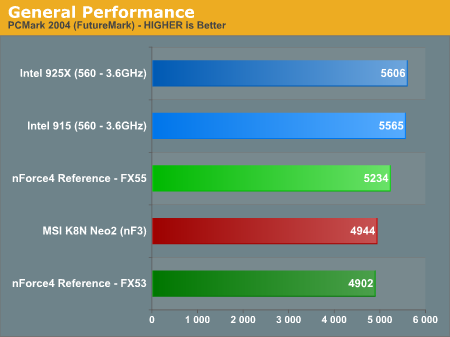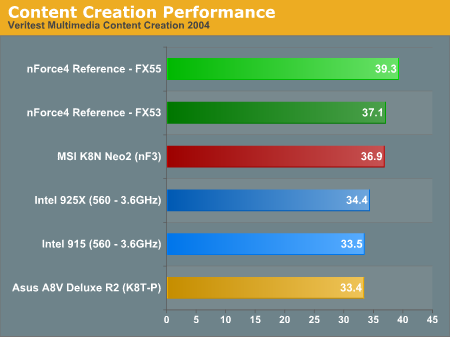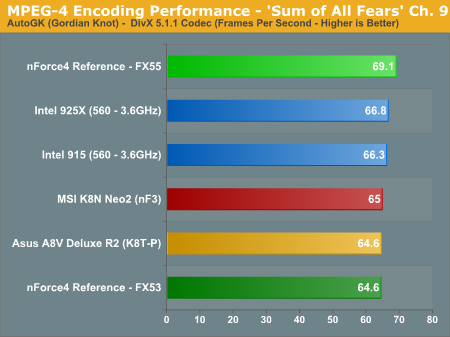 In general, nForce chipsets with Athlon 64 top the Winstone tests, while VIA A64 chipsets and Intel 925X/915 perform similarly. At the PCMark end of the spectrum, Intel is normally the winner by a wide margin. nForce4 has not really changed any of these expectations. It is interesting that the FX55 is finally alone at the top in our AutoGK encoding benchmark, a benchmark that has been dominated by Intel in the past.
DX9 Gaming Performance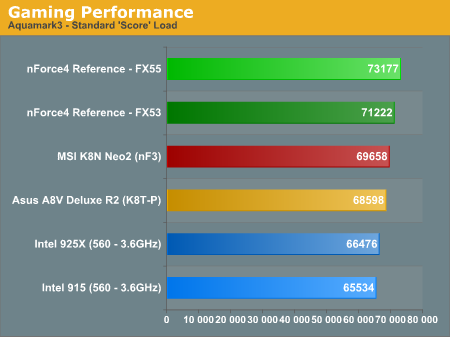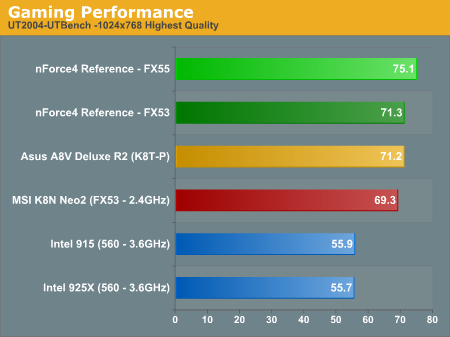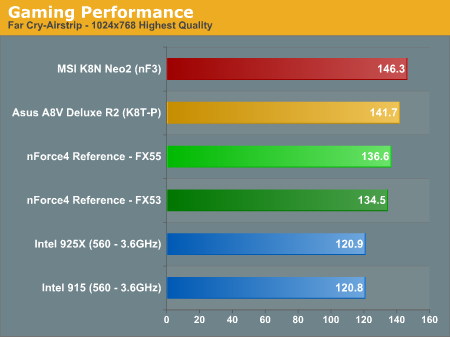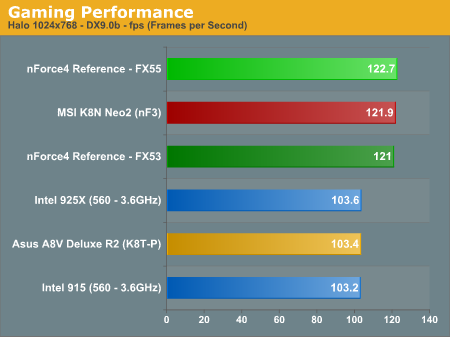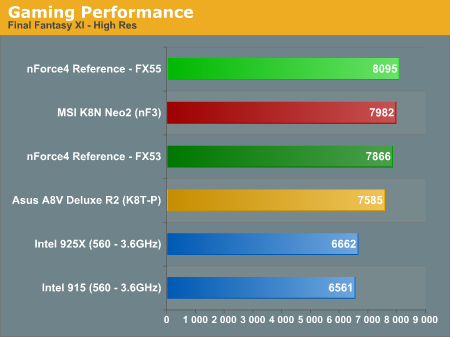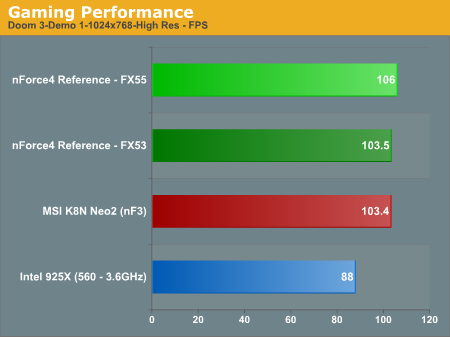 We first saw the Far Cry anomaly in past testing of nVidia PCI Express graphics cards. nVidia PCI Express does not perform as well on Far Cry as their comparable AGP graphics cards. This is not the same pattern that we have seen in the ATI PCI Express cards, which perform similarly in Far Cry in either AGP or PCIe flavors.
Keeping in mind that all other Athlon 64 benchmarks were run with an FX53, it is interesting to see that the nVidia PCIe on nF4 top the Aquamark 3 results. It appears that this benchmark responds well to the PCIe interface.
Other DX9 benchmarks are essentially the same as seen on the nForce3 Ultra chipset with the same CPU and an AGP 6800 Ultra.
DX8 and OpenGL Gaming Performance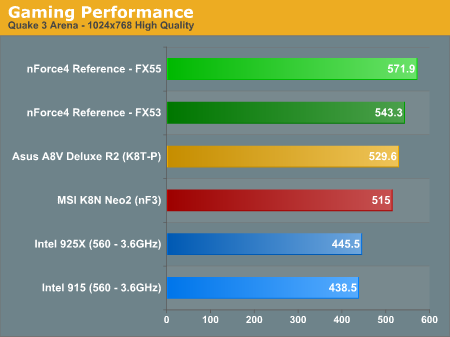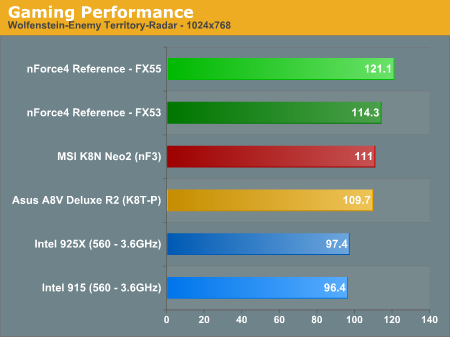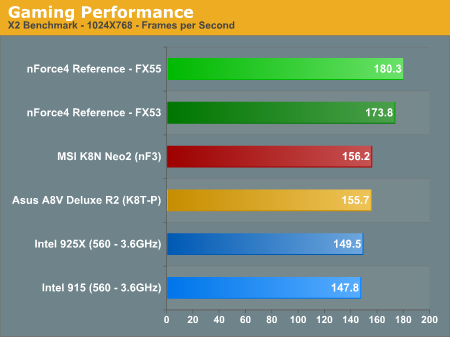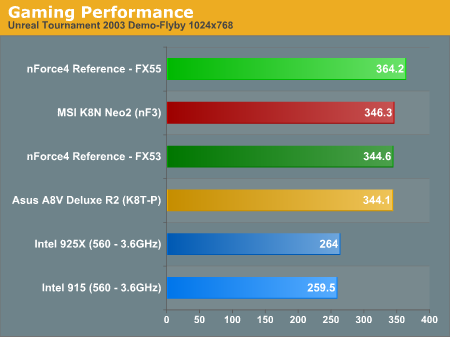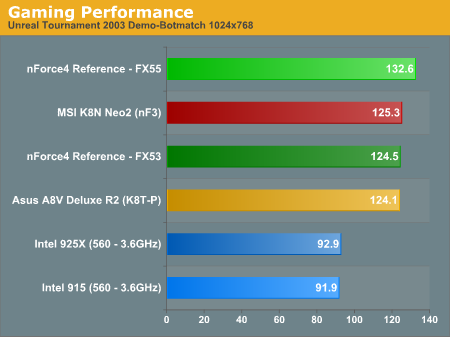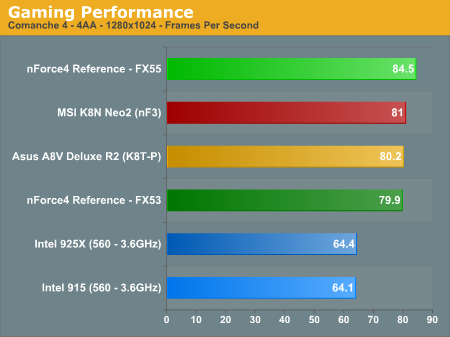 It is amazing to see Quake 3, one of our oldest benchmarks, perform extremely well on the PCIe video card. Return to Castle Wolfenstein, the other OpenGL benchmark, also performs better on PCIe, but not to the extent of Quake 3.
Another real surprise in the PCIe performance results was X2, a DX8 game that is heavily dependent on Transform and Lighting effects. PCIe results were significantly higher than AGP scores.
Other DX8 results were a wash comparing AGP and PCIe results on the FX53.
Workstation Performance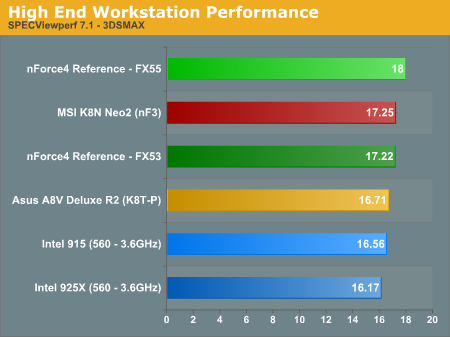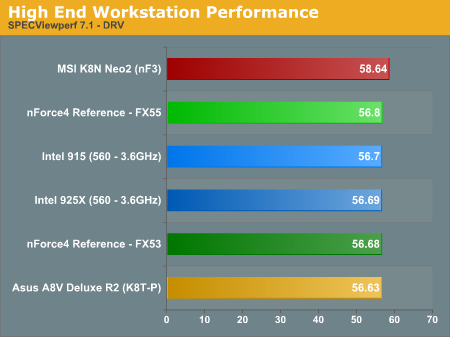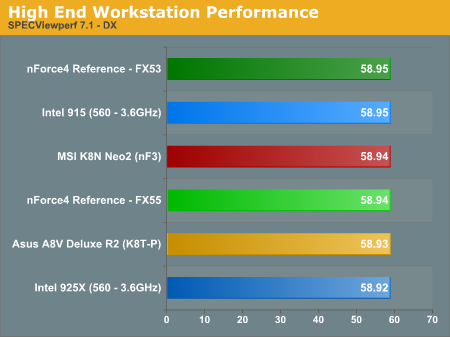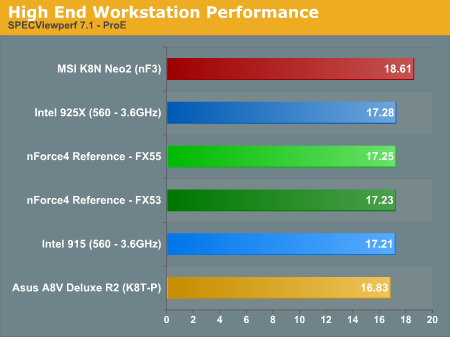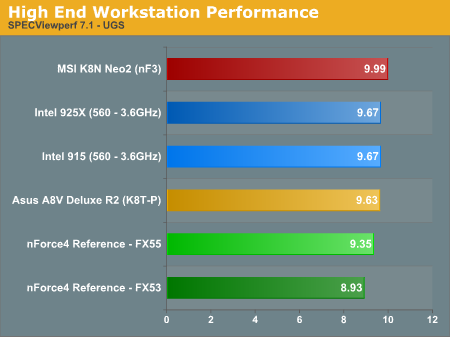 Final Words
nVidia did quite a turnaround with the nForce3-250 chipset family back in April. The nF3-250 updated the much-criticized original nForce3-150 chipset and moved what had been the worst of the Athlon 64 chipsets to the front of the Athlon 64 pack. The plethora of new features that were introduced with nF3-250 have proven to be useful and reliable over the last six months. nVidia also navigated the move to Socket 939 in the nForce3 Ultra version without any glaring problems. The on-chip Ethernet, hardware Firewall, solid PCI/AGP lock, and "any-drive" SATA/IDE RAID have been well received in the market and remain as desirable today as they were 6 months ago.
It is not a surprise, then, given the massive updating that went into the nForce3-250 chipsets, to find the nForce4 more evolutionary than revolutionary. The new 4 name is certainly justified by the addition of PCI Express and SLI capabilities, but nForce4 is still underneath the excellent nForce3 Ultra chipset that we have come to trust. Except for PCIe and SLI, the new features generally refine those first seen in nForce3-250, and that is a good thing. The RAID controllers are now faster, more flexible, and even easier to manage than the last generation. The nTune Performance Configuration Utility does more, and does it better, than the previous utility, and 10 USB 2.0 ports must be better than 8. The performance also breaks no new ground, nor did we expect it to. The nForce3-250 was very fast and the nForce4 is just as fast, but not really any faster than the nF3 Ultra at this point.
The major new features, PCI Express and SLI, are the real sizzle here. It is difficult to argue with what appears to be a very successful move by nVidia to PCI Express, even if there is really no current performance advantage that we could find to a PCIe video card compared to the same card in AGP clothes. Certainly, the potential for better performance is there, and nForce4 certainly protects the end-user for a while longer from video card obsolescence.
However, nForce4 is exciting mostly because of the incredible performance potential of SLI, which combines two top nVidia video cards into a monster video performance engine. It's not for everybody - SLI is undeniably expensive - but the prospect of a 40% to 85% leap in the performance of the most demanding games that you can run today will be too much for some enthusiasts to resist. No, you don't absolutely need SLI, but it sure is cool! Consider nForce 4 an evolution and refinement of the progress that nVidia realized with the nForce3 Ultra, and that's a very good thing indeed.