Original Link: http://www.anandtech.com/show/1495


Another day, another dollar, and another multimedia notebook - no real fuss, right? Wrong! While there are several multimedia notebooks that seem to be the "same old, same old" from generations past, there are several new designs that are worth your attention.
In the general sense, we weren't too surprised with the
Acer Aspire 2020
. It basically was what we saw before: 15.4" wide-aspect ratio displays on a fairly large base to appriopiately accompany the screen. Notebooks like the Acer Aspire 2020,
Dell Inspiron 8600
, and others are clearly not designed with true mobility in mind. They cannot be taken to class, meetings, or most of all, on flights without a great deal of hassle. So, this leaves a bit of a vacuum.
While most of us would consider one of these notebooks, we would rather have a smaller multimedia notebook that we could take to such events. Basically, something that can be used for just about everything, and not just something that specializes in multimedia applications. However, we don't want that large price tag or something too heavy.
This is where HP is stepping in. HP is now technically HP/Compaq, depending on who you ask. But the bottom line is that they are one of the big three system manufacturers; the other two being Dell and IBM. One of their newest laptops is the DV1000. It is a smaller profile multimedia notebook that uses a 14.0" wide-screen display instead of the more commonly used 15.4" displays, and is suppose to hit the lower to mid- $1,000 price range.
Our $1,574 sample came equipped with:
1.5GHz Banias Pentium-M
80GB Fujitsu 4200RPM Hard Drive
4x DVD+RW/CD-RW
1 x 512MB Samsung PC2700 SODIMM system memory
14.1" WXGA Samsung display with BrightView
6 Cell battery (Motorola)
Intel's 2200BG 802.11b/g WiFi card
HP's Bluetooth module
Construction - Build, Appearance, Size
Upon opening the notebook, we were surprised to be greeted with a nice and shiny display. This is very reminiscent of the coating that we saw on the
Toshiba 5205 notebook"
.
The display for this the HP Pavilion DV1000 Entertainment Notebook PC is also very similar to the one that we saw on the Acer Aspire 2020, on which the resolution is limited to lower than 1280 x 1024 (the Aspire 2020 is limited to a max of 1280 x 800). Since most of the wide-screen displays are of the 15.4" variety, we are used to resolutions like 1920 x 1200, or 1680 x 1050. But the main difference from the rest of the pack is the special coating that makes everything from text to images more brilliant and details more vibrant, particularly during multimedia use. HP apparently calls this BrightView. The coating itself seems to be a high gloss plastic film.
In our field tests, movies seemed to be able to show details to a finer degree than other notebooks that we were accustomed to. However, we should note that this 14.0" WXGA display is limited to 1280 x 768 (15:9 ratio), which means that if you plan to do even some light gaming, you will be limited to 1024 x 768 (unless you use the notebook's VGA out option). This is aside from the fact that it uses an Intel IGP solution, as opposed to something from NVIDIA or ATI.
And while HP calls their display a high-definition one, it is not HD in the way that we know HD from HDTV. Why they use this term is more likely a matter of marketing in reference to their BrightView technology.
The keyboard is just what we expect on a consumer notebook from HP: tactile with a reasonable degree of feedback. Compared to our
Compaq Presario 1500T
, it is fairly comparable. And in the whole scheme of laptop keyboards, it is probably average, noticeably shy of HP's business line and IBM's notebook keyboards. The function and control keys are appropriately placed, which is definitely a plus. The only thing we noticed was that some of the secondary functions require two hands, since the function key is on the lower left hand area of the keyboard, and there are secondary function buttons all along the top side of the keyboard.
The touchpad is just what we expect from a multimedia notebook: good feedback with a good texture. The touchpad buttons are smaller than what we are use to, but they have a large enough profile that it doesn't become something that annoys you, and they feel somewhat natural for the keyboard. Note that above the touchpad, there is a button that can enable/disable the touchpad, which solves the problem of the cursor "magically" appearing and interrupting your viewing when you are watching a DVD.
Perhaps one of the most aesthetically appealing design features of the DV1000 is the backlighting implementation for the various function buttons surrounding the keyboard. Lit in a neon blue hue scheme, it gives clarity and a marker for where specific keys are located. Keeping in mind that most people like a "theater" effect (i.e. a dark room) when they watch movie, we think that this was a nice addition to have. Often times, we found that in a flight, we had to turn our ThinkPad's display light to find the appropriate button. With other notebooks, it is often times a guess and check scenario. In this respect, LEDs are very beneficial. And the fact that the casing is a translucent black helps hide the LEDs when the system is off. (The backlit LEDs are only active when the system is on, which includes when the lid is closed.) However, we should note that we have not found a way to turn off the LEDs when the system is on.
The mute button and wireless button will only have their backlights active when the function is active.
The LEDs for the system are on the front of the system: power on (blue when active), hard drive activity (blue when active), and battery status (solid blue when charging, blinking blue when low). There is an additional wireless LED centered upon the display lid above the keyboard, which is blue when wireless radio is enabled. This LED is also visible when the display lid is closed.
Construction - Build, Appearance, Size (cont.)
The display lid of the notebook is secured to the base by two female security tabs, which can be released by a single clip located in the center of the notebook.
Front (left to right):
power status (blue when active)
hard drive activity (blue when active)
battery (blue when charging)
microphone port
headphone port 1
headphone port 2
No matter what combination of headphone ports you plug in or don't (for that matter), the audio will cut out from the main speakers once the first headphone is plugged in.
Unlike many notebook designs, however, the lip of this notebook is angled up, which provides the user with better than average multimedia audio experience from their Harmon/Kardon speakers. While the brand of the speaker is supposed to tell you a lot, the implementation of speakers on a notebook is nevertheless an obstacle when you want to develop a good audio source. That being said, these speakers were up to par with our expectations, surpassing the quality of other multimedia notebooks. We would probably compare them to the quality of mid-range desktop speakers.
We used them in our entertainment room with our TV running at mid-level volume, so that you could clearly hear the TV volume from 15ft while sitting on the couch. With our DV1000 about 5ft away and set to a volume setting of 16 (the max), two of us could pay attention to Matrix Reloaded well and follow the storyline without losing ourselves in the TV audio. Though, we could actually switch and pay attention to what was on TV when there weren't too many explosions going off from the DVD.
Other notebooks that we have seen from IBM and Dell are angle down toward whatever surface the notebook will be sitting on. The problem with a downward angle approach is that the sound isn't directly meeting your ears. Instead, it is dubbed a bit when it bounces off the surface first. We have to say that for a multimedia notebook, HP definitely has the audio design down the way we prefer it, in terms of practically, end results, and general design.
Otherwise, layout comes as expected with a few minor differences than what we are use to seeing. For one, there are two headphone ports, as opposed to one. This becomes useful when you want to watch a movie with someone else. With one headphone port, the only way to share the audio experience is to pipe it through the speakers, thereby disturbing others around you. While you can get a Y-splitter for the one headphone jack, it isn't the same as having two available jacks. The design of an additional jack actually doesn't take up any degree of real estate, so this wasn't a design hurdle.
The other big difference from other notebooks is the implementation of a high-density pin connector for the expansion base, which we will get to in the latter part of the review. The main difference here is that most notebooks have their docking connection on the bottom.
Left (left to right):
VGA out port
Expansion base connector
Ethernet jack
Modem jack
USB 2.0 port
PCMCIA port
Kensington lock port
Back (left to right):
Back (left to right):
USB 2.0 port
Flash media reader (SD/MS/MS Pro/MMC/SM/XD)
4-pin mini IEEE1394 port
Flash media LED (blinking blue when active)
NEC DVD+RW ND-5100A
S-video out port
USB 2.0 port
The size of the DV1000's charger is fairly similar to ones for other notebooks, like Acer's Aspire 2020, and is the same model as the charger for HP's own NC6000 business notebook.
While the DV1000 doesn't implement a modular bay design like their NC6000 and other similar notebooks, it does offer extended battery life via a larger battery pack (10.8V 8.8AH Lithium-Ion). Note that its use isn't in combination with the standard battery pack (10.8V 4.4AH Lithium-Ion). The only noticeable physical difference is that the laptop will tilt on a further angle because the battery pack protrudes out a bit with its somewhat "S" shape.
We don't currently know the price for the purchase of the extended battery, but apparently, HP is going to offer shoppers the ability to upgrade from the standard battery to the extended battery for $25 dollars extra when they place an order. As a separate purchase, we aren't quite sure what the list price is.
The two vents on the bottom seem to be intake vents for the system.
| | |
| --- | --- |
| Click to enlarge. | Click to enlarge. |
Measuring in at 9.1" x 13.1" x 1.3" thick, the DV1000 is one of the smaller multimedia notebooks that we have seen. While it is only slightly shorter than Dell's Inspiron 8600 in width, the shorter display cuts down the length dimensions noticeably. Marking its weight at slightly over 5 pounds (~5.26 lbs. give-and-take, depending on what is loaded on the notebook), it puts it on the heavier end of many mainstream notebooks, but in our opinion, it isn't too heavy that you can't take it on your trips. Far from it, this is one of the most mobile multimedia notebooks that we have seen this year.
Construction - Usability in the Field
The unit doesn't get noisy in terms of the humming that you sometimes hear with desktop replacement notebooks. There is a variable degree in the fan speed, but it isn't low enough for it to be a handicap for this particular notebook. So far as we can tell, the incline that this notebook is on, actually, benefits the notebook's airflow, which means that the fan doesn't have to run as high to ventilate the notebook with the same amount of cubic feet per minute (CFM). The top and bottom still stay fairly cool to the touch, except for the bottom left hand corner, where the CPU's heatsink is located. This area gets warm, but it is not so intolerable that you can't put it in your lap.
The fan is only on when it needs to be, and so it does cut in and out as needed, but with audio pumping out, it is hard to hear unless you put your ear close to the keyboard or flip it over and listen. Actually, the fan is only slightly more audible than the optical drive.
Construction - Upgrading and Maintenance
In the past, HP has used hex screws, which in essence, was to prevent users from accessing the various parts of their notebook. They obviously wanted their buyers to go to an "authorized HP" repair shop, but as consumers are becoming more educated, using hex screws isn't something that should be embraced, in our opinion. This is why HP is also using regular screws in their notebooks like the DV1000, which is what IBM and Dell have been doing all along. This isn't to say that hex screws aren't used, but it seems that its use is diminishing.
As shown in the picture below, the three access panels on the bottom of the notebook can be removed to show the (top to bottom, and left to right) two SODIMM memory slots, mini-PCI slot populated by an Intel WiFi 2200BG card (802.11b/g), and the system's hard drive (Fujitsu MHT2080AT). While our system only came configured with a single memory stick (1 x 512MB Samsung M470L6524BTO DDR333), another memory module can be added to the slot left of the populated one. If you want to max it out, you will have to get 2 x 1GB memory modules.
Removing the keyboard is a bit of a trick in our opinion. In order to unsecure the keyboard from the notebook, you must first remove the battery, then unscrew the two screws that are designated with the keyboard icon. Once they are removed, you need to flip the notebook right side up and jimmy the keyboard out by sliding a flat head screw driver into one of the slots beneath the function buttons and kind of twisting it slightly towards you. This will lift the keyboard enough so that you can use your hands to remove it the rest of the way.
There is nothing beneath the keyboard that can be accessed by the user in the sense of upgrading or maintenance.
You should be able to upgrade the CPU, since it seems that the DV1000's motherboard uses a socket CPU design. But, obviously, HP would rather have you choose the CPU that you want from the beginning and stick with it.
Features - QuickPlay Implementation
One of the features of the DV1000 that HP has been touting is QuickPlay, which is essentially a cut down OS that is dedicated for multimedia use. And if you have read our Acer Aspire 2020 review, then you should already know that Acer did something similar, called Aspire Arcade.
The scheme for HP is a bit different as they don't have a QuickPlay interface for Windows XP (or whatever the used OS is). Rather, they have positioned it as a separate boot function. It looks to be coded on a Linux shell, actually, which would categorize it as a separate OS. Though, it is stripped of all other Linux functionality. If we bring up the computer management console in Windows XP, we see that QuickPlay is set apart as a separate 2GB partition. Windows simply reads the partition as 100% free because it is not a compatible file format, though it is very much in use by the QuickPlay data.
There are specific limitations for QuickPlay, as music is limited to CDDA (audio CD) and MP3s. If it is a mixed format CD (CDDA/MP3s), the CDDA audio tracks will only be loaded. MP3s must be either stored on a CD or in XP's Shared Music Folder, in order for QuickPlay to access it.
As for video media, DVDs, VCDs, and SVCDs are supported. Video files are
not
supported. We'll go over the QuickPlay function briefly, but you can read up on
its manual if you have more questions
.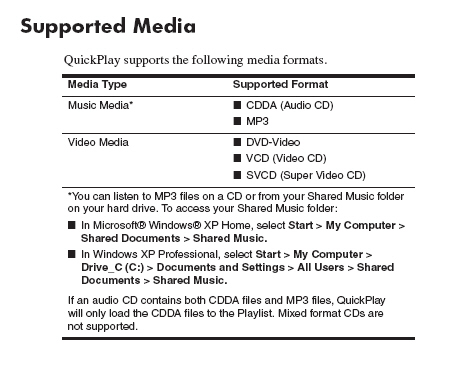 Features - QuickPlay (cont.)
Note that QuickPlay can only be started when Windows is shut down or in hibernation mode, and Windows cannot be started up until QuickPlay is shut down. And while wireless networking (Bluetooth and 802.11x) cannot be used in QuickPlay mode, the devices can remain active and drain battery life if they are not turned off in Windows XP mode or during the boot process. There doesn't seem to be a way to turn it off when QuickPlay is active.
Assuming that you hit the DVD button, QuickPlay will start in DVD mode, which takes about 12 seconds to load (the time from pressing the button to "please insert DVD or press music button"). If a DVD is already in the optical drive, QuickPlay will launch into the DVD menu automatically, which takes 31 seconds (the time from pressing the button to seeing the first DVD image).
Note that the functions buttons (expect for the Back and OK buttons) are lit for easy navigation (the Mute button will only be lit when active). In addition to the actively lit keys, the Function and End buttons are used to perform specific functions. These four (Back, OK, Function, and End) buttons are neither lit in QuickPlay nor in Windows mode. In Windows mode, having these four buttons lit might be visually distracting, but it would be nice to have them lit in QuickPlay; if not the Function and End buttons, then at least the Back and OK buttons.
We were glad to see that HP implemented visual indicators in QuickPlay when we played DVDs. Though, personally, we would like to see it a tad larger.
Features - QuickPlay (cont.)
If you press the music button of QuickPlay, it should take about 11 seconds to boot into the music function of QuickPlay.
The interface is fairly straightforward, and unlike the DVD interface, it contains all the visual indicators (volume, mute, play, pause, etc.). The main difference between the two is that the music menu doesn't encompass the whole screen. In fact, it only takes up a portion. It would be nice if HP had utilized the widescreen aspect ratio of the screen to create a larger visual interface. This, in turn, would allow for larger visual indicators. The issue of a larger visual interface is our biggest complaint about QuickPlay's music function, as all other visual issues stem from that.
Everything is very intuitive, which is definitely a plus, and shows that HP put a decent amount of forethought into the design. Though, we should note that we constantly found ourselves hitting Enter (which does nothing in both DVD and music mode), instead of the "OK" button.
Features - Hardware
One of the interesting capabilities of the DV1000, like the ZD7000 and other notebooks from HP, is the ability to use a standing expansion bay. For the DV1000, you need the HP XB2000 notebook expansion base, which is also compatible with the ZX5000, ZV5000, Compaq Presario R3000, and V2000 series notebooks. This base retails for $299 when you purchase your notebook from HP, and also includes a wireless keyboard and mouse.
| | |
| --- | --- |
| Click to enlarge. | Click to enlarge. |
Note that all of the function buttons on the notebook will still work even when you hook it up to the expansion base (the big black connector seen on the left side of the notebook in the picture above). You can still use all the expansion bay's ports once the notebook is connected, even without the power hooked up to the bay, but the power will be drained from the notebook's battery to power the base. In this situation, the base's Harmon/Kardon's speakers will not be enabled; instead, the notebook's Harmon/Kardon speakers will pump out the audio. Only when the AC is hooked up to the base will audio be fed through the base's speakers. (Hooking up the AC to the notebook will not provide audio from the base's speakers).
Back side (left to right):
3 power ports for different notebook AC adapters (plug in the DV1000 laptop AC adapter into the port labeled "1")
USB 2.0 ports
Modem jack
Ethernet jack
SPDIF port
RCA video out port
S-video port
power port for base's hard drive (in the picture, it is covered with a rubber cover)
2 Kensington lock ports
Right side:
headphone port
microphone port
USB 2.0 port
For those just curious on how the audio works, if you plug in your headphones to the port on the base, the audio will be fed from the base's speakers. If you plug in your headphones to headphone port one on the notebook while the base speakers are feeding the audio through, the signal will cut out from the base's speakers. Plugging in your headphones to the second headphone port on the laptop will not do anything. In all three scenarios, the audio obviously will also be fed through the plugged in headphones.
As you can see, there is a hinged portion of the base that can align itself about 60 degrees at the most. There is a two-fold release mechanism that must be used in order to align the upper portion of the base. The two handles seen in the two pictures below need to be pulled out together (they secure independently) and then the notebook holder can be aligned to the proper degree.
Note that the notebook holder is rubber-lined with groves, which allow you to set the notebook up a ways without having to worry about it slipping down.
The expansion bay cable is hidden on the bottom side of the notebook holder and seems to be coiled by an internal wheel mechanism. There isn't a release mechanism for the cable (at least as far as we can tell), so you just have to pull it out.
The base can also accommodate a 3.5" hard drive. The hard drive cage is on the left side of the base and can be removed by unscrewing the single screw next to the left most lock port on the back of the base. It seems that the base actually converts the IDE signal to a USB 2.0 mass storage device, but power must be provided via a separate power adapter. We should note that the hard drive tray is apparently sold separately when you order the DV1000 and is sold with a 160GB hard drive pre-installed for an additional $179.99. If you don't choose the hard drive tray option, a faceplate will replace the hard drive tray's position.
The included wireless keyboard (2 x AA batteries) and mouse (2 x AA batteries) for the expansion base are nothing special. They are Logitech components and use a single USB receiver.
The reason behind this expansion base design approach is that HP is really trying to allow the user to use a laptop without the need for a desktop. Considering the size and what it offers, we recommend going after the expansion base if you have the money. It is worth it in our opinion, especially if you plan to output to a bigger monitor/projector/TV, since you get a platform for working away from the computer, the nice Harmon/Kardon speakers, and SPDIF output.
While this docking station packs in a lot of features, it is extremely difficult to lug around anywhere. Weighing in just shy of 19 pounds, this is something definitely designed to be left in a specific spot.
The Test
Our last mobile benchmark suite for laptops included 2002 edition Winstones, and we have since upgraded to the 2004 editions. Because of this, we won't be scaling many of our old laptops for comparison with current and future notebooks that we look at. To bridge this gap, we have included scores for the Dell Inspiron 8600 (with GeForce FX Go5650) as somewhat as a marker.
Desktop scores have been pulled straight from our
Intel 925X & LGA-775 coverage
.
Windows XP Professional Test System
HP DV1000
HP NC6000
Acer Aspire 2020
Dell Inspiron 8600
IBM T41
CPU(s)
Pentium-M 705 1.5GHz
Pentium-M 755 2.0GHz
Pentium-M 745 1.8GHz
Pentium M 1.7GHz
Pentium M 1.7GHz
Motherboard(s)
HP 855GM
HP 855PM
Acer 855GME
Dell 855PM
Dell 855PM
Memory
512GB PC2700
512MB PC2700
512GB PC2700
512MB PC2700
1GB PC2700
Hard Drive
80GB 5400RPM
60GB 5400RPM
80GB 4200RPM
60GB 7200RPM
60GB 7200RPM
CDROM
DVD+RW
DVD+RW
DVD±RW
DVD+RW
CD-RW/DVD
Video Card(s)
Integrated IGP solution (default at 32MB, cannot be changed in BIOS)
ATI Mobility Radeon 9600 Pro 64MB DDR
ATI Mobility Radeon 9700 Pro 128MB DDR
NVIDIA GeForce FX Go5650 128MB DDR
ATI Mobility Radeon 9000 Pro 32MB DDR
Ethernet
Onboard Realtek 10/100
Onboard Broadcom Gigabit
Onboard Broadcom Gigabit
Onboard Intel Gigabit
Onboard Intel Gigabit
Operating System
Windows XP Professional SP1
Video Drivers
Intel 6.14.10.3856 (latest from HP)
ATI 8.003 (latest available for HP)
ATI 8.00 (latest available for Acer)
NVIDIA 44.82
(latest available for Dell)
ATI 7.933
Benchmarking Applications
ZDM Content Creation Winstone 2004
ZDM Business Winstone 2004
BAPCo Mobile Mark 2002
General Usage and Content Creation Performance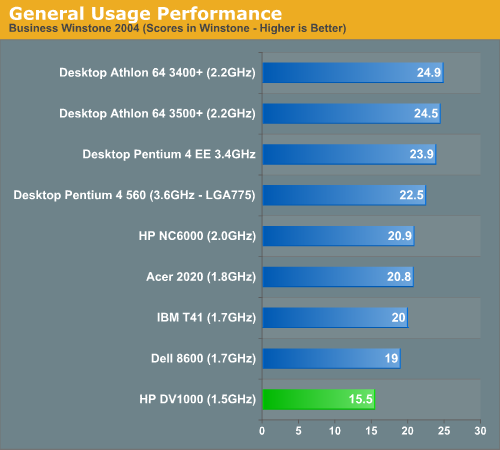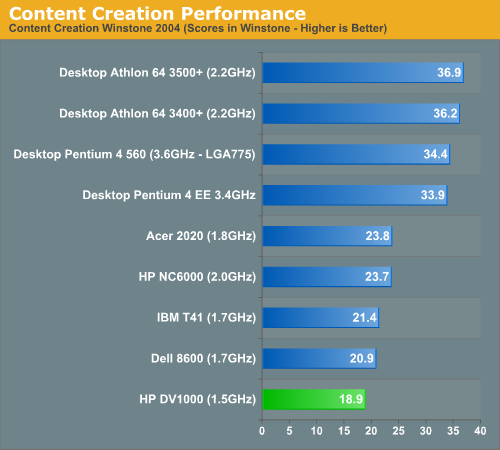 Mobile Performance
We have revised the way we benchmark notebooks for battery tests. In the past, we have always run with "Always On" for the battery scheme under the power settings in Windows XP. This puts the CPU to max performance, but the side-effect is that power is going to be drawn from the battery rather than liberally.
The main reason that we did this in the past was two-fold:
you would know what you should at least get with your notebook; and
using the recommended Bapco setting of "Portable/Laptop", which has automatic CPU speed management, often times wasn't up to par with what normal users in the past needed for something as simple as visualizations in WMP.
Because performance has increased to such a degree that even automatic power management isn't a hindrance, and our benchmark method was long overdue for an overhaul. These scores are reflective of what you should expect in typical day-to-day use.
Our past benchmarks can be referenced, but keep in mind that with those laptops, it is the minimum score that you should expect; automatic power management increases the scores from roughly 10%-35%.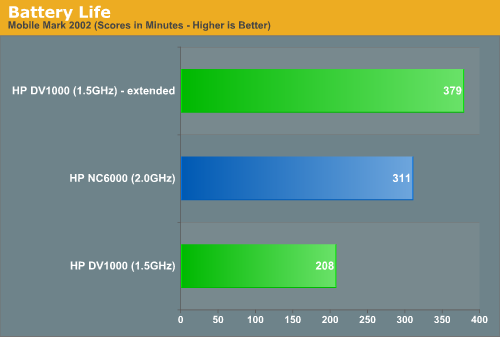 Because QuickPlay seems to run the CPU at the maximum, the CPU frequency doesn't fluctuate and gets a lower battery life score than what we are reporting with MobileMark 2002. We don't have exact figures, but for every 20% of battery life (standard battery), we can run our DVD for about 30 minutes. This is under a half volume setting (8 of 16) and max brightness setting. Thus, we can run QuickPlay in the range of 140 to 150 in these conditions. Lowering the brightness setting to about half (6 of 11) raises the minute figure to somewhere in the 155-160 minute ballpark. So, we were able to run through Matrix Reloaded (138 minutes) in QuickPlay mode without any fuss and battery life to spare.
With this in mind, we do expect both battery life figures (MobileMark 2002/Windows XP and QuickPlay) to increase when you choose a Dothan processor, due to the lower power consumptions specifications.
Startup Performance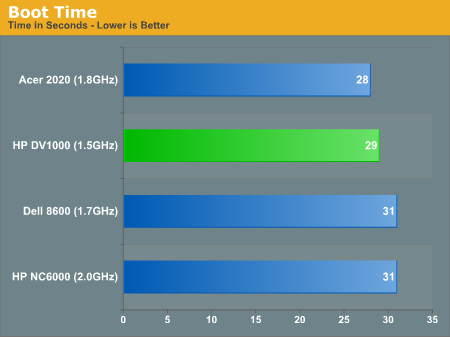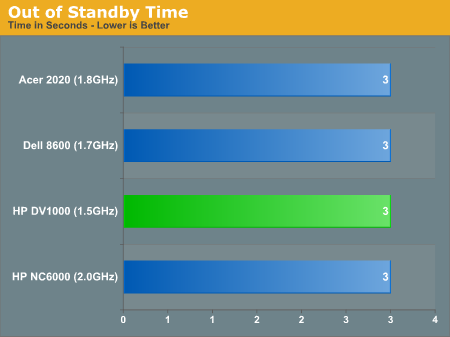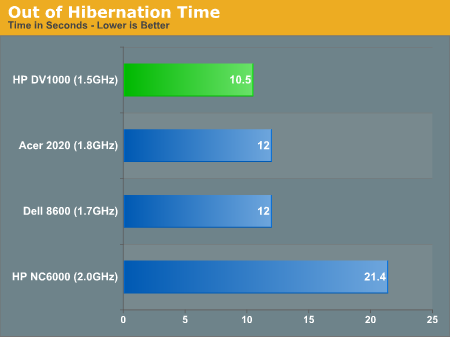 Final Words
Overall, the DV1000 is just short of everything that we want to see in a mid-range multimedia notebook. The 14.0" wide-aspect ratio screen is just large enough that it doesn't become a hassle to watch movies, and at the same time, it is small enough that it doesn't make it hard to carry around and make it a mobile notebook. This is something that we give HP high marks for. A lot of attempts have been made to create the "ultimate multimedia notebook", usually without a sense that the end-user would want to carry it around, which is why we saw and continue to see a lot of notebooks with 15.4" wide-aspect ratio screens. This large display specification alone makes it really hard to use it on a flight or lug it around to classes or meetings, and let's face it, a 14.1" XGA (4:3 aspect ratio) display isn't that great for a multimedia notebook. It is definitely nice to see a notebook that deviates from this "norm".
Priced at $1,574 (excluding the $50 mail in rebate), our Pavilion DV1000 Entertainment Notebook PC sample only featured a 1.5GHz Banias Pentium-M 705 processor, but this helped drive down the cost. Note that this is not exactly the same ol' 1.5GHz as previously introduced. While it differs from its other new Pentium-M Dothan brothers (715, 725, 735, 745, and 755) in its cache size of 1MB and 130nm process, it apparently has a few architectural differences, but this doesn't necessarily affect performance over the previous 1.5GHz Pentium-M. Based on our understanding, we probably would get better battery life from a Dothan Pentium-M due to the
power consumption specs
. Though, we should note that we have not attempted to test our theory out on this notebook.
Our personal recommendation is to go after the 1.6GHz Dothan Pentium-M 725 if you are in a budget crunch ($50 more than the 1.5GHz Banias Pentium-M 705), but for another $100 or $150, you can configure your DV1000 with a 1.7GHz Pentium-M 735 or 1.8GHz Pentium-M 745, respectively. For either processor choice, we heavily recommend choosing the BrightView display option, as that what we sampled.
Considering that QuickPlay actually boots in less time than it takes to perform a Windows XP boot, it is a very relevant feature. While it may not consume less power (and generate less heat) than in Windows XP or bypass the CPU, it does boot faster and leave the user with less clutter to manage, which meets our
own requirements for making a system-off feature beneficial
. This is something that we found lacking with Acer's Aspire Arcade.
The only specific flaws that we found in regard to the DV1000 were the lack of an integrated microphone, the small "Back" and "OK" buttons, some unlit buttons (function, end, back, and ok), and the inability to turn off the LEDs in the QuickPlay function. We were a little stumped as to why HP didn't choose the 855GME chipset over the older 855GM, since the newer chipset seems to offer Intel's Display Power Saving Technology (a.k.a. DPST), but HP told us that the 855GME is more expensive and gives limited benefits (i.e. 333MHz system memory, DSPT, etc.) that they didn't think was worth the price overhead. Aside from that, the DV1000 is a great notebook that makes a significant impression on us; enough so that it makes it onto our buy list.