Original Link: http://www.anandtech.com/show/1492


Introduction
In Taipei a few months ago, we had a glimpse at BenQ's
entire DVDR lineup
for the rest of the year. Anxious to see working samples then, it seems as though lack of media continued to plague BenQ, Pioneer, LiteOn and NEC. 16X media is still difficult to find, but Verbatim and Ritek have some media for sale in the US already.
We have been working on a large 16X DVDR roundup for weeks with burners from Pioneer, Sony, NEC, BenQ and Toshiba, and we plan to reveal our entire findings on the publishing date of the roundups. However, after testing BenQ's newest 16X drive, we thought that we should give everyone a sneak peak at our findings on the unit. This drive review was literally a story of rags to riches. When we first received the unit, we could not get a single media to burn at 16X, and even then, some discs had problems at 8X. Fortunately, we had a lot of opportunity to work with BenQ and had them send us their newest firmware a little ahead of time. Then, the drive completely changed in our favor.
We do not consider it fair to review a drive if we are the only ones who have the firmware, so feel free to obtain a copy of it
here
. Although, be warned that this was the copy received from BenQ, so we do not support it in any way, shape or form. Enjoy!
Construction
The BenQ DW1620 bezel looks slightly sleeker on the DW1620 over the DW1600. Our model came in black, although it appears that there are some tan versions as well.
Here, we see the Nexperia PNX7860E chipset, which is just starting to show up on a few other drives (QSI and NuTech come to mind). You may recall that the NuTech DDW-082 used a predecessor to this chipset, and we also talked slightly about the development version of this chipset at Computex Taipei. The Nexperia platform comes bundled with the TZA1047HL analog pre-processor as seen below. Feel free to read more information
here
.
At Computex 2004, we were told of BenQs new "High-Speed Signal Algorithm", which manages the "Eight-to-Fourteen Modulation" (EFM) signal loss that occurs while writing discs
[1]
. This is kind of a silly statement on BenQ's behalf. EMF is just the process of converting a single byte (8-bits) into 14-bits, and all optical media uses 14-bits to express 8-bits as data. This is just an error correcting process. The "High Speed Signal Algorithm" supposedly makes this error correction work better; although, we are slightly skeptical as to how unique BenQ's algorithm really is.
The WOPC II (Walking Optimal Power Control II) algorithm described by BenQ may hold a little more truth to being an actual algorithm designed by BenQ, but we have seen identical features on previous drives with the Nexperia chipset. WOPC should evaluate the write quality of the disc while burning, and then adjust the speed accordingly to slow down, or speed up the burn as necessary. However, as we have seen with drives like the Plextor PX series, aggressively timing the calibration of a drive like this generally hurts write speeds.
Features
Below, you can see the Infotool readout from Nero. We are using the
B7J9
firmware released to us from BenQ internally, which also apparently upgrades 12X BenQ drives to 16X compatibility. We are not using a 12X drive, however, but rather, the actual DW1620 shipped from BenQ. The drive was almost completely unusable with the B7H9 firmware shipped with the drive, as we will demonstrate later in the analysis.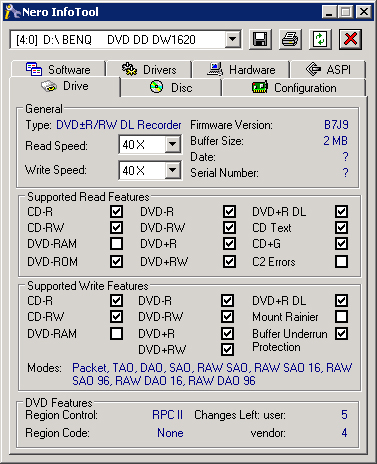 There are no stellar features on this drive. We do not have any HD-Burn capability, and Mount Rainier DVD+RW is obviously not supported either. However, DVD+R Dual Layer (DVD+R9) is fully supported, and we are excited to see such an inexpensive drive support such features.
BenQ DW1620 16x DVD-/+RW Drive
Interface
PATA
CD Write Speed
40X, 32X, 24X CAV
16X, 8X, 4X CLV
CD Rewrite Speed
24X ZCLV
16X, 10X, 4X CLV
CD Read Speed
40X MAX CAV
DVD-R Write Speed
16X, 12X, 8X CAV
4X, 2X, 1X
DVD-RW Rewrite Speed
4X, 2X, 1X CLV
DVD+R Write Speed
16X, 12X, 8X CAV
4X, 2.4X
DVD+RW Rewrite Speed
4X, 2.4X CLV
DVD+DL Write Speed
2.4X CLV
DVD Read Speed
16X MAX CAV
Supported Modes
DAO / DAO-RAW 16 & 96
TAO
SAO / RAW SAO, RAW SAO 16 & 96
Packet Write
Multi-Session
Supported Formats
DVD+R (DAO, incremental, seq)
DVD+RW (random)
DVD-R (DAO, incremental, seq)
DVD-RW (restricted overwrite)

CD-R, CD-RW, CD-ROM, CD-DA,
Mixed Mode, CD Extra
Photo CD, CD Text, Bootable CD, UDF
Access Time
CD: 120ms
DVD: 120ms
Buffer
2MB
So far, this drive is on par with the NEC-3500A, and slightly faster for CD writing than the Pioneer DVR-108A that we reviewed a few weeks ago. Unfortunately, the drive lacks DVD-RAM and Mount Rainer support. The drive claims slightly quicker than average access times as well.
Make a special note of some of the neater capabilities of this drive DVD DL and the 16X write capabilities. We are hesitant to claim that the 2.4X dual layer write capabilities are sub par, even though other 4X drives exist. Other drives may claim 4X dual layer write speeds at this point, but even places like AnandTech cannot get proper media for independent verification.
Our BenQ DW1620 supports BookType Management (bitsetting), which is to be expected from a Nexperia based drive.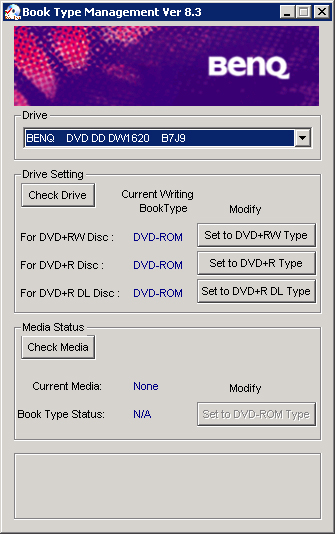 The free BenQ BTMV 8.3 software can be obtained from the BenQ site, and it displays/sets the current book type on our drive.
Burn Tests CDR Media
We use the following configuration to test our burners:
Albatron 865PE Pro II
Intel Pentium 4 2.4GHz 800FSB 512KB L2
2 x 512 DDR OCZ PC3200 EL
Maxtor 80GB 7200RPM 8MB PATA
Windows XP SP1
We are going to run this benchmark in the same manner in which we ran our
Sony DRU-540A benchmarks
. We first burn the media with the BenQ DW1620 and then use Plextools v2.12 to test C1/C2/CU averages in a Plextor PX-712A. Good burns have low C1/C2 averages and are considered the most readable. We used Ahead Nero's CD-DVD Speed 3.12 for burn and read tests. We will also provide images of the Pioneer DVR-108D for reference, copied verbatim from the analysis several weeks ago - just mouse over the image to see the Pioneer DVR-108D images, or move the mouse off the image to see the BenQ DW1620 image. This is not a comparative analysis of the drives yet; as mentioned before, we have a roundup scheduled in two weeks to answer that question.
Imation CDR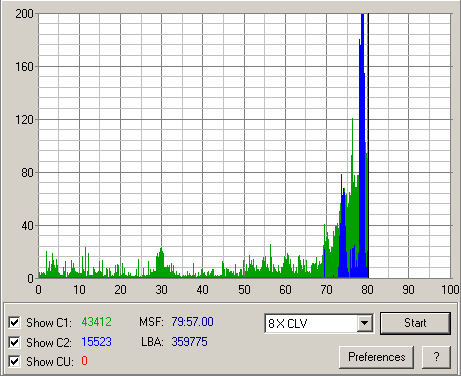 Hold your mouse over for the Pioneer DVR-108D image.

This set off the red flags for us. Although this disc is still readable, it's very close to becoming a coaster. We are not very pleased with the way that the BenQ drive performed on the CDR media.





Burn Tests DVD+R Media
We have a number of different brands of DVD+R media ranging in quality.


MCC 003
This is a Verbatim disc rated at 8x write speeds. Please Mouseover the images to see how the Pioneer fared on this disc.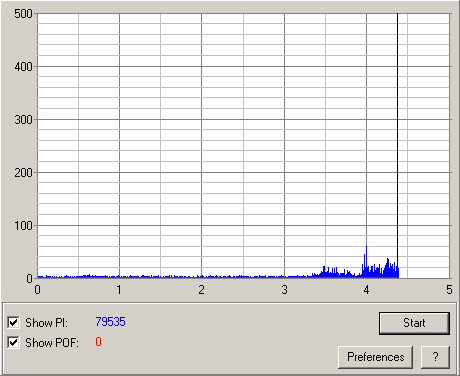 Hold your mouse over for the Pioneer DVR-108D image.

Surprisingly, the disc reads back fairly well in the Plextor drive. Errors are fairly minimal and the burn looks fine. We would like to see the burner work a little more aggressively with this prolific 8X media, but sacrificing write quality for speed on this particular media may have poor consequences.


RICOHJPN R02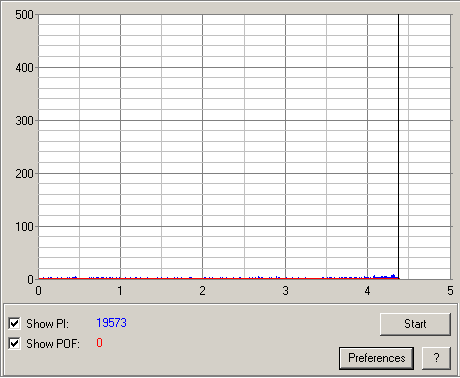 There are no complaints here from either drive.





Burn Tests DVD+R Media (cont'd)
MCC 004
This is a Verbatim disc rated at 16X write speeds. Below you can see our first attempts to burn this disc with the B7H9 firmware shipped with the drive.




We were really disappointed to see this high end drive fail on good media. We immediately contacted BenQ and received the new firmware that was used in this review. You can see the night and day difference between the two burns. We ran some quick burns with the Pioneer DVR-108D for comparison as well.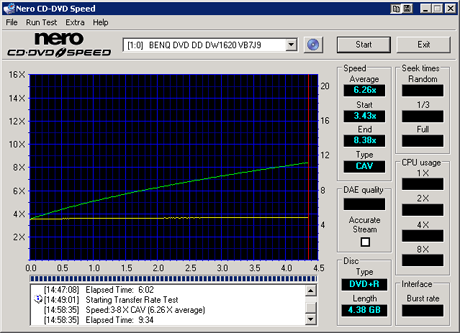 Click to enlarge the BenQ DW1620 image.
Hold your mouse over for the Pioneer DVR-108D image.


Here, we see similar patterns to what we saw on the MCC media.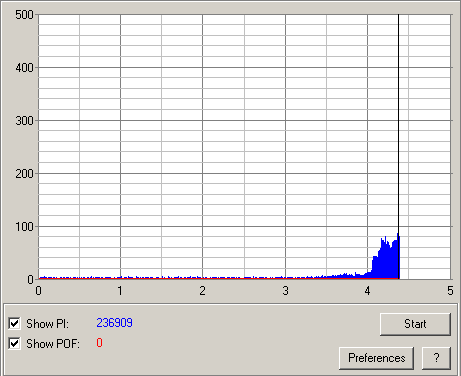 Under Plextools, this media behaves very similarly to the MCC 003 discs, but burns fine at 16X. There still is no cause for alarm as to the write quality of these discs.





Burn Tests DVD-R Media
Unfortunately, we do not have any 16X DVD-R media with which to demonstrate our drive capabilities.


MCC 02RG20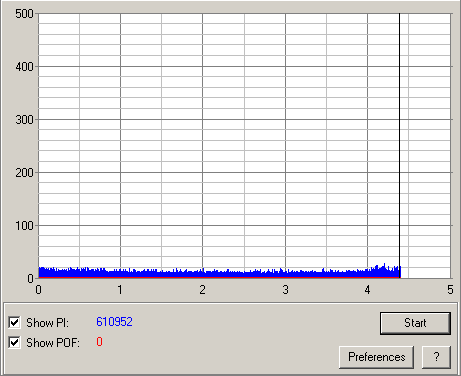 Hold your mouse over for the Pioneer DVR-108D image.

As expected, the BenQ drive wrote and read this disc very well.





Burn Tests DVD+DL Media
MKM DVDR+9
Finally, we had a chance to write and read some dual layer media. Remember, the BenQ drive that we are looking at today does not support 4X DVD DL writes, unfortunately.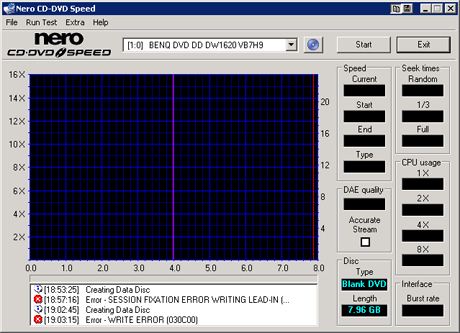 Click to enlarge the BenQ DW1620 image.
Hold your mouse over for the Pioneer DVR-108D image.


The BenQ DW1620 takes its first real stumble here. The drive is not capable of writing Ritek dual layer discs yet. Although, it seems possible that this will be addressed in future firmware updates. The Pioneer DVR-108D had trouble with this media as well.





Read Tests - Printed Media
Lower seek times are better.


Seek Times - Pressed CD 74:40.02
Drive
Random
Full
AOpen DDW8800
122ms
188ms
ASUS DRW-0802P
127ms
296ms
BenQ DW1620
117ms
284ms
Gigabyte GO-W0808A
116ms
232ms
LG GSA-4120B
125ms
242ms
MSI DR12-A
84ms
153ms
Nu Tech DDW-082
113ms
160ms
Pioneer DVR-108D
130ms
355ms
Plextor PX-712A
112ms
165ms
Sony DRU-530A
86ms
155ms
Sony DRU-540A
84ms
152ms
Sony DRU-700A
119ms
245ms
Toshiba SD-R5272
110ms
169ms
Seek Times - DVD 4.38GB
Drive
Random
Full
AOpen DDW8800
114ms
272ms
ASUS DRW-0802P
130ms
312ms
BenQ DW1620
122ms
333ms
Gigabyte GO-W0808A
102ms
194ms
LG GSA-4120B
94ms
195ms
MSI DR12-A
106ms
224ms
Nu Tech DDW-082
99ms
171ms
Pioneer DVR-108D
136ms
345ms
Plextor 712A
107ms
259ms
Sony DRU-530A
129ms
204ms
Sony DRU-540A
107ms
152ms
Sony DRU-700A
121ms
231ms
Toshiba SD-R5272
97ms
180ms
Read - Pressed CD
Drive
Average Read
Length
AOpen DDW8800
31.35X
79:57.7
ASUS DRW-0802P
30.89X
79:57.7
BenQ DW1620
33.27X
79:57.7
Gigabyte GO-W0808A
30.12X
79:57.7
LG GSA-4120B
32.50X
79:57.7
MSI DR12-A
31.81X
79:57.7
Nu Tech DDW-082
33.22X
79:57.7
Pioneer DVR-108D
31.74X
79:57.7
Plextor 712A
33.25X
79:57.7
Sony DRU-530A
31.80X
79:57.7
Sony DRU-540A
31.79X
79:57.7
Sony DRU-700A
31.06X
79:57.7
Toshiba SD-R5272
31.22X
79:57.7
Read - DVDR
Drive
Average Read
Length
AOpen DDW8800
3.75X
4.38GB
ASUS DRW-0802P
6.27X
4.38GB
BenQ DW1620
9.35X
4.38GB
Gigabyte GO-W0808A
6.16X
4.38GB
LG GSA-4120B
7.58X
4.38GB
MSI DR12-A
8.22X
4.38GB
Pioneer DVR-108D
9.38X
4.38GB
Nu Tech DDW-082
6.53X
4.38GB
Plextor 712A
6.21X
4.38GB
Sony DRU-530A
5.79X
4.38GB
Sony DRU-540A
8.15X
4.38GB
Sony DRU-700A
6.20X
4.38GB
Toshiba SD-R5272
6.61X
4.38GB
Read - Pressed DVD Video
Drive
Average Read
Length
AOpen DDW8800
3.44X
7.88GB
ASUS DRW-0802P
6.34X
7.88GB
BenQ DW1620
5.34X
7.88GB
Gigabyte GO-W0808A
6.31X
7.88GB
LG GSA-4120B
6.88X
7.88GB
MSI DR12-A
6.84X
7.88GB
Nu Tech DDW-082
4.30X
7.88GB
Pioneer DVR-108D
5.40X
7.88GB
Plextor 712A
6.18X
7.88GB
Sony DRU-530A
6.45X
7.88GB
Sony DRU-540A
6.91X
7.88GB
Sony DRU-700A
5.88X
7.88GB
Toshiba SD-R5272
6.44X
7.88GB
Final Thoughts
We had modest expectations for the BenQ drive. Generally, our BenQ products perform well, but lag behind the bigger players like Pioneer and NEC. We were excited to see a non-NEC based chipset design work so well with so many different types of media, and still outpace the Pioneer DVR-708D in several tests. This wasn't an out-of-the-box win for BenQ, though; we did have to update our firmware to a newer revision before the drive was even useable. We were disappointed in the lack of Mount Rainer and DVD-RAM support. The 16X writes looked particularly hairy when analyzed through Nero DVD Speed, but they were read back fine with very acceptable error levels.

The $85 price tag of the BenQ drive stands exceptional. The drive supports book type management (bitsetting) for those who insist on it. We are not particularly impressed by some of the marketing terminology discussed with this drive, but we can't complain about the performance and quality. Excellent work, BenQ, for bringing us an affordable, high performance drive - and good luck in the upcoming roundup.

Generally, at this point of the analysis, we would claim the BenQ as our drive to beat in the next several reviews. To be fair to Toshiba, NEC, Pioneer and half a dozen other manufacturers, we will hold off on that decision for a couple weeks while we finish the testing for our massive 16X DVDR roundup. We have a new review format to debut in the upcoming roundup, as well.