Original Link: http://www.anandtech.com/show/1442


When Corsair 3200XL appeared on the market about 2 months ago, it created quite a bit of excitement with 2-2-2 timings at DDR400. After disappearing from the market when Winbond BH5 memory chips were discontinued, 2-2-2 DDR400 memory had become available again. At that point we certainly did not expect the flood of new 2-2-2 DDR400 memory that has appeared in recent weeks. It now seems that every major memory maker has a new PC3200 2-2-2 memory in their product line. Considering how popular low-latency memory is with computer enthusiasts that is certainly understandable.
We reviewed six of the new DDR400 2-2-2 dimms just a couple of weeks ago in
=F-A-S-T= DDR Memory: 2-2-2 Roars on the Scene
. Geil has introduced another fast PC3200 memory with their PC3200 Ultra X rated at 2-2-2-5 memory timings. This brings to seven the number of new DDR400 2-2-2 memory offerings that we know are now available in the marketplace. With a selection like this you can finally make some choices in fast DDR400 memory based on value as well as performance.
The most remarkable trait with the new DDR400 2-2-2 we have tested so far is the incredible bandwidth they have demonstrated. All of the six tested memories reached DDR500 with decent timings and a bit more voltage. This kind of bandwidth is unique in the memory market, and it makes the latest DDR400 as close to universal memory as you will find in the market today. You get the fastest timings possible at DDR400, plus greatly extended bandwidth that can take your performance to DDR500 or beyond.
The other side of the equation is the fastest performance at DDR400. In that regard, every one of the six 2-2-2 DDR400 dimms we have tested met the specification of the fastest 2-2-2 performance at DDR400. Most managed these fastest timings at default voltage of 2.5V to 2.6V.
The questions with the Geil PC3200 Ultra X then, is how it compares with the fast DDR400 memory we recently tested. Is this another Samsung or Micron-based memory with great timings and an incredible bandwidth? Can the Geil compete with the best from the fast DDR400 roundup? Can anything approach the incredible bandwidth of OCZ PC3200 Platinum Rev. 2 that reached all the way to DDR557?
Geil PC3200 Ultra X
Geil produces an extensive line of memory from value-priced dimms to some of the fastest enthusiast memory you can buy. You will find Geil memory for building a value PC, but you will also find Geil competing at the highest end of the memory market. Geil produces both standard and enthusiast DDR, DDR2, and so-dimms. You can get a better idea of the extensive Geil product line at the
Geil website
.
Ultra X is a new line for Geil, basically a high-performance extention to the Ultra series of DDR. The current Ultra line extends from Ultra PC3200 all the way to an Ultra Platinum DDR550. The Ultra X 3200 is the first and only Geil memory to be called Ultra X so far. Ultra X modules are available in individual 256MB and 512MB dimms, as well as in matched pairs as a 512MB kit (2x256) and 1GB kit (2x512).
Test dimms were a pair of Geil PC3200 Ultra X in a 1GB kit (2x512MB modules).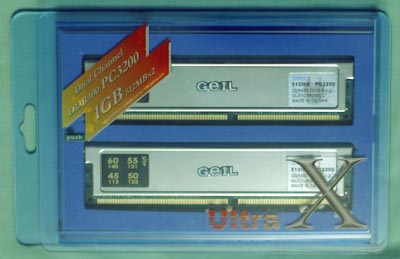 Geil uses a unique Plexiglas slide tray for packaging the Ultra X kits. The packaging says premium in every way.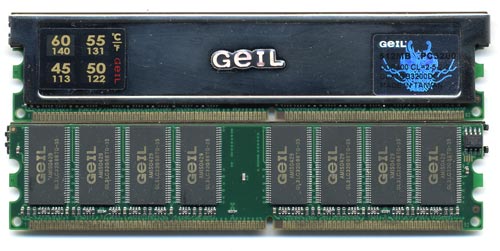 The Ultra X dimms are faced with platinum-colored heat-spreaders that have a copper core for heat dissipation. Geil also uses their trade-mark thermal label that can tell you at a glance the temperature of the dimm.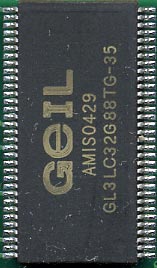 As you saw in our recent 2-2-2 roundup, current DDR400 2-2-2 memory uses Samsung TCCD memory chips, with the exception of the excellent Crucial Ballistix which is based on Micron chips. Removing the heatspreaders did not help in identifying the chips used in the Geil ultra X. As you can see the blanks are labeled as Geil chips with a speed rating of 3.5ns. Geil describes the chips as hand-selected for performance from 5ns chips.
Geil PC3200 Ultra X Specifications
Geil PC3200 Ultra X Memory Specifications
Number of DIMMs & Banks
2 DS
DIMM Size
Total Memory
512 MB
1 GB
Rated Timings
2-2-2 at DDR400
SPD (Auto) Timings
2.5-2-2-5
Rated Voltage
2.55V - 2.95V
Geil uses a voltage range of 2.55v to 2.95v as the specified voltage for Ultra X. This certainly will accommodate any individual variation in dimms, and the range is in agreement with the voltages that actually worked for us in memory testing.
Performance Test Configuration
We tested the Geil PC3200 Ultra X in our standard Intel Pentium 4 Memory testbed. The hardware for evaluating the Ultra X memory is the same used in our earlier reviews of DDR400 and faster Memory.
All test conditions were as close as possible to those used in our earlier memory reviews. We have also eliminated from our charts any memory that has been discontinued, including Winbond BH5 and BH6 versions from several vendors and earlier versions of several current memory products.
INTEL 875P Performance Test Configuration
Processor(s):
Intel Pentium 4 2.4GHz (800MHz FSB)
RAM:
2 x 512MB Geil PC3200 Ultra X (DS)
2 x 512MB Crucial Ballistix PC3200 (DS)
2 x 512MB Kingston HyperX PC3200 L-L (DS)
2 x 512MB Mushkin PC3200 Level II V2 (DS)
2 x 512MB OCZ PC3200 Platinum Rev. 2 (DS)
2 x 512MB Corsair 3200XL PRO (DS)
2 x 256MB Samsung PC4000 (SS)
2 x 512MB Buffalo FireStix PC4000 (DS)
2 x 512MB Shika XRAM PC4400 (DS)
2 x 512MB OCZ PC4400 EL Gold (DS)
2 x 512MB OCZ 3700EB (DS)
2 x 512MB OCZ 3500EB (DS)
2 x 512MB Mushkin 2-2-2 Special (DS)
2 x 512MB PMI4200 Gold (DDR533 DS)
4 x 256MB Samsung PC3700 (DDR466 SS)
2 x 512MB Kingmax DDR500 Hardcore Series (DS)
2 x 512MB Kingmax DDR466 Hardcore Series (DS)
2 x 512MB Corsair XMS4400v1.1 TwinX (DS)
2 x 512MB OCZ PC4400 DC Kit (DS)
2 x 512MB OCZ PC3700 Gold Rev. 2 (DS)
2 x 512MB OCZ 4200EL(DS)
2 x 512MB Mushkin PC4000 High Performance (DS)
2 x 512MB Corsair TwinX4000 PRO (DS)
2 x 256MB Adata DDR450 (SS)
2 x 512MB Adata PC4000 (DS)
2 x 512MB Corsair PC4000 (DS)
2 x 512MB Geil PC4000 (DS)
2 x 512MB OCZ PC4000 (DS)
Hard Drives:
2 Western Digital Raptor Serial ATA 36.7GB 10,000RPM drives in an Intel ICH5R RAID configuration
PCI/AGP Speed:
Fixed at 33/66
Bus Master Drivers:
875P Intel INF Update v5.00.1012, SATA RAID drivers installed, but IAA not installed
Video Card(s):
ATI 9800 PRO 128MB, 128MB aperture, 1024x768x32
Video Drivers:
ATI Catalyst 4.7
Power Supply:
Vantec Stealth 470Watt Aluminum
Operating System(s):
Windows XP Professional SP1
Motherboards:
Asus P4C800-E (875) with 1016 Release BIOS
We have found the fastest performance on Intel 865/875 to be achieved at Cycle Time or tRAS of 5, or the fastest tRAS setting that is stable with the tested memory. Intel platform benchmarks were therefore run with the fastest stable tRAS timings we could achieve with the Geil Ultra X.
Test Settings
We ran our standard suite of memory performance benchmarks. The following settings were tested with the Geil DDR400 2-2-2 memories:
800FSB/DDR400 - the highest stock speed supported on 875/865 and K8T800/nF3/SiS755 motherboards
866FSB/DDR433 - a speed rating we have used in testing other lo-latency DDR400 memory
933FSB/DDR466 - another speed rating we have used in testing low-latency memory
1000FSB/DDR500 - a standard memory speed used in testing other high-speed memory
1066FSB/DDR533 - only two DDR400 2-2-2 memories reached this memory speed and results from those tests are included for comparison
Highest Stable Overclock - the highest settings we could achieve with this memory and other memory we have tested
These are the same general settings used in benchmarking other DDR memory in past year. DDR400, DDR500 and Highest Memory Speed have been used for all benchmarking. DDR433 and 466 were also used for testing other DDR400 2-2-2 modules so we also ran benchmarks at these timings for comparisons. We also included test results at DDR533 for the two DDR400 2-2-2 memories that reached that speed and beyond.
Test Results: Geil PC3200 Ultra X
To be considered stable for test purposes Quake3 benchmark, UT2003 Demo, Super PI, Aquamark 3, and Comanche 4 had to complete without incident. ANY of these, and in particular Super PI, will crash a less-than stable memory configuration. We have also included results for RCW-ET using the Radar benchmark.
Geil PC3200 Ultra X (DDR400) - 2 x 512Mb Double-Bank
Speed
Memory Timings & Voltage
Quake3 fps
Sandra UNBuffered
Sandra Standard Buffered
Super PI 2M places
(time in sec)
Wolfenstein - Radar - Enemy Territory
fps
400DDR
800FSB
2-2-2-5
2.5V
331.8
INT 2908
FLT 2933
INT 4511
FLT 4515
126
70.8
433DDR
866FSB
2-2-3-5
2.5V
354.1
INT 3089
FLT 3075
INT 4869
FLT 4858
118
76.1
466DDR
933FSB
2.5-3-3-5
2.75V
376.2
INT 3200
FLT 3227
INT 5100
FLT 5198
111
81.2
500DDR
1000FSB
2.5-3-3-6
2.75V
401.5
INT 3328
FLT 3348
INT 5547
FLT 5560
103
86.6
533DDR
1066FSB
2.5-3-3-6
2.75V
426.3
INT 3598
FLT 3597
INT 5918
FLT 5911
97
92.4
561DDR
1122FSB
3-3-4-7
2.85V
438.6
INT 3747
FLT 3698
INT 6184
FLT 6173
93
97.0
All of the new DDR400 2-2-2 memory we have tested reached DDR500, but most reached only slightly beyond the 500 speed at the highest voltage and most relaxed timings the memory would support. It was a pleasant surprise to find Geil Ultra X the second DDR400 to reach DDR533 and beyond. In fact, the highest speed we could achieve with Geil Ultra X, DDR561, sets a new record as the fastest speed yet achieved with a memory rated at DDR400. To be fair, DDR561 is a memory speed rarely achieved with any memory, let alone a memory rated at DDR400.
Performance Comparisons
Performance of the Geil DDR400 2-2-2 Ultra X was compared to all of the memory recently tested on the Intel 875 memory test bed in
=F-A-S-T= DDR Memory: 2-2-2 Roars on the Scene
Buffalo FireStix: Red Hot Name for a New High-End Memory
New DDR Highs: Shikatronics, OCZ, and the Fastest Memory Yet
The Return of 2-2-2: Corsair 3200XL & Samsung PC4000
OCZ 3700EB: Making Hay with Athlon 64
OCZ 3500EB: The Importance of Balanced Memory Timings
Mushkin PC3200 2-2-2 Special: Last of a Legend
PMI DDR533: A New Name in High-Performance Memory
Samsung PC3700: DDR466 Memory for the Masses
Kingmax Hardcore Memory: Tiny BGA Reaches For Top Speed
New Memory Highs: Corsair and OCZ Introduce DDR550
OCZ PC3700 Gold Rev. 2: The Universal Soldier
OCZ 4200EL: Tops in Memory Performance
Mushkin PC4000 High Performance: DDR500 PLUS
Corsair TwinX1024-4000 PRO: Improving DDR500 Performance
Mushkin & Adata: 2 for the Fast-Timings Lane
Searching for the Memory Holy Grail - Part 2
Memory performance was compared at DDR400, DDR433, DDR466, DDR500, DDR533 (where possible), and the highest stable overclock we could achieve that would run Quake 3, UT2003, and Super PI to 2MM places.
All discontinued products have been removed from benchmark comparisons.
Results are compared for Quake 3, Sandra UNBufferred Memory Test, and Super PI. SiSoft Sandra 2004 reports 2 results for each memory test - an Integer value and a Float value. Results reported in our charts are the result of AVERAGING the INT and FLOAT scores, which are normally close in value. In other words INT and FLOAT scores were added and divided by 2 for our reported score.
DDR400 Performance
Other DDR400 2-2-2 memory is identified by green bars for easier comparison.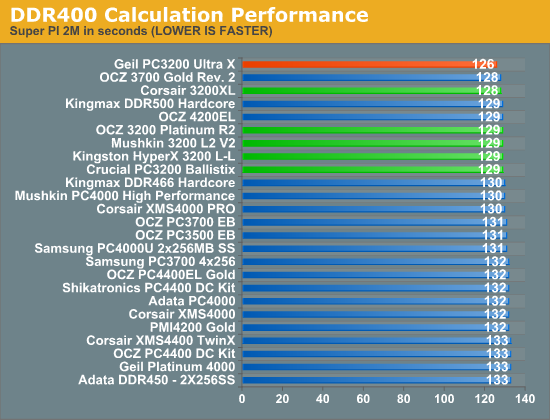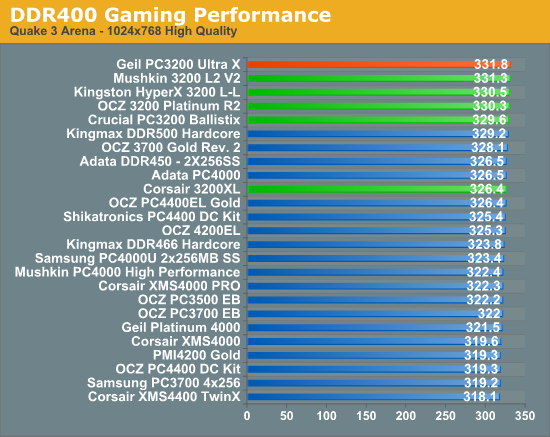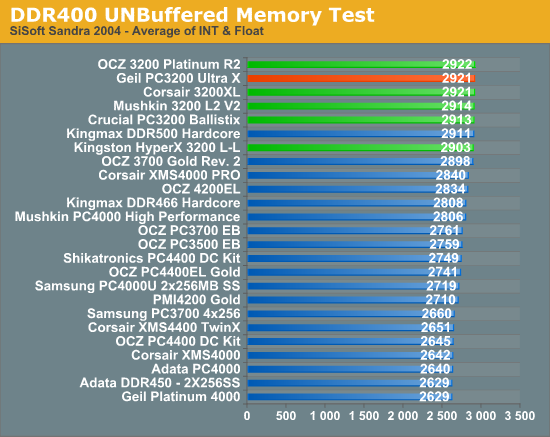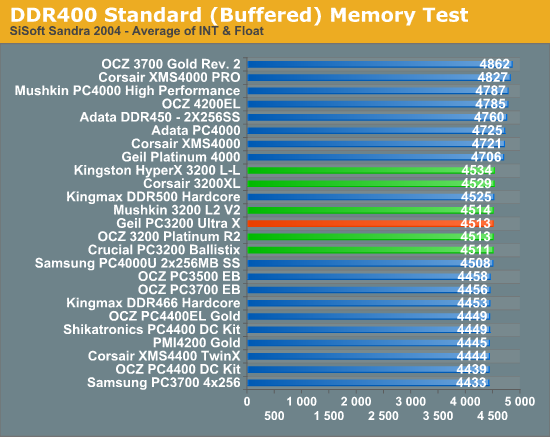 DDR433 Performance
Other DDR400 2-2-2 memory is identified by green bars for easier comparison.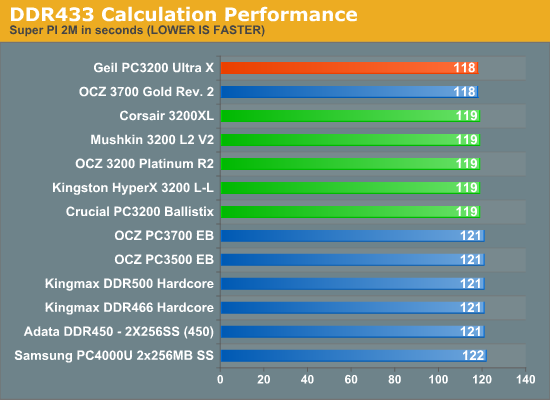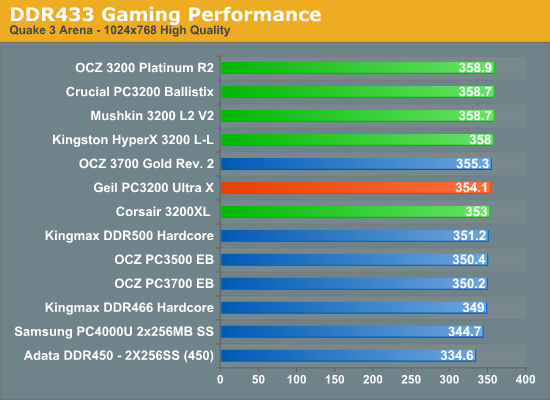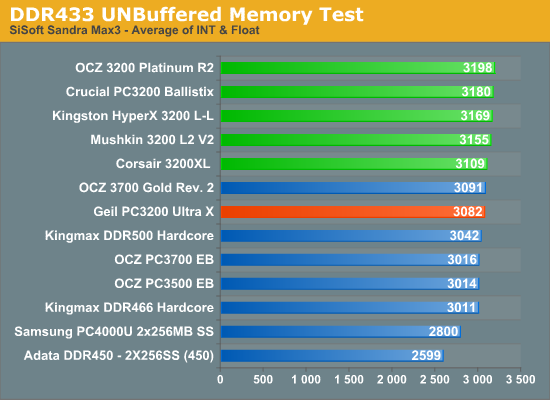 DDR466 Performance
Other DDR400 2-2-2 memory is identified by green bars for easier comparison.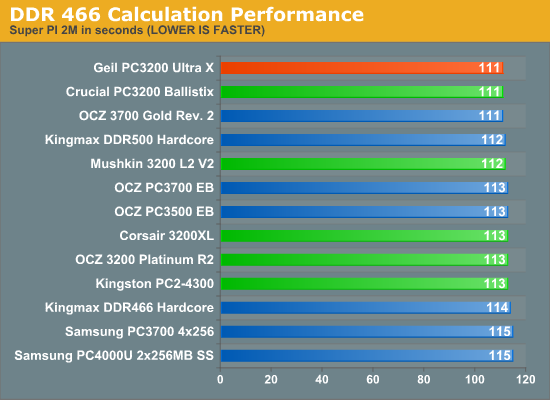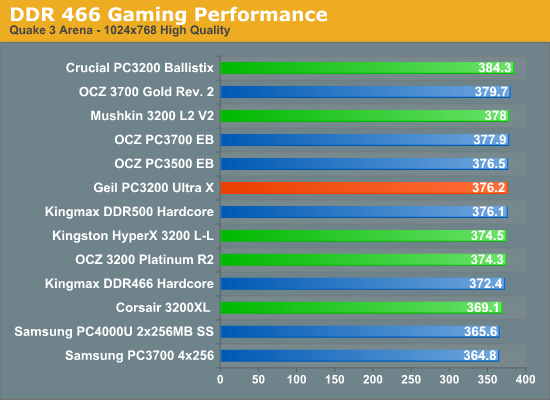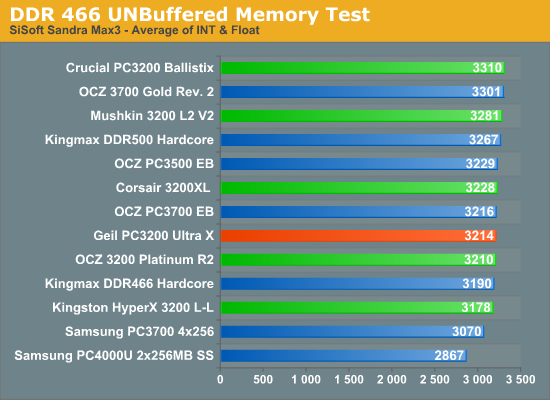 DDR500 Performance
Other DDR400 2-2-2 memory is identified by green bars for easier comparison.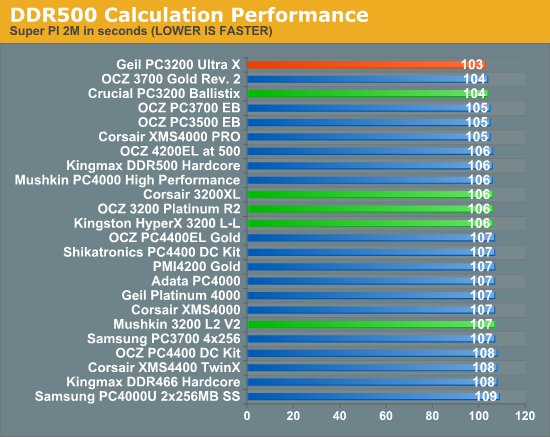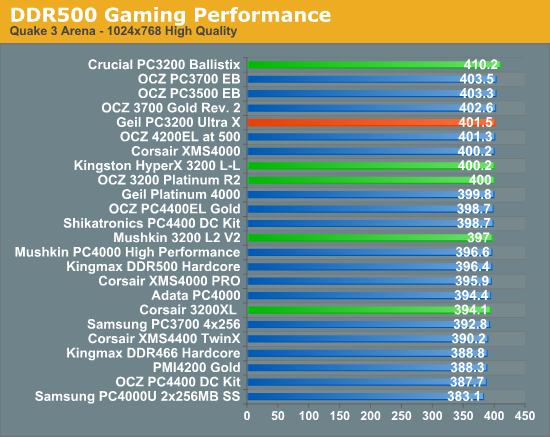 DDR533 Performance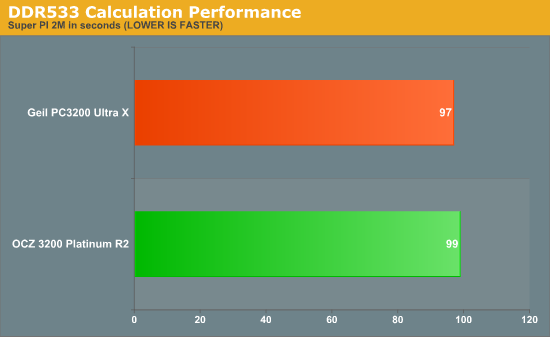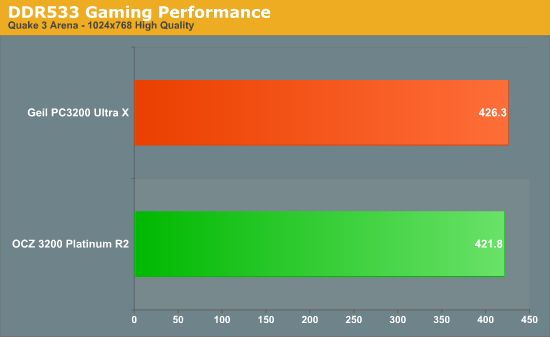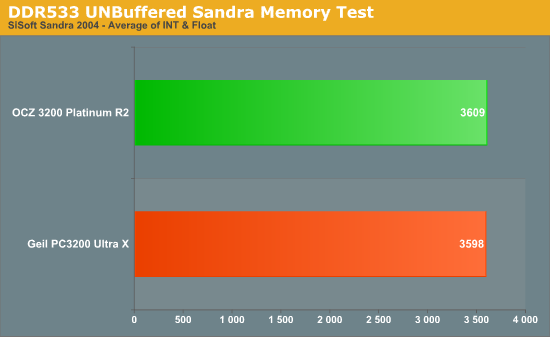 Highest Memory Speed Performance
Other DDR400 2-2-2 memory is identified by green bars for easier comparison.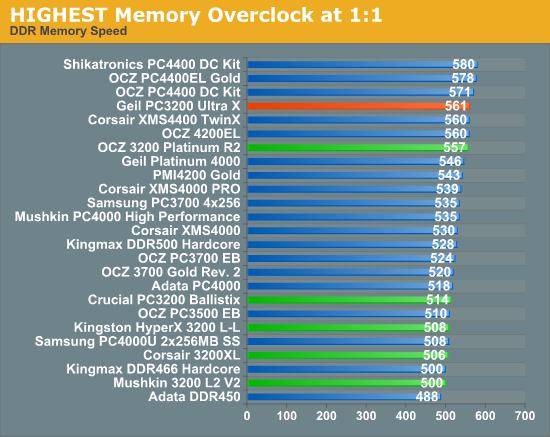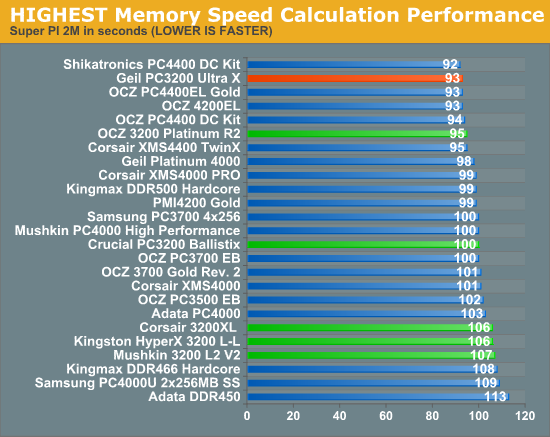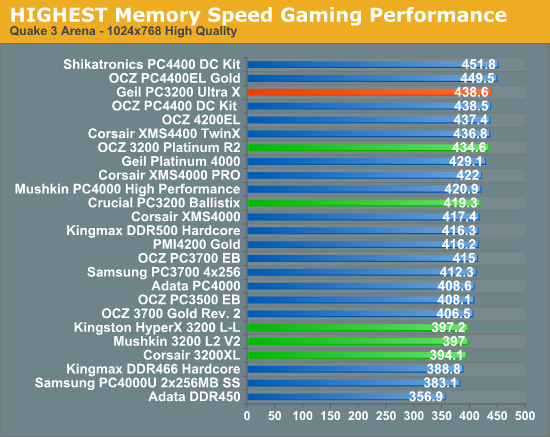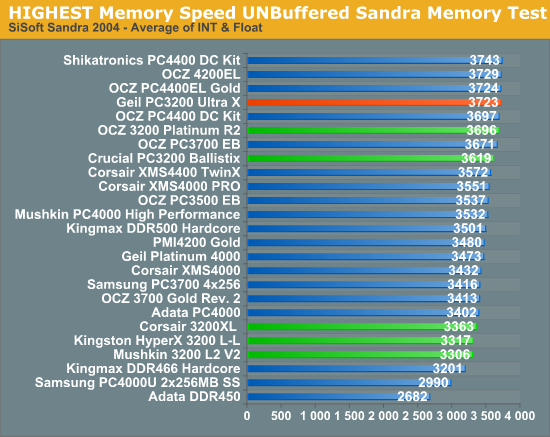 Final Words
Geil PC3200 Ultra X competes in every way with the fastest DDR memory we have ever tested. At DDR400, it is the fastest memory we have tested. In the 433 to 500 range it is competitive with the best memory we have tested. Finally, in the all important bandwidth area, the Geil Ultra X establishes a new record by reaching the speed of DDR561, which can only be considered an astounding range for a memory rated at DDR400. The Ultra X is one of the best memories ever tested at AnandTech and can be recommended to anyone looking for a fast DDR400 memory, which has the added advantage of such a wide bandwidth that it can also power a system overclocked to DDR550 with ease.
It is interesting that the fastest DDR memory we have tested is hitting the market just as Intel attempts to move its platforms to DDR2. We have already seen that DDR2-533 performs about the same as fast DDR400 to DDR433, so these new fast DDR modules keep DDR very much in the memory competition. These latest DDR400 2-2-2 memories are not just replacements for discontinued Winbond chips, as they provide performance and range that were only dreamed of when Winbond was king of high-speed memory. For the first time you can really choose from several DDR memories that do just about everything well - from the lowest latency at DDR400 to a broad bandwidth that will satisfy most users to beyond where their processors allow them to go. The only thing we might wish for is memory that will also do DDR500 at 2-2-2. The Geil won't do this, but the DDR500 timings it will do are much better than many DDR500-rated modules can actually achieve.
Our recommendations do not really change from our
DDR400 2-2-2 roundup
, but we do need to add Geil Ultra X to the highly recommended. Crucial Ballistix stills achieves the fastest timings we have seen across the bandwidth, but Geil Ultra X joins OCZ PC3200 Platinum Rev. 2 as a memory with the broadest bandwidth yet seen with any memory - particularly a memory rated at DDR400. Geil even surpasses the excellent OCZ Platinum Rev.2 by a few MHz at the top, but performance is close enough they should be considered basically equivalent, which is very high praise for Geil Ultra X.
The nice thing about the wealth of excellent choices in DDR400 2-2-2 memory is that the buyer finally gets to look at value in their DDR400 2-2-2 purchase. Since all of the DDR400 2-2-2 we recently tested goes to DDR500 you can shop for price among the seven available memories with assurance you will get the fastest DDR400 timings possible, with bandwidth to at least DDR500. If you want the widest bandwidth possible then you can choose between the Geil PC3200 Ultra X tested here and the equally excellent OCZ PC3200 Platinum Rev. 2.
In the more difficult area of memory for the Athlon 64, the Geil brings nothing new to the table. We found it behaved like Samsung memory tested in our roundup on the Athlon 64 platform, which means it tops out MUCH lower on the A64 than the Intel platform. Consider the A64 limit to be around DDR466 with this Geil Ultra X. That means for Athlon 64 systems, your best choices are still Crucial Ballistix or other Micron-based memory like OCZ 3500EB or 3700EB. The Micron-chip memory performs the same in our tests on either Intel or Athlon 64. If you prefer Samsung chips for your A64, then OCZ PC3200 Platinum Rev. 2 was the only Samsung dimm to reach DDR500, which was still far short of the DDR557 it reached on the Intel 875 platform.