Original Link: http://www.anandtech.com/show/1439


Introduction
The world has long been used to seeing desktop performance and graphics capabilities increase at incredibly high rates. We have also borne witness to the fact that integrated and mobile graphics have lagged desktop performance by a significant amount. While integrated graphics still trail modular graphics performance by at least a generation in features (and closer to 2 generations in performance), summer '04 sees the introduction of a mobile graphics part from ATI that will change the face of notebook graphics as we know it.
The ATI Mobility Radeon 9800 GPU marks the first time bleeding edge desktop technology has pushed its way into the mobile market only one quarter after its desktop R420 counterpart. In fact, the MR9800 debuts even before we see reasonable availability of the X800 line, but that's a whole other article.

We've been able to get our hands on a Dell XPS system equipped with the new MR9800 GPU. As this part marks the new face of desktop replacement graphics, the MR9800 will be pitted against our desktop GPUs in this exploration. We haven't included any other notebook graphics in this review both because we didn't have a module readily available to drop into the XPS for comparison purposes and there simply isn't anything out there that performs comparable to this part in the notebook space. Traditional notebook graphics are targeted at low power first and everything else second, which isn't what is needed or wanted in the DTR space (which often times uses desktop parts rather than mobile parts).
The future will see more mobile GPU reviews using the same game suite as our desktop GPU reviews. For now, let's move on to the MR9800 and take a peak under the hood.
Good Things in Small Packages
As indicated earlier, the ATI Mobility Radeon 9800 is based on the R420 core, which powers ATI's latest X800 line of GPUs. In the past, naming may have been a bit of a stretch in terms of comparing mobile graphics solutions with their desktop counterparts, but this time around, the MR9800 bests the desktop 9800 cards in feature set (and doesn't fall that incredibly far behind in performance as we'll soon see).
The MR9800 actually supports all the features of the
Radeon X800
, as it is simply a cut down version of the chip with some enhanced power management features. The real difference between current X800 GPUs on the market and MR9800 is in pixel/vertex pipelines featured. The new mobile chip has 8 pixel pipes and 4 vertex pipes. This also makes the MR9800 look more like a desktop 9800 in fillrate and processing power per clock cycle (though the R420 core will be more efficient). ATI also points to their new chip as the first mobile part to support 256MB of memory using a 256bit wide memory interface. This feature is also a result of the larger power budget available to ATI when targeting the DTR space.
To get a good idea of what's under the hood of MR9800 (and just how alike the desktop X800 really is), here's a block diagram of the chip from ATI's presentation on the part: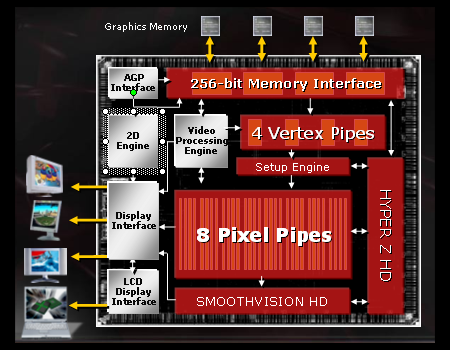 Even though ATI had a larger power budget to work with than usual, they couldn't ignore the fact that people will want to be able to use the battery in their system at some point, and thermal and power management both still play a large role in the DTR space. In order to satisfy these needs, ATI's mobile team worked alongside their desktop team to bring power and thermal management features to MR9800 through the R420 design cycle. This allows the R420 to fully support ATI's Powerplay technology right out of the fab. This is why we're seeing the release of a mobile R420 part so soon after the desktop release.
Powerplay is made up of a couple different features. To highlight, we'll touch on a few here. With Power-on-demand, ATI can dynamically adjust clock speeds and voltages based on the usage of the GPU at any given time. This will help to extend battery life when not pushing the graphics subsystem, as will user controlled GPU power management settings. Another important power/thermal management feature of Powerplay is Clock Gating. This amounts to the ability of the GPU to turn off parts of itself when not in use. The granularity of this capability is illustrated in the following slide from ATI's presentation: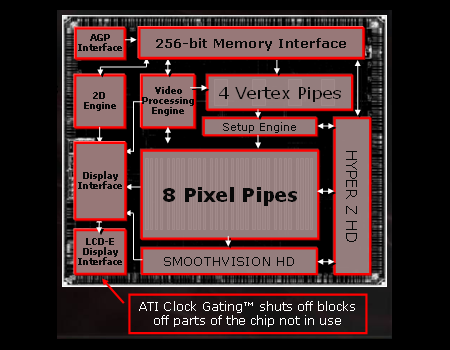 We know that in the past, in order to play video, ATI couldn't completely turn off the 3D pipeline, but we are not sure if they have altered this limitation in the MR9800. We'll look into the matter in the future, but this question should answer itself (in video playback tests) when we start seeing reviews of notebooks featuring this GPU.
That does it for the technical details; it's time for some numbers.
The Test
All of our MR9800 tests were performed in a retail version of Dell's newest XPS desktop replacement notebook, and are compared against desktop graphics cards that were run in our standard GPU test platform.
Performance Test Configuration
Processor(s):
AMD Athlon 64 3400+
RAM:
2 x 512MB OCZ PC3200 (2:2:3:6)
Hard Drives:
Seagate Barracuda 7200.7 120GB PATA
Video AGP & IDE Bus Master Drivers:
VIA Hyperion 4in1 4.51
Video Card(s):
ATI Mobility Radeon 9800
ATI Radeon X800 Pro
ATI Radeon 9800 XT
ATI Radeon 9700 Pro
Video Drivers:
ATI Catalyst Beta (MR 9800)
ATI Catalyst 4.6 (x800)
ATI Catalyst 4.4 (9800/9700)
Operating System(s):
Windows XP Professional SP1
Power Supply:
PC Power & Cooling Turbo Cool 510
Motherboards:
FIC K8T800 (754 pin)
The specifications for the notebook in which we tested the MR9800 are as follows:
Mobility Radeon 9800 (256MB)
3.4GHz Pentium-4 (Northwood)
2GB DDR400 RAM
80GB HD
The clock speeds of the MR9800 in this notebook are set to ATI default spec: 350MHz core, 300MHz mem. As the memory is DDR, we see a 600MHz effective data rate on the memory for this part.
Unfortunately, our desktop system is generally faster than the laptop. In order to really see the relative performance of the MR9800 to the X800 (or any other part for that matter), we would need to test those graphics cards in a slower Intel desktop platform. If there is demand for this, we may look into doing so in the future. For now, the comparison of this DTR to our desktop test system serves to show the relative performance of the system to an actual desktop computer targeted at gaming. In order to help alleviate this comparison problem, we refrain from including anything other than ATI parts in our graphs. The differences in performance between the MR9800 and desktop ATI parts will not be as big as it appears when compared in comparable systems.
Aquamark 3 Performance
Aquamark is fairly CPU dependant, so we can really put the MR9800 on par with the 9800 XT. This is very impressive, even if it is only Aquamark that we're talking about.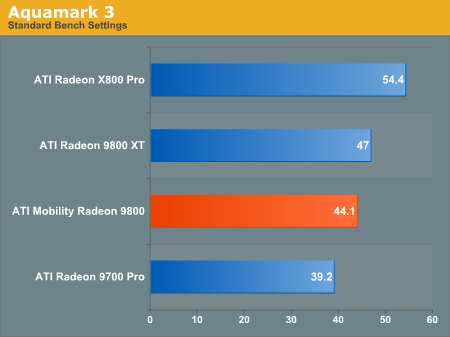 EVE: The Second Genesis Performance
Eve does want a fast system in general, and this time around, the MR9800 is comparable to the 9700 Pro. We do see a bit more of a drop in performance when enabling 4xAA/8xAF, but 16 fps is actually playable in EVE (though we'd still recommend running without AA/AF enabled for a smooth visual experience here). We don't have anything to compare it to (as we didn't run the other cards at this resolution), but the MR9800 is capable of playing this game at the display's native resolution of 1920x1200, which looks beautiful and runs fine without AA and AF on.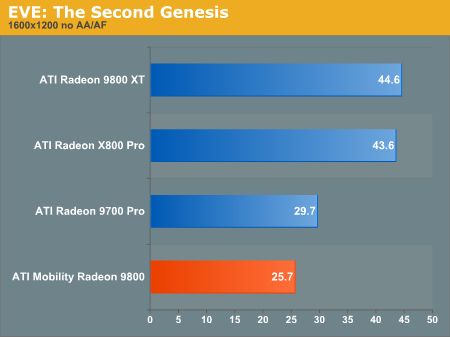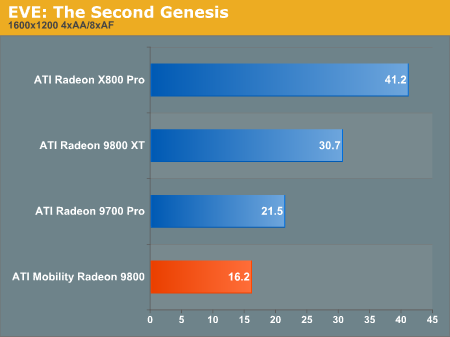 F1 Challenge '99-'02 Performance
Again, the MR9800 holds its own against our desktop parts in faster systems. We would say that the MR9800 falls closer to 9800 XT performance in this benchmark, but again, though this game is playable with 4xAA/8xAF, it may be more prudent to run it without these options (or with only one of the two).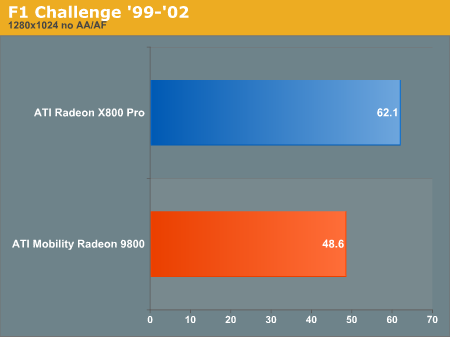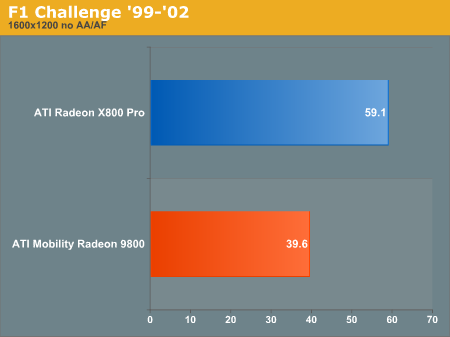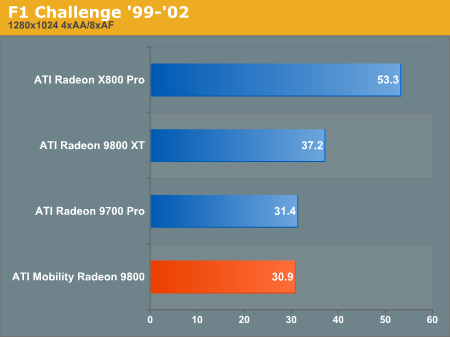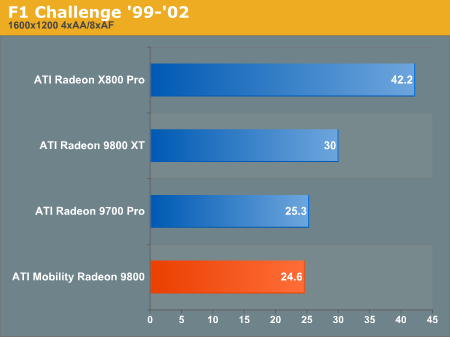 FarCry Performance
In a very impressive showing, the MR9800 does better than the desktop 9800 XT even when paired with a slower system under FarCry. Had we used the 1.2 version of FarCry in this test, we would likely have seen even better performance. Play-ability is pushed a bit with 4xAA/8xAF enabled, but these tests were done with the game running on the "very high" settings across the board. If 4xAA/8xAF is a necessity, 1280x1024 should handle it well enough.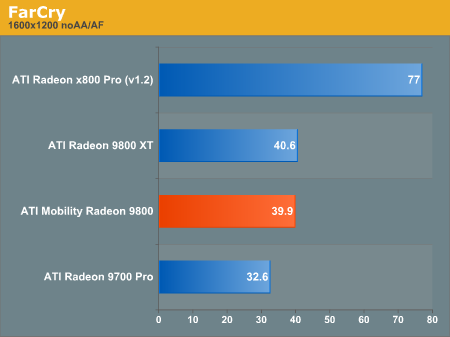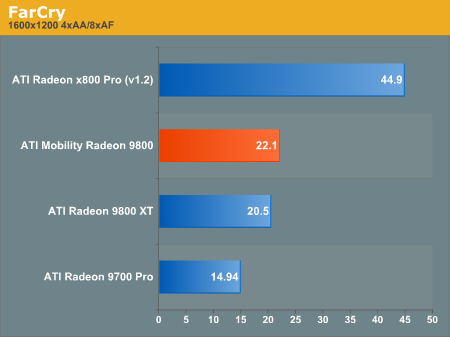 Halo Performance
Performing as well as the 9800 XT, there's no reason to be disappointed with the MR9800's performance under Halo. If 8xAF isn't necessary, higher, more playable, framerates are possible at 1600x1200.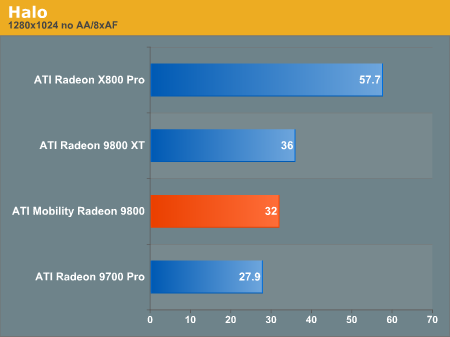 Homeworld 2 Performance
Homewold 2 shows very little impact from increasing resolution with the MR9800, but explaining why this should happen is a bit of a mystery. It may be a power management issue at lower resolutions, as that's where the MR9800 falls further behind the rest of the pack. We will have to look into this further, but for now, we're content to run HW2 at 16x12 with 4xAA/8xAF.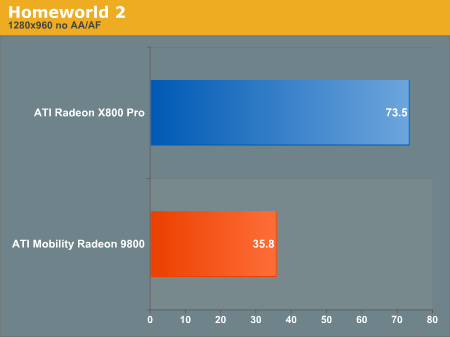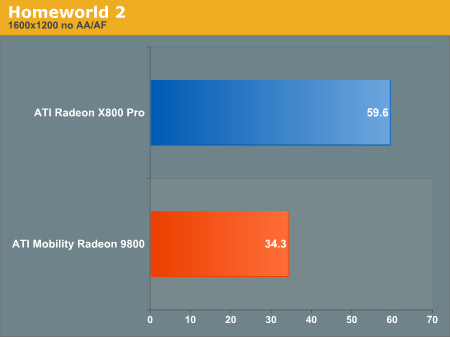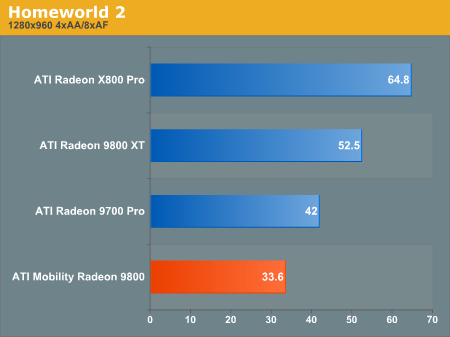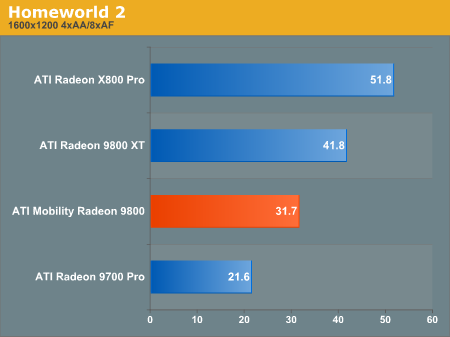 Jedi Knight: Jedi Academy Performance
MR9800 hits the same numbers as the 9700 Pro, but is more resilient with 4xAA/8xAF. Also, remembering that the MR9800 is in a slower system helps to see the continued trend of excellent performance from this powerful notebook GPU.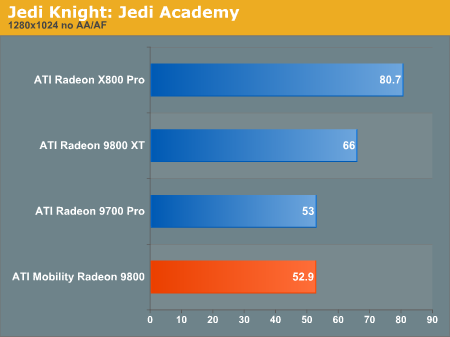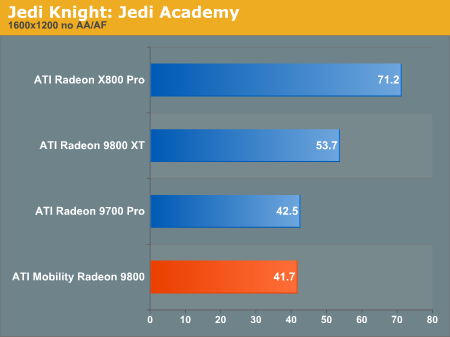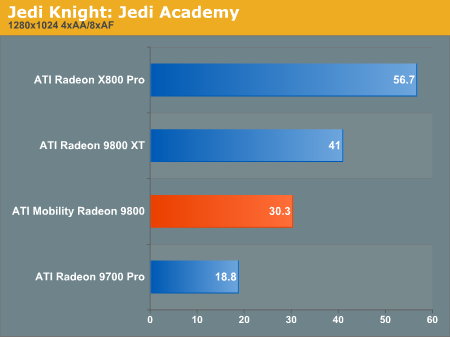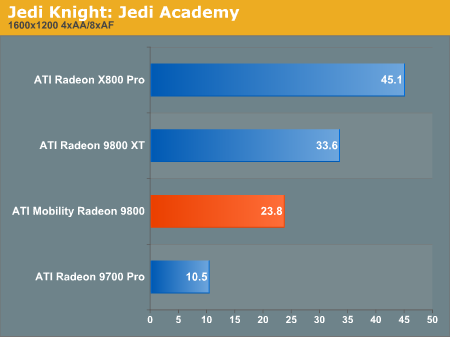 Neverwinter Nights: Shadow of Undrentide Performance
Again, performing at the 9700 Pro level, this mobile chip is nothing at which to shake a stick. Without 4xAA/8xAF, the MR9800 looks like it would have done better against the other cards.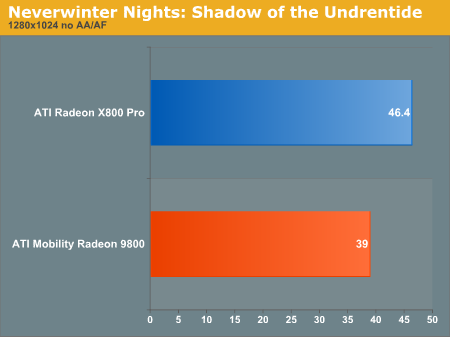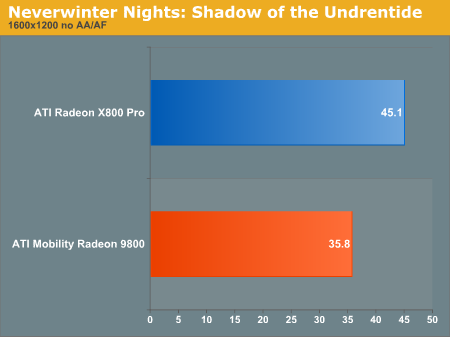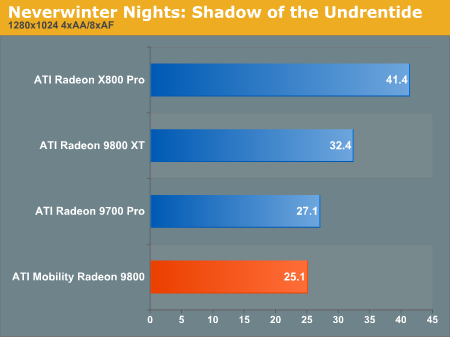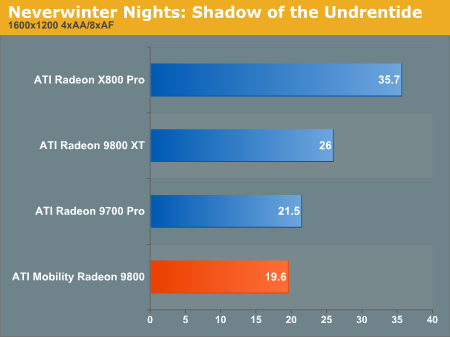 Unreal Tournament 2004 Performance
Once again, the MR9800 is very close in performance to the desktop 9800 XT, especially as AA and AF are enabled and resolution is increased.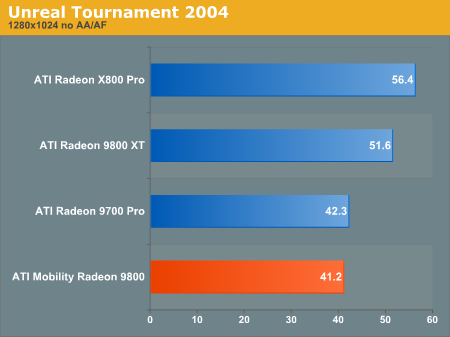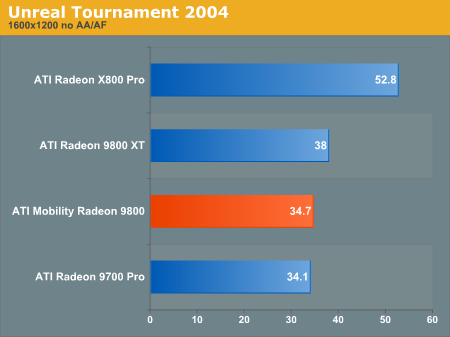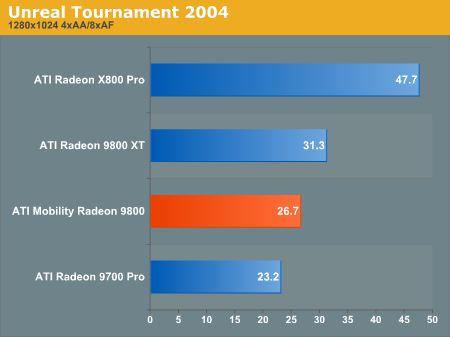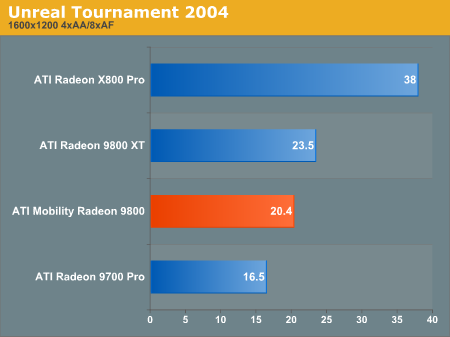 Warcraft III: Frozen Throne Performance
While the MR9800 falls the furthest behind the rest of the pack in this benchmark, this is also one of the more CPU limited benchmarks as well, and the slower P4 may be holding back the MR9800 here. Either way, higher frame rates with no loss in visual quality is achievable by enabling OpenGL rendering in this game - not that higher frame rates are needed.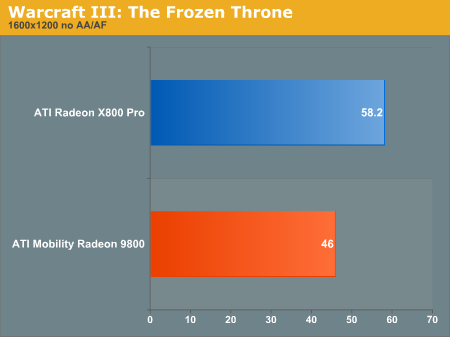 Wolfenstein: Enemy Territory Performance
Performance on the low end here, again, may be due to driver or power management issues (WolfET and HW2 are both OGL games), but we aren't certain, as the other Q3A engine game (JKJA) didn't show similar signs. Performance on the same level as the 9700 Pro in a notebook is still nothing to sneeze at.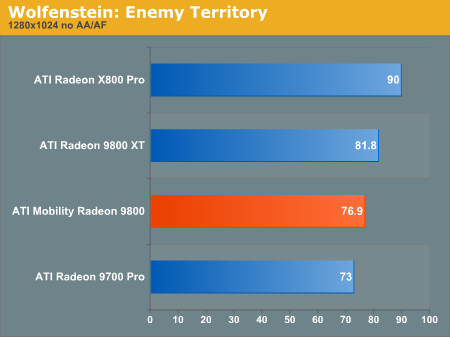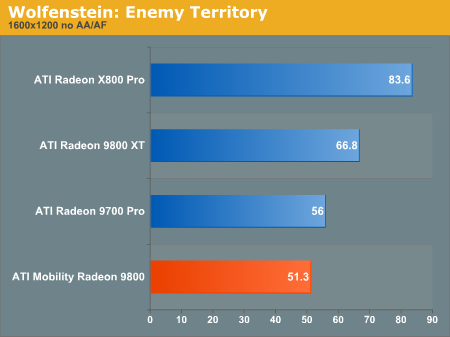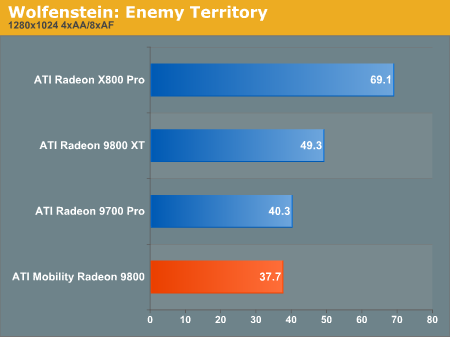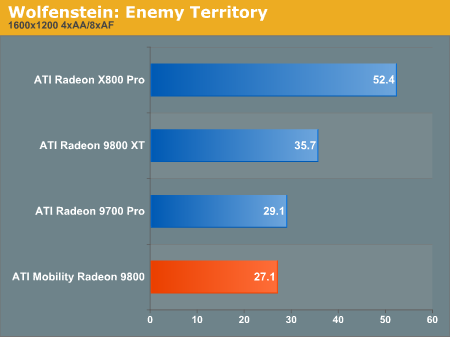 X2: The Threat Performance
Once again, very solid performance from the MR9800.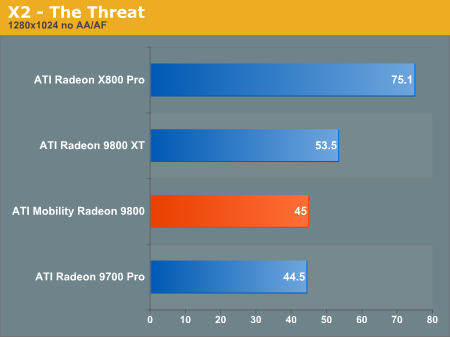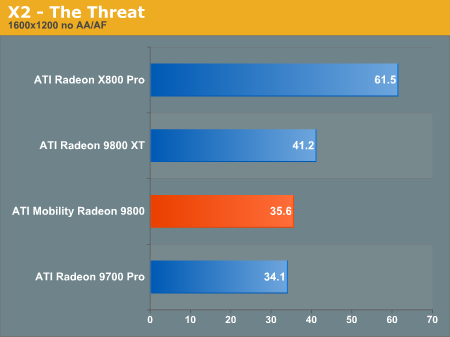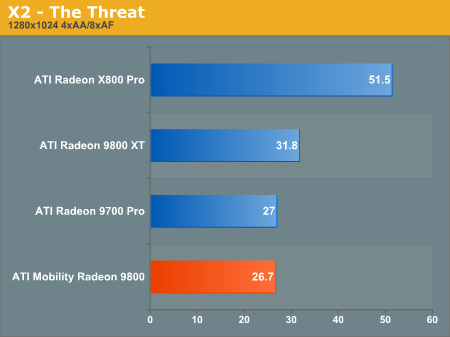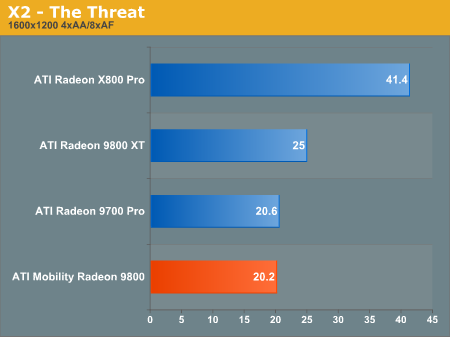 Final Words
We have been very satisfied with our MR9800 experience. For quite a while, we have called for high performance graphics options to make their way into the mobile market for those who are willing to trade battery life and heat for added performance. Not everyone who wants mobility also needs long battery life. Notebooks are much more portable than SFF computers, and we finally have a notebook option that is a viable solution for the LAN party crowd.
Additionally, pushing higher performance options requires companies to really think hard about power management. Necessity is the mother of invention, and if the market requires high performance mobile computing, companies will have to build a better mouse trap (or at least a lower power GPU) to grab design wins.
And performance isn't the only factor. The fact that we are seeing the level of compatibility and feature set of the desktop move into the mobile space faster than we've even seen new mid-range and budget parts make it into the market from everyone is very impressive.
We would definitely like to see this, or similar parts, make its way into more notebooks.
The only real complaint that we can levy against ATI is that their notebook drivers are still lagging the desktop. Now that we've seen the hardware catch up, we'd like to see the software follow suit. ATI's new driver every month scheme might not work well for the notebook market (and is arguably not the best thing in general), but pushing notebook vendors to issue quarterly releases that match ATI's desktop counterparts would be a welcome addition to the already incredible setup that ATI is gathering together.
To be fair, we haven't yet seen what NVIDIA is bringing to market on the mobile side. From what we are hearing, they are planning on pushing a lot of power out to the DTR market as well, which should make for very exciting competition. Right now, we'll have to leave the question hanging in the air, much as we left it after NVIDIA launched the 6800 Ultra. Will the competition be able to close the performance/feature set gap? Only time will tell.
Now that all our mobile dreams are coming true, we will have to shift our focus back to begging companies to start offering competitive, performance-oriented, integrated desktop graphics solutions.