Original Link: http://www.anandtech.com/show/1437


As more experience is gained with the new Intel 775 Socket T, it is clear that the processors and the Socket work just fine. They also offer performance advantages over the Prescott in Socket 478. The other advantage is the future, since the 560 (3.6GHz) and the coming faster processors will only be available in LGA 775.
Many users, however, have a tough time swallowing all that goes with the new 925X/PCI Express/DDR2 architecture, since it requires a new, hard to find video card for PCI Express plus brand new DDR2 memory. Some users would like to move to a new Intel LGA 775 processor, but they can't handle the requirement to upgrade almost everything in their system. That is exactly the user who will welcome the introduction of the Soltek SL-865Pro-775.
The Soltek 865-775 uses the new 775-pin Prescott socket, but it is driven by last generation's familiar Intel 865PE/ICH5 chipset. This means you can use your existing AGP 8X video card and DDR memory with a new Intel Prescott chip. This reduces the cost of entry to the new Socket T to the cost of the motherboard and CPU, something most users are much more willing to handle.
The question with any hybrid solution like this is how it performs? Are there performance penalties in combining the 865 with Socket 775? How does the Soltek 865Pro-775 compare in performance to a new 915 or 925X motherboard?
It is a real challenge to bring you information on all the new motherboards that AnandTech receives. Our standard in-depth motherboard reviews require a great deal of time in testing since we dig deeply into layout, BIOS, and the company's warranty/RMA policies and procedures. There is simply not enough time to cover every motherboard to that level of detail.
Going forward, the full AnandTech motherboard reviews will be reserved for new, significant, or particularly noteworthy motherboards and memory that are coming to market. The other interesting products will be covered in FIRST LOOK reviews.
With FIRST LOOK we will be bringing you a more condensed review of new computer equipment. Since you expect AnandTech to objectively test and compare equipment, First Look will have an abbreviated, but representative, suite of DX8, DX9, and Open GL games. General Performance and Encoding will be reported by comparing Future Mark 2004 scores. FIRST LOOK reviews are not intended to be in-depth. They will concentrate on the unique features of a new product to bring you more information faster.
Soltek SL-865Pro-775
Motherboard Specifications
CPU Interface
Socket 775 Pentium 4 (Prescott)
Chipset
Intel 865PE/ICH5
Bus Speeds
200MHz to 327MHz (in 1MHz increments)
PCI/AGP Speeds
33.33/66.66, 36.36/72.73, 40.00/80.00
DDR Speeds
Auto, 400, 333, 266
Core Voltage
0.85V to 1.80Vin 0.0125V increments
DRAM Voltage
Auto, 2.6V to 2.9V in 0.1V increments
AGP Voltage
Auto, 1.5V to 1.8V in 0.1V Increments
Memory Slots
Four 184-pin DDR400/333/266 Slots
Dual-Channel Unbuffered Memory to 4GB
Expansion Slots
1 AGP 8X Slot
5 PCI Slots
Onboard SATA/RAID
2 SATA 150 drives by ICH5
2 SATA drives by Promise PDC20579
Promise Drives ONLY RAID 0,1,JBOD
Onboard IDE/RAID
Two ATA100/66 by ICH5 - 4 drives

Plus One ATA 133/100/66 (Promise) - 2 drives
Promise Drives ONLY RAID 0, 1, JBOD)
Onboard USB 2.0/IEEE-1394
8 USB 2.0 ports
IEEE 1394 FireWire Ports by VIA VT6307
Onboard LAN
2 X Gigabit PCIe LAN
Both by Marvel 88E8053
Onboard Audio
Realtek ALC650
6-Channel AC'97 2.2 Compliant
Tested BIOS
1.2 Beta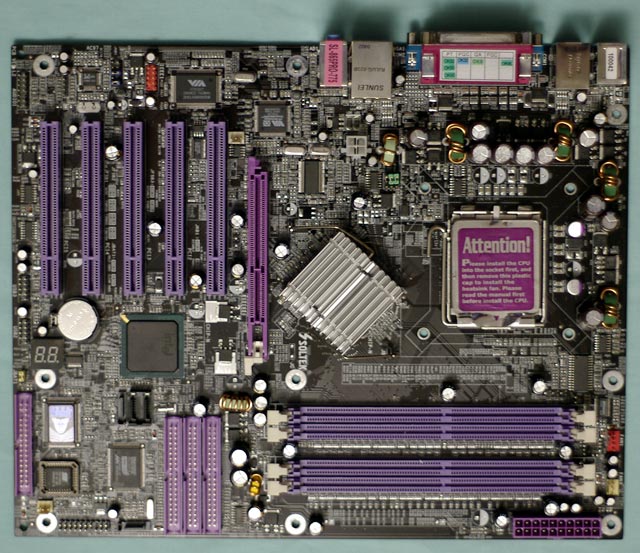 The Soltek 865PRO-775 was designed to compete in price with the better 865 boards for Socket 478, while providing support for the new Socket 775. The feature set is very comparable to other top 865 boards. Soltek did not include the RAID version of the ICH5 southbridge, deciding instead to add additional SATA and IDE RAID ports with a Promise controller. This brings drive support to 4 SATA devices and 6 IDE devices which should satisfy almost any user. Also included are firewire ports and a 6-channel audio codec.
The BIOS controls have wide adjustment ranges that should allow overclockers to push the Soltek to wherever the processor can go.
Overclocking
One of the reasons an 865PE chipset might be useful is because it is one of the best overclocking chipsets ever produced by Intel. At stock voltage we found we could reach 265FSB with a 2.8 LGA 775, or about 3.7GHz, at default voltage. This is one of the best overclocks we have achieved with a Socket 775 processor with a SATA hard drive, and it is certainly an improvement over the 10% OC limitation we are seeing on some 915 motherboards.
We compared the performance of the Soltek hybrid board to performance results with Intel 925X and Intel 915 motherboards. The configuration was kept as close as possible between the 3 motherboards, but we are forced to compare apples and oranges in some cases. We used an nVidia 6800 Ultra video card clocked at 400/1.1 in both PCI Express and AGP 8X configurations to keep hardware as consistent as possible. We are also comparing DDR memory to DDR2, but as we saw in the DDR vs. DDR2 review, the performance of fast DDR400 and DDR533 is very close.
Performance Test Configuration
Processor(s):
Intel 560 (3.6GHz) Socket 775
RAM:
2 x 512MB OCZ PC3200 Platinum Rev.2
(Samsung 2-2-2-5)
2 x 512MB Crucial/Micron DDR2 533
Hard Drive(s):
250GB Maxtor MaXLine III (16MB Buffer)
Video Card(s):
nVidia GeForce 6800 Ultra AGP 8X
nVidia GeForce 6800 Ultra PCIe
Video Drivers:
nVidia 61.77 Graphics Drivers
Operating System(s):
Windows XP Professional SP1
Power Supply:
HiPro 470W (Intel)
Motherboards:
Soltek 965Pro-775 (Intel 865PE) Socket 775
Intel 925XCV (Intel 925X) Socket 775
Intel 915GUX (Intel 915G) Socket 775
General Performance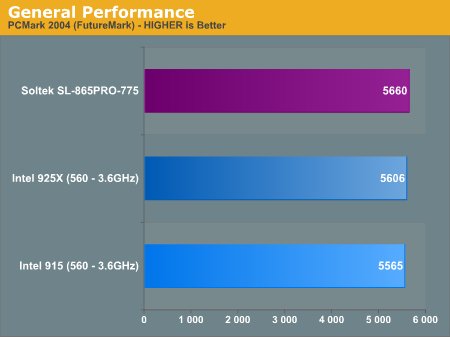 DirectX 9 Gaming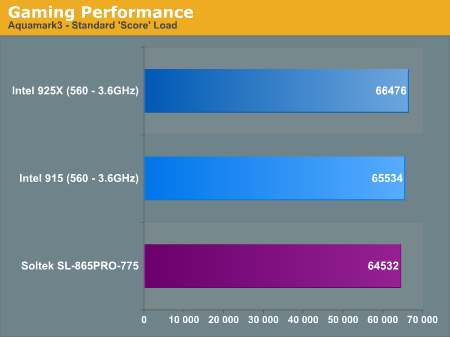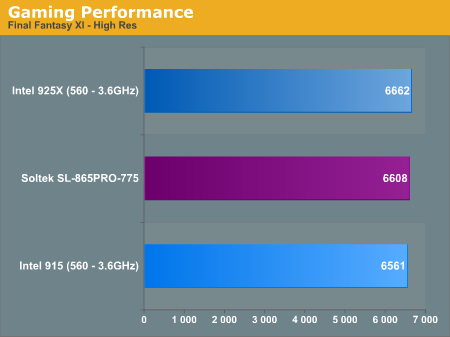 DirectX 8 & OpenGL Gaming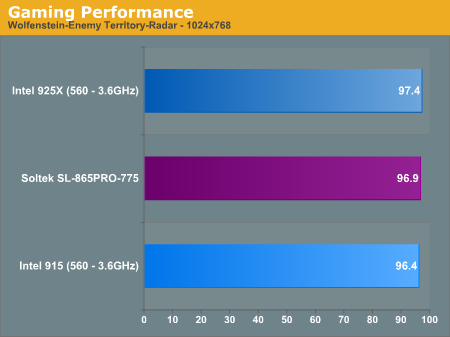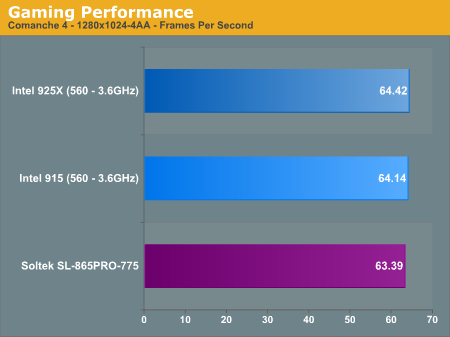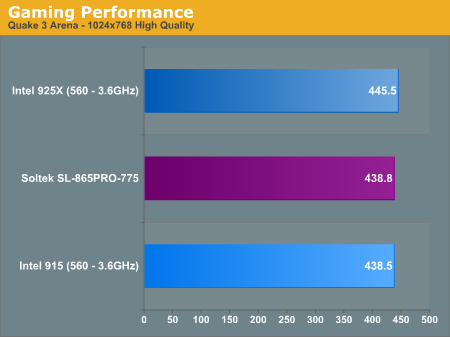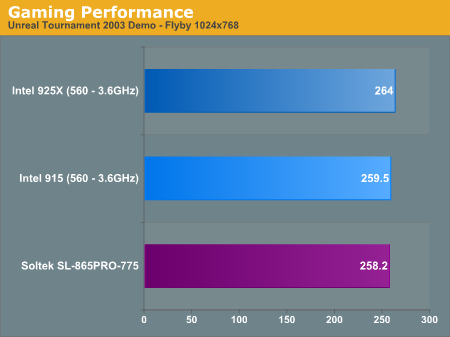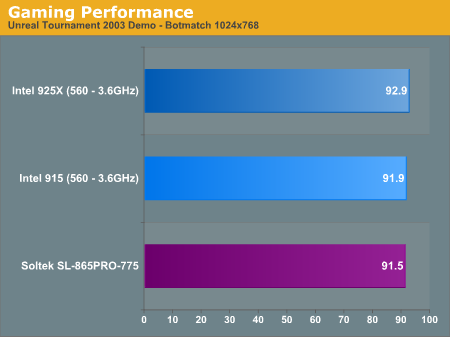 The Soltek SL-865Pro- 775 is exactly what some of you have been looking for. You get to choose a new, faster Prescott LGA 775 processor and still use your AGP 8X video card and fast DDR memory. It is also nice that you can build this hybrid solution without really giving up anything in performance. Across all the game benchmarks and PCMark 2004, the Soltek was certainly competitive with the new mainstream 915 chipset. It either placed between the high-end 925X boards and the 915, or it the performance was right in line with the 915 results. Considering that DDR2 is running at 533 versus the 400 for DDR400, this close performance is pretty remarkable. As we have stated in other reviews, the higher latency of DDR2-533 offsets a lot of the gains from the speed increase.
Soltek positions the 865Pro-775 as a member of their high-end PRO series, and the feature set certainly fits. You get all the standard features found on other 865 boards like SATA and 8 USB ports, plus the enhanced features of additional Promise SATA and IDE ports, two firewire ports, and 6-channel AC97 2.2 audio. The BIOS options also support just about anything an average overclocker might want, which allows the 865Pro-775 to reach overclock levels many 915 boards can not begin to approach.