Original Link: http://www.anandtech.com/show/1416


Introduction
Kicking off what we've dubbed "Doom 3 Week" here at AnandTech, we're bringing you our in depth analysis of video card performance under Doom 3.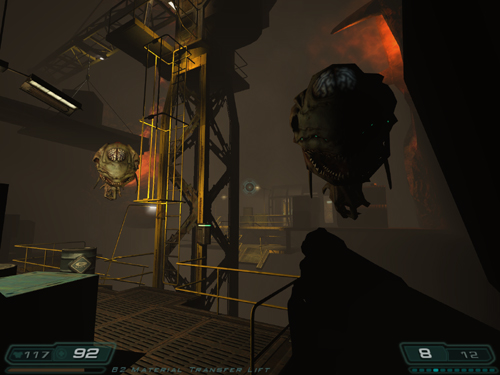 Staying up all night benchmarking one of the most anticipated titles of the past few years has been very educational for us. Quite a few impressions we had about what our Doom 3 experience would be like had to be thrown out the window, and it all comes down to the fact that this is an impressive game no matter how you slice it.
Our goal in this review is to cover all angles of graphics card impact on playing Doom 3. We will explore everything from the ultra high end down to the bargain basement cards. We've also included such favorites as the GeForce 4 Ti 4400, the Radeon 9700 Pro, and the Radeon 9600 XT. All the usual suspects put in an appearance as well to make this one of the most comprehensive graphics tests we've undertaken in a while.
But let's get down to it: we're here for the analysis, so lets take a look at the system we're testing on and iron out the details about what to expect from this review.
UPDATE:
We have recently been made aware of ATI's beta Catalyst 4.9 drivers targeted at Doom 3 performance enhancement. These drivers will not be available in a whql package until September, but until then, here is a sneak peek at percentage performance improvement over the 4.7 drivers:
 Catalyst 4.9 Performance Improvement
 
High 10x7
Ultra 10x7
High 16x12
Ultra 16x12
X800 XTPE
6.75%
8.29%
4.66%
5.21%
X800 Pro
6.87%
8.50%
2.99%
4.09%
 Catalyst 4.9 Performance Improvement w/ 4xAA Enabled
 
High 10x7
Ultra 10x7
High 16x12
Ultra 16x12
X800 XTPE
19.07%
19.80%
14.38%
15.30%
X800 Pro
5.38%
6.18%
1.83%
3.40%
We can see that the biggest performance improvements come on the higher end platform, higher quality setting, higher AA setting, and lower resolution. We were unable to install this driver on 9800 series cards, but we hear that performance improvement on older platforms is less significant than what we see on the x800 series.
UPDATE:
The issues we experienced with the eVGA GeForce 6800 Ultra Extreme have been fixed with an newer version of the card sent by eVGA.com that (among other things) dropped the core clock speed down to 450MHz. We put the card through a grueling series of tests which confirm its rock solid stability under Doom 3. The scores with the new stable revision will be slightly lower than the previous Ultra Extreme (because of the clock speed decerase), but it is still the fastest card we've tested with Doom 3.
The Test
We decided to focus solely on how graphics card selection impacts the framerate of Doom 3 using the built in timedemo utility and prerecorded demo1.demo benchmark. This was done in the interest of getting useable data out as soon as possible. We are currently playing with recording our own demos and testing other aspects of the game. From what we've seen so far, it seems like demo1 and the timedemo utility report an accurate picture of performance.
In order to eliminate as much bottleneck as possible from the system, we went with our overclocked FX53 in the 939 platform. After having gathered data for this and other reviews we are working on, our overclock may have had more impact if we had pushed the RAM of the system rather than the multiplier of our processor. But that's another article.
 Performance Test Configuration
Processor(s):
AMD Athlon 64 FX53 (oc to 2.6GHz)

RAM:
2 x 512Mb OCZ 3500 Platinum Ltd (2:3:2:10)
Hard Drives
Seagate 120GB 7200 RPM (8MB Buffer)
Video AGP & IDE Bus Master Drivers
VIA Hyperion 4.51
Video Card(s):
NVIDIA GeForce 6800 Ultra Extreme
NVIDIA GeForce 6800 Ultra
NVIDIA GeForce 6800 GT
NVIDIA GeForce 6800
NVIDIA GeForce FX 5950
ATI Radeon X800 XT Platinum Ed.
ATI Radeon X800 Pro
ATI Radeon 9800 XT
NVIDIA GeForce FX 5900 Ultra
NVIDIA GeForce FX 5700 Ultra
ATI Radeon 9800 Pro 128
ATI Radeon 9700 Pro
ATI Radeon 9600 XT
NVIDIA GeForce FX 5500
ATI Radeon 9200
NVIDIA GeForce 4 Ti 4400
Video Drivers:
ATI Catalyst 4.7
NVIDIA ForceWare 61.77
Operating System(s):
Windows XP Professional SP1
Motherboards:
MSI MS-6702E (VIA K8T800 Pro Chipset)
Our tests are divided into sections that reflect the general performance capabilities of the cards tested. For example, High End consists of current generation cards such as the X800 Pro and 6800, Low end consists of much older or very low performance cards like the GF4 Ti 4400 and the Radeon 9200. Midrange is essentially everything in between and is the largest category with the most tests.
High End Tests: Tourney
In this section, we will be taking a look at Ultra Quality performance, as well as various high resolutions and antialiasing settings. These are the only cards that can handle 1600x1200 or antialiasing. Though jaggies aren't a big problem (the artists designed the game very well with many low contrast edges), eliminating these minor annoyances is a luxury afforded to those with these latest generation power houses.
To clarify an issue we've noticed across the board, Ultra Quality runs perfectly fine on current generation high end hardware. Yes, the game recommends >500 MB of nice fast graphics RAM, as do we if one's intention is to play through the single player game. But, it is very important to note that all the multiplayer maps we've played on in the past few hours have been small enough to avoid the massive swapping that occurs when moving between parts of the world on the single player map.
This really means two things to us. When 512MB cards come around, we won't need any heavier artillery on the GPU side to tackle rendering the game. It also means that
Deathmatch players can easily benefit from the Ultra Quality setting immediately
.
Not all tests are without problems, and this time we experienced some issues with our 6800 Ultra Extreme part. We noticed visual artifacts as we were running our AA tests. These kept getting worse as time went on, and not even letting the card cool down would help fix the problem. Eventually, our system rebooted while we were testing and wouldn't get through another benchmark run. John Carmack has spoken of possible issues when overclocking a graphics card with Doom 3, and this may or may not have an impact on factory overclocked parts. We will absolutely keep our ears open and our test beds working to try to determine if this is just an isolated random GPU death, or if there is some other evil at work.
Another intersting observation we've made is that if your 6800 Ultra Extreme can handle the game, Ultra Quality at 1600x1200 with 4xAA is a playable reality. But enough talk; feast on the numbers.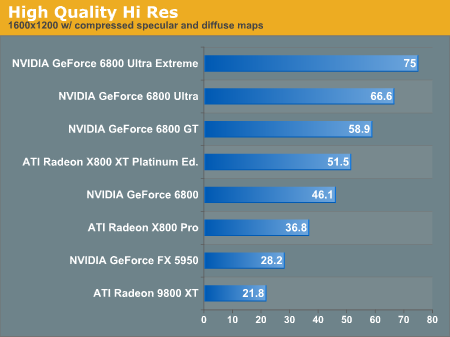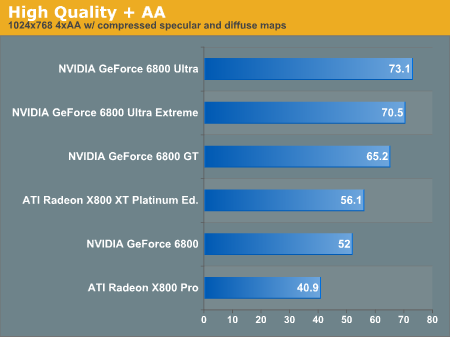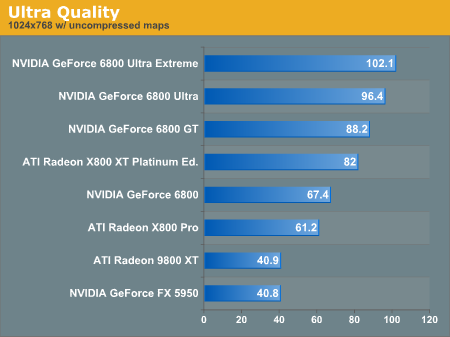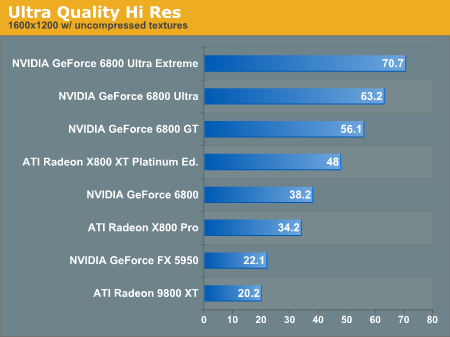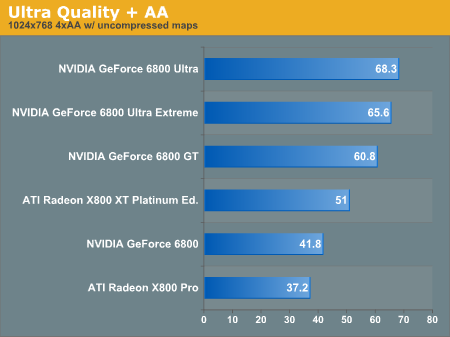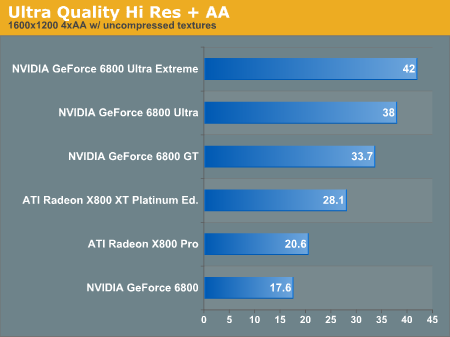 Midrange Tests: Team DM
Here we will take a look at most of the cards in people's computers today. Included in this catagory are last generation's midrange and high end $500 cards (as those have now been relegated down in performance due to NV40 and R420).
The first graph we will look at ties the high end cards down to this level and shows just how much punch these guys pack in relation to the rest of the line up.
All the cards in this section are playable at 1024x768 with all the advanced options on at each of the first 3 quality settings with the exception of the 5700 Ultra and 9600 XT. In some cases these cards are borderline, but we really don't feel that any less than 40 frames per second is playable in this game (and we would perfer 45).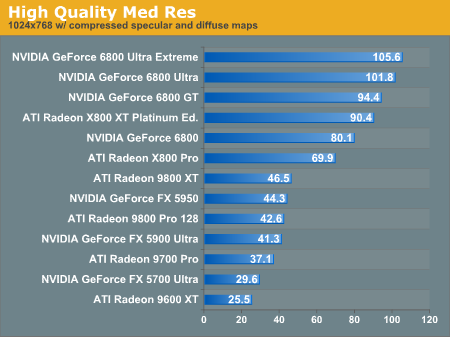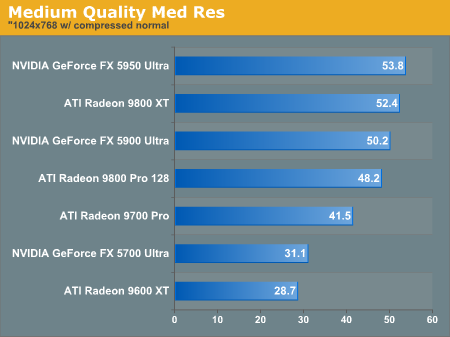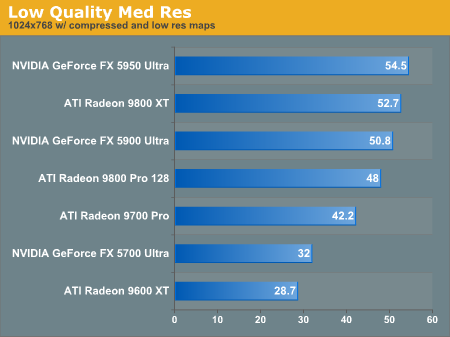 Low End Tests: Last Man Standing
And finally, we have the low end budget cards and previous generation equipment. We ran these tests at the default resolution set by each of the first three quality settings. We ran the High Quality setting, as last years midrange cards almost make our playable frame rate list. For some, this may be close enough, but we really want to see that 40-45 frames per second average before we call it rock solid.
At Medium quality, the GeForce 4 Ti 4400 falls in our playable range, which is very impressive for such an old card. Medium quality still looks great, and even with the quantization visible on lighted surfaces (especially in specular highlights) is still aeons beyond what one would expect this venerable card to handle. The id team has certainly out done themselves with quality support for previous generation hardware while building in plenty of scalability.
Though we didn't test it here, the best setting for both the 5700 Ultra and 9600 XT is Medium Quality at 800x600, as it gives the best performance and balance of visual experience.
Another bit of goodness to take away from these tests is that Low Quality and Medium Quality really don't show a tangable difference on these cards. There is absolutely no reason to run Low Quality on any card that has more than 64MB of RAM. This means that textures won't be resized, though some quantization may be evident from the compression used on normal, specular, and diffuse maps.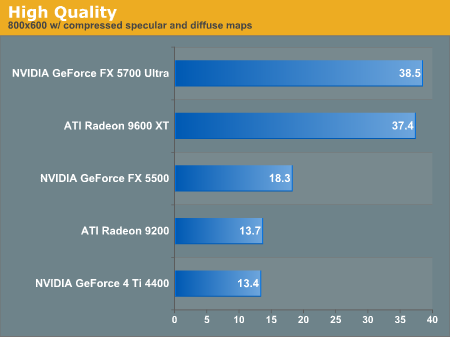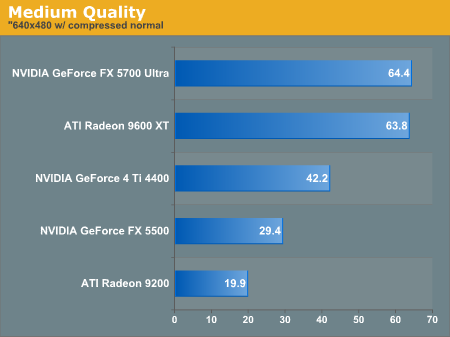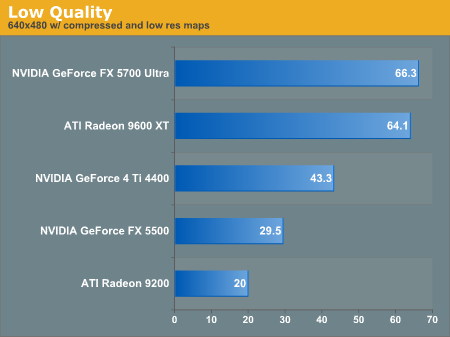 Final Words
This is the first game we've seen in a long time that has impressed us with amazing visual quality running at 640x480. The incredible artwork and unbelievable programming that went into this game are nothing short of awesome.
Summing up the data we've collected is almost impossible, as the value in the numbers varies infinitely based on one's perspective. We are always most interested in value here at AnandTech, and far as bang for Doom3 dollar, the 6800 or 6800 GT are very solid options. Unfortunately, availability of these parts may not be high enough to get one of these NV40 based cards into everyone's hands.
The absolute fastest card we've seen for Doom 3 has been the 6800 Ultra series of cards. Though, after experiencing multiple issues with our eVGA Ultra Extreme part (it won't make it through one benchmark run at GT speeds anymore), we are reminded of John Carmack's comment about Doom 3 taxing graphics cards in ways beyond current games and that this fact may cause problems for those who overclock their cards. Could this cause issues with factory overclocked cards, or is our experience just an unfortunate coincidence? Only time will tell, though Doom 3 will be our new graphics overclocking benchmark just to make sure we aren't pushing our cards too high in future vendor reviews.
The most important thing to take away from all this is that most will not likely "need" to upgrade their graphics solution in order to play this game at acceptable quality. Of course, by acceptable, we mean that a drool rag may be required to prevent damage to your keyboard. Yes, the game does look better, smoother, and insanely good at higher resolutions and quality settings (though the jump from High to Ultra Quality doesn't have the visual impact the uncompressed maps do on video RAM). But we can't, in good conscience, say that this game looks bad on anything but a Radeon 9200 or GeForce 5500, as these were the only cards we had to disable advanced options on to attain (almost) playable framerates. Even older cards like the GF4 4400 could handle running with all the 'important' bits enabled.
Bottom line: if Doom 3 is a game you want, buy your copy before you upgrade your graphics card and decide for yourself if the added polish is really worth the extra money. If it is, take a look at our numbers again, dial in a performance level and pick the card that's right for you.
But, what we can't see from this article is just how CPU limited this game can get. Running on an overclocked S939 FX53 does a very good job of eliminating the CPU as a performance bottleneck and shows graphics card performance very clearly. But we really do need a better picture of performance across different CPUs. Coming later this week, we will have a CPU focused Doom 3 article, and hopefully a couple other surprises as well. Stay tuned as Doom 3 week continues.