Original Link: http://www.anandtech.com/show/1412


Index
Monarch Computer has been in the systems builders business for quite a long time now. Their very own systems literature nicely summarizes their long track record in the pre-built systems market. However, by far, Monarch is known as a components provider more than a systems provider. They continue to have a very high reseller rating, currently with a lifetime rating of 9.25, just a few vendors back of the leader. And that rating doesn't fully take into account the strides Monarch has been making over the past few months to provide better service and support for their components and pre-built/barebones systems.
Moving on, the reason we are here today is to talk about Monarch's latest pre-built
and
barebones computer system, the Monarch Hornet Pro. To clarify, we are indeed reviewing a pre-built Hornet Pro today; but since this system also comes in a barebones flavor (without any HDDs or optical storage, processor, memory, or video) it should be known that this article doubles as a barebones review too. Obviously, as an AnandTech reader, you're probably going to be more interested in the barebones version of this system than the pre-built version, which is why we are mentioning all this in the first place.
Anyway, as you can probably guess by reading the title of this review, we are indeed reviewing one of the first SFFs available that supports Intel's LGA775 Prescott platform based on the 925X chipset, and PCI Express and DDR2 functionality as a result. This system obviously supports PCI-e 16X graphics cards and PCI-e 1X cards (1X cards are intended as the replacement for PCI cards). It also supports DDR2 speeds up to 533MHz. Perhaps one of the most important aspects of this system is that Monarch worked so closely with Intel on the Hornet Pro that they are currently the
only
manufacturer that supports Intel's mATX D925XBC motherboard, which at the moment is the only mATX 925X-based motherboard available on the entire market. Quite frankly, we couldn't think of a better use for a mATX motherboard than to put it in an "SFF" case. Though, if you'll notice, the Hornet Pro really isn't quite an "SFF" because of it's significantly larger dimensions. That's why we put quote marks around SFF in the title of this review. Still, the same general concept (big performance in a small package) applies to Monarch's system here.
By now you probably already have tons of questions you want answered, and we don't intend to stop you from getting them answered by babbling on. So scroll down and find what you're looking for...
Monarch Hornet Pro: Chassis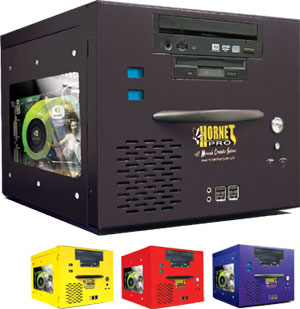 The Monarch Hornet Pro comes in four different colors and styles.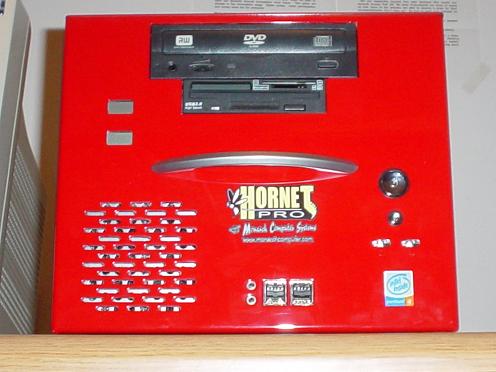 The front panel of the Monarch Hornet Pro contains a more basic arrangement of ports than most other SFFs. There are four USB 2.0 ports, your standard pair of
On
and
Reset
buttons, HDD and Power LED lights, and audio in and audio out ports. However, there are also two unconventional additions that can be found, those being the Hornet Pro's dual temperature sensors located at the top left hand corner of the front panel and the silver carrying handle in its mid-section. The temperatures sensors allow you to view your temp readings on-site without having to do anything else. The carrying handle is very sturdy and will come in handy when traveling, especially to LAN parties. Both novelties are there for the user's convenience, and it's something that Monarch should take pride in because it's exactly these types of "little things" that add up to a much more pleasant computing experience.
Also located in the front panel are two drive bays, which Monarch outfitted with a Lite-On LDW-8113S dual layer 8X DVD burner and a 1.44MB Mitsumi floppy drive. We would have preferred an additional drive bay, however, as optical drives are by far the storage media of choice for enthusiasts these days. Still, we're happy that Monarch didn't omit the second drive bay altogether, even if it wasn't an optical drive bay like we wanted, as manufacturers have made a nasty habit of omitting those second bays.
Another novelty for SFFs that Monarch has nicely implemented with their Hornet Pro is see-through side panels with four blue cathode neon lights lining the inside corners of the case. This combination displays a very attractive glowing blue light that seeps through every crevice of the case, and is especially charming when viewed at night (try playing a DVD movie on your Hornet with these blue neon lights; it's very cool). There are a total of two see-through panels, on the right and left sides of the case, with the one on the right containing an 80mm case fan for additional cooling. Overall, Monarch does a nice job making the Hornet Pro a site to behold.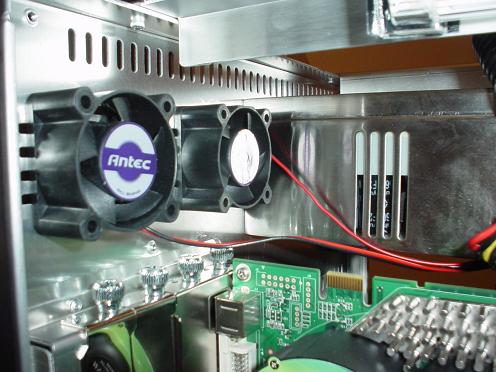 One major area of concern for most SFF users is how much you can maneuver and what you can upgrade inside your case. As partly shown above, routing cables to their destinations from the optical, floppy and hard drives was a cinch using the tied-down and rounded cables that were already installed. All in all, the Hornet Pro's internal components, cable, wires, and fans were all so well organized that it left tons of space and upgradeability options that we have never previously seen in an SFF. Though, to be fair, the Hornet Pro is significantly larger than your standard SFF (especially compared to the likes of Shuttle), and so, it's not really in the least surprising that the Hornet Pro is so neatly arranged, clean and contains so much space. Additionally, there is enough room for
two
Antec ball bearing 40mm exhaust fans, something that is exceedingly necessary to get heat out the back of the system as quickly as possible to keep things cool.
Monarch Hornet Pro: Chassis (continued)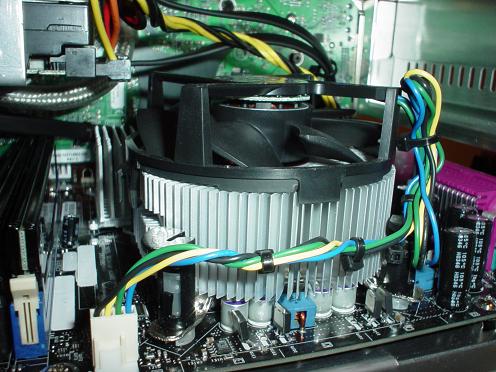 Unlike a lot of SFF manufacturers, Monarch outfits the Hornet Pro with a standard HSF (Heatsink and Fan). This is in contrast to heatpipe solutions from most other SFF manufacturers, or some variation of that cooling technology. However, using the stock HSF actually isn't too unusual for an LGA775 SFF system, at least the handful that we've encountered. Remember, the force being applied to a Socket 775 Prescott CPU isn't coming from the HSF nearly as much as it used to with Socket 478 Prescotts. The force being applied onto the CPU is coming mostly from the retention clip mechanism on the new LGA775 socket itself. That clip, in combination with a stock HSF cooler, is enough to properly dissipate the heat produced by the CPU. It's mind boggling how hot these 0.09-micron Prescotts could have been without a new socket infrastructure, as we were told the "old" way of dissipating heat isn't nearly as good as the retention clip way of dissipating heat. Thankfully, due to the D925XBC motherboard's BIOS fan speed control options, it was also very easy to get the processor fan to spin at a very low noise level.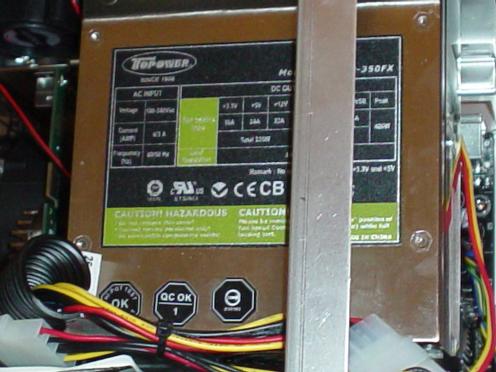 One of the very first concerns that we had with the introduction of such a high-end SFF was whether or not Monarch would use a powerful enough PSU (power supply unit). For example, thermal throttling is not at all that uncommon with today's Prescott platforms if you don't use the properly rated 24-pin PSU. Indeed, we've experienced throttling (in case you didn't know, throttling can drastically reduce system performance to a crawl) with 20-pin PSUs. We highly suggest using a 24-pin PSU from a quality manufacturer if you're at all interested in a high end system filled to the brim, a system similar to Monarch's most expensive Hornet Pro configuration. Anyway, with that all said, we were pleased to hear that Monarch provided a Topower TOP350FX 350W PSU. This is a very good PSU that'll provide a consistent stream of stable voltages to your components without fail. We experienced no throttling with this system whatsoever after several days of testing. That alone isn't necessarily enough to calm any fears, though, since voltage instability can sometimes creep up on you weeks or even months down the road without the proper care and right ventilation. Still, we're confident in Monarch's choice of PSU and our experience during testing gives us nothing to worry about so far.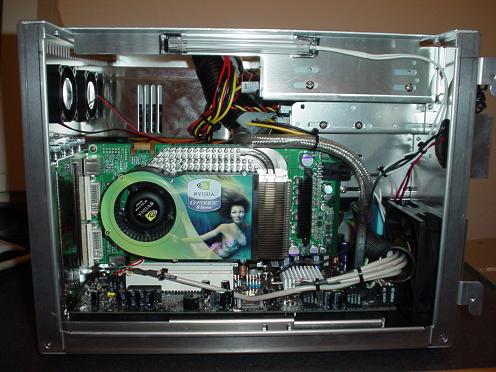 Like most good SFFs these days, the Monarch Hornet Pro left enough room for high end video cards such as the Radeon 9800 Pro and GeForce FX 5900 Ultra. We were, therefore, able to fit a standard 128MB 9800 Pro inside the Hornet Pro quite easily (in theory of course, since there are no PCI-e 9800 Pro cards yet). Even though both ATI and NVIDIA's high end cards are still primarily 9800 Pro cards or 5900 Ultra cards, their next generation cards are just now starting to reach retail in quantity. ATI's X800 and their various iterations have been on the market for about a couple months now, and are really starting to hit the mainstream in quantity with the X600 revision. Just as with the 9800 Pro, the X800 was easy to install and didn't really take up any space that could interfere with other components in the Hornet Pro. In fact, we have never seen so much space around a video card inside an SFF. Of course, since ATI and NVIDIA's flagship cards are the largest and bulkiest of them all, any stripped down version of either company's flagship should fit inside the Hornet Pro without any trouble whatsoever. For example, we were easily able to fit in ATI X600 cards (XT revisions) and NVIDIA 6800GT cards (again, in theory, since GT cards haven't gone PCI-e yet) inside the Hornet Pro.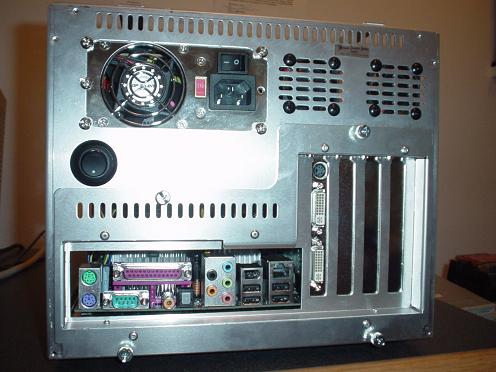 We very much enjoyed seeing a good number of I/O ports included in the rear of the Hornet Pro's Intel D925XBC mATX motherboard. In total, there are four USB 2.0 ports, one 10/100/1000 GbE LAN port, one IEEE1394 FireWire port, five audio ports (Mic in, Line in, Line out, SPDIF out/in), two PS/2 ports, and a serial and parallel port. As always, we are pleased to see rear IEEE 1394 FireWire, as it's never fun to deal with installing and routing a FireWire bracket in any SFF, no matter how much space there is available. FireWire will be quite necessary if you demand high throughput for large files, especially if you're a digital camera user. Every other port is fairly standard for a high-end system and is more than self-explanatory.
The Hornet Pro's accessory kit is quite nice. It includes an Intel Desktop Board Quick Reference booklet, driver CDs with DVD playing and
burning
software, RAID driver floppy, Windows XP Professional SP1a OEM pack, VGA to DVI converter, 4-pin female/male connector, 3-pin PSU cable, two drive bay face plates, one expansion slot cover, one additional carrying handle (top), a T-shirt, and finally, the Monarch Hornet Pro User Setup Guide (manual). The Hornet Pro manual was a pleasant surprise; the literature provided was all up to date and accurate from what we could tell, and the installation procedures were straight forward and simple enough that even novice users would understand. While I still don't think you can get any better than a Shuttle SFF manual, the Monarch Hornet Pro manual was good enough that it was worthy of mention.
One final accessory that we did not receive with our review system, but that will be shipping with Hornet Pro systems this month, is a can of paint. The paint is an especially nice touch for the Mustang yellow and Ferrari red versions of the Hornet Pro, since you can quite easily chip them if you're someone that likes to swap and tweak hardware parts (screw drivers) for fun. Because each color is light, a bad enough chip could stand out quite a bit.
Monarch Hornet Pro: Intel D925XBC Motherboard
 Motherboard Specifications
CPU Interface
Socket LGA775 Prescott
Chipset
Intel 925X North Bridge (MCH)
ICH6R South Bridge
CPU Ratios
None
Bus Speeds
up to 4% overclocking in 1% increments
PCI/PCI-e Speeds
PCI up to 40.00MHz in 3.64MHz increments
SATA up to 109.42MHz in 1.32MHz increments
Core Voltage
None
DRAM Voltage
None
AGP Voltage
None
Chipset Voltage
None
Memory Slots
4 X 240-pin DDR2 DIMM Slots
Expansion Slots
1 X PCI-e 16x slot
1 X PCI-e 1x slot
2 X PCI (32-bit) slots
Onboard SATA/RAID
4 X SATA150 connectors
RAID 0, RAID 1
Onboard IDE
1 X ATA/100/66 connector (2 devices)
Onboard USB 2.0/IEEE-1394
8 X USB 2.0 ports (4 rear, 4 internal)
3 X IEEE1394 FireWire (1 rear, 2 internal)
Onboard LAN
Intel GbE 10/100/1000 (Marvell PCI Express controller)
Onboard Audio
Intel AC'97 8-channel (Realtek ALC880)
BIOS Revision
CV92510A.86A.0210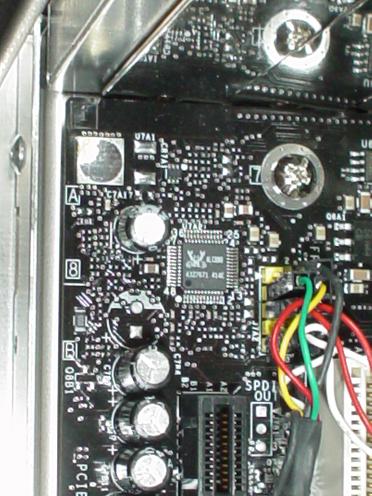 Intel's D925XBC motherboard carries a Realtek ALC880 codec, which in conjunction with the ICH6R South Bridge allows Hornet Pro owners to use up to 8-channel audio configurations. The ALC880 is the first HD Audio codec (developed by Intel) we know of being widely implemented onboard high-end motherboards. This is definitely one of the higher quality codecs around, with support for up to 24-bit/192KHz (sampling rate) audio. While it's still quite difficult to maintain close to interference-free audio in a computer case as small as the Hornet Pro (compared to an ATX tower that is), we did hear some static at higher volumes. Still, the ALC880 is a more than acceptable quality codec for everyday users. Even gamers will be quite pleased with this solution, especially considering the surround sound features it supports, namely Dolby Surround EX originally introduced in
Star Wards Episode I: The Phantom Menace
.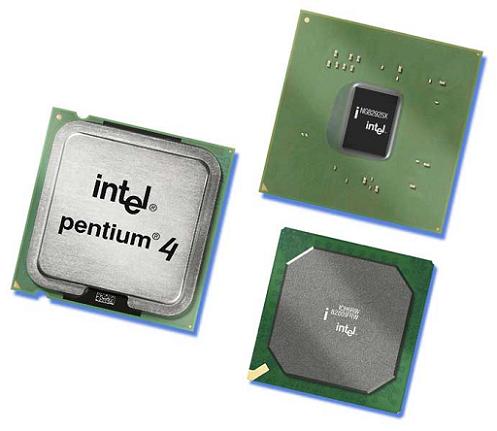 Many enthusiasts consider the chipset the most important part of any computer system. The Hornet Pro's chipset consists of the Intel 925X North Bridge and ICH6R South Bridge. The 925X is Intel's fastest and most advanced North Bridge (also called the "MCH") to date, as is their ICH6R South Bridge. The 925X MCH primarily houses the PCI-e and memory controllers, while the ICH6R controls the storage (SATA, PATA, RAID, etc.), audio, and functionality.
Besides perhaps the platform technology itself (925X, DDR2, PCI-e, etc.), the components that came with our Hornet Pro are the most exciting part of this whole system. Included with our Hornet Pro was a Lite-On 8X dual layer DVD Burner, two Western Digital 74GB 10,000RPM Raptor HDDs (Hard Drive Disks), four 512MB Corsair XMS2 DDR2-533 memory modules, one PCI Express 256MB NVIDIA GeForce 6800 Ultra, and an Intel Pentium 4 550 Prescott processor clocked at 3.4GHz. Except for the fact that Socket 775 platforms are slower on the whole compared to Athlon 64, the rest of this system is right on the bleeding edge of technology and will be thoroughly enjoyed by anyone who decides to purchase it. Just don't be surprised if it costs you more than a few wooden nickels.
One of the reasons it's hard to come to any definitive conclusions about the Monarch Hornet Pro is due to the fact that Intel hasn't released anything faster than a 3.6GHz 800MHz FSB processor for Socket 775 platforms. As we explained in our original Prescott article
last month
, Prescott doesn't really reach its true potential until beyond 3.6GHz because of its vastly improved architecture over the 0.13-micron Northwood Pentium 4. Therefore, with this type of motherboard socket, you probably aren't going to see significant performance advantages over competitive Athlon 64 processors until around 4GHz or so, maybe higher. And as just reported here on AnandTech recently, it looks as if Intel will delay their introduction of 4GHz processors until the first quarter of next year.
Monarch Hornet Pro: BIOS
As with the vast majority of motherboards in the world, the Intel D925XBC motherboard utilizes a Phoenix Award BIOS.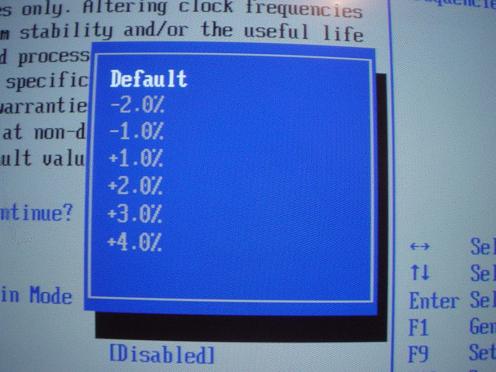 Intel has practically made it a tradition not to offer any significant BIOS tweakability in their motherboards for years now. The D925XBC, unfortunately, ends up being no different. For example, as shown above, arguably the most important option in a modern day BIOS, the FSB, is only adjustable up to 4% of its 3.4GHz (3400MHz) core clock speed, or about 136MHz in other words. This is a very mediocre overclock, to put it nicely. We were hoping that Intel would do something special with their BIOS this time around, but we've come to expect these types of bland options from Intel, so we're not surprised. With Intel instituting
locks
on overclocks over 10%, Intel has all but publicly announced that they have stopped catering to true enthusiast builders.
Unlike several other previous high-end Intel motherboards, however, the D925XBC includes PCI and SATA bus adjustments. The PCI (32-bit) bus is merely available at two different speeds; it's not really "adjustable", per se. Those speeds are 36.36MHz and 40.00MHz. The SATA bus is a bit more adjustable, however, up to 109.42MHz in 1.32MHz increments. Neither bus is all that tweakable with the D925XBC motherboard, so these "adjustments" end up being mostly useless for even semi-serious enthusiasts.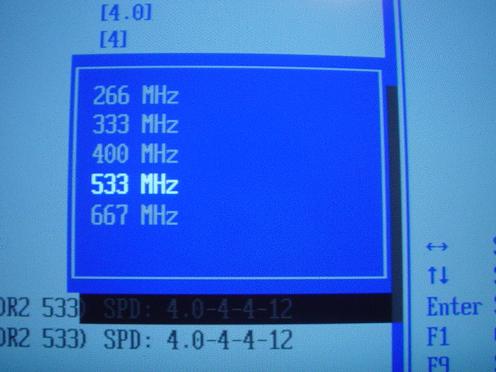 Unfortunately, we couldn't really test the limits of the Intel D925XBC motherboard's memory functionality without better DDR2 adjustments available in the BIOS. There was only a 533MHz and 667MHz option available to tune, and the D925XBC certainly wasn't capable of a memory overclock up to 667MHz with the memory that we were using. However, internal testing performed by other AnandTech editors has revealed that soon-to-be released DDR2 memory will be capable of tremendous overclocks somewhere in the upper 600MHz+ range. This, in conjunction with faster Intel CPUs (perhaps beyond 4GHz), could really be the saving grace of the LGA775 Prescott platform, which to this point has been lackluster to say the least. Only time will tell if Intel can churn out enough high end processors to really get Prescott moving into the high performance direction that the enthusiast community wants to see them reach. According to early overclocking tests, massive clock speed scaling and higher memory speeds should do the trick for Prescott.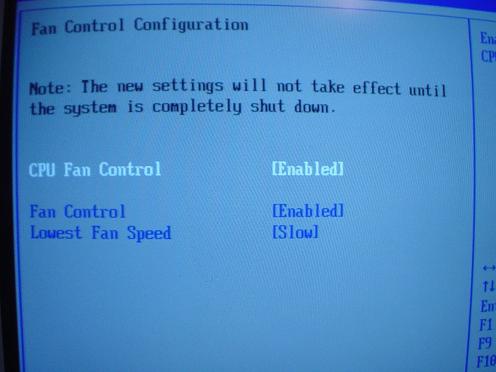 One of the most positive things to take from the D925XBC BIOS is that it has fan control options. The BIOS mostly includes just a single fan speed option ranging from slowest to fastest (and an option for enabling or disabling, but that's pretty standard). This option does indeed lower overall system noise when set to its slowest setting, but as we mentioned before the biggest noise culprit with the pre-built Hornet Pro we received (versus the barebones version) was the video card's fan speed and the noise of the dual 74GB Raptors. Due to these issues, we decided to install less beefier components to see just how quiet the Hornet Pro could get. With an X600XT and Seagate 7200.7 installed instead of the 6800 Ultra and dual Raptors, overall system noise went down tremendously with just the PSU, processor and case fans making any other noise. All those fans may seem like a lot on the surface, but most of the fans are spinning at a very low RPM to begin with. All in all, the Hornet Pro's dB levels are about average when compared to other high-end SFFs we've tested (Soltek EQ3801, Shuttle SK83G, etc.) using identical components.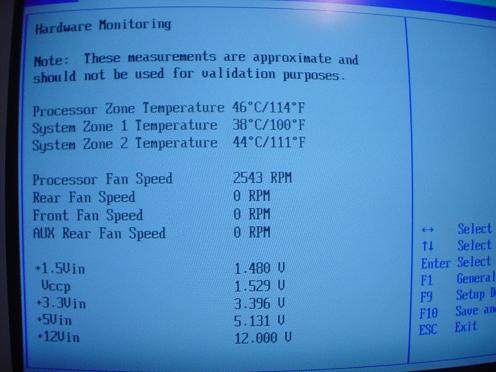 The Hornet Pro's Hardware Monitoring section is quite nice and includes some usable information. Some pertinent things worth mentioning include Vcore readings, three different "zone" temperatures that monitor different parts of the Hornet Pro's case, and a total of
four
fan speed readings for the processor, rear, AUX rear and front case fans. Besides those readings though, the D925XBC Hardware Monitoring section includes your standard array of PSU readings (all rails), and nothing else.
Monarch Hornet Pro: Overclocking and Memory Testing
Overclocking Testbed
Processor:
Pentium 4 3.4GHz LGA775
CPU Voltage:
1.3875V (default)
Cooling:
Stock LGA775 HSF
Power Supply:
Topower TOP350FX (350W)
Maximum OC:
(Default Ratio)
208FSB
3536MHz (+4.0%)
Maximum FSB:
208FSB @ 14X multiplier
As we explained in the BIOS section of this review, the Intel D925XBC doesn't allow much in the way of overclocking capability. As shown above, we were able to reach 208MHz FSB (the limit available in the BIOS). And as we've said before, that's no where near acceptable for enthusiasts and also no where near the levels that we're seeing with most 925X motherboards from other manufacturers.
Memory Stress Test Results:
This memory stress test is very basic, as it simply tests the ability of the Monarch Hornet Pro to operate at its officially supported DDR2 memory frequency of 533MHz, at the best performing memory timings that our Corsair XMS2 DDR2-533 modules will support. Memory stress testing was conducted by running RAM at 533MHz with 2 DIMM slots filled.
Stable DDR533 Timings
(2/4 DIMMs populated)
Clock Speed:
267MHz
Timing Mode:
N/A
CAS Latency:
4.0
Bank Interleave:
N/A
RAS to CAS Delay:
3T
RAS Precharge:
10T
Precharge Delay:
3T
Command Rate:
N/A
Unlike the original DDR-I SDRAM modules that we have used for the overwhelming majority of previous memory stress tests in the past few years, today, we are delving into somewhat new territory with DDR
2
memory timings. As you can clearly see above, DDR2 latency is considerably higher compared to DDR-I latencies like CAS 2-2-2-6, timings to which we've become accustomed in the past. This obviously accounts for some of the reasons why 925X systems don't perform any better than 875P systems. But on the whole, you need not concern yourself with DDR2 memory timings with 925X systems until 925X systems actually become competitive with the competition, after Intel releases at least 4GHz processors later this year.
Monarch Hornet Pro: Performance Test Configuration
 Performance Test Configuration
Processor(s):
Intel 550 (3.4GHz) ES
multiplier adjusted to 18X, or 3.6GHz, during testing
RAM:
2 x 512MB Corsair XMS2 DDR2-533
Memory Timings:
CAS 4-3-3-10
Hard Drive(s):
Seagate 120GB 7200RPM IDE (8MB buffer)
Video AGP & IDE Bus Master Drivers:
Intel Chipset Driver 6.0.0.1014
Intel Application Accelerator 4.0.0.6211
Video Card(s):
NVIDIA 256MB GeForce 6800 Ultra PCI Express
Video Drivers:
NVIDIA 61.76 Graphics Drivers
Operating System(s):
Windows XP Professional SP1
Motherboards/Systems:
Monarch Hornet Pro (Intel D925XBC)
ABIT AA8 (925X chipset)
Gigabyte 8ANXP-D (925X chipset)
General Performance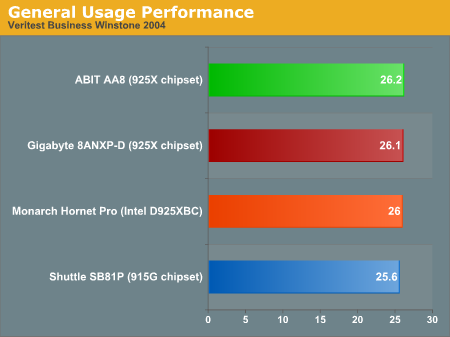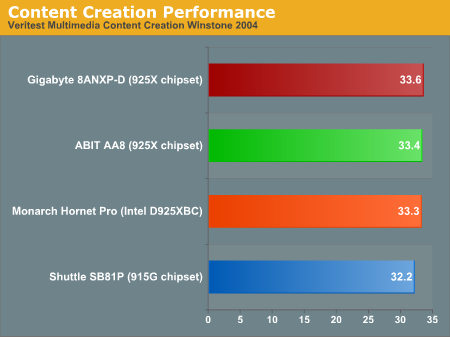 As you can see, there is very little significant variation among each system. In an office environment especially, you wouldn't see a great deal of difference in performance anyway.
DirectX 9 Gaming Performance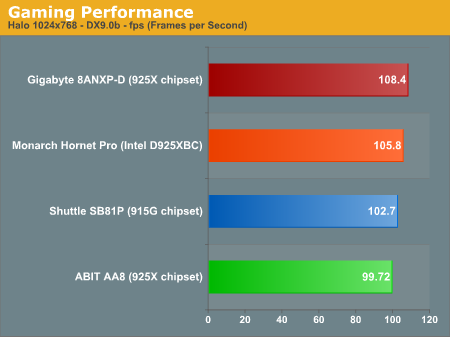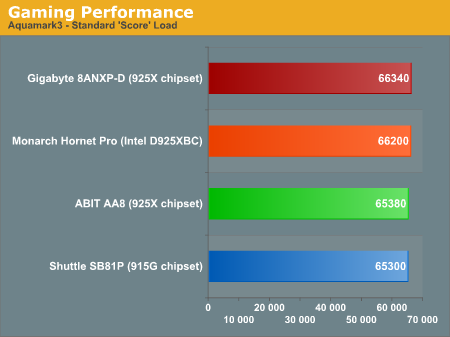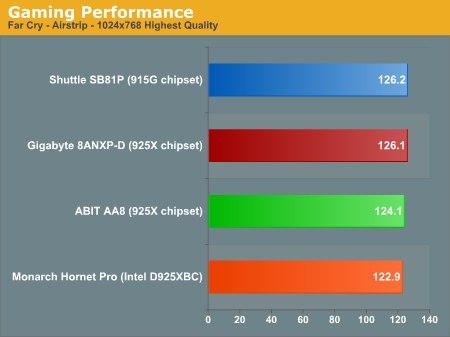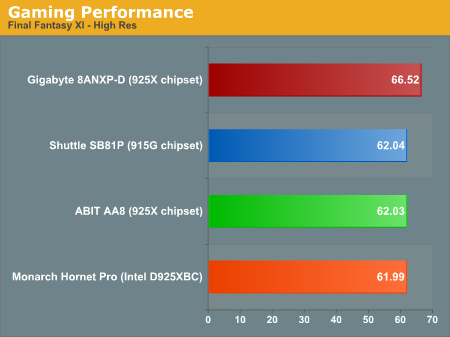 We start to see a little variation in Halo and Final Fantasy XI, but otherwise we have fairly consistent scores throughout. Since all three systems are based on the exact same chipset, it shouldn't be in the last surprising to see tightly packed gaming scores. For that matter, most programs wouldn't deviate from each other by more than the margin of error allowed during controlled tests such as these.
DirectX 8 and OpenGL Gaming Performance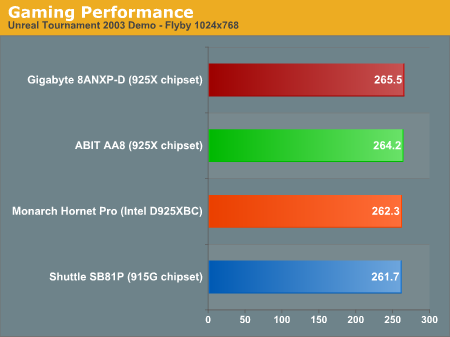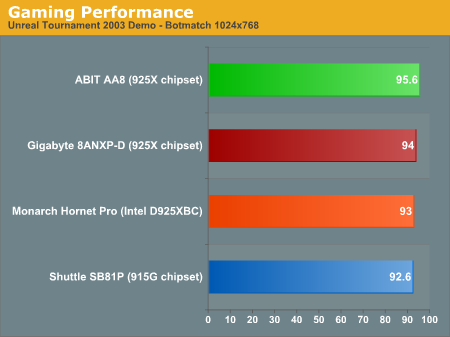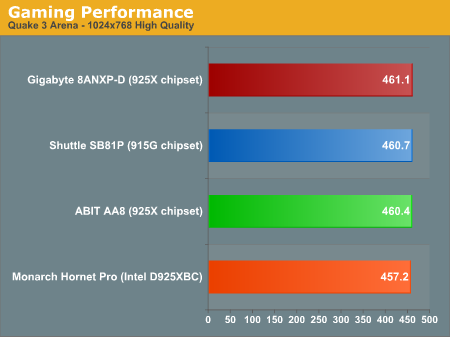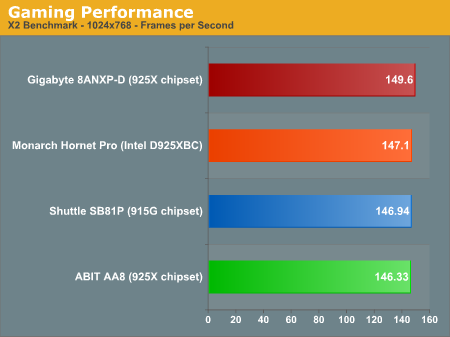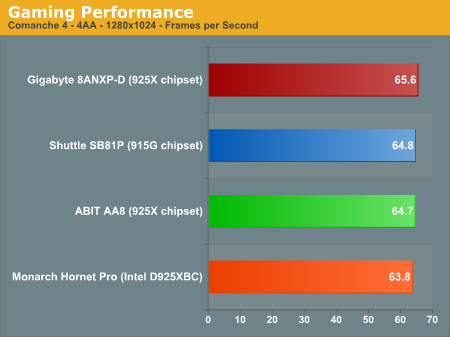 Workstation Performance
Unfortunately, over the past couple of weeks, AnandTech has been stumped by some extremely odd variance in SPECViewperf 7.1.1 scores with 925X-based motherboards. We're seeing somewhere in the range of 50% variance in scores. The issue is not the equipment that we're using, as we've been able to confirm the exact same issues with multiple AnandTech editors and enthusiasts in the community. The issue seems to be related to the implementation of PCI Express graphics cards. However, that is merely suspicion at this point and isn't based on anything more than keen observation. We will update you as motherboard manufacturers send us updated BIOSes in the near future. For now, though, we simply cannot in good conscience post SPECViewperf 7.1.1 scores.
Final Words
Let's first begin by talking about the Hornet Pro's cons. As you saw in our June 21st
Prescott article
, the LGA775 platform offers no performance increase over Intel's Socket 478 Pentium 4 platform or AMD's Socket 754/939/940 AMD Athlon 64 platforms. In fact, in the majority of today's popular programs, LGA775 Prescott platforms generally perform slower than Athlon 64 platforms. That's not to say that Prescott systems are slow; it just means that Athlon 64 systems are faster, and sometimes considerably faster than LGA775, while sometimes being considerably cheaper too. Therefore, the choice of CPU platform with this Hornet Pro system isn't ideal in terms of pure performance, and depending on what your exact needs are, that's either a minor detail or a huge negative.
One other con next to the Hornet Pro's lower performance is that it is priced a bit high for a barebones system; approximately $400 without bells and whistles like see-through side panels, cathode neon lights, and even the Ferrari Red Custom Paint aluminum case. $400 is quite a bit of cash to spend on barebones SFF even if it is a cutting edge system, especially considering that the platform's performance isn't the absolute best available on the market. Still, other manufacturers like Shuttle are pricing their Socket 775 barebone SFFs around $400 as well, so we can't really complain too much, especially considering all the work Monarch has put into its quality case. In fact, we wouldn't really view the price as a "con" per se, but more as a necessary sacrifice.
Of course, there are also quite a few positive attributes about this system. Firstly, the little things about this system really stand out. Cables and wires are tied down and neatly organized so that you won't have to go through the time-consuming task of reorganizing your case's internals (this allows for better air flow and just a generally neater case). Secondly, you get to see temperature readings from outside the case on the front panel, a very convenient way of monitoring your system quickly and easily. Thirdly, there's a very useful carrying handle located on the front of the Hornet Pro, which undoubtedly will come in handy for LAN parties, or any type of traveling you do at all. Fourthly, if you decide to get see-through side panels with your Hornet Pro, you'll receive an 80mm case fan attached to the right side panel, allowing further cooling of your components.
Finally, probably one of the most appealing aspects of this system is its ultra attractive case design and the multiple color arrangements you get to choose with it. Our unit shipped with Ferrari Red, but you also have the choice of Indigo, Black, and Mustang Yellow. The aluminum construction, rounded corners, and well designed panel arrangement make the Hornet Pro a delight to use and light enough to carry to those LAN parties. We really can't emphasize enough how attractive this computer case is despite its large size; it's one of those things you just have to see to appreciate. All in all, this is easily the coolest looking "SFF" we've ever seen.
So with that all said, we can safely say that if you purchase Monarch's pre-built Hornet Pro system, you will be enjoying one of the fastest systems on the planet. It'll still be slower than the very best, but it'll be pretty fast considering the pre-installed components (dual 74GB Raptors, 6800 Ultra, 3.4GHz CPU, etc.) that come with the system. Where you may enjoy the Hornet Pro more is as a barebones system where you will be able to purchase hardware whenever you like and tweak your system to your exact specifications whenever you like. Perhaps most importantly, you'll have piece of mind knowing that your Hornet Pro revolves around an Intel motherboard backed by a 3 year warranty to go along with Monarch's tech support and standard system warranty as well. The track record and reliability of a manufacturer(s) and their warranties are sometimes overlooked by enthusiasts infatuated by performance numbers, and that is one major reason why we think the Hornet Pro should be given serious consideration among hardcore enthusiasts. Ultimately, though, what could keep many enthusiasts away from the Hornet Pro is its slower performance and higher price compared to Athlon 64 systems. If you had to buy the Hornet Pro today you'd be making a fine purchase, but it couldn't hurt to wait and see how LGA775 SFFs from other manufacturers (Shuttle, Soltek, etc.) perform and at what price points they become available. And if you're anything like me, you are probably also interested in seeing how Socket 939 Athlon 64 SFFs pan out.
As always, you can read our previous SFF reviews for more information on all types of SFFs by clicking the "Systems" tab at the top of this page.