Original Link: http://www.anandtech.com/show/1400


Buffalo Technology has become a well known manufacturer of memory, wired and wireless network products, and storage solutions. You will find a full range of Buffalo memory products available from many on-line resellers, including regular DIMMs, SO-DIMMs, and Registered memory for servers, desktop computers, and notebooks. However, Buffalo is not a first name that comes to mind when Enthusiasts are looking for high-performance memory. Buffalo is out to change that with the introduction of their new FireStix memory.
Two new FireStix memory products were just introduced - FireStix FSX500DV and FireStix FSX433DV - at DDR500 (PC4000) and DDR433 (PC3500). FireStix is a great name for memory that is supposed to be "hot", and Buffalo has added to the image with flame-red heatspreaders that certainly stand out in any group of memory. However, as you expect at AnandTech, we were most interested to see if FireStix live up to their name with stand-out performance to match the stand-out looks.
Buffalo FireStix PC4000
While FireStix are available in both DDR433 and DDR500 speeds, we decided to look at the DDR500 FireStix.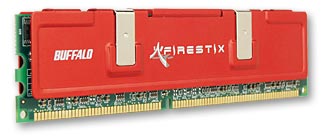 Test DIMMs were a matched pair of 512MB double-sided DDR DIMMs with bright red aluminum heatspreaders.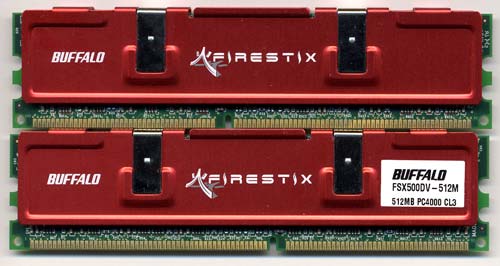 Buffalo made no bones about the fact that these chips were based on Hynix B revision memory chips, which are selected for best performance. We have seen Hynix B memory chips used in some of the fastest DDR500 and 533 memory that we have tested from Corsair, OCZ, Mushkin, and others.
Buffalo FireStix PC4000 Specifications
Buffalo FireStix PC4000 Memory Specifications
Number of DIMMs & Banks
2 DS
DIMM Size
Total Memory
512 MB
1 GB
Rated Timings
3-4-4 at DDR500
Rated Voltage
2.75V
While Buffalo rates their DDR500 FireStix at 3-4-4 timings, we have seen other memory based on Hynix B chips perform at some of the better DDR500 timings of 2.5-3-4. In addition, Hynix B memory normally will perform at 2-3-3 timings at DDR400 - much faster than we normally see with higher speed memory at DDR400.
Performance Test Configuration
The Buffalo FireStix PC4000 were tested on our standard Intel Pentium 4 Memory testbed. The hardware for evaluating FireStix PC4000 is the same used in our earlier reviews of DDR400 and faster Memory.
All test conditions were as close as possible to those used in our earlier memory reviews. We have also eliminated from our charts any memory that has been discontinued, including Winbond BH5 & BH6 versions from several vendors and earlier versions of several current memory products.
INTEL 875P Performance Test Configuration
Processor(s):
Intel Pentium 4 2.4GHz (800MHz FSB)
RAM:
2 x 512MB Buffalo FireStix PC4000 (DS)
2 x 512MB Shika XRAM PC4400 (DS)
2 x 512MB OCZ PC4400 EL Gold (DS)
2 x 512MB Corsair 3200XL PRO (DS)
2 x 256MB Samsung PC4000 (SS)
2 x 512MB OCZ 3700EB (DS)
2 x 512MB OCZ 3500EB (DS)
2 x 512MB PMI4200 Gold (DDR533 DS)
4 x 256MB Samsung PC3700 (DDR466 SS)
2 x 512MB Kingmax DDR500 Hardcore Series (DS)
2 x 512MB Kingmax DDR466 Hardcore Series (DS)
2 x 512MB Corsair XMS4400v1.1 TwinX (DS)
2 x 512MB OCZ PC4400 DC Kit (DS)
2 x 512MB OCZ PC3700 Gold Rev. 2 (DS)
2 x 512MB OCZ 4200EL(DS)
2 x 512MB Mushkin PC4000 High Performance (DS)
2 x 512MB Corsair TwinX4000 PRO (DS)
2 x 256MB Adata DDR450 (SS)
2 x 512MB Adata PC4000 (DS)
2 x 512MB Corsair PC4000 (DS)
2 x 512MB Geil PC4000 (DS)
2 x 512MB OCZ PC4000 (DS)
Hard Drives:
2 Western Digital Raptor Serial ATA 36.7GB 10,000RPM drives in an Intel ICH5R RAID configuration
PCI/AGP Speed:
Fixed at 33/66
Bus Master Drivers:
875P Intel INF Update v5.00.1012, SATA RAID drivers installed, but IAA NOT installed
Video Card(s):
ATI 9800 PRO 128MB, 128MB aperture, 1024x768x32
Video Drivers:
ATI Catalyst 4.6
Power Supply:
Vantec Stealth 470 Watt Aluminum
Operating System(s):
Windows XP Professional SP1
Motherboards:
Asus P4C800-E (875) with 1016 Release BIOS
We have found the fastest performance on Intel 865/875 to be achieved at Cycle Time or tRAS of 5, or the fastest tRAS setting that is stable with the tested memory. Therefore, Intel platform benchmarks were run with the fastest stable tRAS timings.
Test Settings
We ran our standard suite of memory performance benchmarks. The following settings were tested with Buffalo FireStix PC4000:
800FSB/DDR400 - the highest stock speed supported on 875/865 and K8T800/nF3/SiS755 motherboards.
1000FSB/DDR500 - a standard speed rating we have used in testing the highest speed memory available and the rated speed of Buffalo FireStix.
Highest Stable Overclock - the highest settings we could achieve with this memory and other memory that we have tested.
These are the same general settings used in benchmarking other memory in the above list of memory tests. DDR400 and Highest Memory Speed have been used for all benchmarking of DDR memory. DDR500 was tested on every memory that was capable of running at that memory speed.
AMD Athlon64 Tests
We verified that both the Buffalo FireStix could run at DDR500 on several of the Athlon 64 Socket 939 motherboards that we are currently testing. The memory also was stable at DDR530 on the MSI K8N Neo2 at a multiplier of 9. We are in the process of evaluating a number of Athlon 64 Socket 939 boards, and we will standardize on an A64 memory test bed in the near future.
Test Results: Buffalo FireStix PC4000
To be considered stable for test purposes, Quake3 benchmark, UT2003 Demo, Super PI, Aquamark 3, and Comanche 4 had to complete without incident. Any of these, and in particular Super PI, will crash a less-than stable memory configuration. We also included test results for Return to Castle Wolfenstein - Enemy Territory to continue to build a database for future memory testing using this benchmark.
Buffalo FireStix PC4000 - 2 x 512Mb Double-Bank
Speed
Memory Timings & Voltage
Quake3 fps
Sandra UNBuffered
Sandra Standard Buffered
Super PI 2M places
(time in sec)
Wolfenstein - Radar - Enemy Territory
fps
400DDR
800FSB
2-3-3-5
2.5V
326.4
INT 2766
FLT 2744
INT 4461
FLT 4446
132
69.4
500DDR
1000FSB
2.5-3-4-6
2.65V
395.2
INT 3203
FLT 3252
INT 5430
FLT 5503
107
85.8
528DDR
1056FSB
3-4-4-7
2.75V
418.0
INT 3434
FLT 3435
INT 5812
FLT 5835
101
90.0
Buffalo FireStix performed much better at DDR500 than their rated timings of 3-4-4, running with complete stability at 2.5-3-4-6 memory timings. FireStix DDR500 were also able to perform at excellent 2-3-3 timings at DDR400, which is nearly as fast as we have seen with the best DDR400 rated memory. As we have seen with other 2
nd
and 3
rd
generation DDR500, you no longer have to give up standard speed performance when you use better high-speed memory.
Performance Comparisons
Performance of Buffalo FireStix DDR500 was compared to all of the memory recently tested on the Intel 875 memory test bed in:
New DDR Highs: Shikatronics, OCZ, and the Fastest Memory Yet
The Return of 2-2-2: Corsair 3200XL & Samsung PC4000
OCZ 3700EB: Making Hay with Athlon 64
OCZ 3500EB: The Importance of Balanced Memory Timings
Mushkin PC3200 2-2-2 Special: Last of a Legend
PMI DDR533: A New Name in High-Performance Memory
Samsung PC3700: DDR466 Memory for the Masses
Kingmax Hardcore Memory: Tiny BGA Reaches For Top Speed
New Memory Highs: Corsair and OCZ Introduce DDR550
OCZ PC3700 Gold Rev. 2: The Universal Soldier
OCZ 4200EL: Tops in Memory Performance
Mushkin PC4000 High Performance: DDR500 PLUS
Corsair TwinX1024-4000 PRO: Improving DDR500 Performance
Mushkin & Adata: 2 for the Fast-Timings Lane
Searching for the Memory Holy Grail - Part 2
Memory performance was compared at DDR400, DDR500 and the highest stable overclock we could achieve that would run Quake 3, UT2003, and Super PI to 2MM places.
All discontinued products have been removed from benchmark comparisons. Mushkin recently announced that Mushkin 3200 2-2-2 Special, the last remaining BH6/BH5 memory, has been discontinued. The 2-2-2 Special has also been removed from the performance charts.
Results are compared for Quake 3, Sandra UNBufferred Memory Test, and Super PI. SiSoft Sandra 2004 reports 2 results for each memory test - an Integer value and a Float value. Results reported in our charts are the result of averaging the INT and FLOAT scores, which are normally close in value. In other words, INT and FLOAT scores were added and divided by 2 for our reported score.
DDR400 Performance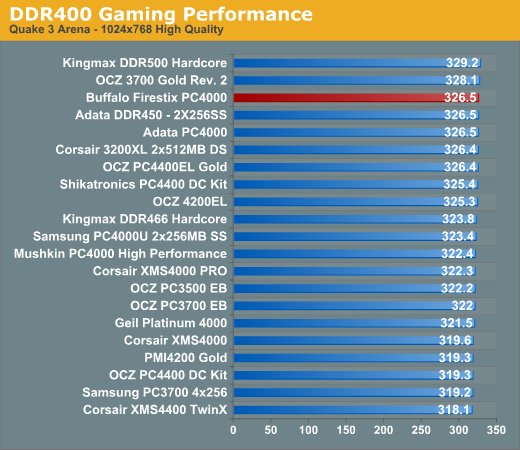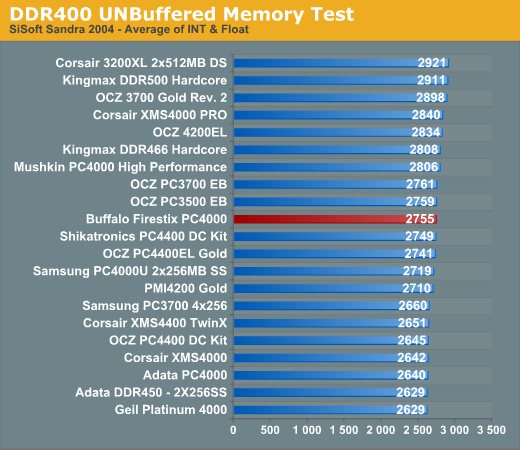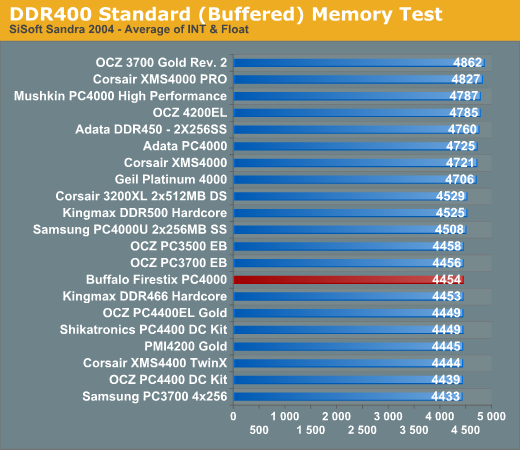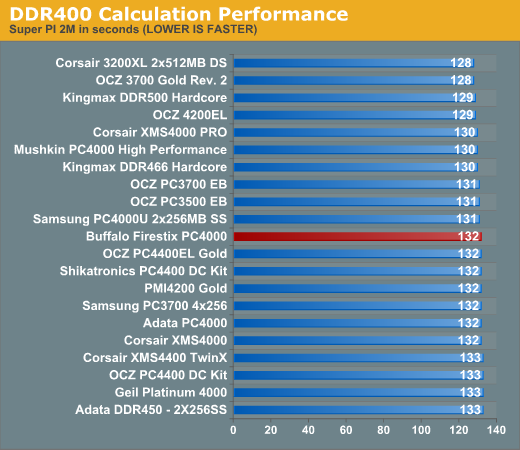 DDR500 Performance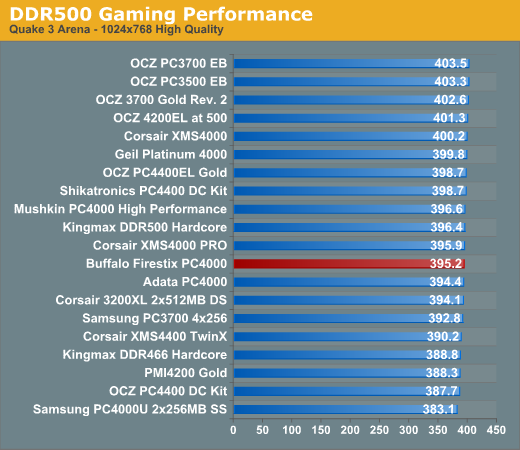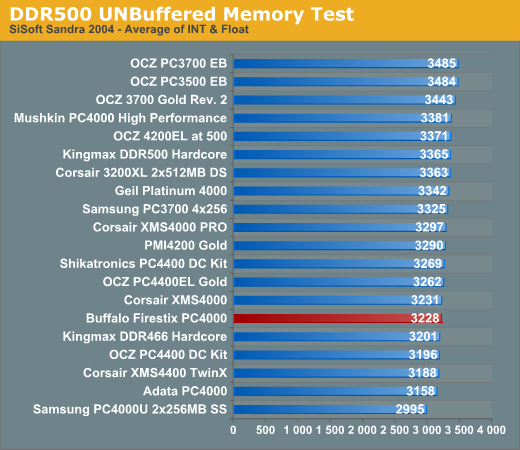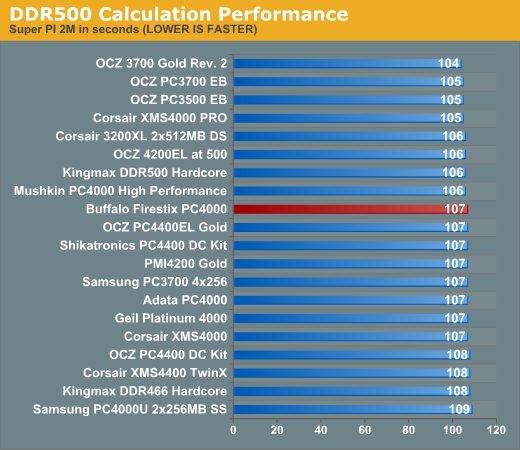 Highest Memory Speed Performance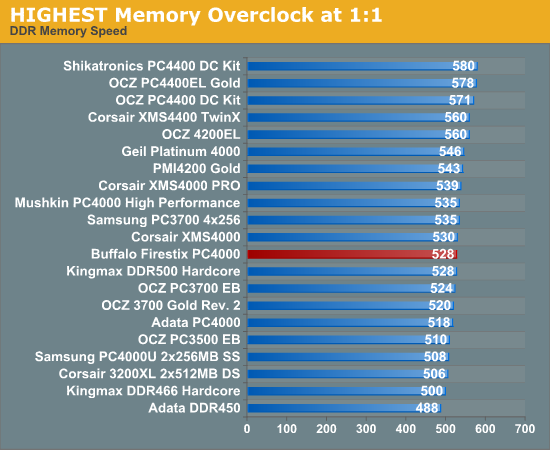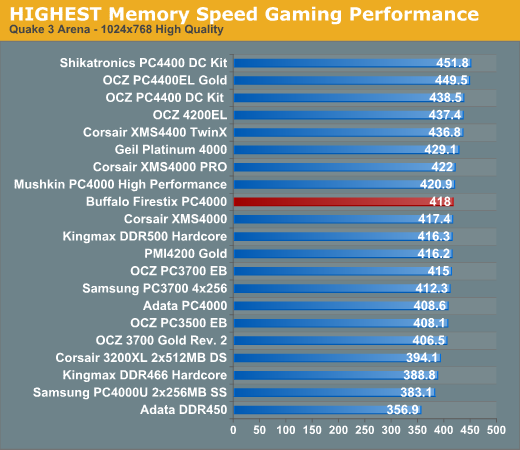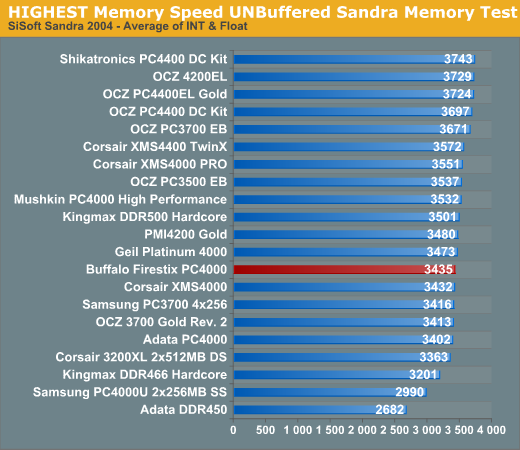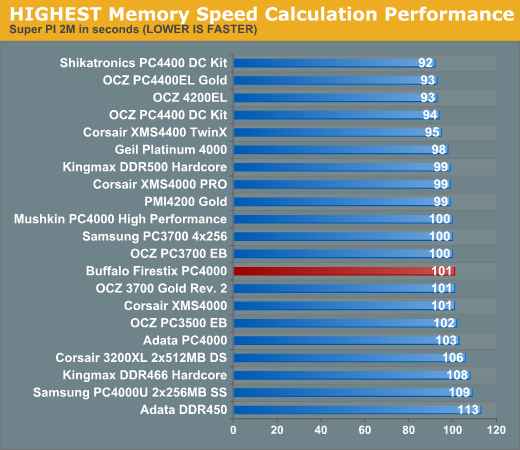 Final Thoughts
While Buffalo FireStix do not break any new ground in our DDR memory tests, FireStix were competitive in every way with the best DDR500 memory that we have tested. The performance was very comparable to other high-speed enthusiast memory based on Hynix B memory chips. That is, the FireStix performed at aggressive 2.5-3-4 timings at DDR500 as well as decent 2-3-3 timings when running at DDR400.
It is also clear that Buffalo has paid attention to the competition in the head room we found with FireStix. The DDR500 performed with complete stability all the way to DDR528, which is very close to the next speed step of DDR533. Overclockers, who would be the main market for DDR500 memory, will be pleased to see that they can reach to almost DDR533 with a FireStix memory rated at DDR500.
If you look closely at our performance charts, you will see that FireStix did not top any charts or set any new performance records. We really didn't expect that with these new modules from Buffalo. However, that is no criticism of this new performance memory from Buffalo, as FireStix has matched the performance of similar memory from Corsair, OCZ, and Mushkin. The ability to compete effectively with the top brands in the performance memory market certainly must be counted as a success for Buffalo FireStix.
In the broader picture, OCZ 3700EB is still a better performer at DDR500, with faster timings and wider bandwidth. Around DDR400, the new DDR400 2-2-2 memory based on Samsung chips is a better performer. These new 2-2-2 DIMMs are now available from Corsair, Mushkin, OCZ, Kingston and Crucial. However, across the effective range of DDR400 to DDR528, FireStix is competitive with similar performance memory. This means that you can also consider Buffalo FireStix when shopping for performance memory.