Original Link: http://www.anandtech.com/show/1395


Introduction and Construction
We have seen a few interesting technologies from MSI, including the first unbridged SATA burner. Unfortunately, MSI's SATA controller only seems to talk to Intel's ICH5/ICH6 southbridge, making adoption difficult.
We got our hands on MSI's newest burner in hopes that there might be a less expensive alternative to Plextor's PX-712A or LG's GSA-412B - this time, we were armed with a stack of 16X and 12X media. We all want to know if the DR12-A is just a revision of the DR8-A, or if there is something truly unique in this drive.
Below is a quick overview of specifications on the drive:
MSI DR12-A DVD-/+R Drive
Interface
PATA
CD Write Speed
40X, 32X, 24X (Z-CLV)
16X, 12X, 8X, 4X (CLV)
CD Rewrite Speed
24X (Z-CLV)
16X, 12X, 8X, 4X (CLV)
CD Read Speed
40X Max (CAV)
DVD-R Write Speed
8X (Z-CLV)
4X, 2X (CLV)
DVD-RW Rewrite Speed
4X, 2X, 1X (CLV)
DVD+R Write Speed
12X, 8X (Z-CLV)
4X, 2X (CLV)
DVD+RW Rewrite Speed
4X, 2.4X (CLV)
DVD-RAM Write Speed
5X (CLV)
DVD Read Speed
16X Max (CAV)
Supported Modes
DAO / DAO-RAW 16 & 96
TAO
SAO / SAO 16 & 96
Packet Write
Multi-Session
Supported Formats
DVD+R (DAO, incremental, seq)
DVD+RW (random)
DVD-R (DAO, incremental, seq)
DVD-RW (restricted overwrite)

CD-R, CD-RW, CD-ROM, CD-DA,
Mixed Mode, CD Extra
Photo CD, CD Text, Bootable CD, UDF
Access Time
CD: 100ms
DVD: 150ms
Buffer
2MB
Above, you can see the MSI DR12-A and the
Plextor 712A
are essentially identical. MSI does not advertise the 2MB buffer on its retail box, which we find particularly unusual, since the drive utilizes the
Sanyo LC897491
chipset. You may notice in the chipset white page that Sanyo recommends an 8MB buffer with this LSI. This does not bode well for the drive, unfortunately.
Oddly, the drive took uncommonly long to probe for revision information. Loading discs also seemed problematic for the drive - sometimes, we experienced load times over two minutes for unwritten media. Notice the unusual name under which the drive shows up.
Below, you can see the Sanyo chipset mentioned earlier. Even though both the PX-712A and the DR12-A use the same chipset, they have radically different designs. Except for the chipset, almost every other component is different between these two drives. The one exception to this is the
AK8584 analog signal processor
, also used on the PX-712A.
There are no official
booktype
setting capabilities for this drive. Since the drive is fairly similar to the Plextor PX-712A, it may be possible for creative users to flash an unofficial PX-712 firmware onto the drive and enable unsupported booktype functionality. This is not recommended.
The drive supports MSI's HD-BURN, which is extremely similar to Plextor's GigarRec. We are capable technically of burning 1.4GB onto a CD using HD-BURN, but we will not particularly focus on HD-BURN in this review, since we covered it during our DR8-A review a few months ago.
Burn Tests CDR Media
We use the following configuration to test our burners:
Albatron 865PE Pro II
Intel Pentium 4 2.4GHz 800FSB
2 x 512 DDR OCZ PC3200 EL
Maxtor 80GB 7200RPM 8MB PATA
Windows XP SP1
You can check out our previous benchmarks on the
Plextor PX-712A from a couple of months ago
. For this duration of the benchmark, we use the included 101E firmware. We first burn the media with the MSI DR12A and then use Plextools to test C1/C2/CU averages in the same drive. Good burns have low C1/C2 averages and are considered the most readable. We used Ahead Nero's CD-DVD Speed 2.11.4 for burn and read tests.
Ritek CDR:
Nothing too unusual about this burn. It's a straightforward, clean CAV burn. The drive actually hits 41X whereas the unit is only advertised as 40X.
Here is how the disc performed using the Plextor PX-712A to check for errors.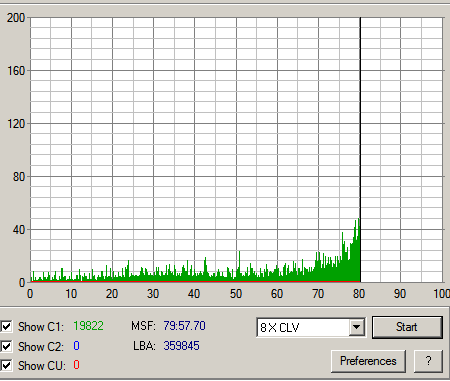 Memorex CDR:
Here is how our store-bought Memorex 48X CDRs fared with the burner.
Above, the burn and initial readback look good. And here is how the same disc performed in the PX-712A.
The Plextor has absolutely no trouble reading this disc. So far, the CDR tests look promising for this drive.
Burn Tests DVD+R Media
We used a few different DVD+R discs to show write quality and speeds.
MCC 003:
Here, Verbatim 8X DVD+Rs are burned and read with the MSI DR12-A.
Something appears drastically wrong here. Mitsubishi MCC003 media is some of the best that we can buy; seeing the burner choke on a seemingly easy 8X burn is disappointing. We were anticipating the burner going to 12X on the 8X media, but it looks like we won't even see 8X burn speeds on said certified disc! The disc that we just burned is unreadable in the same drive.
PHILIPS C08:
We used store bought Memorex discs for this portion of the benchmark.
Another disc that is unreadable in the same drive. Notice this is 8X media, which recalibrated down to 4X during burning. Below, we tried reading the disc a second time in the same burner.
We had better luck this time - but the disc was barely readable.
The Plextor drive, however, did not fare as well. This is a fairly poor burn.
VDSPMSAB001:
Just to keep the benchmark well rounded, we bought some low quality Platinum DVD+Rs from Microcenter.
The MSI drive can just barely initialize the disc, and it certainly can't read it. This burn was so particularly poor that we could not even get the Plextor drive to recognize the disk!
Below are a set of write descriptors that we could find for DVD+R media:
RITEK R03: 8X
MCC 002: 4X
MCC 003: 8x
CMC MAG F01: 4X
PHILIPS C08: 4X
PRODISC**
RICOHJPNR00: 2.4X
RICOHJPNR01: 4X
RICOHJPNR02: 12X
SONY D11: 8X**
VDSPMSAB001: 4X
YUDEN000T01: 4X
YUDEN000T02: 12X**
Burn Tests DVD-R Media
We repeated the same benchmark from the previous page with DVD-R discs of varying quality.
MCC 02RG20:
Here is how the burner performed using Verbatim 8X DVD-R discs.
So far, this is one of the highest quality discs that we have burned.
The Plextor reads these discs OK.
CMC MAG AF1:
The CMC MAG discs are store-bought Imation discs.
And here, the discs are again as played in the PX-712A.
CMC discs are not the highest quality discs that we have, but the drive actually did OK with this media.
AN31:
Again, we used low quality Platinum discs that we found in a bargin bin at Microcenter.
This disc is unreadable, even in the same drive.
Sadly, the Plextor had absolutely no chance in reading this disc all the way through either.
MCC01RW4X
Here, we tried burning a Verbatim DVD-RW.
This burn turned out very well (at least for this burner). The read gets shaky at the end, but its all the way readable.
Below are a set of write descriptors that we could find for DVD-R media:
MCC 01RG20 : 4X
MCC 02RG20 : 8X
PRINCO: 4X
PVCR001002: 4X
RITEKG04 : 4X
CMC MAG AF1: 4X
AN31: 4X
TYG01: 4X
Read Tests - Printed Media
Lower seek times are better.
Seek Times - Pressed CD 74:40.02
Drive
Random
Full
AOpen DDW8800
122ms
188ms
ASUS DRW-0802P
127ms
296ms
Gigabyte GO-W0808A
116ms
232ms
LG GSA-4120B
125ms
242ms
MSI DR12-A
84ms
153ms
Nu Tech DDW-082
113ms
160ms
Plextor 712A
112ms
165ms
Sony DRU-530A
86ms
155ms
Sony DRU-700A
119ms
245ms
Toshiba SD-R5272
110ms
169ms
Seek Times - DVD 4.38GB
Drive
Random
Full
AOpen DDW8800
114ms
272ms
ASUS DRW-0802P
130ms
312ms
Gigabyte GO-W0808A
102ms
194ms
LG GSA-4120B
94ms
195ms
MSI DR12-A
106ms
224ms
Nu Tech DDW-082
99ms
171ms
Plextor 712A
107ms
259ms
Sony DRU-530A
129ms
204ms
Sony DRU-700A
121ms
231ms
Toshiba SD-R5272
97ms
180ms
Read - Pressed CD
Drive
Average Read
Length
AOpen DDW8800
31.35X
79:57.71
ASUS DRW-0802P
30.89X
79:57.71
Gigabyte GO-W0808A
30.12X
79:57.71
LG GSA-4120B
32.50X
79:57.71
MSI DR12-A
31.81X
79:57.71
Nu Tech DDW-082
33.22X
79:57.71
Plextor 712A
33.25X
79:57.71
Sony DRU-530A
31.80X
79:57.71
Sony DRU-700A
31.06X
79:57.71
Toshiba SD-R5272
31.22X
79:57.71
Read - DVDR
Drive
Average Read
Length
AOpen DDW8800
3.75X
4.38GB
ASUS DRW-0802P
6.27X
4.38GB
Gigabyte GO-W0808A
6.16X
4.38GB
LG GSA-4120B
7.58X
4.38GB
MSI DR12-A
8.22X
4.38GB
Nu Tech DDW-082
6.53X
4.38GB
Plextor 712A
6.21X
4.38GB
Sony DRU-530A
5.79X
4.38GB
Sony DRU-700A
6.20X
4.38GB
Toshiba SD-R5272
6.61X
4.38GB
Read - Pressed DVD Video
Drive
Average Read
Length
AOpen DDW8800
3.44X
7.88GB
ASUS DRW-0802P
6.34X
7.88GB
Gigabyte GO-W0808A
6.31X
7.88GB
LG GSA-4120B
6.88X
7.88GB
MSI DR12-A
6.84X
7.88GB
Nu Tech DDW-082
4.30X
7.88GB
Plextor 712A
6.18X
7.88GB
Sony DRU-530A
6.45X
7.88GB
Sony DRU-700A
5.88X
7.88GB
Toshiba SD-R5272
6.44X
7.88GB
In our reading and seek time tests, the DR12-A comes out a very
fast
burner. Unfortunately, we fear that these fast reads may not represent high quality reading. If the benchmarks on the previous pages are any indication, the DR12-A probably has some issues reading discs correctly with this firmware.
Final Thoughts
At first glace, the MSI DR12-A does not particularly impress us. Poor burn speeds, media recognition and burn quality all really need to be worked on before the final release of this burner.
Without a doubt, we will see better performance with firmware upgrades, but in the meantime, we have to wait for better samples to hit the market. Part of the poor read and write issues with the drive may stem from MSI's option to go with a 2MB buffer instead of the suggested 8MB buffer (which is found on the Plextor PX-712A). Other components, such as pickup, might be inferior to Plextor's as well - but keep in mind that the underlying LSI and controller are identical.
When we take a second look at our MSI DR12-A for our 12X roundup, hopefully the issues that we experienced will be fixed; do keep in mind that this is just a preview of the upcoming retail unit, and fortunately, not the final unit itself. The drive does have excellent CD burning and reading capabilities, but the more important DVD functionality of the drive still needs work.
Special Thanks to Verbatim, Prodisc and Ritek for providing media for this review.