Original Link: http://www.anandtech.com/show/1390


Index
Shuttle has been the leader for the SFF (Small Form Factor) market since they invented it way back when. For the most part, they continue to be so to this day. Clones have come about since Shuttle released their first SFF, but Shuttle's SFFs are still widely regarded as the best in the biz. SFFs have started to serve the needs of not only enthusiasts, but of small companies that are both power and space conscious. On the whole, Shuttle has essentially created their own little profitable niche that continues to be the cornerstone of their business to this day. They are no longer the small motherboard manufacturer that they were at the turn of the century, but rather, a company that has been single-handedly turned around by the creation of a product that fits many computing needs for a good price.
With that all said, let's take a look at what Shuttle is able to offer on the Athlon 64 front with their SK83G. We explore exactly what you can expect from this VIA K8M800-based system.
Shuttle SK83G: Chassis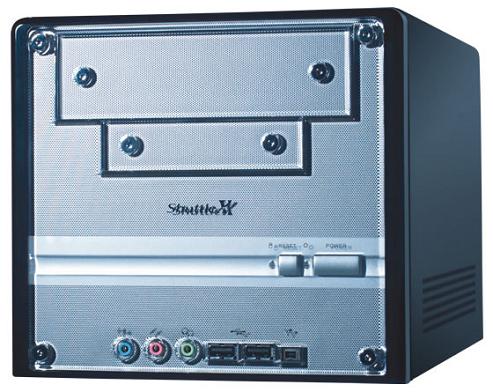 A brand new Shuttle SK83G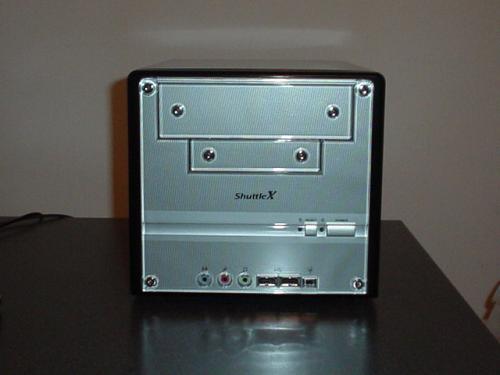 The front panel of the Shuttle SK83G consists of your standard array of I/O ports; it includes two USB 2.0 ports, audio ports (Mic In, Line In, Line out) and a microphone jack. For some reason, Shuttle continues to ignore their optical drive bay(s) by not building a matching plate into the face of the SK83G, which would stop beige optical drives from clashing with the black and grey colors of this SFF. I suppose you could always buy a black optical drive, and that's a fine choice, but many manufacturers have already constructed their SFFs with built-in face plates, so we're not sure what's holding up Shuttle.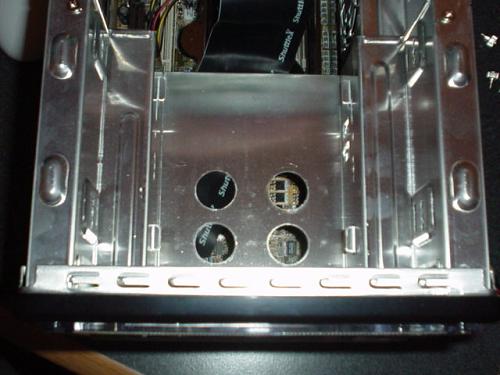 The SK83G is only able to store one optical (ATAPI) drive, one floppy drive, and one hard drive at a time. Or, you could opt to install two hard drives and one optical drive if you have no use for a floppy drive, and vice versa. Regardless of the combination, you're not going to be able to install more than three drives total due to the SK83G's small dimensions. This isn't terribly inconvenient, but other manufacturers have found a way to avoid this restriction by building slightly larger SFFs without getting
too
big. We hope that Shuttle can move toward slightly larger SFFs so as to create another drive bay with their future models. Anyway, routing cables to their destinations from the optical, floppy and hard drives that we installed was a cinch using the bundled rounded cables, even though we would have liked the Floppy cable to have been rounded too. All in all, the way the SK83G's internals were organized allowed us to move through areas seamlessly, and space in general wasn't too cramped or tight by SFF standards.
Shuttle, like most SFF manufacturers, uses special heatpipe cooling to dissipate the heat coming from the Athlon 64 3200+ processor that we used for testing. With the SK83G, Shuttle has improved upon their previous "ICE" heatsink by adding a heavier and generally thicker copper base, and slightly thicker aluminum fins as well. The ICE now also has a new Everflow cooling fan, which can be manipulated in the BIOS through the PC Health section's CPU Fan Speed Control option.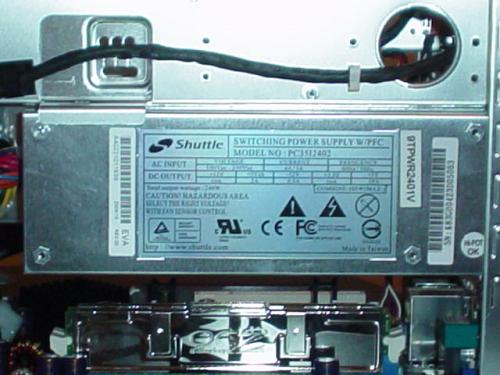 The SK83G's PSU is a 240W version of Shuttle's recently introduced series of "SilentX" products. Basically, what you're getting here is the more silent and cooler version of Shuttle's first iteration of their Athlon 64 SFF, the SN85G4 (version 1). The original SN85G4's PSU ran very hot and was quite loud, which of course didn't sit well with the enthusiast community. Luckily, that was completely fixed with the SN85G4V2 and is not an issue in the SK83G. Anyway, 240W won't be enough to support high end, next generation video cards, but it will be able to support power hungry hard drives (yes, even SCSI) and processors. Just make sure you understand that with a system like this, you probably aren't going to be doing much overclocking at outrageous levels.
Like most good SFFs these days, the Shuttle SK83G left enough room for high end video cards such as the Radeon 9800 Pro or GeForce FX 5900 Ultra. We were, therefore, able to fit a standard 128MB 9800 Pro inside the SK83G quite easily. Even though both ATI and NVIDIA's high end cards are still primarily 9800 Pro cards or 5900 Ultra cards, their next generation cards are just starting to reach retail in quantity. ATI's X800 and their various iterations have been on the market for several weeks in low quantity, and we were able to test one out successfully inside the SK83G. Just as with the 9800 Pro, the X800 was easy to install and didn't really take up any space that would interfere with other components in the SK83G. Unfortunately, since GeForce 6800 cards aren't available in retail (or are only barely trickling in), and because we couldn't get the few samples that are available at the moment, we were unable to confirm whether or not a GeForce 6800 of any kind would fit in the Shuttle SK83G's AGP slot. Obviously, we realize that a GeForce 6800 Ultra won't fit due to its two-slot design, assuming manufacturers follow reference design. But a slimmed down version of the GeForce 6800 Ultra, like a GeForce 6800GT,
should
fit.
UPDATE:
After weeks of waiting, we were finally able to test out a GeForce 6800 series card to see if it could fit and operate in an SFF system. We tested a PNY GeForce 6800GT (taken from a local Best Buy) inside the Shuttle SK83G, and experienced no issues with installation or operation. It was a tight fit, but it worked, and the PSU was able to handle a Windows XP install and multiple gaming apps.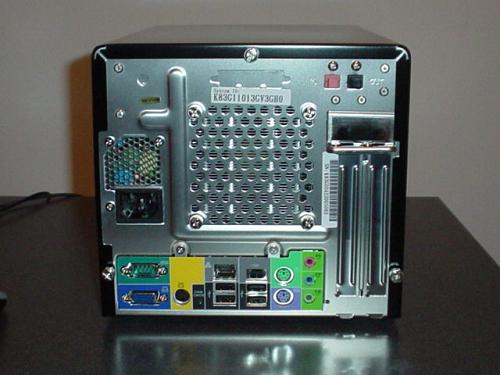 The SK83G also includes a good collection of I/O ports in its back panel. Specifically, there are four USB 2.0 ports, one IEEE1394 FireWire port, one S-video and VGA port, three audio ports (Mic in, Line in, Line out), two PS/2 ports, and a serial port. The IEEE 1394 port is a nice touch and is necessary for users who demand high throughput for large files, such as digital camera users. Four rear USB 2.0 ports are fairly standard nowadays, so that's nothing new. Everything else is standard but the VGA output, which is, of course, an excellent addition to an SFF for enthusiasts looking for reliable backup video in case their AGP card dies. While UniChrome II video is nowhere near acceptable for 3D gaming, it is an adequate 2D accelerator.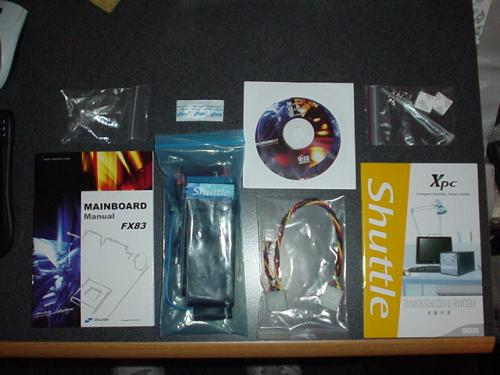 Shuttle's bundle is primarily made up of your standard set of cables, screws, floppy, etc. There is one SATA cable, one IDE cable, one Floppy cable, a 4-pin male/female power connector, an S-video connector, a motherboard driver CD, and heatsink compound bundled with the SK83G. The IDE cable that is bundled with this SFF isn't a rounded cable unfortunately. Rounded cables in an SFF can be exceedingly useful because they make it much easier to route and organize cables within a system as cramped as an SFF. Unfortunately, we didn't get a rounded IDE or Floppy cable with this bundle. But in the end, it's a minor drawback.
Shuttle SK83G: FX83 Motherboard
 Motherboard Specifications
CPU Interface
Socket 754 Athlon 64
Chipset
VIA K8M800 + VIA VT8237
CPU Ratios
None
Bus Speeds
200MHz to 232MHz (in 1MHz increments)
PCI/AGP Speeds
None
HyperTransport
1x-4x (200MHz to 800MHz)
Core Voltage
up to 1.70V in 0.0250V and 0.050V increments
DRAM Voltage
2.5V to 2.8V in 0.1V increments
AGP Voltage
1.5V to 1.8V in 0.1V increments
Chipset Voltage
1.3V to 1.5V in 0.1V increments
Memory Slots
Two 184-pin DDR DIMM Slots
Expansion Slots
1 AGP 8X Slot
1 PCI Slot
Onboard SATA/RAID
2 X SATA connectors
2 X ATA100 connectors
RAID 0, RAID 1
Onboard IDE
Two Standard NVIDIA ATA133/100/66
Onboard USB 2.0/IEEE-1394
6 X USB 2.0 ports (2 front, 4 rear) power by VT8237
One rear FireWire port powered by VT6307
Onboard LAN
VIA VT6103 10/100 Ethernet
Onboard Audio
Realtek ALC650 codec (6 channel sound)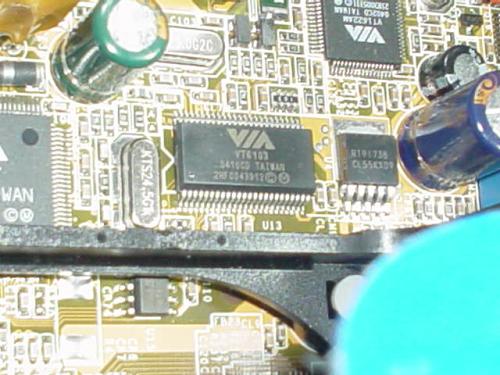 VIA's VT6103 LAN chip is a standard 10/100 Ethernet solution that will meet the needs of the average Internet user and home networking user, provided they don't transfer very large amounts of data very often in their home network. That is, a 10/100 solution is adequate for transferring large amounts of data, but it just isn't nearly as fast as 10/100/1000 (dubbed GbE, or Gigabit Ethernet). We bring GbE up because the Shuttle SK83G is competing with nForce3 250Gb SFFs, which natively support GbE for free.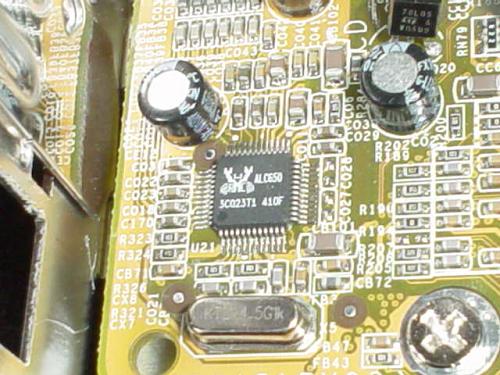 The Shuttle SK83G also comes with a basic 6-channel sound, courtesy of Realtek's ALC650. We're surprised and mildly disappointed that the SK83G didn't come with a more updated version of this codec, specifically the 8-channel ALC680. But still, you will receive quite acceptable sound via this codec. We did our own subjective testing over a period of a week and found no common issues, like crackling or high CPU utilization, during music play.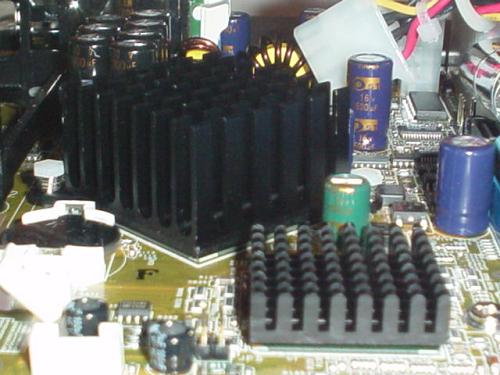 Of course, the most important piece of the SK83G puzzle lies in its chipset. Comprised of the K8M800 North Bridge and VT8237 South Bridge, this chipset's primary advantage over others is its integrated video. VIA's integrated video, dubbed the UniChrome II, is a basic integrated video solution that doesn't offer much more usability or value than as just a backup video processor. In other words, if you can buy a separate video card, we suggest that you do so; as a result, you'll likely experience noticeably better 2D and 3D acceleration. But as backup video, the UniChrome II is more than acceptable.
Shuttle SK83G: BIOS
As with the vast majority of motherboards in the world, the Shuttle FX83 motherboard utilizes the Phoenix Award BIOS.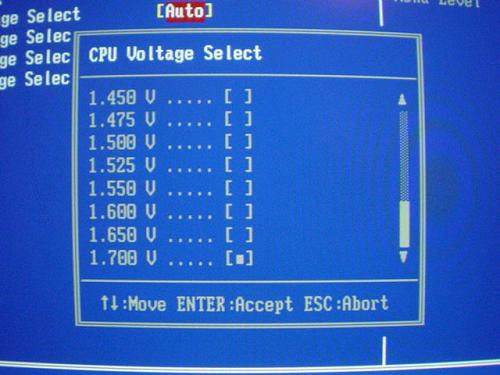 The SK83G allows a good amount of Vcore tuning in its BIOS, up to 1.55V in 0.0250V increments, and in 0.050V increments from there up to 1.70V. Actual operating Vcore when set to its default (1.50V) Auto setting is somewhere between 1.53V and 1.55V on average. This is a nice plus with this system, as setting Vcore to 1.70V in the BIOS actually ends up being more like 1.73V-1.75V. Unfortunately, as you will soon see, you can't take much advantage of these good Vcore features with the way the SK83G overclocks.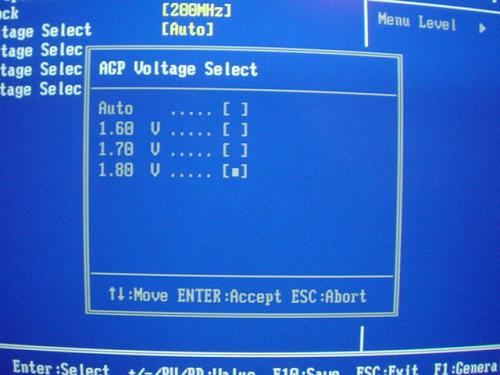 The SK83G BIOS also allows AGP voltage adjustments up to 1.8V in 0.1V increments, as shown above. VAGP adjustments aren't very useful beyond extreme video card overclocking, and even then, its use is mostly minimal. Anyway, despite the fact that the default AGP spec calls for operating voltage of 1.5V, we suggest 1.6V for maximum stability. In fact, some motherboards already set VAGP to 1.6V manually, including the SK83G's motherboard. The biggest problem with the VAGP in this BIOS is that it's apparently capped at 1.48V, an odd problem to say the least. Though, if we had to guess, we'd say that VAGP tuning simply doesn't work.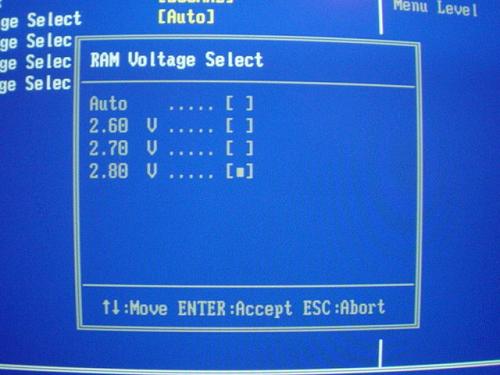 As shown above, VDIMM adjustments aren't terribly spectacular. Even though adjustments that are available up to 2.8V in 0.1V increments aren't poor, it's fairly average nowadays. Still, if you have little use for memory overclocking, your DDR module's default operating voltage of 2.5V will more than suffice. However, setting VDIMM to 2.6V isn't a bad idea, if you want to take advantage of your memory module's lowest possible memory timings; the extra voltage aids in keeping stable low latencies, like CAS 2-2-2-6 (though, those low latencies would probably require BH5 chips, which are all but extinct, except for promising new
Samsung chips
).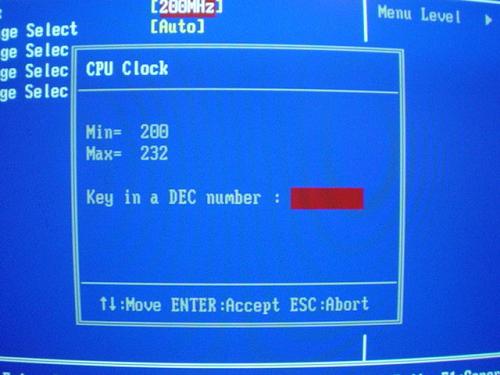 Arguably, the most significant overclocking feature of a motherboard is its FSB adjustments. Though, to be clear, Athlon 64 systems don't really have a FSB; there is no such thing as a FSB in this type of system because the memory controller has moved from the North Bridge onto the Athlon 64 CPU die itself. Therefore, technically, the bus that you're overclocking is the HT (HyperTransport) bus, AMD's name for their Athlon 64 (a.k.a. K8 Hammer) bus. Still, many manufacturers refer to the Athlon 64's HT bus as FSB, even if they know it's technically inaccurate. But that doesn't change the fact that you can adjust an HT bus exactly like you would a FSB, such as those found on Athlon XP and Pentium 4 processors. In the SK83G's case, you can adjust the Athlon 64's bus up to 232MHz. Unfortunately, this is simply unacceptable. 300MHz should really be the minimum with Athlon 64 boards these days, and so we're really not sure what the big deal is here.
The SK83G's PC Health section is well organized and features readings such as Vcore, VAGP, and VDIMM, all vital readings for most enthusiasts these days. Other important readings include System, CPU and Power temperatures, three different fan header speed readings, and PSU voltages (all rails). Be sure to check out the CPU Fan Speed Control option, as it does an excellent job of smartly adjusting to the task (program) at hand and therefore significantly reducing system noise in general.
Shuttle SK83G: Overclocking and Memory Testing
Overclocking Testbed
Processor:
Athlon 64 3200+
2.0GHz
CPU Voltage:
1.50V (default)
Cooling:
AMD stock Athlon 64 Heatsink/Fan
Power Supply:
Shuttle 240W SilentX
Maximum OC:
(Default Ratio)
222FSB x 10
2222MHz (+11.1%)
Maximum "FSB" (HT):
(Lower Ratio)
232FSB @ 8X multiplier
During our routine overclocking testing, we were able to reach a core clock speed of 2.22GHz on our 3200+'s default 10X multiplier. Compared to Athlon XP and Pentium 4 processors, this overclock isn't anything to get excited about. However, as you may or may not be aware, Athlon 64 overclockability differs from processor to processor. Just look at AnandTech's very own nForce3 250Gb overclocking results
from last month's Socket 754 roundup
. As you can clearly see from that article, one of our other editors just happened to get an Athlon 64 processor (of the same 3200+ speed grade) that could overclock regularly to between 2442MHz and 2480MHz on stock cooling, default voltage, and default multiplier. I just happened to get an Athlon 64 3200+ that tops out around 2200MHz, give or take a few MHz.
Anyway, after seeing how low our Athlon 64's core clock speed ceiling was on default multiplier, we decided to see how well the Shuttle SK83G could handle a high FSB at an artificially low multiplier (8X in this case). The SK83G was able to reach only 232MHz FSB, which unfortunately, is the highest available FSB option in the BIOS. We aren't exactly sure if we'd get past 232MHz FSB if we were given room to operate above 232MHz in the BIOS, due to the mystery surrounding the AGP/PCI lock. That being said, we had to lower our HT setting from 4X (800MB/s) to 3X (600MB/s) to reach 232MHz. Certain nForce3 desktop motherboards reached as high as 266MHz FSB with 4X HT enabled. We understand, however, that these SFFs are running significantly less powerful PSUs than the ones that normal desktop enthusiasts use, so you can see why we aren't being too harsh here. That being said, the SK83G is simply not an overclocker's SFF, and there's no two ways about it at the moment.
Memory Stress Test Results:
This memory stress test is very basic, as it simply tests the ability of the Shuttle SK83G to operate at its officially supported memory frequency (400MHz DDR), at the best performing memory timings that our OCZ PC3500 Platinum Ltd Modules will support. Memory stress testing was conducted by running RAM at 400MHz with 2 DIMM slots filled.
Stable DDR400 Timings - 2 DIMMs
(2/2 DIMMs populated)
Clock Speed:
200MHz
Timing Mode:
N/A
CAS Latency:
2.0
Bank Interleave:
N/A
RAS to CAS Delay:
3T
RAS Precharge:
6T
Precharge Delay:
2T
Command Rate:
N/A
Pretty much the only reason why you wouldn't be impressed with these timings running at 400MHz DDR is simply due to the fact that these same modules have run at CAS 2-2-2-6 at DDR400 on countless other motherboards, including nForce3 250Gb motherboards. Generally, these are perfectly fine timings, even if they are commonplace nowadays, especially among single channel DDR motherboards.
Shuttle SK83G: Performance Test Configuration
Performance Test Configuration
Processor(s):
Athlon 64 3200+ (2.0GHz)
RAM:
2 x 512MB OCZ PC3500 Platinum Ltd
Memory Timings:
2-2-2-6
Command Rate 1T
Hard Drive(s):
Seagate 120GB 7200RPM IDE (8MB buffer)
Video AGP & IDE Bus Master Drivers:
NVIDIA nForce Platform Driver 4.24 (5-10-2004)
VIA 4in1 v.4.51
Video Card(s):
ATI Radeon 9800 PRO 128MB (AGP 8X)
Video Drivers:
ATI Catalyst 4.5/4.6
Operating System(s):
Windows XP Professional SP1
Motherboards:
ABIT KV8 Pro (K8T800 Pro)
Epox 8KDA3+ (nForce3 250Gb)
MSI K8N Neo Platinum (nForce3 250Gb)
Shuttle SK83G (K8M800)
Soltek EQ3801 (nForce3 250Gb)
Shuttle SN85G4 (nForce3 150)
Shuttle SN85G4V2 (nForce3 150)
All performance tests were run with a 128MB ATI Radeon 9800 Pro video card with AGP Aperture set to 128MB with Fast Write enabled. Resolution in all benchmarks is 1024x768x32 unless otherwise noted. While we do have an ATI X800 PRO in the lab, all testing used our standard video test configuration with the Radeon 9800 Pro. AnandTech will update the video card test standard to one of these next generation video cards as soon as they are widely available in the market. We have not yet determined our new video card test standard, since we have not yet received enough shipping retail cards from manufacturers.
General Performance and Encoding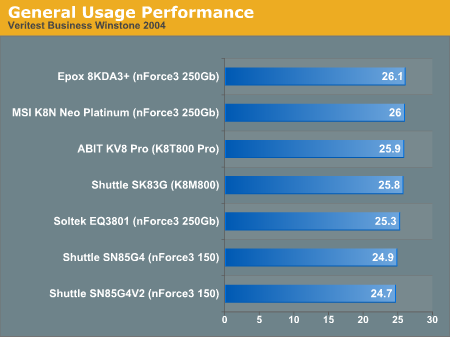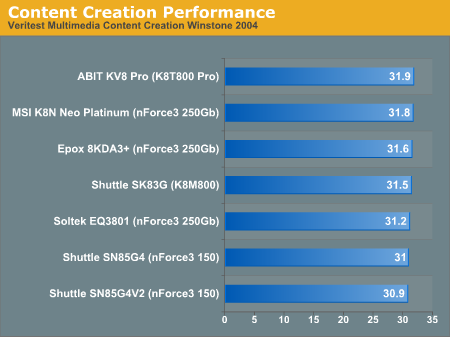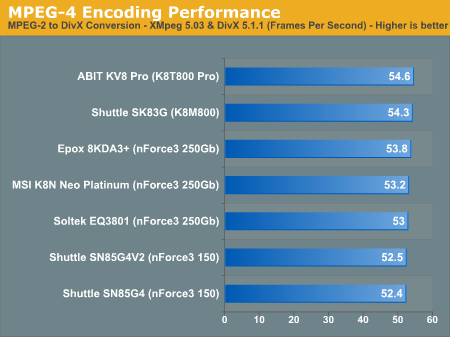 As you can clearly see, the performance difference between most of these retail motherboards and SFFs is close to negligible. That being said, retail motherboards based on the same chipset are faster and better overclocking motherboards on the whole, due to board size and bundled power supply units.
Gaming Performance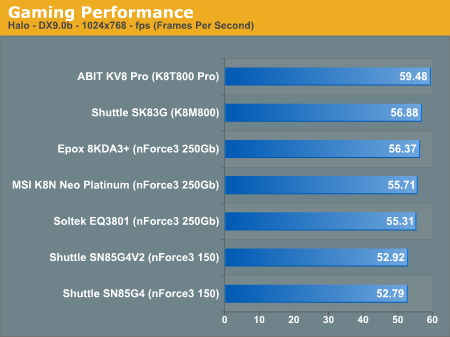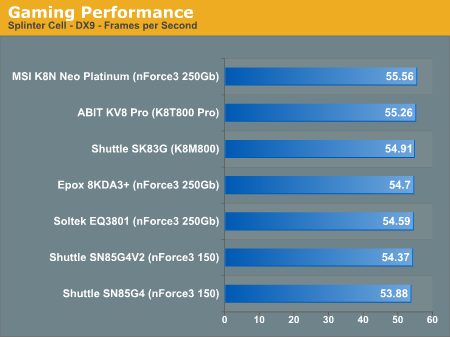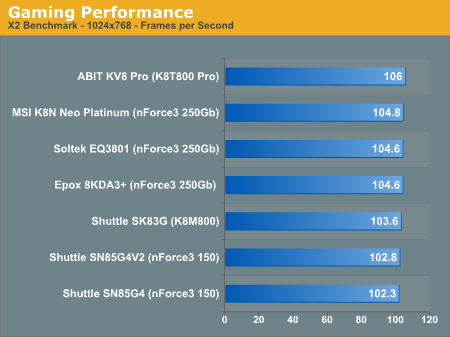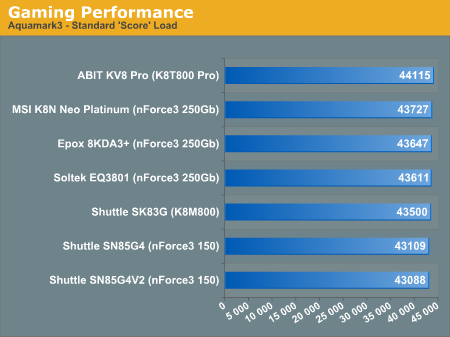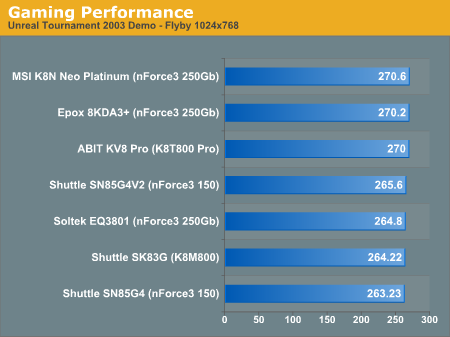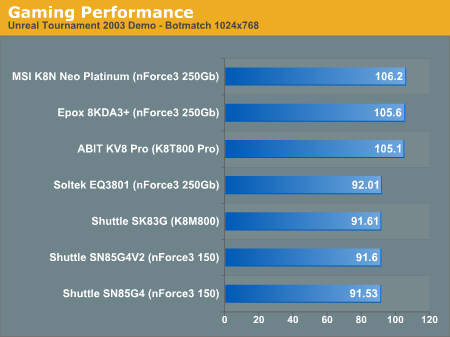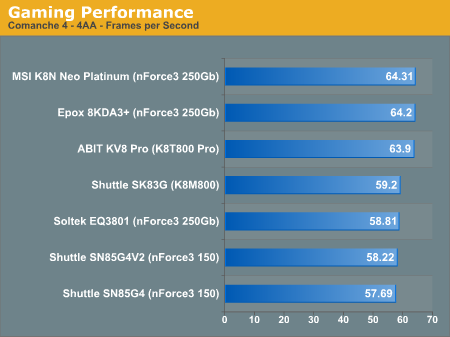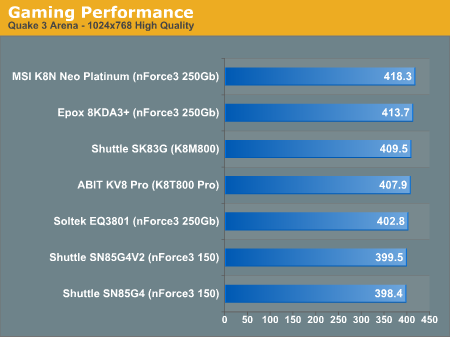 Gaming is where you start to some some noteworthy variation, like in Unreal Tournament 2003 botmatch, Halo, and Comanche 4. In general, retail desktop motherboards are still the best solution for extreme gamers.
Workstation Performance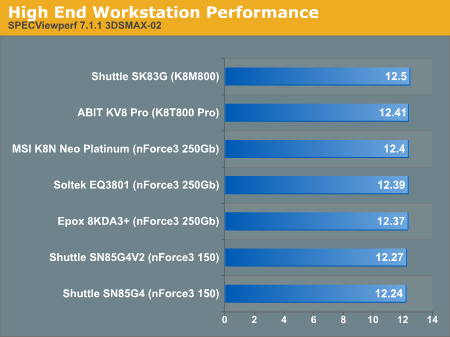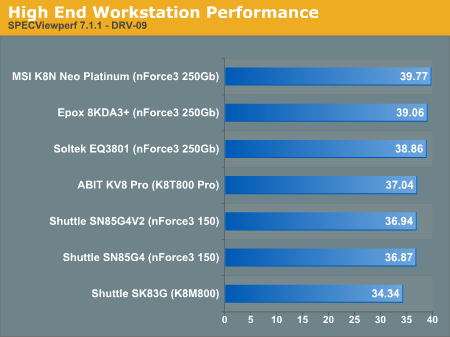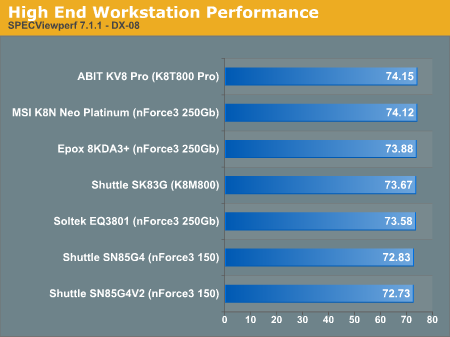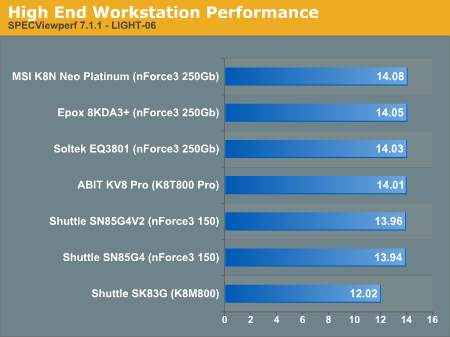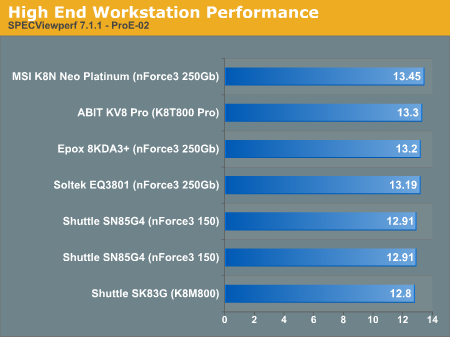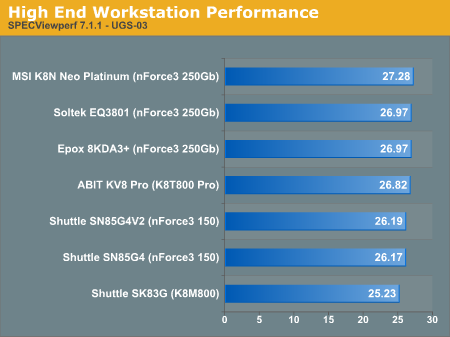 There is very little variation in this type of workstation program. In general, you don't see major variation worth noting. However, with this particular application, the SK83G fell far behind, and experienced mild instability. We think the remedy may be as simple as a BIOS update. That said, whatever the problem is, Shuttle needs to fix it fast.
Integrated UniChrome II Graphics Gaming Performance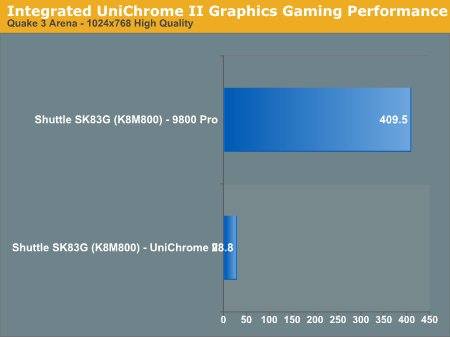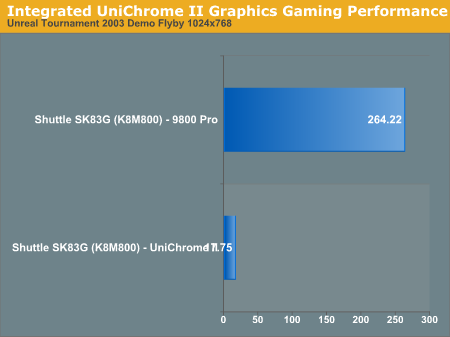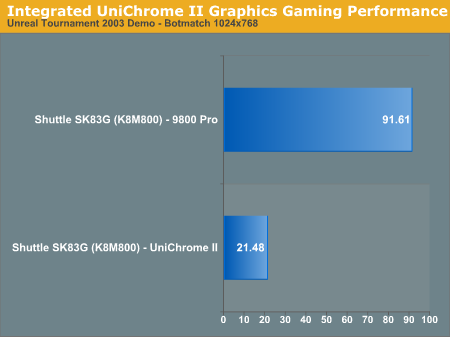 It's pretty obvious the onboard video stinks for gaming purposes, we don't think there's any need for elaboration beyond this point. The UniChrome II really doesn't even provide a particularly great 2D picture, but is usable nonetheless.
Final Words
Looking at just the performance of the SK83G, for now we can conclude that it is simply mediocre. Future BIOS updates from Shuttle and new drivers from VIA may change that, even if we don't hold out a great deal of hope. The low performance and mild instability in SPECViewperf 7.1.1 was also disheartening. But with that all said, the performance and reliability in all other programs and benchmarks were just fine, and perfectly comparable to the best Athlon 64 SFF chipsets on the market, such as the nForce3 150/250Gb.
The SK83G's feature set was acceptable, and relatively competitive with offerings from many other SFF manufacturers. The few things that it lacked compared to nForce3 offerings (Gigabit LAN, native FireWire, lower overclocking ability) were somewhat made up for by its onboard video capability and more aesthetically pleasing style. That said, the Shuttle SK83G's price is about the same as the competition from other manufacturers, and as a result, doesn't necessarily warrant a recommendation in this regard.
Overall, we were most impressed with the quiet and cool operation of the SK83G, its well thought-out exterior and neatly organized interior, and the little additional features (rubber washers, tied down PSU wires, well positioned card reader, etc.) that made it a more pleasing build. In the end, though, if you want to stick with Shuttle, we suggest that you make up your mind by comparing Shuttle's SN85G4V2 (nForce3 150 chipset) with the SK83G and determine what style and features fits you best before deciding on what Athlon 64 SFF you want. If you're an overclocker, the SK83G is the last thing that you should consider. If you're just someone looking for a solid SFF, then this could be your baby.
For more information on these products, as always, you can read our previous SFF reviews by clicking the "Systems" tab at the top of this page.