Original Link: http://www.anandtech.com/show/1385


We have been waiting to take a look at NVIDIA's ForceWare Multimedia application since December of 2003, when we had our
GeForce FX Personal Cinema Roundup
. The biggest issue that we had back then was the lack of an in-house software solution from NVIDIA, since they turned to Intervideo's WinDVR, which, as a software solution, wasn't even designed to accompany the Personal Cinema cards in the first place.
WinDVR was a general PVR solution that could be used with almost any TV tuner card (yes, even ATI's stuff), and what NVIDIA needed was a software solution that was designed specifically to accompany Personal Cinema cards with the same amount of time invested developing the software as the hardware. The multimedia field takes both into account unlike the gamer/pure video card market. With video cards, ATI and NVIDIA both duke it out over pure performance; granted, there is still debate over the fairness of the performance, but that is the general gist of it. Multimedia cards still compete over the hardware in the sense of supported features and performance, but just importantly, the software must be able to back up the ability to interact with these features. One without the other makes for a basically worthless multimedia card.
This was our main frustration behind not having a NVIDIA software solution accompanying Personal Cinema cards. In our view, NVIDIA made a bad strategic choice by trying to compete with ATI in the "All-in-Wonder market" by rushing their product to market without having the software to back it up first. Granted, the software was suppose to come out much sooner (October of '03), but the fact that it didn't meant Personal Cinema users were left with a card that had (in our opinion) poor software support.
And what do you do when you have a bad experience with a product? You go for the competing product (ATI's All-in-Wonders),
especially
if the competing product has a relatively long history of happy customers. NVIDIA is vying that this is no longer going to be the case, since their Personal Cinema cards are going to come hand-in-hand with ForceWare Multimedia from now on.
ForceWare Multimedia - Hardware Requirements
NVIDIA lists the system requirements for the TV/PVR portion of ForceWare Multimedia (aka FWM) on the
software's product page
:
CPU: P4 1.5GHz or higher, or Athlon XP or higher are recommended for best performance
Hard Disk Space: 10GB or higher
System Memory: 128MB or higher
Graphics Chips: Personal Cinemas, GeForce 256, GeForce 2s GeForce 3s, GeForce 4s, GeForce FXs, Quadros, Quadro2s, Quadro DCCs, Quatro4s, Quadro FXs, nForces, and nForce2
With the assumption that this isn't just going to be a HTPC computer sitting without a keyboard and mouse next to your TV, we would probably ante the CPU recommendation to something like a Pentium 4 2.4GHz and Athlon XP 2400+, which most people are probably close to using anyways. The more disk space that you have, the better, since you will need space for recordings (editing, etc.), and system memory should be bumped up to 256MB, maybe even 512MB, especially if you plan to use FWM's network share ability. Keep in mind that like ATI's EazyShare, NVIDIA is limiting their network share support for network streaming TV to clients who use NVIDIA graphic cards.
In all likelihood, NVIDIA will be updating their system requirements once they make their software available for download, which should be sometime later this summer, but there is no set date yet.
The system that we used to test FWM was a Shuttle ST61G4 with a Pentium 4 2.4GHz (533FSB), Seagate Barracuda 7200RPM 7200.7 120GB hard drive (we recommend at least 20GB of free space), Kingston HyperX 1GB PC4000 (2 x 512MB), eVGA's GeForce FX 5700 Personal Cinema for ForceWare Multimedia, and ATI's All-in-Wonder 9600 for Multimedia Center.
ForceWare Multimedia - Install and Setup
Setup is fairly standard and similar to ATI's Multimedia Center with a few differences. The only items that need configuring during FWM's first start up are the audio settings and Gemstar's GuidePlus electronic program guide (EPG), your electronic channel listing tool. NVIDIA leaves out the process of auto-scanning for channels because it is automatically done when you select the channel lineup from GuidePlus. This makes the setup process shorter and easier, but it does limit the end number of channels detected, since it seems that FWM only detects tunable channels which are in the scope of the channel lineup from GuidePlus' listings.
In our experience, there are locations that have channels (analog broadcast or cable) which are not listed in the channel lineup, so FWM probably won't detect them. ATI's MMC takes things a bit differently, but manual auto-scanning is required. The TV player in MMC seems to tie EPG channel listings to a detected channe,l if the EPG information is available; if not, the channel is still available to be tuned to. Both NVIDIA and ATI allow for "force detection" via their property pages.
Setup windows for NVIDIA's Forceware Multimedia
The other main difference is that NVIDIA has preserve timeshifting sessions on automatically and is not in the setup wizard; this is an option in ATI's wizard along with more fine tuning details for timeshifting quality and performance settings. NVIDIA allows for similar settings, but this must be done in their Properties pages once you actually get into the TV sub-program. By default, NVIDIA sets the timeshifting buffer to 1GB with a quality setting of DVD Medium (~26 minutes with 1GB), and storage of timeshifting is done within C:\Document and Settings\(user profile)\My Documents\Videos. It would be nice to see some of these settings available via the setup wizard, since they are applicable to TV viewing. In all likelihood, they will only need to be configured once, so more configuration options in the wizard won't bog down the user.
Parental control options for DVD and TV content for NVIDIA's ForceWare Multimedia can only be accessed via the respective program's Properties pages. Settings for DVD and TV content are done differently in ATI's Multimedia Center. For the TV player, the wizard allows you to set the password, but the rating limitation is done on the player's control bar. For the DVD player, the password and rating limitation is done via the player's control bar, but ratings here are not PG13, etc. Instead, there are only three options: "Kid's titles", "Adult titles", and "Play all titles".
Setup windows for ATI's Multmedia Center
There are also setup options for ATI's DVD player, something left out of the DVD portion of ForceWare Multimedia. It seems that NVIDIA allows for an infinite number of bookmarks without any sort of expiration date option. Bookmarks take up a small amount of hard drive space, so either method is a matter of preference. If you rent a lot of DVDs, an option that allows you to delete bookmarks automatically is a nice feature, since you won't be keeping the DVDs. For those building a DVD library, a large bookmark selection suits your needs better, but the way NVIDIA goes about storing bookmarks is specific for each DVD, so you can just browse all bookmarks at once.
ForceWare Multimedia - Getting Started
The first thing that you will notice is the different approach that NVIDIA takes with their multimedia software. While ATI has a separate program for just about every function (TV, DVD, VCD, CD, Library, EPG, and FM Radio), NVIDIA follows Microsoft's and Frey Technologies' footsteps by having a single program accommodate all multimedia functions. This is the way that we prefer things done, since it keeps all multimedia functionality in one place, but obviously, it has to be done right; otherwise, it gets cumbersome.
This is reflected in the main menu interface for each company. ATI has a separate program that links to other programs once you click on the desired function, and NVIDIA has a main menu display in their program for navigation to the separate function within the single program.
The nice thing that NVIDIA did was implement a mouse-over highlight which shows the currently selected option. Because this is viewed in the desktop mode, the mouse will show the option that you are selecting; this isn't a must-have setting, but it is nevertheless a nice option to have. Mouse-over/currently selected highlight is a much more important option when it comes to the 10 ft. viewing mode, something that ATI has in MMC 9.0. There is no 10 ft. UI currently with NVIDIA's ForceWare Multimedia.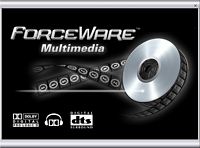 Loading Screen for ForceWare Multimedia
Click to enlarge.
Because ATI's approach uses a separate program to launch other programs, there is no single no load time, since each program has its own load characteristics. NVIDIA's use of a single program does require load time, so there is a splash screen that indicates this. The ForceWare Multimedia program takes about 2 seconds to load, and the splash screen appears at the same time, but takes 4 seconds to disappear. Board partners for Personal Cinema cards like eVGA will add their own logo to this splash screen.
Load times for each function within ForceWare Multimedia are a bit different. The TV takes approximately 4 to 5 seconds; the DVD, ~3 seconds; and, the FM radio, ~6 seconds. The Music, Video, and Photo functions are basically instantaneous, but if you want to go back to the main menu screen, it takes about 1 second. Loading the TV, DVD, and FM functions take time because each seem to require time to load the module needed for that function and/or acquire the signal. During the load time for each of these three functions, the cursor changes from the traditional Window's arrow to a circular object that animates, like one of those beginning movie clips with 3, 2, 1 in a clockwise format. NVIDIA animates the cursor with a black and white background in a similar clockwise format.
Load Time in Seconds
TV
DVD
FM
ATI
~3
~1.5
~2.5
NVIDIA
~4 to 5
~3
~6
ATI's approach is to do just a straightforward load of each program: TV takes ~ 3 seconds; DVD, ~ 1.5 seconds; File, ~ 1 second; VCD, ~ 1 second; CD, ~1 second; and FM, ~ 2.5 seconds.
The Author and Edit selections on FWM's main menu actually link to Ulead's DVD MovieFactory 2.5 SE and VideoStudio 7 SE DVD, and since they don't really pertain to FWM, we aren't going to go over them. They seem to be mainly included to make up for the burn-to-disk function that is absent in this release of FWM.
ForceWare Multimedia - TV
Unlike MCE or SageTV 2.0, ForceWare Multimedia seems like it was designed around a single window frame, but loads separate modules for each function, at least that is the general feel of the application.
The nice thing about TV in ForceWare Multimedia is that there are listings for scheduled, live, and recorded programs. The general look of ATI's TV application is basically the same as it has been since way back, though there are skin changes. Both applications show the current channel and channel name, but the design of the ForceWare MultiMedia offers a much smoother interface, since it uses a single program scheme similar to MCE, at least in our preference. The controls are unobtrusively integrated in FWM, and keep a generally low profile. This makes the need for a separate bar for controls unnecessary, which is exactly what ATI needs.
Initially, TV is shown in the lower left hand window of FWM. It doesn't take up the full portion of the mini-window like MCE does. The rest of the three windows within the TV portion of FWM are outlined thinly by either a white or blue line. If you extend these lines horizontally and vertically to the lower left, you will get an idea of how small the TV window is (in actuality it is a tad smaller than the borders). Our preference would to have a border present in the lower left hand portion where the TV is shown with TV content at 100% of the border's size. NVIDIA should implement a highlighted window design for mouse-over for the lower left hand mini TV window when you move your mouse over it.
Currently, double-clicking on the mini TV window will cycle the TV portion of FWM into full windowed mode, full screen, and mini TV window (in that order). We should note that NVIDIA's FWM doesn't have a "keep ratio" option for TV viewing, which means that when you switch to full windowed mode (the first time), it will not likely be from one side of the window to one side of the window TV content. Instead, there will be black bars occupying space in order to maintain the native 4:3 resolution. How much black space will be dependent on desktop resolution (we were using 1280 x 1024 and 1024 x 768). Fitting the window to the appropriate size for 4:3 viewing fixes the problem, since FWM keeps a memory of the window size. The only problem we had was that the best we could get from wall-to-wall viewing within the full windowed TV mode was a partial black bar on the left and right sides for the signal (no bar in full windowed mode on top and bottom).
Assuming that you need to access different content in FWM's TV mode, you just need to click the house button on the left side to get the main menu or the button to the right of it to switch source signals (video in composite, video in s-video, FM radio, and TV - in that order). Hitting another program in ATI's LaunchPad while TV is running will prompt the user with a window that asks if you want to suspend TV while the other program is accessed, or shut down TV altogether. This is a prompt that ATI provides for all of its programs when another is trying to be accessed (TV listings and TV is treated as a single program in this regard). If you have a preference in the manner programs suspend or shut down, there is a Remember Preference option in the window, so you don't have to go through the same process again. Changing sources in ATI's TV player is about the same as changing it in FWM. You just need to hit the button to the left of the volume button, and it will change the signal to video in composite, video in s-video, and TV tuner (in that order). The difference we had was that it took us noticeably longer to change any source in FWM than in ATI's TV player. We could even switch between the TV and FM player faster than we could between video in s-video to FM and FM to TV in FWM.
On to the controls...
We have the same problem with ForceWare Multimedia as we did with NVDVD. Note the track slider on ForceWare Multimedia. It is limited to a specific width and does not change no matter how you handle resizing the window. NVIDIA should follow Microsoft's suit with their MCE program or Media Player. Resizing the window also resizes the length of the track slider accordingly. Using ForceWare Multimedia to tune to a specific portion of timeshifted content became incredibly frustrating, especially with the long recordings or long timeshifting sessions.
Retaining timeshifting content is done differently by each company (timeshifting is on by default for FWM's TV). NVIDIA is, by design, more linear, since they discard the oldest content in the timeshifting buffer and use the free space for new TV content. If FWM is set to keep content between channel changes, then FWM seems to continue to use the same timeshifting file stream and just includes the new channel feed. This means that FWM doesn't separate the channel changes into separate sessions, which made multi-channel timeshifting really hard to navigate, especially with the fixed track slider width. FWM also doesn't have an option to maintain old timeshifting sessions (stuff that you have from the last time you watched TV, but had since closed the program).
ATI's design is kind of circular in its timeshifting approach, if you think about timeshifting content in the old and new sense. Since ATI can preserve old timeshifting sessions, marking different channels as separate sessions becomes even more important. Timeshifting done here is basically like FWM, but with a small twist. Assume that you are starting a new session or need new space for your current session, and the space allotted for timeshifting has been used up. ATI deletes the oldest timeshifting session and moves the track pointer to the far left to indicate that it is recording in the old content's former space. As the track pointer goes to the far right, it is using space from newer content.
The good thing about ATI's approach is that sessions (channels changes and portions of continuous viewing) are automatically separated and added to the Media Library. Playing sessions is as simple as selecting play from the library's media list. If you choose to track old sessions in the TV player, you must use the jog shuttle, track slider, or user programmable fast forward/rewind buttons (1 frame, 10 seconds, 30 seconds, 1 minute, and 2 minutes). If your fast forward/rewind action comes in contact with a session change, the TV player will automatically halt and start to play that portion; that is, if you rewind 2 minutes and an old session is 1 minute back, then the TV player will start to play at the 1 minute back marker.
Aside from this, the main difference is that the hot key interaction is a bit more limited for FWM. If you mouse over the buttons on ATI's TV player, you get the name of the button/function and its keyboard hot key in parenthesis (if it is a button, there is a hot key). With FWM, we had to experiment since it does not work the same. Mousing over buttons on the FWM's TV portion only gives their name/function, and we had to search the Help archive to get a list of the hot keys. The only issue we have is that the keywords associated with the topic search needs to be more broad. Searching under "Keyboard" (or "hotkey") didn't work, but after punching the keys on the keyboard, we discovered that "R" was for "rewind". So, searching under "R" provided us with the correct topic, called "PVR Mode Hot Keys".
ForceWare Multimedia - TV networking and settings
While the setting cannot be changed, we should note that ATI's timeshifting is done about 1 second behind the live signal and NVIDIA is about 2 seconds behind. Timeshifting must be turned on (it is by default) in FWM in order for sharing TV to work on FWM clients. With timeshifting on, you cannot use closed captioning in FWM, though this isn't an issue with ATI.
It takes NVIDIA 1GB to timeshift about 26 minutes, while ATI uses the same amount of space in about 20 minutes. Keep in mind that the formats used for timeshifting are different between the two (ATI uses VCR and NVIDIA uses something that appears to be MPEG-2 derived).
Installing on a client is fairly simple, but since there were no instructions on how to do so with FWM, we had to scrape together the right method. Although our FWM came with an eVGA GeForce FX Personal Cinema 5700, we had to go in manually and install FWM straight from its storage directory so that we could bypass eVGA's main menu program, which kind of overrides the menu that NVIDIA employs. There is no one-click button to install the core software of FWM that is necessary for clients.
Clients are setup in the exact manner, but they lack the TV and Recording property pages. Assuming that you allow for video content sharing over the network (the main window will show this as part of a program's details), the FWM client should detect the source automatically. The program that you install on the client is the same, so it is a no-fuss setup. We do prefer this type of "one program" design over the one used by ATI's EazyShare, but it isn't completely cut and dry. The program guide is disabled in clients, and so is the source selection (even though your card may do video in). But after a channel change, the server and the client both take the same amount of time (from the time that you enter the channel) to tune to the new signal (about 5 seconds).
Since the client interface is the same, there wasn't a need to take a number of screenshots. The only thing worth mentioning is that no matter what, clients cannot change channels, record, or access the GuidePlus EPG. Program data does come through over the network and is displayed in the lower right hand window as program details, but that is pulled from the computer that is streaming the signal. This is generated as a function of the client's computer time, and not the server, so you really do need to make sure that the clock is the same on both server and client. The only other issue that we had was the inability to set a parental control on the client, which means that this cannot be used in a practical manner within a family setting where TV streaming is necessary.
The lack of our inability to interact with TV content on the client side of FWM is in contrast to ATI's MMC8.8 (EazyShare's first iteration), where we could change channels, enable parental controls on the client side, and at least, get program information for the current program and the one following. The absence of this group of features, specifically channel changing on the client side, makes NVIDIA's sharing solution basically useless. There is no point to having TV share across the network, if you have to go to the room in which you have your FWM server setup, and then change the channel.
Clients will automatically accept streaming feeds, even if they change (the server changes from TV to video in or to FM radio). The only trouble that we had was when we closed FWM and restarted the application on the server. In this case, the client will prompt the user with a notification of a lost signal, yet the client won't autodetect it until the user does a manual refresh.
On the network configuration side of things, 802.11b seemed to work fine with client and server hook ups, but we need a decent connection (above 50%) for streaming TV to work without skipping.
ATI renders the TV signal as DirectX Overlay, which NVIDIA does for FWM by default. But we switched to Video Mixing Renderer 9.0 (VMR9) so that we could get the TV signal also in our screen captures. This is not an option that ATI provides, but it is something that we would like to see incorporated. Technically speaking, VMR9 is considered superior to the older Overlay style, since VMR9 uses the 3D pipeline in a graphics processor, which brings more filtering and mixing possibilities. This can only be accomplished with a DX9 complaint card and drivers because VRM9 uses DX9's DirectX Video Acceleration API. This can still be used on any system with DX9 installed, but due to the higher hardware requirements of VMR9 (alpha blending and other realtime effects), a non DX9 card would likely just drop any calls using DX9 specific features. And the bottom line is that video should look better with VMR9.
One of the nice things that NVIDIA did with FWM was implement different color setting profiles for different scenarios. The big problem we see with this, however, is that a PVR system is most likely going to be a desktop, in which case something like a Car or Airplane profile is unpractical. Even if you are using FWM on a laptop, you are going to be streaming it from a desktop, so that use is also out the window.
The only issue we had was that compared to our regular TV set, NVIDIA seems to have their default setting a bit too dark. ATI, conversely, seems to have a much closer grasp for default settings, since we didn't have to perform any color changes.
There are a lot of differences between FWM and MMC in the available options. FWM can do audio captures (stored automatically to C:\Documents and Settings\(user profile)\My Documents\My Music, but they seem to be limited to an audio format with a bit rate of 1536kbps, 16 bit sample size, stereo (2 channels), 48kHz sample rate, and PCM audio format. The only issue we had was that when sound is captured, it seemed to be a bit degraded compared to the same audio from video recordings. There is a minor distortion that kind of reminds us of some of the first FX Personal Cinema cards with WinDVR.
The audio quality in recordings for FWM is much better than we have had with FX Personal Cinema cards in the past, but there are still a few bugs. During a blank spot between a program and commercial, or commercial and commercial, we could still make out a few moments of static. This is something that we haven't encountered on ATI's software and hardware with AIW Radeon 8500 and above.
The setting differences are also marked by some bigger highlights: FWM cannot do a transparent style desktop mode (ATI calls theirs ThruView), FWM cannot do Hot Words or TV Magazine, and limited space used for recordings, or perform recordings in formats beyond the set profiles that are included in NVIDIA's package. Additionally, all frame captures in FWM TV are done in 640 x 480, while ATI provides more options, like 1024 x 768, and set as wallpaper. The nice thing that ATI does is that it stores all images temporarily in their image previewer, and lets you choose which snapshot to store after you have reviewed them. FWM stores it immediately. Quality- wise, you are talking about analog, so we weren't too surprised to see them about the same.
While NVIDIA somewhat integrates GuidePlus into their FWM, it also has the ability to schedule a recording based purely on time, and this recording listing is displayed on the main TV window. The difference is that you don't have a TV Magazine option that isn't up for grabs in the scheduler, nor can you set up a CD audio playback or a file playback.
Interacting with the TV environment to get to the properties pages is a bit different for each program. While both programs have setup buttons to get to these pages, right-clicking anywhere in ATI's TV player will give you setup options, and you have to right-click in the TV window in order to get similar options. The other quadrants of the window have other options, but the program detail window in the lower right hand corner does nothing when you right-click.
ForceWare Multimedia - TV quality
As we already have mentioned, the settings for ATI's TV player and the TV portion of NVIDIA's FWM are quite different. Timeshifting in FWM's are done on the basis of preset profiles: DVD Low (1GB ~ 50 minutes), DVD Medium (1GB ~ 26 minutes), DVD High (1GB ~ 13 minutes), SVCD (1GB ~ 52 minutes), and VCD (1GB ~ 1 hour and 40 minutes). This is a simple way to setup recordings because timeshifting quality and recording quality are one and the same. Hitting "record" during timeshifting just instructs FWM to handle the file differently as an mpeg file (the timeshift session will still be preserved when you end the recording).
ATI's TV player has recording and timeshifting settings independent of one another. During a timeshifting session, you cannot record, but you can export the session itself for transcoding and editing. The benefit of ATI's design is that you can specify quality and CPU usage for timeshifting on a much more linear scale, as opposed to NVIDIA's design, but you have to take time to transcode if you want a DVD/VCD/SVCD compliant file for burning. Only the image quality setting directly effects the storage space necessary for timeshifting: low (1GB ~ 42 minutes), mid-low (1GB ~ 26 minutes), mid-high (1GB ~ 19 minutes), high (1GB ~ 15 minutes).
We have been trying to develop a uniform method to compare TV timeshifting quality, but we have been running into a few problems. First, for some reason, DirectX Overlay in FWM's TV player seems to be handled a bit differently than other Overlay programs. This means that we couldn't use programs like Hypersnap's or SnagIt's DirectX capture abilities with FWM, though we could with ATI's TV player. So, we were forced to use the built-in frame capture abilities in the programs in order to remain fair, but things captured often don't appear as they seem, so we had to compare the captured frame to what we actually saw on the desktop.
The other issue that we had was the size at which the programs captured the frame. At basically all low quality captures, FWM's frame captures have a resolution of 352 x 264, though DVD High bumps the resolution to 720 x 540. ATI's default capture size for all timeshifting settings is 640 x 480 (the native analog TV broadcasting resolution), but provides built-in options to scale the picture. Since scaling down brings a better resolution, we allowed ATI to store the lower quality pictures at NVIDIA's non-changeable resolution, but left the default 640 x 480 resolution at higher settings because of scaling distortion. To be fair to ATI though, we had to leave the decoder format for FWM's TV video stream as software DirectX Overlay. Using VRM9 should give a better video quality, but for the sake of comparison, we try to keep everything balanced.
Between the two, ATI's TV player has much better quality at its lowest timeshifting setting compared to FWM at VCD timeshifting quality, in frame captures and actually seen video. Specifically, text and people appear a bit crisper with ATI's TV player.
When we swichted the quality of both programs up to their highest available timeshifting settings, things get a bit murky. The quality of video seen in FWM is only slightly better, but with a frame capture, NVIDIA really takes the lead in quality. This is because we found that ATI's TV player has poorer motion compensation for frame captures. Also notice that NVIDIA always has the black bar issue no matter what we do.
We switched to Hypersnap to show what we meant by the motion compensation issue. The screenshot is much crisper than taking it with ATI's TV player, but there is still some motion feedback in the screenshot that couldn't be avoided. This seems to be a function of how the timeshifting file stream is handled. And apparently this is a known problem where if you capture with something like Hypersnap, the picture comes out clearer but is not de-interlaced. ATI tells us this is something fixed in an upcoming version of MMC.
We should still note that at the default settings, the TV signal seen in FWM is a bit different from the frame captures, in the sense of brightness and contrast. For whatever reason, the seen video content in FWM's TV portion is always dimmer and darker than what we capture and compared to ATI's TV player or to a regular TV set; specifically, white paper in FWM almost takes a slightly grayish hue. Compare this to the typical TV set or ATI's TV player where white paper is white paper.
CPU utilization for both programs is a bit different, since ATI seems to have a smaller scale available for quality settings. Because of performance characteristics, we changed our test setup to an Asus P4R800-VM, Pentium 4 3.0C GHz, Kingston 1GB PC4000 (2 x 512MB), and a Seagate Barracuda 7200.7 120GB hard drive. We ended up measuring average CPU utilization after about 5 minutes of idle time while TV was in full screen mode (ATI was not in EazyLook mode).
At the lowest possible setting, ATI has about an average of 14%, while NVIDIA ranks in at about 12.5% at the VCD setting. Scaling up to the high settings, ATI uses about 24% and NVIDIA, 48%.
ForceWare Multimedia - TV EPG
Note the four buttons in the lower left hand corner of FWM (left to right): home (goes to the menu of FWM), source selection (video in composite, video in s-video, FM Radio, TV tuner - in that order), settings/properties, and program guide. Hitting the program guide button will display a load screen for both programs. In FWM, the TV signal will go blank for a few seconds (but will maintain the signal in the timeshift buffer) and will do a slight program refresh and display the GuidePlus EPG formatted within the FWM window (ATI does the same, but puts the TV player in standby and opens up the EPG).
Note that setting a show for watch, record, and favorite adds a specific decal as designation for the show. This is only the case for ATI's scheme, as NVIDIA will only have the favorite icon show up. Setting a show for watch or record for FWM will just add it as an entry for the scheduled programs list (shown in the main TV window), and there is no designation for the GuidePlus listings. Shows set for watch and record are treated the same in FWM as entries, but handled differently, since record actually requires a different function than timeshifting. Additionally, setting a program for record in FWM uses the currently selected recording profile, and the only way to change the recording format is to edit the entry manually.
Between the two, we tend to prefer the GuidePlus program with ATI's MMC. NVIDIA makes a really nice attempt at integration, but it kind of defeats the purpose of using the GuidePlus interface. They haven't ported over full integration for selecting record or watch in the EPG. Instead, they take the same interface that ATI uses and squeeze it into their own frame. This ends up limiting the amount of visible channels that you can see at one time.
We should still note that while NVIDIA doesn't have a 10 ft. UI, ATI only lacks a 10 ft. UI for their EPG. Though, EazyLook still provides individual program details. Ideally, GuidePlus probably isn't the best EPG solution for ATI or NVIDIA. They each should develop their own EPG interface, using something like the Zap2It front-end (like Microsoft does with MCE). We will go over EPG services more when we get to our SageTV 2.0 review (yes, we did one).
ForceWare Multimedia - DVD
The DVD portion of ForceWare Multimedia is basically the same as NVDVD. Keep in mind that the visual scheme for FWM is basically built upon NVDVD. FWM seems to access the NVDVD engine when you press the DVD button on the main menu. Everything is as we remember it from NVDVD, with one expectation (as least as far as we remember it). Our problem with the black bars continues here, just like we had with TV viewing. ATI's DVD player doesn't seem to have the same problem, but we can't show it in a screenshot, since they use DirectX Overlay to display the video stream.
Again, we take issue with the track slider, as we did with NVDVD and the TV portion of FWM. This is a stickler issue for us, and when it comes to DVDs that are over 2 hours long, it only exasperates the problem.
In our opinion, the single window interface for NVDVD/DVD portion of FWM is preferred over what we see with ATI's separate window and bar design. But over so many revisions of MMC, we are given some really great features and options that NVIDIA still needs address (i.e. jump to, angle, and zoom). NVIDIA has a zoom function that can be used with the mouse, but only half of the square that outlines the selection appears and there is no button for zoom or un-zoom (hot key access only - U button).
ForceWare Multimedia - FM Radio
ATI has only recently come out with FM radio on AIW cards, which is why we weren't too surprised to see NVIDIA follow suit on their Personal Cinema cards. Software-wise, the support is quite different. Once you start up FM Radio (can be accessed via the main menu or from the sources button), 87.5MHz station is playing. Going to the settings screen provides you with a new tab for FM radio, where all channels from 87.5 to 107.9MHz are enabled. Preferably, NVIDIA should do some sort of auto-scan when you first use FWM or the FM radio portion of FWM.
Note the parental level option, which really provides no benefit for FM radio, since ratings are encoded on the FM radio streams broadcasted. This is a button that should have been whited out.
Overall, we only encountered one issue (other than the track slider issue, which we mentioned before for TV and DVD playback). The recording button on the center bottom portion of the FWM window will make FM radio record in MPEG2 and treats it as a video. Selecting audio capture in the upper left hand corner is the correct way to record audio, since it only records audio (stores it in C:\Documents and Settings\(user profile)\My Documents\My Music). NVIDIA needs to change the record button from video here to pure audio capture. And since capturing from the record button treated the radio capture as video, it was stored as such (in C:\Documents and Settings\(user profile)\My Documents\My Videos).
ATI's FM player is similar to their TV tuner with a few differences. There have been a few changes since we last looked at it in our
AIW 9600 Pro review
, but the general look has been the same.
ForceWare Multimedia - Music, Videos, and Photos
The rest of FWM consists of a library for music, photos, and videos. While the general idea of having a separate library for music, photos, and videos is great in theory, it only works well with a well-designed program. Microsoft was able to pull this off because MCE was designed to make it feel like you're navigating in one program. FWM feels more like a program that links to sub-programs because of the time it takes to load these other functions. It isn't completely seamless, even though it may be only a 1-second gap.
The benefit of a single program design is the fact that you can watch (or listen to) multimedia at the same time as browsing your available multimedia files, which NVIDIA has down with the mini-video window. However, as we mentioned in the TV section, NVIDIA needs to implement better mouse-over and general user interfacing, since double-clicking on the window goes through the full windowed mode, full screen mode, and mini-window mode.
Since ATI takes the separate program approach, they have more to work with in terms of design options. However, overall, the library and file player make a fairly good pair when it comes to playing videos. When it comes to pictures, the only benefit for using an otherwise non-obtrusive player for viewing pictures is that you can make a slideshow out of it. This really isn't that great in desktop mode nor is FWM's slideshow ability, but ATI makes it a benefit when it serves to display the pictures for a HTPC in EazyLook mode. We would rather use Microsoft's Picture Viewer over either of these.
ATI's or NVIDIA's software is probably our least favorite media to use in order to play music, since Windows Media Player has a better intuitive interface and minimizing options. While Microsoft's MCE is a larger interface compared to WMP, Microsoft is able to pull off playing music, videos, and pictures with a comfortable sense. This is mainly because everything they designed was minimal in navigation, which gave everything more of a jukebox feel.
We should note that there are big differences in the available options for the two "libraries". ATI allows direct burn to disk (DVD or VCD) via the library for video media, transcoding between different video formats (MPEG2, MPEG1, MPEG4, etc.), delete from computer, and cleanup library, all of which are missing in NVIDIA's FWM. Since NVIDIA is more of a direct file browser, it doesn't need a cleanup library option. But we should mention that deleting a file from the FWM library only removes it from the library and not the computer. NVIDIA needs to look at some of the available options from ATI to get a good grasp on what are needed and wanted functions in a PVR library solution.
And while NVIDIA automatically adds recorded TV shows to its video library, two of the five preset recording settings can only be seen in FWM correctly. This is due to the fact that the resolution of the video file is completely screwed up. For the DVD Medium setting, the video seen in a video player, like Windows Media Player, has almost an inverted 4:3 resolution, while SVCD is slightly stretched vertically, but we cannot tell the ratio at which it is happening. Even at some of our own set recording/timeshifting settings (MPEG2 and SVCD), this was still happening, which makes TV records in these settings basically useless because you are held hostage by having to use FWM to view the videos correctly.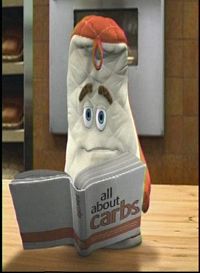 Incorrect video ratio for video recorded in DVD Medium preset
Click to enlarge.
Final Words
NVIDIA has come a long way, but this has been a project long in development; this first look at FWM for public viewing has begun with release version 3.02.24. NVIDIA still has a lot of work to do, such as doing more mouse-over highlights, right-click options for buttons as well as better object UI interaction, like MCE. We still don't have a 10 ft. UI to look at, which is something that NVIDIA definitely needs in order to compete with ATI. And while FWM (as well as its design foundation - NVDVD) is based on a skin-able design, we should note that some of the problems they have with the UI can probably be solved with a better skin design. However, this actually requires them to have skins included with FWM for this to work in their favor, since most people won't devote time to search the net for skins. And those who do, won't find any, since FWM has barely enough age on its hand for its users to develop skins.
NVIDIA does a good job of integrating all of the necessary functions into a single interface (minus editing and burning), which we prefer over ATI's MMC, but our complaint is that it still feels like a frame that is loading separate modules for each function. Load time between functions should be more seamless, especially if NVIDIA is trying to play in the same ballpark as MCE, Beyond TV, and SageTV - all three of which beat out NVIDIA in design.
If you have to make a buying decision now, we would recommend that you go with ATI for any multimedia solution, whether it is an AIW or a TV tuner product. Since NVIDIA has the bulk of the work done, we have to say that FWM looks to have a very promising future and should make ATI do a double take on their multimedia competitor.
Three months down the road or come the next software revision, our recommendation might change. Though, with NVIDIA planning to post a public release of FWM in the late summer without 5.1 support (you probably will have to pay for a full options version, like NVIDIA does with NVDVD), and a 10 ft. UI version planned in the fall, it is hard to say approximately when the next revision with new features will pop up. And until FWM's webposting, we are only aware of the software being shipped with eVGA's GeForce FX 5700 Personal Cinema. MMC shipped with all AIW products and is a free download from ATI's website for basically all new ATI card owners (past owners can purchase for $10 -
read details
).
Topping off our list of problems is the poor remote support; NVRemote's software is still poorly coded - moving the cursor with the remote's directional pad is like looking at a cursor on a monitor with a really low refresh rate, jerky and inconsistent. We know that it is not a hardware issue because NVRemote will pick up our Remote Wonder's commands automatically without any configuration (both remotes are made by X10), and we still have the same problem. This is due to NVRemote's software, which doesn't give unique IDs to each system. Because it automatically picks up commands, it means that you cannot have an AIW and Personal Cinema setup in the same area. This is not the case for Remote Wonder support, which gives the ability to have multiple AIW setups without any interference between the systems.
Our most pressing issue was the fact that on the highest setting, NVIDIA's FWM basically ate up half our available CPU resources, even though we were using a Pentium 4 3.0C! This is not practical at all. For most people to go out and buy a Personal Cinema, then be stonewalled with a slow computer and end up being forced to upgrade is a bit ridiculous. Given that on our P4 2.4B GHz, everything came to a crawling halt (we are talking about 100% CPU utilization here), I can't really believe the amount of resources that FWM consumes. On this specific issue, we would personally rather pick up something like Beyond TV, which did not use up as many system resources on non-hardware encoding multimedia cards.
Granted the highs and lows of the available timeshifting qualities in FWM are higher and lower than those in MMC, but even so, this is a bit much. Even with that being said, the TV quality seen in MMC is cleaner and crisper than in FWM. Since for whatever reason, white paper doesn't quite look like white paper in FWM, something that we must insist on for TV viewing.
In conclusion, we feel that NVIDIA has a better look, but definitely needs a lot of tweaking and reworking done in functionality and usability, specifically the general feel and UI interaction. Some of the core abilities (i.e. our recorded video resolution issue) still need to be addressed, which is only one of the few bugs that we encountered worth mentioning. ATI, on the other hand. has a decent look, and has all the nooks and crannies for functionality and usability ready to go. And we cannot stress enough the importance of a 10 ft. UI, if you are planning to go mouse- and keyboard-less. Until things change, our recommendation is going to stay with ATI's AIW or TV Wonder solutions. And if there is one lesson that NVIDIA can draw from this, it is you don't go dueling with a half-cocked pistol.