Original Link: http://www.anandtech.com/show/1383


Introduction
The past couple months have been very exciting, entertaining, and interesting as far as consumer level computer graphics cards go. Everyone was blown away when NVIDIA essentially doubled performance of their previous generation in their new top of the line 6800 Ultra. Shortly thereafter, we had the pleasure of discovering that this generation of graphics cards would see two GPU makers on equal footing for the first time since hardware acceleration was introduced. Each IHV has strong points and weak points, but the overall picture is surprisingly balanced.
Ever since our initial X800 review went to press, we've been promising a look at NVIDIA's "6850", which actually turned out to be a 6800 Ultra Extreme. So, why did it take so long? NVIDIA's reference 6800 Ultra Extreme was essentially DOA: drivers wouldn't install on the card, though we could boot standard VGA. It's been a long road, but since then, we've gotten a hold of eVGA's 6800 Ultra Extreme Edition.
Though 6800 non-ultras have been in the Press' hands for a while, some might wonder why we haven't yet covered it. Our NVIDIA reference card wouldn't even boot, but luckily, LeadTek was gracious enough to lend us a 6800 card for the purposes of this review. We haven't had any problems with our vendor cards, and we don't think there's any reason to worry about NVIDIA cards because of this one issue. Nevertheless, it's still worth mentioning.
So, now we have 3 real flavors of NV40, plus one overclocked (less available) version, and 2 flavors of R420, plus one overclocked version (which is suppose to be as available as the XT, but we'll have to wait and see what happens there).
It's difficult to tell whether the sheer number of options available will be helpful to consumers, or just plain confusing. And pricing is still going to be a difficulty. The real factor that will determine whether or not to buy the card will be price/performance. Though prices right now may be highly dependant on availability, we'll review some price/performance numbers in our conclusion to see where things stand. Hopefully, this review will help to show the full picture of the AGP 8x playing field, and help take some of the pain out of the decision-making process.
But first, we need to take a look at the two cards with which we will be using.
The Cards
First up, we have the LeadTek GeForce 6800. As with most (all?) cards at this stage in the game, this is just a reference card with a LeadTek HSF solution strapped on it. Of course, cooling solution can play a large role in purchasing decisions, and as we saw in our previous generation round up, the LeadTek doesn't have a bad design at all.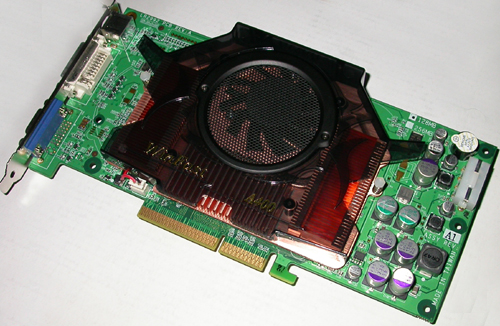 The core clock speed of the NVIDIA GeForce 6800 is 325, and memory is clocked at a relatively low 700MHz data rate, and it only has 128MB of RAM. Of course, the 400MHz drop in memory speed from its 16-pipe Ultra flavored big brother isn't as large a deal as it could be. The number of pixel pipelines running has a heavy impact on memory usage. Since this only has 12 pipes running at a lower clock speed, the slower (and cheaper) memory selection shouldn't have as large an impact as it might seem.
Pricing on the 6800 is looking to be about $300 USD.
Next up is the eVGA GeForce 6800 Ultra Extreme Edition. These Extreme cards will simply be highly overclocked 6800 Ultra GPUs. NVIDIA suggests 450MHz+ core and 1.1GHz+ memory. Vendors who decide to pick up one of these overclockable GPUs can (and probably should) decide to go with faster memory as well. A beefy cooling solution is also desirable. Our digging and prodding suggests that NVIDIA doesn't charge any more or less for this chip to vendors (though they don't discuss at what price they will sell their chips), since it's still a 6800 Ultra GPU, but only some vendors will be able to get their hands on them.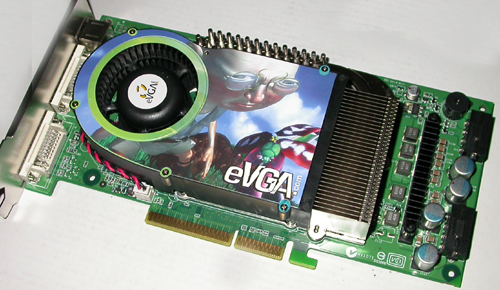 As we can see from the picture, this card is totally stock NVIDIA with the exception of the Tonberry image on the fan shroud rather than the mermaid. This particular 6800UE has a core clock speed of 450MHz and a memory data rate of 1.2GHz. We received our sample clocked at 460, but later received an update from eVGA that they would be shipping them at a lower speed. As we saw in our
FarCry v1.2 patch article
, this card was perfectly stable at 460 MHz, though mileage may vary.
We don't have any pricing information on the 6800 Ultra Extreme, but it will likely be very high as Ultras are going for $540 USD. We have been told by eVGA that the Ultra cards should retail for $500 while the Ultra Extremes should be $540, but vendors are simply selling the lower powered cards at a higher price right now. It remains to be seen what will happen with this, but price won't stabalize before availability does. For now, our greater concern is street price, which we estimate will be much higher than $540 (at least initially). But eVGA maintains that the card should be priced at $540 on their website when it becomes available. For that, we will have to wait and see.
Our comparisons will include plenty of ATI and NVIDIA current and previous generation cards.
The Test
Our benchmarks this time around will consist of our previously tested standard benchmarks. The scores of older cards have simply been copied from our old test (from our first X800 review). Performance gains on most applications haven't been huge on the older cards with the latest couple of driver revisions from either camp, but these numbers should still only be used as a reference point.
Unfortunately, the 4.7 Catalyst drivers were released the day after testing was completed, and were not able to make it into the article. We will, of course, be looking into the performance of new drivers in other articles (though the 1 per month release schedule of ATI is tough to keep pace with at times).
Performance Test Configuration
Processor(s):
AMD Athlon 64 3400+
RAM:
2 x 512MB OCZ PC3200 (2:2:3:6)
Hard Drives
Seagate Barracuda 7200.7 120GB PATA
Video AGP & IDE Bus Master Drivers:
VIA Hyperion 4in1 4.51
Video Card(s):
eVGA GeForce 6800 Ultra Extreme
NVIDIA GeForce 6800 Ultra
NVIDIA GeForce 6800 GT
LeadTek GeForce 6800
NVIDIA GeForce FX 5950 Ultra
ATI Radeon X800 XT Platinum Edition
ATI Radeon X800 XT
ATI Radeon X800 Pro
ATI Radeon 9800 XT
ATI Radeon 9700 Pro
Video Drivers:
NVIDIA 61.45 Beta
NVIDIA 61.11 Beta (5950U)
ATI Catalyst 4.6>
ATI Catalyst 4.4 (9800/9700)
Operating System(s):
Windows XP Professional SP1
Power Supply:
PC Power & Cooling Turbo Cool 510
Motherboards:
FIC K8T800 (754 pin)
For easy reference, here is the pixel width, core clock speed and memory data rate of all current generation parts:
NVIDIA GeForce 6800: 12 pipes, 325 core, 700 mem
NVIDIA GeForce 6800 GT: 16 pipes, 350 core, 1000 mem
NVIDIA GeForce 6800 Ultra: 16 pipes, 400 core, 1100 mem
NVIDIA GeForce 6800 Ultra Extreme: 16 pipes, 460 core, 1200 mem
ATI Radeon X800 Pro: 12 pipes, 475 core, 900 mem
ATI Radeon X800 XT: 16 pipes, 500 core, 1000 mem
ATI Radeon X800 XT Platinum Edition: 16 pipes, 520 core, 1120 mem
Here is the pricing data that we gathered from pricewatch and our own
RealTime Pricing Engine
(all prices are USD).
NVIDIA GeForce FX 5950: $380
NVIDIA GeForce 6800: $300
NVIDIA GeForce 6800 GT: $410
NVIDIA GeForce 6800 Ultra: $540
NVIDIA GeForce 6800 Ultra Extreme: $?
ATI Radeon 9700 Pro: $180
ATI Radeon 9800 XT: $400
ATI Radeon X800 Pro: $420
ATI Radeon X800 XT: $540
ATI Radeon X800 XT Platinum Edition: $?
We don't yet have any reliable pricing information for the 6800 Ultra Extreme or the X800 XT Platinum Edition. With the 6800 Ultra and X800 XT both at $540, we can expect the beefed up versions of these cards to be priced a little more. We'll guess $600 each as the price points for the ultra high end cards. Who knows whether or not this will prove to be the case, but that's the best that we can do right now.
We have seen 6800 GTs on sale for their MSRP of $400 and there are a few links on pricewatch showing $410, but we couldn't touch an X800 Pro for less than $420.
We are always trying to bring more sanity to the decision making process, so for this series of tests, we will add a value graph to each performance test that will essentially rank all the cards by price/performance.
Even choosing to graph this data requires that we essentially assign a "value" to frame rate. Unfortunately, the way every individual values frame rate is unique, and we can't tailor make a graph for every individual. The once constant when graphing this data will be rank: no matter what you do, higher frame rates will raise rank, and lower prices will raise rank. Therefore, to try to help alleviate the problem of attaching a dollar value to every frame, we have decided to use a log scale. Specifically, our value graphs will be based on the following equation:
Value = 10 * log(100 * performance / cost)
We multiply performance / cost by 100 in order to avoid the problem of negative log values (our graphing engine doesn't like that), and we multiply by 10 for readability.
It is important, when looking at this data, to remember that performance and value need to be taken into account at the same time. In certain price difference situations, (for instance between the 6800 GT and X800 Pro), performance will be in favor of one and value the other. In these cases, the $10 USD difference may or may not be an issue. It's up to the reader to be the final judge.
But, that's enough talk. Let's move on to the numbers.
Aquamark 3 Performance
Still an often used benchmark based on Aquanox, Aquamark isn't holding back these cards. This benchmark is mostly for reference as not many people play Aquanox. We did use the standard benchmark setup here as well.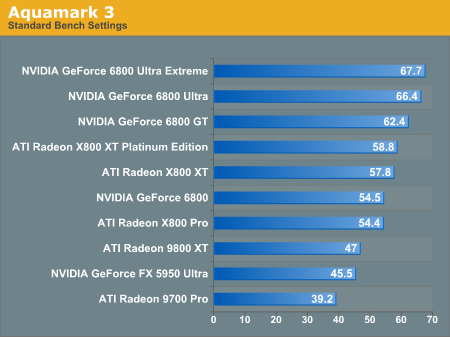 Mouse over for value graph.
EVE: The Second Genesis Performance
Without AA/AF, NVIDIA holds a pretty sturdy lead. Turning on these features results in ATI reclaiming the lead, but not by much. Actually, it looks like ATI cards might be limited by their driver as their scores were all too close to eachother.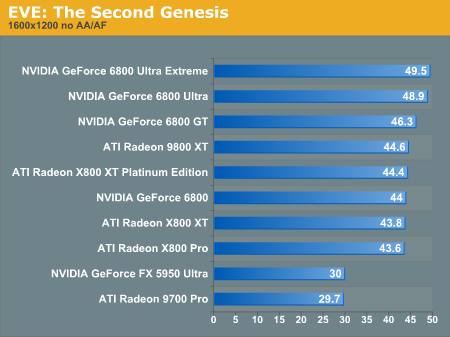 Mouse over for value graph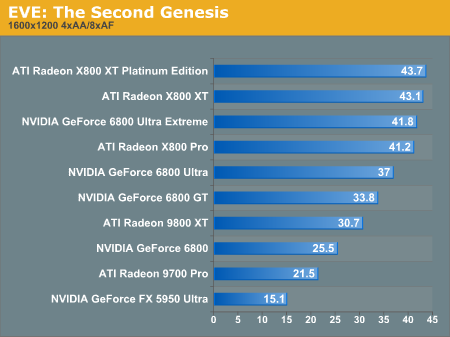 Mouse over for value graph
F1 Challenge '99-'02 Performance
This benchmark is definitely CPU limited without throwing on AA and AF. The 6800 still leads the old cards, and the 6800UE holds its own at the top of the heap.
Mouse over for value graph
Mouse over for value graph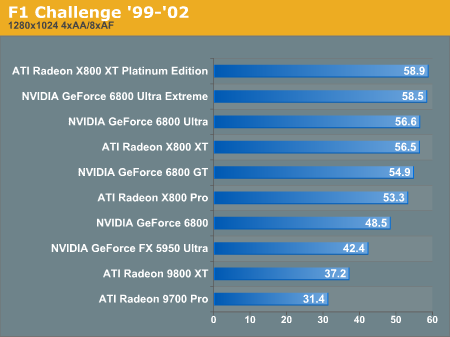 Mouse over for value graph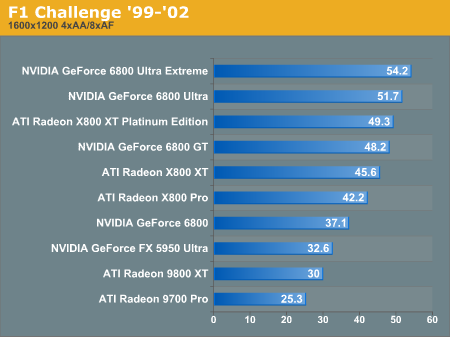 Mouse over for value graph
FarCry Performance
For this test, we used the scores from
our recent FarCry patch analysis article
. We pulled the shader model 2.0 numbers for an apples-to-apples comparison, but the numbers from the previous generation cards were run with the 1.1 version of FarCry. So, these numbers relate less than other benchmarks. Still, we've had plenty of requests for a reference point, so we decided to include the numbers.
With or without AA and AF enabled, the 6800 definitely has a large lead over the older cards. The Ultra Extreme essentially ties the XT in the no AA/AF test, but the ATI cards start to pull away as AA and AF are enabled.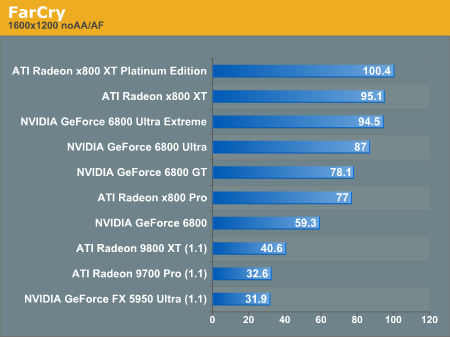 Mouse over for value graph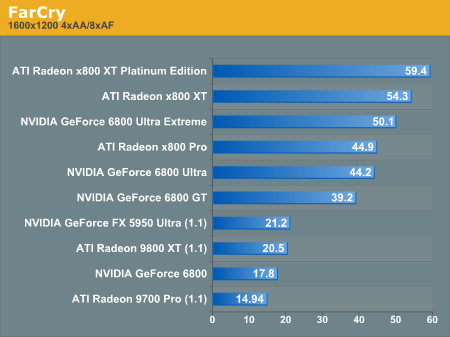 Mouse over for value graph
Final Fantasy XI Performance
ATI's high end parts lead here, while the stock 6800 manages to essentially tie the 9800 XT. Not a bad showing for the least expensive of the current generation that we are looking at here. This benchmark is also highly system dependant, and it's likely that most of these cards jumbled at the top would get some extra breathing room with a faster system behind them.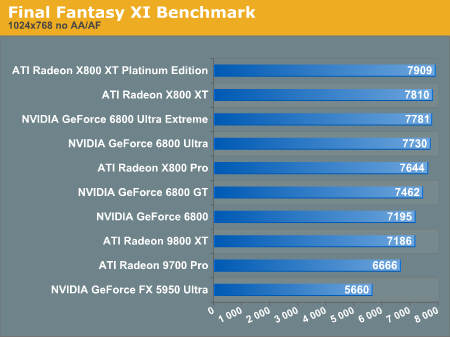 Mouse over for value graph
Halo Performance
Since Halo doesn't support AA, we run this benchmark with 8xAF on only. The way the cards line up here doesn't change when moving from 12x10 to 16x12, and the 6800UE keeps up with the ATI top-of-the-line in both cases. The 6800 is able to outpace easily both of last fall's $500 cards. The 6800U and 6800GT are floating around in the middle, somewhere with the GT doing a little better than its competition and the U version doing a little worse.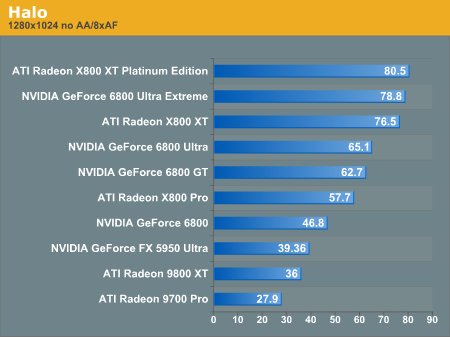 Mouse over for value graph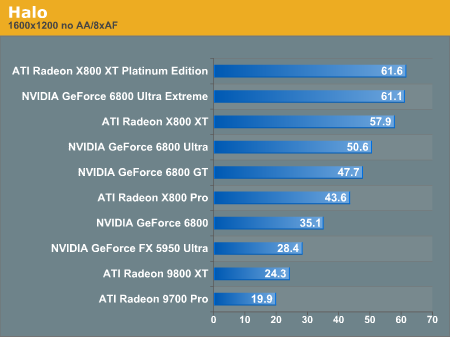 Mouse over for value graph
Homeworld 2 Performance
There are two options for shadowing under Homeworld 2, and in our previous tests, the 1.1 version of HW2 would use the same rendering technique for both the 6800 series and x800 series cards (shadowing with a fragment program). But these numbers look different than what we are used to seeing, so we're wondering if the shadow map implementation isn't being used on NVIDIA hardware here (as it's faster and identical in output to the shader).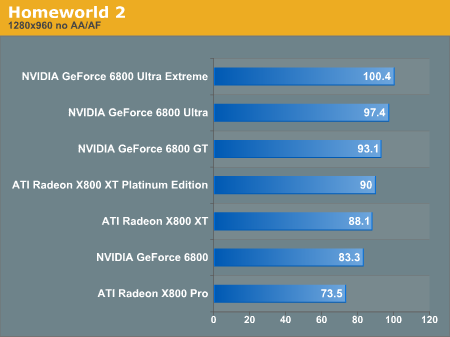 Mouse over for value graph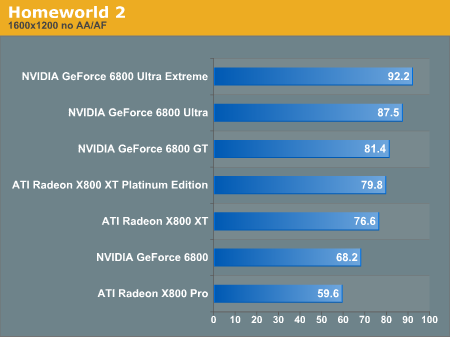 Mouse over for value graph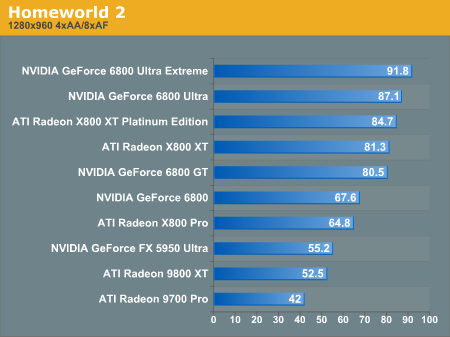 Mouse over for value graph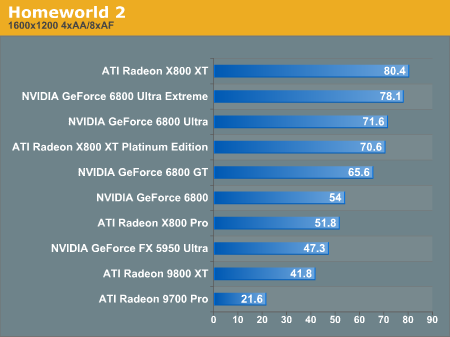 Mouse over for value graph
Jedi Knight: Jedi Academy Performance
NVIDIA owns this benchmark, as is the case with most OpenGL games and applications. The 6800 even manages to hang with ATI's XT flavors this go-around.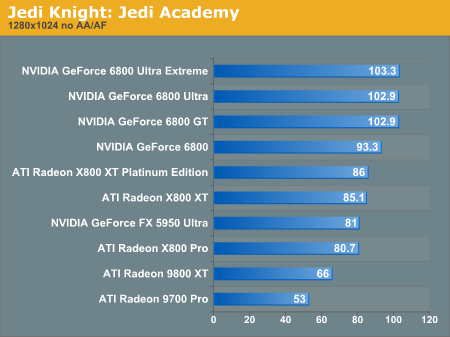 Mouse over for value graph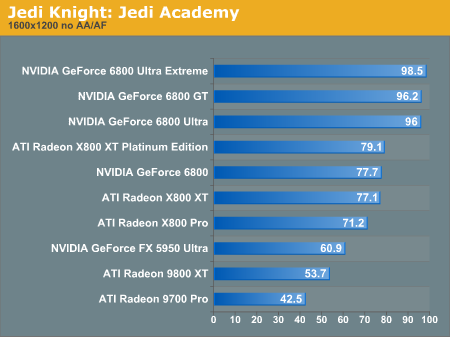 Mouse over for value graph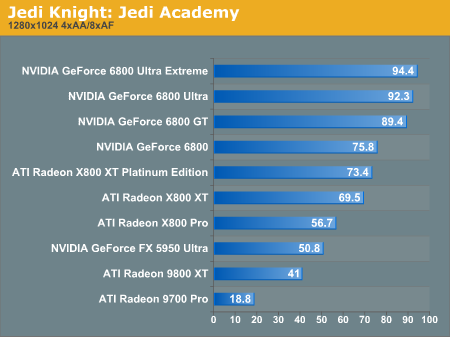 Mouse over for value graph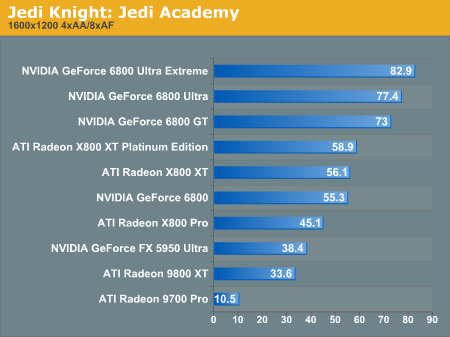 Mouse over for value graph
Neverwinter Nights: Shadows of Undrentide
This benchmark is completely driver limited without AA and AF turned on. But no matter which performance benchmarks that we look at, we see the tell-tale signs of an OpenGL game (NVIDIA cards leading the way). This game isn't all about frame rates though, and it's playable under all these tests on all the cards that we tested.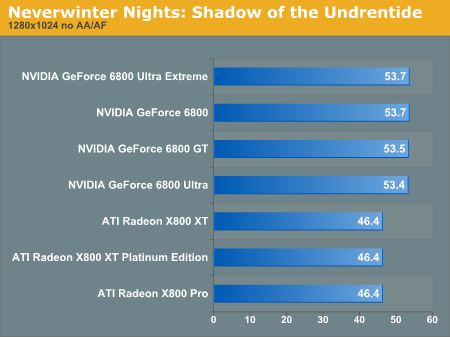 Mouse over for value graph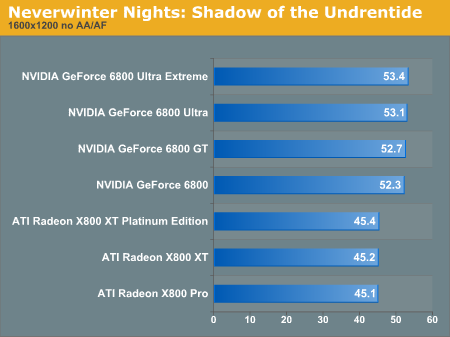 Mouse over for value graph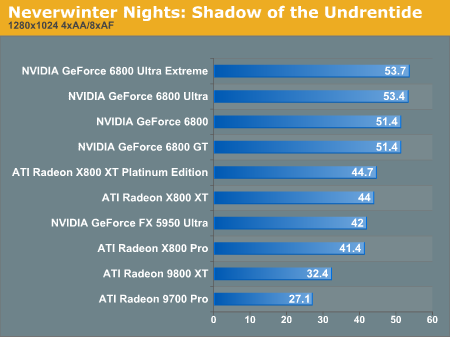 Mouse over for value graph
Mouse over for value graph
Unreal Tournament 2004 Performance
Without AA and AF, the NVIDIA cards put in a very good showing, but the tables are turned once again when 4xAA and 8xAF are lit up. This benchmark doesn't show the ATI cards leading as much as it does in other benchmarks, but the numbers definitely show ATI leading if AA/AF are to be enabled.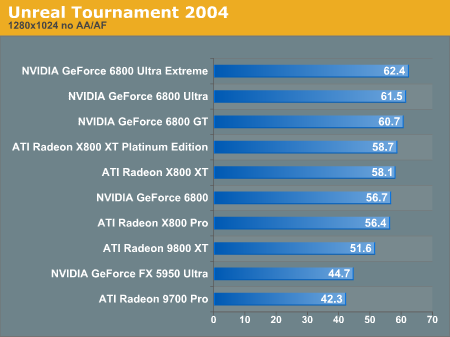 Mouse over for value graph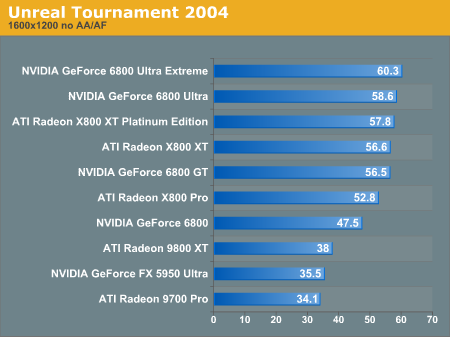 Mouse over for value graph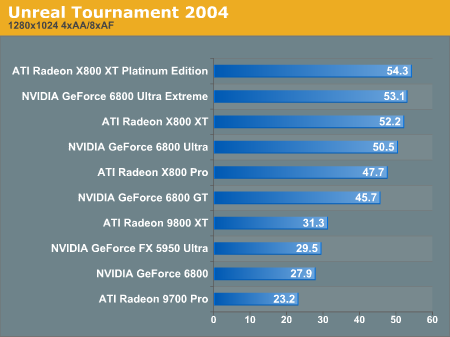 Mouse over for value graph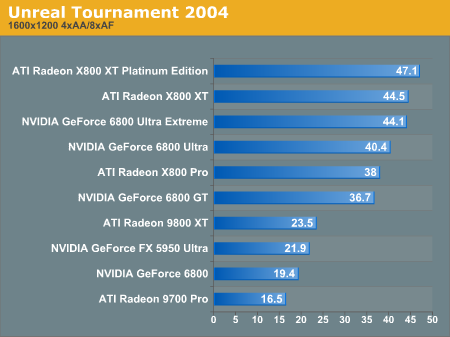 Mouse over for value graph
Warcraft III: Frozen Throne Performance
Even at 16x12, this benchmark is very CPU limited, and yes, vsync was disabled. Oddly, when AA/AF is enabled, the FX 5950U actually outperforms the X800 XT PE. This is an atypical situation, and we will try to look into the matter further.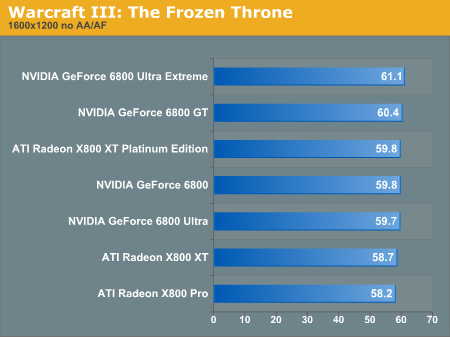 Mouse over for value graph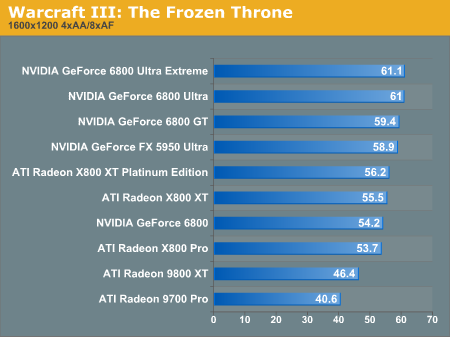 Mouse over for value graph
Wolfenstein: Enemy Territory Performance
This OpenGL benchmark shows NVIDIA on top again; this time, with the 6800 hanging around the X800 Pro fairly well. This benchmark does look CPU limited as well, at the low resolutions of 1280x1024.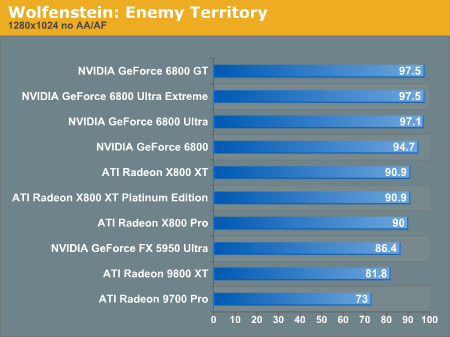 Mouse over for value graph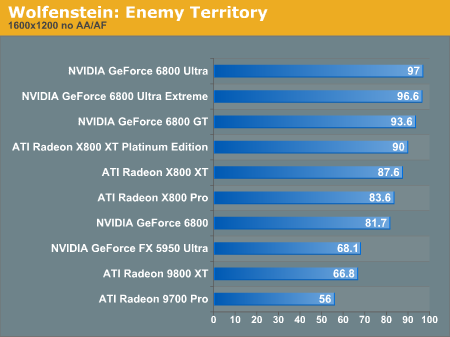 Mouse over for value graph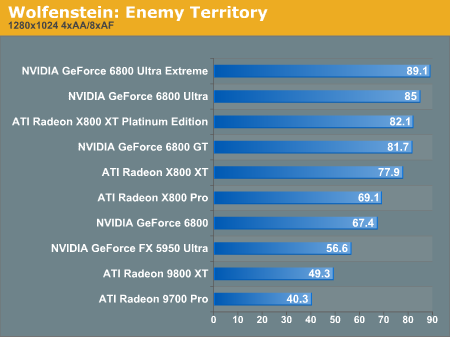 Mouse over for value graph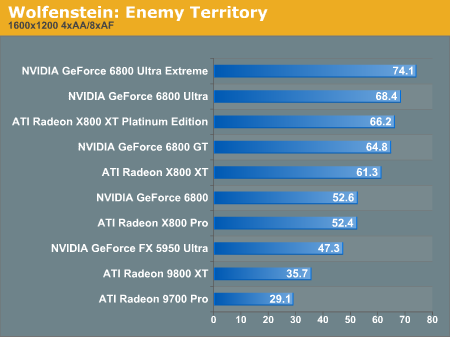 Mouse over for value graph
X2: The Threat Performance
This DX8 benchmark shows the Ultra Extreme leading everything, but the highest resolution test. This test almost becomes CPU bound at low res without AA and AF.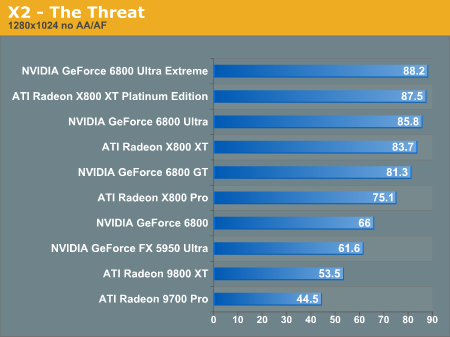 Mouse over for value graph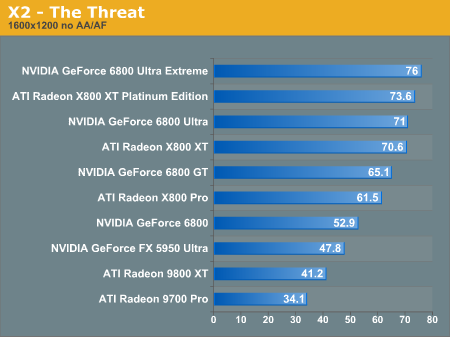 Mouse over for value graph
Mouse over for value graph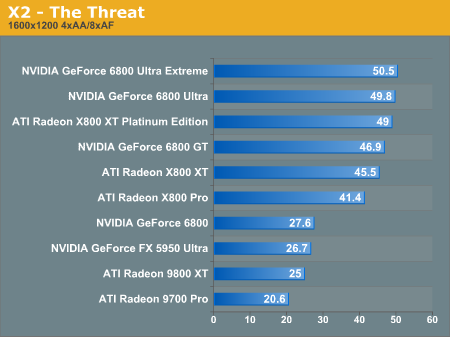 Mouse over for value graph
Price/Performance Analysis
We decided not to use the MSRP (manufacturer suggested retail price) in our value calculation because people are buying the cards at market prices, not suggested prices. To answer the question "what card should I buy right now?" we have to evaluate the situation as it stands.
As a reminder, here is the street pricing data that we gathered and estimated (all prices are USD).
NVIDIA GeForce FX 5950: $380
NVIDIA GeForce 6800: $300
NVIDIA GeForce 6800 GT: $410
NVIDIA GeForce 6800 Ultra: $540
NVIDIA GeForce 6800 Ultra Extreme: $600
ATI Radeon 9700 Pro: $180
ATI Radeon 9800 XT: $400
ATI Radeon X800 Pro: $420
ATI Radeon X800 XT: $540
ATI Radeon X800 XT Platinum Edition: $600
When applying a graph to some set of data, it becomes more tangible and concrete, almost more "real" in a sense. But prices always fluctuate in the market, drivers come out that change performance, and people attach differing values to certain aspects of a product. The value graphs we have included are only one indicator in a sea of data. But making decisions between cards is difficult in very close race we have, and any indicator we have helps.
Interestingly, the 9700 Pro puts in a strong showing. Of course, in determining what purchase to make, we need to take into account minimum acceptable performance levels as well. The 9700 Pro may be a good value for many games, but it just won't deliver the frame rates in current and future titles, at the resolutions to which people are going to want to push their systems.
If something on the performance level of a 9800 XT or 5950 Ultra is desired, the NVIDIA GeForce 6800 is the way to go, every time. It's cheaper than both previous generation top-of-the-line cards, and offers better consistent performance and scalability than both. Of course, we haven't taken a look at a comparable product from ATI yet, but if it performs on par with the 6800, we'll be in good shape here. We are hearing rumors of an X800 SE part, but we have no confirmation from ATI on this. We will definitely re-evaluate the situation when that card comes to market, but for now we are very impressed with the performance and value of the stock 6800 part.
For higher performance, which is a better value? Should you go with the 6800 GT or X800 Pro? Is it a choice between the 6800 Ultra and X800 XT? Well, the answer is: go with the card that gives you the best value for the games that you like.
If that's too difficult a decision to make, our data shows the 6800 GT to lead the X800 Pro in performance. Maybe the $10 is a factor to you and maybe it isn't, but in this close race, price should definitely be a determining factor.
We can also see the 6800UE leading the X800XTPE most of the time as well. Gamers who choose these very high performing (and priced) cards will likely place less value on "value" than on how well the card does under on particular game. In those cases, check the performance graph for the game of choice and go for it.
Final Words
These two new offerings work well to push the top end and drop into the top of the mid-range market. The 6800 Ultra Extreme will probably be out of reach, price and availability wise, for most of us. But, for those hard core gamers out there, both the Platinum Edition and the Ultra Extreme look very good depending on what kind of games are going to be pushed most often through the framebuffer.
The 6800 GT leads the X800 Pro in value more often than not. Of course, the small price difference in the market might not be much now, but honestly the GT and Pro are very comparable parts. The decision is a hard one to make. Our graphs show it, and our recommendation for the moment reflects it: when performance is on par, go with the cheaper hardware. NV40 has the added bonus of Vertex and Pixel Shader 3.0 support (already shown to help make a difference in FarCry performance) and with floating point frame buffers (which could help provide some very cool blending and HDR effects if developers support it). When everything is said and done, the 6800 GT gets our recommendation despite the close performance.
The GeForce 6800, while not the most impressive performer that we've seen, certainly improves on the performance of the 5950 Ultra and 9800 XT with a much lower cost than both. Unless an application that requires 256MBs of video RAM is key in the decision-making process, the 6800 is a better choice right now than the former top-of-the-line cards, even at their reduced prices. This price point should get even more interesting when ATI's $300 offering hits the streets.
As new technology trickles down through the mid-range and budget markets, consumers who don't care about graphics will be armed with some relatively nice hardware. We are definitely looking forward to seeing what hits at the $200 price point.
For those in the market for a card now, we will continue to try and provide the best information possible. Soon, we'll be taking a hard look at individual vendors cards. We'll be looking at things such as cooling, noise, and overclockability.
The best advice that we can give right now is to pick your card based on the games that you enjoy the most. No matter what ends up happening, there won't be any reason to be disappointed when deciding between ATI and NVIDIA this time around. It really does come down to the value of a particular card with respect to the games that any particular person plays.