Original Link: http://www.anandtech.com/show/1345


Index
It's been a while since so many things are changing all at once in the motherboard market. The AMD Athlon 64 Socket 939 just launched and the Intel Socket 775 is set to go on June 21
st
. On top of that, PCI Express and DDR2 memory are also launching with the new Intel processors. New video cards in the PCI Express flavor are coming from both major manufacturers. New BTX form factor cases are also appearing from a number of vendors. Add it all together and you get the biggest changes in PC architecture that we have seen in quite a while.
As the showcase for all the stuff that's coming, Computex is a sea of new motherboards. Since Computex is a Buyer's show, some of the new designs are trial balloons built to see if there is any interest. Most of the boards, especially the boards from the major players,
do
find their way to your dealer's shelves. That makes Computex the shopping cart for motherboards that will be available in the next 1 to 6 months.
We're taking a look at a few of the most interesting designs that have caught our eye at Computex in this preview. Once we sort through a mountain of new models, we'll be bringing you more news on the new motherboards from all the top board makers.
nVidia PCI Express for Athlon 64
While the chipset and support has not been officially announced by nVidia, there were plenty of boards for Athlon 64 with PCI Express in the nVidia suite. They included a very interesting dual Opteron CK8 board from iWill.
There was even more interest in the Socket 939 nVidia boards with PCI-E. A wide cross section of manufacturers had CK8 PCI-E boards on display including Biostar and Gigabyte.
Abit's upcoming AN8 is another board that will feature PCI Express on the nVidia chipset.
The big question with PCI-Express for nVidia is: "When?" nVidia said that we may see their new PCI-Express boards for Athlon 64 as early as September or as late as 4
th
quarter. It all depends on how fast the market accepts PCI Express.
Intel 915 with BOTH AGP and PCI
We posted pictures of Gigabyte's "impossible" Intel 915 with both PCI Express (PCI-E) and AGP 8X in our
preview coverage of Computex
. As we reported, PCI-E and AGP on the same 915 board is supposedly an impossible engineering feat. Well, Gigabyte is not alone with the bright idea of AGP 8X and PCI Express slots on the same Intel 915 board. ECS has a similar feature on one of their new high-end 915 boards.
ECS calls their AGP slot on the 915 "AGP eXpress". Both ECS and Gigabyte claim they have not used a bridge chip in their new design - deriving the AGP 8X support from the PCI Express signals. We've done some digging and it appears this is only part of the story. We've put together a separate news story explaining how ECS and Gigabyte accomplish this task of bringing AGP and PCI Express to their Intel motherboards. Read our article entitled:
AGP on Intel 9xx Chipsets? We explain how.
ATI RS480 for AMD Socket 939 Athlon 64
There have been rumors for months that AMD would have a chipset for Athlon 64, and we even saw an ATI chipset for Athlon 64 in a recent roadmap posted at AnandTech. However, we were more than a little surprised to see ULI (formerly ALi and a producer of core logic chipsets) displaying a Socket 939 board for Athlon 64 based on an ATI RS480 Northbridge combined with an ALi Southbridge providing PCI Express.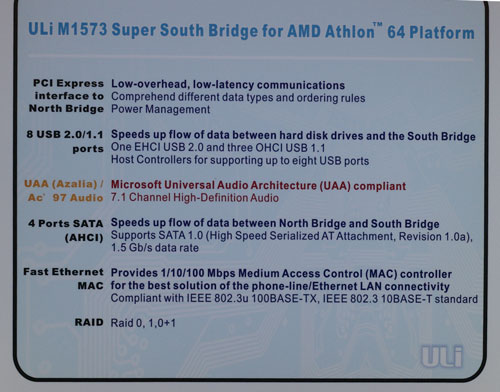 ULI was also showing an RS480/ALi motherboard for the upcoming Intel Socket 775 and live demonstrations of their on-chip Azalia audio.
While the ULI/Ali solutions were really interesting, ULI is one of the smaller players in the core logic market. This, unfortunately, means that no matter how great the product, ULI/Ali will have a hard time getting their solutions to market with the larger board makers.
Quad Opteron Tyan Motherboard
On Wednesday, Tyan and AMD jointly announced the launch of the new Tyan Thunder K8QS PRO featuring Quad Opteron support.
With two independent PCI-X buses, Dual Channel SCSI, Silicon Image SATA, and dual integrated Gigabit LAN, we suspect that this bad boy will soon be finding its way into many high-end servers.
A 2U rack-mount 4-way Opteron version was also introduced, called "Tyan Transport TX46".
DDR2 and DDR on the Same Board
The upcoming Intel 915 chipset supports both DDR and DDR2 memory. As Intel's new mainstream board for Socket 775 Prescott, we saw Grantsdale with regular DDR memory from most board makers, although a few did have DDR2 versions of 915. As you saw in our Computex preview, Gigabyte covered all bases with several boards offering both DDRand DDR2 on the same board. We were surprised to see a similar solution at Asus.
As you can see, the Asus P5GDC-V Deluxe offers slots for either DDR2 or DDR on the same board with the excellent new Intel integrated graphics. Asus is large enough to cover all the bases, with 915 versions with DDR2, DDR, and the option for either.
With majors like Gigabyte and Asus offering boards with both types of memory slots, we suspect that you will see this option on many shipping 915 boards. The enthusiast version 925X only supports DDR2, and that's all we saw on the few 925X boards on display at Computex.
VIA PCI Express for Athlon 64 AND Prescott 775
Soltek always seems to have a very broad and interesting line of enthusiast motherboards. We got a clearer picture of the new VIA Prescott PCI Express chipset at Soltek's display.
As we have reported in VIA roadmaps over the past few months, VIA brings support for both AGP 8X and PCI Express to Prescott with their new PT 890 PRO chipset. VIA is expected to offer the same dual support for PCI-E and AGP 8X in a future version of the K8T chipset for Athlon 64 Socket 939.
New Athlon64 and Prescott Chipsets from SiS
SiS was showing working versions of their latest 755FX/964 for Socket 939, the 655FX/965 PCI-E for Intel Socket 775, and a 656/965 PCI Express chipset for 775.
We are planning to review the 755FX/964 as soon as the Reference Board is available, most likely within the next 2 weeks according to SiS.
SiS was also showing a PCI Express version for Athlon 64 Socket 939, called "756", but it will likely be 2 to 3 months before this board is available for sampling.
DFI LANParty 925X-T2 and Asus P5AD2 Premium
Intel 915 chipset boards were everywhere at Computex, but the 925X - the Enthusiast version with support for DDR2 only - was harder to spot at Computex than a day without thunderstorms in Taiwan. Two of the most interesting 925X boards to target the high-end were at DFI and Asus.
DFI has won over many hard-core Enthusiasts with their LANParty series and the new 925X-T2 is a Socket T version for the LANParty Series. This LANParty finally adds Firewire to the package, along with Dual Gigabit Ethernet and the exciting 8-channel Karajan Audio.
Among the major manufacturers, Asus is always watched for their high-end boards that always attract the attention of hard-core enthusiasts. Asus will not likely disappoint with their new p5AD2 Premium. The feature set includes just about everything that you could ever think of for a desktop PC, like
both
Firewire 1394B and 1394A, theater-quality 8-channel audio at 192Khz/24bit, Dolby Digital Live, dual gigabit LAN, built-in WiFi-G for a high-speed wireless network, and triple RAID that even can support RAID 5.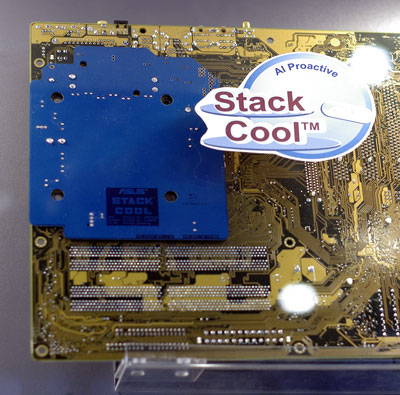 Asus has also addressed many of the heat issues with the newest Prescott chips very aggressively, including a new CPU cooling device called "Stack Cool" on the back side of the motherboard.
If you look closely at the Asus and DFI boards, you will see 4-phase power regulation, which we saw on almost all of the new Socket 775 boards. With over 100 watts needed for the new Prescotts, 4-phase power appears a must to deliver stable power to the CPU.