Original Link: http://www.anandtech.com/show/1330


It has been too long since we have had a MP3 player review. With plenty of MP3 players popping up, we are back with two Creative MP3 players: Nomad Muvo2 and Nomad Muvo TX, the latter of which we will dive into a bit later.
Although MP3 players are quite commonplace, it is that much harder to find the one that perfectly suits your needs. Combination flash drives/MP3 players are a dime a dozen now, and the fact that many of them are made of cheap materials doesn't help. Nevertheless, there are still a select few that rise above the rest.
That having been said, the big bucks, so to speak, are in the higher end stuff: MP3 players with a storage capacity of 15GB or more. This is so even despite the fact that most people who own MP3 players of this variety don't even hit three-fourths of the storage capacity. Of the companies currently in the MP3 market, there are really only two big names going after the ~5GB MP3 player market: Apple and Creative.
With more MP3 players to come, let's begin our reviews with Creative's Nomad Muvo2 4GB.
Nomad Muvo2 4GB - Biggest of the Creative's Ultraportables
The 4GB version of the Nomad Muvo2 is currently the largest of the Muvo2 line up and Creative's ultraportable MP3 player family. The other Muvo2 models have lower capacities, starting off with 1.5GB, since they utilize CompactFlash cards. The Muvo2 4GB takes a bit of a different approach with a Hitachi 4GB MicroDrive. Since the CompactFlash technology uses NAND memory, it benefits from 100% skip protection. MicroDrive storage cards, on the other hand, have moving parts, so there is a certain limit to the amount of force that it they can take before a drive breaks.
Measuring at 2.64 x 2.62 x .8 inches, it has a nice cube form that feels natural, but not as much as rectangular MP3 players. With the battery pack, it weighs 3.6 ounces (2.8 ounces without battery), which makes it about half the weight of most PDAs.
The only two controls to access this MP3 player are in the front, slightly below the LCD module. The larger of the two is the navigation button that functions to bring up the menu (pushing in), options selection (pushing in after selecting option within menu), volume up/down (toggle up/down), previous/skip tracks (toggle left/right), and menu navigation (toggle left/right). The smaller of the two buttons function as a pause/play button and a power on/off button when pressed for a few seconds.
The Lithium Ion battery pack is housed in a recessed portion on the backside of the Muvo2. We were glad to see that the battery was of the Lithium Ion variety, mainly because of the benefits of constant recharging.
We really enjoy the concept of a removable rechargeable battery because this brings back the ability of swapping batteries to increase battery life. No longer is there a need to stop and wait for a recharge before use; if you have a space battery, swapping in and out makes recharging a second thought.
Nomad Muvo2 4GB - Biggest of the Creative's Ultraportables (continued)
All of the access ports for the Muvo2 4GB MP3 player are aligned on the top side and include (left to right): power in, USB port (2.0/1.1), FM wired remote jack, and a headphone port.
The rest of the player is all but bare minus the small keychain hook on the left side.
Creative includes an interesting pair of headphones with the Muvo2 4GB MP3 player, which we suspect is bundled with all of the Muvo2 product line. The odd thing about this pair of headphones is that they are overly large. The earbuds themselves don't quite fit (several people have commented on this), and they are even more uncomfortable due to the increase in size caused by the padding. To be perfectly honest, we can imagine many complaints from people using these headphones.
Comparing an earbud on this headphone set to our new Apple in-ears helps show the relative size difference. The earbud size for the Apple in-ears are actually the medium sized ones, which just goes to show how large the headphones are that come bundled with the Muvo2 4GB.
Aside from the obvious bundled accessories (USB cable - one long and short, power cable, and headphones), Creative also includes a holster that can be clipped to your belt for those on the move.
The holster for the Muvo2 family, though, is set apart by the fact that it also has a small insert slot for a short USB 2.0 (comes included in the package) to be tucked away, something we rarely see with most MP3 players. The problem here is going to be a love-it or hate-it feature. For many people, USB ports aren't on the front side of the system, and the insanely short 5 inch (tip to tip) USB 2.0 cable doesn't help. In our opinion, this is something that may be more appreciated by those with laptops and or easy USB accessibility.
Nomad Muvo2 4GB - An Inside Look
The different models of Muvo2 are only set apart from each other by their storage capacity/storage media. And so as far as we have seen, the rest of the internal workings behind the Muvo2 MP3 players are identical.
The top side board is only home to two chips: the
Micron MT48LC4M16A2TG-75 SDRAM 64MB
and an IC chip beneath the LCD module riser marked "LV4053", which we yet have been able to identify.
The rest of the chips are situated on the bottom and include: the Texas Instruments TMX320 digital signal processor that seems to be related to the
TMS320VC5509A series
,
NEC uPD720122 USB 2.0 controller
, and
Silicon Storage Technologies' SST39VF400A 4MB Flash chip
.
Nomad Muvo2 4GB - An Inside Look (continued)
As already mentioned, the 37 x 12 mm LCD screen is mounted on a separate riser, which interfaces with the main IC board. One might think that it could be embedded onto the board, and thus, cut down on the MP3 player's width. However, directly south of the LCD riser lays a riser for the two controls buttons and the storage device.
In this case of the Muvo2 4GB, the storage device is a Hitachi 4GB MicroDrive. The other current Muvo2 players use CompactFlash cards, which explains why they only hit the high of 1.5GB. (NAND technology is still limited by low yields at high capacities.)
In theory, anyone with enough tack can manually swap a lower capacity card on a CompactFlash based Muvo2 to something like a 4GB MicroDrive, or vice versa. This seems to be what some people are doing, and we even found some people selling modified Muvo2 MP3 players on eBay.
Aside from the warranty issues relating to modding a Muvo2, we could caution anyone to be extra careful when taking apart the player. Five points of circuitry are oddly interconnected via the electro-conductive tape that protects both sides of the board. Two of the points are visible in the picture above (the small window in the electro-conductive tape on the board would be what we are referring to). There is a small tab of the electro-conductive material of the tape that is soldered to the board. We ended up soldering and taping the points down to maintain connectivity.
Creative's Nomad Muvo2 - Interface
Creative's software interface, at least for their ultraportable MP3 player line, is more or less the same among the various sub-product lines: Muvo TX, Muvo NX, Muvo2, and Muvo Slim. There are differences in features and options, but Creative still uses the same basic "base OS" and type of GUI throughout all of them.
While the LCD module measures a meek 37 x 12 mm, the fonts are still readable at a foot and a half, though in all likelihood, the Muvo2 will be within a one-foot distance of eyesight. The interface itself is very intuitive - icons are present for playing status (stop/play/pause), EQ setting, time lapsed, track number (track being defined as a folder), and battery status.
The first time that MP3s are loaded onto the player, it will start up in stop mode with the first alphabetized MP3 in the first alphabetized folder. After that, the Muvo2 will retain a memory of the current playing status and file; so that if it is shut down while playing, it will start back up later at that point when powered up. It is a nice feature to have, especially since at 4GB, there is an implication of a large MP3 collection.
It is hard to get a good snapshot of the backlight on the Muvo2 - this is the best we could manage. It isn't extremely bright or dim, but it is good enough to make the player useful and accessible in a dark room.
Volume is controlled via the vertical toggle of the main button, which runs from a scale of 0 to 25. In all likelihood, the twenty marker won't even be breached, since we found twelve to be the normal and comfortable audio level.
Bringing up the menu is as simple as hitting the main toggle button inward. Instead of making the list pure text and a single option one at a time, Creative takes the approach of picture and text menu. Scrolling across the menu changes the text shown below and identifies the option. Hitting the main toggle button again is the same as enter, and selects the option desired. Inactivity just brings you back to the main screen (the first two pictures).
Creative's Nomad Muvo2 - Interface (continued)
There are several options for the play mode: normal, shuffle once, shuffle repeat, track once, repeat all, and repeat track. From hereon in, the subtitles for the icons start to really keep their worth. In the main menu, it is easy to navigate, since the icons are particularly unique and intuitive. The sub-menu selections can be a bit confusing without some clarification.
There are only four preset EQ settings: rock, pop, classical, and jazz. Although you can customize the EQ to your specs, it would be nice to have the ability to add presets to OS, perhaps by some windows utility.
Creative's Nomad Muvo2 - Interface (continued)
For this MP3 player, folders act as a single "CD" that contain tracks. Browsing the available folders doesn't show how many tracks there are in the folder, only the folder name, which is a feature we would like to see in the future.
Playlists can be made via Windows Media Player or Creative's MediaSource Organizer, but they must be in the M3U file format for Muvo2 to accept them. The ability to utilize a playlist function is a must here; the last thing you want is to go through file after file in order to get to that one song. Playlists help organize your collection to suit your needs by allowing song selection, song priority, etc.
Creative's Nomad Muvo2 - Interface (continued)
The delete function within the menu doesn't provide the ability to delete everything or a folder; instead, it is done one by one. This gets tedious after a while, and in the future, we would like to see the ability to delete a simple folder.
The settings that pertain to the Muvo2 are fairly simple and Creative provides only the essentials: contrast, backlight time (off, 3, 5, 10, and 15 seconds), many languages, idle shutdown (off, 1, 5, 15, and 30 minutes), and information.
Contrast is controlled in a similar manner as volume, using the vertical toggle, and it has a scale of 0 to 100.
The backlight and idle shutdown options, meanwhile, come with a different scheme. Since there are only 5 options from which to choose, this is the very easy to follow, but obviously limits the user's choices.
Creative's Muvo2 - Windows Support
When plugged in, Windows XP identifies Muvo2 as a removable drive labeled "Muvo
2
." It functions like any other removable drive; granted, most removable storage devices don't exceed a norm of 256MB these days.
Creative supplies their own media player/organizer called "MediaSource" that helps organize your MP3 collection in tandem with what you want on your Muvo2. We found this program to be the preferred choice of organization for the Muvo2, though the only other real option is Windows Media Player.
Playlists can be created and organized within MediaSource, and we found ourselves spending quite a bit of time here because playlists also allows for playing priority. The only problem we found was that playlists were a bit hard to use. We had to select and open a playlist and drop entire folders in from the left side to add them to the playlist. To get individual files into the playlist, we ended up having to open a separate window and drag and drop them from the Windows file browsing window.
When writing to the Muvo2, there is an animated image of an oscillating frequency towards the Muvo2 to indicate the direction of the write action.
The Test
Our test bed was simply used to transfer files, nothing more and nothing less. Using a lower scaled system should yield similar results, so long as the system is capable of USB 2.0/1.1.
Windows XP Professional Test System
CPU(s)
Pentium 4 3.2C GHz
Motherboard(s)
MSI 875P Neo-FIS2R
Memory
2GB Kingston HyperX PC4000
Hard Drive
Seagate Barracuda 7200.7 120GB
CDROM
Pioneer DVD(16X)/CD-ROM(40X)
Video Card(s)
ATI All-in-Wonder 9600 XT
Ethernet
Onboard Intel Gigabit
Operating System
Windows XP Professional SP1
Video Drivers
ATI Catalyst 3.8
For testing flash media, we used Kingston's six-in-one USB 2.0 high-speed flash card reader/writer.
File Transfer Performance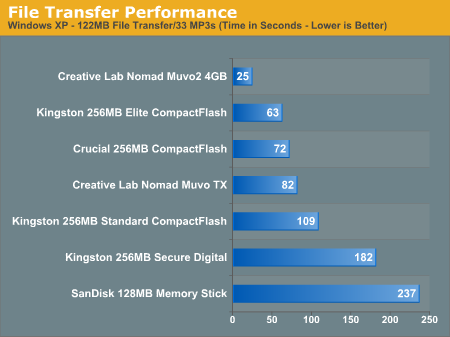 The Muvo2 performs wondrously, and it puts itself in the same league as some of the external USB 2.0 hard drive out there; fast file transfer, even at 1GB at a time - we have no complaints.
Final Words
Those not interested in massive storage capacity, but want more than typical flash MP3 player, would be wise to take a second look at this one from Creative. Last time we checked online, the Muvo2 4GB was running at sub $200 prices, which brings it under Apple iPod Mini by at least $50.
The main problems that we see associated with Muvo2 are mostly design-based, namely a small LCD display (132 x 32 res.), the inability to access the controls when slipped into its holster, and its small buttons. The front side of the Muvo2 design could have been utilized better by providing a larger display and/or increasing the side of the buttons. On the software side, there are minor modifications that can be made to make the experience easier, but the size of the LCD display limits interaction no matter how good the OS is developed. The easiest thing to remedy would be to cut out some windows in the holster to accommodate accessibility.
For those on the go, the Muvo2 is a nice mix between "what you get" and "what you pay for." It has a rugged feel to it and its use of a MicroDrive based storage device shouldn't discourage those who lead an active lifestyle (unless you are one who is prone to drop your MP3 player).
As I recall, we ended up running the Muvo2 4GB non-stop for 11 to 13 hours with our Li-Ion battery, which is good considering that it is suppose to last up to 14 hours with non-stop playing. If purchased with a second battery pack, swapping between the two will definitely provide enough power for a day and more. The ability to swap batteries is sorely underestimated, as even at 7 hours between each swappable battery is enough to second guess those that have fixed batteries with 14 hours of life in them. Since MP3 players are intended to be on the move constantly, this is how it should be.
Underlying all of this and yet still the top issue, the Muvo2 sound quality is clear as a bell, and all of our high quality MP3s were distinguishable from the lower recorded quality files. We still prefer the sound quality of the full-sized iPod's, but they aren't in the same price league. Other than Apple, Creative is the only other company to be in this ~4GB MP3 player market, and we would recommend that those who are considering purchasing a MP3 player with a semi-large storage capacity, but are on a budget, should take look at this one. Overall, the Muvo2 comes out as an excellent best-buy type MP3 player.