Original Link: http://www.anandtech.com/show/1316


When the Opteron was introduced about a year ago, VIA and nVidia began their battle for the best chipset and motherboards for the AMD Athlon 64. It appeared early on that despite the lower 600 HyperTransport, the nVidia nF3-150 just might win the first round with a PCI/AGP lock, which was missing from the otherwise superior VIA K8T800 chipset. On Socket 754 single-channel boards, nF3 and K8T800 were basically a toss-up in performance, but K8T800 definitely was the better performer on the Socket 940 Dual-Channel platform. Later, when we discovered that the
PCI/AGP lock also did not work on most nF3-150 boards
, the supposed advantage for nVidia disappeared.
Recently, there have been many changes in the chipsets available for the Athlon 64 family as manufacturers are gearing up for round 2 - the Socket 939 wars. nVidia introduced their upgraded
nFoce3-250Gb chipset
with 1000HT, working PCI/AGP locks, and a feature set that finally was competitive with the excellent VIA K8T800, or perhaps even better. The K8T800 PRO is VIA's answer as they also gear up for Socket 939. Based on the excellent K8T800 core, the PRO version
finally
adds a PCI/AGP lock to the VIA features, and HyperTransport is raised to the new 1000 speed that we will see in AMD Athlon 64 Socket 939 processors.
VIA will price the new PRO chipset version exactly the same as the previous non-PRO version. This means that you will quickly see the K8T800 PRO replace the K8T800 in every Athlon 64 configuration - Socket 754, Socket 940, and the new Socket 939. The chipset will be the same in all configurations, meaning 1000 HT and PCI/AGP lock will soon be available even in Socket 754 boards for current Athlon 64 chips that are based on the K8T800 PRO chipset.
A Closer Look at VIA K8T800 PRO
The K8T800 was covered in detail in our
launch review for Athlon 64 motherboards
. Additional coverage was provided in the
Socket 940 roundup
at AnandTech. The K8T800 is very competitive in features, and the PRO version is essentially the same chipset.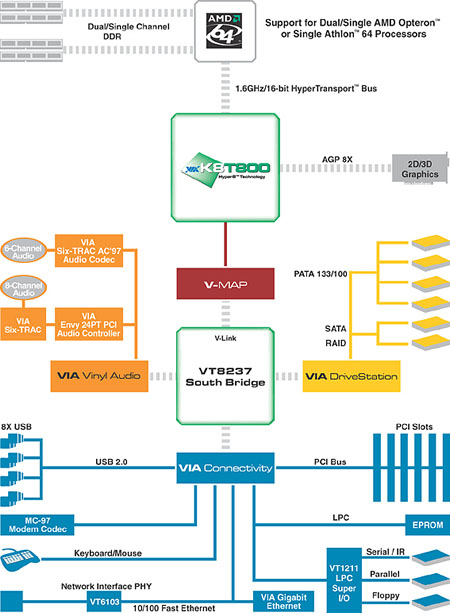 The only real differences in the K8T800 and the K8T800 PRO are the increase in HyperTransport speed to 1000MHz and the addition of a PCI/AGP lock to the BIOS options of the K8T800 PRO. Both these features should make the PRO version of the K8T800 much more appealing to computer enthusiasts.
This is VIA's first use of an AGP/PCI lock on an Athlon chipset and it is long overdue. We first saw this feature used by VIA on the
PT880 chipset
released several weeks ago. VIA tells us that all future VIA chipsets will include the ability to lock internal buses when FSB is increased.
Basic Features: VIA K8T800 PRO Reference Board
Motherboard Specifications
CPU Interface
Socket 940 Athlon 64
Athlon 64 FX and Opteron
Chipset
VIA K8T800 PRO/VIA VT8237
HyperTransport
Auto, 1Ghz, 800MHz, 600, 400, 200
Bus Speeds
200MHz to 255MHz (in 1MHz increments)
PCI/AGP Speeds
Automatic, Async at 66.8 or 75.4
Core Voltage
No Adjustments
DRAM Voltage
No Adjustments
AGP Voltage
No Adjustments
Memory Slots
Four 184-pin DDR DIMM Slots
Dual-Channel Configuration
Registered ECC/Non-ECC Memory
to 4GB Total
Expansion Slots
1 AGP 8X Slot
5 PCI Slots
Onboard Serial ATA RAID
VIA 8237 (2 Drives, 0, 1)
Onboard IDE
Two Standard VIA ATA133/100/66 (4 drives)
Onboard USB 2.0/IEEE-1394
8 USB 2.0 ports supported by 8237
No Firewire
Onboard LAN
VIA VT6122 Gigabit LAN
10/100 LAN by VIA 8237
Onboard Audio
VIA VT1616 codec AC '97 2.3
6-Channel with UAJ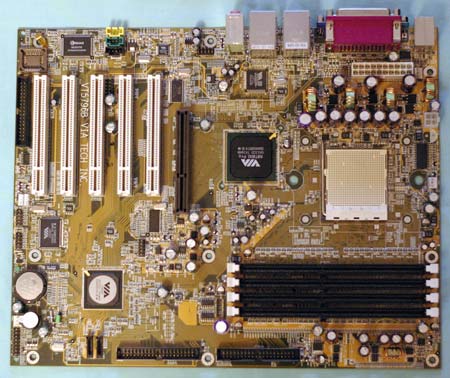 As a Reference Board, there's not a lot to say about the board layout. Reference Boards are designed for testing and qualification and will not likely see production as a retail product. Having said that, VIA has done an outstanding job of including a full complement of features and VIA chip additions to demonstrate what the K8T800 PRO can do.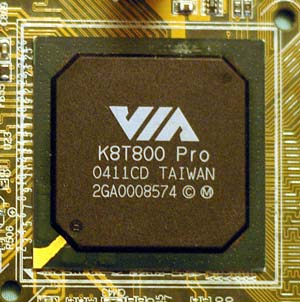 The K8T800 PRO Northbridge is the only real change in the PRO.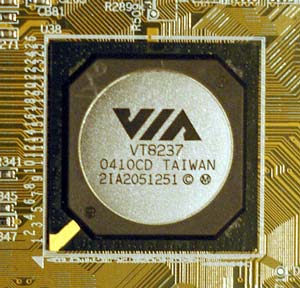 VIA continues to use the very competent 8237 Southbridge, which first brought the Athlon 64 feature set to Intel 865/875 levels.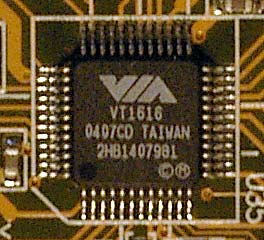 The K8T800 PRO Reference Board was equipped with the VIA VT1616 Vinyl Six-Trac audio chip. The 1616 is the 18-bit junior member of the audio family. Manufacturers could also use the top-line Envy24 for a premium audio setup. The 1616 is cheaper, but still very capable, providing 6-channel audio that exceeds Microsoft's WHQL logo requirements. VIA provides detailed information on the Vinyl Six-Trac capabilities at the
VIA web site
.
"The VIA Six-TRAC is a complete solution supporting the AC'97 2.2 specification with S/PDIF extension compliance. Enabling 6 channel outputs with 18-bit resolution the VIA VT1616 can support full 5.1 surround sound enabling theatre-quality home audio systems. For optimum playback performance the Six-TRAC analog mixer circuitry integrates stereo enhancement to provide a pleasing 3Ds surround sound effect for stereo media. Further provisions in the hardware allow for downmixing of 6-channel inputs such as DVDs into 4-channel, or even 2-channels outputs.

An 18-bit independent rate stereo ADC enables 5 stereo and 2 mono analog line-level inputs allowing recording from sources such as microphones, CDs, line-ins etc. With sample rate converters on all channels the VIA Six-TRAC can be adjusted in 1Hz increments allowing exacting audio manipulation. To maintain full digital audio paths the VIA VT1616 has an IEC958 line driver for S/PDIF compressed digital or LPCM audio outputs."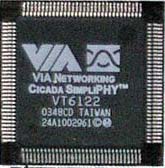 Gigabit LAN is provided by another VIA chip - the VT6122. 10/100/1000Mb data transfer rates are supported, but this LAN solution is basically on the PCI bus, with the limitations of that arrangement. In real-world terms, this is not very significant today, but it will matter to some buyers. nVidia's on-chip gigabit LAN, by comparison, is completely removed from the speed limitations of the PCI bus. VIA's on-chip LAN is 10/100 Ethernet, and gigabit LAN is provided by an additional chip.

While this is a Reference Board, VIA has provided a complete complement of rear IO ports, including both 10/100 and Gigabit LAN. While IEEE1394 firewire is not a part of the K8T800 PRO chipset, VIA provides accessory chips for adding firewire capabilities to motherboards using the K8T800 PRO chipset.
BIOS Features: VIA K8T800 PRO Reference Board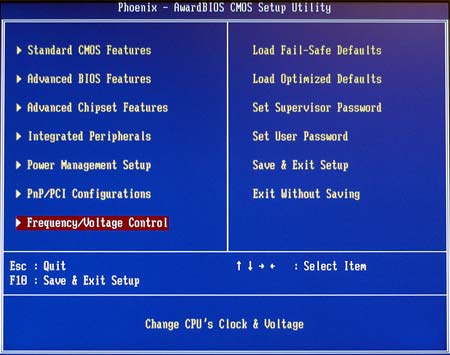 VIA used the familiar Phoenix-Award BIOS on the K8T800 PRO. We have seen award on most VIA boards, and navigation will be familiar for most users.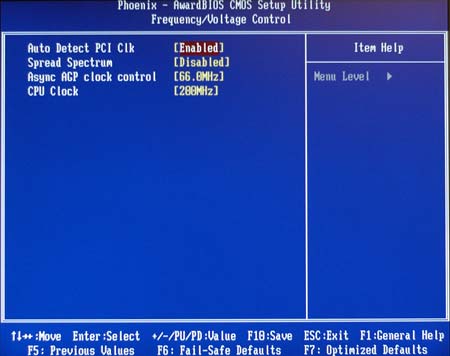 Reference Boards rarely have the kinds of adjustments for FSB and voltages that uses demand on shipping boards. There are no voltage controls at all on the K8T800 PRO. There is at least a Frequency and Voltage Control sub-menu, though the options are pretty minimal.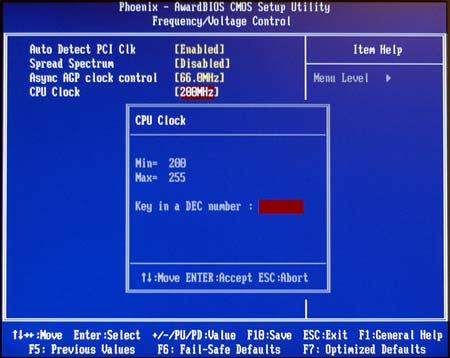 PCI/AGP lock is one of the major new features of the PRO chipset, so VIA did include some basic FSB controls to test the lock. FSB can be adjusted to 255, a very low figure compared to the 300MHz and higher that we are seeing on nVidia nF3-250 boards. It's rather short-sighted of VIA's engineers to include rather average FSB adjustments and no CPU or memory voltage adjustment at all. This made testing the new lock harder than it needed to be.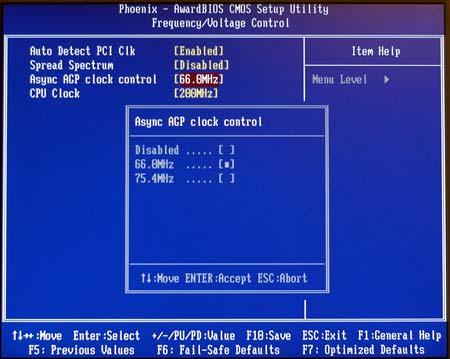 The ability to "lock" AGP/PCI is called "Asynch AGP Clock Control" in the VIA BIOS. While the Reference Board only offers a couple of lock frequencies, VIA says the BIOS will be set up by some manufacturers with a wide range of lock frequencies. While that always looks good on paper, the ability to lock at standard 66/33 is what matters most to overclockers.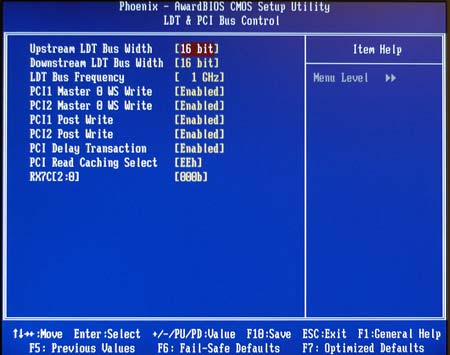 The other major addition to the PRO chipset is 1000 HyperTransport, which can be selected in the LDT menu.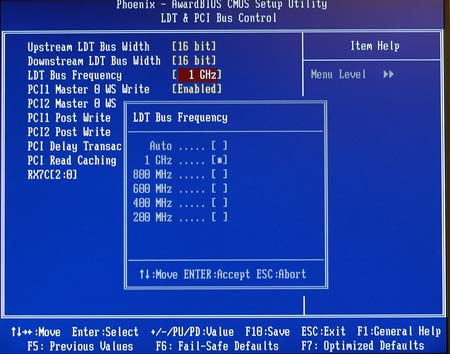 HyperTransport at 1GHz is part of the new 939 specification, but as we saw in our
review of the MSI K8N Neo
, the availability of 1GHz can certainly open options for the overclocker.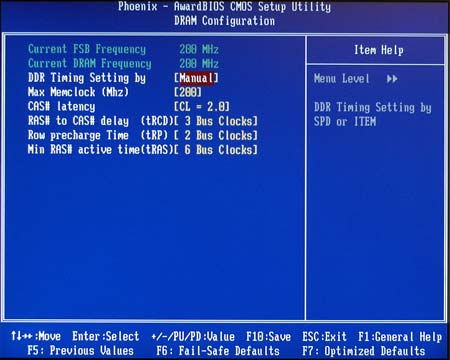 It was good to see a decent selection of memory timings on the K8T800 PRO board. This allowed the Registered memory to run at its best timings so that performance could be better compared to other Socket 940 motherboards.
Overclocking and Stress Testing: VIA K8T800 PRO Reference Board
FSB Overclocking Results
Since the PRO chipset claims the first working AGP lock for a VIA chipset on an Athlon 64 board, we were anxious to see if it indeed worked. At first, we thought that this was all smoke and mirrors, since we could not achieve any decent overclocks on the VIA board. Finally, after lowering the multiplier to 8, we were able to hit the 255 limit of the board.
Front Side Bus Overclocking Testbed
Default Voltage
Processor:
FX51 (2.2GHz)
CPU Voltage:
1.525V (default)
Cooling:
OCZ Eliminator 2
Power Supply:
Antec TruePower 430W
Maximum OC:
2310
231x10
Maximum FSB:
255 x 8
With no voltage adjustments at all for the processor or memory, overclocking was a challenge. We were also hampered by the fact that this early FX51 is not a particularly good overclocker. Our goal with the AGP lock was to find an overclock above the 216 to 220, which seems to be the working limit of our ATI 9800 PRO.
We reached 231x10, and then tried to lower the multiplier and max out the board.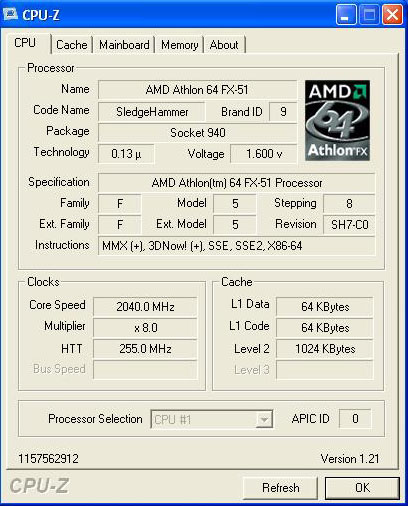 We were able to reach the highest FSB available on the K8T800 PRO at a multiplier of 8. Both these overclocks certainly demonstrate that the AGP lock is working. Above about 222, we needed to lower the HT frequency to 800. Above 250, we had to drop further to 600 HT. The fact that we had to lower multipliers and HyperTransport speed at such relatively low levels suggests that VIA needs to get more voltage to the chipset. Board manufacturers that address the chipset voltage issue will likely do much better in overclocking the K8T800 PRO.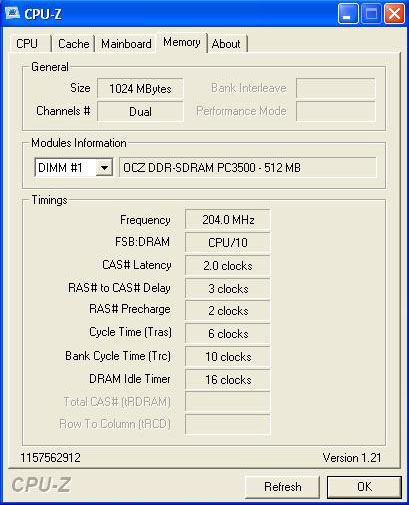 The OCZ PC3500 Registered ECC memory handled frequencies to 250 just fine, but asynchronous timings were required at 255 FSB. Timings could still be set at the excellent 2-2-3-6 that also worked well at DDR400.
The good news is that from the tests we ran, VIA finally has a working AGP/PCI lock on their Athlon 64 boards. With both VIA and nVidia offering AGP locks and 1000 HyperTransport, we will now have a lot more options for overclocking Athlon 64 chips.
Memory Stress Test Results:
The memory stress test is very basic, as it simply tests the ability of the K8T800 PRO Reference Board to operate at its officially supported memory frequency (400MHz DDR) at the lowest supported memory timings that our OCZ PC3500 Registered ECC will support. Memory stress testing was first conducted by running RAM at 400MHz with 2 DIMM slots filled, which is one Dual-Channel bank.
Stable DDR400 Timings - 2 DIMMs
(2/4 DIMMs populated - DC mode)
Clock Speed:
200MHz
Timing Mode:
N/A
CAS Latency:
2.0
Bank Interleave:
4-bank
RAS to CAS Delay:
3T
RAS Precharge:
6T
Precharge Delay:
2T
Command Rate:
Auto
The K8T800 PRO was completely stable with the most aggressive 2-2-3-6 timings that our Registered ECC memory could support. This performance was achieved without any voltage options at all on the board.
Filling all four available memory slots in a 2-bank dual-channel configuration is more strenuous on the memory subsystem than testing 2 DIMMs as a single DC bank. We were very pleased to find 4 DS DIMMs (2GB) of memory worked fine at the same timings we used for 2 DIMMs . Performance with all 4 DIMMs installed was very stable.
Stable DDR400 Timings - 4 DIMMs
(4/4 DIMMs populated - 2 DC mode)
Clock Speed:
200MHz
Timing Mode:
N/A
CAS Latency:
2.0
Bank Interleave:
4-bank
RAS to CAS Delay:
3T
RAS Precharge:
6T
Precharge Delay:
2T
Command Rate:
Auto
Since we had the board for only a limited time, we were not able to run the complete stress testing that is normal for AnandTech memory testing. However, there were no indications of memory stability issues in any of our benchmarking.
Socket 939 will bring unbuffered Dual-Channel memory to Athlon 64 processors. With that, there will be many more options for high-speed memory on the A64. The OCZ 3500 Registered memory that we used for testing performed with great stability on the K8T800 PRO - even at the most aggressive timings that we could set.
Performance Test Configuration
To provide the best comparison to other Socket 940 boards we have tested, all benchmarks were run with an FX51 instead of the faster FX53 that was recently introduced. Memory timings were also kept as close as possible to those we used in the
Socket 940 roundup
.
Performance Test Configuration - 3.2C
Processor(s):
AMD Athlon 64 FX51 (2.2GHz)
AMD Athlon 3400+ (2.2GHz)
RAM:
2 x 512MB OCZ PC3500 Registered ECC
2 x 512MB Mushkin PC3200 ECC Registered
Hard Drive(s):
Seagate 120GB 7200 RPM (8MB Buffer)
Video AGP & IDE Bus Master Drivers:
VIA Hyperion 4.51 (12-02-2003)
Video Card(s):
ATI Radeon 9800 PRO 128MB (AGP 8X)
Video Drivers:
ATI Catalyst 4.4
Operating System(s):
Windows XP Professional SP1
Motherboards:
VIA K8T800 PRO Reference Board
Asus SK8N (nVidia nForce3-150 PRO)
Gigabyte K8NNXP-940 (nVidia nF3-150 PRO)
Asus SK8V (VIA K8T800)
MSI K8T Master 2 (VIA K8T800)
MSI K8N Neo (nVidia nForce3-250Gb)
nVidia nForce3-250 Reference Board
In most benchmarks, comparisons were only made among Socket 940 motherboards running an Athlon 64 FX51. However, some results for newer benchmarks were not available on the FX51. In that case, we published benchmarks on the 3400+, which also runs at 2.2GHz. We have found only minor differences in Athlon 64 and FX chips when they are running at the same frequency.
All performance tests were run with the ATI 9800 PRO 128MB video card with AGP Aperture set to 128MB with Fast Write enabled. Resolution in all benchmarks is 1024x768x32 unless otherwise noted.
Content Creation, General Usage, and Media Encoding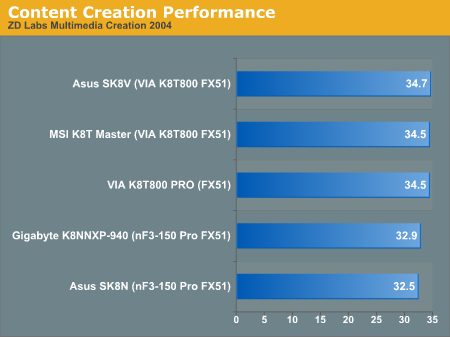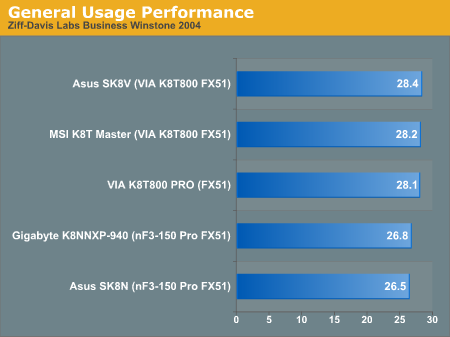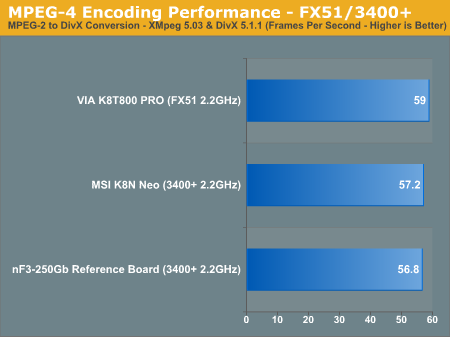 Since the only substantive changes in the K8T800 PRO are the HyperTransport frequency and the AGP lock, there is absolutely no reason to expect performance to be any different on Socket 940 than current K8T800 boards. In the Winstone 2004 tests, the PRO Reference Board performs about the same as other K8T800 boards, which is exactly what would be expected.
We will likely see higher scores, in the range of maybe 2% to 5% with the introduction of Socket 939 with the K8T800 PRO. This difference would be the result of the lower latency of unbuffered memory compared to the Registered memory used in current benchmarks with the K8T800 PRO.
Gaming Performance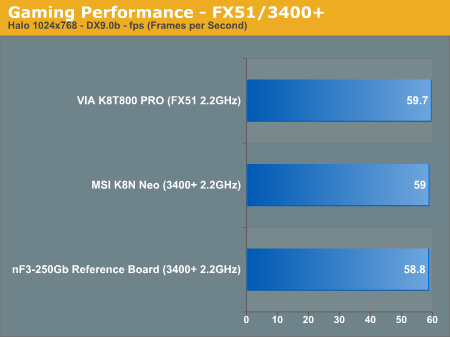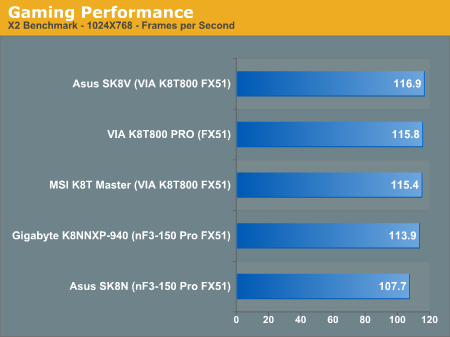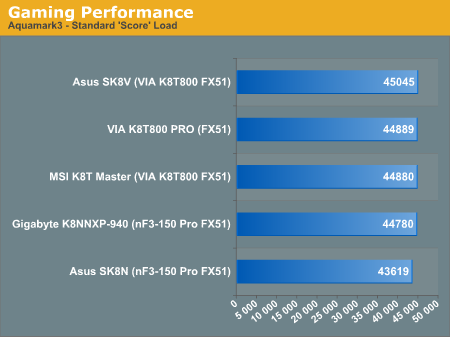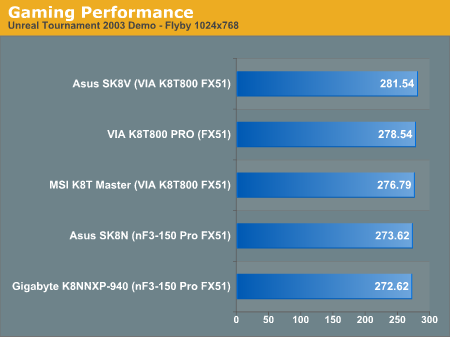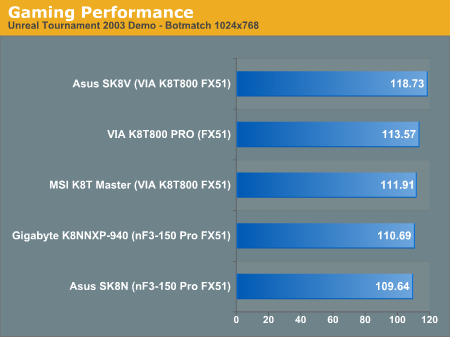 In the gaming area, the K8T800 PRO performs about the same as current K8T800 boards. Gaming performance is generally a bit faster than the MSI K8T Master, but falls a little short of the Asus SK8V, which was our Editor's Choice in the Socket 940 roundup. The SK8V has consistently been at the top of Socket 940 scores, and we suspect that any Asus rework of the SK8V with the PRO chipset would perform about the same.
As seen in past benchmarks, the VIA consistently outperforms the older nForce3-150 chipset on Socket 940. Keep in mind that the nVidia nF3-150 only runs a 600 HyperTransport, and nVidia has also updated their chipset to 1000 HyperTransport in the nForce3-250. When nVidia introduces Dual-Channel boards based on the nF3-250 chipset benchmarks will likely be much closer to VIA's performance.
Workstation Performance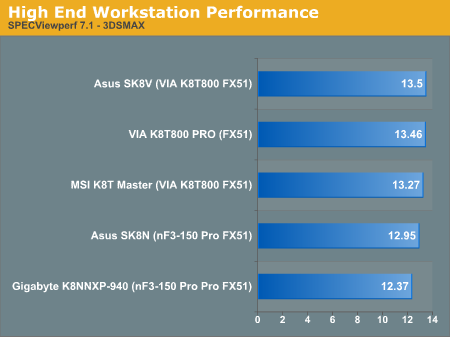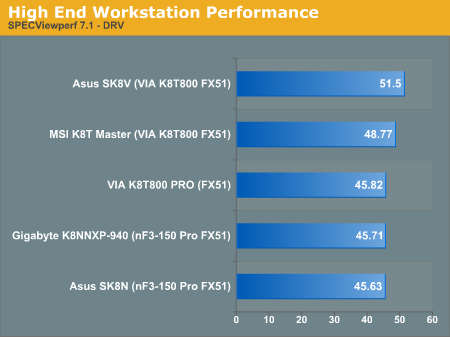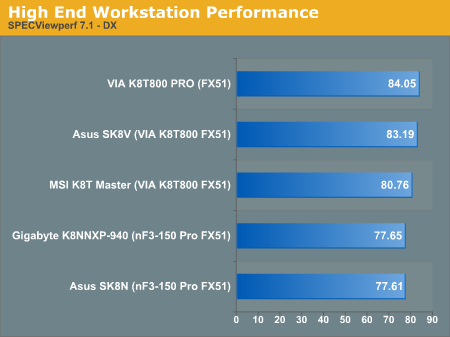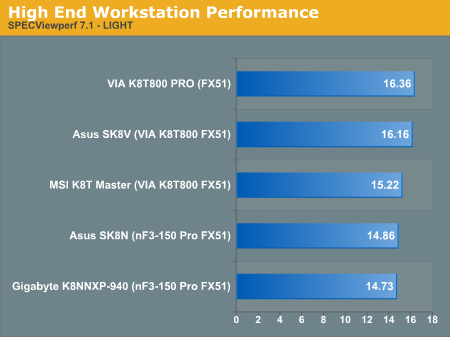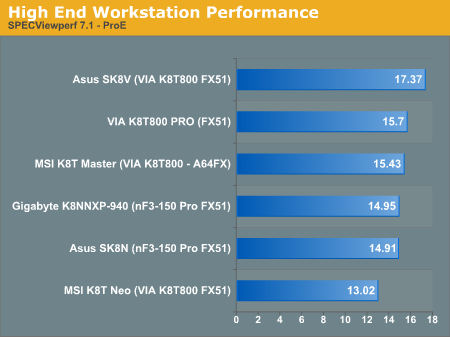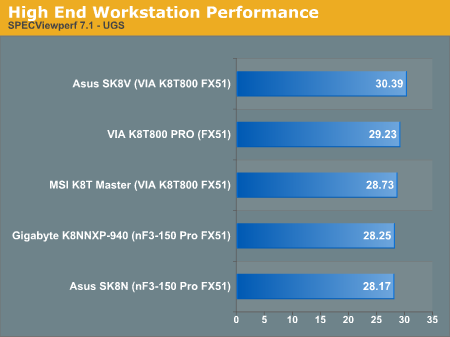 The K8T800 PRO actually performed a little better in SPECviewperf Workstation Benchmarks than we would have expected. In every benchmark, it outperforms all of the K8T800 boards except the Asus SK8V. In several benchmarks, the PRO and SK8V switch positions as 1 and 2.
VIA has long argued that adding an AGP lock to their chipsets would result in reduced performance. We certainly find no evidence of that here. Either the effect is very minor or VIA has found a way to compensate for any performance loss in other areas.
Final Words
After benchmarking the K8T800 PRO, all we can say is, "IT'S ABOUT TIME!" VIA has resisted adding AGP lock capabilities to their chipsets for a very long time, and it is a real pleasure finally to evaluate a VIA chipset without having to say, "It's fast, but..."
Our brief testing showed a working AGP lock on the K8T800 PRO chipset, but VIA and manufacturers do need to get more voltage to the chipset if the lock is to be truly useful. The other unanswered question is the ultimate overclockablity of the K8T800 PRO. It won't be enough just to have check-list features when we have already seen nVidia boards that can reach 300-347 FSB with lower multipliers. VIA also has a working PCI/AGP lock on the new PT880 chipset for Intel, but that chipset still suffers from mediocre overclocking abilities compared to Intel's 865/875 chipsets. Let's hope that VIA doesn't make the same mistake on their flagship K8T800 PRO chipset.
There is no doubt that these are turning into exciting times for Athlon 64 enthusiasts. The processors that we have seen recently have more headroom, 1000 HyperTransport allows much higher FSB overclocks to be reached, .09 process chips should arrive this year, and the unlocked multipliers (down on Athlon 64 and a complete unlock on FX) allow for the kind of memory tweaking that you just cannot do with fixed multipliers, as we see on Intel's Pentium 4 family.
Next month will see the long-awaited introduction of Socket 939, bringing Dual-Channel unbuffered memory to Athlon 64. While they are wearing other clothes right now, we have already seen the two major chipsets for that new socket. The nVidia nForce3-250 and the K8T800 PRO are both very competent chipsets with very comparable features. We really won't know how far either of these chips will go in the new socket until next month. For now, we have unanswered questions with both chipsets. VIA has performed better historically in the high-end Dual-Channel configuration. K8T800 PRO continues that history of performance, but there will have to be improvements in overclocking capabilities for VIA to win this round - at least based on what we are seeing in this Reference Board.
On the other hand, we have yet to see what nVidia will do with Dual-Channel, HyperTransport, and the nForce3-250Gb. The performance on Socket 754 is impressive with excellent overclocking capabilities on the better production boards, but nVidia is still apparently binning chips, since they are offering 800HT to Socket 754 and reserving 1000HT for the new 939 boards. VIA, on the other hand, is moving their entire chipset line to 1000HT, and their yields must be excellent, since pricing for the PRO is the same as the earlier K8T800.
These questions will all be answered soon enough, and we are really looking forward to digging deeper to find answers for you over the next few weeks.