Original Link: http://www.anandtech.com/show/1274


At launch, there were really just two Athlon 64 chipsets - the nVidia nForce3 150 and VIA K8T800. As we have discussed in reviews of boards based on these chipsets, neither one really meets the specifications that we would like to see in Athlon 64 chipsets. Later, SiS introduced the promising 755 chipset, but no one has brought the kind of 755 boards that we hoped to see to market. In addition, our
recent tests of the PCI locks
on all 3 Athlon 64 chipsets found that none of them really worked. Given this background, we were more than ready for a new chipset for Athlon 64 that would fix many of the issues.
nVidia has stated all along that nForce3-150 was an interim chipset. The 150 chipset was criticized widely for using just 600 HyperTransport when the AMD specification was 800, and almost everyone found fault with the out-dated feature set with nF3-150. In fairness, we could find no performance differences at all between the VIA 800HT and the nVidia 600HT in tests of Socket 754 Athlon 64, but there was certainly no compelling reason to choose nF3-150 over the more feature-rich solutions from both VIA and SiS. With VIA and SiS, you also did not have to compromise on HyperTransport speed since both run at 800HT.
The non-working PCI lock that we later found on nF3-150 also came as a huge surprise. nVidia tells us, and we did confirm, that the PCI lock
does
work on the nVidia Reference Board for nF3-150, but they are also aware that it did not work in production nF3-150 motherboards. nVidia assures us that this BIOS programming issue is fixed in nF3-250.
Into this very confusing climate for Athlon 64 chipsets, nVidia is launching the completely revised nForce3-250. The market for Athlon 64 is now growing rapidly, and nVidia simply wants to be the only choice for the gamer and computer enthusiast when buying an Athlon 64. This time around, nVidia certainly looks like they have the goods to make nForce3-250 everything that the market is looking for.
Since there is so much that is new in the nForce3-250, the review will come to you in two parts. Part 1 takes a close look at the features of nForce3-250; Part 2 will concentrate on actual performance of the nForce3-250 Reference Board compared to other Athlon 64 boards that we have tested. Since nVidia claims that nForce3-250 performs best with nVidia's latest graphics cards, benchmarks will also compare performance of an nVidia 5950 Ultra, 9800 XT, and our standard ATI 9800 PRO on the nF3-250 chipset.
A Closer Look at the nForce3-250 Family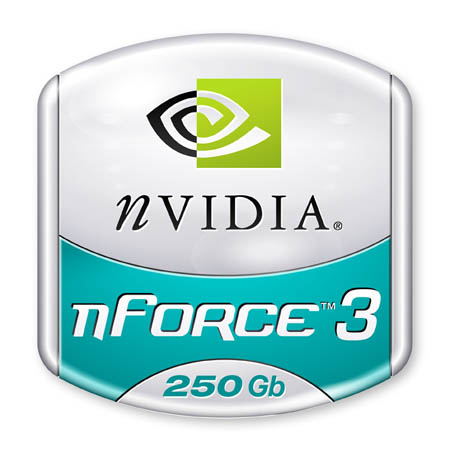 The nVidia Reference Board was shipped with the latest nForce3-250Gb chipset. Gb stands for Gigabit, which refers to the included on-chip Gigabit Ethernet. The Reference Board also included 1000MHz HyperTransport, but this is a concession to the Reference Board and is not a feature for Socket 754 boards. Basically, there are currently two 250 chipsets for Socket 754 Athlon 64:
1. nForce3-250 - basic value chipset for 754, 800HT, does
not
include on-chip Gigabit LAN or on-chip Firewall.
2. nForce3-250Gb - 800HT, includes Gigabit LAN and on-chip Firewall.
With the coming introduction of Socket 939, there will also be two additional versions of the chipset introduced:
3. nForce3-250Gb Ultra - 1000HT, Gigabit LAN, Firewall, Dual-Channel unbuffered, for Athlon 64/Athlon 64 FX.
4. nForce3-250Gb Ultra PRO - 1000HT, Gigabit LAN, Firewall, for Opteron.
To make the 4 versions even more interesting, the Ultra can even be used for Socket 754 processors if the manufacturer chooses. In fact, there are designs for top Athlon 64 boards that nVidia says will use the Ultra chipset to provide 1000 HyperTransport to Socket 754. This would, theoretically, bring added overclocking headroom to current Athlon 64 CPU's. In fact, the nVidia Reference Board that we received used the Ultra chip and provided 1000 HyperTransport. We can confirm that dropping the multiplier to 9.5, and dropping HT to 800 allowed us to reach 250 FSB easily, which was the FSB limit on the Reference Board - all at default voltage.
To add even more to the pot, all of the nF3-250 versions of the chipset can be used in Multiple Processor designs. If the manufacturer chooses, any of the chipsets can be used theoretically in 1, 2, 4, 8, or even 16 CPU setups. Of course, the capabilities of the processors available for any given board will have an impact on how far you can go with multiple CPUs.
With the nForce3-250, nVidia also takes a giant leap in features to make the new chipset second to none. Features that are now part of the single-chip nForce3-250Gb MCP include 8 SATA ports, 4-channel SATA RAID plus 4-Channel IDE RAID, on-chip Gigabit Ethernet, on-chip Firewall, and software 6-channel audio.
nForce3-250 Specifications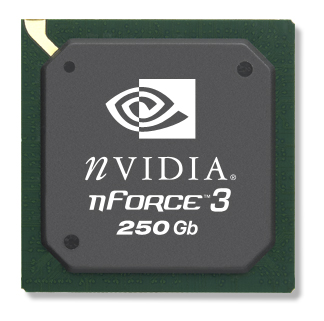 NETWORKING
NVIDIA IEEE 802.3 Media Access Control (MAC)

Supports 10/100/1000Base-T Ethernet/Fast Ethernet/Gigabit Ethernet*

- Supports HomePNA 2.0 PHYs
- Advanced Communication Riser (ACR) and Communications and Networking Riser (CNR) interface support

High performance networking features

TCP segmentation offloads*
Jumbo frames*
Checksum offloads*

NVIDIA StreamThru technology

Isochronous controller paired with HyperTransport for fastest networking performance
SECURITY
NVIDIA Firewall technology*

Industry's only native firewall solution
Unmatched performance and protection
Advanced management features

- Remote access, configuration, monitoring
- Command line interface (CLI)
- WMI scripts
STORAGE
RAID 0 disk striping support for highest system and application performance
RAID 1 disk mirroring support for fault tolerance
RAID 0 +1 disk striping and mirroring support for highest performance with fault tolerance
Support for both SATA and ATA-133 disk controller standards
Dual independent SATA controllers**

Supports up to 4 SATA disk drives simultaneously

Integrated SATA PHY with support for two drives**
Digital SATA interface for external PHY with support for two drives**
Fast Ultra ATA-133 Disk Drive Controllers

Each interface supports two devices, for support for up to six devices
Supports UltraDMA modes 6-0 (UltraDMA 33/66/100/133)
Industry-standard PCI bus master IDE register set
Separate independent IDE connections for 5V-tolerant primary and secondary interfaces
CONNECTIVITY
AGP interface

Supports AGP3.0 - 0.8 V signaling for 8x and 4x with Fast Writes data transfers
Supports AGP2.0 - 1.5 V signaling for 4x, 2x, and 1x modes with 4x and 2x Fast Writes data transfers
Supports graphics address remapping table (GART) features
The AGP3.0 8x 533 MT/s. (million transfers per second) interface provides the user with the ability to upgrade the external graphics card, thus avoiding obsolescence. An external AGP add-in card achieves higher performance than it would on existing platforms.
AGP interface is backward compatible with the AGP2.0 specification.

USB 2.0

Single USB 2.0 Enhanced Host Controller Interface (EHCI)/Dual USB 1.1 Open Host Controller Interface (OHCI)
Support for up to 8 ports
Supports transfer rates at high speed (480 Mbps), full speed (12 Mbps), and low speed (1.2 Mbps)
Dynamically configures slower devices for best utilization of bandwidth
Allows USB concurrency

PCI interface

Integrates a fast PCI-to-PCI bridge running at 33 MHz. It includes an arbiter that supports six external master PCI slots.
Features of the PCI interface include:

- PCI 2.3-compliant, 5 V tolerant
- Supports six external PCI slots at 33 MHz
- Supports six bus master arbitration
- PCI master and slave interfaces
- Supports both master-initiated and slave-initiated terminations
- Bidirectional write posting support for concurrency
- Flexible routing of all four PCI interrupts
- Supports read ahead: memory read line (MRL) and memory read multiple (MRM)
PERFORMANCE
HyperTransport technology

High throughput (6.4GB/sec)**
Low voltage
Differential
AUDIO
AC '97 2.1 compliant interface
Supports 2, 4, or 6-channel audio
Dual AC-Link - supports up to two codecs
16-bit or 20-bit stereo output and 16-bit input streams
Supports input, output, and general purpose input/output (GPIO) channels for host-based modems
Separate independent functions for audio and modem
Supports ACR and CNR interface
S/PDIF output (stereo or AC-3 output)
MOBILITY
Power management
Full support for AMD PowerNow! technology
ACPI 2.0 compliant
Support for ACPI C3 state
Low power 0.15 µ process
Maximizing real estate efficiency enabling small form factor designs

Single chip solution
Lower latency for higher performance
* NVIDIA nForce3 250Gb only.
** NVIDIA nForce3 250Gb and 250 only.
nForce3-250Gb Reference Board: Basic Features
 Motherboard Specifications
CPU Interface
Socket 754 Athlon 64
Chipset
nForce3-250GB single-chip
Bus Speeds
200MHz to 250MHz (in 1MHz increments)
PCI/AGP Speeds
Synchronous or Asynchronous PCI/AGP
Fixed at 66/33 to 100/50 (in 1MHz increments)
Core Voltage
None available on Reference Board
HyperTransport Frequency
1000MHz (1GHz)
HyperTransport Width
16-bit Upstream and 16-bit Downstream
DRAM Voltage
None available on Reference Board
AGP Voltage
None available on Reference Board
HyperTransport Voltage
None available on Reference Board
Memory Slots
Two 184-pin DDR DIMM Slots
Single-Channel Configuration
Regular Unbuffered Memory to 2GB Total
Expansion Slots
1 AGP 8X Slot
6 PCI Slots (up to 6 may be available)
Onboard Serial ATA RAID
nF3-250GB (4 Drives, 0, 1, 0+1)
Onboard IDE/IDE RAID
Two Standard ATA133/100/66 (4 drives)
Drives may be configured as IDE RAID
Onboard USB 2.0/IEEE-1394
8 USB 2.0 ports supported by nF3-250
No Firewire - Must use additional chip
Onboard LAN
1Gigabit Ethernet on-chip by nF3-250GB
Onboard Audio
AC '97 2.1 6-Channel supported by nF3-250
BIOS Revision
Reference Board 1/31/2004
Reference Boards are normally quite different from the production boards that will later appear with the Reference Board chipset. While certain component arrangements may be retained from a Reference Board, the board is designed for testing and qualification, and generally not for production. Normally, they are also designed to be tested on the bench, out of any case.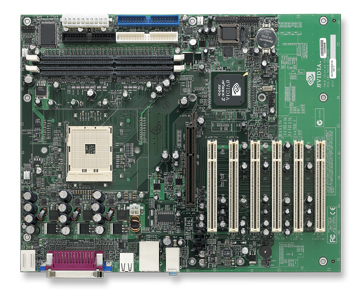 Many, including AnandTech, complained that nForce3-150 was simply out-of-date when it came to integrated features. nForce3-250 definitely does not suffer from that problem. The nF3-250 feature set is as up-to-date as the 150 is not. You could still build an extremely capable system with the nF3-150, but many of the features had to be provided with add-on chips, which increased production costs. nForce3-250 moves from deficient to feature-rich, and competes very well with the best solutions from VIA and SiS. Standard features include 4-drive SATA Raid, 8 USB 2.0/1.1 ports, ATA133 IDE/RAID, AC '97 2.1 6.1 channel audio, and on-chip firewall. The enthusiast version adds on-chip high-speed Gigabit LAN, similar in concept to Intel's CSA. This moves LAN to the chip itself and away from the PCI bus bottleneck.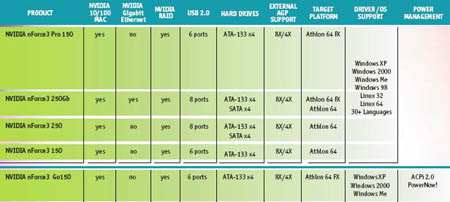 Click to enlarge.
Fully decked out, nForce3-250 provides features available nowhere else, like on-chip 1Gb Ethernet, on-chip firewall, 4-drive SATA RAID, and
both
SATA and IDE RAID that can be combined.
nForce3-250Gb: WORKING AGP/PCI Lock
It should not be a surprise that the first thing we confirmed is a
working
PCI/AGP lock. After discovering that none of the previous Athlon 64 chipsets had a working AGP lock, we went immediately to a test to verify that the AGP lock was indeed working. We used PC Geiger that was used for measuring PCI in
PCI Speed and Overclocking: A Closer Look at A64 and P4 Chipsets
. With FSB set at 249 and AGP frequency set to 67, we measured a PCI speed of 33.3MHz.

This is the expected results for a working AGP lock. We certainly can confirm that the AGP lock is working on the nForce3-250GB Reference Board, and we'll take another look when shipping nF3-250 boards start showing up in a couple of weeks.
FSB Overclocking Results
Reference Boards are not really designed for overclocking, and there are normally not any voltage adjustments available as we would see on production motherboards. However, with PCI/AGP lock available, we were anxious to see if the nForce3-250Gb did indeed overclock better. This was also an opportunity to verify a working PCI/AGP lock by a different method.
Front Side Bus Overclocking Testbed
Default Voltage
Processor:
Athlon 64 3400+
2.2GHz
CPU Voltage:
1.5V (default)
Cooling:
AMD Stock Athlon 64 Heatsink/Fan
Power Supply:
Powmax 350W
Maximum OC:
2442MHz (+11%)@222x12
2375Mhz@250FSBx9.5 (+25% FSB)
The above overclocking setup at default voltage allowed us to reach a stable Frequency of 250 at 800 HyperTransport with AGP/PCI fixed at 33/66. The limit of this CPU at default voltage is apparently somewhere around 2450MHz, since we could not reach 250FSB with a 10 multiplier. That would have represented 2.5GHz, had we been successful.
Important here is the fact that we reached the absolute highest FSB setting of the Reference Board, which is 250. This is further evidence that the AGP lock is indeed working on nforce3-250.
We asked nVidia about the issues with the nForce3-150 AGP/PCI lock, which are apparently fixed in nF3-250. nVidia assured us that the AGP lock was indeed working in the 150 Reference Board, but that the BIOS implementations by manufacturers with the 150 chipset were not correct. Therefore, the shipping boards for nF3-150 did not have a consistently working AGP lock. nVidia also assured us that they were working more closely with manufacturers on the nF3-250 launch to make sure manufacturers were delivering nF3-250 boards with working AGP lock.
We tested nVidia's claim and found the Reference nF3-150 board did have a working AGP lock. The AGP lock is also definitely working on the 250 Reference Board, and we sincerely hope we will find the same working lock on shipping nF3-250 motherboards. We will be looking closely at production nF3-250 boards to verify a working AGP lock.
Reference Boards are rarely a good indication of the true overclocking abilities of a chipset because they are designed to qualify and demonstrate a chipset at design parameters. The features are definitely here for the best overclocking in current Athlon 64 chipsets. It is also worth mentioning that the
Athlon 64 Multiplier Utility
, available as shareware from
CPU-Z
, worked fine on the nForce3-250. While it was designed for the 150 chipset, nVidia saw no reason why it should not work properly and we did confirm that the multiplier adjust utility works.
nForce3-250Gb: On-Chip Gigabit LAN
nVidia is very proud of their on-chip implementation of Gigabit LAN. The concept is very similar to Intel's CSA bus, which was introduced with the Intel 875 chipset, in that it moves communications off the slower PCI to a faster bus. However, nVidia carries the concept even further by implementing their Gigabit LAN
on
the single-chip nForce3-250GB. This removes the 1Gb LAN from all buses and allows performance at the internal speed of the chip.
Fast Ethernet (10/100) was really not a concern on the PCI bus. In the traditional arrangement, the Ethernet controller resided on the PCI bus.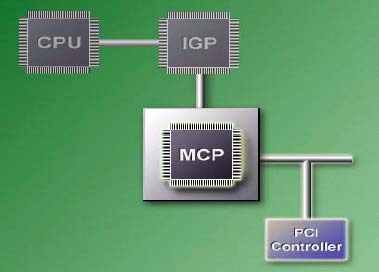 The PCI bus was not really an issue for the
fast
Ethernet 100Mb/sec connection because even at maximum speed, Fast 100 did not exceed PCI bandwidth. However, Gigabit LAN, at 1000Mb/sec can exceed the bandwidth of the PCI bus easily. With nForce3-250GB, nVidia has moved the Ethernet to the chip itself.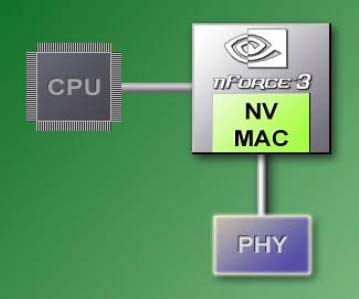 This frees Gigabit Ethernet from the bottleneck of the PCI bus, but the nVidia Gigabit LAN is still recognized as if it were a PCI device. nVidia also recognizes that their 3
rd
generation MCP Ethernet is not the only solution off the confines of the PCI bus, but they claim that their solution is the fastest available. nVidia showed standard benchmarks where input/output on their Gigabit LAN was more than twice as fast as PCI Gigabit Ethernet.
This all sounds good for the business user where it is easy to justify Gigabit LAN, but the practical reality is that even broadband connections are still too slow for home users to saturate a PCI Gigabit LAN. When we brought this up, nVidia pointed out several realities where their on-chip Gigabit LAN would make a difference today.
1. LAN Party Gamers - The prices of Gigabit switches has dropped to the point they are becoming practical as switches at LAN parties. The nVidia on-chip Gigabit LAN will be the fastest machine at any LAN Party using Gigabit switches.
2. Multimedia on Home Networks - Anyone moving multimedia files on their home network will see a real increase in speed with on-chip Gigabit LAN.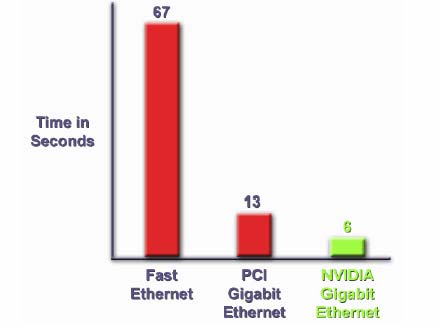 3. File sharing - Sharing files between computers can be accelerated with the tenfold increase in throughput with Gigabit Ethernet. Digital videos and photographs, music, computer games, and text files with lots of graphics are some of the types of large files shared between home computers.
4. Longer Computer Lifespan - with Gigabit LAN moving into the mainstream, a fast on-chip solution like the nF3-250GB Gigabit Ethernet will extend the useful life of the computer.
Business users have an easier time realizing the immediate benefits of nVidia's on-chip Gigabit LAN. Anything a business does on their LAN is that much faster with Gigabit LAN moved on-chip and off the PCI bus.
nVidia has assembled an impressive communications team with deep experience in the communications industry. That depth of experience shows in the design of the communications capabilities of nForce3-250Gb. It is the most impressive chipset Gigabit LAN that we have seen, and this will be the reason to buy an nForce3-250Gb board for some.
nForce3-250Gb: On-Chip Firewall
Frankly, it's a good feeling to be relatively safe behind a router in a network. Any security expert, however, will tell you that the big risk in recent days has come from infected email attachments that get through any router setup and are spread friend to friend or across a home network. Active LAN gamers also can pose high security risks because they often end up opening huge IP holes in their setup so they can play their games on-line. nVidia has tried to address these types of security risks with an on-chip firewall in nForce3-250 that can be easily configured in your internet browser.
The nVidia Firewall is a hardware-optimized solution and an integrated component of nVidia nForce media and communications processors (MCPs). Currently, the nF3-250 chipset offers the on-chip firewall, but nVidia said that they also plan to incorporate the firewall into an upcoming revision to nForce2 Ultra 400. This on-chip design eliminates potential conflicts with third-party drivers, BIOS, or hardware. nVidia tells us that they are also working with Microsoft to make certain that their on-chip firewall is fully recognized and supported in Microsoft's upcoming firewall additions to the Operating System.
Because it is native, the nVidia Firewall eliminates many issues with software conflicts, improves throughput and protection, and lowers CPU utilization. This all sounds good, but we were most interested in how you configured nVidia's firewall, since current software firewalls that are effective are usually a nightmare to configure. Even those that try to be friendly can be a genuine pain to use in the training or "rule-setup" phase.
LAN Gaming
When you look closely at the nVidia firewall, it is clear that someone in the design group understood what was wrong with most firewalls. There are several predefined levels of protection, and the assumptions that were made in defining these levels are about the same as we would make in our own configurations. You define these simple setups in your browser, but what if you're a LAN gamer with 20 games, all requiring different ports for connection? Here, nVidia had you in mind because there are a whole group of predefined games with the corresponding ports. Configuring for your LAN game is as easy as checking the game in the setup or unchecking it when you want to close an access. This is really slick, and something you don't expect in a chipset!
Anti-Hacking
The firewall also has some very interesting anti-hacking features. Most software firewalls can filter IP's just fine, but most have trouble with the kind of hacker attacks that we really see today. The hacker today most often uses a "zombie" PC generating spoofed packets, and the on-chip firewall is a hardware solution that is better able to protect against this type of hacker attack. As nVidia explains:
"A spoofed IP packet has an illegally generated value in its IP Source Address field. By using an intentionally incorrect IP address, it is possible to build certain kinds of attacks. The most notorious is a distributed denial-of-service (DDoS) attack, which is also one of the most common types of attacks that use IP spoofing. These DDoS attacks depend on two things: 1) an Internet-connected "zombie" device, often a PC, that has been compromised; and 2) the ability to command the zombie PC to send packets with spoofed IP source addresses.

Firewalls have always been able to filter based on an IP address, but the detection of spoofed packets involves a more subtle distinction. For example, based on a given packet's IP source address, should that packet have arrived on the interface that received it, given what the firewall knows about the routing table? An intermediate device cannot easily detect that a given packet is spoofed.

The best approach to preventing spoofing is to block spoofed packets at their source - the zombie PCs. By embedding the anti-spoofing capability directly into the PC's networking hardware/software infrastructure, the PC is prevented from using any IP address other than its statically assigned address or its DHCP-assigned address."
Configuration
All the firewall capabilities available are next to useless if the configuration is inaccessible or overly complicated. The new nVidia on-chip firewall is configured through your browser.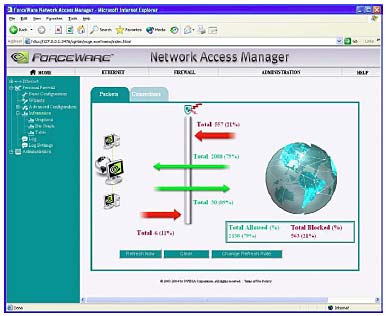 nForce3-250Gb: 4-Drive SATA RAID and IDE RAID
Integrated RAID capabilities have become common with most of today's chipsets. Most competing chipsets provide the ability to use SATA RAID 0 (Striping) for Performance or RAID 1 (mirroring) for Data Protection. The nForce3-250 chipset takes these capabilities even further, however, with
four
drives instead of the two supported by other chipsets. These 4 drives can also be configured as RAID 0+1, which combines both striping and mirroring for speed and data protection.

RAID Level 0+1 Disk Striping and Mirroring
Cross-Controller RAID
The nVidia RAID solution is also unique in supporting both Serial ATA (SATA) and parallel ATA disk devices within a single RAID array. Users don't need to worry about whether hard drives are SATA or IDE - - the nVidia RAID controller treats both IDE and SATA drives the same and allows them to be combined in any way in the RAID controller. A single setup procedure applies to all drives, which makes it possible to use all the storage devices available. Users can also expand the number of drives easily without worrying about whether the drive is IDE or SATA.
On-the-Fly Rebuilds and Spare Disk Allocation
Corporate RAID users are accustomed to RAID arrays with "hot spares" and on-the fly rebuilds, but those RAID 5 features have been expensive additions to a home PC. The nVidia RAID controller adds both these features to a home PC that is running any type of mirroring. If a disk fails, RAID 1 allows continuous operation by taking advantage of the mirrored data copy in the array. The nVidia RAID solution goes a step further and lets a user rebuild a new mirrored copy for the data while the system is up and running, without disrupting user and application access to the data set. Rebuilding on the fly eliminates down time and maximizes protection for critical storage resources.
nVidia RAID 1 also lets users designate spare drives that can be configured as hot standbys, protecting arrays in the event of a disk failure. A
shared spare
can protect multiple arrays of drives, or a
dedicated spare
can serve as a hot standby for a particular drive array. The spare disk feature, which offers protection that goes beyond mirroring data, has traditionally been limited to high-end RAID systems. Truthfully, the RAID capabilities that nVidia has built into nForce3-250 will blow away almost any high-end home user. This isn't RAID 5 on a home PC, but the flexibility and data protection capabilities are truly impressive.
Conclusion
nVidia was roundly criticized for the lack of up-to-date features in their first Athlon 64 chipset. That criticism turned to utter disappointment when enthusiasts discovered the additional overclocking limitations of the 600MHz HyperTransport and the non-working AGP locks on motherboards that appeared in the marketplace. In fairness, performance at stock speeds was just as good with nForce3-150 chipsets with Athlon 64 as it was with competing chipsets, but this was not what we have come to expect from nVidia on their chipsets for AMD. nVidia says that they never expected AMD sales to take off until the introduction of Socket 939. It is very clear that nForce3-250 was designed first for 939, and the fact that we are seeing it now for Socket 754 is only because you can now buy 754 and Socket 939 is still probably a couple of months away.
No one can complain about the feature-set of the single-chip nForce3-250. It competes with
any
chipset that we have looked at or heard about. We were also excited to test a Socket 754 board with the Ultra chipset providing the option of not just 800 HyperTransport, but the 1000 HyperTransport that we will be seeing when Socket 939 is introduced. We expect that some enterprising companies who cater to the computer enthusiast, will slip in some Socket 754 boards based on the Ultra chipset with a Gigahertz HyperTransport.
The ultra-speedy on-chip Gigabit Ethernet is more than a checklist feature. If you are a LAN gamer or transfer large files on your network, you will find the speed truly impressive. Removing LAN from the confines of PCI is an idea whose time has come, and nVidia's solution is the fastest on the market. The on-chip Firewall is also a great idea that will be appreciated particularly by LAN gamers. nVidia won the hearts of die-hard gamers with nForce2, and they certainly will win them back again with nForce3-250Gb. No matter how you look at nF3-250 features, there is a gamer in the background who nVidia is trying to satisfy.
The Raid controller capabilities of nForce3-250 are a quantum leap over the integrated home storage solutions that we have seen thus far. Intel will also introduce much-enhanced storage capabilities with their upcoming Alderwood and Grantsdale chipsets, but nVidia certainly impressed us with their hot-spare and on-the-fly rebuild demonstrations. However, we think most users will find the controller that treats IDE and SATA drives the same - allowing them to be combined in any way - to be the most useful feature that they have seen in a long time.
If you haven't figured it out, we are impressed with the features of nForce3-250Gb. They are much more than fluff and check-list items; users will find many features truly unique and truly useful. In Part 2, we will take a closer look at the performance of nForce3-250GB. We will compare performance to other Athlon 64 chipsets and take a closer look at how ATI and nVidia graphics compare in performance on nForce3-250.