Original Link: http://www.anandtech.com/show/1269


In the last couple of years, it has been a big deal when Samsung introduces a higher speed memory. This has less to do with the actual performance of the new Samsung memory than it does with the fast acceptance of the higher memory speed by the Computer industry; higher speed memory from Samsung quickly legitimizes the new speed rating. New Samsung speed introductions also find their way quickly into systems from all the major system manufacturers. At the other end of the spectrum, Samsung modules find their way quickly into memory for custom-built or "white-box" systems.
As a member of JEDEC, the industry standards committee, Samsung memory introductions are tied closely to approved JEDEC standards. Where DDR400 has been the standard highest-speed DDR for a while, Samsung's introduction of DDR466 represents the next, and probably last, standard for DDR memory speed. DDR466 is only a partially approved JEDEC standard, and speculation remains that DDR533 will likely never see the light of day as a memory specification with the upcoming introduction of DDR2. This, of course, is very much related to market acceptance of DDR2, since there was never supposed to be a DDR400 or DDR466 standard either.
DDR466, then, is the next standard DDR memory speed, and the Samsung modules represent the standard 3-4-4 timings and standard voltage. Custom memory makers, like Corsair, Geil, Kingmax, Kingston, Mushkin, OCZ and others, use specially selected "standard" memory chips to create whatever speed they choose, but the starting point for all memory is a standard chip manufactured to certain JEDEC standards.
Samsung modules have also earned quite a reputation, in the past, for significantly outperforming their specifications. With that in mind, we looked forward to putting the latest Samsung DDR466 through the performance tests.
Samsung PC3700
While the JEDEC DDR standard defines both TSOP2 and BGA (Ball Grid Array) standards, most memory manufacturers produce DIMMs with TSOP2 chips.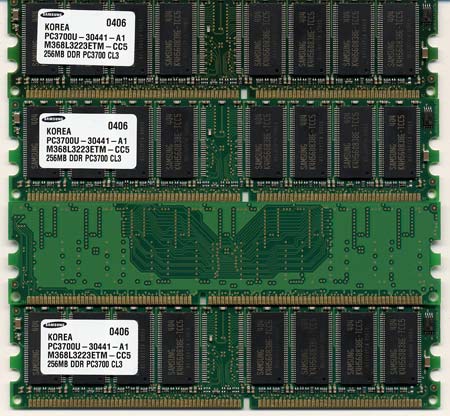 Samsung DDR466 is TSOP2 and uses the pins on each side of the memory chip for attachment to the PCB. The only high-speed BGA DIMMs that we have tested have been in our recent review
Kingmax Hardcore Memory: Tiny BGA Reaches For Top Speed
. Samsung supplied 4 single-sided DIMMs instead of the 2 double-sided DIMMs that we are accustomed to reviewing. However, as demonstrated in
Searching for the Memory Holy Grail - Part 2
, 4 single-sided DIMMs should perform at the same level as 2 double-sided DIMMs on the Intel 875 chipset used in the memory test bed.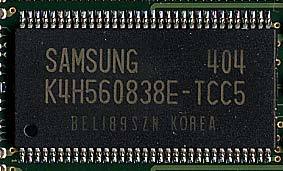 For those memory enthusiasts who want to know every detail, you can find the Samsung Part Number in the chip close-up and locate all the specs for 256Mb K4H560838E C5 chips at
Samsung
.
Samsung DDR466 Specifications
Samsung DDR466 Memory Specifications
Number of DIMMs & Banks
4 DS
DIMM Size
Total Memory
256 Mb
1 GB
Rated Timings
3-4-4-8
Rated Voltage
2.6V +/- 0.1V
We confirmed the SPD timings to be set at 3-4-4-8. Samsung rates the C5 DDR466 chips at the same 3-4-4 timings specified for their C4 DDR400 chips. The timings and voltage specifications for DDR466 are the same as those published by JEDEC for DDR400.
The Samsung modules are rated at 2.6V +/- 0.1V, and this appears to be a very honest rating in our tests. Our highest memory overclock was achieved with 2.75V, and increasing the voltage to 2.85V did not improve stability in any way in the configuration that we were testing.
Performance Test Configuration
The Memory testbed for evaluating the Samsung PC3700 is the same used in our earlier reviews of DDR500 and other High-Speed Memory.
Kingmax Hardcore Memory: Tiny BGA Reaches For Top Speed
New Memory Highs: Corsair and OCZ Introduce DDR550
OCZ PC3700 Gold Rev. 2: The Universal Soldier
OCZ 4200EL: Tops in Memory Performance
Mushkin PC4000 High Performance: DDR500 PLUS
Corsair TwinX1024-4000 PRO: Improving DDR500 Performance
Mushkin & Adata: 2 for the Fast-Timings Lane
Searching for the Memory Holy Grail - Part 2
All test conditions were as close as possible to those used in our earlier memory reviews.
 INTEL 875P Performance Test Configuration
Processor(s):
Intel Pentium 4 2.4GHz (800MHz FSB)
RAM:
4 x 256MB Samsung PC3700 (DDR466) (SS)
2 x 512MB Kingmax DDR500 Hardcore Series (DS)
2 x 512MB Kingmax DDR466 Hardcore Series (DS)
2 x 512MB Corsair XMS4400v1.1 TwinX (DS)
2 x 512MB OCZ PC4400 DC Kit (DS)
2 x 512MB OCZ PC3700 Gold Rev. 2 (DS)
2 x 512MB OCZ 4200EL(DS)
2 x 512MB Mushkin PC4000 High Performance (DS)
2 x 512MB Corsair TwinX4000 PRO (DS)
2 x 512MB Mushkin Level II PC3500 (DS)
2 x 256MB Adata DDR450 (SS)
2 x 512MB Adata PC4000 (DS)
2 x 512MB Corsair PC4000 (DS)
2 x 512MB Geil PC4000 (DS)
4 x 256MB Kingston PC4000 (SS)
2 x 256MB Kingston PC4000 (SS)
2 x 512MB OCZ PC4000 (DS)
4 x 256MB OCZ PC3700 GOLD (DS)
Hard Drives
2 Western Digital Raptor Serial ATA 36.7GB 10,000 rpm drives in an Intel ICH5R RAID configuration
PCI/AGP Speed
Fixed at 33/66
Bus Master Drivers:
875P Intel INF Update v5.00.1012, SATA RAID drivers installed, but IAA not installed
Video Card(s):
ATI 9800 PRO 128MB, 128MB aperture, 1024x768x32
Video Drivers:
ATI Catalyst 4.1
Power Supply:
Vantec Stealth 470 Watt Aluminum
Operating System(s):
Windows XP Professional SP1
Motherboards:
Asus P4C800-E (875) with 1015 Release BIOS
Since Samsung provided four single-sided DDR466 DIMMs for testing, we did not believe we could effectively test performance of Samsung DDR466 in AMD motherboards which only have 2 or 3 DIMM slots for the XT and A64 chips. Therefore, we only tested performance on our Intel test bed. We did try to run the Samsung DIMMs on an Athlon 64 platform and had no problem running 2 DIMMs at the same timings found in the Intel testing.
Test Settings
The following settings were tested with Samsung DDR466:
800FSB/DDR400 - the highest stock speed supported on 875/865 and K8T800/nF3/SiS755 motherboards.
933FSB/DDR466 - the specified rating of the DDR466 memory modules.
1000FSB/DDR500 - the maximum speed that many current Intel 865/875 boards can achieve.
Highest Stable Overclock - the highest settings we could achieve with this memory and other memory we have tested.
These are the same general settings used in benchmarking other memory in the above list of memory tests. DDR400, DDR500, and Highest Memory Speed have been used for all benchmarking. DDR466 has only been tested in the past for modules with this speed rating.
Test Results: Samsung PC3700
To test overclocked stability, we used the very demanding Gun Metal 2 - Benchmark 2, which pushes systems with its DX9 routines. To be considered stable for test purposes, Gun Metal, our Quake3 benchmark, UT2003 Demo, Super PI, Halo, and Comanche 4 had to complete without incident. Any of these, and in particular, Super PI and Gun Metal, will crash a less-than stable memory configuration.
Samsung PC3700 (DDR466) - 4 x 256Mb Double-Bank
Speed
Memory Timings & Voltage
Quake3 fps
Sandra UNBuffered
Sandra Standard Buffered
Super PI 2M places
(time in sec)
400DDR
800FSB
2.5-3-3-5
2.5V
319.2
INT 2635
FLT 2684
INT 4436
FLT 4429
132
466DDR
933FSB
2.5-3-4-6
2.65V
364.81
INT 3027
FLT 3113
INT 5084
FLT 5078
115
500DDR
1000FSB
3-3-4-6
2.5V
392.8
INT 3418
FLT 3414
INT 5525
FLT 5520
107
535DDR
1070FSB
3-4-4-8
2.75V
412.3
INT 3332
FLT 3318
INT 5760
FLT 5806
100
Performance at DDR400 is in-line with Samsung's spec of CAS 2.5 operation at DDR333. We were not able to achieve CAS 2.0 at DDR400 with the Samsung modules. While this is slower than what we have seen on recently tested modules at DDR400, the actual benchmark performance is closer than you might expect to the performance of other high-speed modules at DDR400. While other modules outperform Samsung at DDR400, the PC3700 performance was still very solid.
The most surprising finding was the tremendous headroom of the Samsung DDR466 modules. Rated at DDR466, we were able to achieve stable operation to DDR535. This is as good as we have found on many DIMMs rated at DDR500, and is excellent headroom for a DDR466 rated module.
Samsung specifies the JEDEC standard 2.6V +/- 0.1V for the memory voltage and test results confirmed this specification. Increasing memory voltage to 2.85V did not improve stability or allow a higher overclock.
Performance Comparisons
Performance of the Samsung DDR466 was compared to all of the memory recently tested in:
Kingmax Hardcore Memory: Tiny BGA Reaches For Top Speed
New Memory Highs: Corsair and OCZ Introduce DDR550
OCZ PC3700 Gold Rev. 2: The Universal Soldier
OCZ 4200EL: Tops in Memory Performance
Mushkin PC4000 High Performance: DDR500 PLUS
Corsair TwinX1024-4000 PRO: Improving DDR500 Performance
Mushkin & Adata: 2 for the Fast-Timings Lane
Searching for the Memory Holy Grail - Part 2
Memory performance was compared at DDR400, DDR500 and the highest stable overclock that we could achieve and would run Gun Metal 2 Benchmark 2, Quake 3, UT2003, and Super PI to 2MM places. Where the data was available, comparisons were also made at DDR466.
Results are compared for Quake 3, Sandra UNBufferred Memory Test, and Super PI. SiSoft Sandra 2004 reports 2 results for each memory test - an Integer value and a Float value. Results reported in our charts are the result of averaging the INT and FLOAT scores, which are normally close in value. In other words, INT and FLOAT scores were added and divided by 2 for our reported score.
DDR400 Charts
DDR466 Charts
DDR500 Charts
Highest Memory Speed Charts
Conclusion
The introduction of Samsung PC3700 memory matters most for the new DDR466 memory standard it represents. This means that you will soon see DDR466 memory widely available as the new high-speed memory standard from many memory makers - not just the specialty memory makers. You will also likely find new lower price points for standard memory at DDR466.
Corsair, OCZ, Mushkin, Kingston and other memory makers do not have anything to worry about with the new Samsung modules. The performance is solid, but the slower timings used by Samsung do make a difference compared to the best high-speed memory that we have tested. Most memory based on chips from Hynix will outperform the new Samsung DDR466, but the difference is not huge and many buyers will be perfectly happy with Samsung DDR466 in their systems.
The incredible headroom of Samsung DDR466 was a pleasant surprise. The ability to reach a stable DDR535 with memory rated for DDR466 was excellent performance. We also found the Samsung performance more competitive with the best available as memory speeds increased. This makes Samsung DDR466 a great choice for overclockers who want to seriously overclock a 2.4 to 2.8 Pentium 4 and run the memory at the same 1:1 speed. Samsung memory is normally a reasonable buy in the market, available from many sources, and the fact that this DDR466 seems to be capable of speeds well over DDR500 will be great news for buyers looking to build a DDR500+ system with an eye on value.
Even though it is only a partial standard, DDR466 has officially arrived with Samsung PC3700. DDR466 will also likely be the last DDR standard. The next bump in the DDR road would be DDR533, but with DDR2 set to launch in the very near future, it is not likely a DDR533 standard that will ever see the light of day.