Original Link: http://www.anandtech.com/show/1226


It's been almost two months since we took a close look at the SiS 755 chipset for the Athlon 64. After comparing it to other chipsets on the market, we awarded the SiS 755 our
Editor's Choice award for the best Athlon 64 chipset
. As impressed as we were with the SiS 755 Reference Board, it has taken quite a while for production motherboards to actually make it to market. The first to appear was the ECS 755-A, a value board that is selling in the US for about $80. We were not impressed with our early sample of the 755-A, since it ran our standard DDR400 at DDR333 speed, so we asked ECS if this would be the final board. ECS told us that they would be updating the 755-A very quickly to the 755-A2, a revision tweaked for best performance of the 755 chipset. We, therefore, decided to wait for a review until the 755-A2 was available.
The 755-A2 is a better performer than the earlier 755-A, with performance more on par with the SiS 755 Reference Board, and that is not faint praise. We also found no problems with Revision A2 running DDR400 memory at rated speed. It is still a value board in the Socket 754 Athlon 64 market, and it will likely find itself paired with many of the lower-priced 3000+ and 3200+ A64 processors. However, the SiS 755 Reference Board in our earlier review distinguished itself by being the fastest Socket 754 chipset that we had yet tested. It was also the only chipset with full support for the 800 (1600MT/s) Hypertransport bus combined with a working AGP/PCI lock. With that in mind, we will find out how the ECS 755-A2 compares to the best Athlon 64 boards that we have tested.
ECS 755-A2: Board Layout
The ECS 755-A2 is a little less than full-size, mounting in the case with 2 rows of standoffs instead of the 3 seen on full-size ATX boards. This should make it an easy fit in almost any case. The disadvantage is that the smaller size often requires compromises in component placement.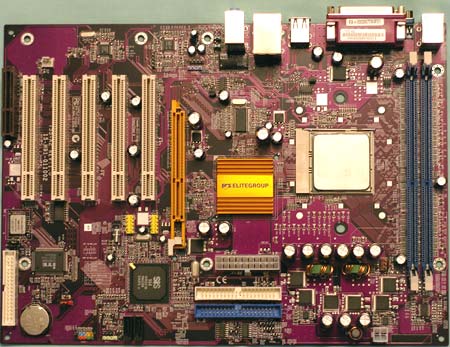 The 755-A2 is the same dark plum color used on the 755-A. Like the SiS 755 Reference Board, the processor socket is turned and the DIMM slots are placed at the very top of the board. Most heatsinks have fins arranged across the short dimension of the 754 socket, including AMD's own HSF included in retail CPU kits. With heat rising, this places the DIMMs in the hottest position on the board in a common tower case. This did not present a problem in our testing, but should be kept in mind when cooling a system based on the 755-A2.
The ECS only has two 3-pin fan connectors. Those hoping to add an active North Bridge cooling solution will not find a fan connection near the 755 chip. With many power supplies having a 3-pin monitoring connection for the power supply, another fan connection would be welcomed. The CPU fan connector is near the CPU socket, but the only other connector is between the 5 PCI slots and the backplane.

The 755-A2 is single-channel Socket 754, so it only requires one DIMM. However, most Socket 754 boards provide 3 DIMM slots. With the many problems that we have found with actually using 3 DIMMs on Athlon 64 boards, including just 2 DIMMs will not likely compromise memory expansion and probably cuts down on Technical Support calls to ECS. The maximum memory capacity is the same 2GB as in other boards, and two 1GB DIMMs can reach that maximum.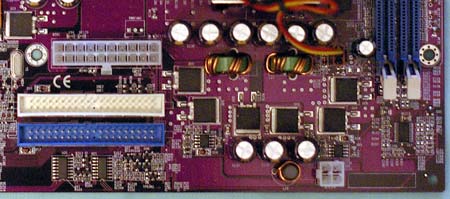 Unlike Athlon XP motherboards, the Athlon 64 and FX51 boards that we have seen use a standardized ATX plus 12V connector arrangement. This is identical to the power connector requirements of current Pentium 4 systems. ECS places the connectors in the preferred upper right of the board. In general, the arrangement of external connectors along the right edge of the board should work well in most cases.
The board appears to be a 3-phase design, based on the 6 power transistors used, but with only 2 coils we are not sure. There were no problems with power regulation in our testing.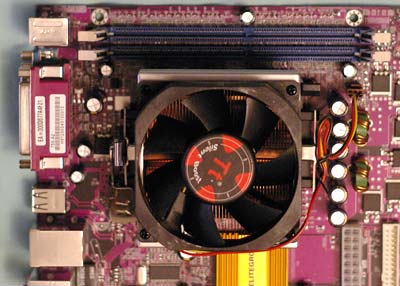 While there was no problem fitting a standard heatsink/fan like the AMD Athlon 64 retail HSF, the memory sockets are too close to the CPU to mount a large HSF like the Zalman. The very tall capacitors to the right of the socket could also block some of the larger HSF designs. We suggest that you look carefully at the available space if you plan to mount a very large HSF on the 755-A2.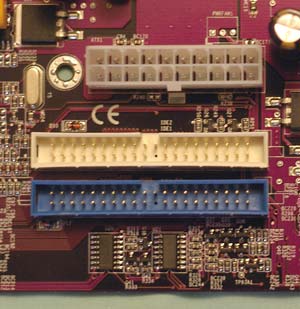 The Primary/Secondary IDE connectors are all in our preferred position, above the midline of the board and to the right of the board. This position on the top right edge of the board works well with cable arrangements in almost any case. With the 20-pin ATX connector located between the IDE connectors and the North Bridge, it is easier to first connect the IDE, then the bulky ATX power cable.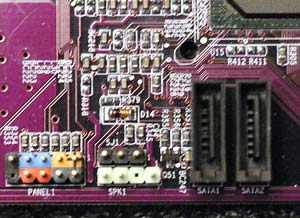 It is difficult to see in a picture, but the ECS SATA connectors are
much
better than we usually see. The fragile SATA connectors are in a full socket that makes accidentally stressing the connector and breaking off the connector a lot less likely. With frequent board and cable swapping, you come to appreciate how fragile the SATA connector design really is. We've actually broken connectors on 4 SATA drives/boards so far compared to none with many IDE drives. The ECS socket design looks much sturdier. SATA hard drive manufacturers should really take a close look at this socket design.
While this is definitely a value board, ECS still includes a color-coded front panel connector to make identifying connections a little easier.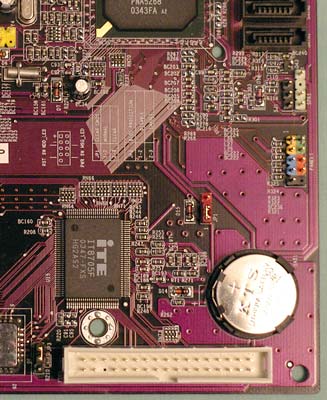 Unfortunately, the floppy connector is located on the lower right of the board. This will work fine in some case designs, but it will be a difficult reach in large tower cases. This location can also make neat cabling difficult in most cases. In fairness to ECS, this placement is carried over from the SiS 755 Reference design. While smaller than the Reference board, the 755-A2 follows the reference design, including both the good and the bad. It will be interesting to see what Asus does in the layout of their 755 board.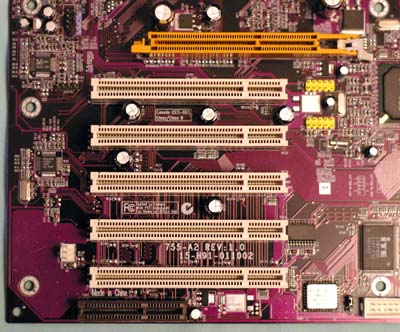 ECS includes 5 PCI slots, an 8X AGP, and a CNR slot. With memory at the top of the board, there is no concern about interference with the AGP slot. The slot area was well thought out, with little to interfere with mounting expansion cards.
ECS 755-A2: Basic Features
 Motherboard Specifications
CPU Interface
Socket 754 Athlon64
Chipset
SiS 755 North Bridge
SiS 964 South Bridge
Bus Speeds
200MHz to 232MHz (in 1MHz increments)
PCI/AGP Speeds
Fixed at 66/33. Not adjustable.
Available CPU Ratios
Normal. Not adjustable.
Core Voltage
Normal. Not adjustable.
DRAM Voltage
2.50V to 2.65V in 0.05V increments
AGP Voltage
Normal. Not adjustable.
Hypertransport Voltage
Normal. Not adjustable.
Memory Slots
Two 184-pin DDR DIMM Slots
Single-Channel Configuration
Regular Unbuffered Memory to 2GB Total
Expansion Slots
1 AGP 8X Slot
5 PCI Slots, 1 CNR riser
Onboard Serial ATA RAID
SiS 964 (SiS 180) (2 Drives, RAID 0, 1)
Onboard IDE
Two SiS ATA133/100/66/33 (4 drives)
Onboard USB 2.0/IEEE-1394
8 USB 2.0 ports supported by 964
No FireWire ports
Onboard LAN
Realtek RTL8201 10/100 Ethernet
Onboard Audio
Realtek ALC655 codec AC '97 2.3
BIOS Revision
Release 12/25/2003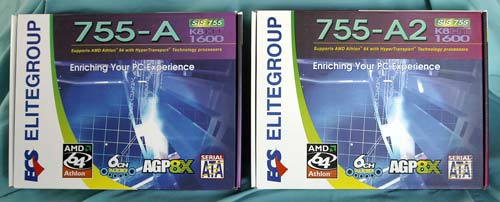 To get rid of any confusion right off the bat, you can see that the 755-A and 755-A2 are clearly identified by model in the ECS packaging. You won't have to open boxes or boards to figure out which Revision you are buying. We suspect that the A2 revision will quickly replace the A and will soon be the only revision offered.

While the ECS 755-A2 may be a value board, the SiS 964 South Bridge allows a very full complement of ports and expansion options. The rear IO panel includes PS2 mouse and keyboard, Parallel port, 1 Serial port, 4 USB, 10/100 LAN, and 3 mini-jacks for audio.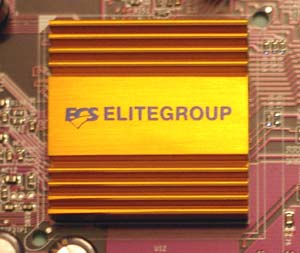 As discussed in our
review of the SiS 755 Reference board
, the 755 is a traditional Northbridge/Southbridge chipset. The passive cooling on the SiS 755 North Bridge is very basic, but we did not find overheating problems in our limited testing.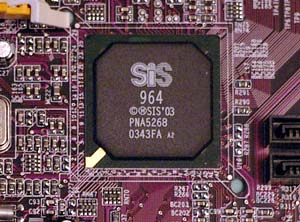 The SiS 964 South Bridge offers a very contemporary feature list that ECS has implemented on the 755-A2. While a value board, the ECS 755-A2 still includes two SATA connectors for single SATA drives or RAID 0 (striping) or 1 (mirror).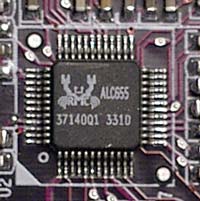 The ECS 755-A2 uses the Realtek audio codec called ALC655, which is compliant with the latest AC '97 Rev. 2.3. This audio codec features 6-channel sound and UAJ or Universal Audio Jack, with a better than 90db signal-to-noise ratio. This allows automatic jack programming, as we've seen on some boards based on Intel's 865/875 chipsets. The ALC655 is quite similar to the Realtek premium ALC658 sound solution. Additional information and specifications are available at
Realtek
.
ECS does not provide an SPDIF bracket in the package, but there is an SPDIF I/O header on the 755-A2 motherboard. While the audio inputs and outputs provided are nothing special, the ALC655 audio codec is a lot better than you might expect on a board at the 755-A2 selling price. Once again, we are seeing what can be accomplished with a chipset like the 755/964, since the basic audio hooks are provided by the chipset.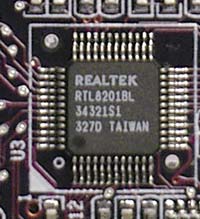 The 755-A2 includes Realtek's 10/100 LAN. While we are often seeing Gigabit LAN on premium motherboards, it is not expected on a board designed to sell at this price point.
ECS 755-A2: BIOS and Overclocking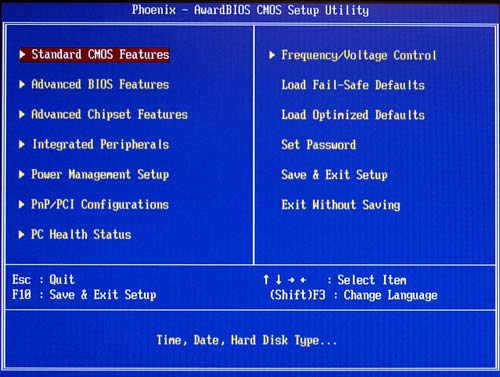 ECS uses the familiar Award (Phoenix) BIOS on the 755-A2. One of the biggest surprises may be the inclusion of "Frequency/Voltage Control" as an option on the main menu page.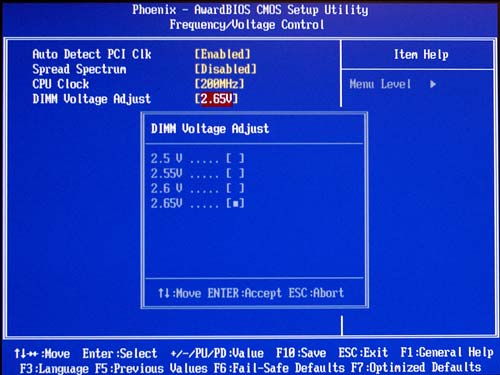 Don't get too excited though, because the available options for overclocking the 755-A2 are still rather basic. FSB can only be adjusted in the range of 200-232, vDIMM is 2.5V-2.65V only, and there is not a vCore or vAGP option available. As you will see when we test the overclocking abilities of the 755-A2, a wider FSB range, vCore adjustments, and a much wider vDIMM range would be very useful on this board.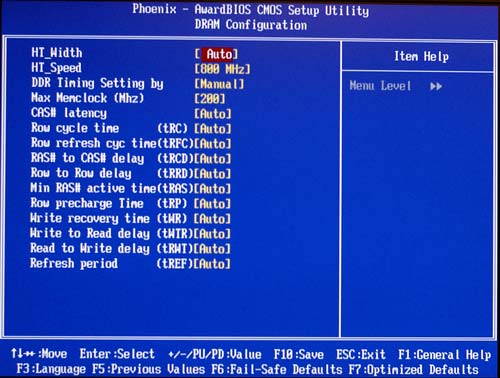 Unlike the A version, the A2 offers a surprisingly full range of memory timing adjustments. These are accessed under "Advanced Chipset Features", "DRAM Configuration". With the memory adjustment options available, a wider vDIMM adjustment range would be welcomed. With faster memory often requiring 2.7V and with some memory companies warranting their memory to 3.0V, more vDIMM options would make this a more attractive choice for the computer enthusiast.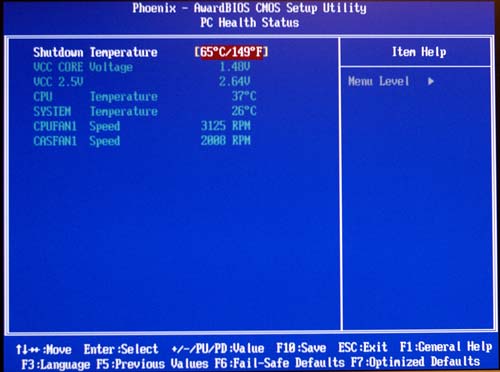 It is nice to see ECS include a PC Health option in the 755-A2 BIOS. Here, you can select automatic shutdown temperatures. However, ECS does not provide any of the smart fan controls seen on competing boards.
FSB Overclocking Results
Front Side Bus Overclocking Testbed
Default Voltage
Processor:
Athlon 64 3200+
2.0GHz
CPU Voltage:
1.5V (default)
Cooling:
AMD Stock Athlon 64 Heatsink/Fan
Power Supply:
Powmax 350W
Maximum OC:
2220MHz (+11%)
222FSB
The above overclocking setup at default voltage, the only voltage option on the 755-A2, allowed us to reach a stable FSB of 222. This matches the highest overclock that we have seen with this early production Athlon 64 3200+, and is really outstanding overclocking performance for a board with very limited overclocking options.
Since the SiS 755 is a new chip, we are not aware of any utilities that allow the end-user to select lower multipliers. They will likely appear soon at places like
www.cpuid.com
as soon as SiS 755 boards enter the mainstream, but we may have to wait for the Asus 755 for lower multipliers, since Asus has added multipliers to most of their Athlon 64 line. With the FSB adjustment range limited to 232 with the current BIOS, lower multipliers would be of limited use on the 755-A2, unless ECS expands FSB options in a BIOS upgrade.
We found in our review of the SiS 755 Reference Board that while there were no PCI/AGP adjustments, the PCI/AGP frequency appeared to be locked at 33/66 as required for best overclocking. It looks as if that may be a standard feature of the SiS 755 chipset family.
Despite the paucity of OC controls, the ECS 755-A2 is a very fine overclocker among Athlon 64 boards. We can only wonder what we could do with this fine little board with a useful range of vDIMM options, vCore adjustments, and maybe vAGP/chipset voltage adjustments. We recommended to ECS that they consider adding these options in a BIOS upgrade.
ECS 755-A2: Stress Testing
Stress tests were performed on the 755-A2 at a FSB of 222MHz. Since the 2 DIMM slots were filled for all testing of the ECS board, there was no need for memory stress testing.
Front Side Bus Stress Test Results:
As part of normal overclocking tests, a full range of stress tests and benchmarks were run to ensure the ECS 755-A2 was stable at each overclocked FSB speed. This included Prime95 torture tests, and the addition of other tasks - data compression, various DX8 and DX9 games, and apps like Word and Excel - while Prime95 was running in the background. Finally, we ran our benchmark suite, which includes ZD Winstone suite, Unreal Tournament 2003, SPECviewperf 7.0, and Gun Metal Benchmark 2. 222MHz was the highest overclock that we were able to achieve with the 755-A2 while running these tests. Since there is no current voltage adjustment, all tests were run at default voltage.
Memory Stress Test Results:
This memory stress test is very basic, as it simply tests the ability of the ECS 755-A2 to operate at its officially supported memory frequency (400MHz DDR) at the lowest supported memory timings that our Mushkin PC3500 Level 2 or OCZ PC3500 Platinum Ltd Modules will support:
Stable DDR400 Timings - 2 DIMMs
(2/2 DIMMs populated)
Clock Speed:
200MHz
Timing Mode:
N/A
CAS Latency:
2.0
Bank Interleave:
N/A
RAS to CAS Delay:
2T
RAS Precharge:
6T
Precharge Delay:
2T
Command Rate:
N/A
We had no problem running 2 DS 512MB DIMMs of our standard Mushkin PC3500 Level2 in the 755-A2 board at the fastest timings available. However, as we have seen in other boards, we did have to raise the vDIMM to 2.65V for completely stable operation. At default 2.5V, the fastest timings that we could run with either our standard OCZ or Mushkin memory were 2-2-3-6. This underscores the need for a wider range of memory voltage options to get the most from the fastest memory on this board.
ECS 755-A2: Tech Support and RMA
For your reference, we will repost our latest support evaluation procedure here:
The way our Tech Support evaluation works is first, we anonymously email the manufacturer's tech support address(es), obviously not using our AnandTech mail server to avoid any sort of preferential treatment. Our emails (we can and will send more than one just to make sure we're not getting the staff on an "off" day) all contain fixable problems that we've had with our motherboard. We allow the manufacturer up to 72 (business) hours to respond, and then we will report whether or not they responded within the time allotted, and if they were successful in fixing our problems. In case we don't receive a response before the review is published, any future responses will be added to the review, including the total time it took for the manufacturer to respond to our requests.

The idea here is to encourage manufacturers to improve their technical support as well as provide new criteria upon which to base your motherboard purchasing decisions. As motherboards become more similar everyday, we have to help separate the boys from the men in as many ways as possible. As usual, we're interested in your feedback on this and other parts of our reviews, so please do email us with your comments.
To access ECS Technical Support, you can fill out a Technical Support form on-line at
ECS' Support Center
. You can also email your request to
support@ecsusa.com
, and ECS also lists telephone contact numbers at the
their web site
. ECS replied to our tech support request very quickly. After sending off our online request to ECS' tech support team, we received a response from ECS in just 32 hours. This is a decent response time, and the reply was accurate in diagnosing the problem. From the perspective of a new system builder, we believe the reply would have been very helpful in diagnosing the problem. Additional contact information was also provided to contact ECS if we had any other tech support questions. This type of information can be very helpful in getting quick answers to technical support questions.
ECS' RMA policy and warranty are listed below; their motherboards are covered by a relatively standard 1-year warranty. The 1-year warranty is fairly standard with motherboards, but some other manufacturers offer up to a 3-year warranty on their motherboards, or at least on their premium-priced boards.
ECS RETURN (RMA) POLICY
* ECS Warranty is offered to direct customers with valid ECS invoice only.

Warranty Period
All ECS motherboards are covered by a one (1) year warranty on parts and labor against defects in workmanship and manufacturing. The warranty is effective from the date of ECS' original invoice, unless stated otherwise in writing.

Contacting ECS for Warranty Service
To return products for warranty service you must first obtain a return merchandise authorization ("RMA") number by entering the RMA Request and click the submit button above. A RMA number is valid for 30 days from date of issuance. RMA returns will be thoroughly tested as to all complaints and sent back to customers within 10 working days following receipt of the products by ECS. In the event a defective board cannot be repaired, ECS reserves the right to replace it with like-new refurbished product.

Please Note:

Do you buy from our authorized distributors?

If not, we recommend you buy from our authorized distributors to ensure the warranty coverage. We have experienced some websites are selling phase out products, out-of-warranty products, and refurbished products at a below market price. Please be aware that it is to your own risk if you purchased any of the above-mentioned products.
We, as a Manufacturer, will support products that are under Manufacturer warranty. If products you have are out-of-warranty, phase-out, or damaged and you choose to have us service you, the cost of service is $50 to repair/refurbish and one-way ground freight. Usually product will ship within 10 business days. Please send money to esales@ecsusa.com via www.paypal.com and clearly specify your request on the SUBJECT line and NOTE section including your motherboard serial number. We will email you a RMA# with detail how-to and where-to ship to instruction upon receiving your payment.

Physical damage, mishandling, mis-use, illegal modifications, no serial number and missing parts will automatically void the warranty. All items MUST be returned properly packaged & protected. Any item(s) returned in envelopes will VOID THE WARRANTY, NO EXCEPTIONS!
Packaging / Shipping Procedures

Returned items must be packed properly and safely, preferably in their original box. Shipment of returned items should be prepaid and insured by customers via a carrier of their choice. A packing list together with a copy of the RMA Control Sheet should be attached on the outside of boxes. The RMA number should be clearly marked on the outside of the package.
ECS will pay for the return of items to the customer via UPS, FedEx or trucking company. Any special delivery required may be available upon request as additional cost. Items damaged in transit are not covered under warranty and ECS is not liable for delays or errors on the part of any carrier. Any item shipped to ECS without RMA numbers printed on the boxes will be returned to senders.

Please return ALL accessories such as cables, diskettes or manuals to ECS.
Discrepancies in Shipments

ECS Customer Service representatives will inform customers if any discrepancy is found in category and/or quantity of items received. All non-ECS products will be sent back to customers without further notice.

Ship returned products to:
45401 Research Avenue, Fremont CA 94539.
Our business hours are 9am-5pm PST, Monday-Friday.
We are CLOSED Saturdays, Sundays & Holidays.
ECS reserves the right to change this policy without advance notice.
The ECS RMA policy is clear and easy to follow, but ECS' RMA policy is pretty restrictive compared to other motherboard manufacturers. Basically, ECS only offers Warranty Repair to the Company that purchased the board from ECS, since an original ECS invoice is required. While this is often the method preferred by other motherboard manufacturers, there are usually exceptions for direct RMA replacement by the manufacturer. Keep in mind, it is the only acceptable method for ECS, and you will have to return your board to the vendor from where you bought it for warranty service. Since you are only allowed to RMA a board if you purchase directly from ECS, you need to be careful to ask the vendor who sells you the ECS board how they handle warranty repairs and replacement.
All-in-all, the ECS RMA procedure is much less friendly to the end-user than the excellent Technical Support from ECS. The moral is this: be sure to ask about warranty and return policies when buying an ECS board. While the RMA form asks for the usual information, such as personal info, system specifications, etc., only the direct ECS customer can receive warranty service, at least in the US.
Performance Test Configuration
Testing of the Athlon 64 family has reached the point where most everyone has a very good idea of how the Athlon 64 compares to Pentium 4 performance. For that reason, we have dropped P4 comparisons from our A64 benchmarks and added back a high speed Athlon XP as many have requested. If you are interested in more information, comparing the Athlon 64 and Athlon 64 FX to the P4 and P4EE, please see our in-depth comparisons in the recent 3400+/3000+ launch reviews:
Athlon64 3400+: Part 2
AMD's Athlon 64 3400+: Death of the FX-51
Athlon64 3000+: 64-bit at Half the Price
We have included our top-performing VIA and nForce3-150 Socket 940 FX51 boards for reference only, to better represent the complete range of AMD performance. The FX51 runs at 2.2GHz which is the same speed as a Athlon 64 3400+. It is therefore expected that the FX51 will be the best performers in these tests, and results are not directly comparable to the 2.0GHz 3200+ used for the Socket 754 tests. We are currently benchmarking a gaming system with the ECS 755-A2 motherboard and a 3400+ processor which will provide a better comparison of the 755-A2 to the top Socket 940 Dual-Channel boards.
 Performance Test Configuration
Processor(s):
AMD Athlon 64 3200+ (2.0GHz)
AMD Athlon 64 FX51 (2.2GHz)
AMD Athlon XP 3200+ (2.2GHz, 400MHz FSB)
RAM:
2 x 512MB Mushkin PC3500 Level II
2 x 512MB OCZ PC3500 Platinum Ltd
2 x 512MB Mushkin ECC Registered PC3200
Hard Drive(s):
Seagate 120GB 7200 RPM (8MB Buffer)
Video AGP & IDE Bus Master Drivers:
SiS AGP 1.17 (10-07-2003)
VIA 4in1 Hyperion 4.51 (12-02-2003)
NVIDIA nForce version 3.13 (11-03-2003)
Video Card(s):
ATI Radeon 9800 PRO 128MB (AGP 8X)
Video Drivers:
ATI Catalyst 4.1
Operating System(s):
Windows XP Professional SP1
Motherboards:
ECS 755-A2 (SiS 755 A64 3200+)
SiS 755 Reference Board (A64 3200+)
Abit KV8-MAX3 (VIA K8T800 A64 3200+)
ChaintechZNF3-150 (nForce3-150 A64 3200+)
MSI K8T Neo (VIA K8T800 A64 3200+
Asus SK8V (VIA K8T800 - FX51)
Gigabyte K8NNXP-940 (nForce3-150Pro - FX51)
DFI NFII Ultra (nForce2 U400 Athlon XP 3200+)
Tests on Socket 754 Athlon 64 motherboards and Socket A Athlon XP used either Mushkin PC3500 Level II or OCZ PC3500 Platinum Ltd memory modules. Both DIMMs use Winbond BH5 chips and perform virtually the same in our benchmarks. The Athlon 64 FX requires Registered or Registered ECC memory. Tests with the Asus SK8V and Gigabyte K8NNXP-940 were performed with Mushkin High Performance Registered ECC DDR400 memory.
All performance tests were run with the ATI 9800 PRO 128MB video card with AGP Aperture set to 128MB with Fast Write enabled. Resolution in all benchmarks is 1024x768x32 unless otherwise noted.
Additions to Performance Tests
We have recently updated to
Veritest Multimedia Content Creation Winstone 2004
and
Veritest Business Winstone 2004
for system benchmarking.
Game Benchmarks
We have added several new benchmarks to our standard Gaming tests. These include
Halo
, Microsoft's Direct X 9.0b game;
Splinter Cell
, a DX9 game;
X2 Benchmark
, a DX 8.1 game that includes Transform and Lighting effects; the DX9 Aquamark 3; and the DX 8.1 Comanche 4 benchmark. Since we have found that Comanche 4 can become performance bound at higher resolutions in standard mode, we will only include benchmarks run with 4X anti-aliasing enabled to differentiate better the system performance using our standard ATI Radeon 9800 PRO video card. We will be reporting more results at 1280 x 1024 resolution in future system and motherboard benchmarking where that resolution provides useful performance data.
We have dropped Yeti Studios DX9 Gun Metal 2 from our standard motherboard and system benchmarks, since there are many other DX9 choices now available that better measure system performance variations.
Some of the new benchmarks only compare performance to upcoming review boards, but the database will grow as we review additional boards. We will be adding other benchmarks in the near future.
Content Creation and General Usage Performance
Gaming Performance
Workstation Performance
Final Words
Sometimes, reviews just make us hungry for more. The
SiS 755 Reference Board review
was that type of review. As impressed as we and others were with the performance and features of the 755 chipset, we were anxious to see if manufacturers would actually deliver on the promise of the SiS 755 chipset. ECS delivered the first production motherboard based on the SiS 755 chipset with the ECS 755-A. Frankly, when we first looked at the 755-A, we wondered if we had jumped the gun in naming the SiS 755 the best current Athlon 64 chipset. While the board was stable, the performance was not in the same league with the SiS 755 Reference Board.
ECS is now delivering the second production 755 board, the ECS 755-A2. We commend ECS for their work on the A2 because Revision A2 is very comparable in performance to the SiS 755 Reference Board, and a big improvement over the Revision A board. The 755-A2 is also a great value, which makes it a good choice with the now lower-priced 3000+ and 3200+ Athlon 64 processors that have materialized since our SiS 755 review.
The 755-A2 also proves that the SiS 755 family has the potential to be a very good overclocking chipset just as we are starting to see more and more Athlon 64 processors with greater headroom. Without vCore and with very limited FSB and vDIMM adjustments, we were still able to overclock the 755-A2 to the highest levels that we have reached with a 3200+. This only makes us even more curious about where you could take the 755-A2 with a better selection of options for the Computer Enthusiast. We have asked ECS to consider including additional options in their BIOS, and we will report any improvements made by ECS. However, the extended capabilities of the SiS 755 chipset may not really be known until Asus ships the SiS 755 board that we had seen in the Asus roadmaps at CES.
Despite our wish list and druthers, the ECS 755-A2 is a solid choice for an Athlon 64 motherboard. It is very fast and has all the great options available on the SiS964 South Bridge - like SATA RAID, 8 USB ports, and 10/100 LAN. It is an excellent overclocker that handles our best memory at 2-2-2-6 timings at DDR400. We also confirmed that the memory is very capable of running beyond DDR400 on the A2 revision. At a setting of 222 (888 Hypertransport), our memory was running at DDR444. All of this in an Athlon 64 board that likely will be selling at one of the lowest prices of any Socket 754 board. In the end, this adds up to real value in our book.
We are now completing a system review of a new Athlon 64 gaming system. This system uses the 755-A2 motherboard with an Athlon 64 3400+ and a 240GB SATA RAID array running on the SiS 964 RAID controller. If you like what you see with the SiS 755 on the ECS 755-A2, then be on the lookout for the upcoming Titan 64 gaming system review. You will be able to see how this board performs when decked out with some of the fastest options available for a Socket 754 system.