Original Link: http://www.anandtech.com/show/1223


Shuttle created what has become the SFF market with their first shipment of the SV24 in 2001. The current Shuttle SFF line has grown to some 16 models from those beginnings. In the last year, AnandTech has also received a huge number of review requests from many different manufacturers with a "new" SFF computer. Based on these developments, the SFF appears to be a huge and growing success story in the computer industry.
Shuttle continues to dominate SFF sales. While some competitors now produce competent SFF systems, no one appears to focus constant attention on their SFF line as Shuttle does. This constant attention to SFF development and improvement is one of the key reasons why Shuttle has achieved such success in the SFF market.
With the ST61G4, Shuttle brings the ATI IGP to market in a new 250-watt Chassis design. Shuttle worked closely with ATI in developing the ATI IGP system; early ATI prototypes were built around a Shuttle XPC chassis. The current shipping XPC ST61G4 is based on the second revision to ATI's 9100IGP chipsets, which is said to provide improved performance over the earlier prototypes.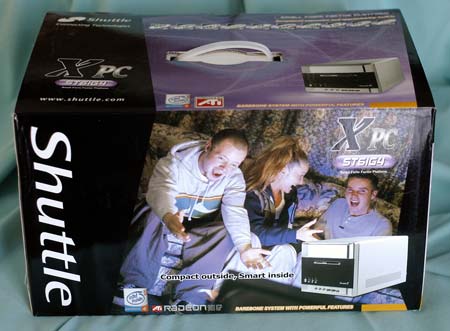 As you can see from the packaging, the ST61G4 is a new Shuttle chassis that replaces the aging 3.5" floppy with a bootable flash-card reader. What you can't see on the outside is a new 250-watt Shuttle designed "Silent-X" power supply - one of the largest power supplies to appear in a SFF.
The ST61G4 supports any current Intel 800FSB Series Intel processor, as well as earlier 533 and 400FSB socket 478 CPUs. This includes Prescott, as well as the Pentium 4 Northwood and Celeron processors. The ATI RS300/IXP150 chipset also provides 6 USB 1.1/2.0 ports. Shuttle also includes a VIA-chip 1394a Firewire port, Realtek ALC650 6-channel audio, and Silicon Image 3512 Serial ATA with RAID 0/1 capabilities.
 System Specifications
 
 Shuttle XPC
ST61G4
 Soltek Qubic EQ3401M
 Biostar iDEQ 200T
 Shuttle SB65G2
Expansion Bays (5.25"/3.5"/Hidden)
1/0/1
2/1/1
1/1/1
1/1/1
Front USB Ports
2
2
2
2
Rear USB Ports
2
4
2
4
Internal USB Ports
2
2
4
2
Front Firewire Ports
1 Mini
1 Standard
1 Standard
1 Mini
Rear Firewire Ports
1 Standard
2 Standard
1 Standard
1 Standard
On-Board Parallel Port
Internal Header
Internal Header
Internal Header
Internal Header
On-Board LAN
10/100 Rear
10/100 Rear
10/100 Rear
10/100 Rear
On-Board Game Port
None
None
Internal Header
None
Front Audio Jacks
3 - Mini Mic, Headphone, Audio Out
2 - Mini Mic & Line-In
2 - Mini Mic & Heaphone
3 Mini
Rear Audio Jacks
3 - Front, Rear and Center / Subwoofer Speakers
3 Mini
3 Mini
3 Mini
SPDIF
Two Rear Optical Out & Optical In
One Front Optical Out
Two Rear Optical Out & Front Optical In
Two Rear Optical SPDIF In & Out
On-Board Serial Ports
1 Rear
2 Rear
2 - One Rear & One Internal Header
2 Rear
Number of Fans (including CPU/chipset)
2 - Northbridge and Rear ICE exhaust
2
2
1
Power Supply
250W Shuttle
250W Enhance
200W Enhance
220W Enhance
Shuttle XPC ST61G4: XPC G4 Chassis
It seems that new small computers have been appearing recently from every direction to challenge Shuttle as the SFF Market Leader. Some, like the Biostar IDEQ 200T and Soltek Qubic EQ3401M, have challenged Shuttle with exquisite design or new standards in quietness. The new G4 Chassis is Shuttle's answer to the competition with a slick new design, a larger 250-watt power supply, and claims of the quietest SFF that you can buy.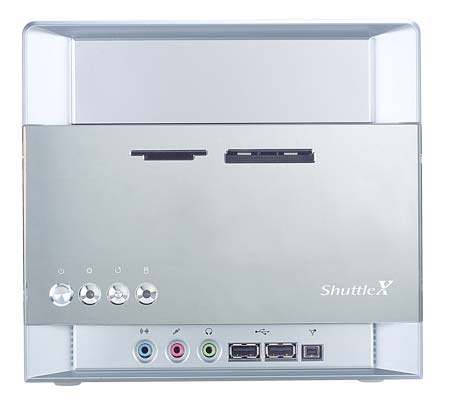 The front of the attractive XPC G4 case is mirrored - Shuttle even includes a cleaning cloth to remove the inevitable fingerprints from the front mirror. The on/off and reset switches and lights float like little jewels on the mirrored front panel. Front ports are in a row toward the bottom of the front panel. They include microphone, headphone, audio out, 2 USB 1.1/2.0, and a mini Firewire port. Access is available to the single 5.25" external bay. The front port options are very well thought out in this new chassis.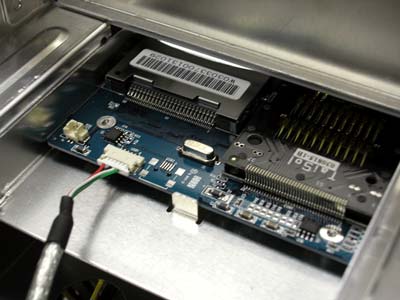 Yes, there is
no
floppy drive. Instead, Shuttle has used a bootable 6-in-1 flash card reader. With Compact Flash offering 2GB and larger storage options, this is a significant upgrade to the 1.44MB 3-1/2" floppy. It is also an option that will be appreciated by digital camera users, since Memory Stick, Smart Media, SD, MMC, and CFI/II are
all
readable.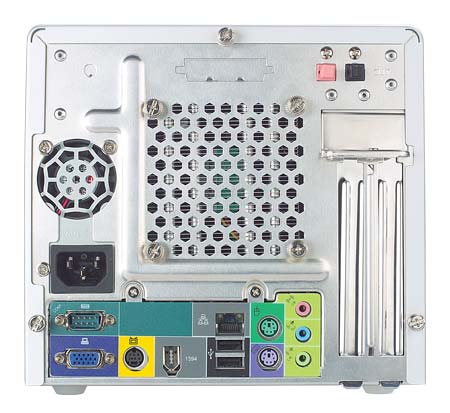 The ST61G4 provides a more concentrated selection of ports on the rear. They include PS2 ports for keyboard and mouse, VGA, serial, a 10/100 Ethernet LAN port, 2 USB 2.0 ports, SPDIF In/Out and a Firewire port. There are 3 rear audio ports, for a full set of surround speakers - Front, Rear, and Center/Subwoofer. While there is a punchout available for a Parallel port, Shuttle does not include the connecting cable and bracket. It has become almost standard that you will not find a parallel port installed on an SFF system, but the option is there if you require it. This is not generally an issue for end-users, since most printers are now USB.
You can see the outlet grill on the rear for the new 250-watt power supply, one of the largest available on any SFF. The large square grill is the exhaust for the updated Shuttle ICE cooling system.

Shuttle has cleverly designed additional cooling into the new XPC chassis. You can see clearly the additional air intakes on the bottom front of the new chassis.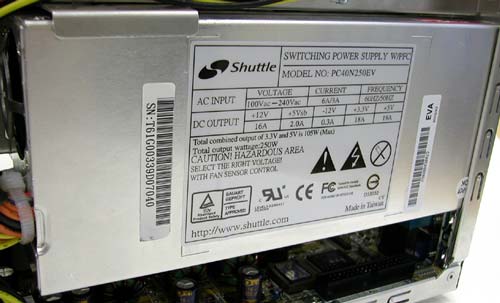 The new 250-watt Silent X power supply makes its first appearance on the ST61G4. Shuttle claims it is the most advanced SFF power supply produced, with increased output, lighter weight, and much quieter operation than previous power supplies.
"Developed under secrecy for over a year, the SilentX has proprietary high-efficiency design, providing more power with less heat output. Airflow and intake/exhaust vents have been optimized, resulting in less resistance and reduced turbulence in the airflow. Also, the power supply chassis has an all-aluminum design, significantly reducing weight."
Apparently, Shuttle is receiving requests for even larger power supplies for their SFF systems, since the Silent X 250 is also available as an accessory to upgrade previous generation XPCs. Shuttle states that the 250 is compatible with 13 Shuttle models beginning with the SS40G.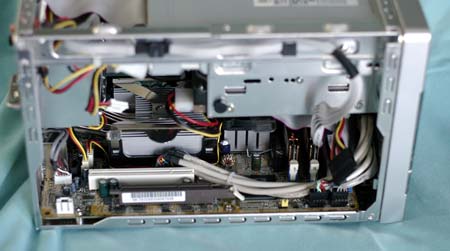 Even after we loaded the system with a CD Recorder/DVD combo and a 120Gb hard drive, there was still a spare Molex connector for our 9800 PRO test card.

As you can see, there is an 8X AGP slot in addition to the integrated ATI graphics. There is also a spare PCI slot for expansion. The 2 Dual-Channel memory slots run across the front of the board. This is an OK arrangement, but mini boards with slots that run lengthwise are more accessible after the build is complete. You can also see the ATI IXP150 south bridge and the north bridge with a heatsink/fan for cooling.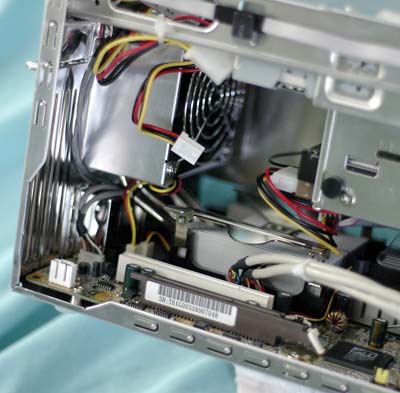 The very effective Shuttle ICE cooling system has been beefed up with an 80mm fan, which should make the Shuttle quieter but still able to move more air for effective thermal cooling.
The Silent X power supply fills much of the right side of the chassis, but the power supply is tall and thin - much smaller in volume than the photo suggests.
Shuttle XPC ST61G4: FT61 Motherboard
Motherboard Specifications
CPU Interface
Socket-478
Chipset
ATI 9100IGP
(ATI RS300 North Bridge
ATI IXP150 South Bridge)
Bus Speeds
100-233, 0-15 scale for Overclock
AGP/PCI Speeds
Disabled, Fixed at 66
Core Voltages Supported
Auto, 0.825V-1.5875V
AGP Voltages Supported
Auto, 1.60V, 1.65V, 1.70V
DRAM Voltages Supported
Auto, 2.6V, 2.7V, 2.8V
Memory Slots
2 x 184-pin Dual-Channel DDR DIMM Slots
Expansion Slots
1 AGP 8X Slot
1 PCI Slot
Onboard Graphics
ATI 9100IGP
Onboard RAID
Silicon Image 3512 (SATA RAID 0, 1)
Onboard USB 2.0/IEEE-1394
Six USB 2.0 supported through IXP150
Two VIA VT6307 1394a FireWire ports
Onboard LAN
Broadcom 4401 10/100
Onboard Audio
Realtek ALC650 5.1 Digital Audio
With SPDIF Optical IN/OUT
Onboard Serial ATA
Sil3512 with 2 SATA connectors
Recent Shuttle SFF designs have made excellent use of the small real estate in the SFF chassis, and the ST61 motherboard continues that tradition. In general, layout is excellent and connectors are easy to reach. It is worth mentioning that Shuttle is now pre-wiring all the SFF cabling - including the hard drive connectors. This adds to the convenience for the SFF builder or end-user.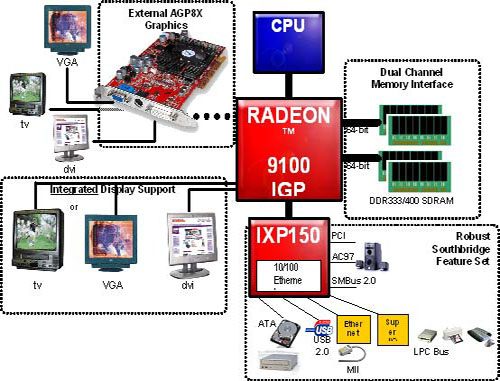 ATI's block diagram of the 9100IGP provides details of which features are actually implemented in the chipset. Shuttle has included additional chips for the missing features like SATA and IEEE 1394.
The small motherboard size, like other SFF, limits memory to 2 DIMMs, but the 2 DIMMs are dual-channel to compete with Intel's 865G chipset. Memory is limited to a maximum of 2GB, but that should be enough for most uses for this small system.
Shuttle XPC ST61G4: BIOS and Overclocking
Lately, Shuttle has been equipping their SFF computers with flexible BIOS options that allow the enthusiast to get the most from their SFF system. The ST61G4 is no exception, providing the full array of options that computer enthusiasts have come to expect in their motherboards, whether full-size or SFF.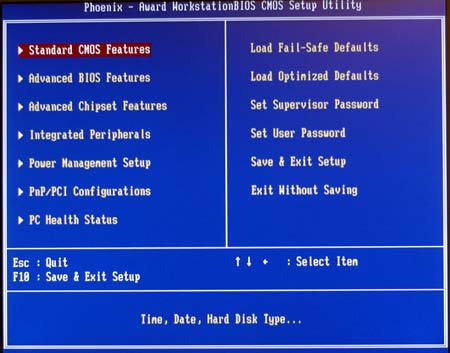 Shuttle uses the familiar Phoenix-Award Bios in the ST61G4. The menu/submenu arrangement will be familiar to most users.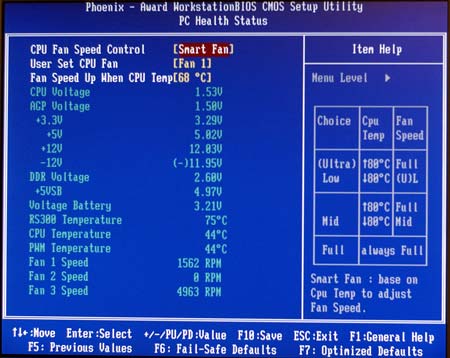 A full PC Health submenu with Smart Fan adjustments and a complete readout of fan speeds, temperatures, and power levels is provided. Shuttle pioneered the kind of fan controls on SFF that can deliver whisper-quiet day-to-day operation. The PC Health section continues the refinement of fan and thermal controls on Shuttle systems.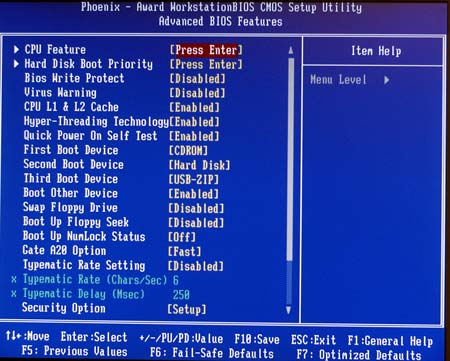 You will find the expected range of adjustments and boot sequence options in the Advanced BIOS Features section.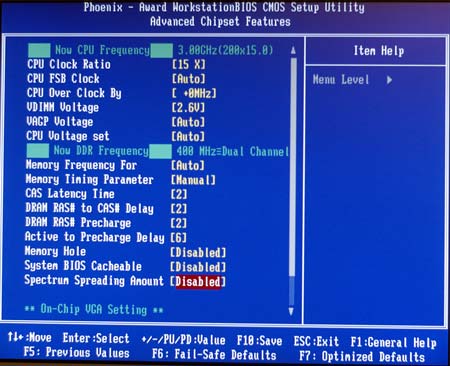 Instead of a separate Frequency/Voltage Control tab, Shuttle has included most of the voltage, memory timing, and FSB adjustments in the Advanced Chipset Features section.
It is important to point out, however, that the ST61G4 will not operate at any timings faster than 2-3-3-6 with either our Mushkin or OCZ test memory. The Mushkin SPD is programmed at 2-2-2-6 at DDR400, but the ST61G4 BIOS resets timings to 2-3-3-6. If you force the timings to 2-2-2-6 or 2-2-3-6 with either the Mushkin or OCZ memory the Shuttle will not boot. In comparison, both the OCZ and Mushkin perform fine at 2-2-2-5 or 2-2-2-6 settings at DDR400 in almost every Intel, nVidia, SiS, and VIA chipset motherboard. We do sometimes need to slow to 2-2-3-6 timings on certain boards, but the ST61G4 is the first board we have tested in quite a while to require 2-3-3-6 memory timings to operate.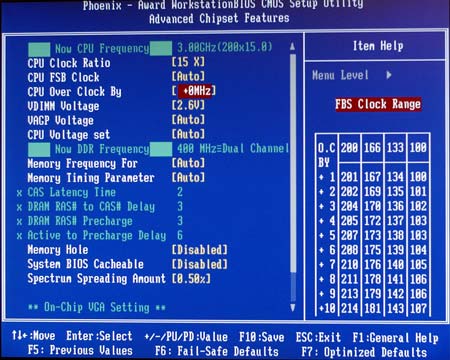 FSB is officially adjustable to a unexpectedly low 232 setting, but adjustment is by the very odd selection of 1 to 15, which does not represent FSB increments at all. Shuttle includes a table to help in understanding the actual FSB that you are setting.
As usual, Shuttle has provided a complete selection of overclocking options, even if they are somewhat unfamiliar as implemented in the ATI 9100IGP. The FSB is extremely limited for a current Intel processor motherboard. This is particularly true when you consider many end-users are now easily reaching 250FSB at default voltage with air cooling using recent Intel processors. With a new and robust 250-watt power supply, which is huge by SFF standards, overclocking capabilities should not be held back by the power supply. This makes the BIOS limitation of a maximum FSB of 232 particularly puzzling.
FSB Overclocking Results
The last system that you normally think about overclocking would be a Small Form Factor, but as we demonstrated in our tests of the Shuttle, Soltek, and Biostar, the overclocking abilities can be outstanding on the latest SFF systems. We agree that you buy a system like the Shuttle ST61G4 for the small size and quiet operation. However, since we have proved in the past that you don't have to give up
anything
in a SFF system, we have made overclocking tests a standard part of SFF reviews.
Front Side Bus Overclocking Testbed
Processor:
Intel 3.0 800FSB Pentium 4
CPU Voltage:
1.525V (default)
Cooling:
Shuttle ICE Cooling System
Memory:
2 x 512MB Mushkin PC3500 Level II DS
Power Supply:
Shuttle Silent X 250W
The highest stable FSB overclocking that we could achieve at default voltage was a very disappointing 213MHz at the +9 BIOS setting (852FSB) while running either the onboard ATI 9100IGP graphics or an ATI Radeon 9800 PRO. Since this CPU is known to do 3.6GHz+ at default voltage on many Pentium 4 mainboards, we can only conclude that the ATI chipset is currently holding back overclocking.
Increasing the CPU voltage and further relaxing memory timings did not really help in reaching a higher overclock. Nothing we tried would provide a completely stable system at the +10 setting of 214.
At 3.195 GHZ, the ST61G4 was completely stable. We ran the machine overnight, stress-tested, ran benchmarks, and still could not get the system to fail.
With the incredible headroom of current Intel processors, we can only hope ATI and Shuttle do not continue to ignore the overclocking capability of future ATI chipsets. This limited capability can seriously hamper sales when it is being compared to the excellent overclocking abilities of current Intel chipsets. We were particularly disappointed because the new 250-watt Silent X has the kinds of reserves that can take the tiny SFF machines to new levels of overclocked performance.
Shuttle XPC ST61G4: The Test
Neither the ATI 9100IGP, which is Direct X 8.1, nor the Intel 865G are capable of running every benchmark in our standard system tests. However, since ATI and Shuttle fully expect the ST61G4 to be purchased for the integrated graphics capabilities, it is important to compare performance of ATI 9100 IGP to Intel 865G. We ran all the benchmarks that did not require DX 9 on both an Intel 865G SFF and the ST61G4. This should give you a good idea of how the performance of the ATI 9100IGP compares to Intel's integrated video solution.
In addition, we ran the full suite of benchmarks with our standard ATI Radeon 9800 PRO video card, to provide better data for comparison of the ATI chipset to the performance of Intel 865/875chipset-based systems.
In all benchmarks, we had to run the Mushkin PC3500 Level II and the OCZ 3500 Platinum Ltd at 2-3-3-6 timings. The system would not boot at all with 2-2-2-5 timings, or 2-2-3-6. The ATI 9100IGP apparently requires slower memory timings because, even when left on Auto, the Mushkin memory, which has SPD timings of 2-2-2-6 at DDR400, was reset by the board to 2-3-3-6 timings.
 Performance Test Configuration
Processor(s):
Intel 3.0 800FSB Pentium 4
RAM:
2 x 512MB Mushkin PC3500 Level II
2 x 512MB OCZ 3500 Platinum Ltd
Hard Drive(s):
Seagate 120GB 7200 RPM (8MB Buffer)
Bus Master Drivers:
Intel INF Update v5.00.1012
Intel IAA for 875P RAID not installed for consistency of Test Results
Video Card(s):
ATI 9100IGP Integrated Graphics
Intel 865G Integrated Graphics
ATI Radeon 9800 PRO 128MB
Video Drivers:
ATI Catalyst 3.10
Operating System(s):
Windows XP Professional SP1
Motherboards:
Shuttle ST61G4 (9100IGP)
Soltek Qubic EQ3401M (865PE)
Biostar iDEQ 200T (865G)
Shuttle XPC SB65G2 (865PE)
Asus P4C800-E (875P)
ABIT IS7-G (865PE)
All performance tests with the ATI 9800 PRO 128MB video card were run with the AGP Aperture set to 128MB with Fast Write enabled. Resolution in all benchmarks is 1024x768x32 unless otherwise stated.
Additions to Performance Tests
We have recently updated to
Veritest Winstones 2004
. However, to allow comparison to earlier benchmarks, we have used
ZD Labs
Internet
Content Creation Winstone 2003
and
ZD Labs Business Winstone 2002
for system benchmarking the ST61G4.
Game Benchmarks
We have added
Halo
, a Microsoft Direct X 9.0b game, to our gaming benchmarks. We have also added
X2
, which includes Transform and Lighting effects as part of the standard benchmarks, and
Aquamark 3
, which is also designed for Direct X 9.0.
Gun Metal 2
from Yeti Labs has been dropped as a standard benchmark for system tests because it revealed very little information about system performance.
Shuttle XPC ST61G4: On-Board Graphics Performance
The Shuttle ST61G4 will be purchased mainly for the ATI on-board graphics. To an even greater extent than Intel 865G systems, end-users will run the 9100 Graphics included in the ATI chipset. For that reason, it is important to first compare the performance of the ST61G4 to the Intel 865G On-Board Extreme Graphics in a comparable SFF system.

It is hard to miss the dramatic performance increase of the ATI 9100IGP compared to the current Intel 865G chipset. In many benchmarks, the 9100IGP moves the frame rates from useless for gaming to playable frame rate levels. It will be interesting to compare the upcoming improvements to Intel's integrated graphics to the 9100IGP. What may be even more interesting will likely be the performance of the upcoming 350 integrated chipset from ATI.





Content Creation and General Usage Performance
Gaming and Media Encoding Performance
Workstation Performance
Running all systems with our standard 9800 PRO video card and the same CPU basically tests performance of the chipsets. The ATI 9100IGP does not perform quite as fast as the Intel 865/875 chipsets with benchmarks 3% to 10% lower than Intel's, depending on the benchmark. The one exception, which we can't yet explain, is the better performance of the 9100IGP chipset with the 9800 PRO in the Direct X 9.0B Halo. We reran the test several times and got the same results.
The average 4% to 5% lower performance of the 9100IGP chipset is really a very small difference that won't be noticed by almost any user. However, if you are planning to buy a system to use a with a high-end standalone video card, we would recommend an Intel 865/875 instead of the 9100IGP. That is unless you are looking for some of the unique features of the 9100IGP, like the ability to use 3 displays at the same time.
Shuttle XPC ST61G4: ATI 9100IGP Memory Performance
With the memory timings limited to 2-3-3-6 and performance as a chipset about 3% to 10% slower than Intel, Science Mark 2 memory benchmarks were run to try to determine the impact of the ATI chipset memory controller on system performance. While ATI has been able to deliver a Dual-Channel memory controller on the 9100IGP chipset, we suspected that the memory bandwidth and memory latency might be poorer than the performance we are seeing currently with Intel chipsets.
As suspected, Science Mark Memory Test reports the raw memory bandwidth of ATI's memory controller at about 80% the bandwidth of Intel's 865/875 chipset. With the deep pipes of the Pentium 4 design, memory bandwidth has been shown to be an important part of performance. Memory latency also can affect performance, and Science Mark shows ATI chipset latency about 50% higher than Intel 865/875.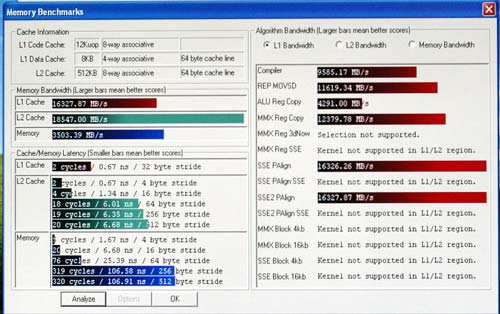 It would be a mistake to consider these Science Mark 2 memory test results in isolation, since they are merely a couple of pieces of the total picture. However, these results suggest that ATI has more work to do on their memory controller to be fully competitive with the current solution from Intel and others. It should also be pointed out that ATI has made huge strides in the design of their memory controller in recent months, and this makes us excited to see the upcoming ATI chipsets.
Shuttle XPC ST61G4: Noise Level
Most people choose the SFF systems for their small size, but they also want the almost contradictory quiet operation that comes with the best of the SFF computers. For that reason, we have been testing noise levels of all SFF systems in our recent reviews. With the new G4 chassis, Shuttle claims that they have reached new levels of quiet. Since Shuttle is famous for their quiet SFF systems, we were particularly interested in how the ST61G4 stacks up in quietness to recent SFF systems that we have reviewed.
Like our other SFF sound level tests, measurements of the Shuttle ST61G4 were taken with the unit on a desk. To be consistent with earlier data, Sound Level was measured on all 4 sides, in the center of the side, 4" from the chassis. Our Sound Level meter can measure as low as 35db, using either A or C weighting with Fast or Slow Dynamic Response. We use A weighting and Fast response because they are most comparable to how we actually experience sound as humans.
As we have done on other SFF tests, the ST61G4 was loaded just as a user would likely set up their SFF system. We installed a 3.0 P4, 1 GB DDR400 memory, a combo CD burner/DVD, and a 120GB Seagate Hard Drive. This is no provision for a floppy drive with the bootable flash reader. Since users will likely use the on-board 9100IGP, we did not use our ATI Radeon 9800 PRO video card in the system for sound level measurements. This is exactly the same setup used in all past SFF Noise Level measurements, except for the missing floppy drive. Since we have not operated the floppy drive during noise measurements, this should have no impact on our measurements.
The ST61G4 certainly matches Shuttle's claims. It is the new champion of quiet. The redesign of the ICE cooling system and the new Silent X power supply clearly work very well in keeping normal operation to very quiet levels. Compared to the earlier Shuttle design, the G4 chassis is 4 to 10db quieter. This means that the new features for quieter operation are working very well indeed. In fairness, once you get to average levels below 50db on the SFF systems we have tested, the system can be considered quiet and the noise will generally fade into background noise.
The otherwise silent ST61G4 does become very noisy when booting, however. We measured noise levels as high as 59db during early boot - until the smart fan controls kick in. This may be important to those who have their computers in bedrooms, since a boot up is pretty noisy. Keep the Shuttle on if you plan to use it while others are sleeping and you will find it as silent as you can get with any current SFF.
Final Words
The Shuttle XPC ST61G4 is sold as a complete barebones Small Form Factor system with integrated ATI 9100 graphics. Both ATI and Shuttle expect that this is how the system will be used. Compared to the competing Intel 865G with on-board graphics, the ST61G4 must be considered a blazing performer, since in every graphics-intensive operation, it handily outperforms the Intel 865G-based systems. The 9100IGP is much better than Intel's 865G for gaming, and it often makes the difference between the game being playable and the game being too slow to really play. The system would be even better if ATI supported Direct X 9.0 on their IGP chipset, and we will likely see that with future ATI chipsets.
Since Shuttle and ATI decided to include an 8X AGP slot for graphics upgrading, we also looked at the Shuttle ST61G4 performance with our standard ATI 9800 PRO video card. There is a little-mentioned WOW factor here in that you can actually run 3 displays with a 9800 PRO in the 8X slot. The on-board graphics still work, plus you have the dual-display capability of the 9800 PRO. Three displays being driven by the tiny Shuttle box is impressive to see!!
However, once we get down to the performance of the ATI9100IGP as a chipset, we are somewhat disappointed. The competing Intel 865/875 chipsets are anywhere from 3% to 10% faster that the 9100IGP chipset with the average around 4% to 5%. While this is a really trivial performance difference in the larger scheme of things, it does mean that we would not buy the ST61G4 or the 9100IGP if we plan to use it with a high-end video card. That is, unless you are buying it for features, like the triple display, which is truly unique. This point really hits home when we consider the truly disappointing overclocking performance of the ATI 9100IGP chipset. We have seen many buy an SFF system with a 2.4 and overclock the processor to 250FSB. You can't even consider this with the ST61G4 - the options are not there - and the overclocking performance even with the available settings leaves a lot to be desired compared to competing Intel chipsets.
ATI was smart to only market an integrated video solution with the 9100IGP, since the chipset excels when used as an integrated graphics solution. ATI is also closing in on performance as a standalone chipset, and we will likely see the next generation ATI chipset fully competitive with the best on the market. For now, it appears that higher latency and lower Dual-Channel bandwidth are still hampering performance as a chipset. If ATI also pays attention to providing competitive overclocking capabilities in future chipset upgrades, they could well have the top-performing chipset as well as the best integrated graphics.
Last, the ST61G4 is also the launch of the new Shuttle G4 chassis, with the improved ICE heatpipe cooling system and the larger, but quieter, Silent X chassis. In every respect, Shuttle delivers exactly what they promise in the G4 chassis. It is much quieter than earlier Shuttle designs, which were already quiet. In fact, noise is so well controlled that Shuttle is once again the quietest SFF system that we have tested. Noise can still be an issue during boot, but in normal operation day-in and day-out, the ST61G4 can be considered silent. We are looking forward to other Shuttle designs with the superb and quiet G4 chassis.
In the end, we can definitely recommend the ST61G4 if you are looking for an integrated graphics solution - it's currently the best integrated graphics performance that you can buy for a Pentium 4. However, we have a harder time recommending the ST61G4 as a system to run a high-end video card. The Intel chipset is still a slightly better performer with stand-alone video cards. However, if you want to explore a 3-display mini PC, the 9100 IGP is for you. As a new chassis, we consider the G4 a tremendous success with Shuttle, once again, the quietest SFF that we have tested. You can also use the new Silent X 250-watt power supply to upgrade older Shuttle systems, gaining a noise reduction and increased headroom on current Shuttle systems. Shuttle is still not quite as neat with internal SFF wiring as Epox and Biostar, but Shuttle seems to never rest in the development of their signature SFF computer line. Perhaps that is why they still control 80% of the SFF market that they created.