Original Link: http://www.anandtech.com/show/1216


My first major tradeshow ever was Comdex, in 1998 to be exact, and back then the shows were quite exciting.  Being a motherboard manufacturer didn't mean suffering financially back then, it meant that you had a ton of products that everyone wanted to see - myself included.  I remember wading through crowds just to get a glimpse of motherboards that wouldn't be available for another 4 months, and loving every minute of it.  Fast forward to the present day, and last year's Fall Comdex in Las Vegas was a total and utter disaster.  There was nothing to talk about and most of the manufacturers were actually confused as to why they were there.  To be honest, we were asking ourselves the same question over and over again in Vegas last November.
But it was at Comdex '03 that we made the decision that the vast majority of the AnandTech staff would make it out to the Consumer Electronics Show (CES) in January.  After having been to Vegas at least once a year for the past 6 years, having to make another trip within 2 months wasn't exactly on my list of things to do but after arriving here I'm definitely glad I made the trip.
The exhibition halls at the Las Vegas Convention Center were actually full of exhibitors; attendance was supposed to be over 100,000 - a welcome change from the 15,000 we were hearing for the disappointment that was Comdex '03.  CES was the show to be at and it honestly felt like the Comdexes of the good ol' days; it was exciting to be here and as tiring as crowd surfing to get to a meeting can be, it felt like home.
We've divvied up the coverage into a handful of sections, but today Kris, Wesley and I will be covering what you can expect in the short term from the CPU, chipset and motherboard guys.  We're here to answer questions about everything from Socket-939 to PCI-Express, so without further ado we bring you Day 1 of our coverage from CES in Las Vegas.
Before we dive into discussions of chipsets and model numbers that honestly even started giving me a headache, I'd like to take you through an overview of the releases that are coming in the next few months. 
2003 has come and gone and as is plainly obvious, Intel did not launch Prescott - the long awaited follow-up to the Northwood Pentium 4 core.  Contrary to what once was popular belief, Prescott will be branded as a Pentium 4 processor and will actually work in most current 800MHz FSB Socket-478 motherboards.  What's almost certain however is that the higher clocked Prescotts that will hit the streets later this year (closer to 4GHz) may not be backwards compatible with older Socket-478 motherboards.  But what we're really here to talk about is when we can expect Prescott, and from what the motherboard vendors are telling us Intel is looking to launch Prescott either at the end of this month or sometime next month. 
Assuming Prescott hits no later than February, March will be the calm before the storm that is April.  What is April bringing us you ask?  Well quite a bit.
On the Intel side of things, April will bring the launch of the first LGA-775 Socket Prescott CPUs.  In order to deal with increasing pin densities, Intel has moved the physical pins off of the chip and onto the socket itself with LGA-775.  The bottom surface of LGA-775 CPUs, where the pins would normally be, is now basically flat with some capacitors sticking out of the center.  There are a series of contact points on the chip itself that actually touch the pins on the socket.
The first LGA-775 motherboards will be based on Intel's two new chipsets - Alderwood and Grantsdale - also being launched in April.  Alderwood and Grantsdale, as we've reported in the past, support DDR/DDR-II, PCI Express and a few other features in addition to support for the full range of Prescott CPUs.  The difference between Alderwood and Grantsdale is that Alderwood has Intel's Performance Accelerating Technology (PAT) while Grantsdale does not. 
Although both of the major GPU vendors are waiting until April to release their PCI Express video cards, SiS and VIA will be enabling PCI Express in their chipsets this quarter to get a leg up on Intel. 
AMD is also planning to have a fairly productive April as they will introduce their first Socket-939 CPUs that month.  Along with the introduction of Socket-939 we will see the Socket-754 platforms be pushed into the value segment, eventually driving out Socket-A from AMD's roadmaps. 
Throughout this year AMD will actually be juggling three distinct CPU sockets with Sockets 754, 939 and 940.  Although 754 and 939 will remain the most popular in the desktop market, AMD will support all three at least through the end of this year. 
Now with the 'when' in mind, let's talk about what's coming out in more specifics...
Since COMDEX the successor to the nForce3 150 has been expected.  This year, CES gave the first real look at nForce3 250.  Rumors of the delay of the nF3-250 launch until Socket 939 were put to rest by all the major vendors.  It appears that samples of nForce3 250 will ship in just a couple weeks - coincidentally around Chinese New Year.  The first nForce3 250 boards will be, to our surprise, Socket 754.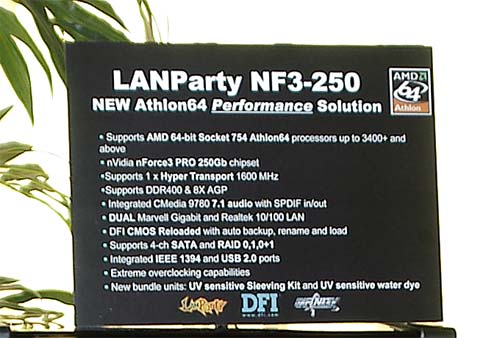 DFI's NF3-250 LanParty will be one of the first high end Socket 754 nForce3 250 solutions.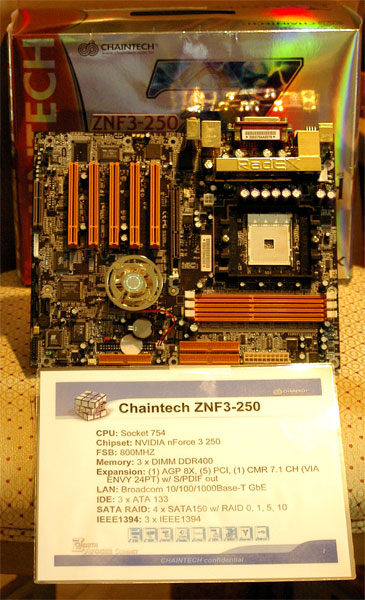 Chaintech's ZNF3-250 is the newest revision on the ultra high end Zenith product line.
ASUS, DFI and Chaintech all had nForce3 250 socket 754 motherboards on display.  As mentioned earlier, nForce3 250 will also debut in Socket 939 with AMD's new FX chips in April.  Interestingly enough, manufacturer roadmaps did not contain Socket 940 versions of the nForce 250 chipset.  Before the launch of the lower priced Athlon 64's, many vendors questioned the importance of Socket 754.  However, with the recent introductions of the A64 3000+ retailing just over $200 and the A64 3200+ now under $300, Socket 754 is a hot topic again.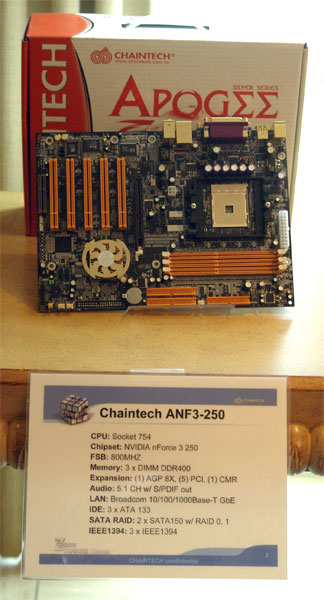 In addition to the top-line Zenith series, Chaintech was also showing its midrange Apogee series nForce3 250 board (ANF3-250).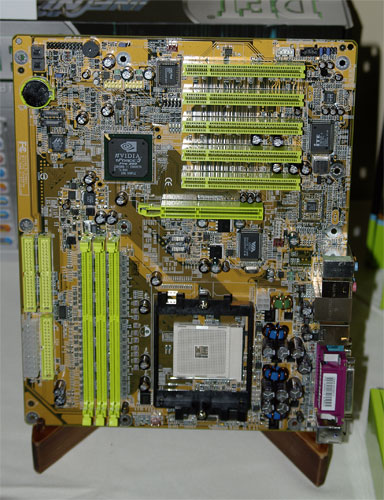 DFI will also feature nForce3 250 with its midrange Inifity series motherboards.
The importance of nForce3 250 will be its introduction of 1GHz HyperTransport.  While 1GHz HT may not appear on Socket 754 boards in the near future, it will become important on Socket 939 motherboards.  This aspect of the nForce3 250 launch is certainly Déjà vu.  With nForce3 250 capable of 1GHz HT, how long will it be before enthusiasts find ways to unlock this capability on Socket 754?  Is history repeating itself? (Think nForce2/nForce2 Ultra/400).
Vendors showing nForce3 250 at the show were displaying the A02 chipset revision in the demonstration boards.  However, the A03 revision is expected shortly, which most likely be the shipping revision of the chipset.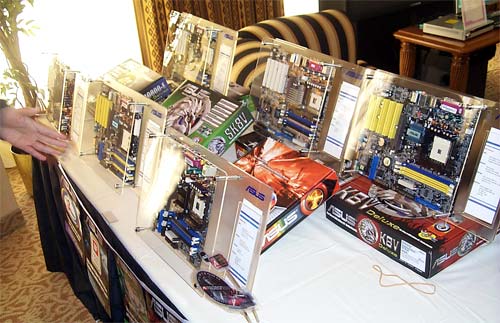 A slim taste of motherboards to come.
ASUS expects to launch seven new motherboards over the first quarter, including a SiS 755 motherboard.  ECS is now also shipping Revision A2 of its SiS 755 board with improvements to performance compared to the A revision.  ASUS is large enough to ship almost every chipset, so we expect to see Socket 939 boards from them based on VIA, nForce3 250 and SiS 755FX.  755FX has not received nearly as much attention as nForce3 250, but it is still an exciting new chipset.  While SiS 755 is designed for single channel Socket 754, the SiS 755FX will exclusively support the new Socket 939 and dual channel unbuffered memory. 
With the recent introduction of the SiS 655TX for Intel, and roadmaps with 755/755FX SiS appears to have reestablished a place in the core logic market.  Several roadmaps we saw also included IGP versions of these chipsets.
There are other big surprises with chipset manufacturers.  ATI has confirmed production of an AMD Athlon 64 core logic; NVIDIA is also rumored to have an Intel chipset in the works.  With both ATI and NVIDIA producing both AMD and Intel chipsets, we will now have five major chipset manufacturers (six if you include ALi).
There is also excitement in the Intel camp at CES.  The next generation Intel chipsets, called Grantsdale and Alderwood, were on display or talked about in early 2004 roadmaps. Grantsdale roughty assumes the role of 865PE (Springdale), while Alderwood is the high performance replacement for 875P (Canterwood).  The low end Grantsdale chipset is expected to perform about the same as today's high end 875P boards.  Alderwood should deliver a 5% increase in performance. 
Both Grantsdale and Canterwood will support DDR2, PCI-Express, Prescott 478 and eventually Prescott 775.  But, since Grantsdale will be the value oriented Prescott chipset, most roadmaps Grantsdale with the lower cost current DDR solution.  The first member of the Grantsdale/Alderwood family, dubbed Copper River, is now shipping as a server solution.
Intel also updates its new southbridge on Grantsdale/Alderwood to ICH6 and ICH6R.  One significant addition to ICH6R is called Matrix Raid.  This feature allows both striping and mirroring (Raid 0+1) using just two drives instead of the 4 drives normally required.  
FIC was tucked away in the corner of one of the exhibition halls in the LVCC, but we managed to find them after a lot of walking.  The trip was well worth it given the products FIC had on display.
The most interesting product at FIC's booth was their upcoming Pentium 4 Small Form Factor barebones.  The fit and finish of the SFF box was quite impressive and honestly the caliber of what you would expect out of a Dell or Gateway.  What was truly impressive about FIC's SFF wasn't its sleek design or solid build quality, it was how you got access to the motherboard.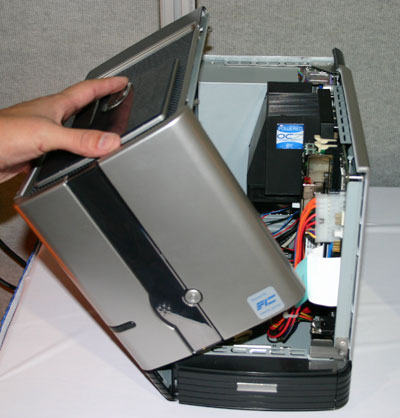 Everyone has always been asking for a PC case that opens like an Apple, and FIC was able to deliver.  Unlatching the top of the SFF unit allows the left side of the chassis to fold down, exposing the motherboard on the side that remains standing and full size drives on the folded side.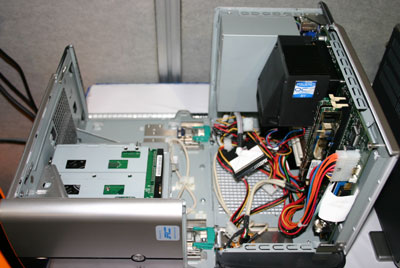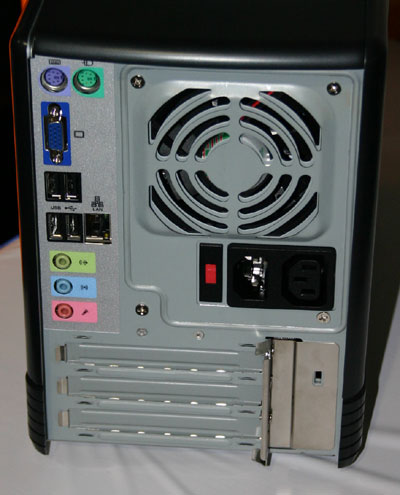 All of the drive cages are toolessly removable from the chassis, as is the side of the chassis that folds down itself.  FIC assured us that when idle the system would be quieter than 25dB.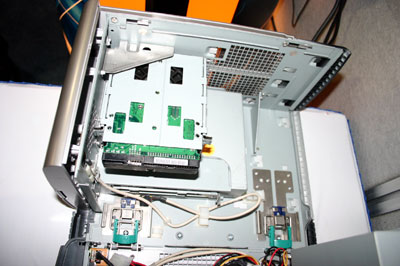 The next unique system at FIC was a mobile Athlon XP based machine that was actually modeled after a ladies high-heel shoe.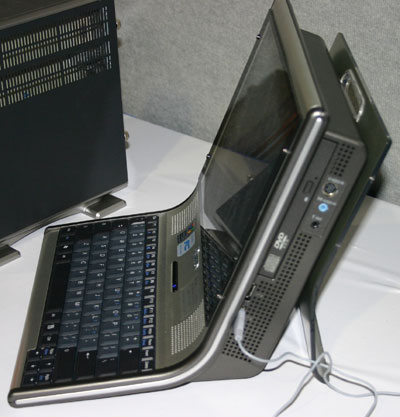 The idea was to produce a sleek, stylish computer that didn't take up much room and the result was quite impressive.  The product has had much success in Japan and is finally making its way over to the States.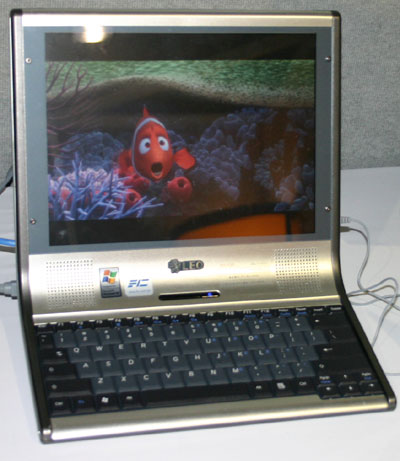 Being the very popular OEM that they are, FIC showed off a Media Center PC design that they have for Gateway - a widescreen LCD/TV PC.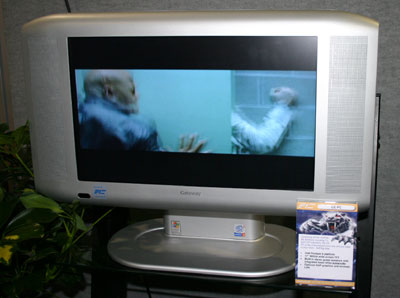 The PC runs Windows XP Media Center Edition and can actually accept up to a 3GHz Pentium 4. 
We ended our visit to FIC on a lighter note, literally (ok that was a horrible pun):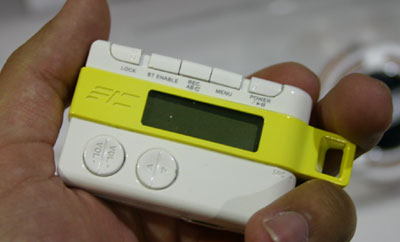 Just like most motherboard manufacturers, FIC is diversifying by producing MP3 players.  What sets FIC's MP3 players apart from the rest of Taiwan's?  Bluetooth support.  Wireless Bluetooth headsets will function with FIC's line of MP3 players, something that is desperately needed with MP3 players today.  Although they won't be competing with the iPods of the world, maybe FIC will spark enough interest that more manufacturers will offer Bluetooth support in their MP3 players.