Original Link: http://www.anandtech.com/show/1212


NVIDIA has tried for some time to get into the multimedia arena with their Personal Cinema product line. Visiontek, once with the NVIDIA camp, was the main partner to introduce Personal Cinema based on mostly GeForce2 MX and a few GeForce3 models. NVIDIA's concept back then (read our
TV Capture Card Roundup
) was solid and complemented their graphic card line very well. With every new GPU cycle (sometimes 3 GPU introductions at a time) occurring about every 6 months, it didn't make sense to create twice as many cards just to bring to market Personal Cinema versions on all of them. So a different approach was taken, one that offered most of the hardware behind Personal Cinema functionality in an
external box
. The end product turned out to be one in which few manufacturers were interested, and this coupled with the lack of in-house software support wasn't well received by end users.
More recently, NVIDIA has been attempting to get back into this market. Microsoft has made it clear to the market of their hopes for Windows XP Media Center Edition PCs, a topic we will revisit soon. This was the driving force behind NVIDIA's announcement of a MCE TV Tuner and their more concentrated work on Personal Cinema.
Of the two, ATI has beat NVIDIA to the table with the eHomeWonder, All-in-Wonder Encode, and the 9100 IGP (code named RS300), all which allow ATI to provide OEMs with a cost effective solution for Media Center Edition PCs. The certification behind the All-in-Wonder Encode marked the first software based MPEG-2 encoder for Windows XP Media Center Edition, and allows for All-in-Wonder cards to be used in this OS. The choice by system integrators (i.e. Dell) of AIWs for their Media Center Edition PCs is good news for ATI, due to the large volume of sales that MCE PCs can generate — one PC, one AIW. This is the same for the eHomeWonder, which is nothing more than a hardware MPEG-2 encoder with a Philips FM/TV tuner.
On the consumer end, NVIDIA isn't near the market share that ATI holds in the multimedia market. However, NVIDIA is now in their fourth incarnation of Personal Cinema based on the GeForce FX line, and promises to be more favorable, particularly with greater support from manufacturers such as Asus, Chaintech, eVGA, and MSI.
NVIDIA GeForce4 and GeForce FX Personal Cinema
The GeForce2 and GeForce3 Personal Cinema took the same approach with an external box that enabled most of the functionality behind Personal Cinema. While some manufacturers of the first and second generation of Personal Cinema used GeForce4 GPUs, this was a very small percentage of the actual Personal Cinema cards that went to market. Personal Cinemas based on GeForce4 GPUs weren't really mainstream until NVIDIA partnered up with eVGA for the development and deployment of the next generation of Personal Cinema, which underwent a design change.
Unlike past Personal Cinemas, NVIDIA decided to go with a TV tuner built directly on the card. This doesn't have the same advantage of a TV tuner on an external box because now two cards must be produced for two different purposes. Video in and video out functionality, meanwhile, is still supplied via an external breakout box, which is of a completely new design.
The only launching partner for the new Personal Cinema design was eVGA with their GeForce4 MX 440 based card. The GeForce FX type Personal Cinema cards are based on a similar design, but there are a few logistical differences. The GeForce4 based Personal Cinema from eVGA uses DVI output, which only the GeForce FX 5600 based Personal Cinema cards (and greater) use. GeForce FX 5200 cards will utilize a VGA connector on the card.
NVIDIA decided to make a tuner change on the GeForce FX line, choosing Microtune tuners instead of those made by Philips. ATI chose the Microtune MT2032 single chip TV tuner for their All-in-Wonder Radeon 8500DV, but they have since dropped this due to power consumption and heat issues. The GeForce FX 5200 and 5600 GPUs don't require the extra power draw of an additional power source, so NVIDIA won't run into problems on this end. However, it will be interesting to see the choice of TV tuner once the higher end GeForce FX based Personal Cinema cards hit the market.
In the first batch of GeForce FX based Personal Cinemas, NVIDIA is using the
Microtune MT2050 single chip TV tuner
, which is concealed under some metal shielding. The vast majority of TV tuners are analog based, meaning they use analog components such as resistors, inductors and capacitors to create band-pass filters that allow certain frequencies to pass through, thus "tuning" to those channels. Therefore, these cards have a digital TV tuner (this doesn't mean it can receive HDTV channels, it just means it uses digital circuitry instead of analog), which in theory, can offer better quality as a result of decreased interference and faster tuning. The quality argument is generally one that isn't noticeable because of the poor quality of cable TV. However, on extremely high quality cable TV feeds, you may notice a quality improvement courtesy of the silicon based tuner.
NVIDIA GeForce4 and GeForce FX Personal Cinema Breakout Design
Both the GeForce4 and GeForce FX based Personal Cinema cards use the same 40-pin breakout design, though it is implemented differently on the newer GeForce FX based cards. The difference is the use of male and female connectors and the orientation of the security tab. GeForce4 based cards use a male connector on the card and the GeForce FX, a female connector. The change is due to cost of service support. If pins were to break off the card, the card would naturally need to be replaced. Since the male connector is now on the breakout cable, the cable can be easily swapped out for a new one if damage occurs to the pins. This helps bring the cost of service down, since the card costs a lot more to replace than the breakout cable.
The other change is to the method of securing the breakout cable to the card. The GeForce4 based Personal Cinema cards have a divot on the bottom side of the 40-pin connector housing that allows the breakout connector to be fastened securely to the card. This was necessary because the loss of signal due to a loose cable during a recording would just be unacceptable. The problem with the orientation of this was that users need to twist their thumb to hold down the security tab to release the cable (on tower systems). Ergonomically speaking, the tab should be on the top side of the cable due to the way things are naturally held in our hands. This has been since corrected for the GeForce FX based Personal Cinema cards. Personally, we prefer the security screw pins that the ATI uses on their breakout cable for the All-in-Wonder 9600 Pro. This is a much simpler and user-friendly method to secure the cable.
The breakout cable features a second VGA output for dual monitor support because the TV tuner takes up a considerable amount of space. The breakout box on the cable houses composite video input/output, s-video input/output, and composite audio input/output. It would have been preferable to have the video/audio out and in divided into two separate breakout connectors because the video/audio in isn't going to be as common a task as video/audio out, which will always be needed for TV audio. This separation will help save on clutter, should video/audio in not be used.
NVIDIA GeForce FX Personal Cinema — Dual Display Support
As we mentioned in
our All-in-Wonder 9600 Pro review
, one of the biggest requests for multimedia cards, such as All-in-Wonders and Personal Cinemas, has been dual display support, so that a single person can watch TV or a movie while working or sharing their computer with others use it for multimedia purposes, while continuing to work undisturbed.
This plays particularly well for those who don't want to go through the cost of a second computer just to place it next to the TV. However, a long video/audio cable will need to run to the output source, which ideally would be a TV or projector in a room adjacent to the one the computer is in.
The problem, however, comes in the implementation of dual monitor support. Previous All-in-Wonder cards could do simply one monitor plus another device (TV monitor, projector, etc.). However, the single video source could only be shown on the primary display. Personal Cinemas, though, long have had dual monitor support, but this was a buggy feature back then. To top it off, the need to power two displays wasn't as necessary or desirable for that matter considering the GPUs available at the time.

Dual Display done via NVDIA's control panel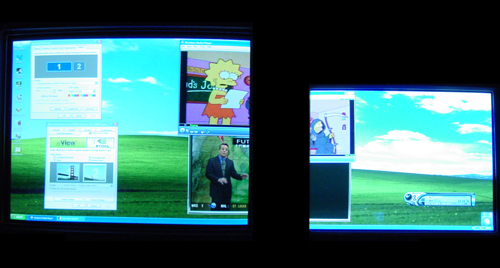 Click to enlarge.

Screenshot of desktop extended with NVIDIA's control panel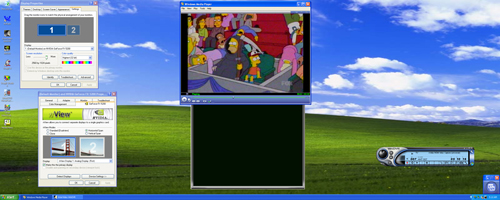 Click to enlarge.

Dual Display done via Window's control panel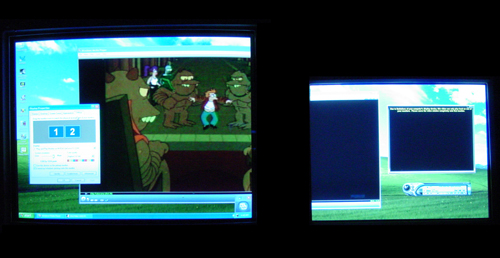 Click to enlarge.

Screenshot of desktop extended with Window's control panel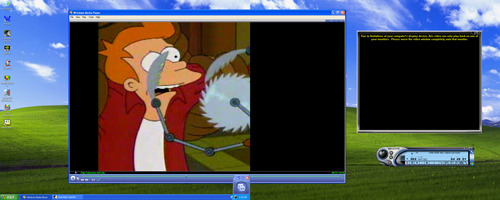 Click to enlarge.
The GeForce4 Personal Cinemas was a stabilizer product that allowed the spanned viewing of TV and multimedia, so long as
dual display was enabled via NVIDIA's display control panel
and not through Window's display settings. The GeForce FX Personal Cinema does not have the same capabilities as the GeForce4 based cards, as they have lost the ability to span TV content over two displays. However, the spanning of file playback can be done, but naturally only through NVIDIA's display control panel. This is because NVIDIA treats the second monitor as part of the first monitor, instead of a generic desktop extension. This is visible in the Window's display settings, once NVIDIA's display control has been programmed. The second display isn't configured, but the first display is configured to double the resolution width, the doubled space going to the second desktop.
NVIDIA NVRemote — A Page from the ATI Playbook
The NVIDIA's first remote was the most noteworthy feature of Personal Cinema. This remote communicates with the green base with infrared transmissions. The choice of this protocol allows for a cheaper solution on the remote side. Unfortunately, it means that line of sight must be achieved for it to function. Line of sight is acceptable for home theater equipment since the receiver is always in front of the device (e.g. TV, receiver, DVD player). However, the infrared nature of the remote prevents you from hiding the breakout box behind the computer or the TV. Additionally, there is no way to interact with the electronic programming guide or control the mouse pointer.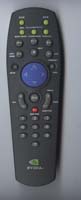 The new remote for the Personal Cinema is appropriately called NVRemote, which NVIDIA takes a page from ATI's playbook. ATI's Remote Wonder is a wireless remote manufactured by X10, which allows users to be in a completely separate room while maintaining control of the PC. The range on the remote is roughly 30 to 50 feet depending on the walls in the house.
The Remote Wonder is considerably larger than the first Personal Cinema remote and it's about the size of most home theater receiver remotes, but without all of the buttons. The buttons all have good tactile feel and are comfortable to use. We previously cited that the remote could really use a button to automatically click OK/Cancel or Yes/No when dialog boxes pop up, instead of having to navigate to the proper button and hit the left mouse button on the remote. The new software support provide this ability with the OK button, which functions as an Enter macro, and the left and right buttons to select the correct button on the dialog box pop ups. Additionally with EazyLook, ATI provides the ability to interact with the EPG on a limited basis, one channel at a time. This makes it a bit hard to schedule recordings one or two days later because it requires you to scroll horizontally from the current TV show to the desired channel and the desired time. We would like to see EazyLook implement an EPG interface similar to that on the Windows XP Media Center Edition because it would prove to be easier to schedule recordings.
The NVRemote is basically the same as the ATI Remote Wonder (also manufactured by X10), with a few predefined abilities that the Remote Wonder doesn't have. However, there are no programmable buttons available for the NVRemote. The Remote Wonder offers the ability to emulate functions, such as shutting down the PC and any shortcut keys. The NVRemote only offers very limited changes to its use, such as changing the photo application to the "My Photos" folder. Settings, such as cursor acceleration and speed, can be set with the NVRemote, but the movement of the cursor is noticeably jerky, similar to a monitor on a very low refresh rate.
The buttons on the NVRemote seem to lack some of the natural feel that the Remote Wonder has. This is mainly in regard to the left and right buttons, which are slim and curved near the lower edge of the directional mouse pad. Ergonomically speaking, these buttons will be pressed by your thumb, and due to that, the number, closed caption, and snap shot buttons are too small. They are elliptical and their small size takes some time to get use to, particularly if you have become accustomed to using the Remote Wonder.
The base of the NVRemote seems overlarge considering the technology powering both; the NVIDIA and ATI solution are basically the same. We prefer the base for the Remote Wonder because of its smaller profile, which is a point that we would like to see NVIDIA to improve upon.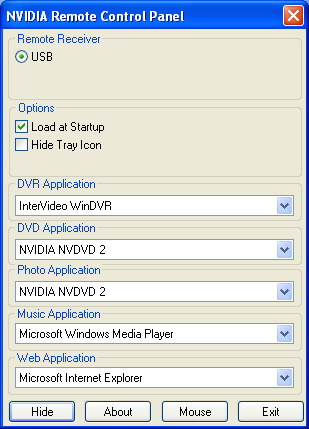 NVIDIA Personal Cinema Software — Outsourced
NVIDIA isn't developing their software in-house, instead NVIDIA choosing to license InterVideo's WinDVR 2, Ulead's VideoStudio 6 SE DVD and MovieFactory 2 SE. Past generations of Personal Cinema cards have been subject to InterVideo's WinDVD for playback, which has since been discarded in favor of NVIDIA's in-house NVDVD. Playback isn't nearly as important as digital VCR software, and therefore, we will put more weight on the latter.
NVIDIA's choice in digital VCR software (InterVideo's WinDVR 2.0) has remained unchanged, as expected, since this seems to be the most popular third party title of its variety. This software title is decently expensive (once costing $99 from their website), when it was once listed. Because it's not custom-designed by NVIDIA, WinDVR actually has no features specifically for the Personal Cinema, other than the software module that is used to support NVRemote. The reason for outsourcing their software like this is because it saves NVIDIA a considerable amount of time and money that would otherwise be spent in development of their own software package from scratch, and we all know how NVIDIA likes to be quick with the product introductions.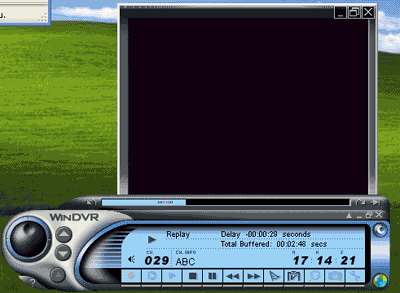 By nature, we would expect that as WinDVR gets better with upgrades, NVIDIA's Personal Cinema will as well. The only problem with this is that with upgrades, NVIDIA needs to renew their license with InterVideo. NVIDIA hasn't done so with the current version of WinDVR, now at its 3.0 version. Because nothing has changed in the digital VCR software, rereading our
April 2002 coverage of Personal Cinema
will provide all the necessary information for this department.
Our main complaint with this software title has to do with how it is extremely dependent on access to the internet to work. Until the web based EPG (
TitanTV
) is initiated, the field for the channel name (to the right of the channel number) will read something like ANT (antenna) or CBL (cable) plus the channel number. If you don't have constant internet access, you're going to run into a lot of issues with scheduled recordings because the web based EPG directs WinDVR to schedule recordings.
The other two software titles added are from Ulead: VideoStudio 6 SE DVD and MovieFactory 2 SE DVD ($99.95 for Version 7 and $49.95 for MovieFactory 2 from their website). ATI stopped bundling Ulead's VideoStudio with their All-in-Wonder cards at its 5.0 version, instead opting for an easier-to-use Pinnacle Studio 8. VideoStudio is included simply to provide the ability to capture, edit, and compress from a video/audio in source. MovieFactory is mainly bundled with all Personal Cinemas to back up the claim for direct to DVD burning, which is a bit complicated and takes some time to get comfortable with.br>
NVIDIA Personal Cinema Software — In Sourced
As already mentioned, playback is second to digital VCR software. The only reason we go over NVIDIA's in-house playback software (NVDVD) is because of its in-house origins. This marks the first time that NVIDIA has taken an application to the consumer market. Effectively, it serves as a replacement to InterVideo's WinDVD in the Personal Cinema software suite, and it can additionally be
purchased retail through NVIDIA's website
. This is in contrast to ATI, who has long had an in-house playback title on the market, but currently limited to ATI powered systems. Interestingly, NVIDIA's NVDVD is compatible with ATI Radeon graphics, but this is mainly because limiting the software to NVIDIA hardware wouldn't help make money on the retail end. Running at $40 ($39.95 to be exact), this is probably one of the more cost effective DVD players.
The interface is very professional and comes with a low profile that is very easy to use. There is no separate panel for controls, rather the display window is surrounded by the controls necessary to manipulate playback. NVDVD was designed to be skin supported, which means the availability of skins will be dependent on the popularity of the program. For now, skins are in short supply, and purchasers of NVDVD can expect the default skin (shown here) and a skin that minimizes controls, so that it seems like the window is the only thing visible.
The program doubles as a file player, and this is where we have taken issue with the design of the program. Watching a DVD movie doesn't really require the need for an elaborate position track to jump to an exact point in the movie, though some sort of a position track is needed at a minimum. With File playing, however, it becomes a necessity and quite important. The position track with the default skin is a fixed length, even when the player is resized, and is perhaps the program's greatest weakness. Windows Media Player will automatically lengthen its position track once resized in full or skin mode, which plays to its advantage when trying to tune to a specific point in a large movie file.
NVDVD 2.0 OEM is the version bundled with all GeForce4 and GeForce FX Personal Cinemas. The OEM version of NVDVD will not allow certain functions, such as 5.1 decoding, audio capture, and frame capture among other things. This really is a disadvantage because the customer who just purchased a GeForce FX Personal Cinema that runs at least over $150 can't even take advantage of all the capabilities of NVDVD. Instead, another $40 cost must be added for this. Unless the cost comes down or the retail version becomes bundled with Personal Cinemas, consumers will likely stick with their copy of WinDVD or PowerDVD.
The Test
We tested on a variety of systems, but mainly we focused our attention to Intel Pentium 4 solutions, due to their ability to handle MPEG encoding operations better. This seems to be the more likely choice for those building a multimedia platform, and we are therefore testing as such. Our testing spanned several different chipsets including 875P, 865P, 9100 IGP, and the 865G with Pentium 4 800MHz processors from the 2.66GHz range to the 3.2GHz.
The reason we used 3.2GHz was to see if some of the problems that we had encountered were CPU bound. Unfortunately, the scaling up didn't yield more favorable results in any specific area, as the initialization time for InteVideo's WinDVR and Asus's TV portion of Home Theater still took a considerable time to load (approximately 10 to 20 seconds). Scaling down to a Pentium 4 533MHz configuration actually came up with similar results.
NVIDIA GeForce FX Personal Cinema — Known Problems and Solutions
For one reason or another, we ran into many more issues than we had originally expected with Personal Cinema cards. Some cards, such as the Asus who deviate from the reference design in the dual display support and remote area, didn't encounter some of the problems that are associated with Personal Cinema because they don't follow the reference design. We should note that not all systems will run into these issues, but these are the problems that we are aware of and have duplicated in our labs.
The first issue we ran into was with dual display, which is supported by the second VGA adapter on the breakout cable. The breakout cable and the second VGA head need to be hooked up before the system starts because of the way some of the newer drivers work. If the nView Display Mode tab was not visible previously, this should solve it.
The other issue we ran into was with plugging in the breakout cable at any given point. On some systems, plugging in the breakout cable while WinDVR or other capture software would lead to system freeze ups. So far, the only thing that we can recommend is a fresh driver install, since it seems to be somehow related to drivers.
Our most perplexing issue was with NVRemote. The application always crashed once the NVRemote software was installed on every NVRemote that we tested. While it isn't the correct steps, NVRemote won't crash if it is installed before the display drivers, but will crash once they are installed. It ended up being an MSI customer who discovered the solution, who
posted it on a thread
in the MSI forum. MSI was the only company that seemed to address the issue directly, and in their FAQ, it mentioned reinstalling the Personal Cinema drivers. However, this solution didn't work for us. MSI tells us that they will be posting new drivers that should resolve the issue.
The rest of the issues we had all involved the compatibility of GeForce FX based Personal Cinemas and InterVideo's WinDVR. We should note that for whatever reason, it took longer to initialize the program and change channels with GeForce FX Personal Cinemas compared to the GeForce4 based cards, even though the new cards sported a silicon tuner that should, in theory, operate faster. In certain cases, the program would auto-scan and would miss a good deal of channels that had active feeds. There has been no specific solution to this other than to reinstall the OS and start from scratch, though reinstalling the program and drivers should be attempted first.
The only other issue we had with InterVideo's WinDVR was with the recording sound quality and aspect ratio. The sound quality in the recordings wasn't quite crisp as those from our AIW Radeon cards. This was a known issue in the GeForce4 based Personal Cinemas and some of the earlier AIW cards (i.e. AIW 128 Rage Pro), and this seems to be something that hasn't been resolved completely. As for the aspect ratio problem, we first noticed that the aspect ratios were completely screwed up when we played them in Windows Media Player or any other file player for that matter. The reason is because the recording presets Good and Better do not follow the 16:9 or 4:3 resolutions. So unless you have a player that can force the resolution (WinDVR or Home Theater), the aspect ratio at which the TV program is recorded will continue to be a problem. This is particularly uncomfortable for those who want to just burn the file and take it on a flight or a trip without unneeded hassle. The Best preset works fine, though it records at a higher bit rate, and so do the other settings such as NTSC VCD. However, this means that you will need to configure the recording settings before you actually record. This is in contrast to ATI's MMC, which is ready once installation is complete.
Asus V9520 Home Theater — Hardware
Asus is the only manufacturer in this roundup that has taken many risks by deviating from the reference design in both hardware and software. Instead of producing a card that is dual display supported, Asus has decided to strip out the components necessary to enable dual displays. The breakout box is identical to the reference design, but it lacks the second VGA adapter and has the Asus logo instead of NVIDIA's. Because Asus has re-dubbed Personal Cinema to be their Home Theater line, they are, effectively, pushing the name where they can, which includes the breakout cable. This is because Asus means to differentiate themselves from the rest of the crowd and is nothing more than marketing semantics.
Simply using a reference cable on the Asus card will not provide dual display support because the card itself isn't designed to support it. This choice was made mainly to save money, which is an option provided to NVIDIA's Personal Cinema partners, most of whom have seem to have decided to employ dual display support.
Asus doesn't use the NVRemote in their Home Theater line up, instead opting to use their IR remote. This choice seems to be understandable, since it would help generate money as Home Theater gains more momentum. However, the risk for this product line is now on Asus' shoulders. If Asus had chosen the remote from NVIDIA, low sales of the Home Theater product would effectively hamper the sales of NVIDIA's remote. Since it is Asus' proprietary remote, the profit made from the remote will go to Asus, but this will be dependent on sales of their product.
The remote feels shockingly comfortable and natural. The casing and buttons feels very similar to the feel of a TV remote. Though, the buttons lack some tactile response. The directional mouse pad specifically is hard to use because it is sensitive without providing good feedback. Compounding the effect is the lack of a software configuration utility to edit preferences or program buttons on the remote. However, its small profile makes us more compelled to use this instead of NVIDIA's remote.
Because Asus uses IR protocol for their remote, it means that the base will need to be placed within the line of sight of the user. This is perfectly fine for this product, so long as it isn't used to clone on a TV in the adjacent room.
Asus V9520 Home Theater — Software
Much has been made of Asus' Home Theater, a very different approach to the software side, which happens to mean that Asus isn't supported through NVIDIA's Personal Cinema software licenses. Instead, Asus has gone to InterVideo to license their Home Theater title (running $99.95 from their website), which in turn, Asus provides a cosmetically touched up version to their Home Theater customers. The main difference between the InterVideo and Asus' version is the Asus logo, which remains in the left hand corner of the screen at all times while the interface is visible.
Once installed, the program prompts with a variety of options for configuration, which are also available in the program's 10-foot viewing mode. All pictures, videos, and music must be in the specified folder for the program to be able to access them in the 10-foot viewing mode, and therefore, the recordings and frame captures will be stored in their respectful folder.
As expected, the TV portion of Home Theater shares similar code to InterVideo's WinDVR. However, the options available for recording formats are extremely limited, and only three choices (good, better, best) are provided. There is no current way to edit formats or select other standard formats. This seems to be a particular disadvantage if you are looking to burn a VCD, SVCD, or DVD standard format. The only way to burn a disk then is to compress the recorded format into the correct video stream. The problem with this is that it takes additional storage space, a decent processor, and time. Real time encoding into the desired format is a solution that's far superior.
Asus V9520 Home Theater — Software (continued)
The 10-foot viewing mode is easy to navigate, though it takes a long time to initialize. First impressions were that this was a spitting image of Windows XP Media Center Edition. It is remarkably similar, though the MCE OS is definitely programmed much better and smoother. That having been said, we do prefer this program over the software suite that NVIDIA has licensed for Personal Cinemas.
Regardless of what mode the program starts up in, the program will always initialize TV, so that it doesn't take time to initialize once the TV is selected. This takes about 10 to 20 seconds and seems a bit long considering that the cards use a silicon tuner.
The hardest part with using this software solution is Asus' remote because of the lack of tactile feedback in the directional mouse pad. Additionally, functions, such as frame capture and navigating to the guide, cannot be accomplished with a single button. Instead, you need to use the directional mouse pad to move around to the correct buttons and hit the OK macro button.
The problem with InterVideo's Home Theater is that it is so web-reliant when it comes to the EPG, employing
TitanTV
like WinDVR. This is really unacceptable considering that scheduling won't work off the EPG if there is no dedicated internet access.
Because Asus has chosen not to go the route of NVIDIA's licenses, they aren't opting to use VideoStudio and MovieFactory to edit video. Instead, Asus has chosen CyberLink's PowerDirector 2.5 Pro ME ($79.95 for Version 3 off their website). The drawback to this choice is that burning directly to disc cannot be accomplished. So, it is basically comparable to Ulead's VideoStudio. Neither product is really able to compete with ATI's Library program, which allows direct burning to disc. Adding another program just to support the claims of direct burning to disc is obtrusive when put to practice. Ideally, it should be a very simple process, which ATI has gotten down in their Library program.
For the gamer, Asus has included Morrowind and Black Thorn, which should run fine on this card, since the two games are relatively non-graphically intense.
Chaintech A-FM6P/N (GeForce FX 5200 Personal Cinema) — Hardware and Software
The hardware behind Chaintech's card, as well as eVGA's and MSI's, follows the NVIDIA reference design, so there is no need to dive into this. We should note that this isn't the ideal GeForce FX 5600 Personal Cinema that NVIDIA would like you to see. Chaintech has basically taken the reference design for the GeForce FX 5200 version and slapped on a GeForce FX 5600 GPU instead. This type of card will be in very short supply, as NVIDIA is gearing their GeForce FX 5600 to support component output (HDTV). How NVIDIA plans to do this remains to be seen, though some sort of a dongle should be expected.
This card is one of the few Personal Cinemas that we have seen supporting DVI output (VGA accomplished with a supplied adapter), but the second display still must be connected to the VGA adapter off the breakout cable.
Chaintech has been typically known for overdoing the bundles, which is an expected trademark. The bundle behind this card provides some interesting items, such as Q Ball, a monitor cleaner, and an antistatic brush. Both of which seemed to serve their purpose well enough, though the Q Ball will only clean general smudges off your monitor. You will still need some damp cloth or one of those monitor cleaning cloths to get the rest "spic and span".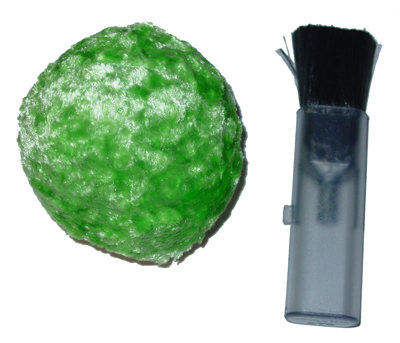 eVGA Personal Cinema FX 5200 — Hardware and Software
The only other company to deviate from the reference design in software is eVGA, though in a very minor manner. Mimicking Windows XP Media Center Edition, eVGA has provided a menu that starts up automatically unless otherwise specified and serves as the main menu for all Personal Cinema functions. This is really nothing more than a shell program that interlinks with outside programs, since watching TV will jump to InterVideo's WinDVR.
Of the four solutions, eVGA is the only other company that is providing a full version of a game, namely Ubi Soft's Ghost Recon.
MSI FX5200 Personal Cinema — Hardware and Software
Between all four cards, MSI's FX5200 Personal Cinema is the cheapest, though this means that you should expect the bare essentials. While both eVGA and Chaintech bundle RCA and S-Video cables, MSI does not, which means you will have to add this to your buying list if you don't already have them to enable capturing from an external source (i.e. camcorder, VCR, etc.).
This card is definitely not suited for gaming. NV34 (GeForce FX 5200 and 5200 Ultra) based cards are suited well as a stop gap before your next serious purchase, but this card is a Personal Cinema, which is in a whole other ballpark than desktop cards. This card is more of something to consider for multimedia users on a budget; although, $150 is still a considerable amount of pocket change. While this GPU isn't suited for gaming, MSI still does provide the ability to overclock the card.
While Ulead's VideoStudio 6 SE DVD is licensed with GeForce4 and GeForce FX Personal Cinemas, MSI seems to have bundled Ulead's VideoStudio 7 SE DVD. We are not sure how the licensing on this works out, but it nevertheless is worthy to note.
Conclusion
NVIDIA has made a lot of hardware changes over previous Personal Cinema cards, but they are still providing a lack luster software suite to back it up. We believe that NVIDIA can provide decent multimedia hardware, but their hand at software remains to be seen. At the most recent Comdex, NVIDIA promoted their Forceware multimedia software, which is, in essence, the equal to ATI's Multimedia Center. The
list of its supported features
is impressive: shared TV streams, burn directly to disk, a Gemstar Guide Plus+ based EPG, etc., but we will have to reserve judgment until we put it through the paces.
According to a few of NVIDIA's partners, the software is still buggy and should be out in January or February, depending on how soon the issues are resolved, as this would affect the time it is WHQL certified. This was a project that was supposed to be all undertaken in 6 months - a very ambitious task that has been since put through several delays.
As it stands, NVIDIA acknowledges that the multimedia sector is the fastest growing segment of the desktop market because it applies to the masses and anyone/everyone who has a TV set in their home. This is why many of NVIDIA's partners, who have previously rejected Personal Cinema, are now embracing the product. However, the introduction of the GeForce FX Personal Cinema is more of a knee-jerk reaction to the more impressive All-in-Wonder products that we have seen recently from ATI.
NVIDIA would fare much better by holding off their GeForce FX Personal Cinema line until their software has been fully developed because the issue puts the current product into a bad limelight and puts pressure on NVIDIA's multimedia partners. Of the four cards, Asus has no doubt done the best job, but they are still leaving quite a bit to be desired, particularly dual display support and traits that we normally come to expect from digital VCR solutions.
NVIDIA tells us that their notebook graphic market is NVIDIA's fastest segment, and they do lay claim to all the MCE notebooks that we are at least aware of. The TV tuner and the MPEG-2 encoder in those notebooks, however, are not of their design or spec. Rather, it just happens to be that the system vendor uses the NVIDIA GPU. Secondly, an MCE notebook is not as attractive as a SFF MCE PC or a desktop one for that matter. Remember, MCE PCs are not of the same breed as the typical home PC, since they are intended to be a dedicated PC situated near the home TV system.
While NVIDIA tries to get Microsoft's certification for their software (WHQL) and multimedia hardware (MCE), we don't see their products as attractive as the multimedia solutions from ATI, mainly due to the lack of software support. Until that time comes, we would recommend readers lean a bit red and white this season with an All-in-Wonder VE, 9000 Pro, or better yet, a 9600 Pro over a GeForce FX 5200 or 5600 Personal Cinema.