Original Link: http://www.anandtech.com/show/1200


Around the time of the Athlon64 and Athlon64 FX launch on September 23rd, we were talking with Elite PC about evaluating a full-blown gaming system that they were planning to build around the Athlon64 FX. There were several delays due to Elite PC's desire to use a Dual Socket 940 board and the new ATI Radeon XT. There were some difficulties with their early Dual boards and they wanted everything to be right before sending us a review system. When the system was finally shipped to AnandTech, there were several miscues as well. We really expected the Elite PC Titan FX to be the first full-size system review at AnandTech, but events conspired to delay it for a while. We do think, however, that you will agree that this is a system worth waiting for.
Elite PC is a web-based reseller that maintains a storefront in Tempe, Arizona. You can see, configure, and order systems at their website at
www.elitepc.com
. The System we are evaluating is their top gaming system, the Titan FX, and you can see the available options and prices at
the Titan FX page
. Since Elite PC also maintains a 20-station LAN Center that is open 7 days a week for LAN Gaming, it is clear that they have a very good idea of what most gamers want in a gaming PC.
The Titan FX is built around the Dual Processor version of the MSI K8T Master motherboard. While Elite PC normally ships the system with one Athlon64 FX CPU, they wanted to give gamers the option for a future upgrade to Dual Opteron chips. In addition, the rest of the top-of-the-line features include 1GB of high-speed Registered DDR400 memory, SATA RAID 0 with 2 Western Digital Raptor 10,000RPM hard drives, ATI Radeon XT 256Mb, Sound Blaster Audigy 2 6.1, MSI TV@nywhere card with Remote Control, Sony DVD +/- burner, 16X DVD, USB Multi-flash reader, 120mm Case fan, blue case lighting, and Windows XP Professional, all wrapped in a silver and black Chenbro Xpider case with a 460-watt power supply and a 3-year onsite warranty.
UPDATE 12/01/2003:
Elite PC has provided an update on Dual Processor usage.
"The only AMD processors that can be run in DUAL mode are the 200 and 800 series Opteron processors. The motherboard in the Titan FX machine will run all 940 pin processors, however only the 200 and 800 series Opteron processors will run as Dual processors."
AnandTech just tried to benchmark the Titan FX system with 2 FX51, and while the system worked, the boot screen only identified ONE CPU even though two were installed. Oddly, the few benchmarks we ran were higher than single CPU, but not at the levels we would expect with Dual Opteron chips. Elite PC recommends the 200 or 800 Opterons for Dual CPU operation.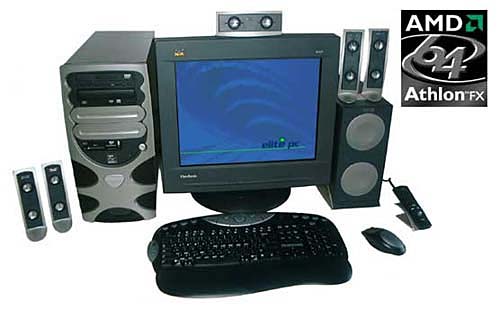 We asked Elite PC to ship us the system without a monitor and speakers for our testing. Gamers often already have a monitor and speaker system, but they can also choose from a wide array of CRTs or flat panel monitors, and select whatever they prefer for speakers. All the peripherals are in black to complement the silver and black chassis. While this was written, the price for the Titan FX, exactly as reviewed is $2999.99. This is for the base tower, and does not include monitor, speakers, keyboard, or pointing device. It does include a 3-year Warranty with On-Site Service.
In keeping with the AnandTech policy regarding complete systems, we evaluated the Elite PC Titan FX as it is received. While we do make driver and minor OS adjustments to be consistent with other testing done at Anandtech, we test the actual system, video card, and hard drives as received. This gives readers results that truly reflect performance of the system. We compare results to other similar systems that we have tested, and also compare results to the best components (motherboards) we have tested that use similar components. This differs from our test procedures with barebone SFF systems. Small Form Factor systems are usually sold as basic barebones, and we use the same standardized components in their build to allow better performance and noise-level comparisons.
System Specifications
 System Specifications
 
 Elite PC Titan FX
 Dell Dimension XPS
Expansion Bays (5.25"/3.5"/Hidden)
4/1/6
3/1/3
Front USB Ports
3
2
Rear USB Ports
2
6
Internal USB Ports
0
0
Front Firewire Ports
1 Standard
1 Standard
Rear Firewire Ports
1 Standard
1 Standard
On-Board Parallel Port
1 Rear
1 Rear
On-Board Game Port
1 Rear
None
Modem Ports
None
2 Rear
Video Ports
ATI XT Analog/Digital/SVGA
MSI @nywhere TV card Rear SVGA, Coax, 2 Mini Jacks
ATI XT Analog/Digital/SVGA
On-Board Serial Ports
2 Rear
2 Rear
Front Audio Jacks
2 — Headphone and Mic
2 — Headphone
Rear Audio Jacks
6 Mini on Audigy 2
6 Mini on Audigy 2
SPDIF
One — Rear
Mini Out
One — Rear
Mini Out
Number of Fans (including CPU/chipset)
3 — 70mm CPU, 80mm intake, 120mm out
4
Power Supply
460W
460W
Elite PC Titan FX: Chenbro Xpider Chassis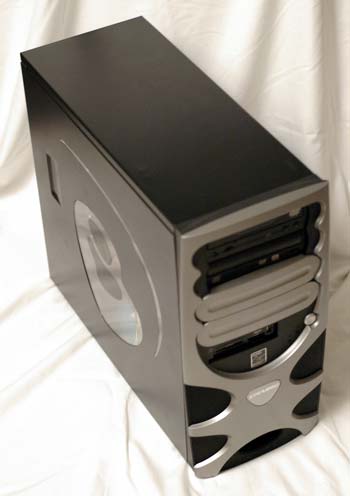 Elite PC uses the attractive Chenbro Xpider chassis for their Titan FX system. It is combined with a 460-watt power supply and offers outstanding expansion capabilities, particularly for hard drives. The silver and black case can mount up to 6 3.5" hard drives, and easily handles the 2 Western Digital Raptor 10,000RPM drives in a RAID 0 array. A front mounted fan blows intake air across the hard drive cage to cool the drives.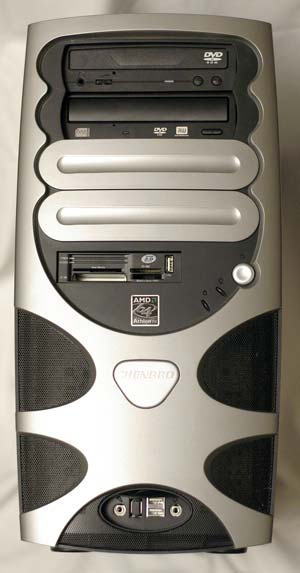 The Titan FX uses black drives and peripherals to match the case.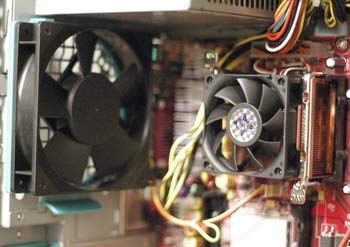 Elite PC uses a huge 120mm fan for output air on the Titan FX. Large fans like this can turn at slow and quiet rpm, but still move massive amounts of air for cooling. Generally they are a better solution than small, noisy fans that must run at high rpm to move much air.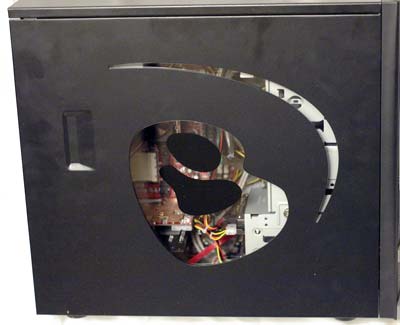 The Titan FX provides the see-thru side window seen on many gaming systems these days. It is also equipped with a Blue Neon case light.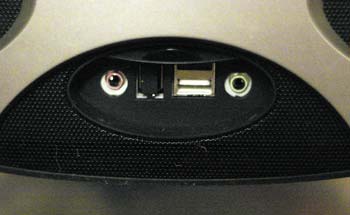 Inside a front lift-open door are the front jacks, which include 3 USB, firewire, headphone and mic jacks.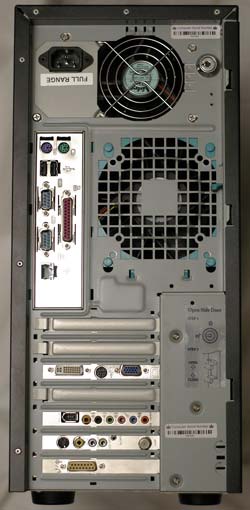 With the motherboard, ATI Radeon XT, Creative Audigy 2, and MSI TV@nywhere card, there are a plethora of jacks on the rear panel. You get 2 more USB 2.0 jacks, the full complement of Audigy 2 audio I/O, digital and analog outputs on the ATI 9800 XT, video ports on the TV card, 10/1000 LAN port, parallel, and 2 serial, game and PS2 mouse/keyboard ports. The incredible selection of available ports on the delivered Titan FX should satisfy just about any expansion need.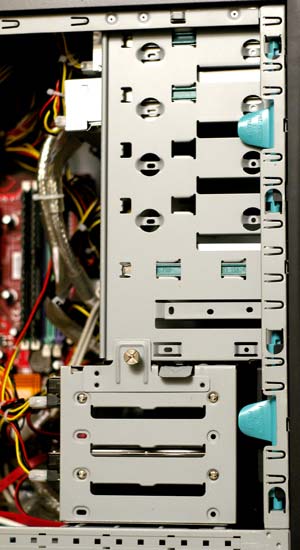 Getting into the Titan FX case is fairly simple, since it is a screw-less design. Slide a lever at the left rear and the entire left side panel can be removed. The standard system is loaded with top-line components, as you can see in this photo.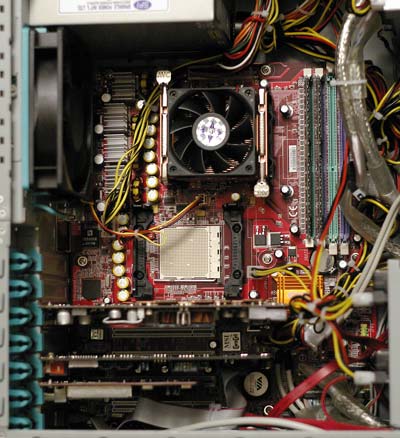 With the case open, you get a good view of the simple, but effective, cooling system for the Athlon64 FX51. Cooling air is pulled into the case by an 80mm intake fan at the bottom front of the case. The CPU itself is cooled by an AVC/MSI heatsink-fan with thin copper fins and a 70mm fan. Hot air from the system is exhausted at the upper rear by a 120mm fan. While we did not measure noise level, the whole system is on the noisy side as shipped. Most of the noise is generated by the 120mm fan, which is turning at a much higher rpm than is necessary. We would strongly suggest using the Smart Fan features in the PC Health section of the BIOS to tie the 120mm fan to system temperature. Just doing this drops noise levels substantially without compromising system temperature. The good side to the high-speed 120mm fan is that you do have the option to move massive amounts of air for system overclocking.
Elite PC Titan FX: MSI K8T Master2-FAR Motherboard
 Motherboard Specifications
CPU Interface
Socket-940 Athlon64FX/Opteron
Number of CPUs
One or Two A64FX or Opteron
Chipset
VIA K8T800 (North Bridge)
VIA VT8237 (South Bridge)
Bus Speeds
200 to 233 in 1MHz increments
AGP/PCI Speeds
No adjustment
Core Voltages Supported
Fixed
AGP Voltages Supported
Fixed
DRAM Voltages Supported
Fixed
Memory Slots
4 184-pin Dual-Channel DDR DIMM Slots
2 DIMMs (2 x 512MB) Mushkin High Performance ECC Registered Memory installed provide 1 GB of DDR400 memory at 2-3-2-8 timings
Expansion Slots
1 AGP 8X Slot
4 PCI Slot
Onboard Graphics
None — ATI 9800 XT installed
Onboard RAID
VIA SATA RAID
2 x 36.7GB WD Raptor SATA 1000RPM Drives Installed in Raid 0 configuration
Onboard USB 2.0/IEEE-1394
SIX USB 2.0 supported through 8237
FireWire Controller on Audigy 2
Onboard LAN
100/1000
Onboard Audio
AC '97 2.2 Audio disabled
Creative Audigy 2 5.1 Digital Audio installed
Onboard Serial ATA
Two Standard SATA connectors 8237
Used by SATA RAID 0
The MSI K8T Master 2-FAR motherboard is a standard ATX motherboard designed for Workstation use. Elite PC chose this board to be able to provide outstanding performance with a single FX chip and future expansion with a second socket for dual Opteron processors. Since we have found the Opteron to scale very well with multiple processors, this is an excellent option
if
the single CPU version performs competitively. For more information on Opteron CPU performance with multiple processors, please see
Part 2 of our Opteron review
.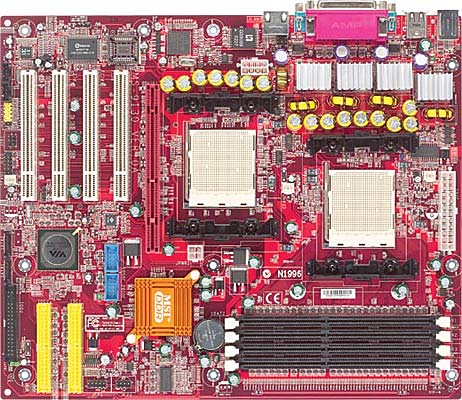 Since the MSI K8T Master 2-FAR is a stock motherboard, you can find more information on the board and BIOS upgrades at
MSI's site
. While MSI classifies the K8T Master 2 as a workstation board, the feature-set is comparable to a desktop board. USB 2.0, SATA RAID, 8X AGP, standard PCI slots, and ATA133 IDE are all standard features. The only major concession to providing Dual CPU support is that MSI could only fit 4 PCI slots on the K8T Master.
The Titan FX is equipped with 2 x 512Mb (1GB) of Mushkin High Performance ECC Registered memory. This very fast registered memory can perform at 2-3-2-8 timings, which is much faster than other registered memory that we have tested. The memory is based on Winbond CH5 memory chips. OCZ also provides a fast 2-3-2-8 registered memory based on the same chips. We plan to compare available Registered Memory for the Athlon64 FX/Opteron in an upcoming memory review. The Mushkin is one of the fastest registered modules that we have tested and is a good choice for the Titan FX.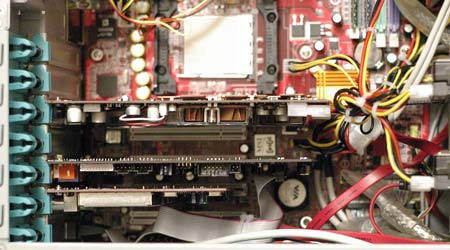 The Titan FX uses the top-line Radeon XT with 256Mb of memory to fill the 8X AGP slot. Two of the four PCI slots available on the K8T Master-2 motherboard are filled with a Creative Audigy 2 sound card and the MSI TV@nywhere card. This leaves 2 available slots for expansion, though there is so much already installed on the Titan FX that there should be little need for additional expansion slots. They are there if you need them.
Elite PC Titan FX: BIOS and Overclocking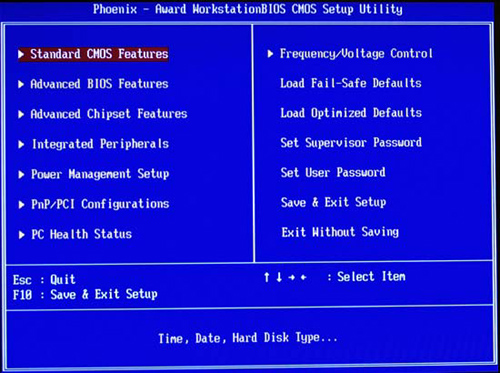 The Titan FX uses the familiar Award BIOS on the MSI K8T Master 2 motherboard. The available options should be very familiar to the Gamer and Computer Enthusiast who are the target audience for the Elite PC Titan FX, so we will not repeat the obvious.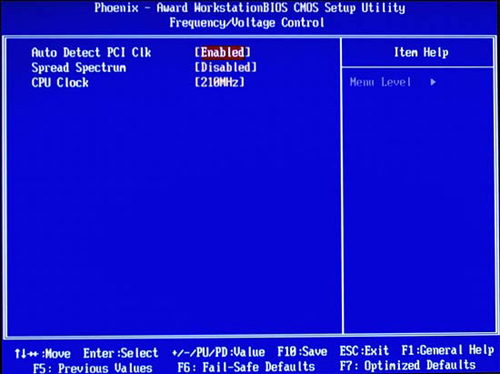 While there is a Frequency and Voltage control section in the BIOS, the only adjustment that can be made is to the CPU FSB, with a range of 200 to 233. There are no adjustments available at all for voltage.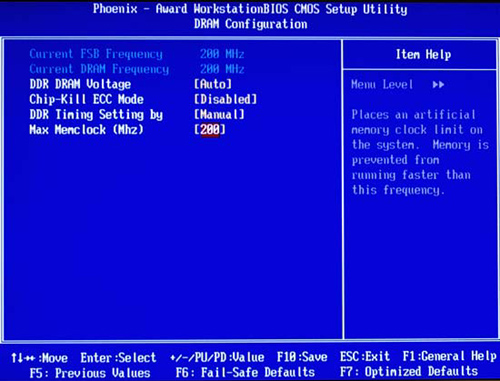 This also extends to the memory timings options. While you can force memory speed, there are no adjustments available for memory timings. Fortunately, the MSI does read and set SPD timings properly, which is why we see the excellent 2-3-2-8 timings with the Mushkin High Performance ECC Registered memory.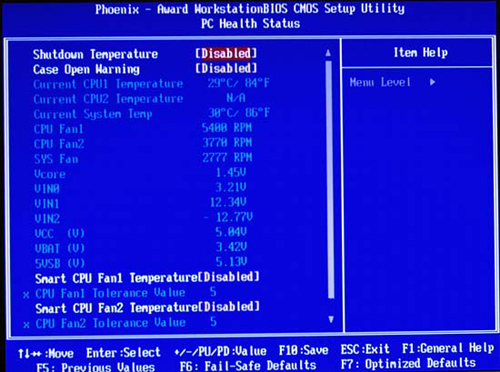 A very complete selection of system monitoring functions is available in the BIOS for the MSI K8T. This includes the option to control fan speeds automatically. We strongly recommend you use these fan control options to set the system for automatic fan speeds controlled by system temperature.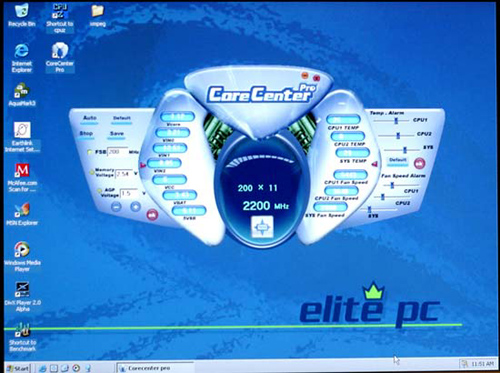 The Titan FX also comes with MSI's Core Center Pro windows-based utility for system monitoring and overclocking control. Since there are so few real options for tweaking and overclocking on this Workstation board, Core Center is mainly useful as a monitoring utility that works in Windows. None of the overclocking controls appear to work, but it is possible to set monitoring options.
FSB Overclocking Results
We are not surprised that only very limited overclocking controls are available on a board that is aimed at the Workstation market. With so few controls, we really did not expect much in overclocking, but we were able to reach a raw speed of 211 (844FSB), or about a 6% overclock, with stability. Any setting above 211 caused memory failure. We have tested Mushkin and OCZ's registered memory to about 220 (DDR440) with slower timings on other motherboards.
Front Side Bus Overclocking Testbed
Default Voltage
Processor:
Athlon64 FX1
2.2GHz
CPU Voltage:
1.5V (default)
Cooling:
AVC/MSI Heatsink/Fan
Power Supply:
Sparkle 460W
Maximum OC:
2320MHz (+6%)
211FSB
We have been able to reach overclocks of about 230 (DDR460) by lowering the memory setting to 333 on nF3 boards as well. We suspect that if we had the ability to increase memory voltage or actually tweak memory timings, we might get better overclocks on this board.
Elite PC Titan FX: Stress Testing
We performed stress tests on the Elite PC Titan FX in these areas and configurations:
1. Chipset and motherboard stress testing, conducted by running the FSB at 210MHz.
2. Memory stress testing, conducted by running RAM at 400MHz with 2 DIMM slots filled and at 400MHz with all 4 DIMM slots filled at the lowest memory timings possible.
Front Side Bus Stress Test Results:
A full range of stress tests and benchmarks were run to ensure the Titan FX system was absolutely stable at the overclocked FSB speed of 211. This included Prime95 torture tests, and the addition of other tasks like data compression, various DX8 and DX9 games, and apps like Word and Excel. Finally, we ran our benchmark suite, which includes ZD Winstone suite, Unreal Tournament 2003, SPECviewperf 7.0, and Gun Metal Benchmark 2. At default voltage, 211MHz was the highest overclock that we were able to achieve with the Titan FX while running these tests. Since failures at higher overclocks were always related to memory, we suspect that we could achieve a higher overclock if memory timings were adjustable on the MSI K8T Master-2 motherboard.
Memory Stress Test Results:
The memory stress test simply tests the ability of the Titan FX system to operate at its officially supported memory frequency (400MHz DDR) at the lowest supported memory timings that the shipped Mushkin High Performance ECC Registered Modules will support:
Stable DDR400 Timings — 2 DIMMs
(2/4 Dual-Channel DIMMs populated)
Clock Speed:
200MHz
Timing Mode:
N/A
CAS Latency:
2.0
Bank Interleave:
N/A
RAS to CAS Delay:
3T
RAS Precharge:
8T
Precharge Delay:
2T
Command Rate:
N/A
We had no problem running the 2 DS 512MB DIMMs in Dual-Channel mode with complete stability. While the motherboard sets SPD timings only, the actual memory timings that were running were 2-3-2-8 as confirmed by CPU-Z, Version 1.20a.
Filling all available memory banks is more strenuous on the memory subsystem than testing 2 DIMMs, so we tried filling all 4 memory slots — 2 Dual-Channel banks — with Mushkin High Performance ECC memory. While the system would reach the initial boot screen, it could not complete a system boot. We thought perhaps that the SPD timings might be a bit aggressive for 4 DIMMs on the VIA K8T800 board, so we tried 4 x 512Mb Legacy Electronics Registered ECC DIMMs, which we have run in an nVidia nForce3 Reference Board with no problems. The Legacy registered memory has 2.5-3-3-6 timings, but the 4 DIMMs of Legacy memory also would not boot. We also could not get even 2 sticks of Legacy CAS 2.5 to boot on the MSI K8T Master. We then tried OCZ EC registered 3200 and Kingston ECC Registered 3200. Both these memories booted fine when we installed 2 DIMMs. The OCZ has 2-3-2-8 timings like the Mushkin, while the Kingston is based on Samsung chips and has 3-3-3-8 timings.
Finally, we tried 4 Kingston ECC Registered DIMMs, which we had pulled from another system. While 2 booted fine, we could not get 4 DIMMs to go past the initial boot screen. In the end, no combination of 4 DS 512MB ECC Registered DIMMs would work. It appears the MSI K8T Master-2 is very sensitive to the memory it is fed. Our advice is to plan to use 2 DIMMs, or to order the Titan FX with 4 DIMMs. Elite PC does offer this option and this should deliver the working 4 DIMMs if that is what you want. Do not plan to just grab 4 ECC Registered DIMMs for this board as there is no assurance that they will work properly.
Frankly, we have seen difficulty going beyond 2 DIMMs on VIA K8T800 motherboards for both Athlon64 and Athlon64FX Opteron. It appears that the chipset is
very
picky about the memory used beyond 2 DIMMs.
Elite PC Titan FX: The Test
The full suite of AnandTech benchmarks was run with the Elite PC Titan FX gaming system. Elite PC shipped the system with an ATI Radeon 9800 XT video card, which was used for all benchmarks. The Elite PC Titan FX is configured almost exactly like the Dell Dimension XPS gaming system that we recently tested, so benchmarks are directly comparable between the Dell XPS and Titan FX systems. The Dell uses the 3.2 Pentium 4, while the Elite PC is using the Athlon64 FX51.
Please keep in mind that
all
of our other comparison benchmarks, except the Elite PC and Dell, were run with the ATI Radeon 9800 PRO, which is slightly slower. The 9800 PRO and XT use essentially the same GPU, but the XT is clocked a bit faster than the 9800 PRO. For a better idea on how the two cards compare, please refer to our benchmarks in AnandTech's
ATI 9800 XT review
.
Memory timings were run with the memory and setup as provided by Elite PC. We confirmed with CPU-Z 1.20a that the Titan FX runs the installed DDR400 memory at 2-3-2-8 timings. This compares to the 2-2-2-6 timings we normally use in our component reviews at DDR400.
The Titan FX was delivered with a full installation of Windows XP Professional, which is our standard OS, and we made no attempt to reinstall. We test systems as delivered, tweaking just the items to make the fairest comparisons to our archived test results. To provide the best test results under these circumstances, all co-resident applications and special services loading at startup were turned off so they would not load at boot. Benchmarks were installed and run from the nearly empty 75GB SATA RAID array. AnandTech benchmarks are normally run with sound disabled to remove the influence of varying overhead depending on the sound chip used on the board or video card. We therefore disabled all sound on the Elite PC Titan FX to provide the most comparable benchmarks. As we did on the recent test of the Dell XPS, we disabled all Creative Audigy drivers in the Control Panel System profile.
As already stated, the Titan FX and Dell XPS are almost identical in their configuration, except for CPU, and can be directly compared. The Dell uses the top 3.2GHz Pentium 4, while the Titan FX uses the top AMD Athlon64 FX51. We included results from the Asus P4C800-E, a top 875P motherboard, and top Athlon64 FX, Athlon 64, and Athlon XP 3200+ motherboards we have tested in our standard test configuration.
Performance Test Configuration
Processor(s):
AMD Athlon64 FX51 (2.2GHz)
Intel Pentium 4 at 3.2GHz (800FSB)
AMD Athlon64 3200+ (2.0GHz)
AMD Athlon XP 3200+ (2.2GHz, 400MHz FSB)
RAM:
2 x 512MB Mushkin ECC Registered PC3200
2 x 512MB Mushkin PC3500 Level II
Hard Drive(s):
2 x 36.7 WD Raptor 10000 RPM drives in RAID 0
2 x 250 Dell 7200 drives in RAID 0
Maxtor 120GB 7200 RPM (8MB Buffer)
Video AGP & IDE Bus Master Drivers:
VIA 4in1 Hyperion 4.49 (August 20, 2003)
Intel SATA RAID Drivers
NVIDIA nForce version 2.45 (7/29/2003)
Video Card(s):
ATI Radeon 9800 XT 256MB (AGP 8X) ATI Radeon 9800 PRO 128MB (AGP 8X)
Video Drivers:
ATI Catalyst 3.8
Operating System(s):
Windows XP Professional SP1
Windows XP Home (Dell Dimension XPS)
Motherboards:
MSI K8T Master 2-FAR in Elite PC Titan FX
Dell Dimension XPS Gaming System
Asus P4C800-E (Intel 875P) 3.2Ghz P4
Abit KV8-MAX3
Gigabyte K8NNXP-940 Athlon64 FX51
Chaintech ZNF3-150 (nForce3) Athlon64 3200+
MSI K8T Neo (VIA K8T800) Athlon64 3200+
DFI NFII Ultra (nForce2 U400) Barton 3200+
Recent performance tests on Athlon64, nForce2 Ultra 400 and Intel 875/865 boards used 2 x 512MB Mushkin PC3500 Level II Double-bank memory. The Athlon64 FX requires Registered or Registered ECC memory, so tests with the Elite PC Titan FX and Gigabyte K8NNXP-940 were performed with Mushkin High Performance ECC Registered DDR400 memory.
All performance tests were run with the ATI 9800 PRO 128MB video card with AGP Aperture set to 128MB with Fast Write enabled. Resolution in all benchmarks is 1024x768x32.
For the fairest comparisons, benchmarks were recompiled for the Asus P4C800-E using a 3.2GHz Pentium 4 processor.
Additions to Performance Tests
We have standardized on
ZD Labs Internet Content Creation Winstone 2003
and
ZD Labs Business Winstone 2002
for system benchmarking.
Game Benchmarks
We have added Aquamark 3,
Gun Metal DirectX Benchmark 2
for Direct X 9 from Yeti Labs, and the
X2 Benchmark
, which includes Transform and Lighting effects, to our standard game benchmarks. We will be adding other benchmarks in the near future.
Content Creation and General Usage Performance
One of the advantages a good system builder has is the ability to tweak a full system for the best performance possible. It is impossible to look at the incredible scores posted by the Elite PC Titan FX without being impressed with this gaming system. While Dell just achieved the first Content Creation score to approach 60, the Titan FX scores almost 70 in the same test. The Titan FX score of 67.9 is almost 10 points higher than the best that we have ever seen in this benchmark. That is 10 points better than a 3.2GHz Pentium 4 running almost the same components in the Dell Dimension XPS.
We see the same strong performance in Business Winstone 2002, which has always been a strong area for AMD processors. Here, at a score of 51.6, the Titan FX is outperforming the best that we have seen by 8 points or almost 20%.
Undoubtedly, the 10,000 RPM Raptor SATA RAID array combined with the fast registered memory is pushing the Titan FX to new highs. Elite PC has done a great job balancing components and the performance is very impressive.
Gaming Performance
In every gaming benchmark, except Gun Metal 2, the Elite PC Titan FX rises to the top of gaming performance. A stock Aquamark 3 score of almost 50,000 is very impressive, but no less so than the 465fps in Quake 3. The Titan FX has been tweaked to demonstrate the gaming prowess of the Athlon64 FX chip and it really shows.
We suspect that the Gun Metal 2 results have more to do with the chipset used than actual performance. We have found the scores of the FX51 chips with this benchmark are very unusual, and we have asked Yeti Labs for help in understanding what is going on with this benchmark on nVidia and VIA chipsets.
Unreal Tournament 2003 Flyby is the highest score that we have ever measured at stock speed. So are UT2003 Botmatch, Aquamark 3, X2, and Quake 3. Mpeg conversion is still led by the P4, but the Titan FX did post the highest AMD score that we have seen so far.
The Elite PC Titan FX lives up to its name in our gaming benchmark suite. It's the fastest machine we have ever tested. Since the Titan FX was also tested with an installed Audigy 2 with disabled sound drivers, we can now be reasonably sure that our benchmark variations in our recent Dell Dimension XPS tests were not the result of remnants of Audigy sound drivers. Something else must be responsible for the variations we saw in the Dell scores, since none of the Titan FX scores appear to be compromised in any way.
High End Workstation Performance
The SPECviewperf performance tests were a huge surprise on the Elite PC Titan FX. We expected competent performance, but we really were not expecting to see the Titan FX at the top of
all
of the Workstation Performance tests. While our earlier tests of the Athlon64 FX chip have shown it is more than competitive with the Pentium 4 in Workstation Performance, the Titan FX shows that a properly set up FX processor can dominate these benchmarks. The results are outstanding.
Final Words
Elite PC has been selling computers on the web for quite a while, and we have seen their advertisements in many computer magazines. They also maintain a storefront and LAN Gaming Center at their headquarters in Tempe, Arizona. However, in the end, their main focus has been, and continues to be, as a web-based reseller. This is our first look at an Elite PC system and to say that we are impressed with what we have found would be an understatement.
The Elite PC Titan FX is the best Gaming System AnandTech has ever tested. It is also more than just a gaming system. In
every
benchmark we have run, the Titan FX is at the top of our performance charts! In some cases, the margin of victory is small, but in others, the Titan FX demolishes what had been our previous high score. There is no doubt that Elite PC's decision to use fast Mushkin ECC Registered memory and a SATA RAID built with Western Digital 10,000RPM Raptor drives have contributed strongly to the blazing performance we see here. Then, add in the Athlon64 FX51 and the 256mb ATI Radeon XT, and you have quite a contender. However, Elite PC, like any system builder, can choose the parts they put into their systems, and their choices for this system are extremely well balanced for absolute top performance. Elite PC appears to have chosen the parts for the Titan FX with great care and tweaked the system for blazing performance.
That is not to say the Titan FX is completely trouble-free. While the performance with 2 DIMMs was blazing, we were not able to get 4 ECC Registered DIMMs to work in this board. We are hopeful that MSI or Elite PC can fix this issue because it is the only real negative we found in this system. Perhaps a BIOS update or careful selection of 4 modules by Elite PC will make the use of 4 DIMMs a non-issue. The other is overclocking, where the Titan FX was a disappointment. At least you can overclock, but we wish we had seen results faster than about 6% overclock. This is strongly offset, however, by the option to add a 2
nd
CPU to the Titan FX. In Anand's earlier testing of the Opteron, he found that the 2
nd
processor increased overall performance by more than 25%. If the Elite PC Titan FX scales similarly, and we have every reason to expect it will, then the performance increase with 2 Opteron chips will blow well past what any enthusiast might hope to achieve with overclocking a single CPU.
So the point is not missed — the Elite PC Titan FX is the fastest gaming system we have ever tested. The Titan FX is, in fact, the fastest single processor system we have ever tested, however we benchmark it. What's more, this Dual-CPU board can be expanded to two Opteron processors for even higher performance levels. The fastest performer does not come at a bargain-basement price, nor do we believe you would expect that for a system that has the best performance tested. For $3000, you get the system exactly as we tested it, but you will need to add a monitor, keyboard, mouse, and speakers for a complete system. Despite the $3000 price tag, we still believe the Elite PC Titan FX offers excellent value for your money.
This is the fastest system we have tested, period. Sometimes it is easy to send a system back after a review, but this is one system that will be sorely missed when it is returned to Elite PC. If you (or your Santa) are well-heeled or extremely generous, then put the Elite PC Titan FX on your shopping list. You will not be disappointed. The $3000 price tag is a virtual bargain when you look at the performance that you can achieve with this system.