Original Link: http://www.anandtech.com/show/1181


As you probably have noticed, we took a small hiatus from All-in-Wonder reviews, skipping the All-in-Wonder 9800 Pro (among others). By no means are we implying that it is a poor product. Rather, it was and continues to be a great multimedia product that addresses the need of the enthusiasts and high-end market segment. However, overall, the All-in-Wonder 9800 Pro was a minor upgrade from the
All-in-Wonder 9700 Pro
, basically with an improved graphics processor.
From a price point, the All-in-Wonder 9800 Pro took its former contender's spot at $449 and effectively, the All-in-Wonder 9700 Pro was bumped down to $399. At these prices though, these cards are intended clearly for those with a bit of cash to spare in the multimedia department.
Earlier in August, ATI announced the All-in-Wonder 9600 Pro, and since that time, it has been emphasizing aggressively as mainstream multimedia choice, essentially replacing the
All-in-Wonder Radeon 8500
.
Approximately two and a half months have passed since product launch, and we have set aside time to take a look at this new offering. After all, it isn't too often that we get a chance to see technical change to the design of the All-in-Wonder line (which we will explore further in the review), as ATI still continues to employ their "like it or love it" purple video in breakout box.
Even though some time has passed, we have yet to see the All-in-Wonder 9600 Pro listed on the price list, at least for the US. From the information that we have been passed, we expect to see it listed at $249, a much easier-to-swallow price than even its predecessor (
All-in-Wonder Radeon 8500
) at $299. That, coupled with new features such as EasyLook and an FM Tuner, the All-in-Wonder 9600 Pro still begs the question, "is it worth my $249?"
The Test
Our system is a bit more loaded than perhaps you will use, but we were just testing out the features. For performance, we would recommend reading our
Radeon 9600 Pro coverage
.
Windows XP Professional Test System
CPU(s)
Pentium 4 3.0GHz
Motherboard(s)
MSI 875P Neo-FIS2R
Memory
1GB PC3500
Hard Drive
IBM Deskstar DLTA-07N8084 80.0GB 7200 RPM
CDROM
Pioneer DVD(16X)/CD-ROM(40X)
Video Card(s)
ATI All-in-Wonder 9600 Pro
Ethernet
Onboard Intel Gigabit
Operating System
Windows XP Professional SP1
Video Drivers
ATI Catalyst 3.8
ATI's All-in-Wonder 9600 Pro
As the name implies, the All-in-Wonder 9600 Pro is based on the Radeon 9600 Pro, but compared to past AIW cards, the AIW 9600 Pro takes a few strides that we haven't seen before.
Traditionally, ATI has tried to match the wits of an AIW card to its graphics only counterpart, as the AIW uses the same graphics processor unit. Recently, the clock speeds for AIW cards have been able to keep up with the clock speeds of graphics-only cards. Now though, for the first time, we see an AIW surpass the clock speeds of its counterpart. While the Radeon 9600 Pro is clocked at 400MHz core clock and 600MHz memory clock (effective), the final clock of the All-in-Wonder 9600 Pro was at 400MHz core clock and 650MHz memory clock (effective). The 50MHz memory clock increase seems to be the result of time that ATI has taken to go over and tweak out the remaining juice, something that wasn't originally planned. The result is performance that will run between the
Radeon 9600 Pro
and the
Radeon 9600XT
, though definitely leaning toward the former than the latter.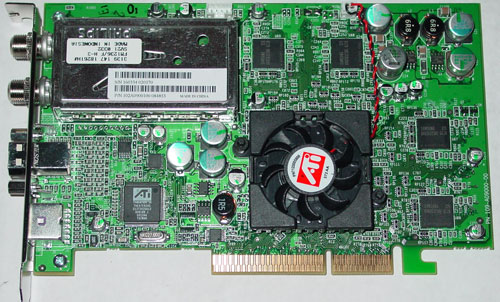 Click to enlarge.
The AIW 9600 Pro also features a new analog tuner from Philips, which has become dual purpose. The tuner still maintains its TV functionality, but now adds FM tuner support for stations between the ranges of 87.5MHz and 108.0MHz.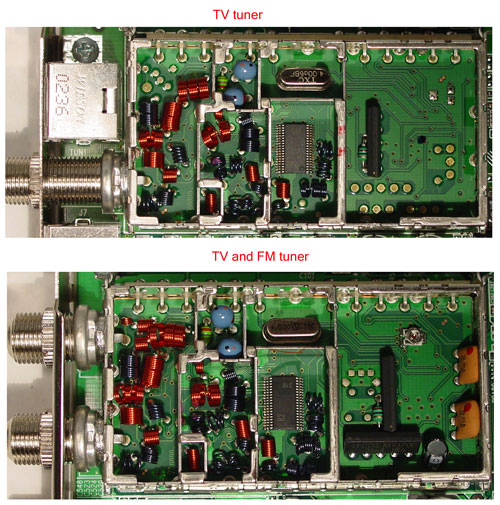 Because of dual monitor support, ATI has been forced to rearrange the connector layout scheme. Considering the alignment of the TV tuner, it would have been impossible to place two display outputs (DVI and/or VGA in any combination) and I/O ports on a single slot. For this to be accomplished, ATI would have had to use a riser for a two-slot design, similar to what ABIT has done with their OTES cards. Though this would be considered bulky and odd for the mainstream market, the other option was to redesign the I/O layout. VGA and DVI are outputs, so naturally, combining this with the traditional output connectors into a single cable makes perfect sense. By this method, ATI is able to keep I/O cables separate and still make room for the tuner — in this case, the TV and FM tuner.

Click to enlarge.
The All-in-Wonder 9600 Pro uses a new video out interface that is secured via screws, which we preferred over the clip method that we saw on the first batch of Personal Cinema 2 cards. Component output is supported by the VGA to YPrPb component adapter, which needs to be separately purchased. The All-in-Wonder 9700 Pro and 9800 Pro are the only All-in-Wonder cards that will be equipped with in-box component adapters.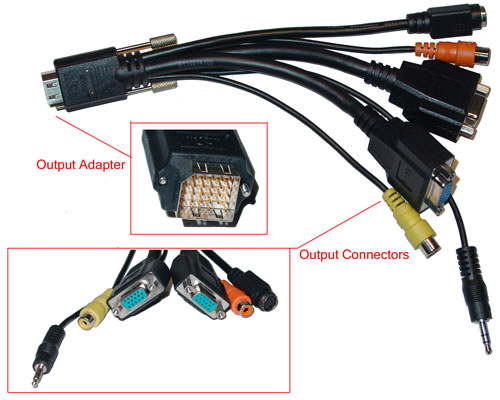 Click to enlarge.
A/V input still comes via the traditional purple breakout box. Meanwhile, the Theater 200 chip, which we looked at in our ATI All-in-Wonder 9700
preview
and
review
, continues its life cycle in the All-in-Wonder 9600 Pro.
Dual Monitor Support — What the doctor ordered
One of the biggest requests for the All-in-Wonder product line has been dual monitor support (from dual engines). This is something long in waiting, which was first materialized in Personal Cinema 2, though still a bit "off."
The reason behind this frequent request is that the act of watching TV or a movie is often done in conjunction with doing something productive (like writing an article, in our case). With TV or File Player running, it does take up a significant amount of desktop space, and the only way to work on a spreadsheet and watch media (TV or File) is to enable ThruView (which manipulates the video in a certain transparency range). Though ThruView isn't the same as watching TV and working on a spreadsheet separately, it is a clever idea as a space saver. That having been said, the need/want to multitask and the increase of desktop space are obvious reasons for dual monitor support for an All-in-Wonder card.
The problem, however, comes in the implementation of dual monitor support. Previous All-in-Wonder cards could do simply one monitor plus another device (TV monitor, projector, etc.). However, the single video source could only be shown on the primary display.
Now, ATI has brought the All-in-Wonder 9600 Pro with dual monitor support, which brings the option of running up to three displays (dual monitor and TV/projector/etc. in clone mode). Yet, there are certain limitations to the way dual monitor support works. TV, for one, can't be extended over the second monitor so that it is viewed on both monitors at the same time. When you drag the TV window towards the other desktop, there is a docking effect, where you just hit the edge of the primary monitor and are automatically stopped. While running video on the second monitor, you can't get the extending effect either, which the Personal Cinema 2 allows. When you drag the window to the other desktop, the video simply appears there. Meanwhile, whichever desktop has less video occupying it, the video won't appear on that monitor's desktop space.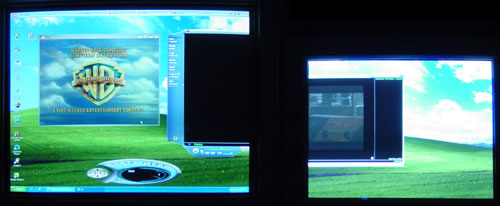 Click to enlarge.
Multimedia Center anew — FM Tuner
Since we last touched on Multimedia Center 8.0, there has been a lot of moving afoot for ATI's Multimedia Center. First, we have the most apparent upgrade: EasyLook, which we will explore further in the review.
Second on the list is the FM Player, which is perfectly appropriate, since the All-in-Wonder 9600 Pro comes with an FM tuner. The FM Player works very similar to the TV Player: adjusting frequencies, scheduled recordings, and time shifting. FM-on-Demand is always on because it is hard to know what will be playing next, since there is no one-stop place for FM listing. Therefore, you will need to go through your FM-on-Demand and clip whichever segment of audio you want to export.

Based our experience, the All-in-Wonder 9600 Pro has a range of 87.5MHz and 108.0MHz. The FM tuner has a mechanical specified range of 75.9MHz to 108MHz, but according to regionally available FM frequencies, the All-in-Wonder 9600 Pro will auto detect a range. Stations can be tuned by 0.1MHz frequency increments with the tune up/down buttons, but via the scheduling, there seems to be an ability to tune in 0.01MHz frequency increments.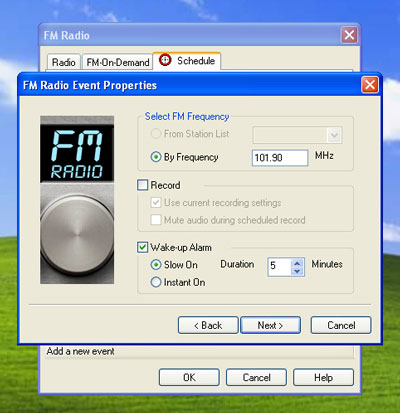 Of course, ATI gives you the ability to record, though only in one format: MP3, 224KHz, 16bit, Stereo.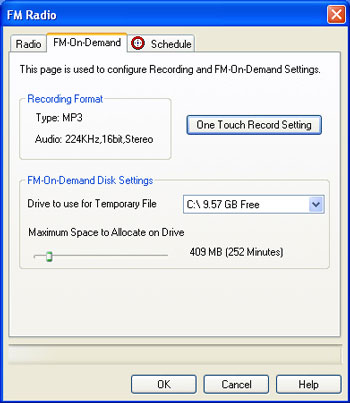 Because there is no universal place for FM listings like there is for TV listings, there is a need to add the station name manually.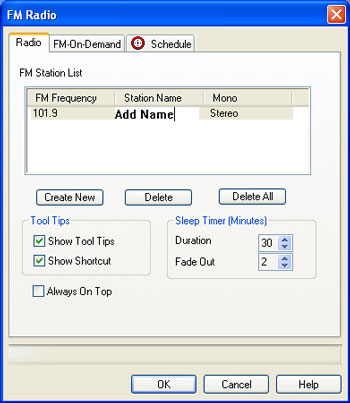 Multimedia Center anew — Integrated Media Burning & Muvee
ATI continues to bundle their version of Pinnacle Studio 8, which brought the software capability to burn content directly to disk. The problem with this still remains that it is part of a 3
rd
party software vendor, even though the hardware still concurrently supports direct burn-to-disk. It is likely that ATI will incorporate this feature into Multimedia Center in the future, but until that time, ATI has integrated a burn-to-disk function within their Library. Once you click on the "create media layout" button, you are prompted with a dialog box to set up the media export to disk.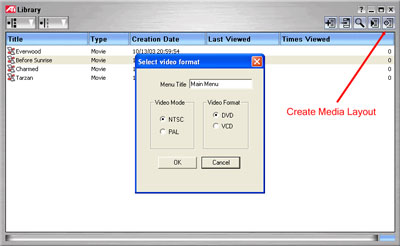 Click to enlarge.
It is interesting to note that ATI offers a selection of schemes, which to burn DVDs/VCDs. The selection is for the art work, which is the background of the disk, such as in chapter preview.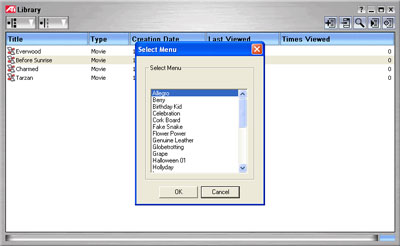 Click to enlarge.
After scheme selection, the Library creates a separate field below the listed media, and allows users to simply drag and drop media selection. With this done, exporting to disk is ready to go. This was intended to give users more flexibility to archive their media, and is particularly helpful because it is a one-stop location to do so.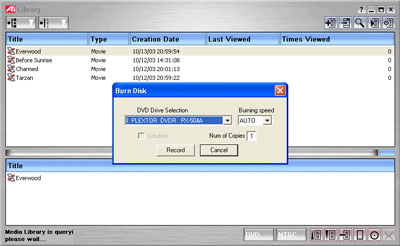 Click to enlarge.
New to the bundle is muvee autoProducer DVD Edition, which helps users make the movie making process more dummy proof. The idea is that with 6-buttons, you can select the video, audio, a pre-defined style, captions, and then make a movie out of them with transitions and special effects. We found it to be a cleaner and easier-to-use program than VideoStudio, which has been bundled traditionally with All-in-Wonder cards.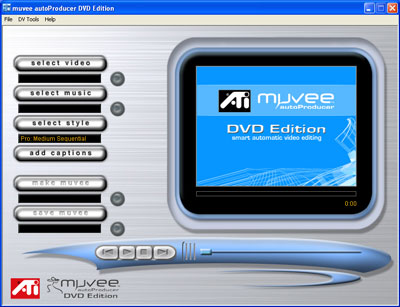 Click to enlarge.
EasyLook — Squint no more
Since ATI's Multimedia Center 8.0, there have been two new versions introduced with a significant (new) visual feature implemented: EasyLook (in Multimedia Center 8.5 and greater). ATI has recognized the use of their remote (Remote Wonder) in combination with an AIW card for home entertainment. It often means that the user will be sitting on the couch with about 10+ feet between them and the TV/display. As a result, changing the channel with small fonts is straining on the eyes, and this still lacks the versatility that a set top box would bring.
After all, with a cable TV set top box and a PVR, TV listings and the ability to set recordings become fully interact able with nice large fonts. Setting a TV show to auto record becomes that much harder when you have to squint to confirm that you had set it up correctly. EasyLook is a clean and easy-to-use interface that is reminiscent of Windows XP Multimedia Center Edition, and we have found this to be an invaluable tool. To be perfectly honest, we continue to be amazed, having survived the use of past All-in-Wonders without this feature…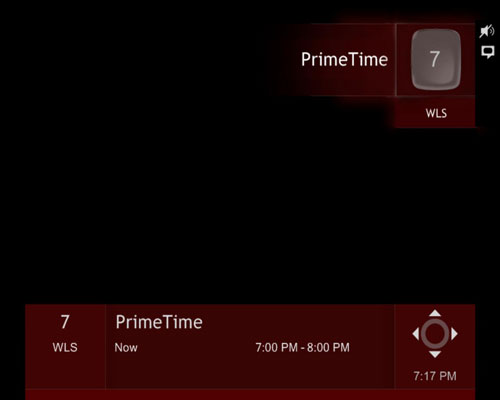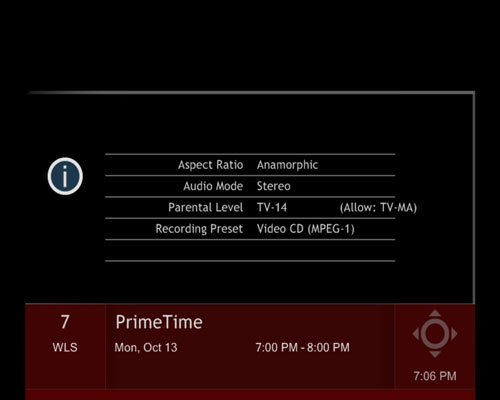 You can still use a keyboard to access all, plus more, functions of a Remote Wonder. At a distance of 10+ feet, cables will get cumbersome, and we recommend sticking to the remote. A wireless keyboard still isn't the same as a remote for us. We try and keep the other hand free for our snacks...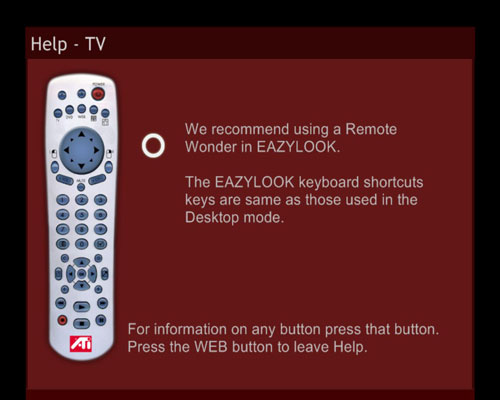 New to Multimedia Center 8.6 is channel surfing in EasyLook, which makes everything nice and neat. Instead of constantly flipping through the channels, channel surfing in EasyLook provides a way to preview 6 or 24 channels at once. If your tuner receives more than 24 channels, EasyLook channel surf automatically displays thumbnail images to be viewed in a 4 x 6 grid. Less than 24 channels, the grid automatically configures itself into a 2 x 3 grid. This does mean that the 2 x 3 grid will display the thumbnail images larger than in the 4 x 6 grid.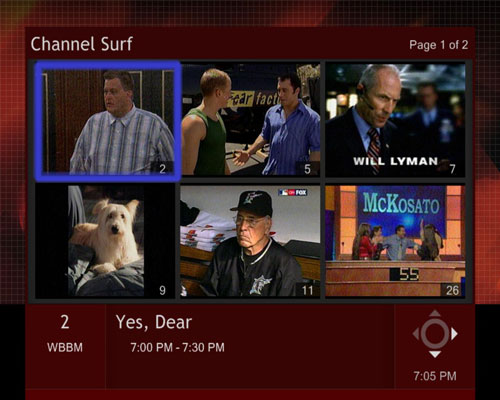 There is one glitch that we found in EasyLook that hasn't seemed to be resolved. Since EasyLook extends itself into other parts of Multimedia Center (DVD, File Player, etc.), we decided to tinker around a bit in those areas. We found that in File Player, changing the time dialog to display "remaining time" wouldn't transfer over to EasyLook, though it did in EasyLook DVD. Instead, the information bar would still read "Elapsed time" and show the time ticking down.
Conclusion
This isn't a bad time to be looking into a multimedia solution, particularly concerning the All-in-Wonder 9600 Pro. Of the All-in-Wonders available, there is little doubt that this may be perhaps the most desirable one, even surpassing All-in-Wonder 9700 Pro and 9800 Pro. With an FM tuner, a new breakout design, and a good performance-to-cost ratio, the All-in-Wonder 9600 Pro lives up to its hype, and it is in keeping with the "all in one" legacy. Some have even suggested that they would trade in their All-in-Wonder 9700 Pro or 9800 Pro for these new features.
The All-in-Wonder 9600 Pro isn't going to have the performance of the fastest offerings from ATI, but will provide good performance in 3D environments, which is why we have previously recommended a Radeon 9600 Pro for those more conscience of their budget.
If price is a large factor, you might just want to jump down to the All-in-Wonder 9000 Pro, but this will limit the ability to enjoy DX9 features. For those that own older All-in-Wonders, it isn't a bad time to consider upgrading (especially if you are eyeing the new features). But if you are waiting on DX9 titles, you may just want to hold off a bit till you need the support.
Then again, if 3D performance is top priority, you may want to go with an All-in-Wonder 9800 Pro or 9700 Pro (depending on how much extra distance you have to go). Just keep in mind that both are $150+ more than the All-in-Wonder 9600 Pro. On top of that, there are several key features of which you won't be able to take advantage. If you want both, you should hold off until ATI refreshes their high-end segment of this product line.
As you may or may not know, Windows XP Media Center Edition is a version of Windows that includes TIVO-type applications for watching, recording, and time shifting television. We have had the pleasure of playing around with the XP Media Center Edition, around the time of the
All-in-Wonder 9700 Pro review
and recently, at Computex 2003. Back in November, we heard that All-in-Wonders weren't compatible with Windows XP Media Center Edition because, according to Microsoft, one of the requirements for the new operating system is a fully hardware-based MPEG-2 encoder. The most recent All-in-Wonders, including the All-in-Wonder 9700 Pro and 9800 Pro, can do part of the encoding process in their hardware, but it isn't a fully hardware based MPEG-2 encoder. Therefore, it wouldn't be compatible with Windows XP Media Center Edition. When we learned this, we were very disappointed because All-in-Wonders would prove to be a "tried and true" product to couple perfectly with Windows XP Media Center Edition.
Previously, ATI was quick to point out that Windows XP Media Center Edition is being offered as an OEM-only operating system, and Microsoft had no plans to bring it to the consumer shelf in the near future. Back then, this was a true statement, and it still remains to be true. Though, this still meant that ATI was handicapped when trying to convince OEMs to use All-in-Wonder cards for the basis around which to build their Media Center Edition PC. This isn't small financial peas when you consider OEMs buy in large volumes.
This has recently changed for the better, as ATI and Microsoft have announced jointly the All-in-Wonder Encode, the first software MPEG-2 encoder for Windows Media Center Edition. Essentially, this should be a space saver because there is no need to use an add-in card for MPEG-2 encoding, which populates a PCI slot. The ability to use one card instead of two means that OEMs will be able to manufacturer PCs cheaper, faster, and lighter. Previously, software-based decoding was thought to be too slow, but now, that doesn't seem to be the case, as ATI promises the same or better performance. All-in-Wonder Encode is available with all of the All-in-Wonder product line, news that bodes well. This works in combination of
VideoSoap
to improve picture quality, and should make MPEG-2 compression work more efficiently. Intel is also part of this equation, as All-in-Wonder Encode is promoted to work very well with Hyper-Threading. We will have to wait and see if AMD's new 64-bit processors have the ability to keep up in this respect, but this is only if we are able to see an All-in-Wonder based Media Center Edition PCs built on an AMD system.
Even though All-in-Wonder is a consumer-oriented product, those who want it with Windows XP Media Center Edition will have to buy it from one of Microsoft's manufacturer partners. Right now, your best bet is Dell, which has all of their Media Center Edition PCs based on All-in-Wonders. Since it isn't an available product to the consumer market, Media Center Edition will only work with an All-in-Wonder if All-in-Wonder Encode is loaded. This requires a special driver stack; thus, buying a non-All-in-Wonder based Media Center Edition PC and putting in an All-in-Wonder will be unsuccessful.
The words of caution laid in our last All-in-Wonder review haven't been lifted completely, but things are going in the right direction. And while the support for the operating system is there, the upgrade options are a bit complicated, since the OS isn't available commercially. You can still be rest assured that if it does become available (we suspect it might in the future, but not for some time), your purchase of an All-in-Wonder will be ready. With that in mind, if you are looking for a great buy of multimedia functionality and 3D performance, we would strongly suggest that you take a look at the All-in-Wonder 9600 Pro. At a $50 premium over Radeon 9600 XT and $150 less than its nearest big brother, things aren't looking too bad; in fact, they are quite tempting.
So as time ticks away towards the holiday season, ATI is basking in the fact that all is right in the universe (high sales tend to help this). With sugar plums dancing in their heads, it indeed looks like it will be a very red and white holiday season. Time will tell if we will yet need to add some shades of green and black...