Original Link: http://www.anandtech.com/show/1153


The CEO of Albatron was one of the key players at Gigabyte as they grew from OEM supplier to one of the four largest motherboard makers in the world. That expertise and attention has now been focused on Albatron. While the Albatron name is barely in its second year of existence, the motherboards and video cards have already earned a reputation as solid products built with the computer enthusiast in mind.
In our testing of the recent nVidia nForce2 Ultra 400 and VIA KT600 chipsets, we have seen that nForce2 has not lost the Athlon performance crown. VIA's excellent KT600 chipset wins the features war, but nVidia has clearly remained the performance champion for now. In every benchmark series we run with Athlon, nVidia boards remain grouped ahead of the KT600 boards.
So, when we heard that Albatron had developed an enthusiast level nForce2 Ultra 400 board, we were anxious to take a look. Could the combination of the best-performing nForce2 Ultra 400 chipset with Albatron's attention to the Computer Enthusiast "wish-list" produce the best nForce2 Ultra 400 board on the market?
Albatron KX18D PROII: Basic Features
 Motherboard Specifications
CPU Interface
Socket-462
Chipset
nForce2 Ultra 400 North Bridge
nForce2 MCP-T South Bridge
Bus Speeds
100 to 300MHz (in 1MHz increments)
PCI/AGP Speeds
Auto (Variable) or Fixed 50-100MHz
(in 1 MHz increments)
Available CPU Ratios
5.0X to 24X
Available Dimm Ratios
1.0, 1.2, 1.33, 1.5, 1.6, 1.66, SPD, 2.0, 2.4, 2.5, 2.66, 3.0, 3.33, 4.0
Core Voltage
1.10 to 2.65V (1.10 to 1.85v in 0.025v increments,
1.90v to 2.65v in 0.05v increments)
DRAM Voltage
2.50v to 3.0 (in 0.1v increments)
Chipset Voltage
1.6v to 1.9v (in 0.1v increments)
AGP Voltage
1.5v to 1.8v (in 0.1v increments)
Memory Slots
Three 184-pin DDR DIMM Slots
in Dual-Channel Configuration
Expansion Slots
1 AGP 8X Slot
6 PCI Slots
Onboard IDE RAID
Two Standard ATA133/100/66
(maximum 4 IDE devices)
Onboard USB 2.0/IEEE-1394
Six USB 2.0 ports supported by MCP-T
TI TSB41AB2 IEEE-1394 FireWire (2 ports)
Onboard LAN
nForce MCP 10/100 Ethernet
Onboard Audio
Realtek ALC650 codec
AC '97 2.2 Compliant 6-Channel
Onboard Serial ATA
Silicon Image Sil3112 supports Raid 0/1
BIOS Revision
Dual BIOS — Release 1.00 7/22/2003
The Albatron KX18D PROII is Albatron's top Athlon board. As the flagship for Albatron's AMD offerings, it comes with just about every feature you might have on your Athlon wish list. The full-size ATX board attaches to the standard ATX case with 9 stand-offs.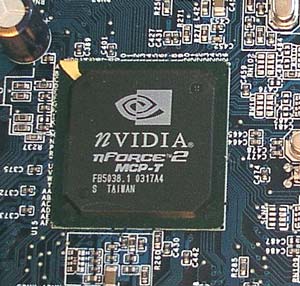 nVidia's MCP-T southbridge is the premium member of the nVidia MCP family. It provides USB support, provisions for up to two nVidia Ethernet connections, nVidia Sound Storm Audio capabilities, and ATA 133 IDE support.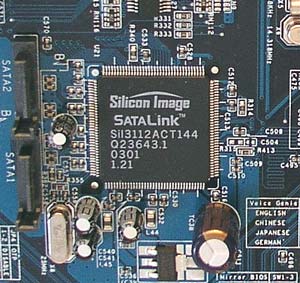 The KX18D PROII adds full Serial ATA support, as well as the option for SATA RAID 0 and 1 with the well-regarded Silicon Image 3112 controller. Combined with the MCP-T southbridge, you will have the option of using IDE drives to ATA133, Serial ATA drives, SATA RAID, or a combination of these options. Albatron provides a single SATA cable, and a Power Adapter that converts a standard 4-pin Molex connector to the standard SATA power connector.
The nVidia Sound Storm still requires an audio codec as the front end for Sound Storm audio. Albatron uses the common Realtek ALC650 chip, which is compliant with AC '97 2.2 to provide 6-channel sound. AC '97 2.2 seems to have replaced older AC.

If you have Dolby digital capabilities, SPDIF output is provided by an included SPDIF bracket. SPDIF in and out jacks are here for coaxial connections, as well as Optical SPDIF out, and the 2 additional jacks for rear speakers in a powered 4 to 6 speaker arrangement. This allows you to use rear speakers and still have microphone and audio input capabilities with the rear jacks. This is rarer than you might think, since many motherboards must program the jacks and use the mic and input jacks for speakers. nVidia's Sound Storm capabilities are well-known and well regarded, but you really need an external Dolby Digital Receiver or a powered speaker system with Dolby Digital capabilities to get the most from Sound Storm.
With such great attention to the often-overlooked SPDIF and rear speaker setup, we are a bit surprised that Albatron only included a single CD connector on the KX18D PRO. This board is clearly aimed at the Athlon Enthusiast, and these are the very users who often have more than one CD/DVD in their system. A second connector would be a nice addition to what is otherwise a great onboard audio setup.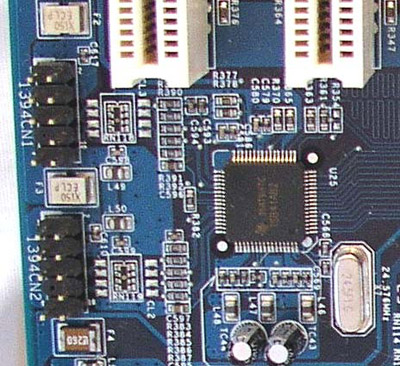 In addition to the 2 USB 2.0 ports on the rear I/O panel, four more USB 2.0 ports can be added using the included 4-port bracket. IEE 1384 firewire is provided by the Texas Instruments TSB41AB2 chip. Both standard ports are provided by an included bracket.
While MCP-T supports up to 2 Ethernet ports, the KX18D PROII implements just a single 10/100 LAN connection. It is the familiar nVidia MCP Ethernet 10/100.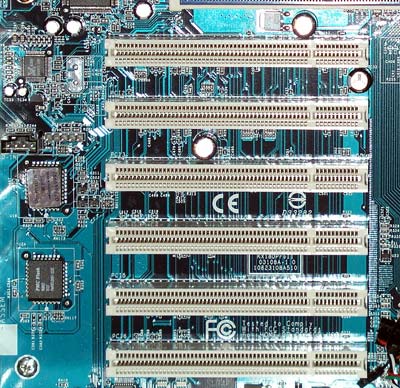 It is becoming rare to see six PCI slots on a motherboard these days, yet Albatron did include 6 PCI slots in this nForce2 Ultra 400 design. There is one caveat, however. As much as we are pleased that Albatron included full support for 6 USB, 2 firewire, and full SPDIF and mini jack support, if you install all these brackets, they will take up half of your available slots. For most, this won't matter, but if you
must
have 5 or 6 slots for your configuration, you have to choose which accessory brackets to install.

The KX18D PROII I/O ports configuration is the standard assortment you will find on the standard ATX backplate that comes with most cases. The arrangement of ports is even standard, so you can use the standard plate that came with your ATX case. Albatron does not include a custom backplate with the KX18D PROII. As you can see, there is only one serial port on the back. This is a concession often made in a board design that will also be offered with integrated video. If an integrated video version of the KX18D PROII appears, there will be a video port where the second serial port is normally found.
Scanning the features, the KX18D PROII is a top-line nForce2 Ultra 400 board. If some of these features are not so important to you, or you need to save some money, Albatron also offers the KX18D PRO. The PRO version uses the MCP southbridge and does not include Firewire, or Serial ATA options. Fewer features on the PRO version will save you money if these extra features are not important to you.
Albatron KX18D PROII: Board Layout
The Albatron has an excellent layout, with a few tradeoffs that can be debated. The advantage of a full ATX-size motherboard is that there is room for a better layout of components, and some thought went into the design of the KX18D PROII.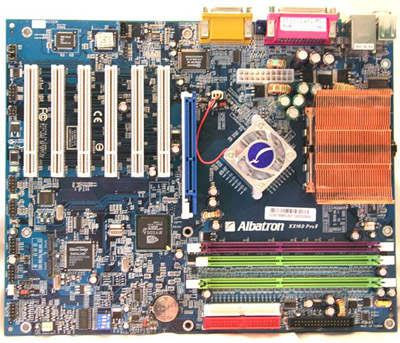 Click to enlarge.
The clear blue board is very reminiscent of Gigabyte designs, which is not a surprise due to the Gigabyte history of many of the key Albatron players.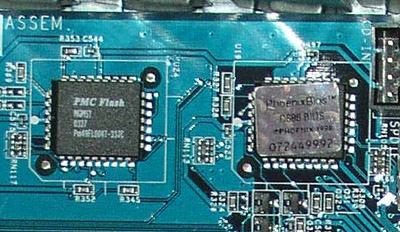 We also find the familiar Dual BIOS popularized by Gigabyte. The idea is simple — you always have a backup BIOS should something go wrong with a flash. Enthusiasts have other ways to use this feature, such as having different custom boots with the primary and backup BIOS.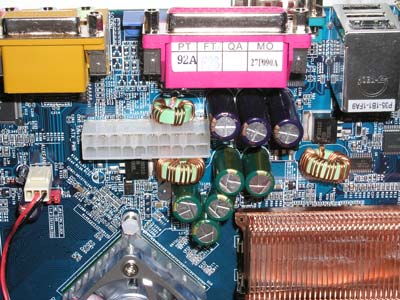 Many top-end AMD motherboards are implementing both the standard ATX 20-pin connector and the 4-pin 12-volt connector that is a part of the Pentium 4 Power Supply specification. Those boards have been the most stable that we have tested. Disappointingly, Albatron had decided that the standard 20-pin ATX was all that was needed. We will see later in the review if this hampers overclocking in any way. Given that this appears to be a 2-phase design, we would expect it would perform best with a large power supply. The 20-pin ATX is located to the left of the Northbridge chip, above the center of the board. This means you will have to snake the bulky 20-pin cable around your CPU socket and try to keep it from interfering with ventilation. We prefer a location as near the top of the board as possible and to the right of the CPU. This works best in most case designs.
Fan connections are often in short supply, and Albatron includes 3 fan headers on the KX18D PROII. Since one is used by the active Northbridge cooling, this only leaves 2 connections for additional monitored fans.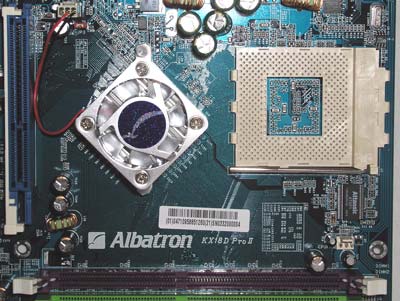 The active heatsink/fan used on the Northbridge is effective and was quiet in our testing.
There is plenty of room around the CPU socket, and we don't believe there will be any problems mounting a large cooler on the CPU. The Thermalright SK-7, which uses a clip for connection, fit with no problem at all — even with an 80mm fan attached. However, we found the way the socket was turned could make mounting/dismounting a CPU a problem in many case designs. You are better off mounting the HSF
before
mounting the board because the mounting lugs at the top edge of the board are almost impossible to reach once the board is mounted.
There are no mounting holes around the CPU socket, which will be important to some. The mounting holes are not part of the current AMD specification, but they are important to many who use watercooling and very heavy heatsinks.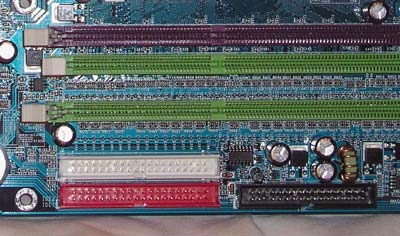 The Floppy connector and Primary/Secondary IDE connectors are all in ideal positions. They are all 3 above midline of the board and to the right of the memory slots. This position on the top right edge of the board works well with cable arrangements in almost any case.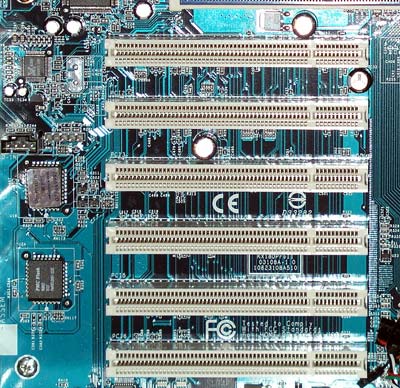 The KX18D PROII is one of the very few nForce2 boards we have seen with 6 PCI slots. We're happy to see a board with 6 slots available for those who need more expansion room.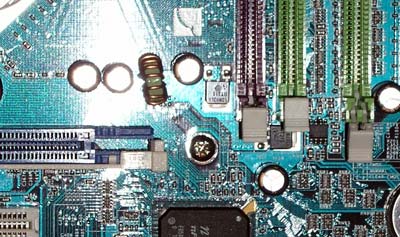 The down-side of 6 PCI is that the memory slots are often crowded too close to the AGP slot when 6 slots are used. This is an issue on the Albatron. To add or remove memory, you will likely have to remove your AGP card first. This can be a real nuisance if you frequently change memory.
Albatron KX18D PROII: BIOS and Overclocking
Albatron uses the familiar Phoenix Award BIOS on the KX18D PROII. Our board was tested with the release v1.0 BIOS. In the short time Albatron has been making motherboards, they have developed quite a reputation for catering to the "wish-list" of computer enthusiasts. The tweaking options available on the KX18D PROII will only enhance that reputation.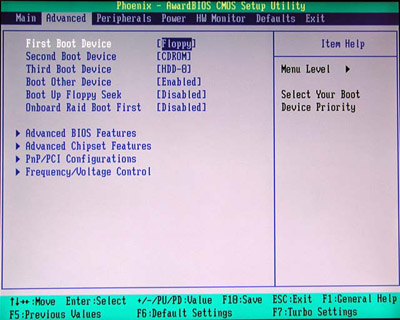 Most of the tweaking options are in the Advanced Menu, which has submenus for Advanced BIOS Features, Advanced Chipset Features, PnP/PCI Configurations, and Frequency/Voltage controls.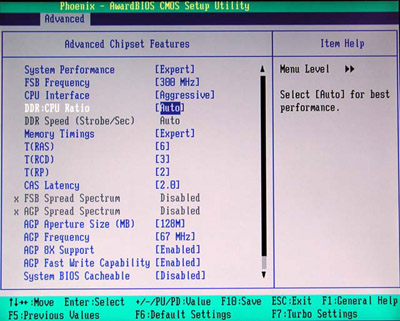 System and Memory Timings are adjusted in the Advanced Chipset Features menu. CPU FSB is set here with a range of 100-300. The overclocking and tweaking options available are the best we have seen on
any
nForce2 Ultra 400 board — including the excellent options on the Epox board.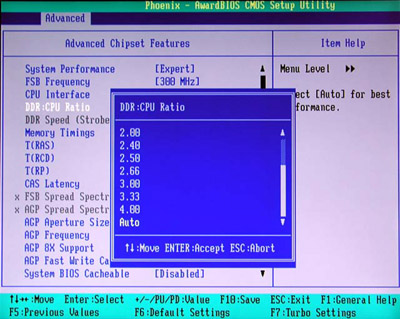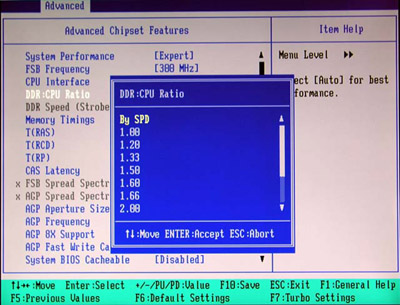 The Albatron options for memory ratio selection are unique on an nForce2 Ultra 400 board. With the available options, you can set DDR400 memory, for example, to any speed from DDR200 (1.0) to DDR800 (4.0), while the CPU remains at stock speed.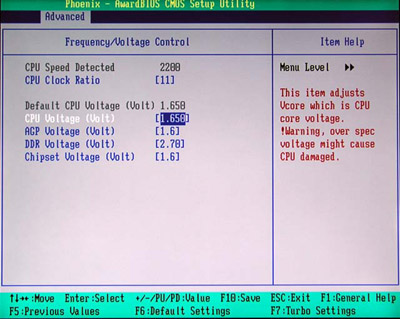 The Frequency/Voltage Control section is where CPU multipliers and voltages are set. Again, the available ranges are impressive.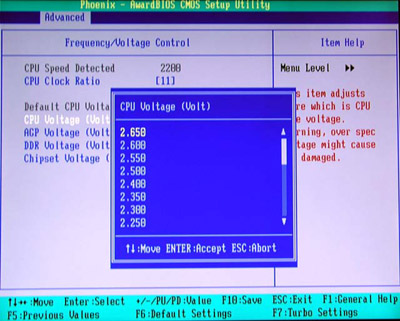 vCore or CPU voltage can be set to an incredible 2.65V, which would surely destroy a CPU cooled with conventional air. However, water-cooling and phase-change advocates will welcome this range. This incredible range makes it even more disappointing that Albatron left out the 4 mounting holes around the CPU.
You will also find a vDimm range here of 2.5V to 3.0V, which is a wider range than we see on most boards. It is also a useful range since several recent dimms can be used at 3.0V without violating their warranty.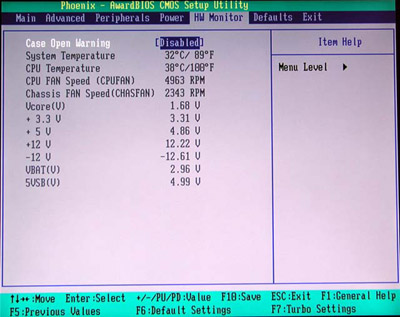 PC Health functions are included in the HW Monitor section. Monitoring functions include System, CPU, fan speed monitoring for 2 on-board fan connections, Vcore, and Power Supply readings for all rails. Albatron also provides a simple over-temperature CPU Protection feature that can be enabled/disabled with onboard jumper J4.
BIOS options for the KX18D PROII overall provide the end-user with the widest range of tweaking options that we have seen on an nForce2 Ultra 400 board. We can only suggest that some of the options provide settings that can destroy your CPU if misused, so be cautious. Overclockers will be in rapture. While Albatron has distinguished the KX18D with tweaking options, we really need to see the 4 mounting holes and an even more robust power regulation system to proclaim this as the Overclocker's dream board. It's close.
FSB Overclocking Results
With the very complete selection of overclocking options on the Albatron, we had high expectations for the overclocking performance of the board. We fully expected to set new overclocking records with the KX18D PROII. For FSB overclocking, the following setup was used on the KX18D PROII:
Front Side Bus Overclocking Testbed
Default Voltage
Maximum Overclock
Processor:
Athlon XP 2500+
(Barton Core)
Athlon XP 2500+ (1837MHz)
(Barton Core – 11x166)
CPU Voltage:
1.65V (default)
1.80V
Cooling:
Thermalright SK-7 with 80mm Thermaltake Fan
Thermalright SK-7 with 80mm Thermaltake Fan
Power Supply:
Powmax 350W
Powmax 350W
Maximum OC:
2332MHz (+27%)-
212FSB
2460MHz (+34.2%)
(12x205)
The above overclocking setup at
default
voltage allowed us to reach a stable FSB of 212MHz. Considering the DFI NFII Ultra reached a stable 223MHz at the same default settings, we were disappointed in the Albatron overclocking performance compared to the best nForce2 Ultra 400 boards. We suspected the Albatron, like an earlier Soltek, was likely one of the board designs that does better with more voltage, so we pushed on.
When we increased our voltage settings even as high as 1.85V, we were never able to break beyond a FSB of 218. In the end, the best overclocking with the Albatron was achieved by adjusting multipliers and running overclocks closer to the 200 range. Using this technique, we achieved a stable overclock to 2466MHz — 12x205 at 1.8V. This is one of the highest overclocks we have seen with this chip, and places the Albatron as one of the top overclocking boards. Even higher overclocks may be reached if you are comfortable using higher voltages with this board. Out of the box, the Albatron is something of an overclocking disappointment — especially considering it is a high end board with the best range of OC options we have seen on an Athlon board. However, with higher voltages, it becomes one of the best overclocking nForce2 boards we have tested.
The Memory Ratios available on the Albatron KX18D PROII are unique, so we ran several tests to see how they worked. We had no problem setting lower memory ratios, but we were never able to get higher ratios to work. This was with known good DDR500 memory at known good timings as tested in
Searching for the Memory Holy Grail — Part 2
. The idea of memory ratios on nForce2 Ultra 400 is a good one, since it would allow Athlon users to benefit from DDR500 memory. So, we hope that Albatron can fix this in a BIOS update or tell us how to make the higher ratios work.
Albatron KX18D PROII: Stress Testing
We performed stress tests on the Albatron KX18D PROII in these areas and configurations:
1. Chipset and motherboard stress testing, conducted by running the FSB at 212MHz.
2. Memory stress testing, conducted by running RAM at 400MHz with 2 DIMM slots filled and at 400MHz with all 3 DIMM slots filled at the lowest memory timings possible.
Front Side Bus Stress Test Results:
As standard practice, we ran a full range of stress tests and benchmarks to ensure that the Albatron KX18D PROII was absolutely stable at each overclocked FSB speed. These stress tests included Prime95 torture tests, which were run in the background for a total of 24 hours.
In addition, we ran several other tasks — data compression, various DX8 and DX9 games, and apps like Word and Excel — while Prime95 was running in the background. Finally, we ran our benchmark suite, which includes ZD Winstone suite, Unreal Tournament 2003, SPECviewperf 7.0, and Gun Metal Benchmark 2. At default voltage, 212MHz was the highest overclock that we were able to achieve with the Albatron without encountering any reliability issues.
Memory Stress Test Results:
This memory stress test is very basic, as it simply tests the ability of the KX18D PROII to operate at its officially supported memory frequency (400MHz DDR) at the lowest supported memory timings that our Mushkin PC3500 LII modules support:
Stable DDR400 Timings
(2/3 banks populated)
Clock Speed:
200MHz
Timing Mode:
N/A
CAS Latency:
2.0
Bank Interleave:
N/A
RAS to CAS Delay:
2T
RAS Precharge:
4T
Precharge Delay:
2T
Command Rate:
N/A
It's not surprising to see the Albatron KX18D PROII run at the lowest timings we could set on the board. We often see 2-4-2-2 timings working well with the better nForce2 boards in Dual-Channel mode, so we certainly expected to run at these maximum speed timings. As we have seen in other looks at memory performance, this does not always translate into the fastest memory performance, but lowest memory timings is one means of comparing motherboards. It is most useful when comparing boards based on the same chipset.
Filling all available memory banks is more strenuous on the memory subsystem than testing 1 bank in single-channel mode, as it tests three DIMMs running 400MHz DDR at the most aggressive memory timings available in the BIOS:
Stable DDR400 Timings
(3/3 banks populated)
Clock Speed:
200MHz
Timing Mode:
N/A
CAS Latency:
2.0
Bank Interleave:
N/A
RAS to CAS Delay:
2T
RAS Precharge:
5T
Precharge Delay:
2T
Command Rate:
N/A
We were pleased to see the Albatron handle aggressive memory timings with 3 dimms installed. Settings were nearly as aggressive as 2 dimm timings. You can fill all 3 slots with confidence, knowing that you can run at aggressive settings if your memory supports fast timings at DDR400. Please keep in mind that the fastest timings do not always equal the best performance when it comes to memory. It is also true that the real world performance difference between aggressive memory timings and more relaxed memory timings, such as SPD, can be very small.
We tested all these memory timings using several stress tests and general applications to guarantee stability. Prime95 torture tests were successfully run at the timings listed in the above charts. We also ran Sciencemark (memory tests only) and Super PI. None of the three stress tests created stability problems for the Albatron KX18D PROII at these memory timings.
Albatron KX18D PROII: Tech Support and RMA
For your reference, we will repost our support evaluation procedure here:
The way our Tech Support evaluation works is first we anonymously email the manufacturer's tech support address(es), obviously not using our AnandTech mail server to avoid any sort of preferential treatment. Our emails (we can and will send more than one just to make sure we are not getting the staff on an "off" day) all contain fixable problems that we have had with our motherboard. We then give the manufacturer up to 72 business hours to respond and then we will report whether or not they responded within the time allotted, and if they were successful in fixing our problems. In case we don't receive a response before the review is published, any future responses will be added to the review, including the total time it took for the manufacturer to respond to our requests.

The idea here is to encourage manufacturers to improve their technical support as well as provide new criteria upon which to base your motherboard purchasing decisions. As motherboards become more similar every day, we have to help separate the boys from the men in as many ways as possible. As usual, we are interested in your feedback on this and other parts of our reviews, so please do email us with your comments.
Albatron is only in its second year after being formed by ex-Gigabyte and AOpen personnel. However, Albatron has already established quite a history at AnandTech with excellent and timely technical support. We received a response from Albatron's tech support in just 17 hours. Like our past experiences with Albatron, this is an excellent time that is much better than we normally see with the top tier desktop motherboard manufacturers. Given that the smaller manufacturers are trying very hard to distinguish themselves from the pack, this is really not a surprise. However, it's refreshing to see the kind of care and concern a company like Albatron can provide, and we just wish that this was the norm in our industry instead of the exception.
You can email Albatron's U.S. tech support at
support@albatronusa.com
or contact them directly by dialing (714) 893-8113 ext. 128. Albatron also lists their international contact information on their "Service and Support" site and by clicking their "contact us" hyperlink, which is located on the right-hand side of their home page.
Albatron's RMA is equally as impressive as their tech support, since they clearly state their RMA policy (and have an RMA form) on their website. It is a pleasure to see an RMA form that actually makes sense for a change, including asterisks highlighting which information is required to fill out a proper RMA. If you'd like to visit Albatron's RMA form,
click here
. It will you ask you to provide the following information:
Purchase date and invoice number.
Contact information.
Problems or symptoms.
Concise explanation why you're filling out an RMA.
Operating System.
Product Model.
Serial Number(s)
Albatron also has a clearly marked RMA email address at the bottom of the page,
rma@albatronusa.com
, in addition to a U.S. tech support phone number,
1-714-893-8113 Ext. 128
, which is conveniently listed for a second time. Overall, Albatron's tech support and RMA information is as clear as it gets. Many other manufacturers have made it very difficult and time-consuming to find information on their web sites. Albatron, by providing quick and easy-to-find RMA and tech support, easily ranks up there with the best motherboard makers in customer service and support.
Performance Test Configuration
 Performance Test Configuration
Processor(s):
AMD Athlon XP 3200+ (400MHz FSB)
RAM:
2 x 512MB Mushkin PC3500 Level II
2 x 256MB Corsair PC3200 TwinX LL 1.1
Hard Drive(s):
Maxtor 120GB 7200 RPM (8MB Buffer)
Western Digital 120GB 7200 RPM (8MB Buffer)
Video AGP & IDE Bus Master Drivers:
NVIDIA nForce version 2.45 (7/29/03)
NVIDIA nForce version 2.03 (1/30/03)
VIA 4in1 Hyperion 4.47 (May 20, 2003)
SiS AGP r1.16 & SiS IDE r2.04
Video Card(s):
ATI Radeon 9800 PRO 128MB (AGP 8X)
Video Drivers:
ATI Catalyst 3.6
Operating System(s):
Windows XP Professional SP1
Motherboards:
Albatron KX18D ProII @200.5 FSB
Soltek KT600-R (KT600)@ 200.01 FSB
DFI 748-AL (SiS748)@ 200.45MHz FSB
Asus A7V600 (KT600)@ 200.0 MHz FSB
Soltek NV400-L64 (nForce2 400 SC)@ 200.5MHz FSB
DFI NFII Ultra LANParty (nForce2 Ultra 400) @ 201.35 MHz FSB
Gigabyte 7VT600 1394 (KT600) @ 202.78MHz FSB
Gigabyte 7NNXP (nForce2 Ultra 400) @ 202.77MHz FSB
Epox 8KRA2+ (KT600)@202.44MHz FSB
All performance tests run on recent nForce2 Ultra 400 use Mushkin PC3500 LII to preserve 2-2-2-5 timings at DDR400. Earlier tests on nForce2 Ultra 400, NForce2 400, and VIA KT400 used Corsair 3200LL v1.1 modules set to 2-2-2-5 in DDR400 mode. Dual-Channel mode was used on nForce2 Ultra 400 boards, and 2 dimms working as Single-Channel were used on the nForce2 400 and VIA KT600 boards.
All performance tests were run with 4-bank interleave where it was an available option. Timings used were the highest available (Aggressive, Turbo, Ultra, etc.) on the motherboard.
All performance tests were run with the ATI 9800 PRO 128MB video card with AGP Aperture set to 128MB with Fast Write enabled. Resolution in all benchmarks is 1024x768x32.
Additions to Performance Tests
We have standardized on
ZD Labs Internet Content Creation Winstone 2003
and
ZD Labs Business Winstone 2002
for system benchmarking. We are no longer reporting SysMark2002 results as part of our standard benchmark suite.
Game Benchmarks
We have added the DirectX 9
Gun Metal DirectX Benchmark 2
from Yeti Labs as a standard game benchmark. We are also evaluating the new
X2 Benchmark
, which includes Transform and Lighting effects as part of the standard benchmarks. Results are reported here for reference.
Jedi Knight II
has been dropped from our standard Benchmark Suite. We were forced to use different patches for operation on Athlon and Intel Pentium 4, which made cross-platform comparison difficult if not impossible. In addition, Opteron/Athlon64 requires a third patching variation for benchmarking. JK2 uses a Quake engine, and we are continuing
Quake3
as a standard benchmark for the time being.
New Hardware
With the release of DirectX 9 late in 2002, the availability of Benchmarks to test DX9, and the availability of DX9-supporting video cards from both nVidia and ATI, we are now using the
ATI Radeon 9800 PRO
for all hardware reviews.
Content Creation and General Usage Performance
Media Encoding and Gaming Performance
High End Workstation Performance - SPECviewperf 7.0
High End Workstation Performance - SPECviewperf 7.0 (continued)
Final Words
The Albatron KX18D PROII is blessed with the most interesting and comprehensive group of overclocking and tweaking controls we have yet seen on an Athlon motherboard. Certainly, the DFI NFII Ultra has better choices for memory tweaking, but the vCore range to 2.65V, combined with vDimm to 3.0V, and adjustments for chipset voltage make the Albatron the most flexible Athlon board we have tested. Add to this the totally unique memory ratios on the KX18D PROII and you have a board (on paper) that is the overclocking king.
Our testing indicates that the Albatron is one of the top overclocking Athlon boards you will find, but it is held back in several areas from being the best. It requires more voltage for overclocks than competitors, and it seems much less capable at higher FSB settings than the DFI or Gigabyte boards. You can reach outstanding performance levels with the KX18D PROII, but you will likely have to reach those levels with higher ratios or with a combination of a higher voltage with a higher FSB. In addition, the new memory ratios seem to have problems working at the very ranges most enthusiasts will want, which is the DDR500 range. We don't know if this is a limitation of the nForce2 Ultra 400 chipset or if it is something that can be fixed with a BIOS update, but if you buy the Albatron KX18D PROII to run DDR500 memory, you will be disappointed.
With all of the wonderful promise of the Albatron, we were a bit disappointed in the execution. The top-performing nForce2 Ultra 400 boards we compared to the Albatron
all
had the additional 12V power connector that is optional on AMD and standard on the Pentium 4. Albatron chose not to use this. We suspect this is part of the reason the Albatron is more voltage hungry than the top boards to which we compared it. We expect that Albatron will improve the board's memory-ratio performance with BIOS updates, but we also suspect that there will need to be some revisions for the board to reach the top-of-the-Athlon-heap where it belongs.
As it is now, the Albatron is fast — one of the fastest Athlon boards we have tested. Its performance and overclocking capabilities place it among the top 3 or 4 Athlon boards we have tested. As long as you are realistic with what the Albatron can and cannot do well, and you are willing to feed it voltage, you will not be disappointed. With a few revisions to the power regulation on the KX18D PROII, it could become the best Athlon board on the market. However, it is now outperformed in several overclocking areas by a few of the top Athlon boards we have tested. The Albatron KX18D PROII is a wonderful board, but its promise is not completely fulfilled.