Original Link: http://www.anandtech.com/show/1141


CDRWs might be a dying animal, but two Tier 1 manufacturers continue to breathe life into the market. Particularly, Lite-On and MSI still seem to justify R&D in the CD based optical media sector. MSI's commanding market share has kept them in a good enough position to continue their reign as the optical storage leader. To add one more product to their already dizzying optical line, the CR52-M was recently announced.
Today, we will take a look at one of the newer CDRW drives, the MSI CR52-M. MSI's CR52-M is tops off CDR speed at the industry standard 52X write/read, but is also capable of excellent 32X rewrite speed. There are some other interesting features in the CR52-M, including full read speed throttle and mini form factor, but we will talk more about those features later. So, does MSI's newest drive have what it takes, or is it just a case of too little, too late?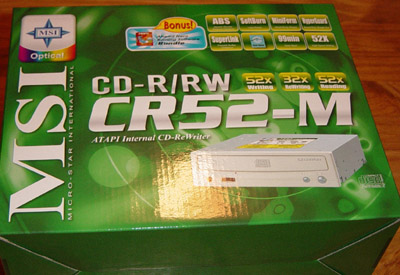 Click to enlarge.
Construction
The unit ships with only a few bundled features, unlike the ASUS units, which tend to ship with lots of extra recordable media and reading material. Notice that the drive is about an inch shallower than most CDR drives. MSI calls this feature MiniForm, a user-friendly feature for easier installation. While that might be true, more importantly, when producing thousands of units, every little bit helps. Most likely, MSI saves an incredible amount of money just by making the drive a little bit smaller. Several of Lite-On's newer drives are also manufactured red in similar fashion.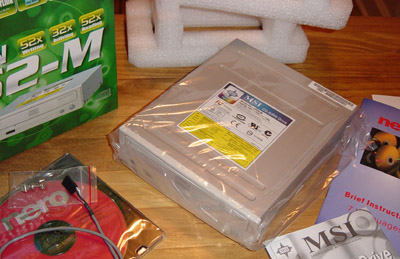 Click to enlarge.
Our drive came with Nero 5.5, an audio cable, screws, the drive itself and installation manuals for Nero and the drive. The majority of the written documentation is actually for Nero rather than the drive installation. MSI includes a fair amount of installation documentation too, but it could be better. What upset us the most was the lack of documentation on the web. In fact, the MSI PDF manual for the CR52-M crashed our newest version of Adobe Acrobat (the error explained something about not having Korean Text support).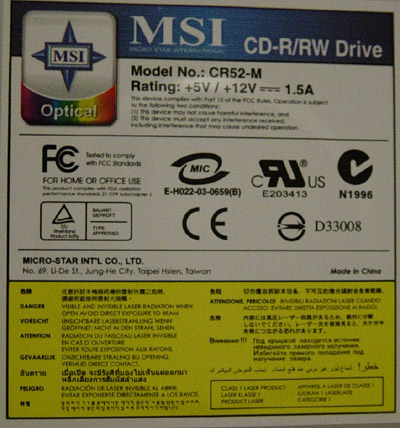 Click to enlarge.

Click to enlarge.
The front of the CR52-M resembles basically any other MSI drive. It has two oversized LED buttons, along with headphone jack and volume control. Unlike 24X CDRW drives, the CR52-M sports a new logo. Some of you might remember that 24X CDRW drives tend to say "High Speed" written along the side. OptoRite, Lite-On/ASUS and MSI's newest 36X CDRW drives replace this with the words "Ultra Speed". Perhaps when manufacturers obtain 42X rewrite on a CDRW, they will change it to "Ludicrous Speed" or "Ridiculous Speed"?
Below is a quick overview of specifications on the drive:
MSI CR52-M 52X/36X/52X CDRW Drive
Interface
IDE
Write Speed
52X, 48X,
40X, 32X, 24X (P-CAV)
16X, 12X, 8X, 4X (CLV)
Rewrite Speed
32X, 24X (P-CAV)
16X, 12X, 10X, 8X, 4X, 2X (CLV)
Read Speed
52X Max (7800KB/s) (CAV)
Supported Modes
DAO / DAO-RAW 16 & 96
TAO
SAO / SAO 16 & 96
Packet Write
MultiSession
Mount Rainier
Supported Formats
CD-R
CD-RW
CD-ROM
CD-DA
CD-ROM XA
Mixed Mode
CD-Text
CD Extra
Photo CD
CD-I
Bootable CD
Access Time
90ms
Buffer
2MB
Media
99min (870MB), 90min (800MB),
80min (700MB), and lower
Technically, the drive is virtually identical to the Lite-On LTR-52327S. The OptoRite CW5201 is also very similar, but the MSI drive is slightly more capable with burning more modes like Mount Rainer. All three drives support 99min CDRs, but the Lite-On LTR-52327S is the only drive capable of variable packet writing. Variable packet writing is a feature most people probably do not need, but if it is something you do need, you will not find it on the MSI CR52-M.
Our original drive came with firmware version 1.52, which we promptly updated to 1.80. Unfortunately, MSI's BIOS update utilities are fairly dated and really leave something to be desired.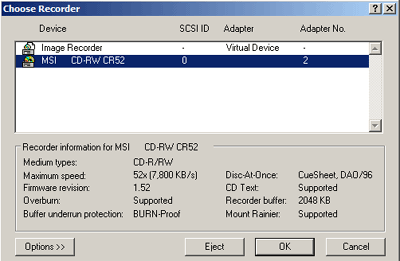 Click to enlarge.
Error Correction
Error correction on the drive comes in the form of SuperLink. MSI does not make a big deal about SuperLink, because it is technically just another name for Burn-Proof (licensed from Sanyo). Since we have not experienced a buffer underrun in several years, SuperLink/Burn-Proof (or some other buffer protector like Smart-Burn) have become standard on virtually all new drives. Sanyo's Burn-Proof seems to have the best cartoons, so we are glad this particular drive uses the technology.
| | |
| --- | --- |
| Click to enlarge. | Click to enlarge. |
Cartoons aside, there are some error protection features on the drive. MSI uses ABS (Anti-Bumping System) in the CR52-M, which is a little more than glorified rubber stoppers inside the drive mechanism. The whole mechanism is inlaid on a plastic surface, which is fastened to the drive housing. Not only is this supposed to reduce vibrations, but it also dampens noise from the CD heads (MSI calls this SoftBurn). From their website, MSI claims that while writing at 52X, the drive operates at about 43dBA. We removed the drive from the machine and tested the noise level as well. From 12" away on a flat surface using a meter, we determined the level to range between 42dBA and 45dBA.
The unusual "Hyper Guard" feature caught our attention while looking over the sample. On their website, MSI claims: "This safety protection structure can avoid disc break-out when running with a poor quality disc at high speed." Unfortunately, this must happen enough for MSI to warrant such caution.
Interface
Reading
The left button flashes blue while drive is reading data.

Writing
The left button flashes green while drive is writing data.
The drive comes with two multi-color LEDs in the front, which get the message across. The left LED blinks blue when media is being read from the drive and green when writing. Furthermore, the LED can be depressed to play or forward to the next track on an audio CD. The right LED button is used for eject, stop and throttle. Depressing the button once quickly stops Audio Media (or ejects Data CDs); a longer depression ejects the media; and finally, a three-second depression increases the CD max read to 52X (from 40X). The left LED stays lit while on Full Speed mode.
Although this is an interesting feature, we greet it with mixed feelings. To begin with, the only way to return to 40X read is to eject the media. Furthermore, there is no software control for this feature, which is really the upsetting point. What if you use the machine remotely and want to copy a CD? Granted, the difference between 40X and 52X is less than a minute to copy the whole CD, but it seems if you buy a 52X reader, it should read at 52X by default.



Click to enlarge.




Click to enlarge.

Nero reports different information when the Turbo mode is enabled.
On the other hand, kicking the CDRW up to 52X results in a substantially higher pitched whine, and also is probably neither good for the media nor drive itself. Again, using our sound meter from 12" away, we determined the 40X reads to vary between 39dBA and 41dBA. The 52X reads would sometimes peak as high as 48dBA. Maybe MSI has the right idea by reserving the 52X read for only when you know you are using it.
Testing the drive
We used the following configuration to test our CR52-M:
Gigabyte GA-7VRX
AMD Athlon MP 2100+
2 x 128 DDR Corsair XMS 2400
Maxtor 80GB 7200RPM 8MB Cache
Windows XP SP1
Using Ahead's CD Speed 1.02e, we run a battery of read, write and rewrite tests on the drive. Our first test determines CD read speed in normal mode, while the second determines the speed while the turbo 52X mode is enabled. The following read speeds are for a pressed HP System Recovery CD.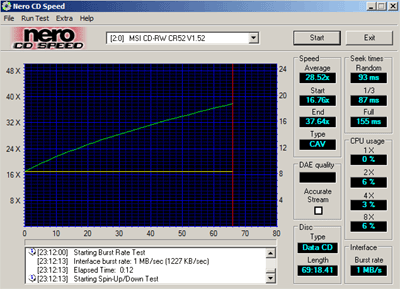 Click to enlarge.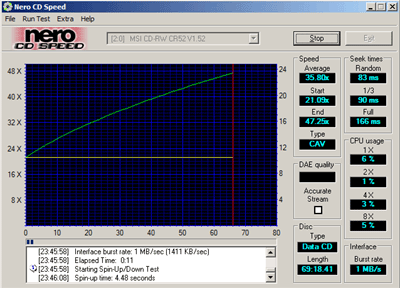 Click to enlarge.
As you can see, access times are right on the MSI specification of 90ms. Both modes use CAV mode while reading, which produces fairly good average burn speeds. You may recall CAV stands for constant angular velocity; so, the drive spins at a constant rate while the header moves towards the outside of the CD. Since the linear velocity of the position on the CD increases when the header moves outwards, the data transfer rate eventually obtains the 52X read speed.
We also tested the CR52-M on a variety of CDR, CDRW and DAE media. The following table contains our results.
| | | | | | |
| --- | --- | --- | --- | --- | --- |
| | Average Transfer | Seek Random | Seek 1/3 | Seek Full | Media Length |
| Pressed HP System Recovery (Turbo) | 35.80X | 83ms | 90ms | 166ms | 69:18.41 |
| Pressed HP System Recovery (Normal) | 28.52X | 93ms | 87ms | 155ms | 69:18.41 |
| Pressed DAE Global Underground 24 CD2 (Turbo) | 38.41X | N/A | N/A | N/A | 73:20.15 |
| Pressed DAE Global Underground 24 CD2 (Normal) | 29.29X | N/A | N/A | N/A | 73:20.15 |
| Burned PNY 48X CDR Dummy File (Turbo) | 38.95X | 85ms | 91ms | 164ms | 74:00.05 |
| Burned PNY 48X CDR Dummy File (Normal) | 29.40X | 95ms | 91ms | 153ms | 74:00.05 |
| Burned Mitsubishi 32X CDRW Dummy File (Turbo) | 30.64X | 84ms | 94ms | 155ms | 74:00.05 |
| Burned Mitsubishi 32X CDRW Dummy File (Normal) | 30.62X | 85ms | 94ms | 154ms | 74:00.05 |
The MSI CR52-M performed on par consistently. The drive is slightly slower than its Lite-On and ASUS counterparts. Fortunately, seek times are quite low and we had no problems while testing the read portion of the drive.
Write Speeds
Moving on, we take a look at CDR write benchmarks:
Click to enlarge.
The average write speed came to about 39.23X. While many drives perform upwards of 40X average write speeds on this benchmark, realistically, the second or two differences will not matter.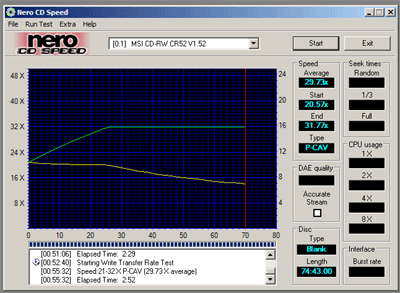 Click to enlarge.
The CR52-M uses a magnetic head based on Partial CAV for the rewrite mode. The drive is locked to prevent the unit from producing a greater than 32X rewrite speed after it is obtained on CAV. Below are rewrite and write specs based on the same benchmark.
| | | |
| --- | --- | --- |
| | Average Transfer | Media Length |
| PNY 52X CDR Data CD | 39.32X | 79.49.74 |
| Verbatim 52X CDR Data CD | 39.25X | 79.49.74 |
| Mitsubishi 32X CDRW Data CD | 29.73X | 73:43.00 |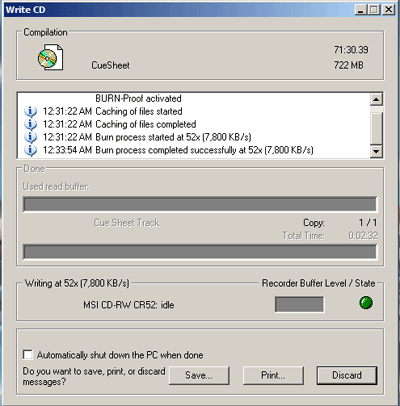 Click to enlarge.
One of the last tests we reserved for the CR52-M was the overburn media test. We used high quality PNY 48X 80min Type 6 CDRs, but sadly, it only obtained 82.51min of burn time. Even more disappointing, our drive locked up and would not let us kick the disk out. Instead, it just continued to blink and read the disk. Only a restart would eject our disk. While this is not an uncommon error in the optical media, we would have liked some error correction on MSI's behalf. Below are the results that we obtained from our overburn test.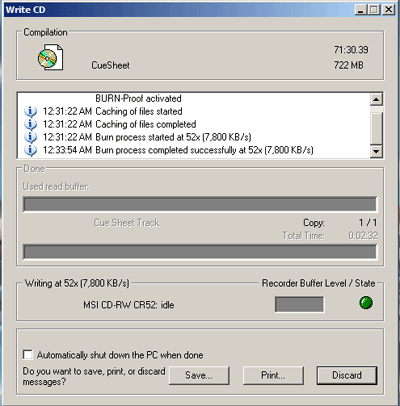 Click to enlarge.
For those interested, we also took a measurement of Full Erase and Quick erase in Nero. For a 700MB Mitsubishi 32X CDRW, we obtained 3:20 for a full erase, and 0:26 for a quick erase. This makes it one of the fastest drives available strictly concerning erase times.
Final Thoughts
MSI did a few things differently with this drive. The Mini form factor and the 52X speed throttle have not yet shown up in any other optical products that we are reviewing. Fortunately, MSI did not sacrifice performance either. 32X RW drives have been available for a little over a month now, but as they hit the mainstream market full force, MSI will be one of the more aggressive leaders in performance and price. The Lite-On LTR-52327S and OptoRite CW5201 are both priced within a dollar of the CR52-M. However, the Lite-On unit becomes the only alternative if you need Mount Rainer support. Most online vendors are carrying the CR52-M for about $42 shipped.
Is CDRW still worth pursuing? At $40, one has to imagine that all new systems should at least include a 52X burner, like the CR52-M. Unfortunately, MSI is heavily invested in the CDRW market and has not diversified into the DVDR sector yet. Although one can hardly call it a loss, Mitsumi (CR-485GTE) has developed and is selling 54X read and write drives (with 32X rewrite) at the time of this publication. Of course, even if MSI begins to loose its grip on the CD storage industry, the real question that has to be asked is how ready are they for the next generation of optical products? Stay tuned for our next optical storage reviews as we line up more DVDR drives than you can shake a stick at!