Original Link: http://www.anandtech.com/show/1134


The Soltek NV400-L64, built on the Single-Channel nForce2 400, was a simple board with very impressive performance. With that in mind, we resisted the temptation to pass on a review of the KT600 from Soltek. After many KT600 reviews, we were seeing a pattern develop with the boards. All were performing below the levels of the nForce2 Ultra400/nForce2 400 boards, and our KT600 reviews were becoming an evaluation of motherboard features. So, would this Soltek do better?
Like almost every other KT600 board that we have evaluated, the Soltek sells at a reasonable price, but with a much better feature-set, especially considering the selling price. This VIA chipset is impressive in the stability it displays with every KT600 board we evaluate. It is probably the best VIA chipset to date, and has a very up-to-date feature set including SATA RAID, excellent audio options, and up to 8 USB 2.0 ports. The only area where KT600 has failed to fully impress us is in performance — an area that is a primary concern with many buyers.
It's a good thing we didn't pass on the Soltek, because it held a few surprises in our testing. The Soltek has the kind of promise that makes us think that perhaps, with time and a little more maturity, the KT600 chipset may be able to compete effectively in the performance arena with nForce2.
Soltek KT600-R: Basic Features
 Motherboard Specifications
CPU Interface
Socket-462
Chipset
VIA KT600 North Bridge
VIA VT8237 South Bridge
Bus Speeds
100 to 233MHz (in 1MHz increments)
Core Voltages Supported
1.10V to 1.850V (in 0.025V increments)
AGP Voltages Supported
1.5V to 1.8V (in 0.1V increments)
DRAM Voltages Supported
2.5V to 2.8V (in 0.1V increments)
Chipset Voltage
None
CPU Multiplier Ratios
5X to 18X
Memory Slots
3 x 184-pin DDR DIMM Slots
Expansion Slots
1 AGP 8X Slot
6 PCI Slots
Onboard IDE RAID
Standard ATA 133/100/66
Supporting up to 4 IDE devices
Onboard USB 2.0/IEEE-1394
8 USB 2.0 ports supported by 8237
No FireWire
Onboard LAN
None
Onboard Audio
VIA VT1616 18-bit 6-channel codec
Onboard Serial ATA/RAID
VIA VT8237 Serial ATA and SATA RAID
BIOS Revision
Version AA1R
The Soltek KT600-R comes in the foil-faced embossed package that is used for many Soltek motherboards. The extras are a floppy and IDE cable, 2 SATA cables and a very nice Sata Power Adapter cable that converts one hard drive (Molex) cable to 2 SATA power connectors. As is standard on Soltek motherboards, an extra Utility CD is included that contains PC-Cillin 2002 anti-virus, Farstone's VirtualDrive 7 and RestoreIT 3 Lite, and Powerquest's Partition Magic 6.0 SE and DriveImage 4.0. There are 2 versions of the KT600 listed at the
Soltek's website
. The KT600-R (the version tested) has SATA RAID and the KT600-RL adds on-board 10/100 LAN. We doubt Soltek will bring both models into all markets, so you will need to check locally to see what model(s) are available.
Like the earlier NV400-L64, this Soltek board is purple or plum-colored. The board is smaller than full-size and uses 6 standoffs in 2 rows for mounting, where full-size boards generally use 9 or 10 standoffs in 3 rows for case mounting. This small motherboard should have no trouble fitting into any standard case.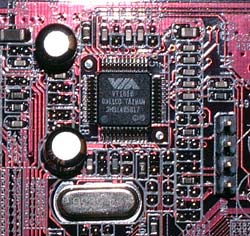 After complaining that most of the major board makers did not use VIA's sound solution, we were pleasantly surprised to find the VIA VT1616 audio codec on the Soltek. The VT1616's advantage is that it can offer high fidelity sound while using the analog out port. This is not the case for nForce2 motherboards, which use the ALC650/655 codec. In other words, the VT1616 codec provides better sound than an MCP-T powered nForce2 motherboard
unless
you make use of a SPDIF-out port and have speakers with a receiver. We expected that one of the major manufacturers would be using the more capable VT1616, but we are happy to see it used on the Soltek KT600. For more information on the VT1616, go to
www.viatech.com/en/multimedia/vt1616.jsp
.
The flexible VIA VT1616 setup is welcomed on a board designed to sell for a reasonable price, but be aware that with 3 jacks, you cannot simultaneously run 6 speakers and a microphone. This will important for some and of no consequence for others. Unfortunately, there are no SPDIF connectors or provisions for adding an SPDIF bracket to the board.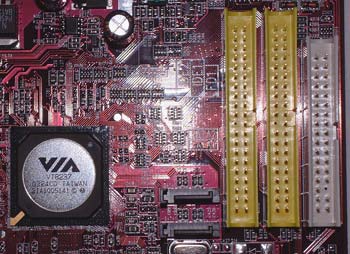 The Soltek KT600-R uses the latest VIA VT8237 South bridge, which provides support for Serial ATA and SATA RAID configuration. Most KT600 boards that we have evaluated have Serial ATA support.

Click image to view a larger picture.
The KT600-R I/O ports configuration is the standard assortment that you will find on the standard ATX backplate, which comes with most cases. The arrangement of ports follows the standard layout, so Soltek does not include a backplate. Included are: two PS/2 ports, two serial ports, one parallel port, two USB 2.0 ports, and Mic In, Line In, and Line Out, which drive the onboard sound and are configurable for rear/sub/center outputs if desired. The board does not offer any IEEE1384 Firewire ports, but we don't normally expect to find Firewire on motherboards in this price range.
There are two ATA133 IDE ports, supporting up to four IDE devices. 3 dimm slots, supporting up to 3GB of memory, are provided on the KT600-R. Memory speeds up to DDR400 are supported.
Other than the VIA KT1616 audio codec, there are no real surprises with the Soltek KT600-R. It includes what we would expect in a board designed to sell for a reasonable price. The plum or purple color makes it stand out from the crowd, and the Soltek Utilities CD is a useful addition.
Soltek KT600-R: Board Layout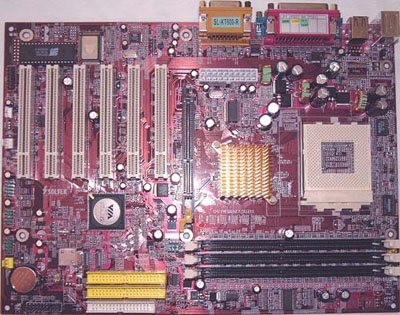 The Soltek has a decent layout, considering the space constraints that a smaller board imposes. Many boards designed to sell at the low-end have some very strange layouts. When the manufacturer is aiming for a price point, economy of manufacture is often more important than ergonomics. Soltek seems to have considered ease-of-use when designing the KT600-R.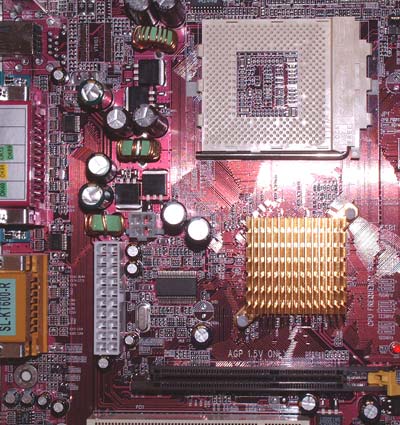 It is nice to see Soltek include both the standard 20-pin ATX connector and the AMD optional 4-pin 12V connector. While top-end AMD motherboards are implementing both the standard ATX 20-pin connector and the 4-pin 12-volt connector that is a part of the Pentium 4 Power Supply specification, it is unusual to see both connectors on a value board.
However, the location of the 20-pin and the 4-pin power connectors are less than ideal. Both connectors are located to the left of the Northbridge chip, almost in at the midline of the board. This means you will have to snake the bulky 20-pin cable around your CPU socket and try to keep it from interfering with ventilation. We prefer a location as near the top of the board as possible and to the right of the CPU for both connectors. This works best in most case designs.
Fan connections are often in short supply on low-end boards, but Soltek includes 4 fan headers on the KT600-R. This allows connection of up to 4 fans to the board.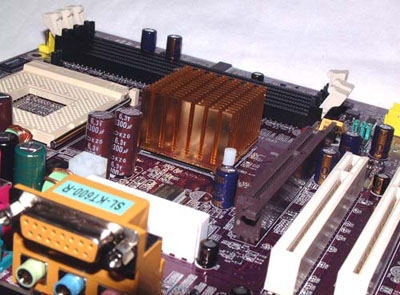 The passive heatsink used on the Northbridge has the advantage of not adding to system noise, and the one Soltek used on the KT600-R is very large and works very well. It cooled effectively in our testing, and did not get overly warm. If you choose to replace the stock heatsink with a larger passive heatsink or active cooling solution, you will be pleased to find 2 mounting holes for the North bridge cooler.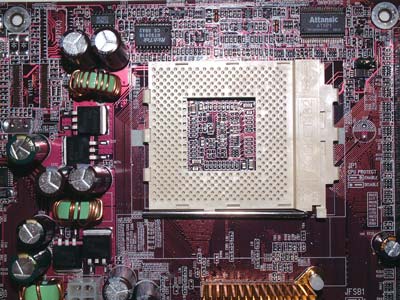 The tall North bridge cooling solution did not interfere with the mounting of a large Thermalright SK7 heatsink. The area around the CPU socket is generally clear, but the tall capacitors to the left of the CPU socket might be a problem with some very large heatsinks. They may interfere with mounting some of the larger CPU cooling solutions. There are no mounting holes around the CPU socket, which will be important to some. The mounting holes are not part of the current AMD specification, and we really didn't expect to find them on a value board, but they are important to many who use watercooling and very heavy heatsinks.
The Floppy connector and Primary/Secondary IDE connectors are all in compromised positions — not unusual for a smaller board design. They are all 3 low on the board, which makes snaking cables more difficult. The floppy connector is particularly bad, located at the very bottom of the board. At least Soltek did keep the connector to the far right of the board to minimize interference with slots. But the Soltek is no worse than other low-end boards in cable locations. A smaller board means less room to put things, and some of the small boards have some really challenging layouts. We prefer nearer to the top of the board and to the right of the DIMM slots, but the smaller board has no room for the cable connections in that location. If you have a case with drive bays to the right of the motherboard, the location near the bottom right of the board will seem ideal. If your drives must mount in the upper bays of a tower case, you will probably hate the location of the IDE connections. Since it's not likely many users with full-tower cases will choose this low-end board, then the lower right location for IDE connections should work fine — in the cases most will actually use with this board.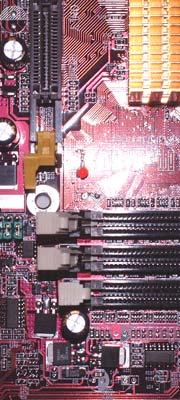 While the Soltek KT600-R provides 6 PCI slots for expansion cards, it suffers from the problem of the 3 dimm slots being crowded next to the AGP slot. This makes it difficult to impossible to add or remove a memory module without first removing the video card. We like to see 6 slots, and dislike tight dimm slots, but you will usually have to choose one or the other. Unplugging your VGA cable, then unscrewing your video card, and physically removing your video card from the AGP slot is a lot of work if you're just trying to swap memory.
Soltek KT600-R: BIOS and Overclocking
Soltek uses AMI BIOS on the KT600R. Our board was tested with the shipping AA1R BIOS. The KT600-R BIOS provides a complete range of options for tweaking and overclocking. As is typical of Soltek, the options are much more than you would expect on a board designed to sell for a low price.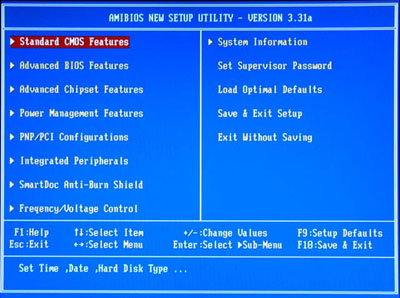 Click image to view a larger picture.
The Main BIOS Screen layout includes the standard options plus selections for Frequency/Voltage Control, Advanced Chipset Features for system timings, and SmartDoc Anti-Burn.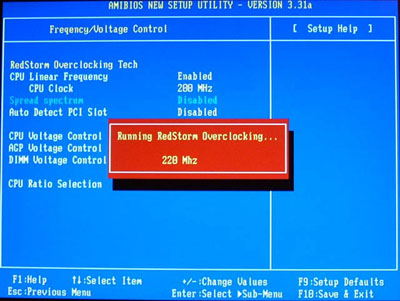 Click image to view a larger picture.
Voltage selection and CPU ratios are adjusted in the Frequency/Voltage Control menu. Voltage adjustments are included for Core Voltage, Dimm, and AGP. The RedStorm Overclocking Utility is also found in this section. This Soltek feature allows the system to determine the best overclock and to set the best overclocking speed. You choose RedStorm, and the system runs until it finds the best OC. It then sets the speed in the BIOS and reboots the system at the new overclocked speed.
System and
very
limited Memory Timings are adjusted in the Advanced Chipset Features menu. A disappointment for enthusiasts will be the very limited range of memory timing adjustments. You can select base memory speed up to 400, CAS, and Bank Interleave, Command Length, and Command Rate — and nothing else. None of the desirable memory timings other than CAS are here to adjust. As we have seen on all KT600 chipsets so far, there is also
not
an option to fix AGP/PCI bus speed. Without a PCI fix adjustment, overclocking will be limited. Fortunately, there is a full range of multipliers (Ratios) available that work well on recent Athlon CPUs.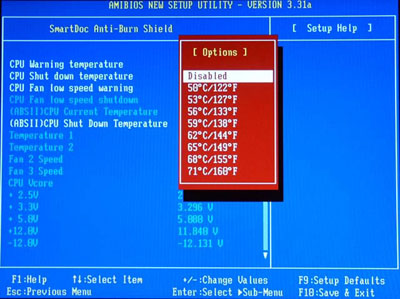 Click image to view a larger picture.
PC Health functions are included in the SmartDoc Anti-Burn Shield section. Monitoring functions include System, CPU, and ABSII temperatures, fan speed monitoring for 3 on-board fan connections, Vcore, and Power Supply readings for all rails. Soltek includes a Hardware monitoring utility on their installation CD for reporting the PC Health values in Windows.
The Anti-Burn Shield II allows you to set temperatures to provide an overheating warning. You can also choose temperatures that will generate an automatic shutdown. With the lack of attention paid to Athlon overheating problems in the past, we are pleased to see this concern addressed by Soltek on a board that will sell into the mainstream market.
BIOS options for the KT600-R are complete except for missing memory timings and the absence of a PCI/AGP lock. Since no KT600 board has provided PCI/AGP lock, we can't fault Soltek for this omission. The KT600-R BIOS is very much in-line with Soltek's reputation of building economical boards that will still satisfy the computer enthusiast.
FSB Overclocking Results
In the past, when reviewing AMD motherboards, the only test method used at AnandTech was to remain at default multiplier and default voltage while increasing the FSB until the highest stable FSB was reached. This method does report useful information for comparison, but there is another method for overclocking many recent Athlon motherboards. Most current Athlon XP/Barton CPUs are unlocked or they behave as unlocked on recent motherboards. This allows overclocking by changing the multiplier or ratio of the Athlon CPU. On recent motherboards and Athlon CPUs, this requires no special modification to the board or CPU. It is now a standard feature available to any end-user who wants to use it. We have seen cases, like the Soltek KT600 that we are testing, where the FSB overclock is average or poor due to the lack of a PCI/AGP lock, when in fact, very high overclocks were possible by adjusting just the multiplier or both the multiplier and FSB.
Since the multiplier or ratio adjustment is now a standard feature on many nForce2, KT600, and SiS 748 motherboards, we are adding a second overclocking test to Athlon reviews. We will change multipliers and/or voltage on an air-cooling setup to find the highest stable overclock by using multiplier, voltage, and FSB with our standard components. We will be trying to find a stable combination to provide an overclock that can still handle our stress testing and does not show overheating problems. We are not just looking for the highest number we could achieve. Both standard multiplier/highest FSB at default voltage and highest stable overclock will be reported.
The following setup was used on the Soltek KT600 for FSB overclocking:
Front Side Bus Overclocking Testbed
Default Voltage
Maximum Overclock
Processor:
Athlon XP 2500+
(Barton Core)
Athlon XP 2500+ (1837MHz)
(Barton Core – 11x166)
CPU Voltage:
1.65V (default)
1.775V
Cooling:
Thermalright SK-7 with 80mm Thermaltake Fan
Thermalright SK-7 with 80mm Thermaltake Fan
Power Supply:
Powmax 350W
Powmax 350W
Maximum OC:
2332MHz
212FSB
2460MHz (+34.2%)
(12 x 205)
The above overclocking setup at default voltage allowed us to reach a stable FSB of 212MHz. This is one of the highest KT600 overclocks we have seen at default multiplier/voltage. Although, considering that the DFI NFII Ultra reached a stable 223MHz at the same default settings, we were disappointed in the Soltek overclocking performance compared to the best nForce2 Ultra 400 board. We can point to the lack of PCI/AGP lock for this limited overclocking performance. However, when we increased our multiplier, FSB, and voltage settings, we were able to reach a stable overclock of 2460MHz at 1.775V. This excellent performance with the Barton 2500+ is near the highest overclock of 2502MHz reached on the DFI NFII Ultra.
Soltek KT600-R: Stress Testing
We performed stress tests on the Soltek KT600-R in these areas and configurations:
1. Chipset and motherboard stress testing, which was conducted by running the FSB at 212MHz; and
2. Memory stress testing, which was conducted by running RAM at 400MHz with 2 DIMM slots filled and at 400MHz with all 3 DIMM slots filled at the lowest memory timings possible.
Front Side Bus Stress Test Results:
As standard practice, we ran a full range of stress tests and benchmarks to ensure the Soltek KT600-R was absolutely stable at each overclocked FSB speed. These stress tests included Prime95 torture tests, which were run in the background for a total of 24 hours.
In addition, we ran several other tasks (data compression, various DX8 and DX9 games, and apps like Word and Excel) while Prime95 was running in the background. Finally, we ran our benchmark suite, which includes ZD Winstone suite, Unreal Tournament 2003, SPECViewperf 7.0, and Gun Metal Benchmark 2. While we were able to boot and run some tests at speeds as high as 217MHz FSB at default voltage on the KT600-R, 212MHz was the highest overclock that we were able to achieve with the Soltek at default voltage without encountering any reliability issues.
Memory Stress Test Results:
This memory stress test is very basic, as it simply tests the ability of the KT600-R to operate at its officially supported memory frequency (400MHz DDR) at the lowest supported memory timings that our Corsair TwinX LL modules support:
Stable DDR400 Timings
(2/3 banks populated)
Clock Speed:
200MHz
Timing Mode:
N/A
CAS Latency:
2.0
Bank Interleave:
4
RAS to CAS Delay:
(3)
RAS Precharge:
(2)
Precharge Delay:
(6)
Command Rate:
2T
Numbers in parentheses could not be set or read on the KT600-R. We checked the memory timings with SiSoft Sandra Max3. Timings were set to SPD and the reported timings are those actually used by the SPD. The Soltek KT600-R would not run with stability with a command rate of 1T. 2T was needed for stability. The same was true for 3 dimms. As we have seen in other looks at memory performance, slower memory timings do not always translate into poorer memory performance. Lowest memory timings is just one means of comparing motherboards, and it is most useful when comparing boards based on the same chipset. You will see in Performance tests how true this is with the KT600-R.
Filling all 3 available memory banks at DDR400 is more strenuous on the memory subsystem than testing 1 or 2 banks.
Stable DDR400 Timings
(3/3 banks populated)
Clock Speed:
200MHz
Timing Mode:
N/A
CAS Latency:
2.0
Bank Interleave:
4
RAS to CAS Delay:
(3T)
RAS Precharge:
(6T)
Precharge Delay:
(2T)
Command Rate:
2T
We were pleased to see the Soltek handle the same memory timings with 3 Corsair DDR400 dimms installed as with 1 dimm installed. You can fill all 3 slots with confidence and run at the most aggressive settings your memory can handle. Please keep in mind that the real world performance difference between aggressive memory timings and more relaxed memory timings can be very small. SPD timings will work just fine 99% of the time.
We tested all these memory timings using several stress tests and general applications to guarantee stability. Prime95 torture tests were successfully run at the timings listed in the above charts. We also ran Sciencemark (memory tests only) and Super Pi. None of the three stress tests created stability problems for the Soltek KT600-R at these memory timings.
Soltek KT600-R: Tech Support and RMA
For your reference, we will repost our support evaluation procedure here:
The way our Tech Support evaluation works is first, we anonymously email the manufacturer's tech support address(es), obviously not using our AnandTech mail server to avoid any sort of preferential treatment. Our emails (we can and will send more than one just to make sure we're not getting the staff on an "off" day) all contain fixable problems that we've had with our motherboard. We allow the manufacturer up to 72 (business) hours to respond, and then we will report whether or not they responded within the time allotted, and if they were successful in fixing our problems. In case we don't receive a response before the review is published, any future responses will be added to the review, including the total time it took for the manufacturer to respond to our requests.

The idea here is to encourage manufacturers to improve their technical support as well as provide new criteria upon which to base your motherboard purchasing decisions. As motherboards become more similar everyday, we have to help separate the boys from the men in as many ways as possible. As usual, we're interested in your feedback on this and other parts of our reviews, so please do email us with your comments.

Soltek's RMA policy could not be found by visiting their U.S. website. Soltek lists sales/support operations in Taiwan, Europe, and South America, but there are no listings for offices in the USA. We were told that all RMA requests should be directed toward the dealer who sold you the board. In the event of problems there, requests can be addressed to support@soltek.com.tw. The lack of an identifiable US presence from Soltek is of great concern, but in fairness to Soltek, our requests to their Taiwan headquarters were all answered promptly, and the Soltek staff was very helpful. FAQ's, downloads, and product information are available at the main site — you will be linked to this main site if you visit www.soltekusa.com.

Technical Support is also available by email, which is listed under "Contacts" at the main site. Soltek's tech support response time was excellent. Soltek Taiwan's response came in just 20 clock hours after our original email. The reply from the technical support representative was a sincere attempt to solve our problem, and the advice given by the technical support representative was useful, helpful, and appropriate to the problem. In our last Soltek review, we were pleased with the speed, but not the quality of the reply to our tech support question. This time, the advice was very good. The fast response by Soltek and the appropriateness of the reply left a very positive impression of Soltek's commitment to customer satisfaction. The giants in our industry should be embarrassed at how poorly they often treat customers in comparison to responses like we see from companies like Soltek.

Those who cannot find a local Soltek resource should send their Tech Support inquiries to the main site in Taiwan. If our experience is any indication, you will be pleased at the responsiveness you will find in your contacts with Soltek.





Performance Test Configuration
Performance Test Configuration
Processor(s):
AMD Athlon XP 3200+ (400MHz FSB)
RAM:
2 x 256MB Corsair PC3200 TwinX LL
(v1.1 or 1.2) Modules (SPD rated)
Hard Drive(s):
Maxtor 120GB 7200 RPM (8MB Buffer)
Western Digital 120GB 7200 RPM Special Edition (8MB Buffer)
Video AGP & IDE Bus Master Drivers:
VIA 4in1 Hyperion 4.47 (May 20, 2003)
SiS AGP r1.16 & SiS IDE r2.04
NVIDIA nForce version 2.03 (1/30/03)
Video Card(s):
ATI Radeon 9800 PRO 128MB (AGP 8X)
Video Drivers:
ATI Catalyst 3.6
Operating System(s):
Windows XP Professional SP1
Motherboards:
Soltek KT600-R (KT600)@200.01 FSB
DFI 748-AL (SiS748)@200.45MHz FSB
Asus A7V600 (KT600)@200.0 MHz FSB
Soltek NV400-L64 (nForce2 400 SC)@ 200.5MHz FSB
DFI NFII Ultra LANParty (nForce2 Ultra 400) @ 201.35 MHz FSB
Gigabyte 7VT600 1394 (KT600) @ 202.78MHz FSB
Gigabyte 7NNXP (nForce2 Ultra 400) @ 202.77MHz FSB
Epox 8KRA2+ (KT600)@202.44MHz FSB
All performance tests run on nForce2 400 (SC)/nForce2 Ultra 400 (DC) motherboards utilized two 256MB Corsair TwinX LL PC3200 (v1.1 or v1.2) modules set to SPD timings in DDR400 mode. Dual-Channel mode was used on nForce2 Ultra 400 boards. 2 dimms working as Single-Channel were used on the nForce2 400 Soltek NV400-L64 board.
All performance tests that ran on the KT600-based motherboards used two 256MB Corsair TwinX LL PC3200 (v1.1 or v1.2) Corsair modules in DDR400 mode. KT600 memory timings did vary slightly among the motherboards. 4-bank interleave and the highest available timing option (Turbo or Ultra) was used.
Performance tests were run with the ATI 9800 PRO 128MB video card with AGP Aperture set to 128MB with Fast Write enabled. The ATI 9800 PRO is the new AnandTech video card standard for reviews.
Additions to Performance Tests
We have added several new benchmarks to our standard Test Suite.
1)
ZD Labs Internet Content Creation Winstone 2003
— This benchmark has just been updated by ZD Labs and includes many new features in the Benchmark Suite, such as Media Encoding. It also uses the most up-to-date versions of Multimedia Creation software, which is rapidly changing as new software tools are released.
2)
ZD Labs Business Winstone 2002
— ZD Labs Business Winstone has been around for many years and is a widely quoted Benchmark for measuring system performance. It basically provides a similar benchmarking suite to Sysmark 2002 Office Productivity.
3)
Gun Metal DirectX Benchmark 2
— This demo/benchmark from Yeti Labs is one of the first DX9 game-based benchmarks available. Unlike some older benchmarks, such as Quake 3, which generate insane FPS ratings in the 300's, we see performance numbers in the 30 to 40FPS range with current DX9 cards.
To give AnandTech readers a feel for how some of the newer benchmarks compare to the more familiar benchmarks used in past reviews, we have posted results for both the new benchmarks and Sysmark 2002, and all the games that have been a part of our standard benchmark suite.
New Hardware
With the release of DirectX 9 late in 2002, the availability of Benchmarks to test DX9, and the availability of DX9-supporting video cards from both nVidia and ATI, we are now using the
ATI Radeon 9800 PRO
to our test hardware.
Content Creation and General Usage Performance
Media Encoding and Gaming Performance
High End Workstation Performance - SPEC Viewperf 7.0
High End Workstation Performance - SPEC Viewperf 7.0 (continued)
Final Words
The Soltek KT600-R is a value-priced KT600 board whose feature set is average among the KT600 boards. Most of the adjustment options that enthusiasts like to see are available on the KT600-R,
except
the ability to fully tweak memory timings. Because of this omission, we expected poorer than average performance.
Imagine our surprise when the Soltek KT600 benchmarked as the top performing KT600 we have tested! The Soltek was the top KT600 in every gaming benchmark. In almost every other benchmark run in this review, the Soltek is first or second among the KT600 boards. While the nForce2 is still the better performer, the difference between the best nForce2 Ultra 400 boards and the Soltek KT600-R is often very small.
Frankly, we are seeing much greater variation in the performance of VIA KT600 boards than we have seen with the nForce2 Ultra 400. Perhaps it is because the chipset is new, or maybe it is because it was relegated to the bargain bin by manufacturers before it was even launched. The top performing KT600 boards, like this Soltek KT600-R, give us hope that, with maturity, the KT600 can compete better with the nForce2 Ultra 400.
While Athlon64 and its variations are only a month away, the current Athlon Socket A will likely be a good seller at the low-end of the market for the next year or so. Unless poor sales cause the KT600 boards to be discontinued early by manufacturers, then the KT600 may continue to improve.
The KT600-R, like all KT600 boards we have tested, does not have a way to lock the PCI/AGP frequency. As a result, the FSB overclock is poorer than the nForce2 family. However, the multiplier options work well on recent Athlon chips, and we reached some of the highest overclocks that we have seen with the 2500+ used for testing.
There are KT600 motherboards available with more features than the Soltek KT600-R and RL. The Asus A7V600 is a good example of a great feature-set. However, if you insist on KT600, and performance is your goal, then the Soltek KT600-R is the best-performing KT600 that we have tested.