Original Link: http://www.anandtech.com/show/1125


Unlike their KT400A motherboard, MSI will be spending much more time and marketing money on their KT600-based KT6 Delta-FIS2R. This is true mostly because MSI knew that the KT400A would be a short-lived chipset, and they didn't feel that it would be worth their engineering resources because of KT400A's lack of official 400MHz FSB support, in combination with the KT400A's poor overclocking performance. Looking at our results from previous KT600 reviews (Epox 8KRA2+ and Gigabyte 7VT600 1394), it seems as if KT600 motherboards are only overclocking and performing marginally better than KT400A motherboards. The biggest advantage that KT600 motherboards have over KT400A motherboards is the official 400MHz FSB support, a big selling point for Socket A motherboards.
MSI expects that their KT6 Delta-FIS2R will be able to do better than their equivalently-positioned nForce2 Ultra 400 motherboards, based on the nForce2 SPP and IGP chipsets. Despite MSI's hopes for their new KT600-based motherboard, they are still more bullish about their NVIDIA-based motherboards. In fact, MSI is currently debating how to market NVIDIA and VIA's Athlon 64 chipsets against each other, given the relatively similar chipset features, save NVIDIA's superior DSP. One interesting tidbit we stumbled upon recently was how NVIDIA and VIA's Athlon 64 chipsets were performing. Unfortunately, we cannot reveal those exact performance differences at this time, but we can tell you that it won't be all that different than today's current Socket A market.
Read on to learn more about MSI's latest Athlon XP motherboard.
MSI KT6 Delta-FIS2R: Basic Features
 Motherboard Specifications
CPU Interface
Socket-462
Chipset
VIA KT600 North Bridge
VIA VT8237 South Bridge
Bus Speeds
up to 280MHz (in 1MHz increments)
Core Voltage
up to 1.850V in 0.0250V increments
up to 2.300V in 0.150V increments after 1.850V
I/O Voltage
N/A
DRAM Voltage
up to 3.30V (in 0.05V increments excluding 3.15V)
Memory Slots
3 X 184-pin DDR DIMM Slots
Expansion Slots
1 X AGP 8X Slot
5 X PCI Slots
Onboard IDE RAID
Promise PDC20378 RAID Controller (two SATA connectors, one IDE connector)
Onboard USB 2.0/IEEE-1394
Eight USB 2.0 ports supported by VT8237
VIA VT6306 IEEE-1394 FireWire (up to 3 ports available)
Onboard LAN
Broadcom 5788 10/100 controller
Onboard Audio
C-Media CMI9739A AC'97 codec
Onboard Serial ATA
Two SATA connectors via VT8237 (RAID 0, 1 & 0 + 1)
Promise PDC20378 Controller (two SATA connectors)
BIOS Revision
rev. 5.1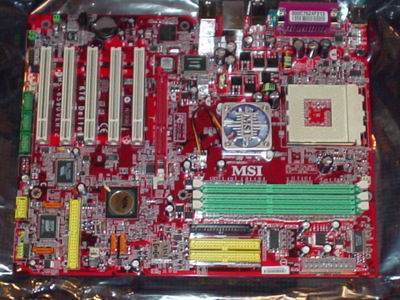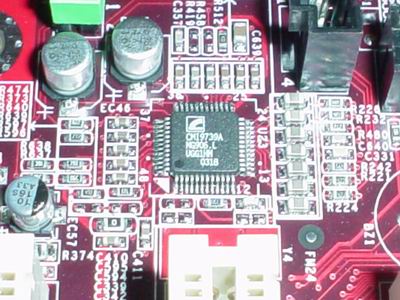 Unlike most other KT600 motherboards, MSI's KT600 motherboard utilizes C-Media's CMI9749A codec. There's nothing especially significant to note about this codec except to say that it'll offer fairly good sound quality for everyday audio tasks, such as listening to MP3s and even occasional gaming, if you're not bothered by the lack of a high fidelity surround sound system.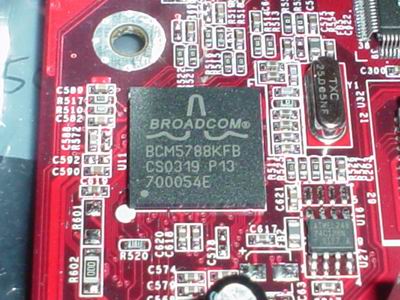 The MSI KT6 Delta-FIS2R motherboard does not use a very conventional LAN controller. The Broadcom 5788 controller is a 10/100 chip that we haven't seen before, but functions just fine as a Fast Ethernet adapter. While it is somewhat unfortunate to see that the MSI KT600 does not utilize a 10/100/1000 network controller like most modern-day motherboards (mostly Intel motherboards at this point), 10/100 controllers are still adequate for broadband user's needs. GbE (Gigabit Ethernet) can be useful for home and home office users who transfer large files between networked computers, but that's the extent of it for most users.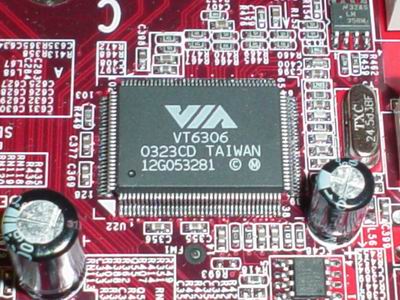 The KT6 Delta-FIS2R I/O ports configuration is standard for the market this motherboard is aimed at. The I/O ports included are two PS/2 ports, two serial ports, one parallel port, six USB 2.0 ports, one LAN port, and Mic In, Line In, and Line Out, which drive the onboard sound. As usual, MSI includes a girth of rear USB 2.0 ports, which is definitely helpful for users who use multiple USB devices at the same time, such as digital cameras, USB flash memory keys, printers, scanners, etc. Although MSI doesn't include rear IEEE 1394 FireWire support, you can still make use of the onboard VT6306 PCI-bound FireWire controller via included 3-port bracket. Motherboard makers have told us time and again that FireWire isn't in high demand as an onboard feature now that USB is so prevalent. Still, motherboard makers continue to include FireWire on their mid-range and high-end motherboards. Cost may be the underlying issue why motherboard makers are so reluctant to add rear FireWire; if that's the case, we can certainly understand their reluctance given the lack of significant demand.
As expected with all current KT600 motherboards, the MSI KT6 Delta-FIS2R has native Serial ATA support, courtesy of VIA's brand new VT8237 South Bridge. The VT8237 supports RAID 0, 1 and 0 + 1, which is a nice addition for users looking for the best combination of RAID support in a desktop motherboard. The advantage of RAID 0 + 1 is fast data access (like RAID 0), but with the ability to lose one drive, yet still have a complete duplicate surviving drive or set of drives (like RAID 1). In case you didn't already know, RAID 0 + 1 is stripping (RAID 0) and mirroring (RAID 1) combined without parity having to be calculated and written. In addition to all of this, VIA has also upped V-link's throughput from 533MB/s to 1066MB/s. All in all, VIA's new South Bridge is impressive, and certainly gives KT600 boards some added value compared to nForce2 motherboards. The new increased chipset I/O bandwidth is also a welcome addition, as it should help in those "intangible" computing experiences, such as multitasking.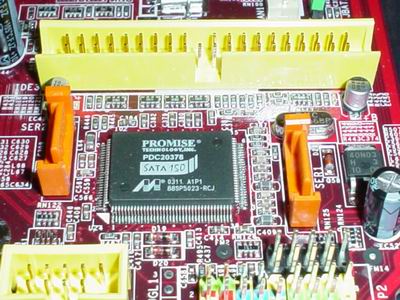 The KT6 Delta-FIS2R's Promise PDC20378 controller powers the third IDE controller on this motherboard, and is capable of supporting exactly two IDE drives. This same Promise PDC20378 controller also powers two Serial ATA connectors residing on the left and right hand sides of the controller. When you take into account the two VT8237 SATA connectors we just talked about and the Primary and Secondary IDE connectors, this motherboard is capable of supporting a grand total of ten drives.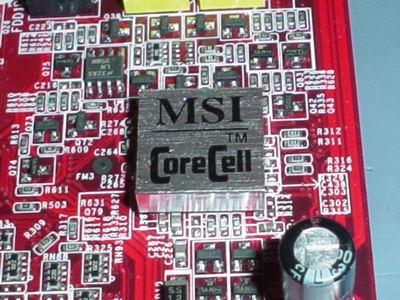 The most unique feature that the KT6 Delta-FIS2R brings to the table is CoreCell. CoreCell is MSI's own proprietary technology, whose purpose is to regulate your systems voltages and temperatures to fit users' needs better. MSI includes a (now fully functional) CoreCenter utility that is meant to tweak the voltages, fan speeds, etc., which CoreCell technology regulates. This is definitely a welcome feature for enthusiasts that covet complete control over their systems.
MSI KT6 Delta-FIS2R: Board Layout
The MSI KT6 Delta-FIS2R's layout was thought out very well, which hasn't always been the case with MSI motherboards.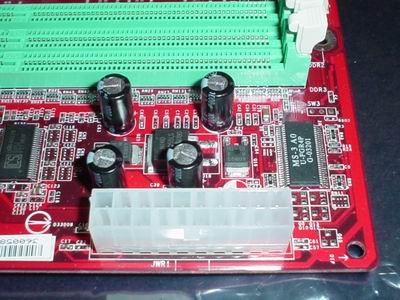 One component that we always like to see implemented correctly is the ATX (20-pin) connector. The KT6 Delta-FIS2R's ATX connector is located at the top right-hand side of the PCB, at the very edge of the board. Since standard PSUs don't usually have an extra long ATX cable, this location is most ideal because it will reduce clutter and greatly minimize intrusive ATX wires from obstructing the installation/uninstallation of the CPU HSF, memory modules, and any other components in that area that you may decide to modify or uninstall. If you're using a high-quality PSU with an extra-long ATX connector, you have nothing to worry about; but the location of the ATX connector is still best for those users who can't afford or don't want to purchase the best PSUs on the market.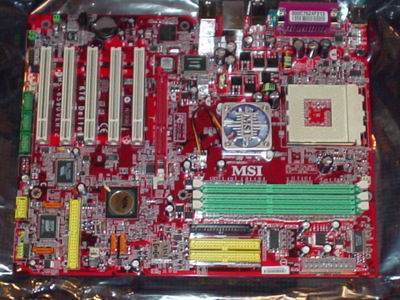 It was wise for MSI to choose the Primary and Secondary IDE connectors to be positioned above the midsection of the motherboard and to the right of the DIMM slots. This enables the bundled IDE cables to reach the upper bays of an ATX case. Effectively, it means that you will be able to install optical drives in the first and second bays, as well as make use of the Slave connector on the bundled IDE cables. Additionally, better air flow and case organization result from this ideal location. All in all, there is no other place for these IDE connectors.
The placement of the KT6 Delta-FIS2R's Floppy connector isn't the most optimal, however. If you intend to have a Floppy drive installed in your system, the floppy cable will create some case clutter and disorganization. The only saving grace is that the connector is located just to the left of the Primary/Secondary IDE connectors. Nonetheless, in our opinion, it would have been ideal to have placed the Floppy connector at the bottom of the board to the right of the IEEE 1394 FireWire ports.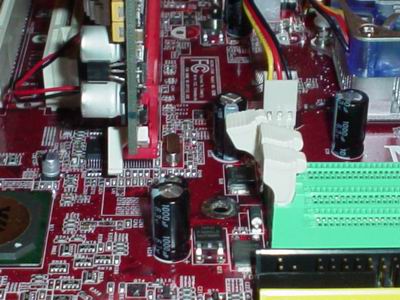 The KT6 Delta-FIS2R's DIMM connectors are placed in a good location, at a sufficient distance away from the AGP slot. This makes it possible for users to install or uninstall memory modules easily without having to uninstall their video card, which is a time-consuming process that includes steps like unscrewing your video card, unplugging your VGA cable, and physically uninstalling your video card from its AGP slot. Motherboard makers are slowly, but surely, taking notice. Fortunately, MSI and other top tier motherboard makers, like Gigabyte, are starting to position the DIMM connectors in the same location in more and more of their P4 and Athlon motherboards.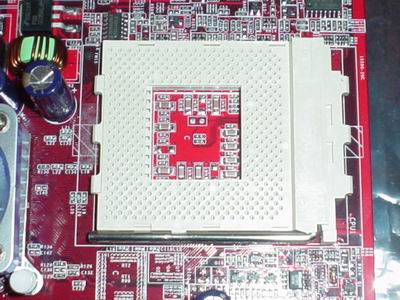 Conversely, one thing motherboard makers are
not
introducing quickly enough are the four mounting holes required for more powerful CPU HSFs. This is definitely a drag for cooling enthusiasts, as well as serious overclockers. Nonetheless, there are good copper HSFs out there that can be bought very cheaply (between $10 and $15) that don't require mounting holes; and therefore, they are compatible with nearly all Socket A motherboards.
MSI KT6 Delta-FIS2R: BIOS and Overclocking
As standard with all current MSI motherboards, the KT6 Delta-FIS2R uses an AMI BIOS setup. This isn't the most popular BIOS available for enthusiasts (Award is considered #1 these days), but MSI is sticking with it for simplicity reasons.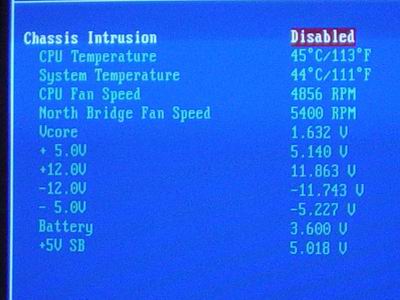 The KT6 Delta-FIS2R PC Health section includes very basic readings, those you would come to expect from a very bland PC Health section. These readings include System and CPU temperatures, CPU and North Bridge fan speeds, Vcore, PSU readings (all rails) and a battery voltage reading. Unfortunately, MSI does not include
any
type of fan speed control option, or any other interesting options for that matter. We would have preferred to have seen some VAGP and VDIMM readings thrown in there, with a CPU temperature warning adjustment option as well. Overall, the KT6 Delta-FIS2R's PC Health could certainly be better, especially if MSI expects any serious enthusiasts to purchase this motherboard. Nonetheless, the end user does get enough readings to get by, and in that sense, it is more than adequate.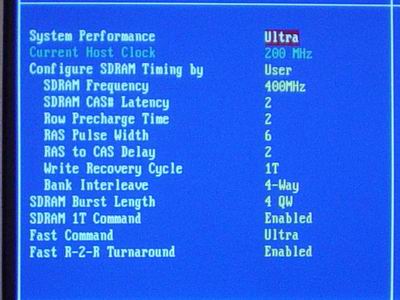 The KT6 Delta-FIS2R's Advanced Chipset Features are very nice, rivaling the best Advanced Chipset Features of other Socket A BIOS motherboards that we've seen, including nForce2 Ultra 400 BIOSes. In this section, you'll find such memory timing options as CAS Latency, RAS to CAS Delay, RAS Precharge, Precharge Delay, Bank Interleave, Command Rate, Fast Command, and a "system performance" (Fast and Ultra modes available). In general, these are excellent options to have at your fingertips; tweaking enthusiasts will definitely enjoy this type of BIOS setup.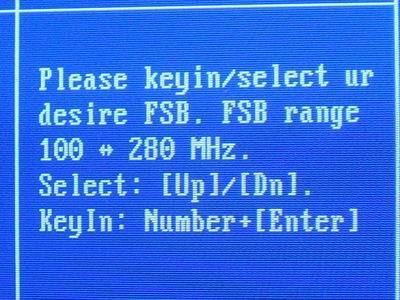 One of the most important options available in this BIOS is the FSB frequency adjustments. MSI was smart to allow lots of FSB overclocking headroom in the KT6 Delta-FIS2R, up to 280MHz FSB to be precise. Definitely, this should not be considered a limitation, especially since AMD does not plan on introducing processors above 200MHz (400MHz DDR) FSB anytime before the Athlon dies out in 2004.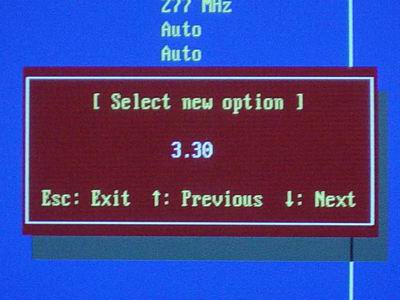 MSI has been going all out with their voltage ranges as of late, and the KT6 Delta-FIS2R continues with this tradition. VDIMM is adjustable all the way up to a massive 3.3V in 0.05V increments (excluding 3.15V). There are very few memory modules available on the market that are able to reach this high of a voltage without suffering long term damage. However, the few modules that are under warranty around 3.0V or so (like OCZ's GOLD series of modules) are excellent choices for motherboards, such as the KT6 Delta-FIS2R. Overall, we're impressed and happy to see MSI maintain their recent trend of astronomically high voltage ranges. Epox was the only other motherboard maker that made such options standard across their entire line of motherboard models.
Regarding AGP/PCI lock, it is unfortunate that the MSI KT6 Delta-FIS2R holds a spot among other KT600 motherboards that lack this feature, common in all nForce2 motherboards. This will most likely be a turn off for most overclockers, who desire control over how out of spec they want their AGP and PCI devices to run.
The KT6 Delta-FIS2R's VAGP range is exceptional. VAGP is adjustable in 0.1V increments up to 2.10V. For normal use, this high VAGP rating is quite unnecessary, so our recommendation is to stick to the default 1.5V setting. If you're a hardcore (video, CPU, etc.) overclocker, 1.7V should be sufficient to satisfy your needs. A VAGP of 2.10V could be disastrous, however, so tweak at your own risk.
One notable feature of the KT6 Delta-FIS2R is the chipset voltage options. This feature is becoming more common among nForce2 Ultra 400 motherboards, but not so with VIA chipset-based motherboards. The KT6 Delta-FIS2R offers chipset voltage options ranging from Auto (2.5V) up to 2.8V in 0.1V increments. In case you're interested, MSI calls their chipset voltage option "VLink Voltage".
FSB Overclocking Results
For FSB overclocking, the following setup was used on the KT6 Delta-FIS2R:
Front Side Bus Overclocking Testbed
Processor:
Athlon XP 2500+ (Barton Core)
CPU Vcore:
1.650V (default)
Cooling:
Volcano 7+ HSF
Power Supply:
Enermax 350W
The KT6 Delta-FIS2R was a good FSB overclocker for KT600 motherboard standards, coming in at 210MHz FSB. Compared to nForce2 Ultra 400 motherboards, however, the KT6 Delta-FIS2R is simply mediocre at best. Every single nForce2 Ultra 400 motherboard that we've come across so far has been able to reach north of 220MHz FSB, and in several cases, quite a bit higher. Clearly, hardcore overclockers will stray far away from KT600 motherboards, unless they are content with purchasing 133MHz or 166MHz FSB Athlon processors, and running them at 200MHz FSB at a slightly lower multiplier. Actually, this is common practice among the casual overclocker.
The KT6 Delta-FIS2R's CPU multiplier options range from as low as 6.0X to as high as 15.0X. To be more exact, the CPU multiplier is adjustable in 0.5X increments between 6.0X and 10.0X, with a 14.0X and 15.0X option available. This is an acceptable multiplier range for the most part, but is definitely lacking in terms of the higher value and useful multiplier values between 10.0X and 14.0X. We can't think of any logical reason why MSI left out multiplier adjustments between 10.0X and 14.0X.
MSI KT6 Delta-FIS2R: Stress Testing
We performed stress tests on the KT6 Delta-FIS2R in several different areas and configurations, including:
1. Chipset and motherboard stress testing, which was conducted by running the FSB at 210MHz; and
2. Memory stress testing, which was conducted by running RAM at 400MHz with one DIMM slot filled, and at 400MHz with all three DIMM slots filled at the lowest memory timings possible.
Front Side Bus Stress Test Results:
As standard practice, we ran a large load of stress tests and benchmarks to ensure the KT6 Delta-FIS2R was absolutely stable at each overclocked FSB speed. These stress tests included Prime95 torture tests, which were run in the background for a total of 24 hours.
In addition, we proceeded to run several other tasks, such as data compression, various DX8 games, and light apps like Word and Excel while Prime95 was running in the background. Finally, we re-ran our entire benchmark suite, which includes Sysmark 2002, Quake3 Arena, Unreal Tournament 2003, SPECviewperf 7.0, Jedi Knight 2 and XMPEG. In the end, 210MHz FSB was the highest overclock that we were able to achieve with the KT6 Delta-FIS2R without encountering any reliability issues.
Memory Stress Test Results:
This memory stress test is very basic, as it simply tests the ability of the KT6 Delta-FIS2R to operate at its officially supported memory frequency (400MHz DDR), at the lowest supported memory timings that our Corsair TwinX LL modules officially support:
Stable Dual DDR400 Timings
(1/3 banks populated)
Clock Speed:
200MHz
Fast Command:
Fast
CAS Latency:
2.0
Bank Interleave:
4-bank
RAS to CAS Delay:
2T
RAS Precharge:
6T
Precharge Delay:
2T
Command Rate:
1T
It's not surprising to see the KT6 Delta-FIS2R achieve such low memory timings with just one memory module spec'ed at DDR400 running at 400MHz DDR. It is quite normal for any P4 or Athlon XP motherboard to achieve these aggressive performance settings. Thankfully, it looks as if KT600 motherboards will have no trouble achieving low memory latencies, as demonstrated in the next chart. We should mention that the KT6 Delta-FIS2R had a Fast Command option of Ultra that was not reliable during stress testing, which is why we could only achieve a Fast Command of "Fast" during our stress tests.
The following stress test is obviously a bit more strenuous on the memory subsystem than most memory stress tests, as it tests the rare occasion that a desktop user will install three DIMMs running 400MHz DDR at the most aggressive memory timings available in the BIOS:
Stable DDR400 Timings
(3/3 banks populated)
Clock Speed:
200MHz
Fast Command:
Normal
CAS Latency:
2.0
Bank Interleave:
Disabled
RAS to CAS Delay:
3T
RAS Precharge:
6T
Precharge Delay:
2T
Command Rate:
1T
It is not unusual to see these lax timings for a strenuous memory subsystem test such as this. However, we have seen better, and so in this case, the KT6 Delta-FIS2R does not perform as well as most other current motherboards. Still, this seems to be the norm for KT600 motherboards. It's worth reiterating that the real world performance difference between aggressive memory timings and relaxed memory timings, such as SPD, are very small. Therefore, unless you're hell-bent on squeezing every last bit of performance from your system, SPD timings will work just fine 99% of the time.
We tested these memory timings using several stress tests and general applications to guarantee stability. We initiated the tests by running Prime95 torture tests; a grand total of 24 hours of Prime95 was successfully run at the timings listed in the above charts. We also ran Sciencemark (memory tests only) and Super Pi. All three stress tests could not faze the KT6 Delta-FIS2R.
MSI KT6 Delta-FIS2R: Tech Support and RMA
For your reference, we will repost our support evaluation procedure here:
The way our Tech Support evaluation works is first we anonymously email the manufacturer's tech support address (es), obviously not using our AnandTech mail server to avoid any sort of preferential treatment. Our emails (we can and will send more than one just to make sure we are not getting the staff on an "off" day) all contain fixable problems that we have had with our motherboard. We then give the manufacturer up to 72 hours (during business days) to respond and then we will report whether or not they responded within the time allotted, and if they were successful in fixing our problems. In case we don't receive a response before the review is published, any future responses will be added to the review, including the total time it took for the manufacturer to respond to our requests.

The idea here is to encourage manufacturers to improve their technical support as well as provide new criteria upon which to base your motherboard purchasing decisions. As motherboards become more similar every day, we have to help separate the boys from the men in as many ways as possible. As usual, we are interested in your feedback on this and other parts of our reviews, so please do email us with your comments.

MSI's RMA policy lists some precursors for you to peruse before filling out their RMA form, which you can access by clicking on the "contact us" hyperlink on their web site. Once you've done that, go ahead and click on one of the U.S. locations, where you will find their U.S. RMA policy. For other countries, follow the same procedure.

Here are some of the things that MSI asks of you in order to make your RMA experience easier:

1. First contact the retailer from which you purchased the motherboard before contacting MSI.
2. Contact information is required: name, address, telephone, city, state, zip code, etc.
3. Provide item and serial number, and e-mail your RMA form to msirma@msicomputer.com.
4. You must mark the RMA number outside of the shipping box or MSI will decline your request.
5. RMA number will be valid for only 30 days.

MSI's tech support response has dramatically improved since we last reviewed them. In fact, we received a reply well under the 72-hour response time that we ask of every motherboard manufacturer. MSI came in at 55 hours this time around. We were pleasantly surprised and pleased with the response time, and hope that we just didn't get lucky.
MSI's office hours are Monday through Thursday, from 7:30 AM to 5:30 PM (Pacific Time); Friday's hours are from 8:30 AM to 4:00 PM. You can reach their tech support line by calling (626) 581-3001 or faxing them your questions at (626) 581-7221. Due to their busy schedule and the high volume of questions received, MSI highly suggests that you fill out their "technical support request form", also found on the same regional web site as their RMA policy.
MSI also provides tech support to several countries besides the U.S. and Taiwan, such as Australia, Brazil, China, Czech, France, Germany, Hong Kong, Japan, Netherlands, Russia, and others.
MSI has improved their RMA and tech support, which has been a thorn in their side for some time. Most motherboard manufacturers are still lack quality service in the RMA and tech support department, so we're happy to see that MSI is improving in that arena to become a better-rounded motherboard maker.
Performance Test Configuration
 Performance Test Configuration
Processor(s):
AMD Athlon XP 3200+ (400MHz FSB)
RAM:
2 x 256MB Corsair PC3200 TwinX LL (v1.1) Modules (SPD rated at CAS 2-2-2-6)
Hard Drive(s):
Western Digital 120GB 7200 RPM Special Edition (8MB Buffer)
Bus Master Drivers:
NVIDIA nForce version 2.03 (January 30, 2003)
VIA 4in1 Hyperion 4.47 (May 20, 2003)
Video Card(s):
ATI Radeon 9800 Pro (AGP 8X enabled)
Video Drivers:
Catalyst 3.6 (July 15th, 2003)
Operation System(s):
Windows XP Professional SP1
Motherboards:
ABIT KV7 (KT600) @ 202.49MHz FSB
ASUS A7V600 (KT600) @ 200.00MHz FSB
DFI NFII Ultra (nForce2 Ultra 400) @ 201.35MHz FSB
Epox 8KRA2+ (KT600) @ 202.44MHz FSB
Gigabyte 7NNXP (nForce2 Ultra 400) @ 202.77MHz FSB
Gigabyte 7VT600 1394 (KT600) @ 202.78MHz FSB
MSI KT6 Delta-FIS2R (KT600) @ 202.65MHz FSB
Soltek NV400-L64 (nForce2 400) @ 200.50MHz FSB

All performance tests that ran on nForce2 Ultra 400 motherboards utilized two 256MB Corsair TwinX LL PC3200 (v1.1) modules, set to SPD (CAS 2-2-2-6) timings in dual-channel DDR400 mode.
All performance tests that ran on the KT600-based motherboards used two 256MB Corsair TwinX LL PC3200 (v1.1) Corsair modules in DDR400 mode. KT600 memory timings were set to SPD 2-2-2-6-1T timings, Ultra timing mode, and 4-bank interleave.
Benchmarks and Performance Testbed updated on August 7th, 2003
Content Creation and General Usage Performance
Media Encoding and Gaming Performance
High End Workstation Performance - SPEC Viewperf 7.0
High End Workstation Performance - SPEC Viewperf 7.0 (continued)
Final Words
Looking just at the KT6 Delta-FIS2R's features (onboard, BIOS, accessories, etc.), this version of MSI's KT600 series of motherboards is most definitely in a small, elite group of the most feature-filled Athlon XP motherboards ever built. Currently, the KT6 Delta-FIS2R is being sold around the $135 to $140 mark in retail U.S. channels, which, contrary to popular belief, is not undercutting motherboards that are based on nForce2 and nForce2 Ultra 400 chipsets with similar features. This can be attributed to NVIDIA's aggressive pricing strategy, which they have continued to use to this day. Recently, NVIDIA released a new chipset onto the market, dubbed nForce2 400, aimed squarely at VIA, who has now been mostly relegated to the budget chipset market. The nForce2 400 chipset is physically identical to an nForce2 Ultra 400 chipset except for its 64-bit single channel DDR memory interface (nForce2 Ultra 400 has a 128-bit dual channel DDR memory interface). Based on early testing, it looks as if the nForce2 400 could be a big hit among budget users and budget enthusiasts alike.
In the end, if you've had good experiences with MSI and VIA products, you will be one of those individuals who will jump at the thought of building a high-end Athlon system based on this motherboard. The MSI KT6 Delta-FIS2R
is
an extremely well-balanced motherboard, even if you're not particularly fond of MSI or VIA. However, this motherboard really shouldn't be seriously considered as a bleeding-edge motherboard, especially for overclocking and performance enthusiasts. For these types of users, choose nForce2 Ultra 400 motherboards from ABIT, Gigabyte, ASUS, and Epox, among others. The MSI KT6 Delta-FIS2R is not a bad choice by any stretch of the imagination — it's simply not the absolute best choice available.
Stay tuned for future motherboard reviews based on chipsets such as the nForce2 Ultra 400, nForce2 400, KT600 and others.