Original Link: http://www.anandtech.com/show/1057


Introduction
Incredibly, the power supplies on modern PC's have been fairly slow to develop new technology.  Often, diehard gamers will replace a motherboard, processor, ram, maybe even hard drive several times within the course of a year.  On the other hard, other essential items such as the case and power supply become afterthoughts or items purchased only when completely necessary, like when a particular chipset (or two) deems it essential to increase the output wattage in order to support the processor core.
Over the course of a year, we have seen a lot of changes in the PC case market.  Several companies are adopting aluminum and thin steel solutions as opposed to the bulky, heavy, thermal nightmares of several years ago.  Recently, we have seen a few companies push real hard to refine the power supply market to the point where it is at today.  Today we have four of the leading power supply manufactures put head to head with their best product lines. 
Vantec, a company that traditionally brands fan and cooling technology has now stepped up to play in the power supply market.  Their no holds barred approach to PSU design has gotten them a lot of attention in reviews, particularly when money is not important.  Vantec was kind enough to send us their Aluminum Stealth 420W PSU.  The next contender in our shootout is a former relative of Vantec; Antec.  Antec is one of the oldest case and PSU retailers in the PC market, and we were fortunate enough to have one of their TruePower 430W power supplies around the lab.  Like Vantec, Antec has also been attracting a lot of attention with their latest power supply, which happens to be one of the most widely available aftermarket PSU's.
The third contender in our PSU shootout is the award winning Enermax.  Even though Enermax has been in the power supply industry for a while now, they were one of the first companies to push active PFC (Power Factor Correction) into the mass audience.  Our final contender in the 4-way high-end shootout is ThermalTake.  Typically, ThermalTake has been known for its CPU cooling and fan solutions.  Only recently have they produced cases, which we were able to take a look at several weeks ago in the Xaser II A6000B review.  We were able to obtain a ThermalTake Silent Purepower 420W Active PFC supply to round off our shootout.  Both of these supplies are unique because they employ PFC, which we will talk about more later on.
In this article, we will look at some PSU technology, where is has been, and where it is going.  We have gotten a lot of requests from readers to demystify some of the technology behind these behemoth power supplies. Get ready to void some warranties, its time for a shootout!
Overview
Since late august of 2002, a flood of new features have started to crop up in the world of power supplies.  What complicates matters even more is that between the 5 or 6 high end supplies on the market, almost all of them incorporate a different type of technological "advantage".  During this review, we spent a lot of time researching each supply to see which of these new technologies is the most promising.  Although some features may appear strikingly similar to each other, keep in mind that like cases, switching power supplies do not have many manufacturers.  Most power supplies on the market are actually manufactured by Topower, Delta or Channel Well (CWT).  
For those of you who do not know how modern switching power supplies work, let us provide a brief explanation.  When electricity enters the power supply, it is in the form of AC or alternating current.  Essentially, the polarity (direction) of the current alternates back and forth, around 60 times a second.  The advantage of AC current is that it can easily be transformed from high voltage to low voltage.  This way, power can be transported hundreds of miles over high voltage lines, and then transformed to lower voltages for household use.  Unfortunately, AC current is not acceptable for the fine motors and circuitry in computer components, thus, the current must be switched to DC. 
Through a process of rectification, the alternating current is broken down into its positive and negative currents and thus the DC current is produced.  Since this current is not quite suitable for use yet, it is then pulsed in a transformer to reduce the voltage.  Finally, the output is filtered, and sent to various parts of the computer.  This process is what gives PSU's the title of switching power supplies.  We will talk more about the switching process when we analyze PFC. 
Unfortunately, the conversion from AC to DC does not come free.  As the max DC outputs of these power supplies continue to rise, so does their creation of heat.  In order for power supplies to effectively produce the most efficient DC, they must be kept reasonably cool. Vantec's solution to this problem comes in the form of two unique solutions; aluminum construction and a 3 way fan array (2 intake, 1 rear exhaust).  The other 3 samples we had simply used two powerful (but quiet) fans to move as much air as possible.  Some of the other new technologies we have seen are truly innovative leaps and bounds over existing technology.  Others are just carefully thought out optimizations. 
Some of these new technologies we will be discussing in this article.  Below is a brief description of some of the newest features on PSU's in the market today:
Aluminum Construction – We have seen cases use this material before, now power supplies are mimicking its success and cooling advantages.
Silent Fans – Almost every PSU on the market is pushing *silent* fans.  Most PSU's insist on using fans under 34dbA.
Mesh ATX cable sheath – Virtually all quality PSU's have decided to switch to this simple and clever approach to reducing tangles in the main ATX cable.
Power Correction Factor – The mysterious PFC is beginning to show up in several PSU's including Enermax and ThermalTake.
Thermal/Manual fan control – Most power supplies are also shipping with adjustable fan controls to reduce the drone of the fans when it's not needed. 
Additional Fans – Vantec and other manufacturers are adding additional fans on the PSU in order to improve airflow through the PSU and the case.
Copper Component Shielding – Some PSU's are attempting to reduce EMI by shielding components with copper.
Dedicated Line Circuitry – Antec is among the first to add dedicated circuitry for it's +3.3V and +5V DC lines to provide unshared max wattage outputs.
Motherboard Monitoring – With the exception of Vantec, the other three supplies we will be analyzing today have 3-pin monitoring connections to allow fan monitoring on the motherboard.
Antec TruePower
Antec demonstrates a lot of tried and true practices in its TruePower series PSU.  The main selling points of the TruePower series are the dedicated circuits for each line.  This may puzzle some readers, but the concept is actually quite simple.  Most PC power supplies have 3 main DC feeds from the power supply (+3.3V, +5.0V, +12.0V).  Each of these run at a different voltage, and each voltage powers a specific type of subsystem inside the PC.  For example, the 5V line is typically used for PCI/AGP devices, while the 12V line is used specifically for motors in the PC (motors are used in devices such as CD-ROMs, hard drives, fans, and virtually anything else that spins).  On most power supplies, the 3.3V and the 5V lines are combined on the same transformer.  Therefore, when buying a power supply one has to be wary of the combined +5V and +3.3V rating, rather than the individual max wattages of each of these lines.  Obviously, if the CPU is hitting its peak usage and drawing as much power as possible, the 5V line runs dangerously low.  Over time, this could seriously damage delicate devices.  The dedicated transformers on the TruePower allows for a more stable output on the three main lines.
Antec's second technological push is their "Voltage Feedback" technology.  CPU's and chipsets have become increasingly demanding in the amount of variance in the DC current.  Intel specifically requires less than 5% variance allowance before damage begins to occur on the chip.  The problem is that even the leads to the motherboard provide some resistance, which in turn hampers a clean regulated voltage.  Antec has countered this problem with voltage feedback.  By monitoring the voltage constantly, the circuitry inside the PSU regulates the signal as much as possible.  Like dedicated transformers for each line, this feature protects and keeps the powered hardware stable.  During the benchmark of these PSU's, we plan on using an oscilloscope to verify these outputs.

Antec 430W TruePower Power Supply

Form Factor

ATX Tower

Rating

430Watts

Onboard Fans

1 92mm Temperature Controlled Dual Ball Bearing
1 80mm Temperature Controlled Dual Ball Bearing

Other Features

Dedicated Circuitry
Voltage feedback

Provisions

7 full size molex
2 full size fan dedicated molex
2 half size molex
1 ATX 12V
1 AUX
1 3pin fan sensor

Connection

ATX


The Antec TruePower is also one of the quietest PSU's on the market.  We will get more into the noise levels of the PSU's later in the review, however.  An additional bonus to thermally controlling its own onboard fans, the PSU also has two additional connectors specifically designed for case fan control.  This feature has its plus and minuses.  While it is certainly a convenient alternative to buying thermal fans, you may wish to use the connectors on fans situated close to the power supply.  Since cases each have different hot spots, attaching a fan on the other side of the case from the TruePower may perform inconsistently.
Aside from being one of the most recognized names in the power supply market, Antec has taking a large push to market these units as well.  Most brick and mortar retail stores that sell power supplies will probably carry the Antec PSU lines.
Vantec Stealth Aluminum
Right away we saw a lot of things we liked about the Vantec Stealth PS.  The jet black paint job on the dull aluminum provides a fairly unique first impression.  Obviously, as cases have begun to switch to aluminum chassis, the next evolutionary step is to also construct the power supply out of aluminum.  The theoretical advantage to using aluminum in housing design is to disperse the heat as much as possible in a system.  Aluminum has a fairly good ability to transfer heat, and thus distributing it along a large surface area.  Naturally, the more surface area to dissipate heat, the more effective an air cooling solution.  Unfortunately, aluminum technology really hasn't shown the advantages people would like to see in cases.
The second noticeable advantage the Stealth possesses comes in the form of three heat sensing fans.  Typically, we see OEM power supplies with one or two fans.  Unfortunately, as PC's demand more and more on power supplies, the maximum wattage and current has been on the rise.  Before the AMD Athlon debuted with a 300W PS requirement, most systems required a mere 200 watts to power all the necessary components.  Now with the power hungry Pentium 4's and higher speed Athlons, typical OEM power supplies are rated over 400W.  Aside from the 420W supply we are testing today, Vantec also has a 470W and a 520W Stealth, each with a peak load of 570W and 620W respectively.

Vantec 420W Aluminum Stealth Power Supply

Form Factor

ATX Tower

Rating

420Watts

Onboard Fans

3 80mm Temperature Controlled Dual Ball Bearing

Other Features

Aluminum construction
Additional Outlet

Provisions

9 full size molex
2 half size molex
1 ATX 12V
1 AUX

Connection

Universal
A unique feature to see was the extra power outlet provision on the rear of the unit.  Once upon a time, power supplies used to come with an additional outlet in the back with the intention of using it to plug a monitor into.  Unfortunately with the newer power hungry monitors and computers, the power supply was reduced to the role of providing power to only the computer.  Now that Vantec, Thermaltake and Zalman have discovered the need for stable and efficient power supplies, the idea of an additional outlet has been given a new life.  In addition, when the computer is off, power to the additional outlet is off as well.  This is a great feature for monitors, and we expect several other power supplies on the market to also come standard with additional outlets.
Interestingly enough, the power supply comes with a 24 Pin Universal Connector.  While 24-Pin DC is used mostly in high end server motherboards, it also comes with a 24 to 20 pin adaptor.   Furthermore, the cable is enveloped in a nylon sheath to keep it from tangling all over the case.  Unfortunately, with twelve connections for devices, a slight tangling problem would be an understatement.  After we had our Stealth 420W plugged in, we ended up using several twist ties to keep all the extra connectors at bay. 
The downside to the awesome features packed into the Vantec Stealth is the price and noise.  With the Aluminum Stealth priced around 110USD for the 420W version, expect to save up a little before you go shopping for this PSU.  The 3 onboard fans also pack quite the audible punch.  We will get more into the noise level of this power supply later in the review.
ThermalTake Silent Purepower Active PFC
The newest player on the block is ThermalTake.  There are several myths about this power supply, especially concerning PFC (power correction factor).  As taken a quote from ThermalTake's website:
Many loads are highly inductive, such a lightly loaded motors and illumination transformers and ballasts. You may want to correct the power factor by adding parallel capacitors. You can also add series capacitors to "remove" the effect of leakage inductance that limits the output current.(Jim Lux -2002).
After doing a little bit of research, we found this quote to be fairly misleading.  The unusual thing is, PFC really has very little to do with power.  Like we mentioned earlier, a modern PSU is actually a "switching power supply", meaning rather than a continuous current being passed through the unit to the motherboard, it rapidly charging and discharging (over 50,000 times per second) to deliver power to the computer.  Obviously, this harmonic oscillation generates EMI and RFI, which is particularly annoying because it does so on an AC line feed.  In older city wiring, a poor power supply can generate a lot of interference the general vicinity of the device.  Over time, this EMI can actually damage other electrical equipment. 
Several years ago, certain countries in Europe began to pass legislation to crackdown on electrical interference.  One solution to the EMI/RFI being generated was the implementation of PFC into all computer power supplies.  In a nutshell, PFC reduces the peak current and lowers the harmonic current from a PSU.  The advantages of this include less stress on the power company's infrastructure, and less interference on nearby electrical devices.  In the US, no legislation has been passed that requires any sort of PFC technology.  However, if you are an audiophile, and have sensitive equipment not shielded by a line purifier, the reduction in EMI/RFI might be beneficial to you.  Europeans may wish to check if your area requires a PFC power supply or not before rushing to buy a PFC power supply.

ThermalTake 420W Silent Purepower Active PFC

Form Factor

ATX Tower

Rating

420Watts

Onboard Fans

2 80mm Temperature Controlled Dual Ball Bearing

Other Features

Active PFC

Provisions

9 full size molex
3 half size molex
1 ATX 12V
1 AUX
1 3pin fan sensor

Connection

ATX
While the myth about PFC may have been slightly debunked, the ThermalTake 420W PSU does have some other neat advantages to it.  The first thing we noticed about the power supply was the flush fan grills.  For our roundup, this is the only unit to incorporate such a feature.  Although it seems not particularly important, the advantage of flush fan grills pays off with an older case.  Sometimes, cases are designed poorly and might just be slightly offset enough to prevent an easy installation with a fan grill in the way.  Anyone who has gone out of their way to get a new PSU and found they had to use an excessive amount of force to get it in the case knows exactly what we are talking about.
ThermalTake, of late, has spurred a fairly large marketing campaign.  Purepower units are becoming ever increasingly popular, especially among online retailers.  ThermalTake has done a good job in branching out their name and while expanding into other markets such as case and power supplies. Only a benchmark will tell of the Purepower is truly a worthy power supply among the others.
Enermax EG465 Active PFC
We had fairly high expectations for Enermax when we decided to do our shootout.  Enermax's website details a bit of information about their supplies, and like Antec, Enermax is no newbie in the power supply industry.  Similar to the ThermalTake supply, this EG465 also boasts Active PFC.  However, unlike ThermalTake, Enermax does not seem to make the same out of context claims on the advantages of PFC. 

Enermax 460W 465AX-VE Active PFC

Form Factor

ATX Tower

Rating

460W

Onboard Fans

1 92mm Temperature Controlled Dual Ball Bearing
1 80mm Manual Controlled Dual Ball Bearing

Other Features

Active PFC
Copper EMI shielding
Manual Fan Control

Provisions

8 full size molex
2 half size molex
1 ATX 12V
1 AUX
1 3pin fan sensor

Connection

ATX
The first thing we recognized as unique with this power supply was the ATX and auxiliary cabling on the unit.  While the other three units have a thin nylon mesh sheath, the EG465's cabling is actually shielded in a 2mm plastic tube.  This tube acts as a protective barrier to the main wires and also keeps them organized.  We really thought this was a great step up from other units; kudos to Enermax.
Another 'new' feature on the EG465 was the heavily advertised copper shielding around the internal circuitry.  In theory, this should reduce EMI and produce a cleaner signal along all of the power rails.  We opened our Enermax, and using the crude "bleach test," we were able to confirm that the copperish metal around the components inside the unit were in fact copper. 
Enermax also prides itself in having one of the most unique fan control options on the market.  The internal 90mm fan is controlled solely on a thermal resistor inside the unit.  This does not differ much from the other 3 units we are reviewing today.  The rear exhaust, on the other hand, is controlled via a small knob on the rear of the unit.   Most people will simply just leave it on maximum, but enthusiasts who take noise levels very seriously will have no problem adjusting this fan with the knob.  There is clearly an audible difference between the highest and lowest settings. 
For the most part, Enermax's unit demonstrates more unique qualities than Vantec's Stealth unit, but at a lower cost; around 100USD.  We will see if this well rounded supply can also live up to its name in the benchmark.
Math, Anyone?
One of the more interesting things we discovered when doing this review were the inconsistencies in the mathematics in each of the power supplies.  Below you will see the advertised breakdown of each power supply's current and max wattage; italic values denote values we calculated ourselves.
Antec Truepower (Advertised as 430W)
+3.3V

+5V

+12V

-12V

-5V

+5VSB

Max Output Current

28.0A

36A

20A

1.0A

0.5

2.0

Max Combined Wattage

410W

12W

2.5W

10W
Vantec Stealth (Advertised as 420W)
+3.3V

+5V

+12V

-12V

-5V

+5VSB

Max Output Current

26A

42A

18A

1.0A

0.8A

2.5A

Max Combined Wattage

200W**

216W

12W

4W

12.5W
ThermalTake Purepower (Advertised as 420W)
+3.3V

+5V

+12V

-12V

-5V

+5VSB

Max Output Current

30A

40A

18A

0.8A

0.3A

2.0A

Max Combined Wattage

220W

216W

9.6W

1.5W

20.0W
Enermax EG465 (Advertised as 460W)
+3.3V

+5V

+12V

-12V

-5V

+5VSB

Max Output Current

35A

35A

33A

1.0A

1.0A

2.2A

Max Combined Wattage

200W

396W?

12W

5W

11W
Many of us know, power can easily be computed from as current times voltage (P = IV). The problem appears to be that these figures seem to add up inconsistently. Antec advertises their 3.3V, 5V and 12V rail each have their own dedicated circuitry. Unfortunately, the maximum out put cannot be roughly obtained by calculating the wattages for the 3 main rails and then adding them together. Even though it is not fully disclosed, the three main rails are usually limited with another total wattage rating. In Antec's case, this total wattage is 410W.
As we discussed earlier, the 3.3V and 5V rails are both shared on the same transistor (except on the Antec Truepower). This means, the combined wattage on the +3.3V and +5V rail are taken in account together. When looking at Vantec's Stealth, the label claims to put out 42A on the +5V rail alone.  The maximum combined wattage for both rails is advertised at 200W.  Using P = IV, the total power output on the +5V rail should be 210W.  We were slightly puzzled as to how the maximum wattage on both rails is less than the maximum wattage of just the 5V rail.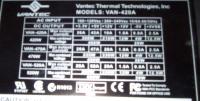 Vantec Stealth 420W Side Label
**After contacting Vantec about this irregularity, we were pleased to hear the 200W combined wattage on the label of the unit was a misprint.  Vantec let us know the combined wattage on the +3.3V and +5V rails is actually 220W.  However, they also informed us that the combined wattage on all three primary rails (+3.3V, +5V and +12V) is only 400W, less then the combined wattage of the Antec unit.
Temperature, Ripple and Sound
We have a battery of tests lined up for these four power supplies, including thermal, sonic and electrical tests on the DC output of the power supply.  Our test bed consists of:
Gigabyte GA-7VRX
AMD Athlon XP 2100+
2x256 Kingston KV133
4x Maxtor 80GB 7200RPM
All tests will be conducted over a full load: all 4 drives will be spinning during each of our tests in order to maximize the drainage on the +12.0V rail.  Furthermore, our testbed will also be rendering a very large scene in 3D Studio Max 5 in order to stress the +3.3V and +5.0V rails.
The ripple is the variation in voltage over a particular rail.  Like we mentioned on the previous page, too much fluxuation in voltage can lead to damaged hardware. A surprising fact we dug up during this review was that the majority of damaged RAM returned to memory manufacturers is destoryed by fluctuations in the voltage. For our first benchmark, we used an oscilloscope and a multimeter to measure the voltage and ripple within 10millivolts.  All three rails were tested directly on the motherboard to simulate real world results.  Remember, less ripple is better. These are the real world results, as opposed to the results printed on the boxes.  (Each unit we tested has a rating of +/-50mV, +/-50mV, and +/-120mV respectively.)
 Vantec
| | | | | |
| --- | --- | --- | --- | --- |
| | Low | High | Actual Ripple | Advertized Ripple |
| +3.3V | 3.26V | 3.32V | ~50mV | ~50mV |
| +5.0V | 4.93V | 5.04V | ~60mV | ~50mV |
| +12V | 11.88V | 11.94V | ~120mV | ~120mV |
Antec
| | | | | |
| --- | --- | --- | --- | --- |
| | Low | High | Actual Ripple | Advertized Ripple |
| +3.3V | 3.28V | 3.31V | ~40mV | ~50mV |
| +5.0V | 4.97V | 5.02V | ~40mV | ~50mV |
| +12V | 11.92V | 11.99V | ~90mV | ~120mV |
ThermalTake
| | | | | |
| --- | --- | --- | --- | --- |
| | Low | High | Actual Ripple | Advertized Ripple |
| +3.3V | 3.27V | 3.33V | ~50mV | ~50mV |
| +5.0V | 4.94V | 4.99V | ~50mV | ~50mV |
| +12V | 11.87V | 11.97V | ~120mV | ~120mV |
Enermax
| | | | | |
| --- | --- | --- | --- | --- |
| | Low | High | Actual Ripple | Advertized Ripple |
| +3.3V | 3.29V | 3.33V | ~40mV | ~50mV |
| +5.0V | 4.98V | 5.04V | ~50mV | ~50mV |
| +12V | 11.95V | 12.02V | ~80mV | ~120mV |
We see that Antec and Enermax provided the lowest amount of ripple, while keeping their average low and high voltages very tight.  Remember, these tight patterns are a necessity in order to keep processors and the entire system, stable.  Almost all of the power supplies had lower than advertised ripples with the exception of Vantec.  Interesting to see was the Vantec unit actually tipped a little bit over the advertised rating of 50mV (+/-1.0%) on the +5.0V rail.  We were slightly dissapointed to see this, especially considering the other units were for the most part under the advertised ripple rating.  Most notable was the Enermax unit which was well under the +12V rail ripple advertisement.  
Our thermal tests were conducted on a high load system inside a closed ThermalTake A6000B Xaser II Aluminum case.  All temperature is in degrees Celsius.  The temperature was taken from inside each of the units, just above the +3.3V transformer.
Vantec
| | |
| --- | --- |
| Thermal Test | Temperature |
| 10 Minutes | 31.7C |
| 30 Minutes | 32.8C |
Antec
| | |
| --- | --- |
| Thermal Test | Temperature |
| 10 Minutes | 32.5C |
| 30 Minutes | 33.7C |
ThermalTake
| | |
| --- | --- |
| Thermal Test | Temperature |
| 10 Minutes | 33.1C |
| 30 Minutes | 34.0C |
Enermax
| | |
| --- | --- |
| Thermal Test | Temperature |
| 10 Minutes | 32.1C |
| 30 Minutes | 32.4C |
Vantec stayed the coolest of the four, but remember this power supply has three fans.  As we will see, the Vantec is able to stay a slight bit cooler, but unfortunately at a tradeoff with noise..  We previously pointed out that switching power supplies work inefficiently if they are not kept reasonable cool.  Each of these units operates well under 35C, but to put that figure into perspective, most portions of the inside of the case actually operate at a higher temperature.
The description of a quiet fan has almost always been a sort of oxymoron.  Of course, manufacturers like Vantec are already at a disadvantage with an additional fan.  A human whisper is roughly 30dBA while a typical conversation is held around 60dBA.  Keep in mind, the decibel scale is logarithmic.  Therefore, a device that is 8dBA louder than another is approximately twice as loud.  We performed our sound test outside of the case as to isolate the noise level of just the power supply.  Each measurement was taken from 12" away with the power supply outside of the case. 
Vantec
| | |
| --- | --- |
| Sound Level | Decibels |
| High | ~54dBA |
| Low | ~50dBA |
Antec
| | |
| --- | --- |
| Sound Level | Decibels |
| Auto | ~31dBA |
ThermalTake
| | |
| --- | --- |
| Sound Level | Decibels |
| Auto | ~40dBA |
Enermax
| | |
| --- | --- |
| Sound Level | Decibels |
| High | ~36dBA |
| Low | ~33dBA |
Vantec seemed to be the noisiest supply in our batch, and a sound level meter only confirmed that.  Even though Vantec had a variable speed option in the rear, the fans are just too noisy.  For the most part, we can attribute this to the additional fan.  Since the Stealth Aluminum PSU has 2 80mm intakes and only 1 80mm exhaust, positive pressure exists inside the unit (assuming all 3 fans are running at the same rate).  In real world situations, the additional fan really did not improve the cooling performance significantly; the enormous increase in noise is not necessary.
Antec's Truepower was on the opposite end of the spectrum.  At 31dBA, the unit is barely audible; certainly not able to be heard over typical case fans.  When inside a case, the supply is further muffled so that it is almost silent.  We also need to show respect to the Enermax unit which provides the Truepower with very solid competition in the noise category.
Conclusions
As both our feature shootout and benchmark examinations show, each of these units has strong and weak points. The most interesting pattern we noticed when doing this review was on page 8, with the inconsistency of the power outputs. Pay very close attention to the power rails when buying your supplies. We do not doubt that Vantec has the only unit with a misprint on the label.
Overall, the Antec TruePower provided the best all around performance. Feature-wise, it could not compete with the Enermax EG465 or the Vantec Stealth Aluminum, but the performance benchmark showed it has a slight edge over the other units. The selling point on the TruePower is its availability and price. The TruePower is the most aggressive marketed of all the units, pricing under 100USD, at least 10USD less than the other PSU's we reviewed.
Enermax made the second strongest showing in the shootout. The EG465 demonstrated a good blend of old and new technology, combined with low heat, excellent noise levels and clean voltages. Along with the TruePower, we rate this model a good buy, particularly if you like the degree of manual control the unit provides.
Even though Vantec's Stealth supply has been generating a lot of hype, we were only mildly impressed with the unit. The presence of three fans might have made the unit a tad too loud. As we mentioned earlier, these fans generated positive pressure inside the unit, which resulted in a general increase in noise levels as air was trapped inside the housing. Furthermore, the line purity on the 3 main rails did not impress us at all; we found instances where interference peaked at 60mv along the +5V rail. For the 110USD, we expected a little more. We were very pleased that Vantec actively worked with us to clear up the issue about the misprint on the unit itself.
ThermalTake's Purepower ended up providing fairly decent performance, but not a lot of features. The performance benchmarks only put the Purepower ahead of Vatec, but Enermax and Antec were tough competitors. Since ThermalTake has been doing a great job of producing themselves as a competitor in the HSF market, we are fairly certain they are here to stay in the PSU market as well. We are very excited to see some of their future offerings.
Other PSU manufacturers have gotten into the high end market as well. We got a look at Zalman's 400W solution at Comdex and Enlight is also developing new supplies for the enthusiast market. In the next few months, we anticipate previews of these new units. We are seeing power supply technology evolve rapidly and almost every manufacturer is providing new features.
Hopefully, our brief look into the world of high end power supplies answered a few questions about this little talked about market. With enough demand, we plan on regularly taking a look at PSU's.
We would like to thank ENPC.com for providing us with the Vantec Stealth and the ThermalTake Purepower for this review. (ENPC.com is currently running a special on the Vantec Stealth 470W for 96USD with free shipping)